How to turn on Airplane Mode on MacBook
When you're on board a plane that's preparing for take off, you'll hear a warning that tells you to turn off your electronic devices or put them in Airplane Mode. This includes your phone, tablet, e-reader, and your MacBook.
Airplane Mode was invented to mitigate any possible interferences to sensitive airplane systems. On smartphones, Airplane Mode is usually represented by a small icon with an airplane symbol and provides a simple way to turn off all wireless radios to stop it from trying to connect with cell towers while in the air.
But is there Airplane Mode on MacBooks and what's the best way to enable it? Find out with all of the details below.
What does Airplane Mode do on Mac?
Apart from turning off all signal transmitting functions on a device, Airplane Mode helps preserve battery life or enables faster charging, since a phone or laptop saves a lot of energy when it's not constantly searching for wireless connections.
The Airplane Mode settings on an iPhone, for example, disable the following services:
Cellular. Stops your device from communicating with the cell towers on the ground.
WiFi. Disconnects your device from all current networks and prevents it from searching for more.
Bluetooth. Disables Bluetooth devices your phone is connected to and stops it from pairing with new ones.
GPS. Stops your device from getting satellite signals and sharing location information.
While MacBooks have WiFi and Bluetooth, they don't support cellular services and lack a built-in GPS tracker. And since it's those wireless communications that usually cause the most interference with the plane's systems, MacBooks don't have a designated Airplane Mode option to disable them in one click.
Still, air safety regulations require passengers to turn their laptops off or enable Airplane Mode MacBook Pros seemingly don't have. So if you want to keep using your laptop on the plane, here are a few ideas for how to put Mac on Airplane Mode.
How to enable Airplane Mode on Mac
Although portable Macs don't have a singular option for Airplane Mode, it's still possible to enable Airplane Mode MacBook Pro by turning off WiFi, Bluetooth, and Location Services features.
Disable WiFi
Apart from potential intervention in the airplane's communication systems, active WiFi feature on Macs drains the battery faster since it's endlessly searching for network connections it likely won't find. It's best to turn WiFi off while you're in the air and save the battery for a good movie you can watch offline.
Here's how to turn on Airplane Mode on MacBook by disabling WiFi:
Click the WiFi icon in the top left menu bar
Click "Turn Wi-Fi Off"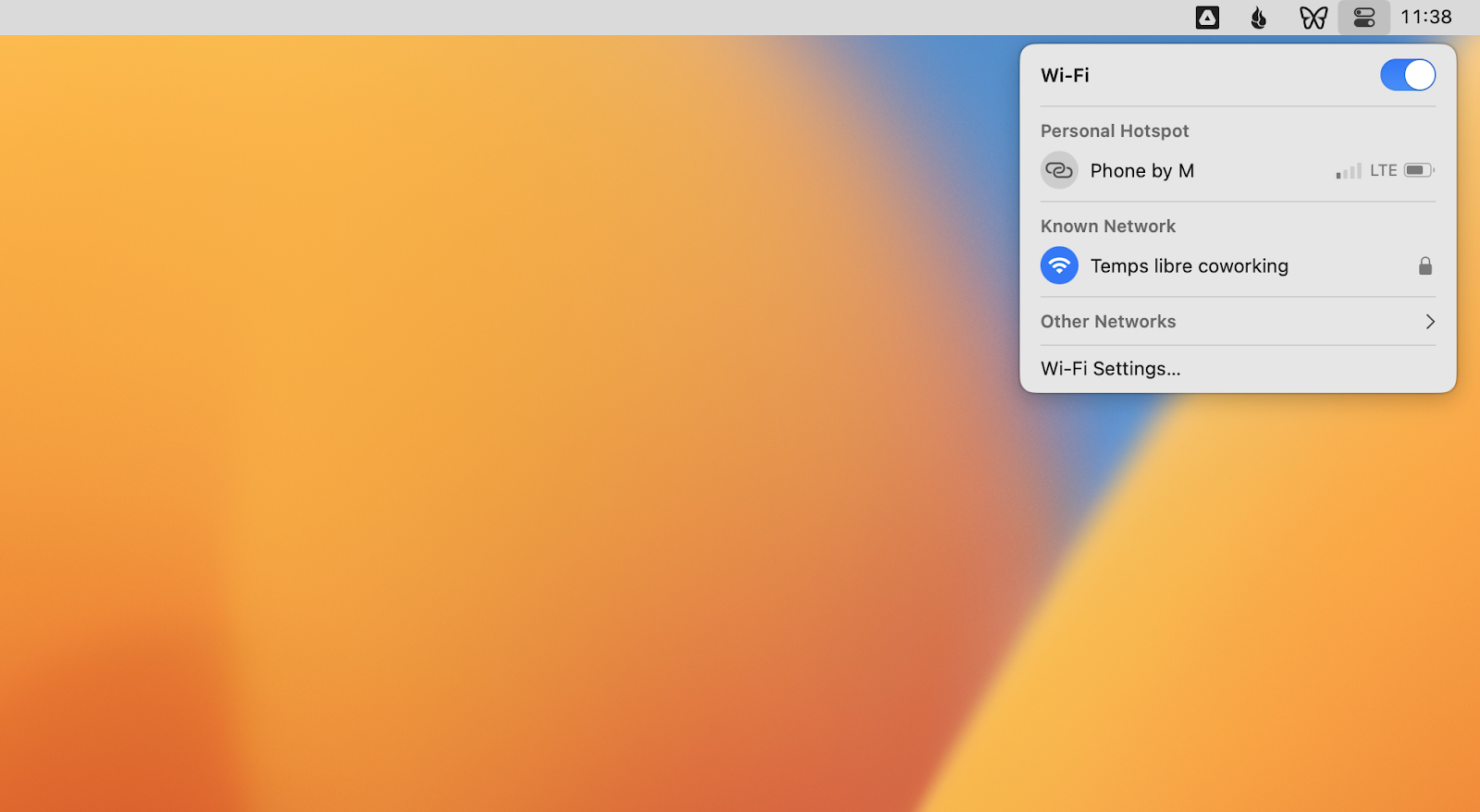 There's another way to disable WiFi, through System Preferences. Here's how:
Go to System Preferences ➙ Network
Select "Turn Wi-Fi Off"
Chances are, you're using your Mac's menu bar on a regular basis, whether to check the battery or connect to a new WiFi network. But there's much more value in that thin strip of space on top of your Mac's screen. Most apps have an icon that can be added to the menu bar for easier access and navigation, and if you want your desktop to look and operate exactly according to your needs, try using Bartender.
Bartender is a sleek utility that will help you organize your menu bar to perfection. With its minimal interface, Bartender stays unobstructive but very convenient to use. Quickly cut down on desktop clutter by customizing and reordering menu bar icons, making your own hotkeys, and using the keyboard for navigation. Bartender also lets you hide app icons without quitting and displays active app status changes in a neat format.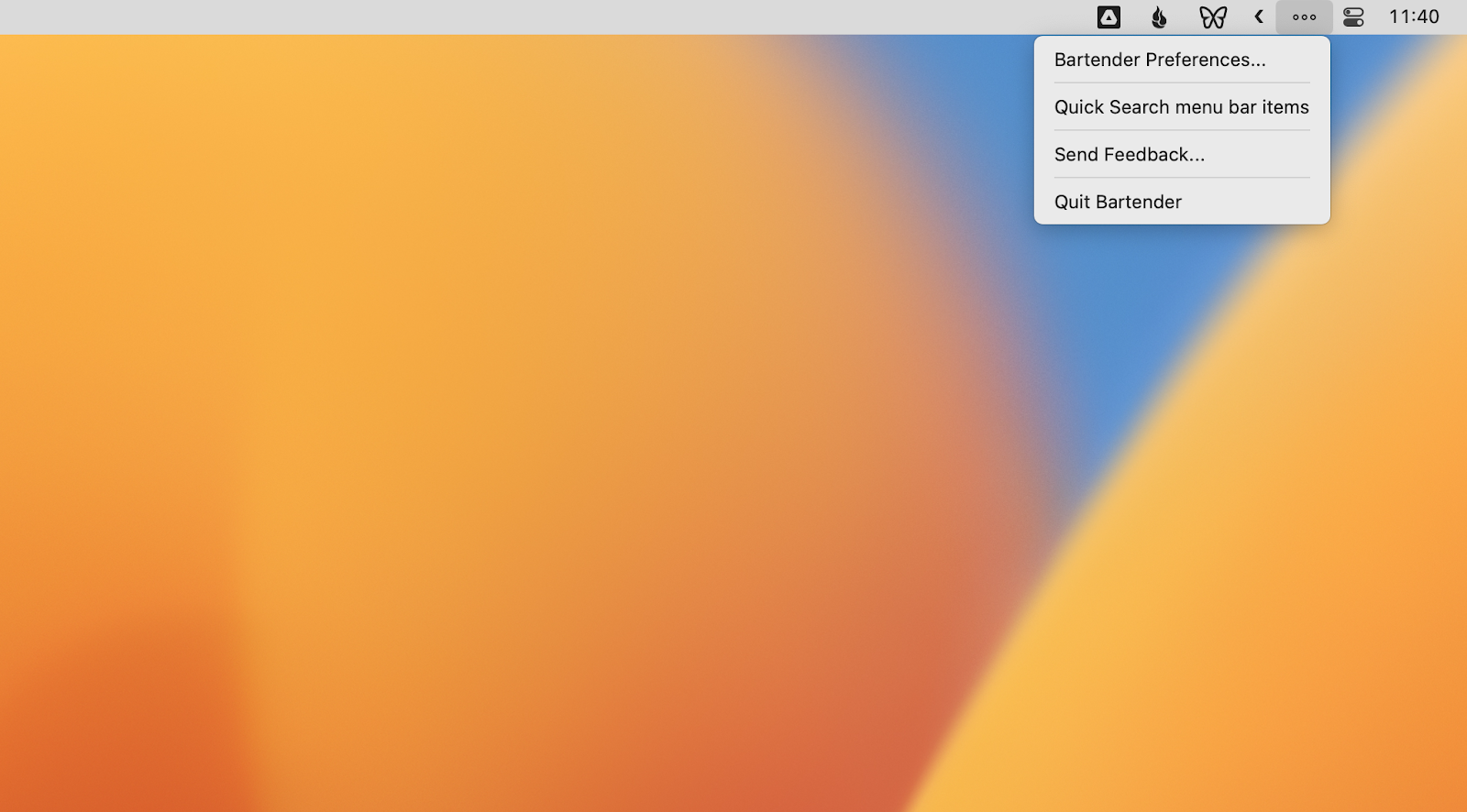 Disable Bluetooth
Bluetooth is a type of technology that enables devices to exchange data wirelessly. If your laptop always has this feature on, it's constantly searching for paired devices, thus transmitting wireless signals, which can get in the way of an airplane's radio system. It's a good habit to turn Bluetooth off when you're not using it or when you're in the air.
So here's how to put Mac on Airplane Mode by disabling Bluetooth:
Click the Bluetooth icon in the top left menu bar
Click "Turn Bluetooth Off"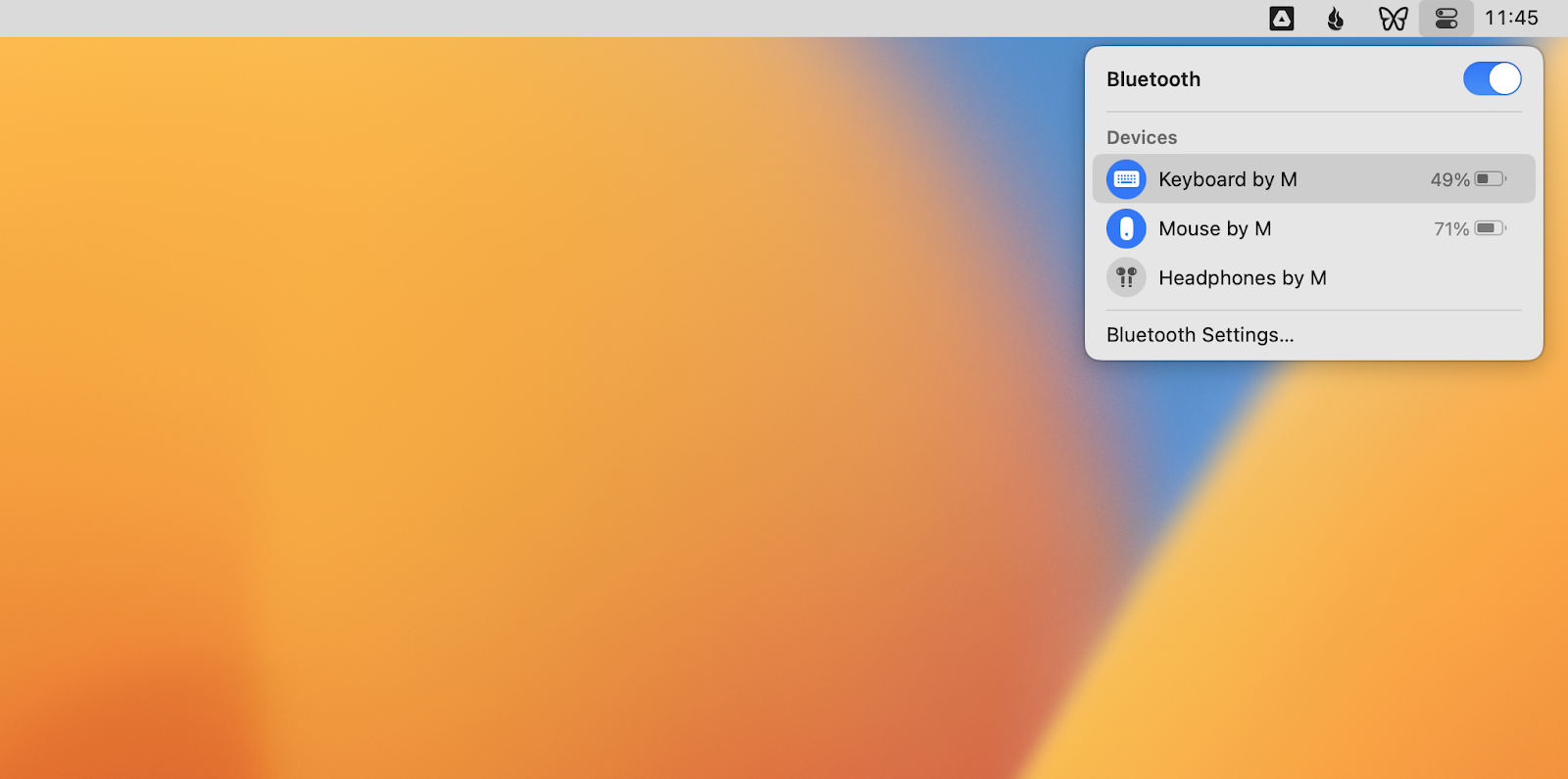 Or, you can also turn Bluetooth off via System Preferences. Follow these steps:
Go to System Preferences ➙ Network
Click Bluetooth and choose to "Turn Bluetooth Off"
Since most of us have multiple devices paired to our MacBooks, from AirPods to iPhones and Apple Watches, it can become challenging to keep track of and control connections between them, especially if you need to do it fast. That's when ToothFairy will come in handy.
ToothFairy is a true Bluetooth wizard for Mac, giving you a full overview and way to manage all paired devices with just one click. Connect, disconnect, switch between devices, and view information about each device and its specs at a glance. The app's clean, customizable interface will save you hours spent digging through frustrating menus in the long run. ToothFairy also comes loaded with advanced features like preventing accidental disconnection, improving audio quality, and even running custom shell scripts!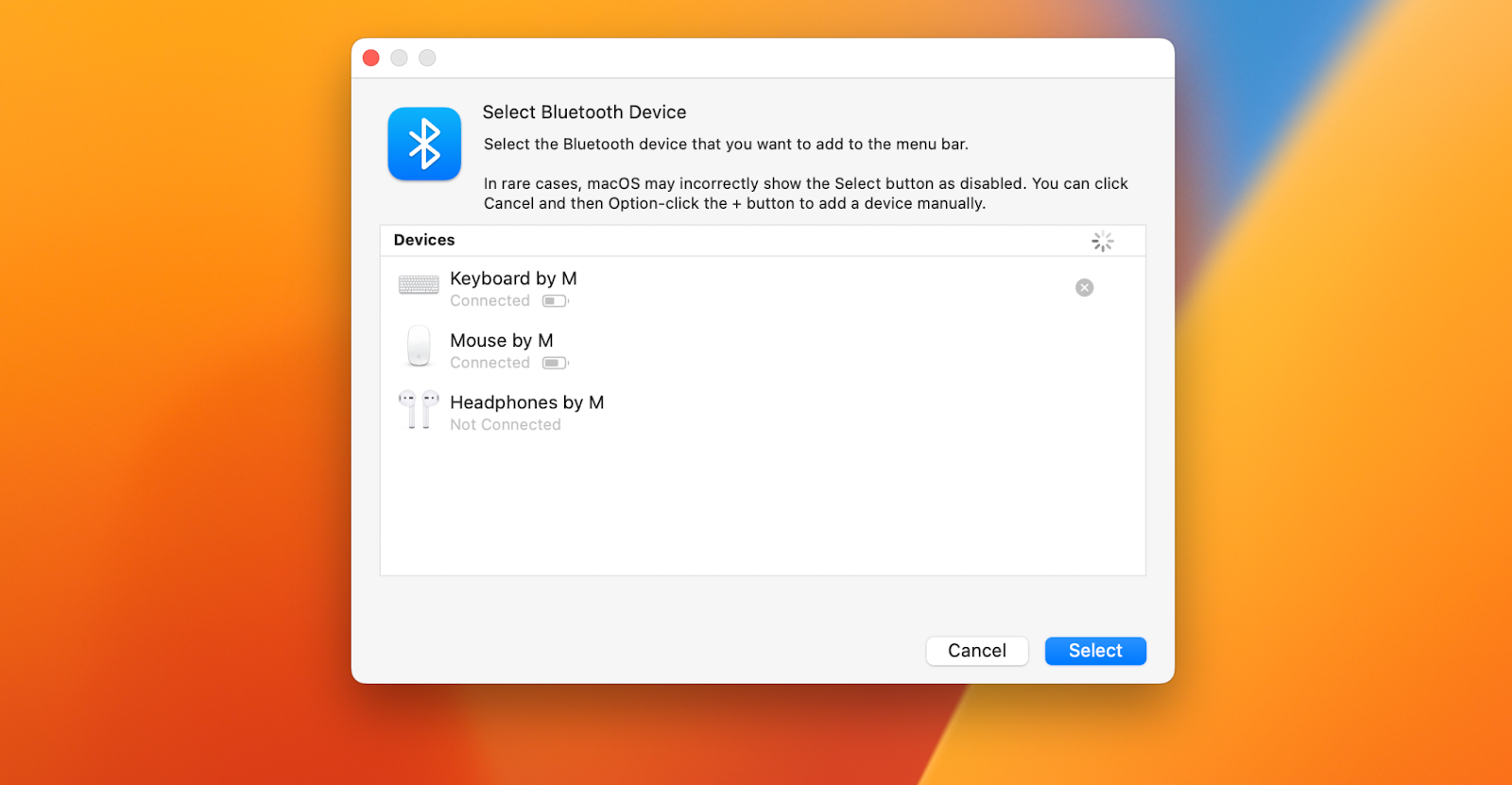 Disable Location Services
Many websites and apps need to use your Mac's location to function at their best, but because Location Services use GPS and satellite signals to determine the location of your device, this feature needs to be turned off while on the plane.
There's an option to disable the Location Services settings for individual apps, however, to enable MacBook Airplane Mode, you'll need to turn off Location Services altogether. Here's how:
Go to System Settings ➙ Privacy & Security
Click Location Services and toggle that feature off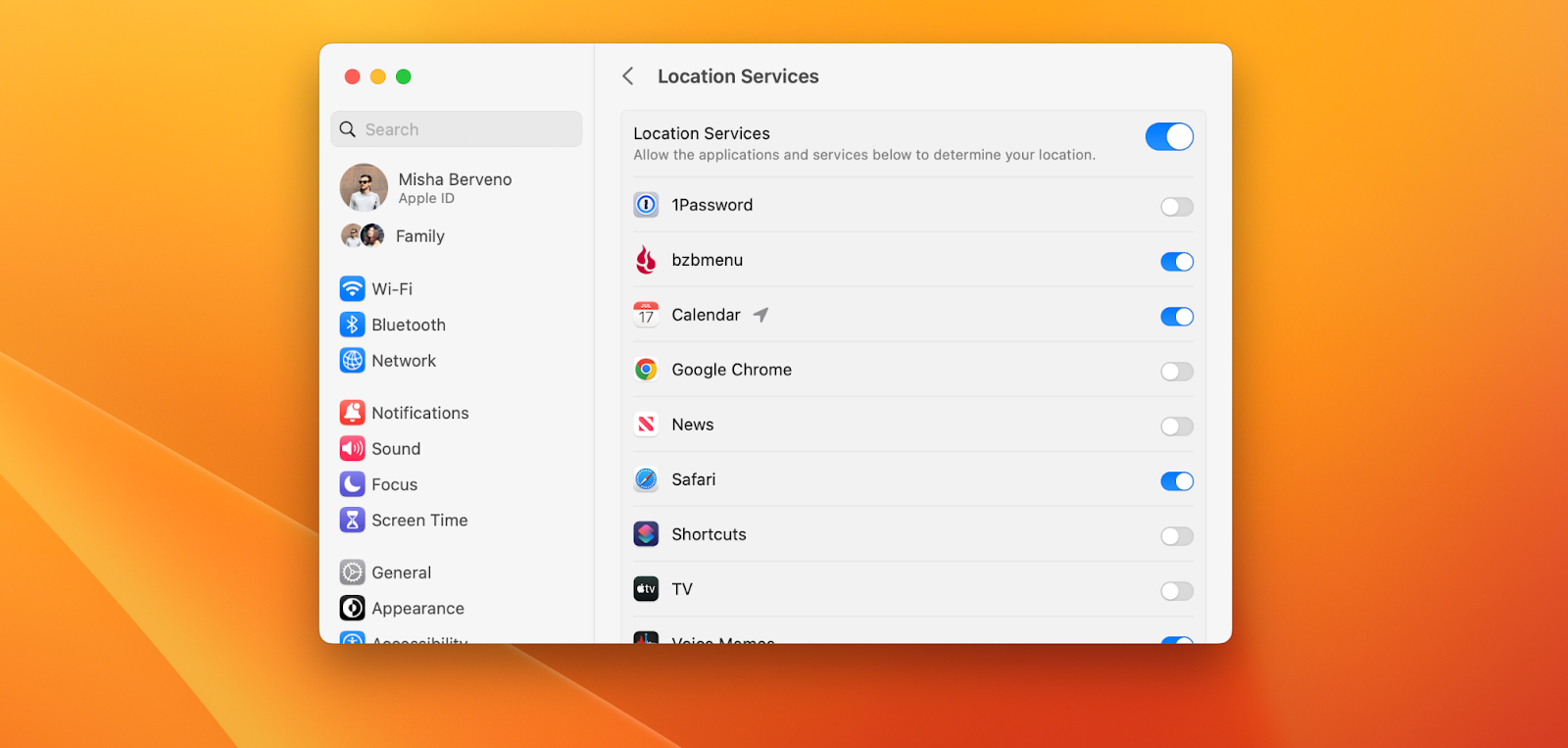 Note: If you later want to set up Find My on your Mac, Location Services need to be turned back on.
Optimize the way you interact with your Mac by trying a great time-saving app like One Switch.
One Switch gives you faster access to macOS features skipping the need to go through numerous apps and settings to get what you need. This simple menu bar app manages the settings you customize throughout the day. With a perfect look in both light and dark modes, One Switch lets you do the following in one click: easily declutter your desktop, schedule do-not-disturb hours for productivity, start the screensaver, connect your AirPods, and more!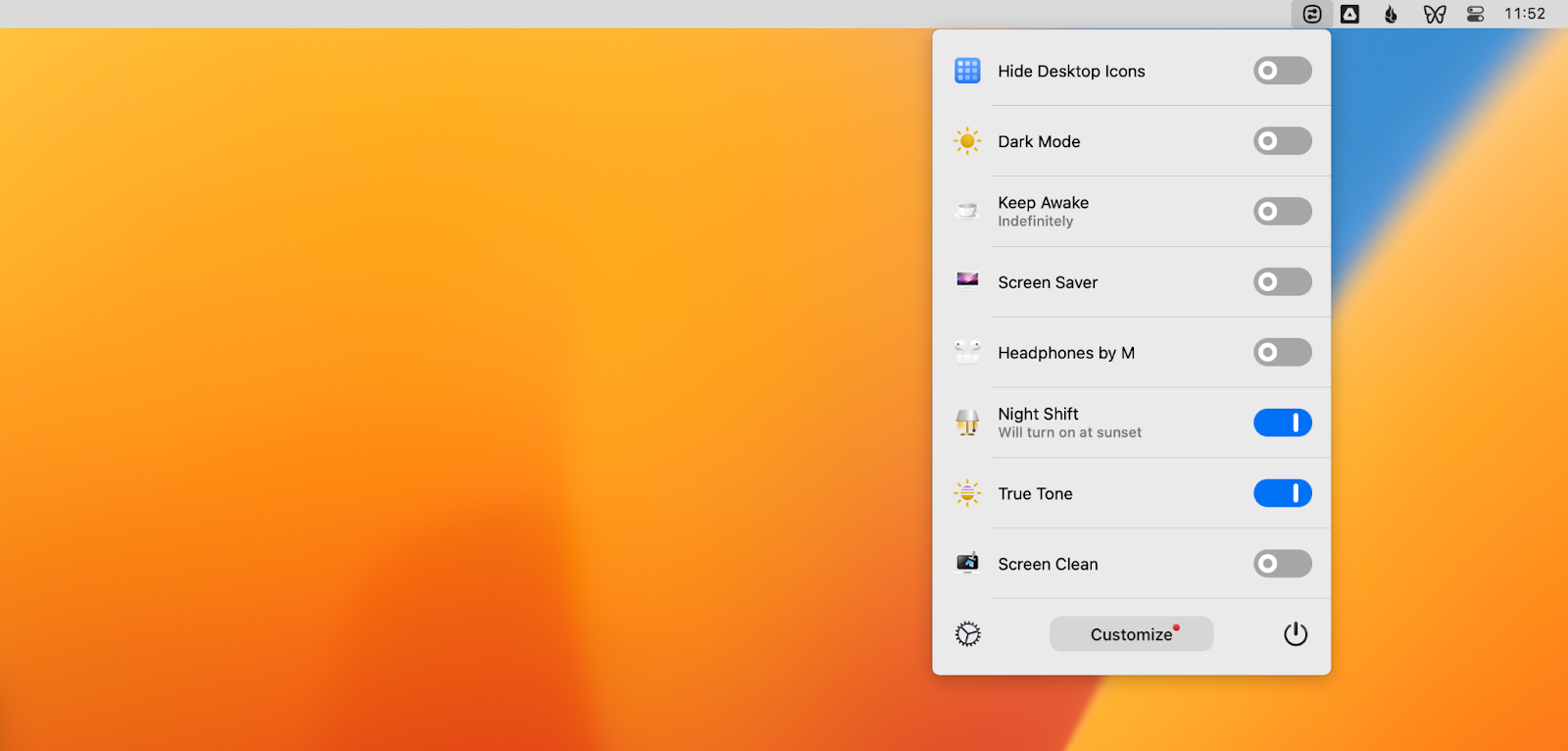 Airplane Mode on Mac and how to use it
The steps above show you how to put Mac on Airplane Mode and turn off all radio signals coming from your device for a safe flight and prolonged battery life. And if you've been looking for a way to take control of all your paired Bluetooth devices, ToothFairy will do the job for you. In the meantime, Bartender and One Switch are the best tools to help provide a smoother, more organized interaction with your Mac.
Best of all, ToothFairy, Bartender, and One Switch, are available to you right away and at no cost through a seven-day trial of Setapp, the leading productivity app platform for your macOS and iOS devices. Try Setapp today and get free access to more than 240 best-in-class apps to unlock your device's true powers.