How to share Mac internet connection
Most of the time these days, your phone is always connected to the internet, whether it's through WiFi or LTE (5G?), so you can get the latest updates, use social media, send emails, and more.
Sometimes, you might be in a situation when your data plan runs out or the reception signal is weak, and it's not possible to connect to WiFi (e.g. due to security reasons). However, if your Mac is connected to the internet through the wire, you can share that connection with your phone. Let's explore a few different ways for how to bridge your network between Mac and other devices.
How to share WiFi from Mac to iPhone
It's possible to share Mac internet connection with one caveat — your Mac needs to be connected to the internet via Ethernet, and not WiFi. This is due to a limitation of Mac's internal network device, which can either receive a WiFi signal or send it back, but not both. So in the case of sending WiFi to other devices, the Mac itself needs to receive internet through the wire.
Once your Mac is connected to Ethernet, here's how you can share its connection via WiFi:
Launch System Preferences ➙ Sharing
Click on Internet Sharing
In the "Share your connection from:" select Ethernet
In the "To computers using:" check WiFi. Note that you also have an option to choose Thunderbolt Bridge if you want to share the internet with other Macs.
Click WiFi Options…
Make sure you set a password to protect your WiFi
Hit OK
Check Internet Sharing
Click Start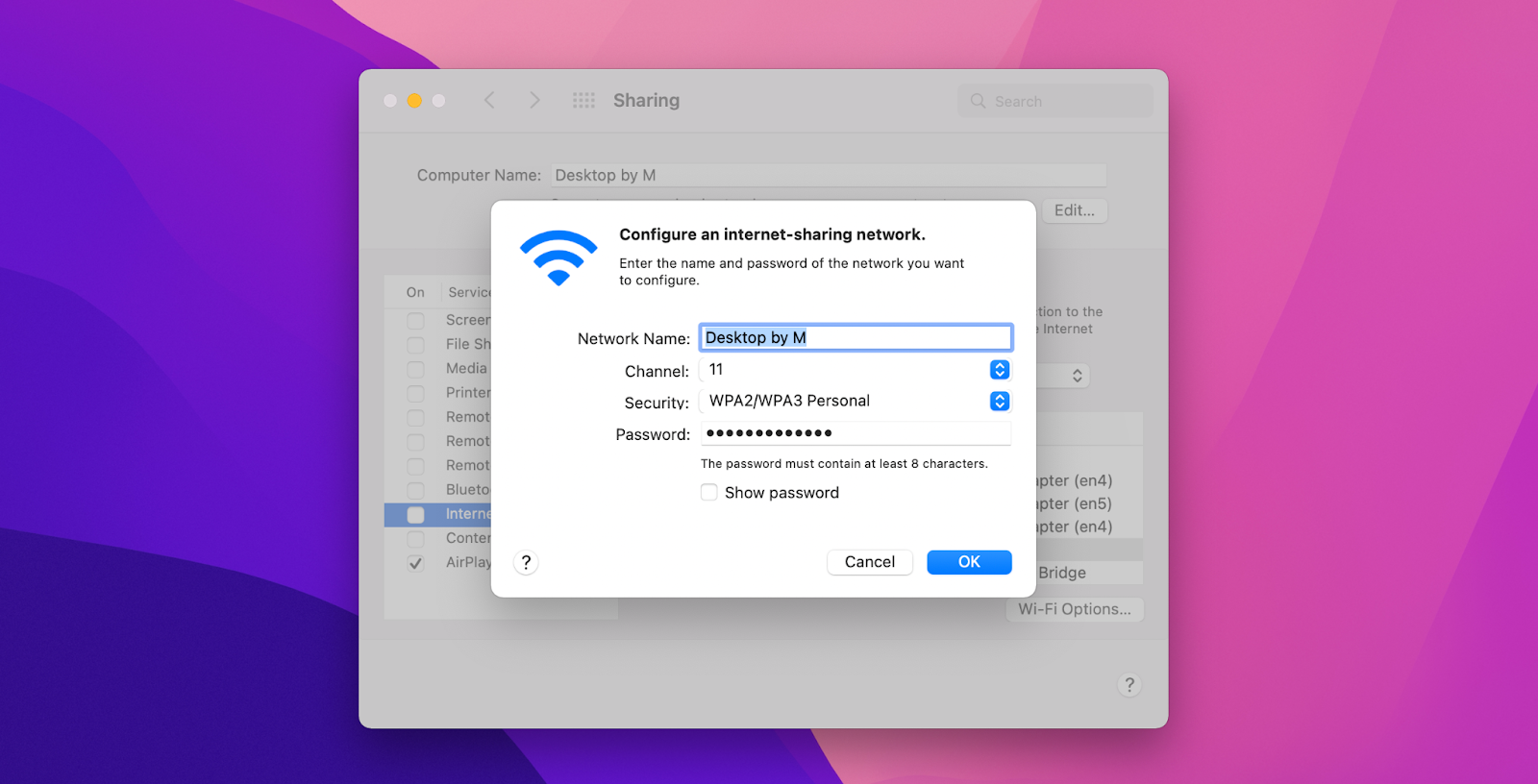 Now your network should be visible to other WiFi-enabled devices. Just connect, enter your password, and you're good to go!
If your devices can't connect to the new WiFi network, or you'd like to troubleshoot your home or office WiFi connection, there's no better app than WiFi Explorer.
WiFi Explorer is a detailed analyzer that provides you with exact details about your network connection in real time. You instantly get all the information you need about signal strength, band, channel width, security, max rate, and more.
If you notice any aberrations (e.g. overlapping channels), you can refer to the WiFi Explorer troubleshooting guide and fix the issue in minutes.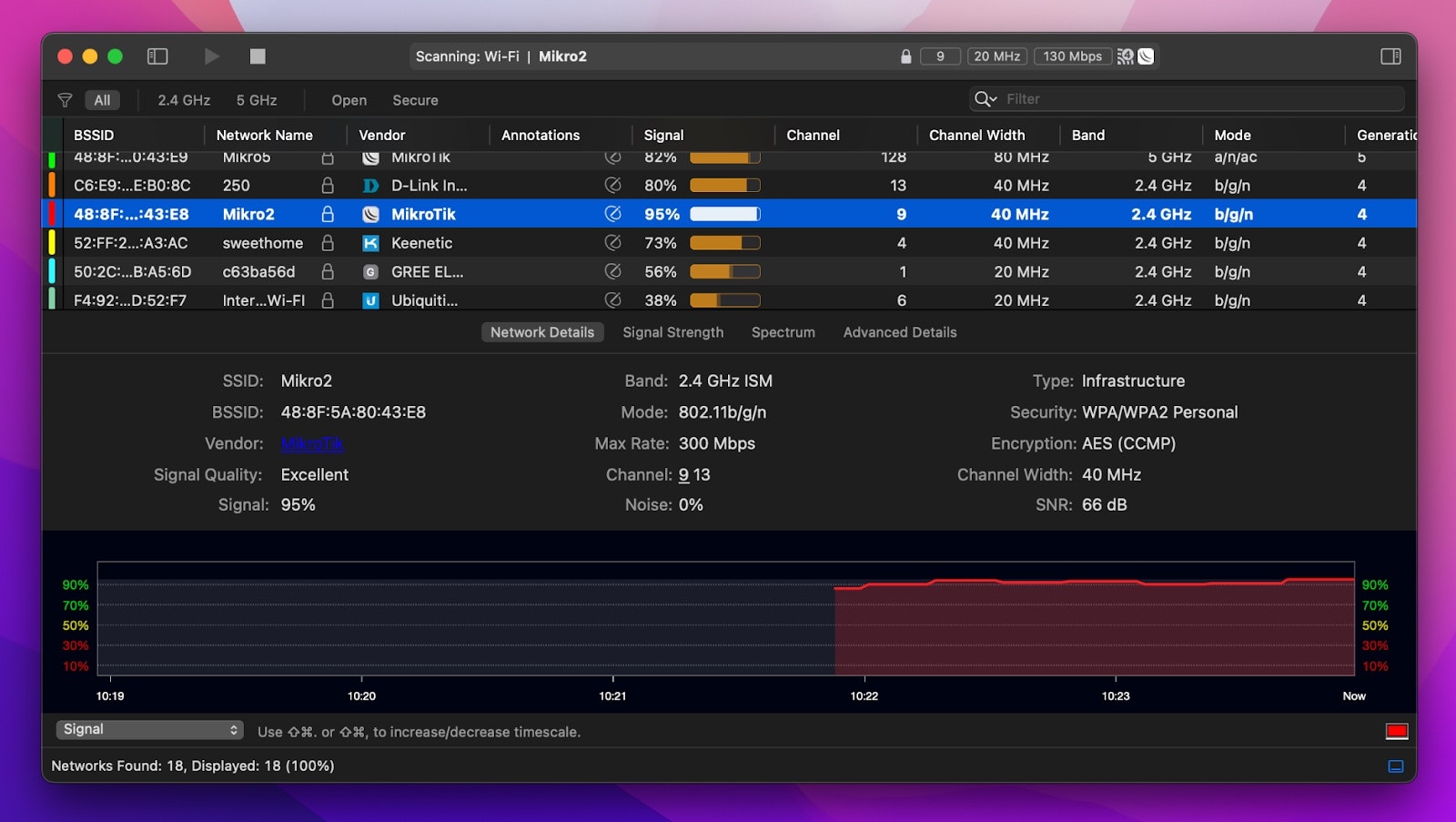 How to share your Wi-Fi from Mac to iPhone (in macOS Ventura)
With macOS Ventura, sharing your Wi-Fi is a little different.
Here are the steps to share your Wi-Fi from Mac to iPhone on a Mac running macOS Ventura:
Click the Apple logo in the top left corner of your screen and select System Settings…
Go to General > Sharing.
Spot Internet Sharing and click the i.
Set up your sharing preferences — select where you want to share your connection from, e.g. Wi-Fi or Thunderbolt Bridge, in Share your connection from:
Next, choose which devices you will share connection to via To computers using:
If you select sharing to computers using Wi-Fi, you will be able to set a network name and other network settings.
Once you set everything up, click Done and toggle Internet Sharing on.
Click Start in the pop-up to confirm.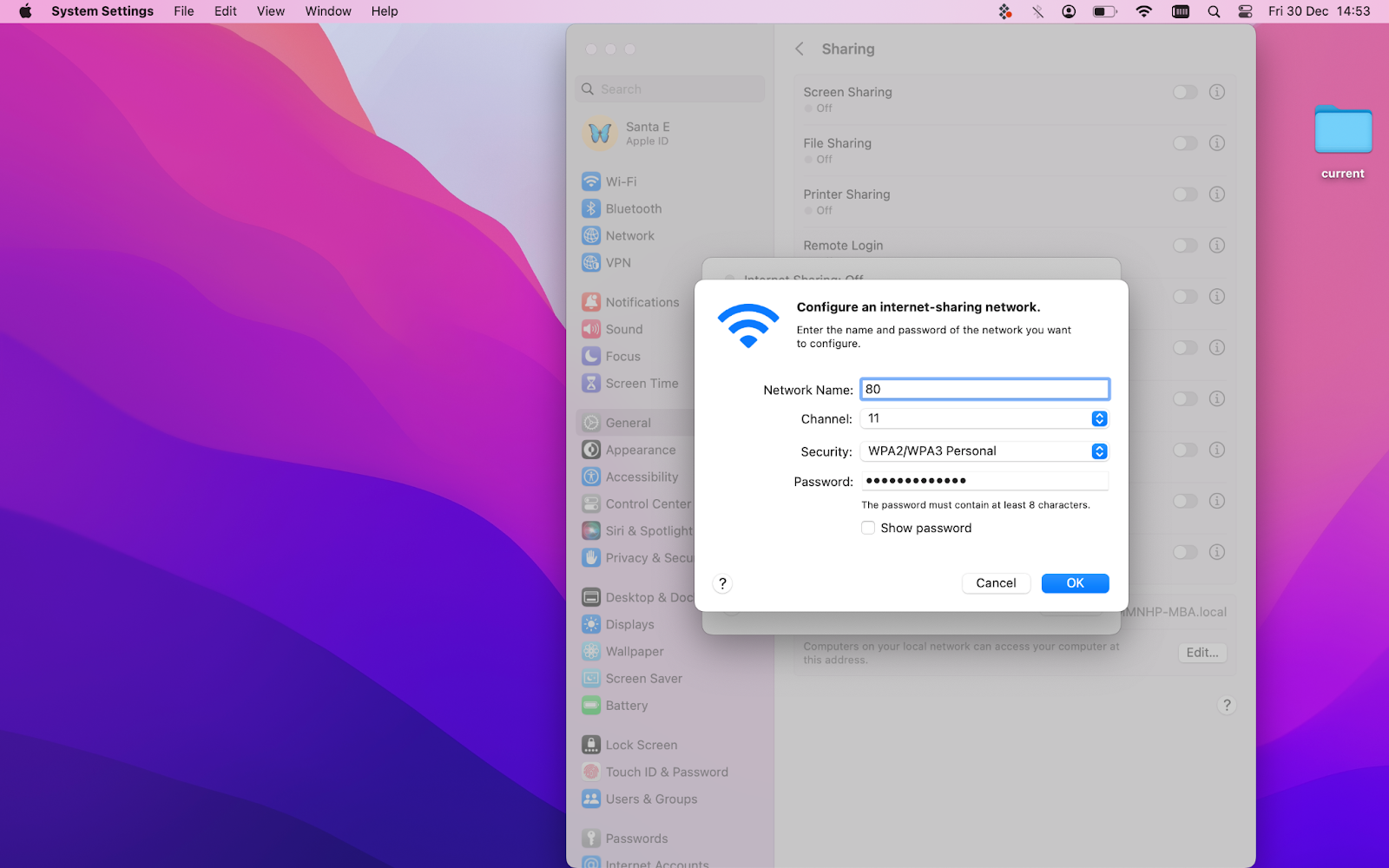 How to join the Hotspot you have created
To join the Hotspot, simply find the name of your network in the list of available Wi-Fi networks displayed on the device you want to connect and enter your network password.
How to share internet from Mac to iPhone via Bluetooth
If you don't have an Ethernet connection handy, there's another way to get your devices online — share internet from Wi-Fi on Mac using Bluetooth. This might not be the best way to browse the internet, since Bluetooth can be pretty slow. But it will work if there are no other options available.
Here's how to create a Mac Wi-Fi hotspot without Ethernet:
Make sure that Bluetooth is turned on both on your Mac and iPhone
Pair your Mac (listed in Other Devices) with your iPhone via Bluetooth in Settings ➙ Bluetooth. You might be asked to input a code when connecting devices.
On your Mac, go to System Preferences ➙ Sharing
In the "from" field, select WiFi. In the "to" field, select Bluetooth PAN.
Click Start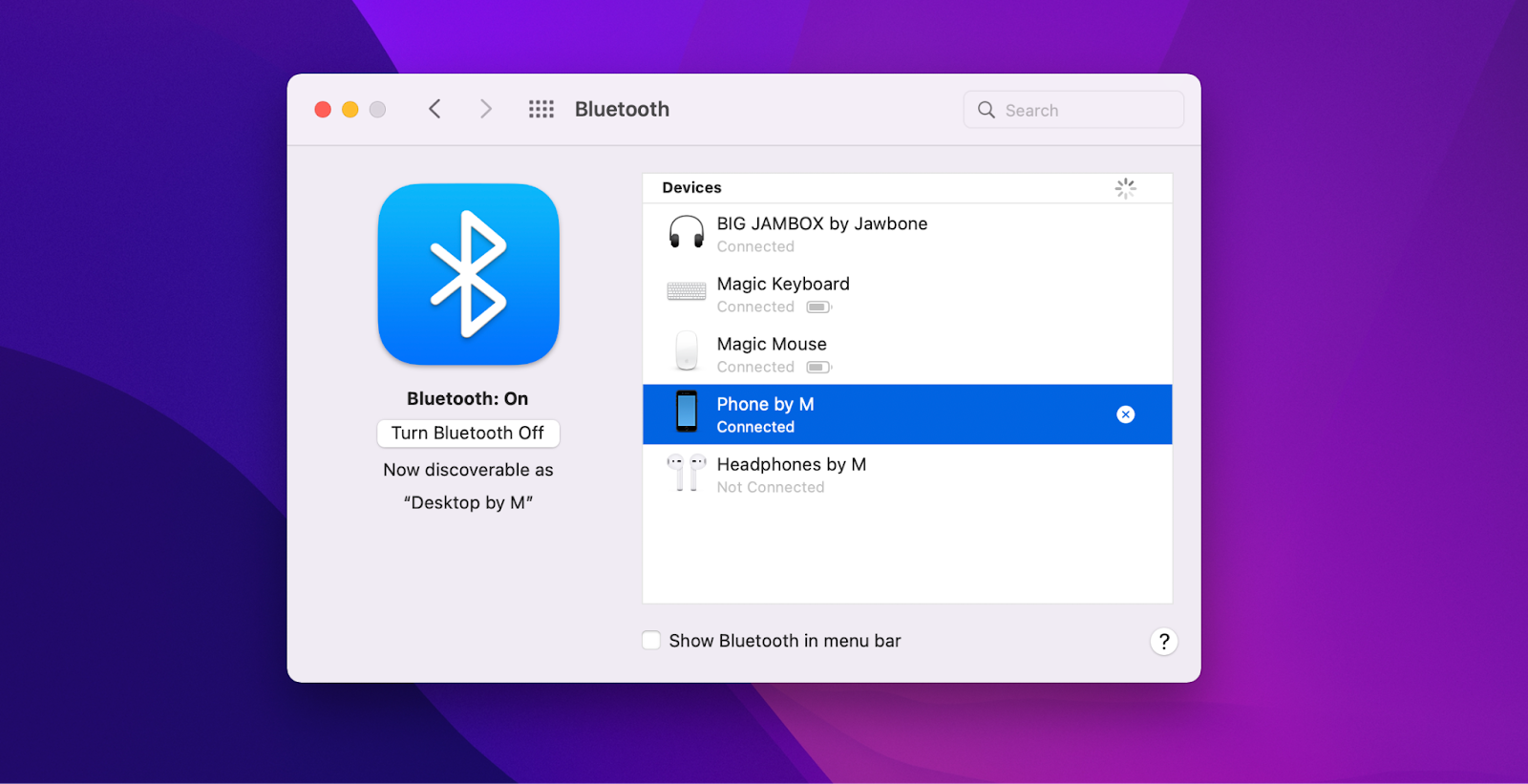 Note: Not all Apple devices support Bluetooth pairing between each other.
Can you create a WiFi-to-WiFi hotspot from Mac?
So far, we've covered how to share WiFi from Mac to iPhone using either Ethernet or Bluetooth. But these are less than ideal solutions. Wouldn't it be perfect to share internet from Wi-Fi and let other WiFi-enabled devices connect to it? Yes, but as mentioned above, Macs can only either receive or send WiFi signals, but not both at the same time.
There's a workaround here if you buy a special WiFi network adapter, which would allow one network interface to receive signals and the other to broadcast them. But selecting such a device is beyond the scope of this article.
If you do, however, have a WiFi network that one device is already connected to, but the other one is not, and you don't remember the password, how do you find that out?
Well, sometimes you don't have to. All the recent macOS and iOS versions have a convenient password sharing feature enabled by default, which you can use to connect to WiFi on your other devices, and even help your friends connect too (or vice versa).
Here's how to share WiFi password with a Mac:
Make sure your Mac is connected to WiFi and has Bluetooth enabled
Similarly, ensure that another device has WiFi and Bluetooth turned on
Log in to the same Apple ID on both devices. If you're sharing WiFi with someone else (or if someone else is sharing WiFi with you), confirm that you have their Apple ID email in your Contacts.
Go to Settings ➙ WiFi or System Preferences ➙ Network
When a notification comes up, click Share
Relying on other devices to connect online doesn't always work. Better to have all your passwords arranged in one place, with an app like Secrets.
Secrets is a simple but robust password manager that can remember everything, from WiFi passes to logins to secure notes. All information would be PGP encrypted and accessible with a password only you know. At the same time, you can benefit from autofill features available with browser extensions as well as password suggestions. Finally, you can use Secrets to store your credit card and bank information too.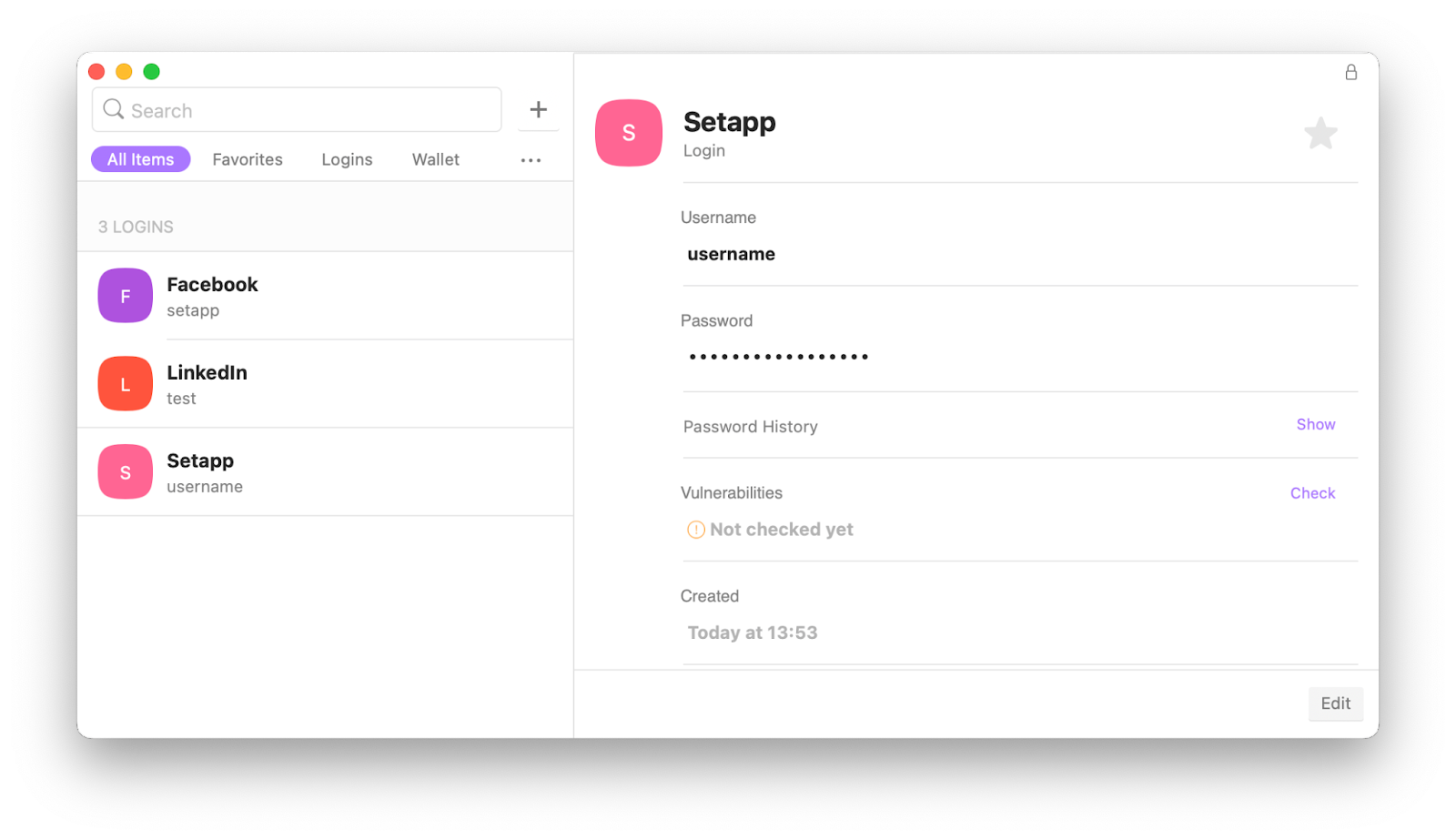 How to share WiFi from iPhone to Mac
What if instead of broadcasting WiFi from your Mac you need to know how to share WiFi from iPhone to Mac. It's actually very easy to do:
Launch Settings ➙ Personal Hotspot on your iPhone
Turn on Allow Others to Join
Note down the WiFi password
On your Mac, open WiFi preferences and connect to your phone. Voila!
When you use your phone data on Mac, you can use up a few gigabytes in no time. That's why it's good to control your network data flow in such situations. To do that, use TripMode.
TripMode is an amazing lightweight utility that monitors all traffic leaving your Mac. You can then block certain apps from accessing the network to save data (e.g. file sync), schedule specific times where data should be restricted, and even detect malicious patterns. Most importantly, simply by looking at the data you use, you'll notice your data consumption decrease significantly.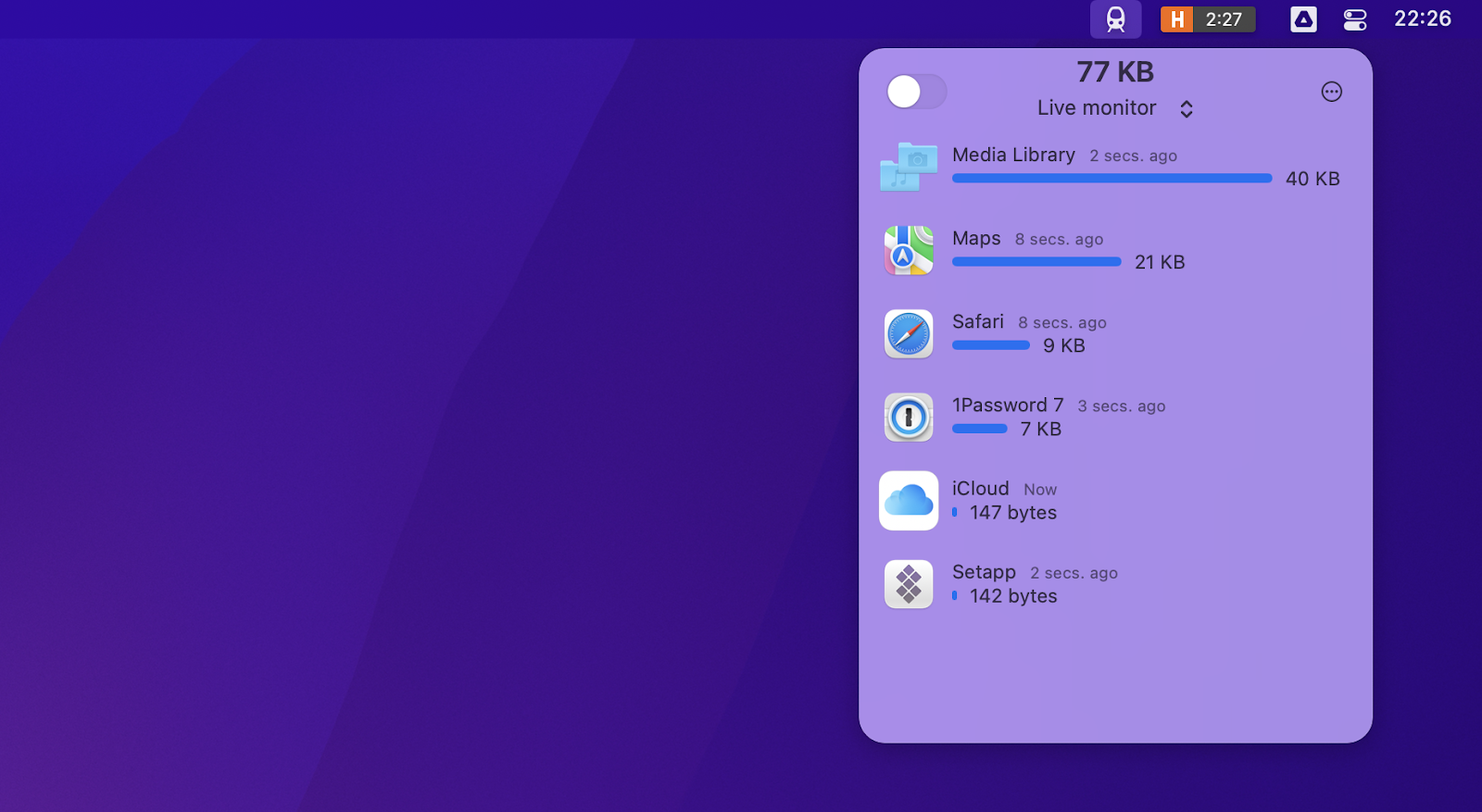 As you can see, there are a few interesting ways you can share WiFi from your Mac. Just make sure your WiFi is working at top speeds with WiFi Explorer. Besides, we highly recommend storing your WiFi and other passwords in Secrets. And if you hotspot from your phone regularly, TripMode is a must.
Best of all, WiFi Explorer, Secrets, and TripMode are available to you absolutely free for seven days through the trial of Setapp, a platform with more than 230 Mac and iOS apps carefully curated and picked to solve a wide variety of problems. Try every Setapp app at no cost today and let your work flow.