How to Recall an Email in Gmail
Email is great because it's instant, but that gift can also be a curse. We've all sent emails we immediately regretted. It could have had some typos we didn't recognize until we hit 'send,' a message we wish we hadn't delivered, or a forgotten attachment we referenced in the email itself.
Luckily, Google now provides an easy way to unsend Gmail emails, or recall Gmail emails. All you have to do is toggle a few settings in Gmail, and you'll soon be able to retrieve those sent emails before they ever reach the recipient. We'll show you exactly for web, mobile, and the Mac desktop.
How to Recall an Email in Gmail on the Web
Gmail on the web is the unofficial home for Gmail. It's where Google originally started the service, and where it houses settings for both email and your Google account.
Knowing how to unsend email in Gmail used to require toggling some settings to activate the feature, but it's now standard. Still, you should make sure your settings are correct. Here's how to check your settings to ensure Gmail recall email functionality works.
Open the browser of your choice
Navigate to mail.google.com
If you're not signed in, sign in, or create an account
When in Gmail, select the gear icon on the top right of the window
Select "See all settings"

Under general, make sure the "Undo Send" section has a time listed
When you want to recall email Gmail will wait the designated period of time before sending it. Five seconds helps when you have that immediate reaction to not send an email, but you can customize it however you like. If you do change it, be sure to save your changes at the bottom of the settings window.
To unsend an email in Gmail on the web, there's not much you have to do besides act fast! After you compose an email and send it, the bottom left of your screen will display a popup notification telling you the message was sent. It also has an option named "Undo," which lets you take back that email you just sent.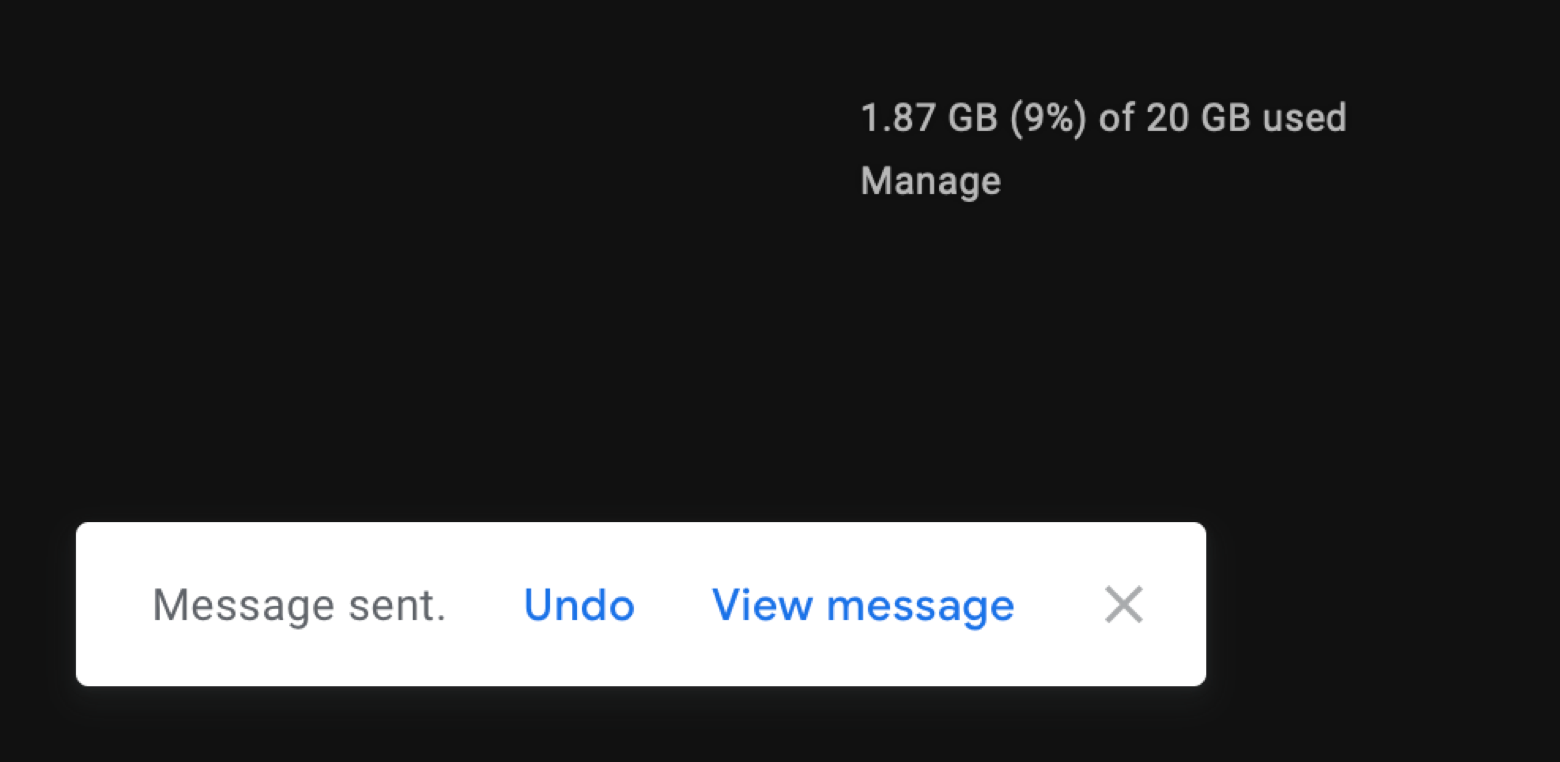 If you select 'undo,' it opens the email back up as though you never clicked send. From here, you can change your email, add attachments, or simply discard it.
How to Recall an Email in Gmail on Mobile Devices
For each mobile device you own, there's a unique Gmail application available. iPhone, iPad, and Android devices all have Gmail apps available in the App Store or Play Store, respectively.
Typically, native apps have different options than their web counterparts, so asking yourself "how do i recall a message in Gmail that's already sent on my iPhone" is understandable. Happily, Google anticipated this, and baked in the same easy undo option it has on the web.
After you compose and send an email in Gmail, all you have to do is tap "undo" at the bottom right of the App screen to retrieve your email. Just like the web, the 'undo' option pops up immediately after you send an email, making it just as easy to recall on your phone or tablet as it is on the web.
How to Recall an Email in Gmail on Mac
Unfortunately, the desktop is where Gmail ends its run of great apps and functionality. Of course you can use the Gmail web client on your desktop just fine, but there's no native Gmail app for Mac.
But you don't need it! We've already told you how to find the best email client for Mac. One of the better options is Spark, which allows you to schedule emails, a common workaround for catching email errors before they are sent. Spark also has a really clever artificial intelligence engine that attempts to classify your emails so you know which are personal, which are business, and which are junk. It's another feature Spark seems to have wisely pinched from Google.
Another excellent email client for Mac is Outlook. Yes, Microsoft and Google are competitors, but there's just no getting around Microsoft's dominance in the enterprise space, especially for email. Like Spark, Outlook lets you schedule emails, which helps you double-check them before they send. Outlook also has some incredible other features like a calendar and to-do list you'll probably enjoy, and it works with absolutely any email service you have.
If simplicity is your thing, you may enjoy Kiwi for Gmail. This Mac app reimagines Gmail as a dedicated Mac app, and introduces a clean interface those who send tons of email may appreciate. If you're a power Gmail user, Kiwi for Gmail might be just what you're looking for. It's only true downside is it doesn't work with anything besides Gmail.
Edison Mail is another excellent option for Mac users, with some snappy features we think you'll like. It has an accompanying mobile app, and the desktop app utilizes the same gestures for archiving and dismissing emails as you'll find on mobile. It even has 'unsubscribe' options for newsletters within the app, just like the Apple Mail client.
Unibox is quite possibly the most user-focused interface we've seen in a Mac email client. It takes the work out of email in a fresh way, allowing you to quickly view and browse email attachments. Instead of filenames and icons, Unibox presents a gallery of thumbnails you can quickly browse – a feature we like for those emails that send company logos as attachments for each email!
The Unibox app also displays entire conversation histories in the same window when someone emails, so there's no guesswork or scrolling through pages of emails.
Security-minded users will Love Canary Mail. It uses PGP encryption with an optional, customizable, manual key encryption. It also lets you add emails to a series of lists to keep you on-task. Rather than simply treat your email inbox as a triage center, Canary Mail has a feature allowing you to add the email to a to-do list, or set a reminder to follow up on them later. It even filters emails in your inbox based on priority, if you like.
Another incredible feature of Canary Mail is the option to save reused emails as templates. Instead of copy-pasting or typing the same thing over and over, Canary Mail lets you save emails as templates, then choose from those templates when it's time to send an email in the future. Finally, Canary Mail has a really sharp natural language engine it utilizes in search to alleviate the headaches all other email apps give you when you're looking for an email but can't quite remember when it was sent, or maybe even who sent it!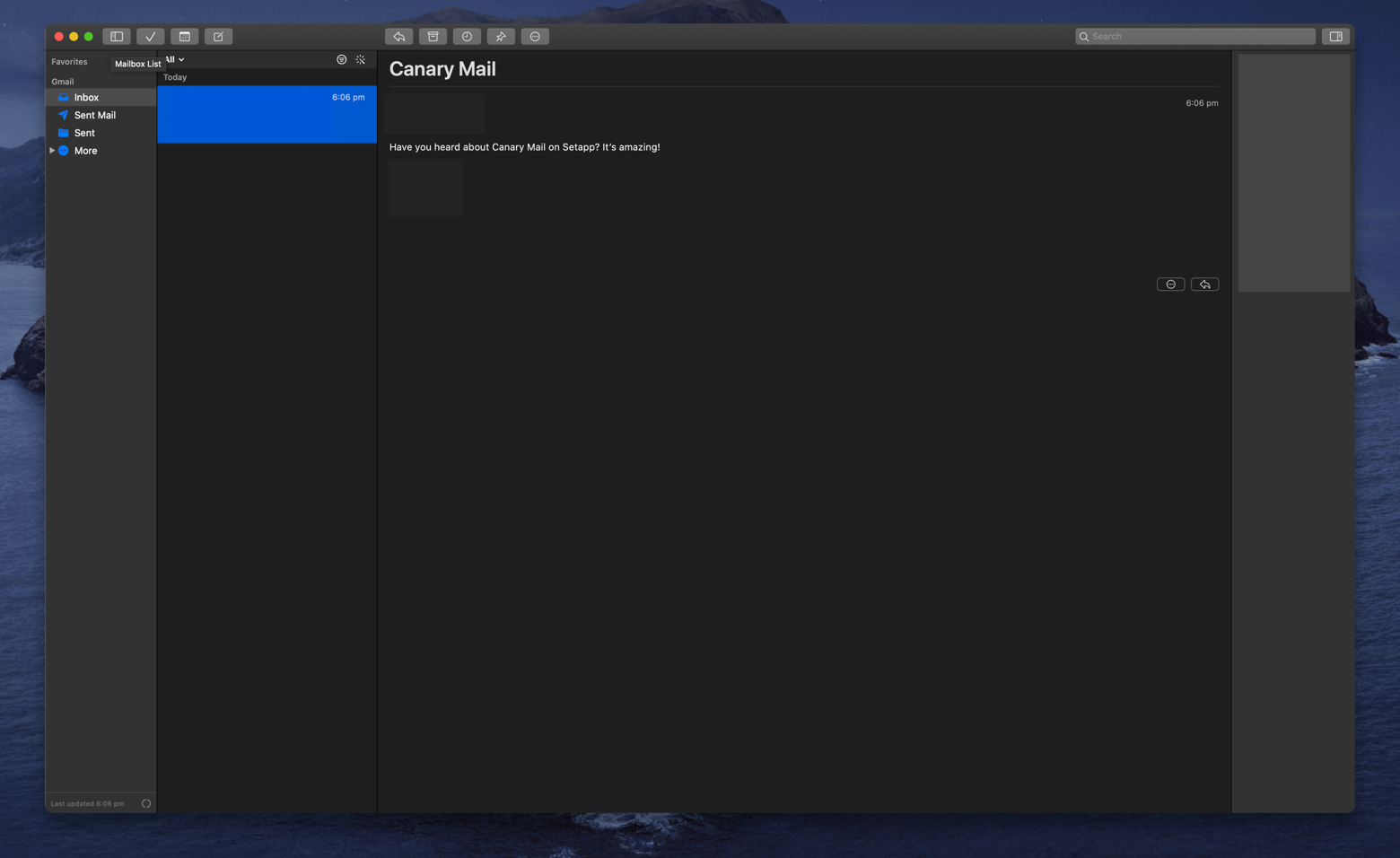 Conclusion
Can you unsend an email in Gmail? Definitely, but only on mobile or the web. Unfortunately, there's no desktop client we've found that has the same 'undo' function as Gmail. Scheduling is as close as it gets, which is the basis of what Gmail's undo is anyway. In reality, it's scheduling your email for five seconds into the future, not exactly allowing you to totally retrieve it from the other person's email inbox.
There are tons of great email apps for the Mac, but we're partial to Canary Mail and Unibox, both available for free as part of a seven day trial of Setapp, the world's best suite of productivity apps for your Mac. You'll also get unlimited access to nearly 200 other excellent Mac apps with your Setapp trial, which is only $9.99 per month once the week-long trial is over. So what are you waiting for? Give Setapp a try today!