How to reopen recently closed tabs on Mac
With the rise of web apps, most of our computing lives today happen in browsers, from email (Gmail) to design (Figma) to entertainment (Netflix).
Unlike native apps, it's much easier to close browser tabs by accident. Most websites then won't remember where you left off, and you'll have to repeat the whole process of getting to the content you want all over again. And if you've quit the browser with dozens of open tabs — it could be a really frustrating experience.
That's only because most people don't know how to get tabs back on Mac, while it's actually quite easy to do in any major browser. Let's learn how to reopen a closed tab on Mac so you never find yourself in a situation like that ever again.
Note: Tabs that were closed while in private or incognito mode can't be reopened.
How to reopen closed Safari tabs on Mac
Safari is Mac's default browser both on iPhone and Mac. While it doesn't have the widespread support of Google Chrome, it's fast, private, and has a secret shortcut for how to get your tabs back on Mac.
When you accidentally close a tab in Safari, you can use Command + Z to immediately get it back. This shortcut works only on last actions. But if you've closed a few tabs in a row, you can use Command + Z repeatedly to reopen all of them. Nothing new to learn!
Note: Command + Z doesn't reverse closing tabs in Google Chrome or Firefox.
There are other ways for how to open recently closed tabs Mac allows on Safari. For example:
Shift + Command + T is the official shortcut to reopen closed tabs
Go to History in the menu bar and select either Reopen Last Closed Tab or Reopen All Windows from Last Session
Go to History ➙ Recently Closed and pick the specific tab you'd like to reopen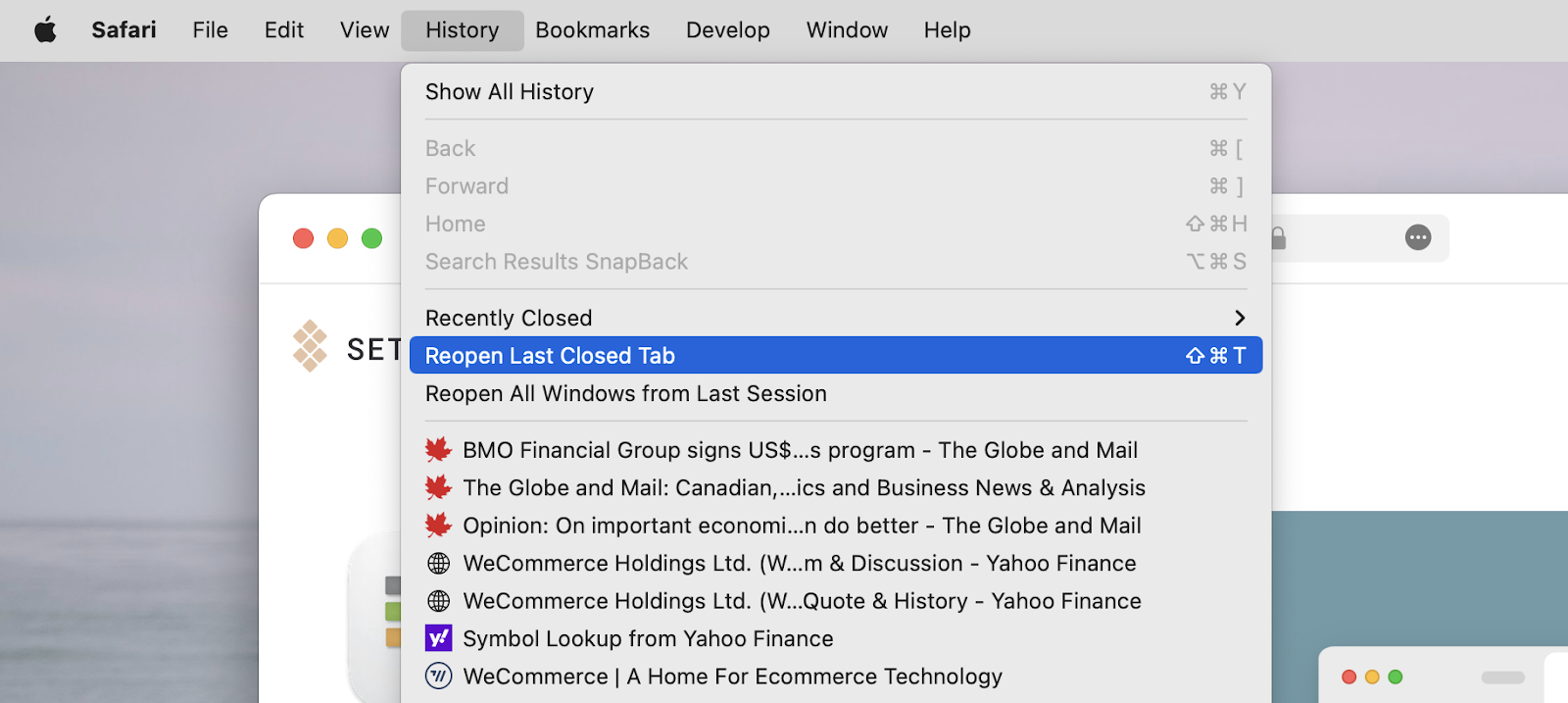 While knowing how to reopen closed tabs Mac has in Safari will elevate your browsing experience, you can improve it even further by blocking all the distracting ads, popups, chats, and privacy-invasive trackers. And you can do it all with just one app — AdLock.
AdLock is a straightforward but powerful blocker that works in any browser and instantly cleans up your traffic, with no configuration required. No more banners, autoplaying videos, and other distractions — return a great web browsing experience in no time.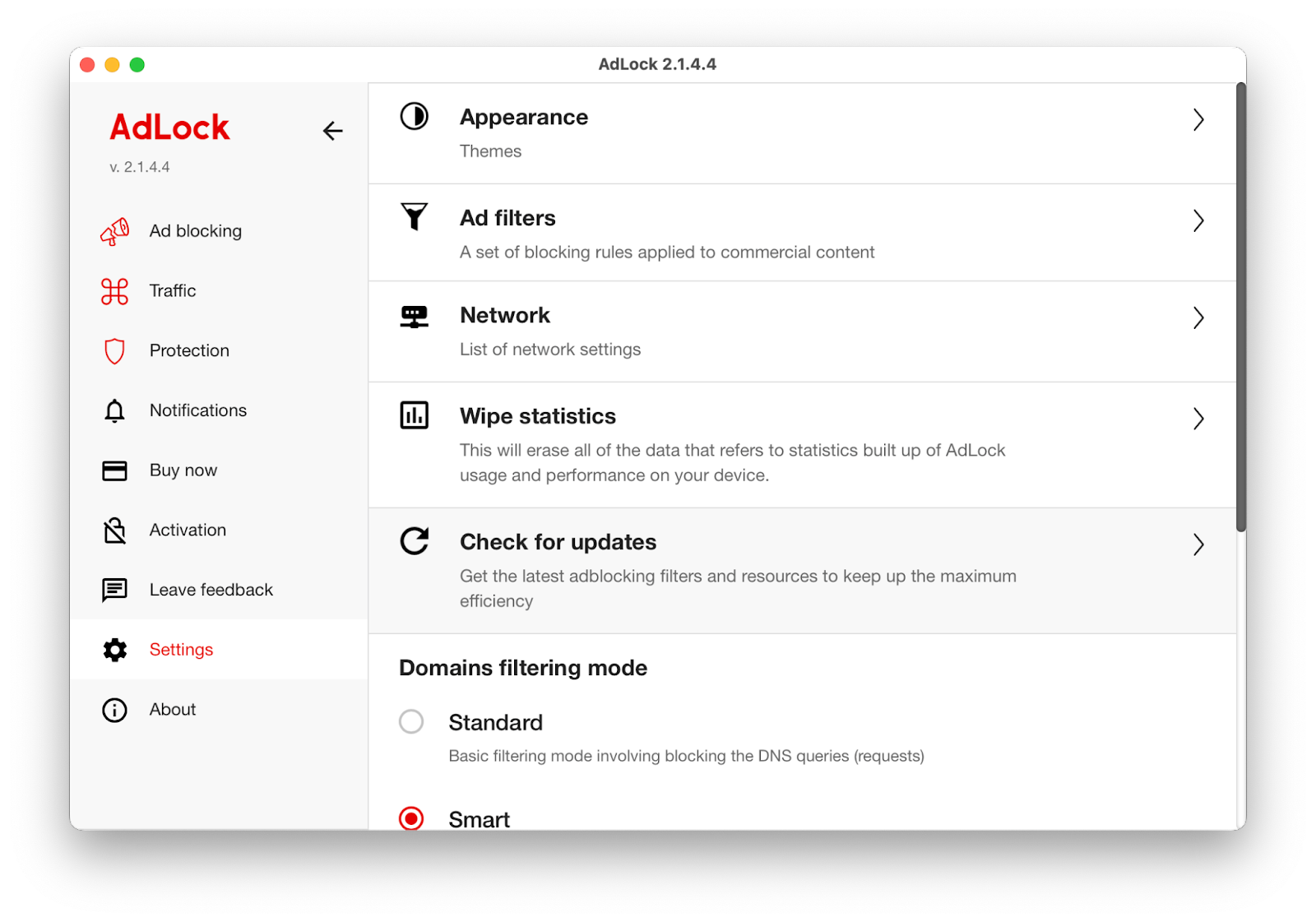 How to open closed Google Chrome tabs on Mac
Google Chrome is by far the most popular browser, with around 65% market share. This also means that people accidentally close more tabs in Google Chrome than anywhere else. Luckily, the browser provides a few solid solutions to fix this.
Here's how to recover tabs on Mac if you use Google Chrome:
Use the same Shift + Command + T shortcut to reopen the last close tab. You can repeat the shortcut multiple times to reopen multiple tabs as well.
Go to File in menu bar ➙ Reopen Closed Tab
Go to History in the menu bar and see 10 closed tabs under Recently Closed. Click on any to reopen.
Click History ➙ Show Full History (Command + Y) to browse through all the webpages you've visited and reopen any of them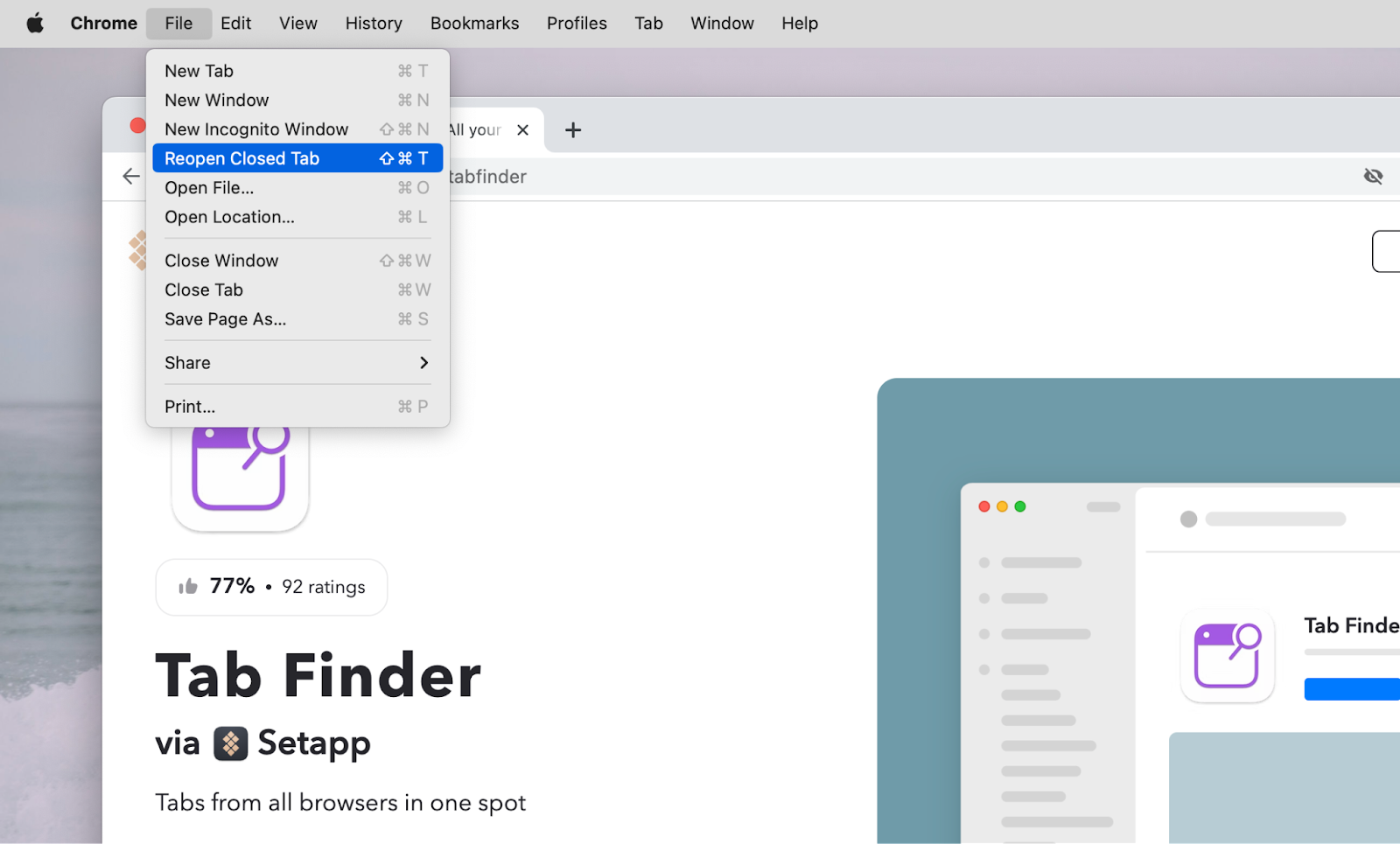 Do you find that you have way too many tabs open at any given time? None of the browsers make the problem easy to solve, and the more tabs you have open the easier it is to accidentally close the wrong one. The best solution to this problem is Tab Finder.
Tab Finder is a brilliant utility that combines search and easy access to any of your tabs across browsers in a simple shortcut-driven interface. You can call up Tab Finder from anywhere in your Mac and search for the right tab immediately — no need to click through them any longer. It's like the Spotlight search for your browser.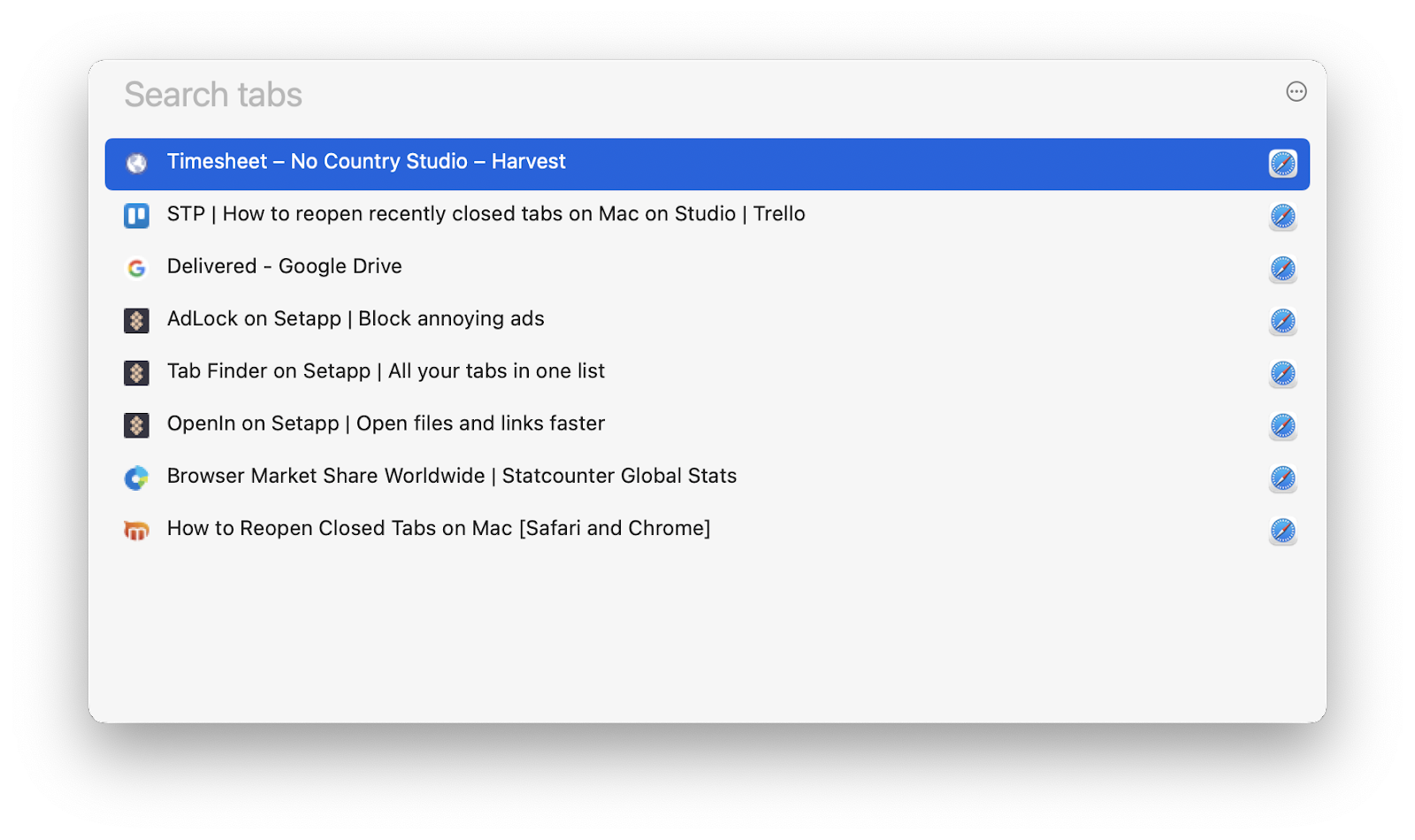 How to recover closed Firefox tabs on Mac
If you use Firefox, the way to reopen closed tabs is quite similar to both Safari and Google Chrome.
Here's how to open closed tabs Mac Firefox way:
Use the main shortcut Shift + Command + T to open as many recently closed tabs as you want
Go to History ➙ Recently Closed Tabs and select a specific tab you're interested in
Go to History ➙ Recently Closed Windows and get a whole window of tabs back
Go to History ➙ Restore Previous Session to get all the tabs back in case you've accidentally quit the browser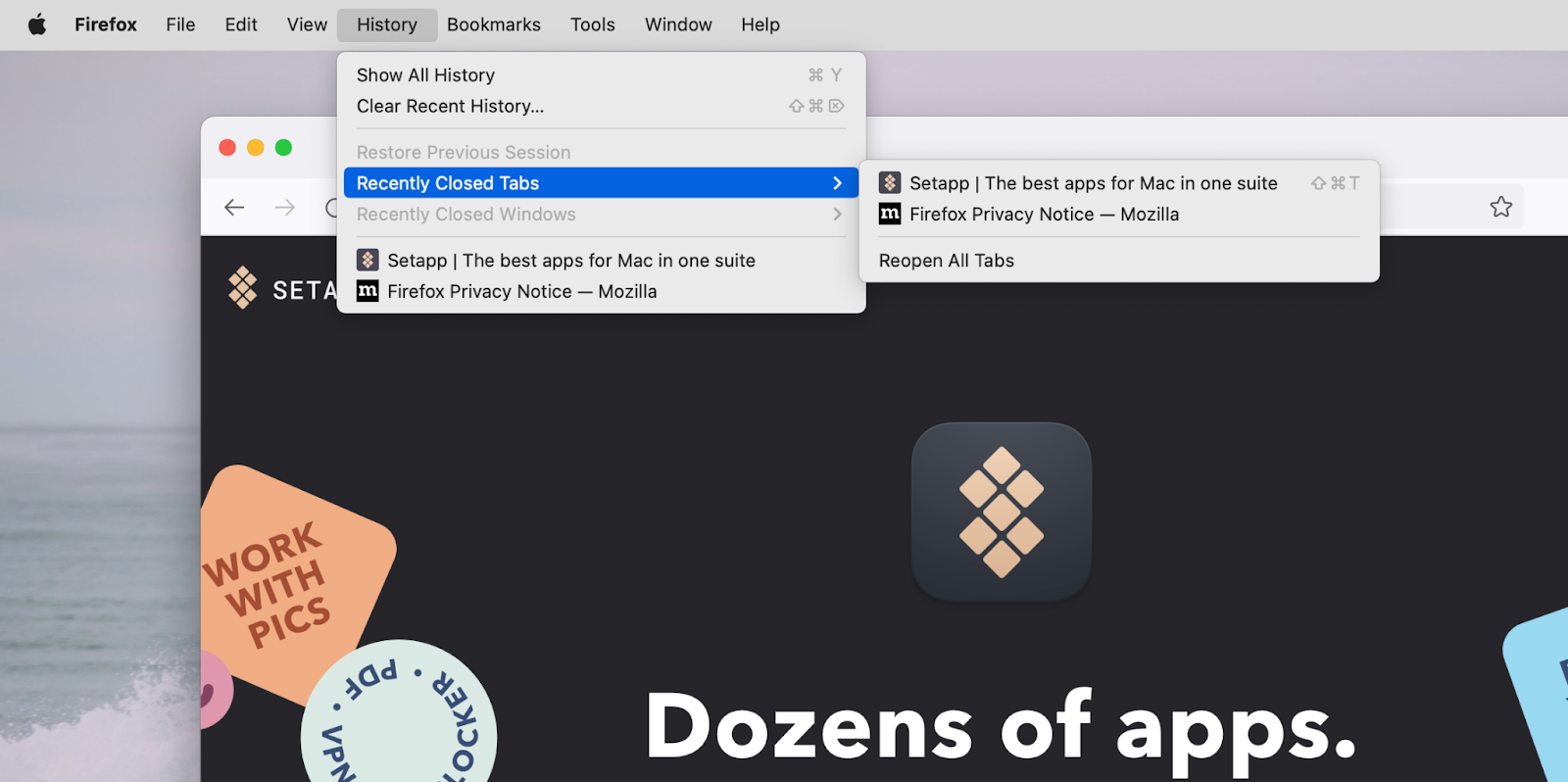 Another potential boost to your productivity besides knowing how to recover tabs on Mac could be making sure that everything you want to open opens exactly in the way you want it to. It's possible to precisely configure it with OpenIn.
OpenIn is a handy utility that helps you automatically open certain files and extensions by specific apps. For example, you can always open mailto: links in your Gmail instead of the default Mac app. You can open links in one browser during the work focus mode, but in another browser when the mode is off, and so on.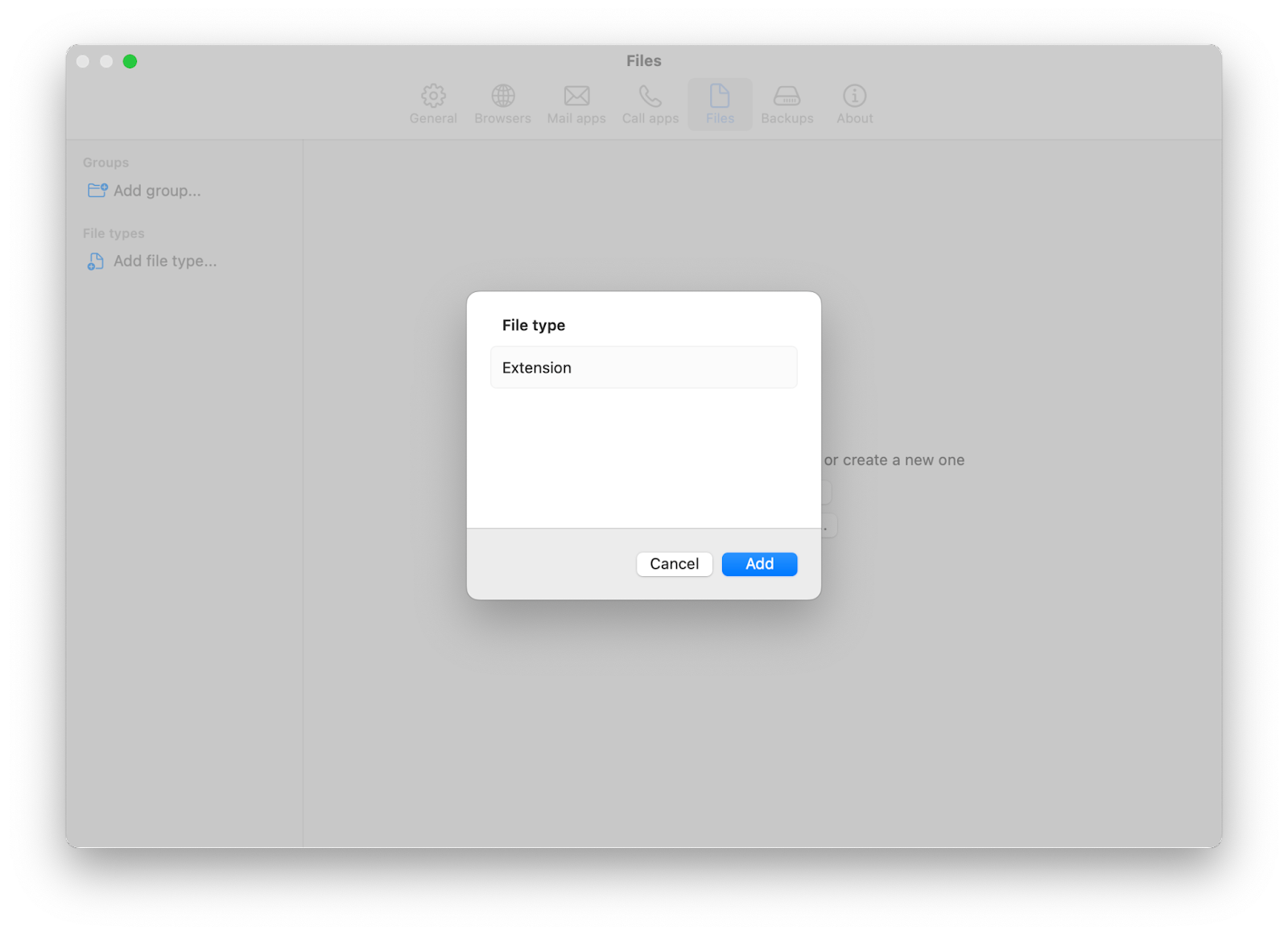 As you can see, learning how to get your tabs back on Mac takes just a few minutes, and is quite easy to do, regardless of the browser you use. In addition, you now know that you can get rid of any ads and popups with AdLock, find the tab you're looking for among hundreds with Tab Finder, and make sure opening files is done in a certain way with OpenIn.
Best of all, AdLock, Tab Finder, and OpenIn are available to you for free with the seven-day trial of Setapp, a platform with more than 240 useful Mac and iOS app for any task, from managing budgets (MoneyWiz) to writing code faster (CodeRunner). Try every Setapp app at no cost and discover your new favorites!