How to listen to SiriusXM free on Mac and iPhone
Staying at home can be a blessing and a curse — that's what we've all been forced to realize due to a rapid COVID-19 outburst. But choosing to focus on perks instead of cons is something that everyone can do, especially with all online opportunities arriving at our homes. To help millions of people around the world cope with their seclusion in the time of quarantine, SiriusXM announced they are giving away free access to the Premier Streaming plan until May 15. And yes, it includes the universally loved Howard Stern live daily show. Is there a catch? Let's find out.
What is SiriusXM and why you should try it
Call it the Netflix of radio. SiriusXM Radio Inc. is a huge radio broadcasting company headquartered in New York. Its satellite radio service provides access to the top weather, entertainment, news, music, and comedy channels by subscription. In January 2020, the subscriber base of SiriusXM reached an all-time high of 34,9 million subscribers.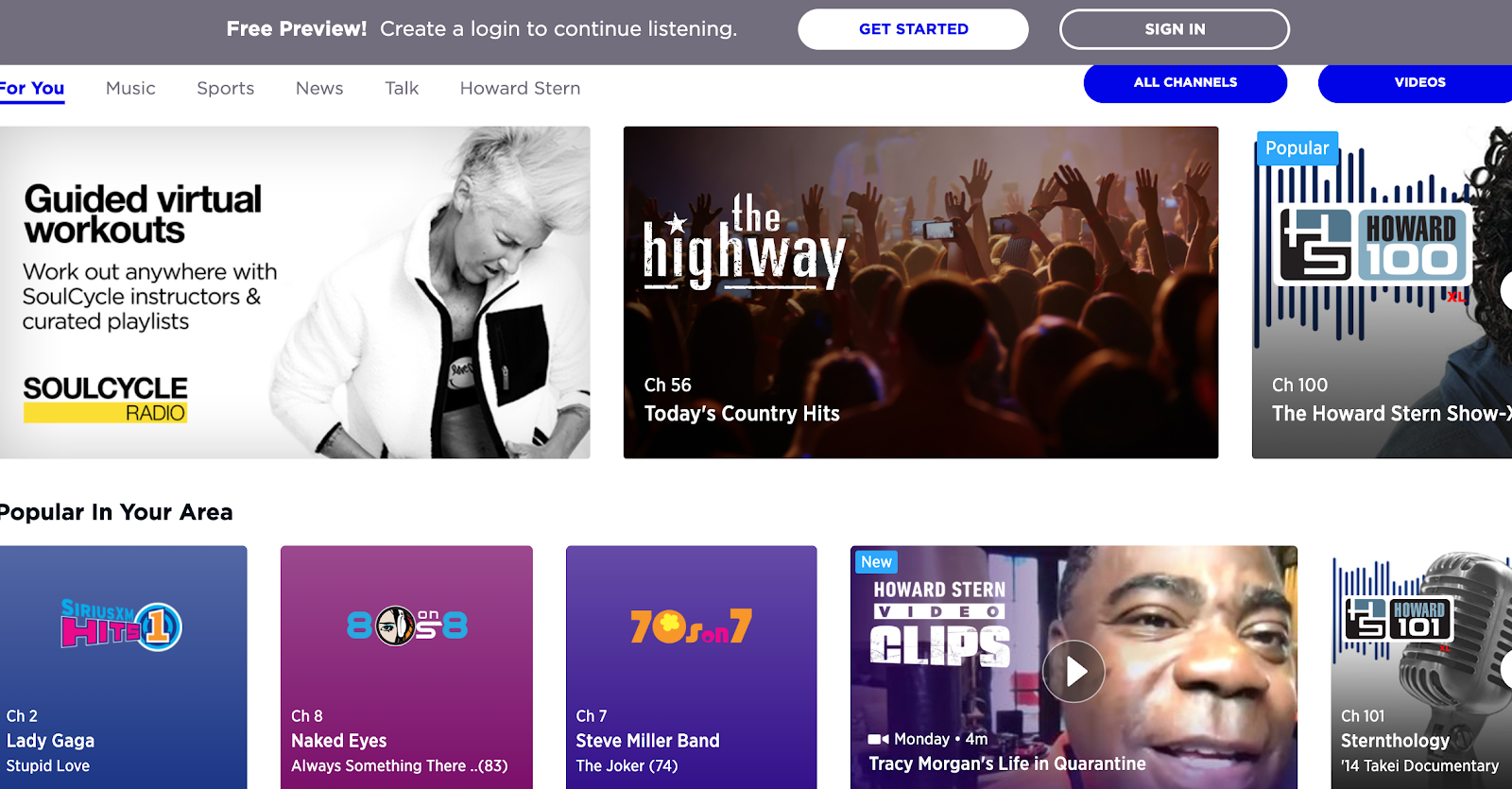 SiriusXM covers a mix of acquired channels and original content. From serious sports broadcasting channels like MLB, NBA, and NFL to Travor Noah and Comedy Central Radio that will have you laughing like a drain in no time.
One of the most prominent gems that attracts millions of listeners is Howard Stern's daily show, broadcasting exclusively on SiriusXM since 2006. In case there's a need for an introduction, Howard Stern is America's beloved radio and TV personality, writer, author, and King of All Media (according to his Twitter profile). Howard 100 and Howard 101 are two original shows hosted by Stern on SiriusXM. Basically, they feature interviews from The Howard Stern Show plus some exclusive SiriusXM video that isn't available anywhere else.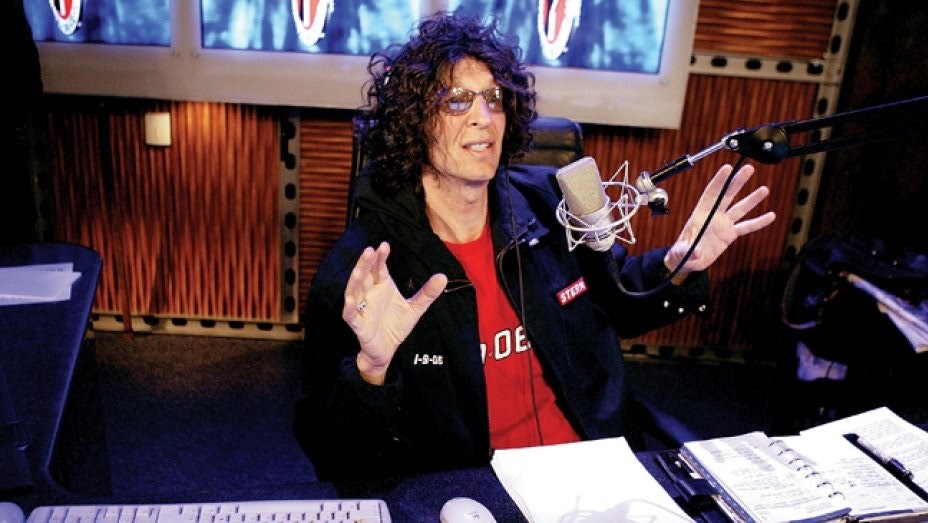 source: Hollywood Reporter
Truth be told, many Americans who listen to SiriusXM radio are there only for Mr. Howard — and it's totally worth it. This doesn't mean you should stop there, though. SiriusXM channel guide is a great place for discovering content that works for you — you can search by genre, package, category, or streaming channel. And certainly pick up a few faves.
How you can get free SiriusXM
To keep enjoying the shows of your choice, you have to own the SiriusXM subscription and stream from the U.S. The standard SiriusXM price is $8 per month for 300+ channels you can have on your phone or online. An all-access package aka SiriusXM Premier costs $13 per month and covers two dedicated Howard Stern channels, personalized stations powered by Pandora, and other perks. But we're here for a free deal, right?
First, you should know the company is being very generous at all times, offering a 3-month SiriusXM free trial. You can choose the package, sign up on the website, and start enjoying ad-free music and exclusive shows right away. For Essential Plan, you'll have to provide your payment details before the trial starts (although you won't be charged). If you choose All Access, this is not necessary.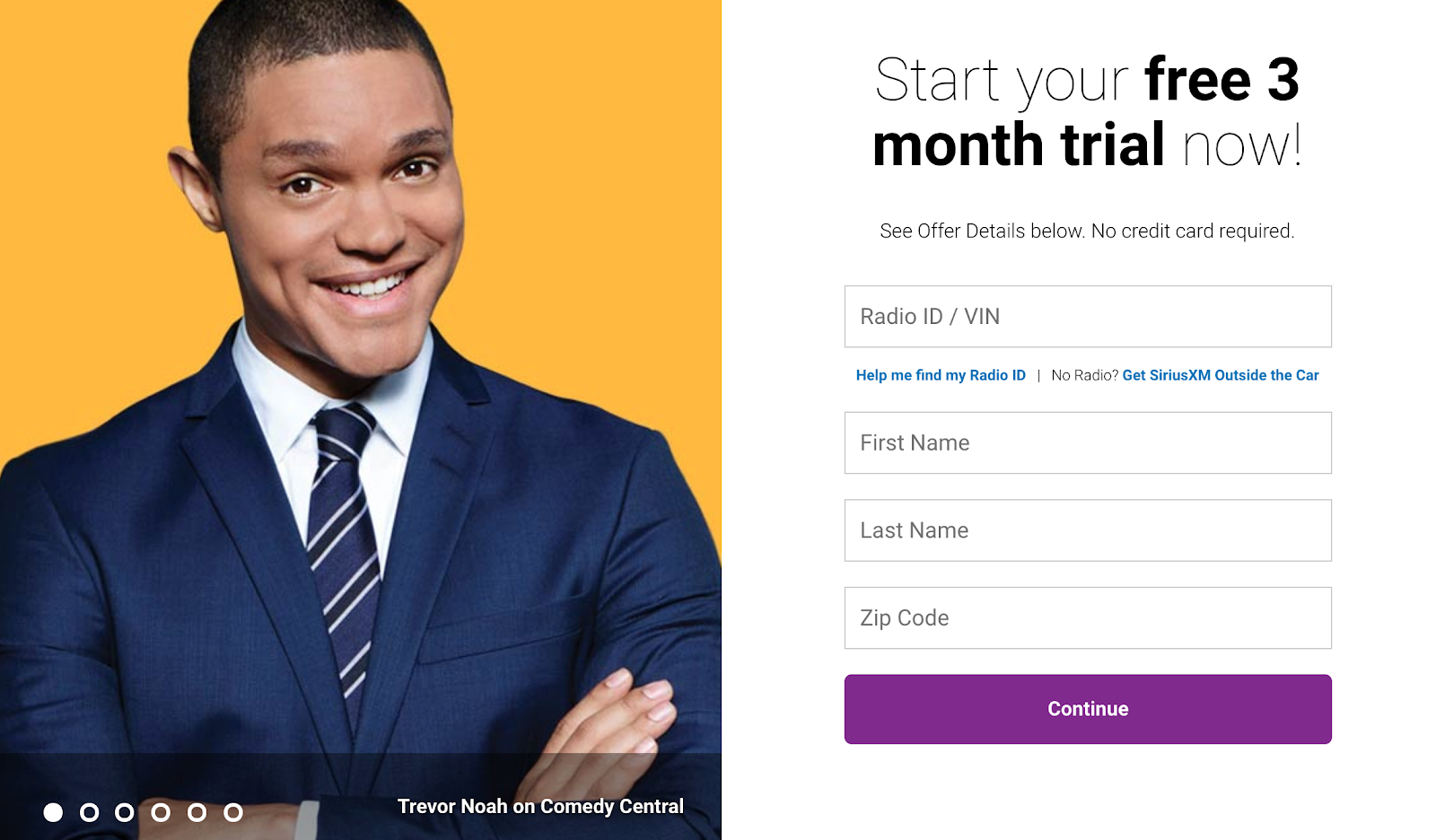 In case you're reading this article in your pajamas, you're probably on a forced lockdown due to Coronavirus, which means you can use SiriusXM quarantine deal. Until May 15, all content available via SiriusXM Premier is free. The announcement about the freebie offer has been recently made by — surprise, surprise — Howard Stern who's been broadcasting from his home since the beginning of COVID-19 quarantine. A bit later, Jim Meyer, SiriusXM CEO posted a short note regarding the free access deal:
With so many people asked to stay at home, we are making our full streaming lineup of music, entertainment, news, and information easily accessible to everyone. In the days ahead, we hope it's a valuable source of information or diversion, a generous mix of fresh live content, and a source of companionship that comes from the hosts on our many shows and channels.

So Stern fans, rejoice! It's the prime time to banish boredom and start exploring SiriusXM at home.
How to listen to SiriusXM free on Mac
All SiriusXM channels are accessible in your favorite browser on Mac. Here's how you can start listening for free:
Open any browser on your computer

Go to siriusxm.com

Click Start Streaming > Start Free Preview.
How to listen to SiriusXM free on iPhone or iPad
As we've mentioned before, free SiriusXM will work on your mobile devices as well. However, the setup process is a bit different. In contrast to a Mac, where streaming on the web is pretty convenient, with an iPhone or iPad, you'll have to stream via an app. Here's how it works:
Go to siriusxm.com on your iPhone or iPad

You'll be asked to create an account — follow the on-screen instructions

Create a password for SiriusXM and confirm via email

Download and install SiriusXM App

Open the app and proceed with SiriusXM log in

Start streaming.
How to boost SiriusXM streaming on Mac
Since quarantine doesn't involve lots of mobile activities — Instagram is pretty much the only use case left — you'll most likely choose web streaming. With SiriusXM, it's surely the best choice. You don't have to download any apps, and thanks to the Free Preview feature available in the web version, there's no need to create a personal account. What's more, Mac has the goodies that can make your radio experience seamless.
Optimize sound with Boom 3D
By accompanying SiriusXM with this Mac app, you make sure the sounding of your favorite shows is always top-notch. Boom 3D is a sound enhancer that takes you far beyond the default volume capabilities of your Mac. The tool is flexible enough to enable custom volume modifications for specific tracks of your choice. What's more, it has custom presets like gaming and music genres that you can apply to enhance sound output.
But what you're here for is something more — the unbeatable feature of Boom 3D called 3D Surround Sound. Imagine you're sitting in one room with Howard Stern, probably a home studio, while he's recording his star-studded interviews. That's what 3D Surround is about. The app works with the speakers of your choice, creating the experience of surround sound. Boom 3D magically fixes the problem when you can't attend favorite concerts or go to see a movie with your friends. Just dive into SiriusXM and let Boom 3D make the whole journey as immersive as possible for you.
Create your own exclusive content with n-Track Studio
Well, who knows, maybe SiriusXM will serve the inspiration. If you've thought about recording music or podcasts yourself, take the time to explore the best of the best on SiriusXM, and start creating with n-Track Studio. It's a Mac app you can have for $9.99 per month. No sophisticated equipment, no extra expenses, just one app.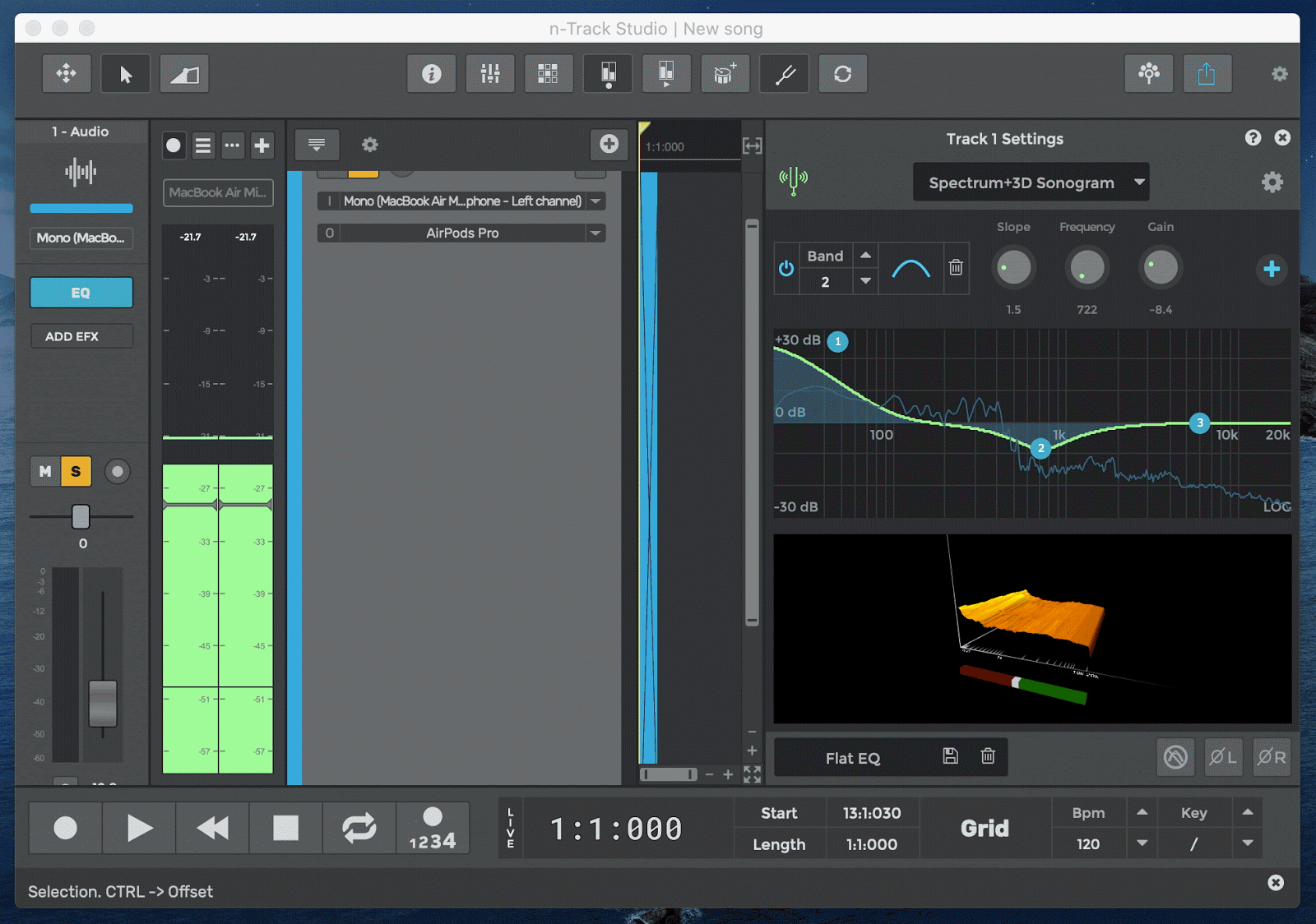 Basically, n-Track Studio is a full-fledged digital audio workstation, available in a click from your Mac's dock. You can use it to do anything from creating multi-track recordings to mixing sound effects. The app is a no-brainer for people who've worked with audio recording tools before. But if it's your first step to starting a podcast host career, you'll need a bit of guidance. Here's how to record audio with n-Track Studio on Mac:
First, you need to configure the level of recording sources on your Mac. Go to System Preferences > Sound, select the available input, and customize Input Volume if needed. For more advanced audio level configurations, access Applications > Utilities > Audio MIDI Setup.

Once you're all set, open the app's main window, also called Timeline, and click on the Add channel button. This will create a new audio channel for your recording. If needed, you can combine multiple channels for recording one track.

On the left side of the app's window, click the drop-down Input menu — it's pretty tiny and marked with "I." Select the input you'd like to use to record the track like your computer's built-in microphone or an external microphone.

Ready to rock! Click Record in the lower left corner of the app's window. When you've finished recording, click Stop to finalize the channel. That's it. Hope you dressed up for your first podcast recording — it's a big moment!
Once you finish recording, use n-Track Studio to edit your tracks professionally. With its native Step Sequencer, you can add beats and create loops: Click Add Channel's drop-down menu and select "Add black sequencer track." In the channel, click the gridded button to open the sequencer and start programming your rhythms. Once you're done, close the sequencer and the track will loop. Have fun experimenting!
Both Boom 3D and n-Track Studio are available on Setapp, just as 180+ other top-rated Mac applications. Wait, did we just come up with another perfect home entertainment? If you sign up for a free trial today, you'll have 7 days of exciting app discovery. And then, it's only $9.99 per month to keep all the Setapp apps in your life.