How to convert website to app on Mac
Even a decade ago, every product you'd use on your Mac had its own dedicated Mac app. Today, this is no longer the case. With the rise of the web and significant improvements in JavaScript, practically any SaaS product right now exists only as an interactive online app.
To be fair, there are lots of benefits web apps have over native ones. They can be used on any platform, for example, whether it's Windows, macOS, Linux, etc. They can also be continuously and instantly updated with every new release.
Still, there's something special about having native apps featured in your Dock. They are highly customizable to your preferences. They are quick. And you don't have to sort through dozens of tabs in your browser to find them or accidentally close them. It's just a more productive way to work.
So what do you do if the web apps you use and websites you visit every day don't have native Mac app equivalents? Luckily, you can create a native-like macOS app from practically any website by using site-specific browser (SSB) technology.
What Are Site-Specific Browsers?
While site-specific browsers sound like something complicated, they really aren't. In essence, SSB technology allows to create a standalone Mac app by leveraging its web-based interface. The app shell itself is simply a paired-down browser that's more tightly integrated with native macOS features and thus allows for greater customization than if it would still just be a website in a browser.
An app created through an SSB would feel nearly as native and engaging as a real Mac app, with similar functionality and navigation features. It could also have any title you'd like to assign it and a custom icon that you can attach to your Dock for greater visibility.
Even better, you don't need to be technical to turn website into app, you just need an SSB tool — you can even use macOS default Automator utility to create one!
How to turn website into app right now
If you're eager to know how to add website to desktop Macs can use as an app right now, you can start by learning a bit about the way Automator works.
As its name suggests, Automator is generally used to make repetitive tasks easier, such as renaming multiple photos in the same way or searching for a specific phrase across various documents. But Automator can also be used to create a basic Mac app out of any website you frequently use.
Here's how to convert website to app with Automator:
Launch Automator from the Applications folder
Click New Document ➙ Workflow
Navigate to Internet ➙ Get Specified URLs
Replace the address with the URL you want to make an app out of
Add the Website Popup action and customize its settings for your new app
Hit Run when ready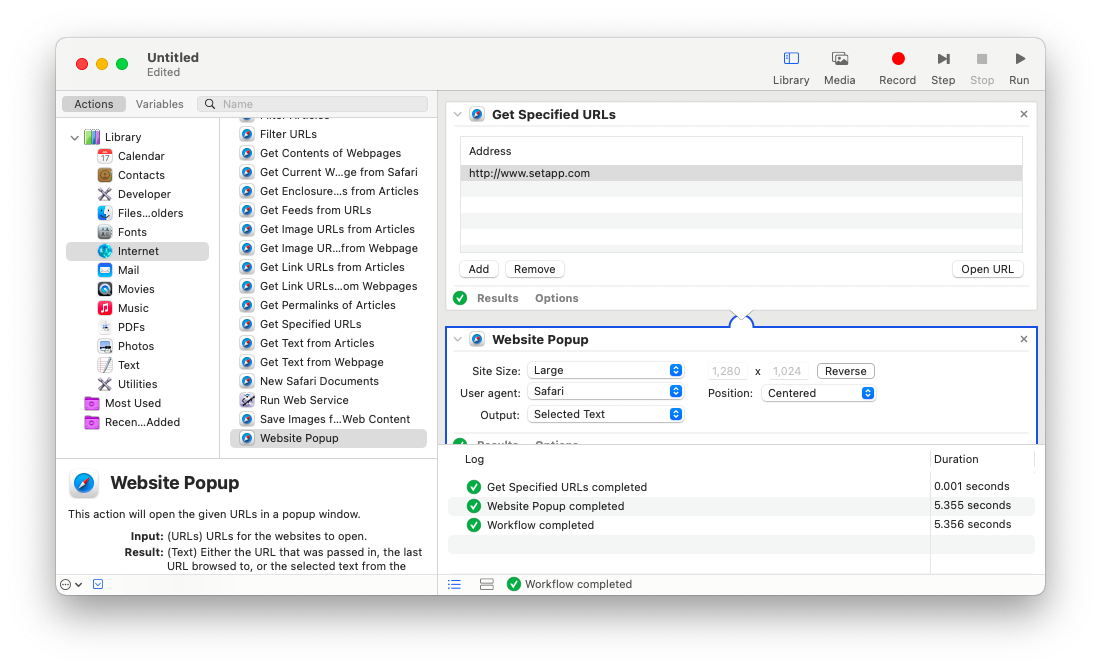 Automator is a good way to get a feel of what SSB technology is capable of, but if you want to add more customization and functionality, you'd need to graduate to other SSB tools, such as Unite.
Unite is one of the leading SSB tools available today. Not only does it make beautiful Mac apps out of websites in seconds, it's based on the macOS native WebKit 2 engine (the same one that powers Safari), so it allows for extensive customization options and extra native features, such as Find using ⌘ + F shortcut and a status bar. The apps would also support full ad-blocking right out of the box and even have mobile versions, so you can get the essence you need without taking up space.
Here's how to add website to desktop Mac with Unite:
Open Unite
Enter the app's name along with the URL
Upload or source the icon from the web
Click Create Unite Application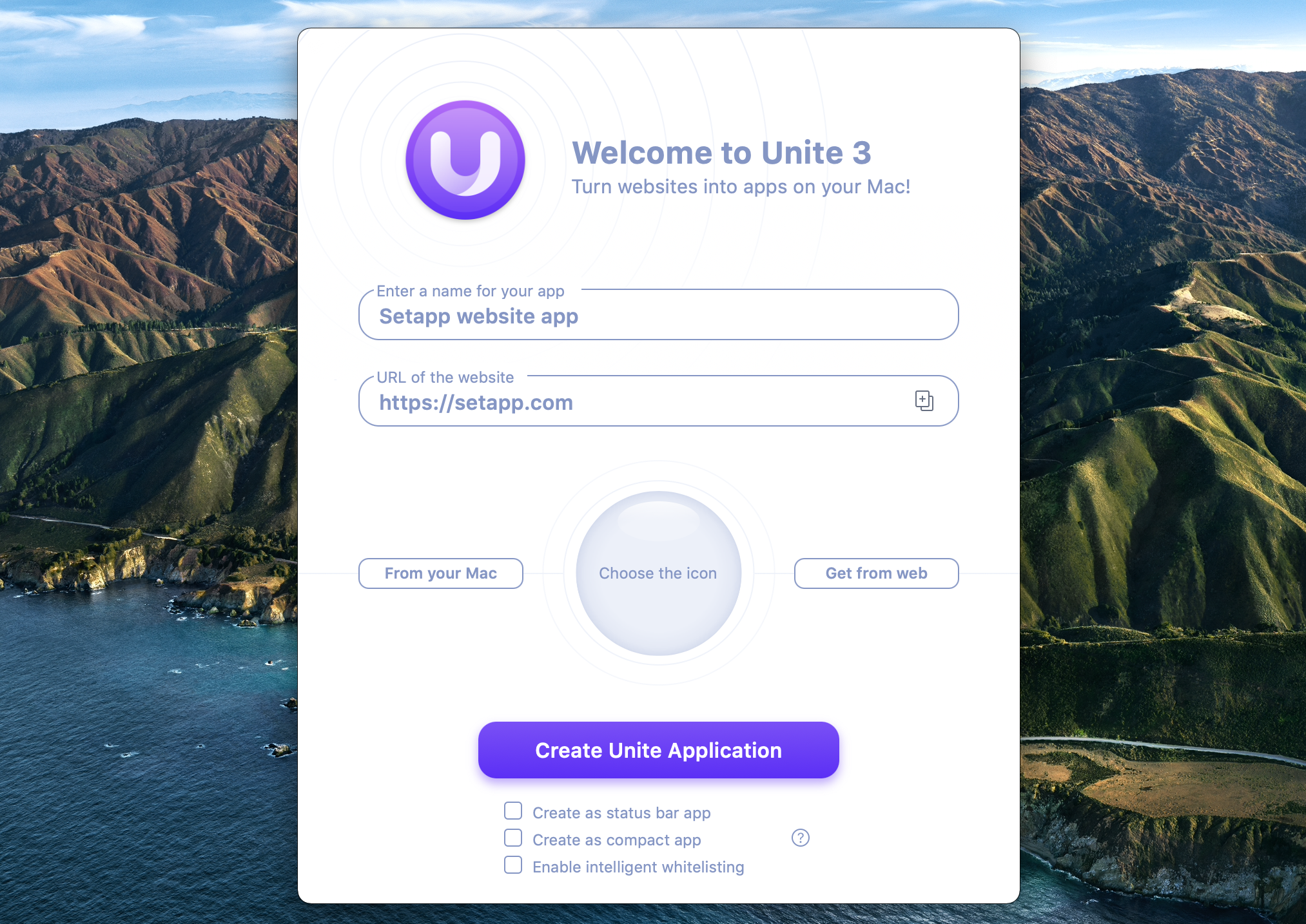 That's it! Now you can enjoy your favorite websites — from Twitter to Facebook or your local news — in the same way as native macOS apps.
How to convert website to apps based on Chromium
Without doubt, Unite is one of the best ways to easily turn website into app on your Mac. And since Unite is based on Safari's WebKit 2, it offers an unprecedented level of native customization.
However, similar to Safari, Unite does restrict certain web features that Chrome users, for example, rely upon every day, such as an extensive catalog of extensions. Luckily, there's another, Chrome-specific solution that allows you to turn website into app on Mac.
Coherence X is a unique way to leverage everything you love about Chrome and transfer it into the native Mac environment. Based on the Chromium platform, Coherence X supports all the extensions you might need (e.g. 1Password) and lets you create multiple apps using the same templated settings with ease. You can even use browser tabs inside your native apps to create workspaces. Imagine clicking one icon and having all the websites you need to work open in a single window. Or build an email app with multiple accounts existing in separate tabs under the same interface.
Even if you don't like Chrome, you can still use Coherence X to create apps based on the privacy-minded Brave browser.
To turn website into app with Coherence X:
Launch the app
Fill out the name and URL
Find an appropriate icon
Click Next
Choose a browser that you want to power your app
Set up extensions and profiles ➙ Next
Select between creating a standard or tabbed app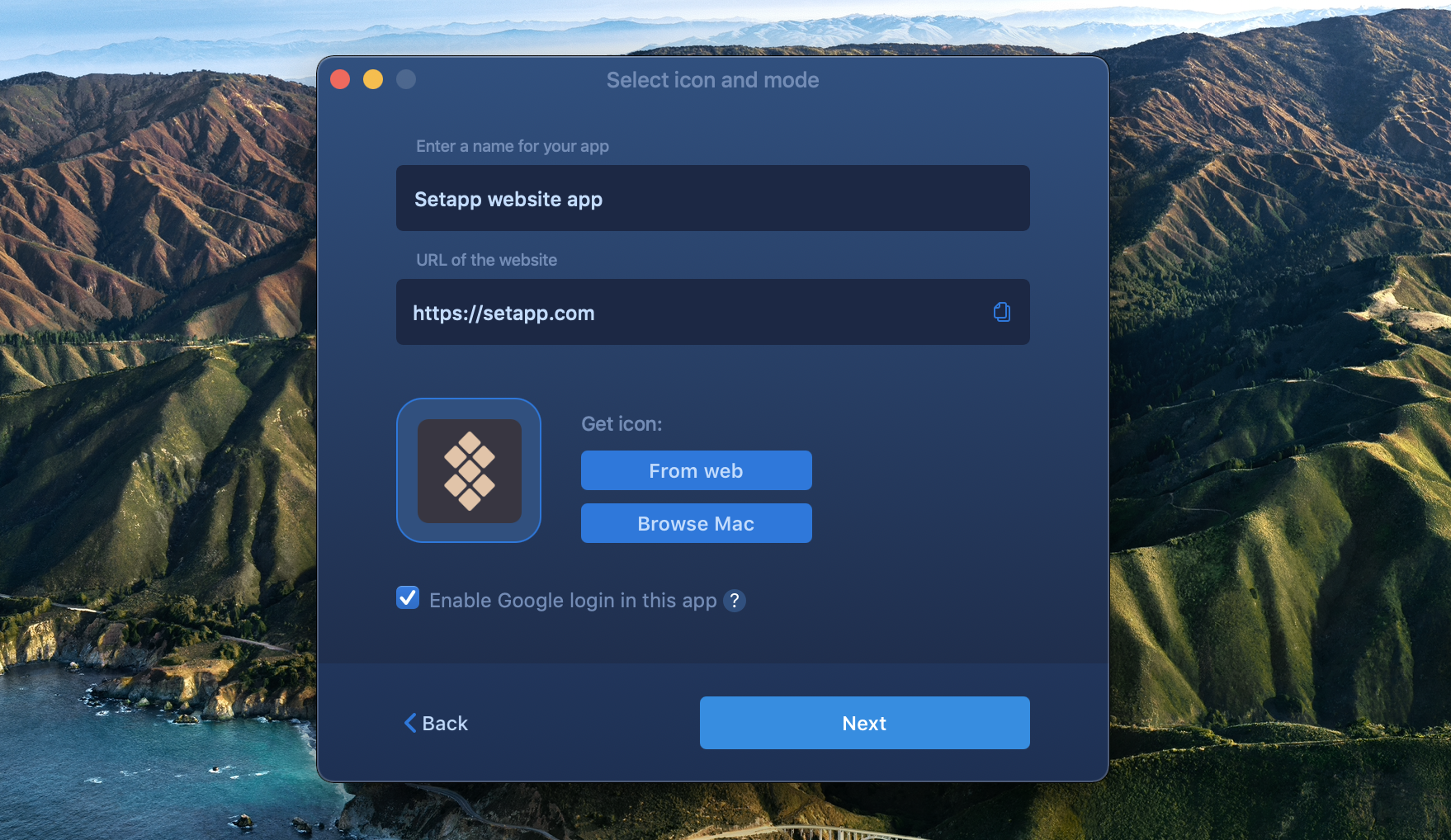 In the end, you can test how SSBs work by using a manual workflow through Automator and then move to either Unite or Coherence X when you know what kind of websites you'd like to run on your Mac. While both apps basically do the same thing, Unite will give your apps a more native Mac feel with lots of options for customization, whereas Coherence X offers a wide range of extensions and multi-tab views that aren't possible to do with Unite.
Best of all, Unite and Coherence X are both available to you free for seven days through a trial of Setapp, a platform with more than 200 useful Mac apps and utilities that can considerably extend your daily toolkit, from mounting cloud storage as hard drives (CloudMounter) to effortlessly managing multiple databases (TablePlus). Try every Setapp app at no cost and find out where you've been missing out!