Sounds good? Well it looks good too.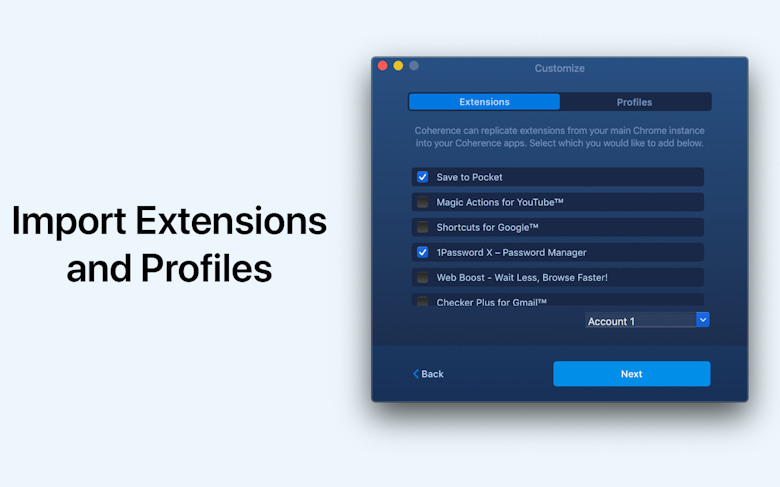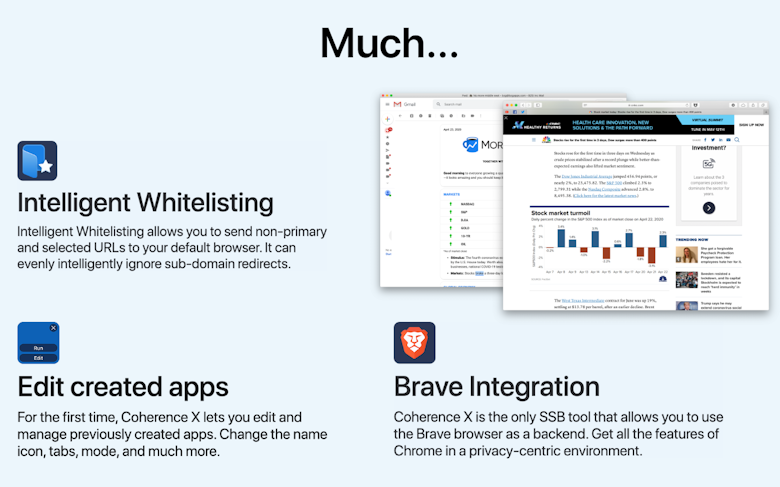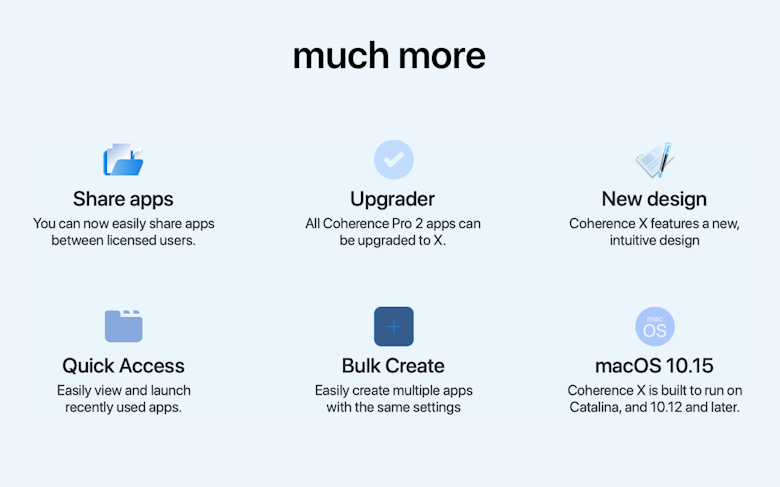 Coherence X features
An isolated app in seconds
Using Chrome as a backend, Coherence Pro allows you to work with Chrome-exclusive experiences like Canary or Spotify web player, and build entirely independent apps. You can batch create programs if you need more than one, transferring settings across apps.
Chrome extensions and profiles
Let Coherence Pro automatically import extensions and profiles from your Chrome instances. So if you create a social media application, you can add 1Password, Pocket, and other useful extensions to enhance your app. Coherence Pro will also keep track of your preferred extensions.
Switch between app modes
The app comes with three different UI modes: a single-window app, traditional Chrome-like appearance, and multi-tab design. Choose the preferred experience, whether it's a native immersive interface or a space for multitasking. If necessary, copy the same settings across apps.
The power of multi-tab design
Multi-tab apps give you incredible freedom in terms of functionality. For instance, you can create a native email client with the Unite app. But only with Coherence Pro multi-tab design, you can add multiple email accounts and switch between them inside your app.
Workspaces inside your app
Coherence Pro gives you space for creative work. Using a set of different functionality, you can create apps that act as workspaces. For example, if you're tired of toggling across platforms, you can use Coherence Pro's multi-tabbed interface to bring your top visited sites into an app.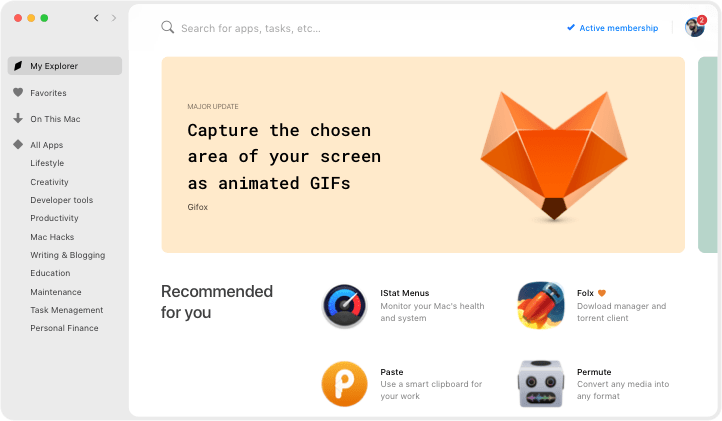 We love Setapp
---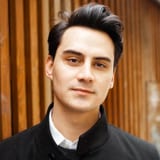 Very impressed with World Clock Pro @setapp @minimuminc. Making light work of time differences 🤘yew. How MacOS still doesn't have some kind of digital clock widget is mind boggling.
jessengatai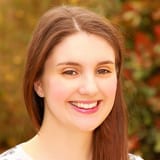 I have used Endurance (http://enduranceapp.com ) which is on @setapp to try and extend my battery life, 12 hour flight from Vienna to LAX and I spent about 8 hours working on an essay - not bad going!
Rosemary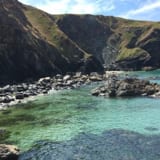 Wow just downloaded Setapp for my Mac - the value here is amazing. Some of the apps cost more than the monthly subscription alone and there are some amazing apps like Ulysses, RapidWeaver etc. @setapp
Mark Mitchell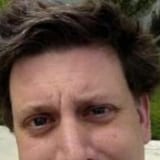 Discovered @PDFpen via @Setapp. Worth it just for the stellar OCR job it does on poorly-scanned assigned readings. Now to start playing with all those PDF editing features...
Nate Dickson