How To Find The Path Of A File in Mac
Over time, your Mac likely accumulates dozen – maybe even hundreds! – of files. As you create, download, and save documents, your entire filesystem can become cluttered and fussy.
Even those who carefully manicure a deep file tree system need help locating files from time to time. For files buried in sub-folders, knowing the file path can be a critical shortcut to finding the document you need quickly.
We'll show you how to get path of a file in Mac, how to navigate a file directory Mac has built-in, and why a standalone app may be more useful than your Mac's Finder.
How to get a file path on a Mac?
If you know which file you want to reference later, knowing how to find the path of a file in Mac is actually pretty simple. Here's how:
Discover the file you're looking for on your Mac
Right-click on the file icon
Select "Get info"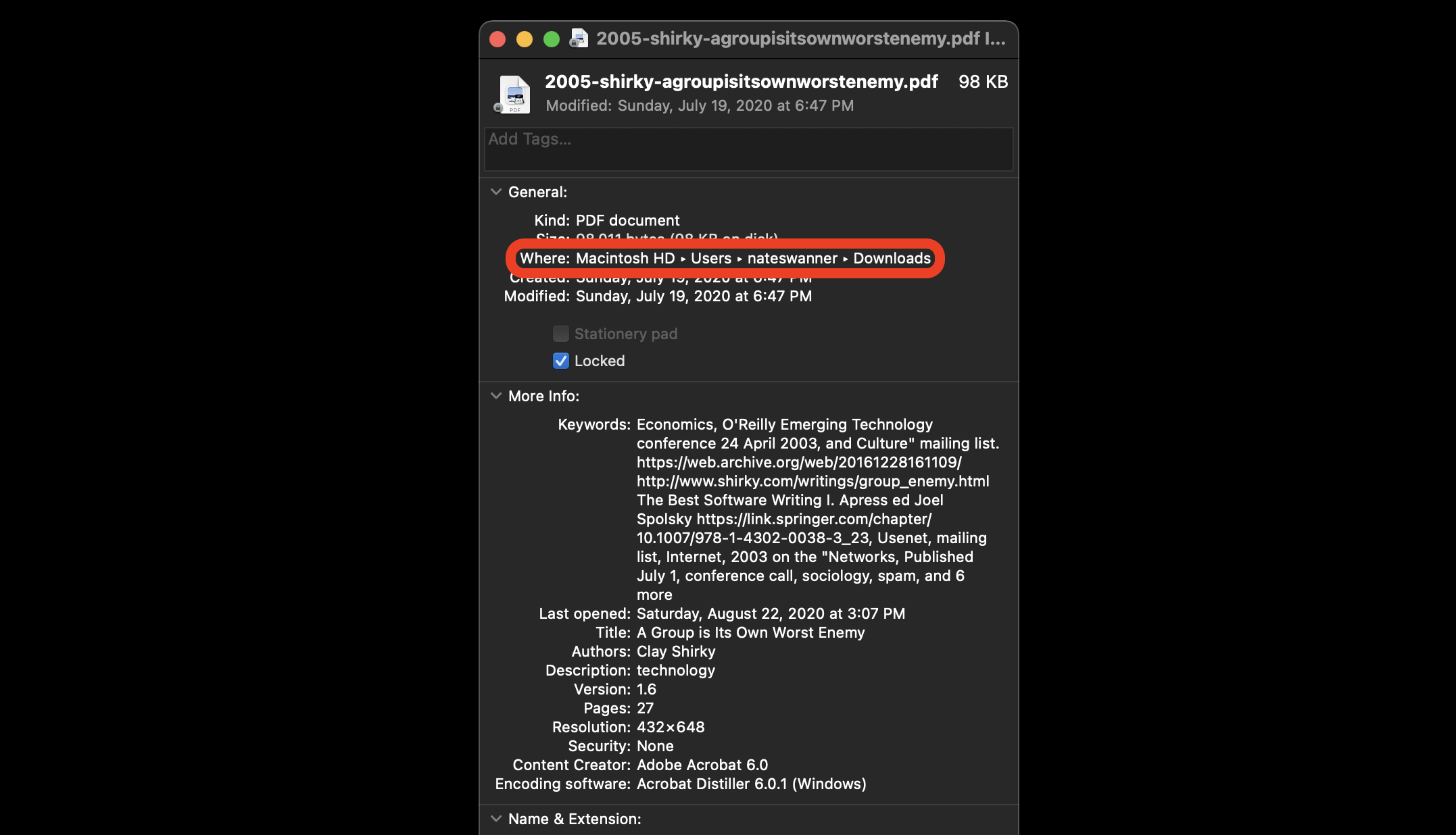 The file path on Mac will be listed under "where" in the "get info" window that appears.
This is a simple method, but there's an app that lets you find a file path without doing anything extra. Path Finder is a finder replacement that has a series of modules you can drag onto its side menu to discover everything about an app and perform some specific functions.
Path Finder's "Info" module surfaces all the same data from the three steps above without any extra input from you. All you have to do is select the file, and the "Info" module will show you everything you want to know! PathFinder will even discover hidden files, making it a great accompaniment if you're sharing a computer with someone or simply need to keep files tucked out of sight – but want to dig them up from time to time.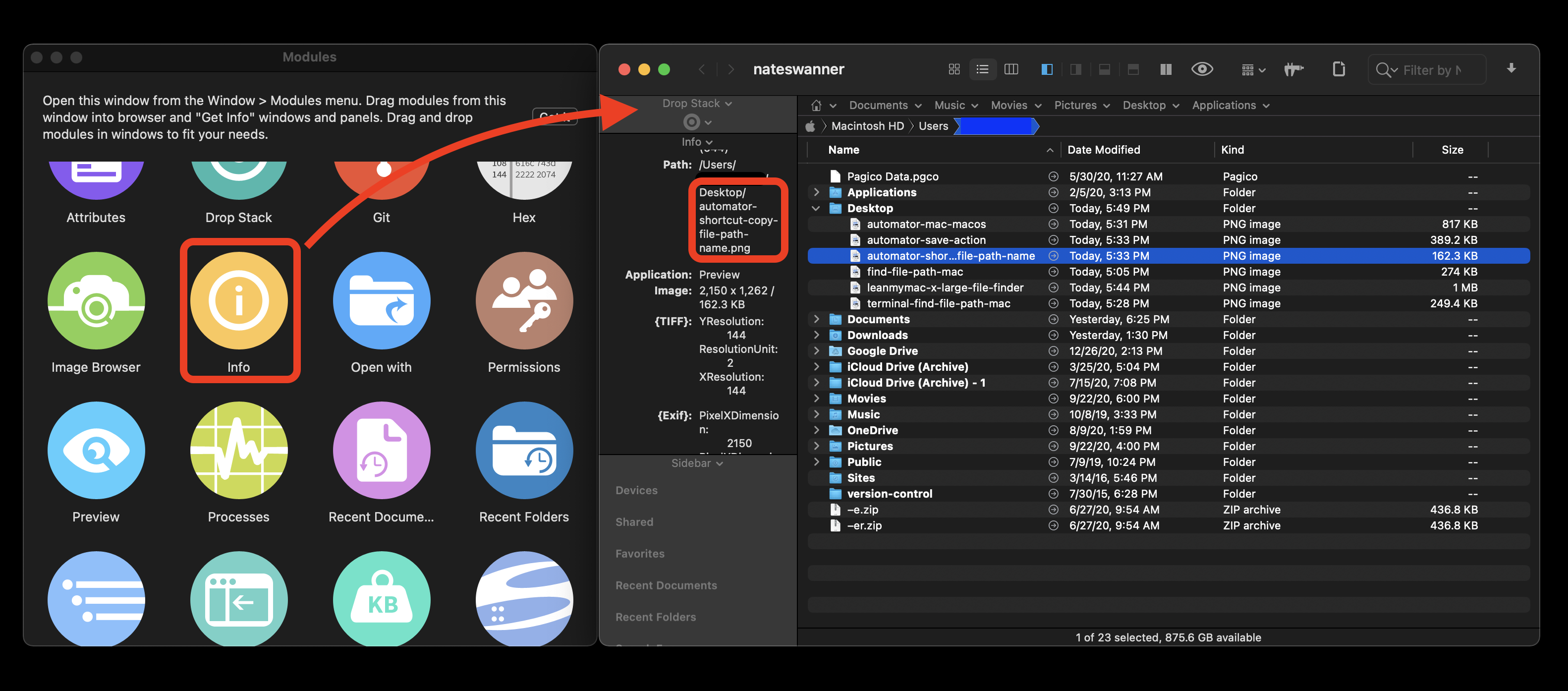 How to copy the file path
Understanding how to copy path in Mac Finder is a bit tricky, but don't worry – we've got you covered! Here's a step by step guide to surfacing and copying the file path for any file or folder in your Mac's Finder app:
Open Finder on your Mac
From the Mac menu bar, select "View"
Choose "Show Path Bar" (This surfaces the path for any file selected at the bottom of the Finder window. If you try to copy the text at the bottom of the window, nothing happens. So how can you actually copy the file path name?)
While holding down the "Control" button, click on the file you want to copy the path of in Finder
Press the "Option" key (In the menu that appears after step one, you'll see "Copy" turn into "Copy [file path name] as Pathname". )
Select "Copy [file path name] as Pathname"
Now yo know how to get the path of a file in Mac! This copies to file path of the selected file to your clipboard, which you can then paste anywhere you like. It's not the only way to find the filename for the folders and documents on your Mac, though. To discover file path Mac has a few other tricks.
Use Terminal
Terminal (or Mac directory path) allows deep access to the inner workings of your computer, down to the root level. You can perform just about any function in Terminal, including finding, moving, and deleting files. It's also great for finding fil path names.
Here's how to get directory path in Mac to show you a file's path name:
Open Terminal on your Mac
Type this command: sudo su
Press the return key on your Mac
Enter the password for you Mac
Press return again
Enter the following command: find / -name [filename] (Note: You must know the name of the file you're looking for. In the step above, substitute the file name for [filename])
Press enter (Note: It can take Terminal several minutes for Finder to complete this task. Be patient. Additionally, much of what Finder returns will say "operation not permitted". You can safely ignore those lines.)
Find the file path of the file you're searching for, then select its file path
Right-click the selected text and choose "copy" or use the "control + c" keyboard command
There's a simpler way, though. If you have the file available on your Mac, simply drag and drop it onto your Finder window, and the full file path will be displayed.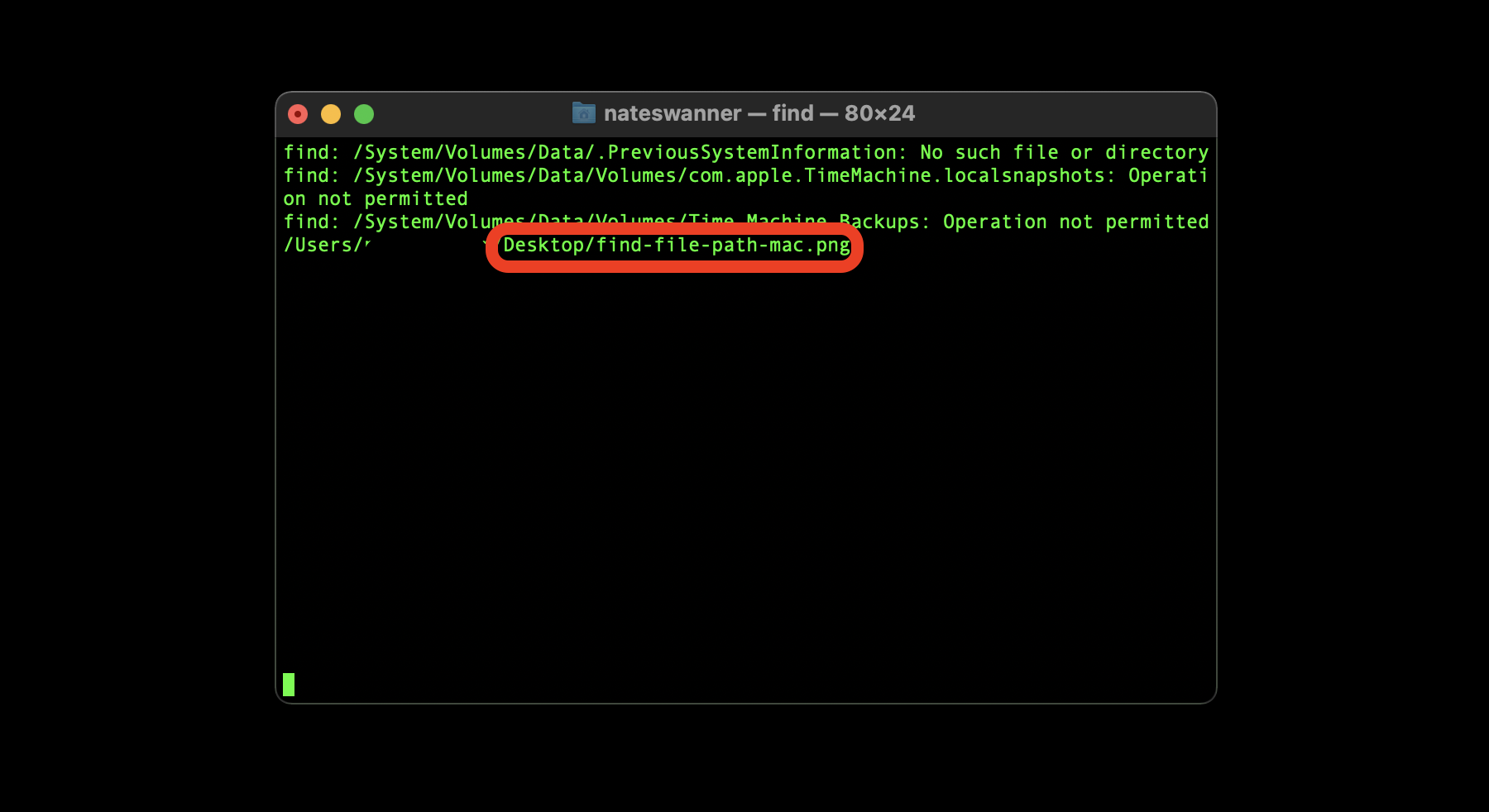 Create 'Copy Path' Service in Automator
Power users and shortcut afficionados will love this little hack! Your Mac's Automator allows you to create a host of microservices to perform tons of functions, including getting the file path of any file with ease. Here's how to create your own shortcut:
Open Automator on your Mac
Select "Quick Action" (Note: In macOS Catalina or earlier, this will be known as "Service")

At the top right of the Automator window, choose "Files or Folders" from the drop-down menu next to "Workflow receives current:
Next to "in", select "Finder"
On the top left of the Automator window, type "copy to clipboard" into the text entry field
Drag the "copy to clipboard" module that appears into the main section on the right side of the Automator window

From the Mac menu bar, select "File"
Choose "save" from the drop down menu
Name your new automation
Select "save"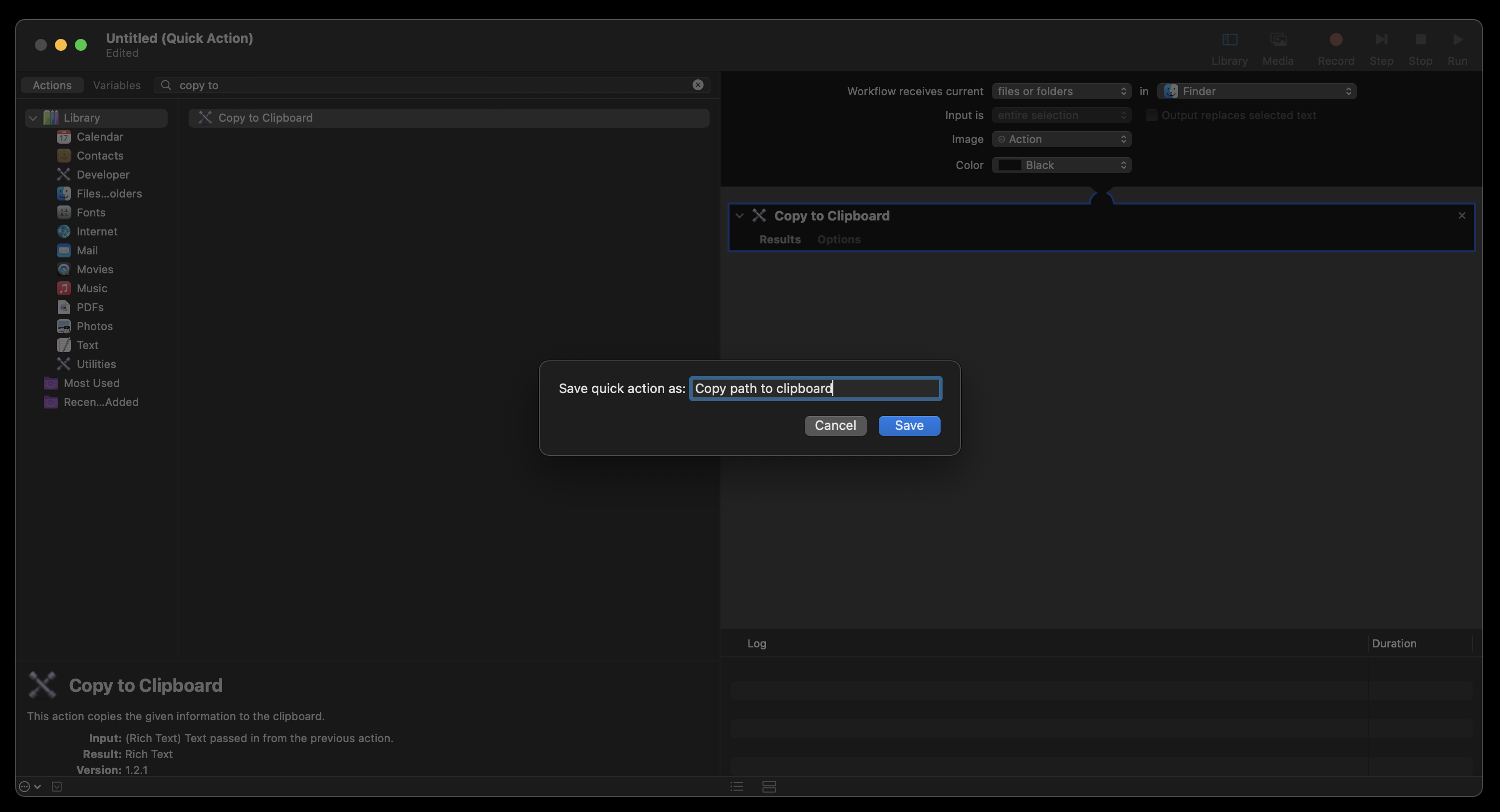 Now that you've created your fancy new automation, here's how to use it:
Open Finder on your Mac
Right click on any file or folder
Hover over "Services" in the menu that appears
Select the Automator shortcut you just created (ours is saved as "copy path to clipboard")
Paste the copied text anywhere you like
How to find large and old files
What if the specific file or folder you're looking for is massive – but that's all you really know about it? For this, CleanMyMac X is the perfect app!
While it focuses on keeping your Mac's file system spotless and your computer operating at peak performance, CleanMyMac X also has a handy module named (appropriately) "Large & Old Files." Its aim is to discover big, bulky documents or files, which it distills to lists. You can choose to view all of your big, bulky files, or check out CleanMyMac X's "kind" and "size" lists to help you find exactly what you're looking for. It even creates lists by size, so you don't mistake that 11GB file for the 1.1GB file!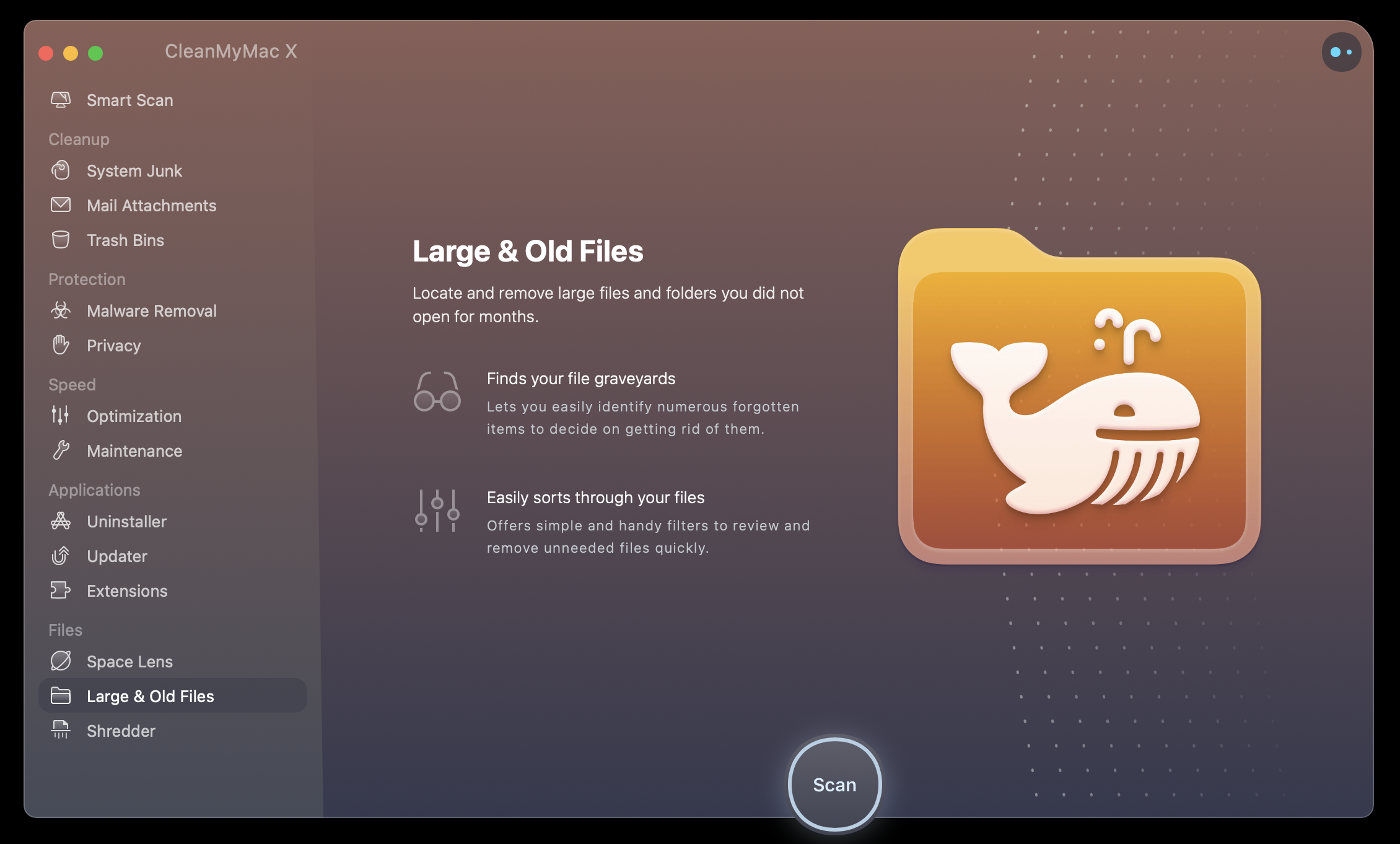 Conclusion
Your Mac doesn't think you need to know all the details of a file or folder; it would rather you hunt and peck around to discover what you need.
For many users, this is fine. Finding a file is relatively simple for many – but an increasing number of users want more from their Mac, including the Finder app. Those with tons of files and folders are looking for amsarter, better way to manage their digital footprint.
This is why PathFinder and CleanMyMac X are so useful. Each plays a unique role in keeping your Mac performant, helping you discover files with ease, and allowing more customization of your Mac than ever before.
Best of all, these three apps are available for free with a seven day trial of Setapp, the world's largest and bet suite of productivity apps for your Mac. Alongside PathFinder and CleanMyMac X, you'll have unlimited access to the entire Setapp catalog of over 200 apps – all free for the full week-long trial!
When your seven day trial period ends, continued access to Setapp is ony $9.99 per month. It's an amazing deal for full access to so many apps, so why wait any longer? Start your free trial of Setapp now!