Fix "Wi-Fi no hardware installed" issue
I put my MacBook to sleep. Once I put it back in, I couldn't connect to Wi-Fi. I rebooted my router, but that didn't help. My phone was connected to the same Wi-Fi, and everything was fine. Then I restarted my MacBook, and I still couldn't connect. Also, I noticed the message "Wi-Fi: no hardware installed." What's wrong with my laptop?" – this is a common question you can find on the web. If you're facing the same issue, keep reading. We'll fix the annoying "WiFi no hardware installed" error.
What to do when my Mac says no Wi-Fi hardware installed?
"Wi-Fi: no hardware installed" is a macOS error that can appear when the computer returns from sleep. The error occurs when the device is unable to connect to Wi-Fi. However, restarting the computer or laptop often solves problems with the connection. If it doesn't help, we suggest running quick maintenance.
A series of maintenance scripts can be run to resolve permission issues, repair application failures, and enhance drive performance. This usually fixes hardware problems. The easiest way to do this is by using the Maintenance module from CleanMyMac X.
Here's what you should do:
Open Setapp and type "CleanMyMacX" or "maintenance" in the search bar
Find CleanMyMac X in the search results and click Install
Once the app is installed, open it, click Maintenance in the sidebar
Select Run Maintenance Scripts from the list of tasks and click Run.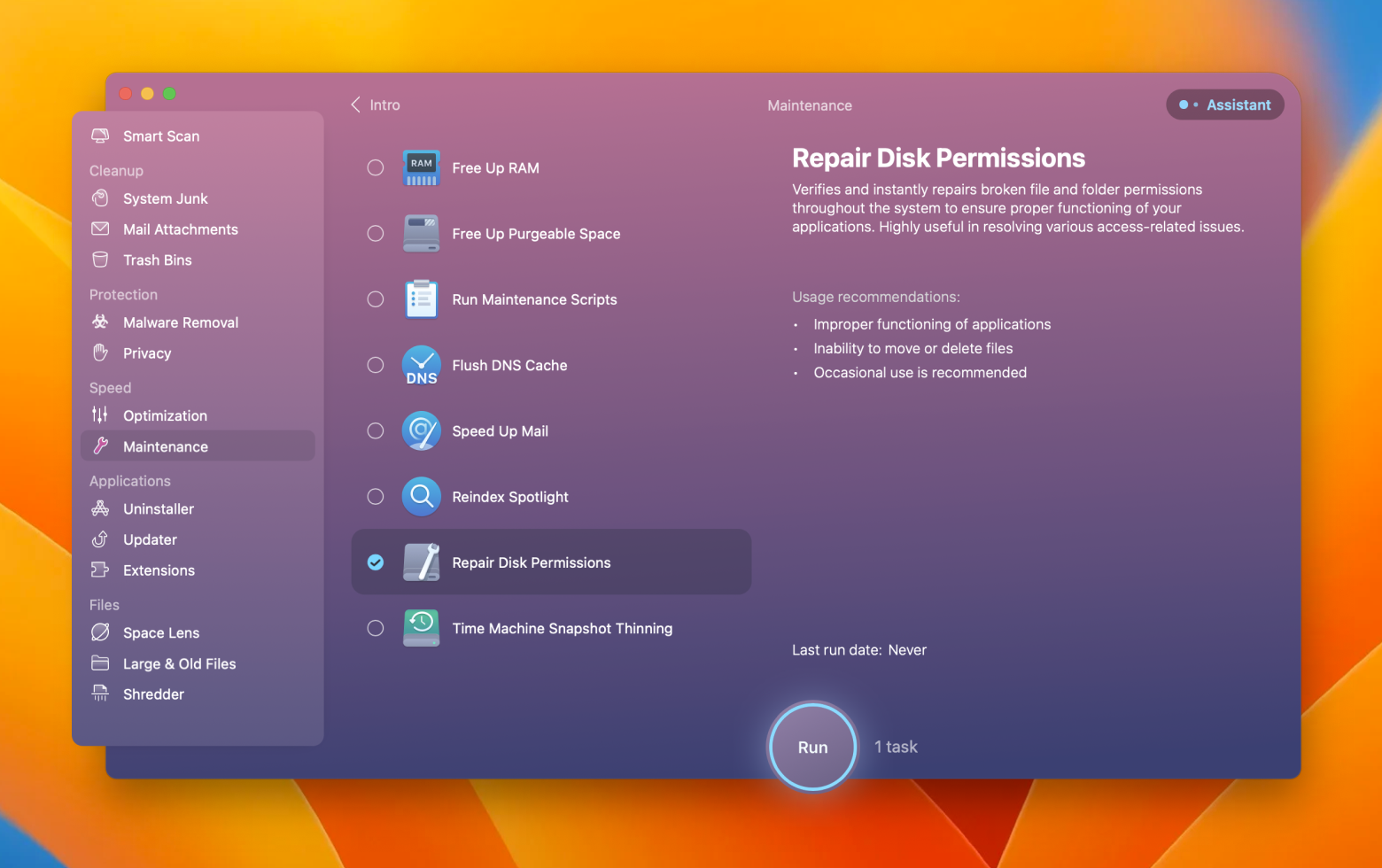 Is it fixed? If yes, you can now relax watching YouTube or continue your work. And if you're still seeing the MacBook WiFi no hardware installed issue, keep reading for more fixes.
Fix Wi-Fi: no hardware installed
Connection problems are always annoying. No panic. Most of them, especially the Mac WiFi no hardware installed, can be fixed with a little troubleshooting. Let's see what you can do.
Reset your network settings
The exclamation mark over your Wi-Fi symbol in the top menu and the "Wi-Fi: no hardware installed" error message could both be the result of corrupted network settings. Here's how you reset the settings:
Choose the Apple menu > System Preferences > Network
From the list on the left, choose your Wi-Fi network, then click the circle with three dots and choose Select Make Service Inactive. Click Apply
Now reboot your Mac
Follow the above steps once again, this time selecting Make Service Active. Your computer will now scan for networks and try to connect.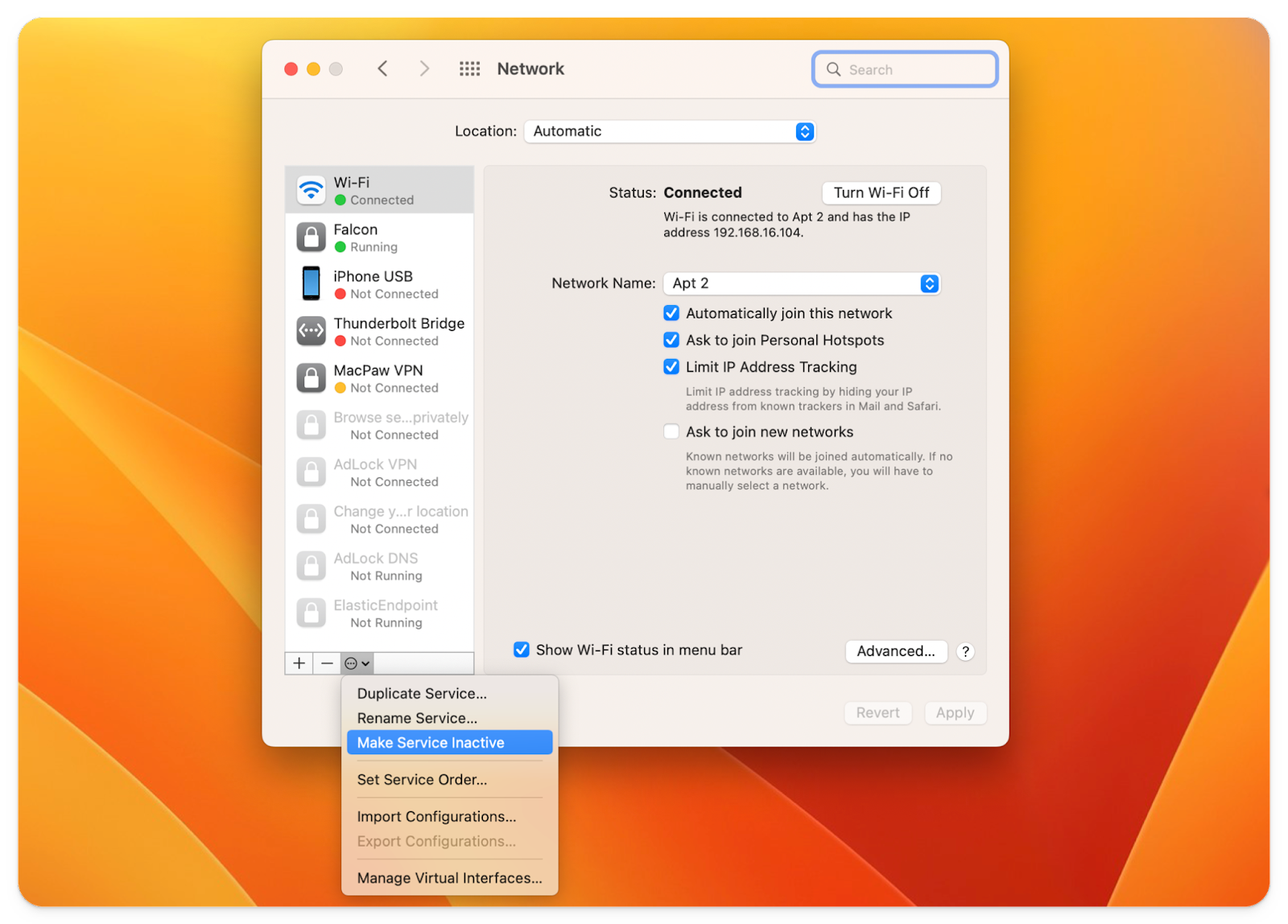 Resetting your Wi-Fi network settings on a Mac could fix the issue and even improve the general performance of your wireless connection. However, if you need further adjustment, test out a performance-improving application like NetSpot.
You don't need any specialized technical knowledge for NetSpot to analyze, manage, troubleshoot, and improve your Wi-Fi coverage. With ease, the WiFi channel scanner in this app measures the upload and download speeds in real time, displays the signal strength in any room or workplace, diagnoses signal issues, and finds Wi-Fi dead spots.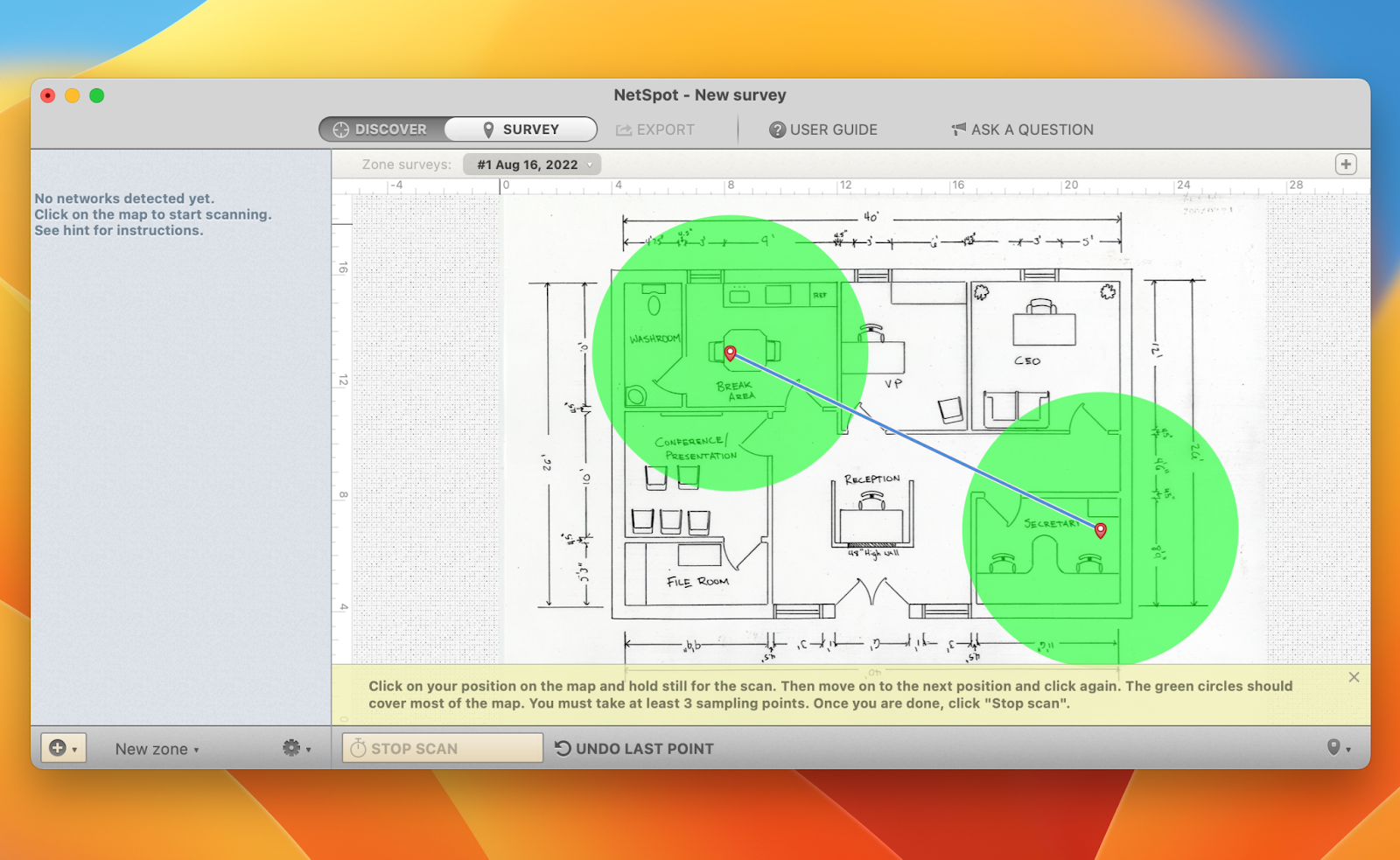 Forget your network
You could also try to forget your current network connection to get rid of the WiFi no hardware installed Mac error. To do this, follow the steps below:
Choose the Apple menu > System Preferences > Network
Find your Wi-Fi network, then click Advanced
In the Preferred Network list, remove your saved network by selecting it and clicking on the "-" button
Click Remove and then click OK. Try connecting to your Wi-Fi network once again.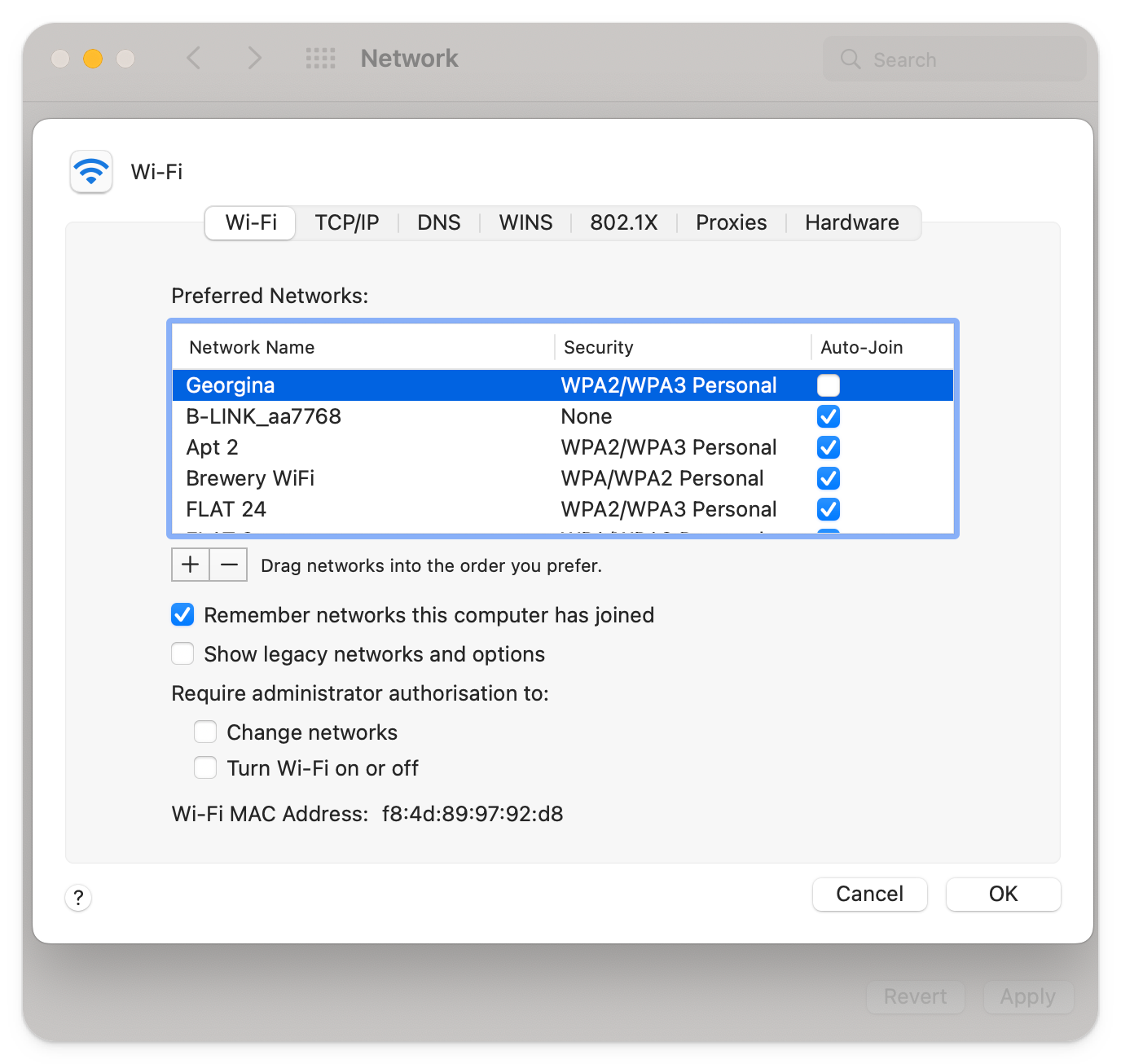 Be cautious when using public or unidentified Wi-Fi networks. There is a chance that a malicious individual may have installed sniffing software on a public or unidentified Wi-Fi network, making your internet traffic vulnerable. That's why you need to use reliable VPN software such as ClearVPN. It has the top commercially available encryption. The AES-256 encryption algorithm used by ClearVPN is favored by banks and financial institutions around the world. Give it a try and stay safe!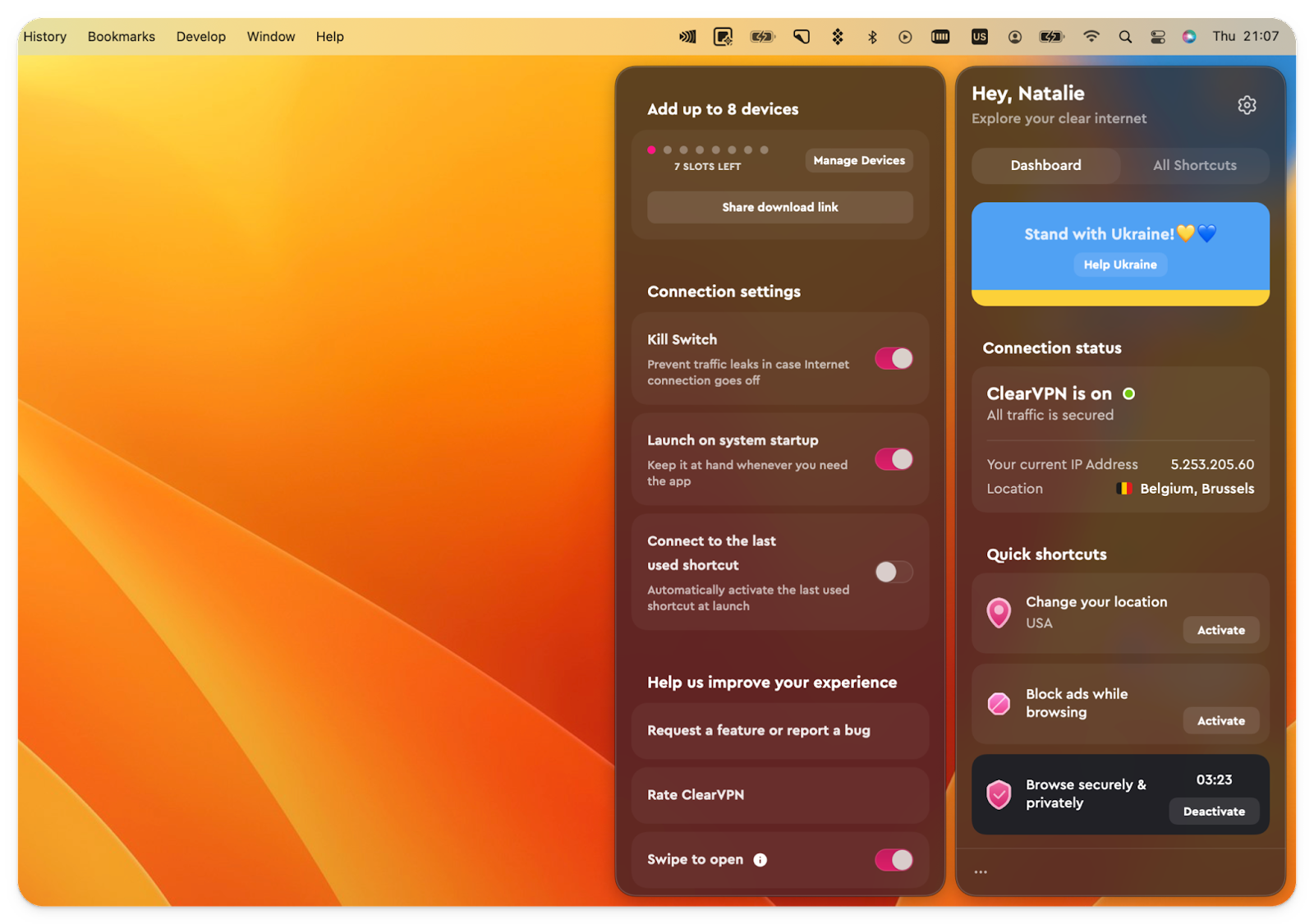 On top of that, we recommend you check the security settings on your Mac on a regular basis. Want to know how to do it without too much effort? The app called Pareto Security will perform all the necessary checks and make your life easier. It'll alert you on various system settings you have activated/deactivated and outdated versions of crucial apps. Speaking of Wi-Fi, Pareto Security also notifies you if you're connected to an unsecured network and not using a VPN.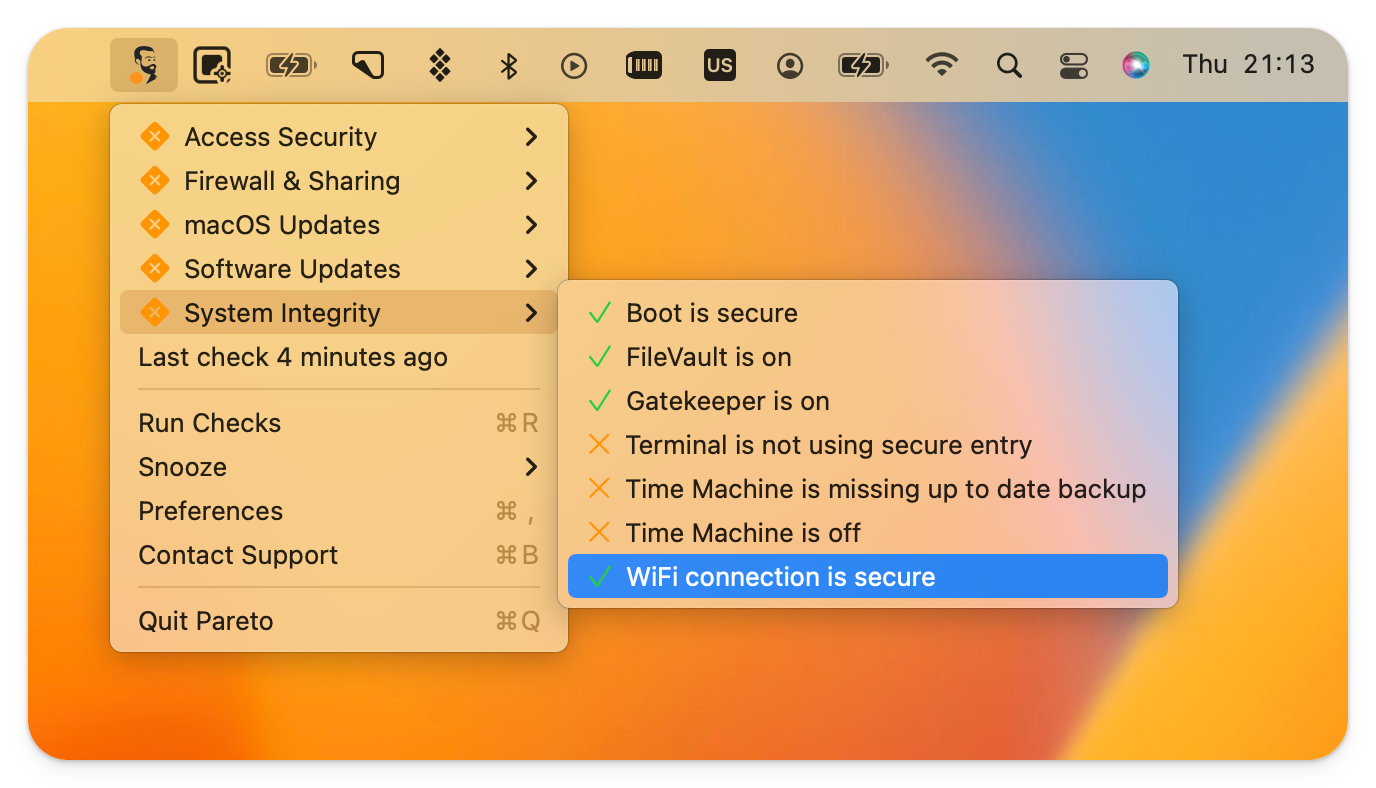 In case forgetting your network didn't help, try to reset SMC and NVRAM.
Reset SMC
Often the source of the error is the System Management Controller (SMC). The SMC is responsible for managing various system settings such as power management, sleep and wake, keyboard backlight, and more. You may be able to resolve some Mac issues by resetting SMC. Here's how you do that:
For an old MacBook with a removable battery:
Turn off your laptop
Remove the battery
Press and hold the power button for about five seconds
Reinstall the battery
Turn on your MacBook.
For a new MacBook without a removable battery:
Connect the laptop to a power source (it must be charged)
Press and hold Control + Shift + Option + Power at the same time for about five seconds
Release the keys and turn on your MacBook.
For iMac, MacPro, and Mac Mini:
Turn off your device
Disconnect its power cable
Press and hold the power button for about five seconds
Then plug in the power cable and turn on the device.
Reset NVRAM
Users claim that resetting the nonvolatile random-access memory (NVRAM) fixes Wi-Fi connectivity problems. Here's how you do that:
For Intel Macs:
Turn off your computer
Then turn it on and immediately press and hold Command + Option + P + R. Hold the keys for 20 seconds. Release.
For M1 Macs:
No specific key combination is required to perform the NVRAM reset on M1 Macs. The NVRAM is examined at system startup and reset if necessary. To allow the OS to check the NVRAM, just turn off your Mac, wait a little bit, and then turn it on again.
Check the Wi-Fi connection to verify if it's functioning after your Mac device has done rebooting.
Get professional assistance
There may be a major hardware issue if the above suggestions fail, and the Wi-Fi: no hardware installed notice persists when you attempt to connect to the internet.
You can resolve these issues by bringing your device to an Apple Genius bar, or you can contact their official call center to discuss the problem. You may be qualified for a special consultation if your device's warranty hasn't run out.
Get everything you need to fix "Wi-Fi: no hardware installed" and more
It can be difficult to troubleshoot hardware problems; hopefully, one of the above tips has helped you in resolving the Wi-Fi: no hardware installed error on your Mac. In case you liked what CleanMyMac X, NetSpot, ClearVPN, and Pareto Security can do for you, keep in mind that all these apps are available to try for free via Setapp, a platform of more than 240 tools created to solve just about any problem you might have with your Mac. After the 7-day trial, the price for all apps is just $9.99 per month.