What is the best WiFi analyzer for Mac?
Having the slightest issue with your Mac's WiFi connection might feel like being on a deserted island. Slow speed, nonsecure connection, or the absence of a signal can easily jeopardize a work day, study session, or relaxing evening with your favorite TV show.
Luckily, it is simple enough to find the core of a problem with a WiFi analyzer Mac computers use. In this article, we share the top Mac WiFi analyzer tools that can help you locate WiFi connection issues.
What is a WiFi analyzer?
A WiFi analyzer is a tool for collecting and analyzing information about WiFi networks nearby. Usually, WiFi analyzers provide data on networks' signal strengths, security protocols, area coverages, and channels.
Reasons why you might need to use WiFi analyzer app
In most cases, users resort to WiFi analyzer apps to identify a problem they are having with their network, like slow loading speed or the device constantly disconnecting from the WiFi network. Turning your WiFi router on and off doesn't always fix the issue and definitely can't shed light on what's actually wrong with the connection.
What's more, you would want to have a WiFi analyzer close by to get some information about public WiFi networks. It's best not to trust unknown networks too much and check their security protocols via a WiFi analyzer before connecting your device.
One more common reason to use a WiFi analyzer is for finding the best WiFi router location. Some of the WiFi analyzers feature a map of the WiFi signal's area coverage, so you can easily understand how strong of a signal you will get in each part of the house or office.
Best WiFi analyzers for macOS
There are a variety of Mac OS WiFi analyzer tools available. Let's take a closer look at each of them.
Mac wireless diagnostics tool
Your first intuitive choice when facing a non-working WiFi can be Mac's built-in Wireless Diagnostics. It is a WiFi analyzer for Mac created solely for troubleshooting connection issues.
Here's how to figure out what's wrong with your WiFi network with Mac Wireless Diagnostics:
Quit all the open apps on your Mac (press Command + Option + Escape to bring up the Force Quit apps window)
Try to join your WiFi network (if not connected already)
Hold the Option key, click on the WiFi status icon, and choose Wireless Diagnostics from the drop-down menu

Follow the instructions in the dialogue window.
Wireless Diagnostics will provide you with a report on the network status and issues possibly causing the connection issue.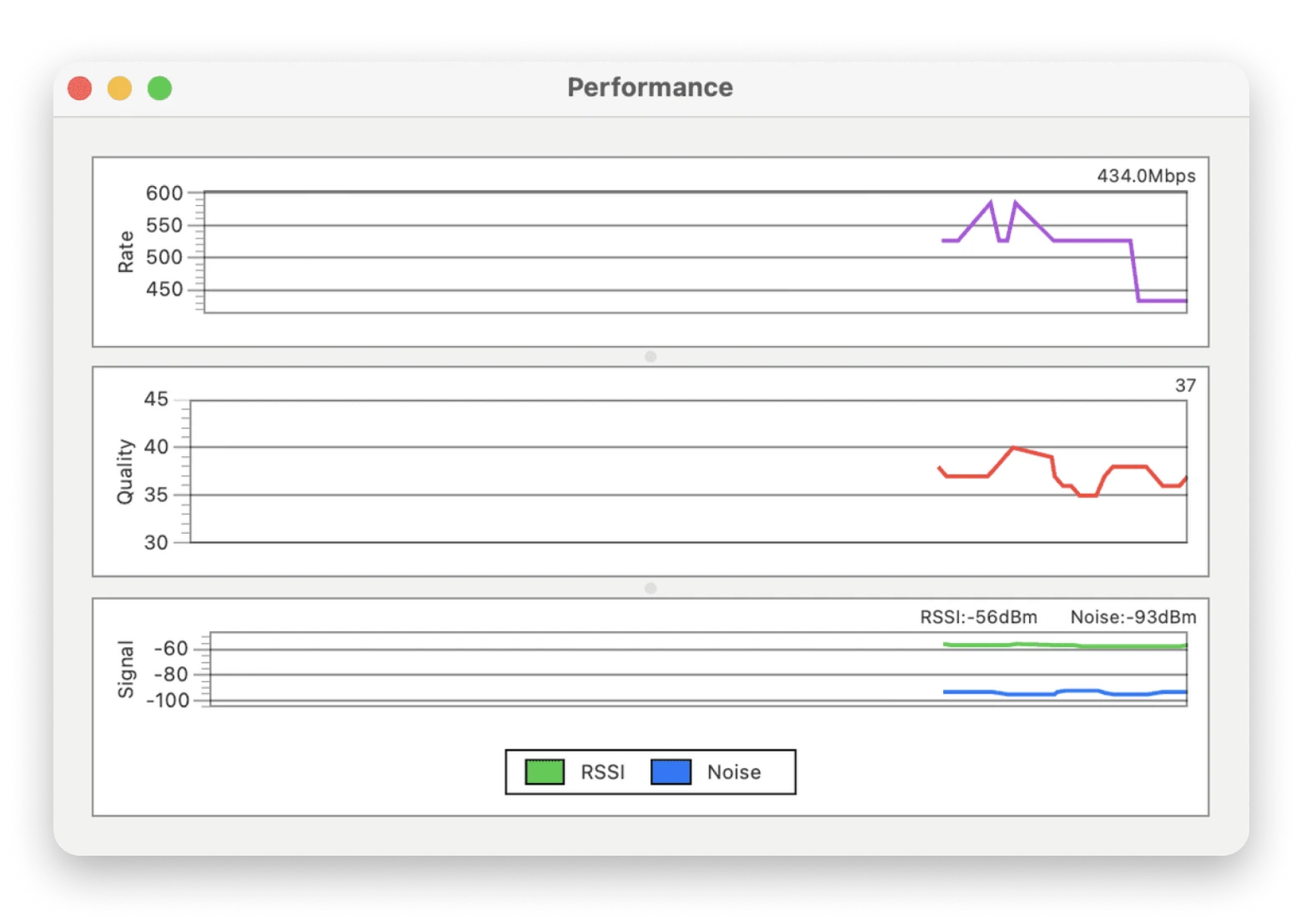 Plus, this tool will create a file with the results of the diagnostics. You can send it to your internet provider or IT support to tackle the WiFi connectivity problem. This file can be found in the /var/tmp folder. The filename starts with WirelessDiagnostics and ends with .tar.gz.
If this sounds too complicated, keep reading. We have more accessible solutions for you.
NetSpot
NetSpot is a good WiFi option for those looking for a wider scope of functionality. NetSpot does not only identify WiFi network issues but can be used for boosting the connection strength and analyzing the network's area coverage too.
With NetSpot, you can:
Get detailed reports on the network's upload/download speed, noise levels, and other parameters
Locate WiFi network connection issues
Find out the network's security protocol
Analyze the wireless network's coverage and visualize the signal's strength in different areas.
To run a WiFi scan with NetSpot:
Open the NetSpot app
View all the WiFi network data in the opened window. The network you are connected to will be highlighted in orange and ticked
Pause the scan by clicking on the Pause button or change its interval by selecting a timing option from the Scan interval drop-down menu at the bottom of the window
Click on Export if you want to download the report as a PDF file.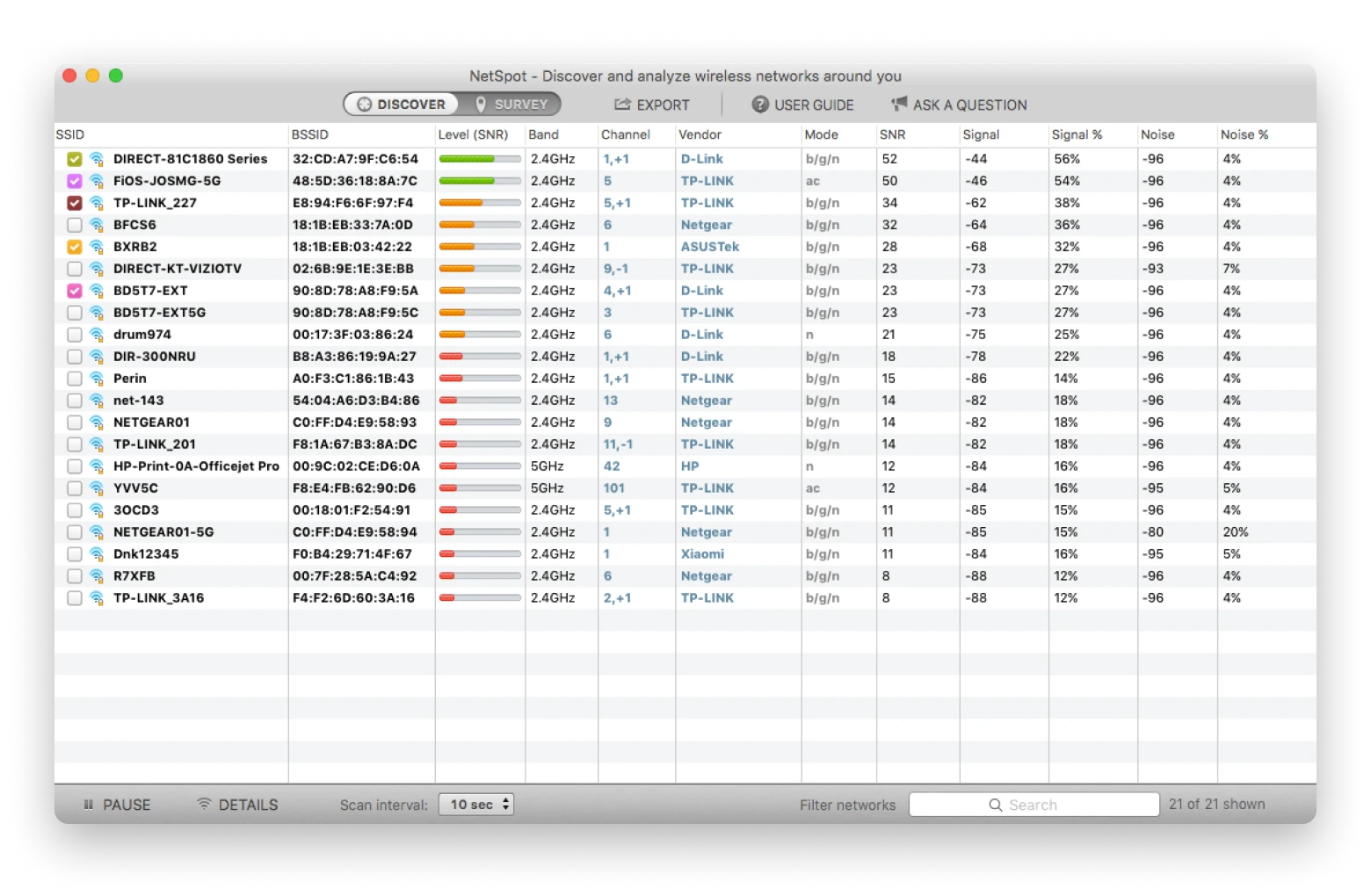 Additionally, you can click on Survey to create an area heatmap demonstrating the WiFi network's coverage. This NetSpot's feature is perfect for those planning where to position a WiFi router or looking for the best spot for having a high-speed internet connection.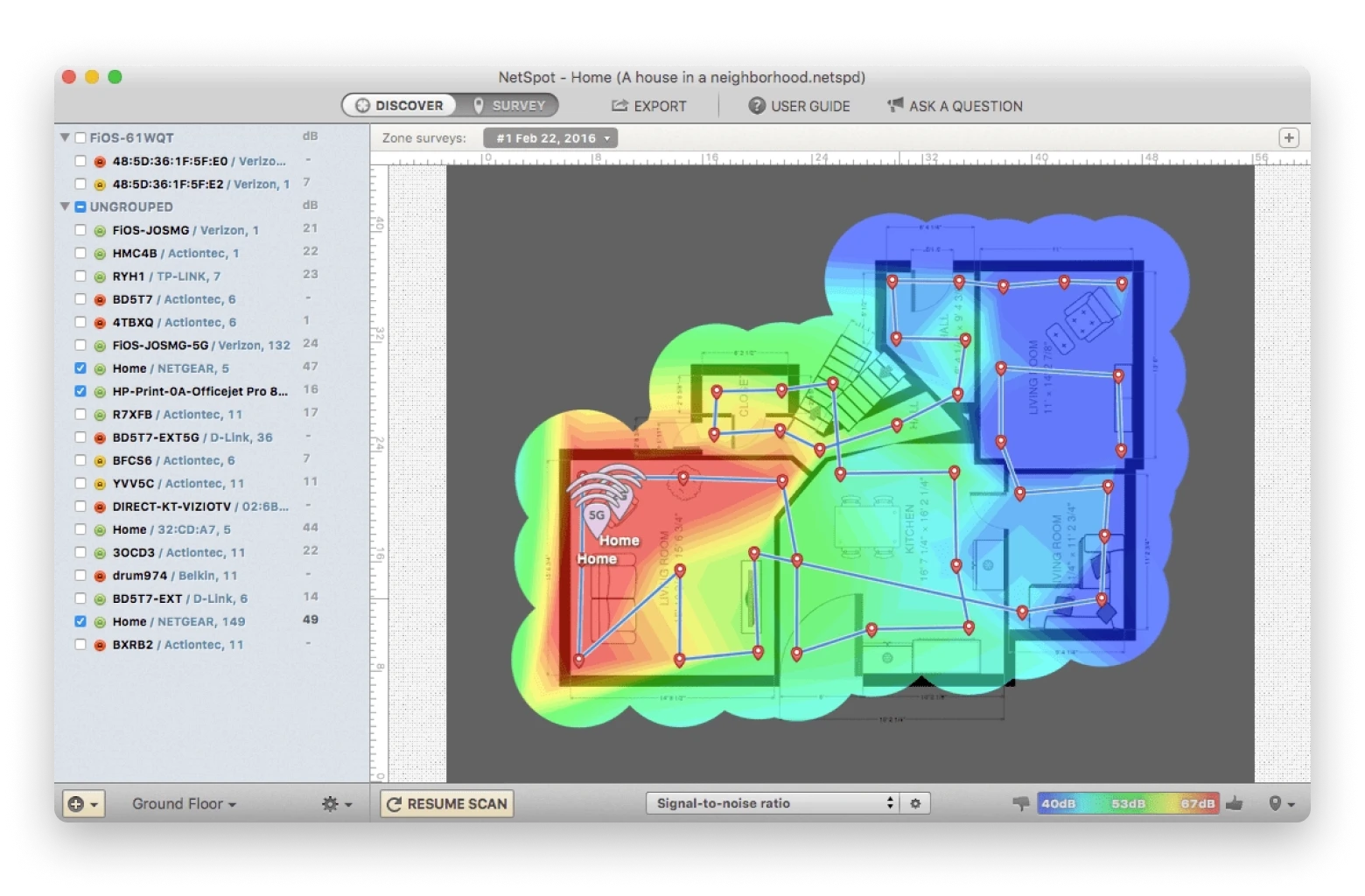 WiFi Explorer
WiFi Explorer is one more WiFi scanner Mac can use to run a WiFi connection test. This tool will provide you with a wide range of details about the WiFi networks nearby so you can easily choose the best one to connect to or identify any issues preventing you from having a top-notch internet experience.
Here's how you can understand what's going on with your WiFi network:
Open the WiFi Explorer app
View the data on nearby WiFi networks in the opened window
Click on a WiFi network you want to analyze, and a detailed report on it will appear in the lower part of the window
Switch between Network Details, Signal Strength, Spectrum 2.4 / 5 GHz, and Advanced Details to learn the information you need
Click on the square icon in the top left corner of the app window to stop the scan.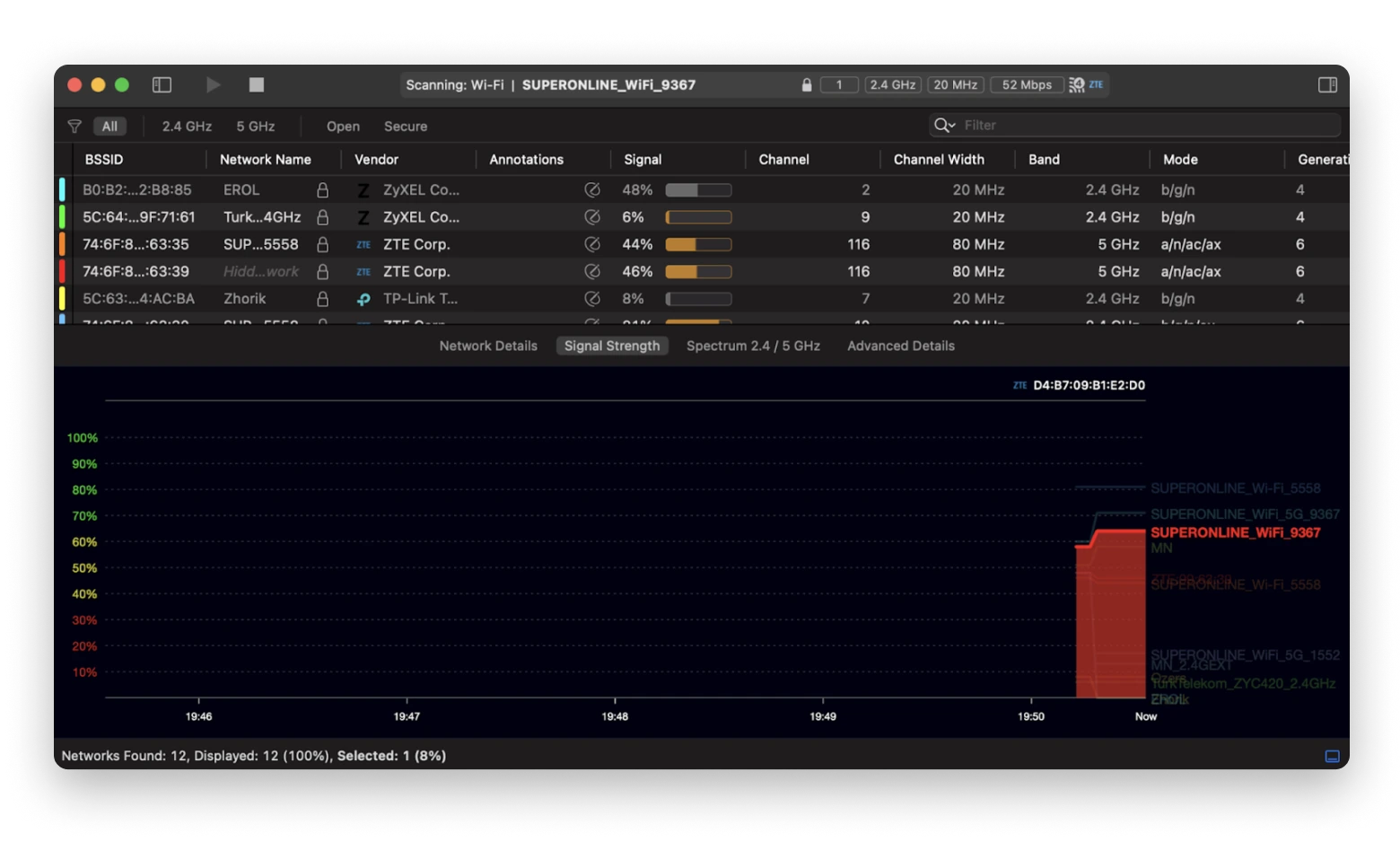 WiFi Explorer's main advantage is the simple visualization of the network's data. Even if you are not so well-acquainted with the tech side of a matter, it's easy to assess the situation based on the graphs.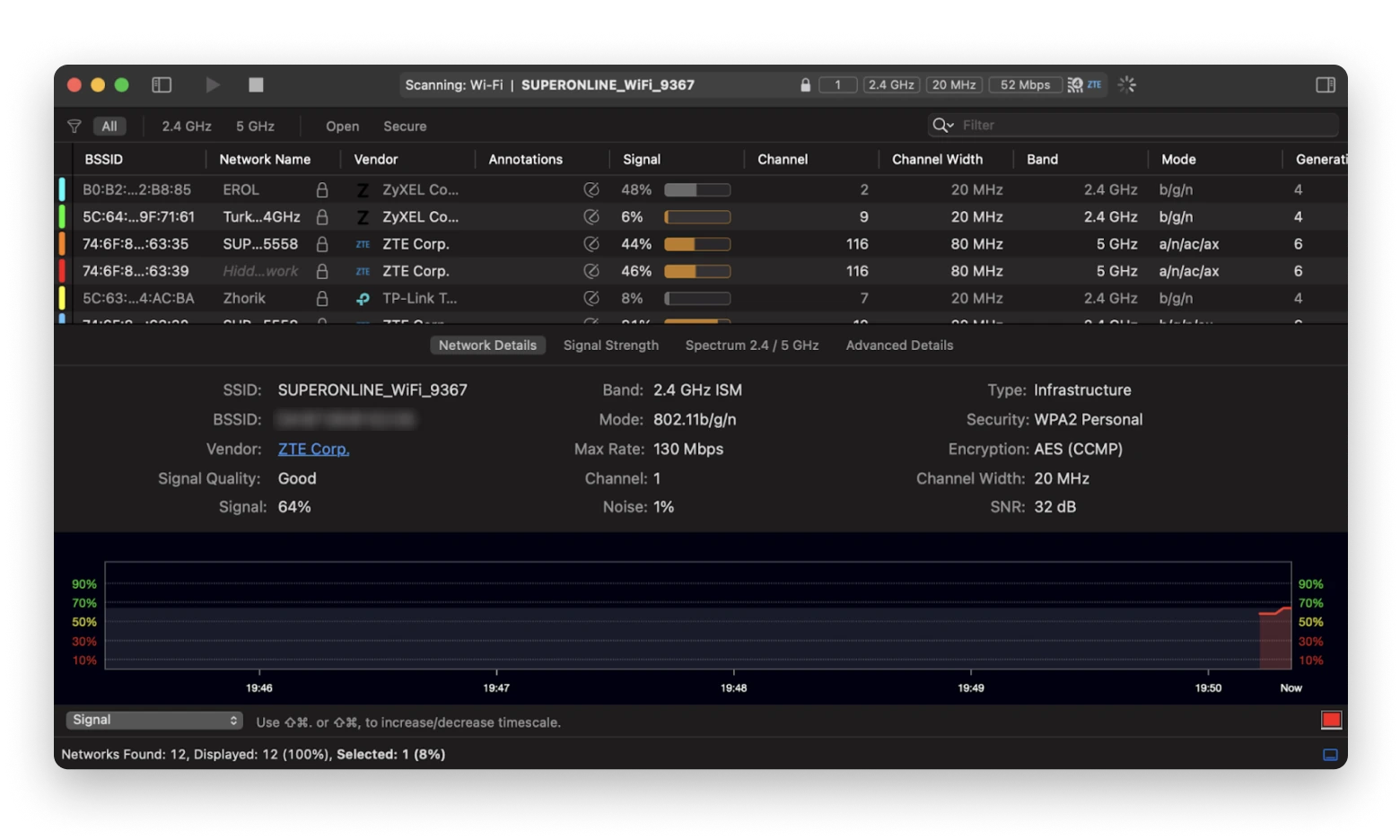 KisMac
KisMac is an open-source WiFi scanner program. Like other similar tools, KisMac collects information about WiFi networks next to you and identifies any issues with your current network. What's more, with KisMac you can detect security breaches in your network and check who is connected to it.
There are two catches in KisMac that you should be aware of:
First, you need to download the source code from GitHub to install the program on your Mac; if having to deal with the lines of code seems intimidating to you, better choose another, simpler-to-use tool
Second, the last update of KisMac took place some 10 years ago and this product is not being maintained anymore, so don't expect an appealing interface design or cutting-edge features.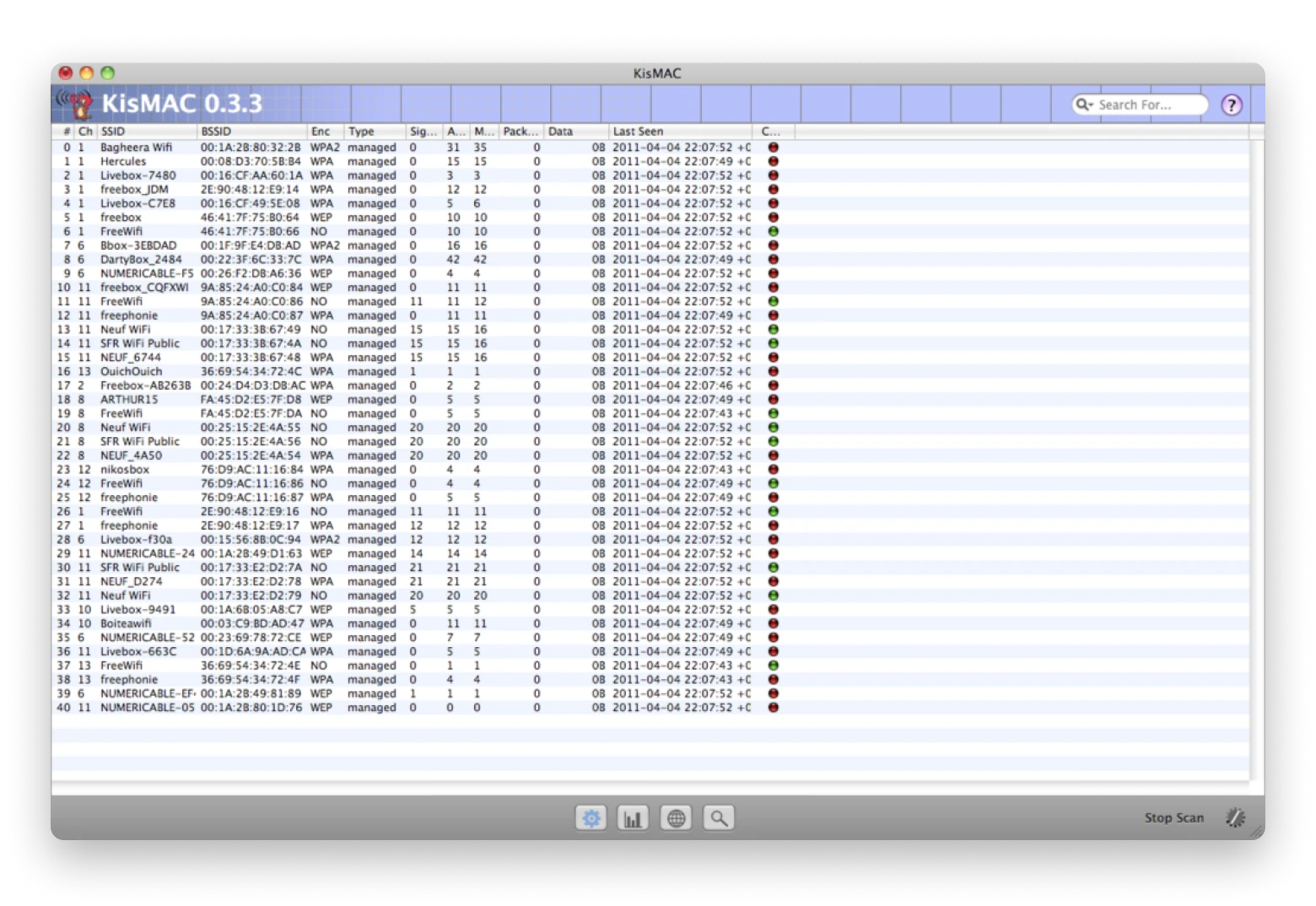 Considering these disadvantages, KisMac might not be your first choice when it comes to finding the best WiFi analyzer Mac can run, but, hey, it's free and does the job.
Wifiner
Wifiner is a WiFi network scanner that visualizes the nearby WiFi networks' signal strengths as a heatmap. You can either upload a map or choose something from the available templates; then, the tool will overlay the WiFi signal over the map to help you decide on the best place for a seamless internet browsing session.
It's a good choice for those looking for area visualization to decide on where to put their WiFi router or how to set up, let's say, a working space, so it has a good internet connection.
Wifiner's functionality is limited to mapping, so you won't get detailed WiFi network reports. If you need a more versatile tool to assess the WiFi signal strength Mac is compatible with, try something else, like NetSpot we've mentioned above.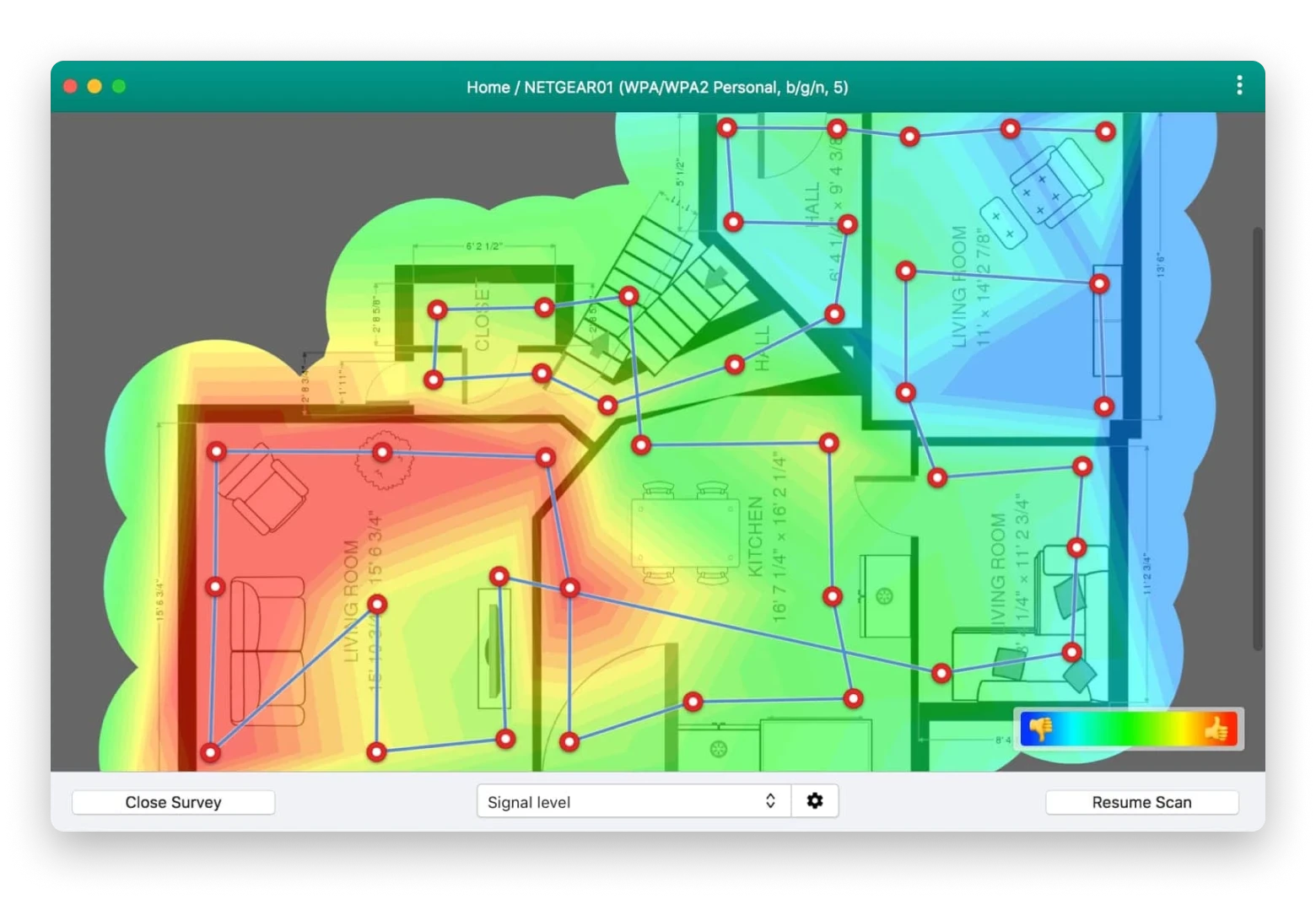 AirRadar
AirRadar is a tool that will have your back when looking for free and safe wireless spots in a new location. This WiFi analyzer lists all the available networks nearby to let you choose the one with the strongest signal and a high level of security.
Similarly to WiFi Explorer or NetSpot tools, AirRadar provides all the main characteristics of the networks. At the same time, the scope of parameters listed is more limited than in the above-mentioned tools.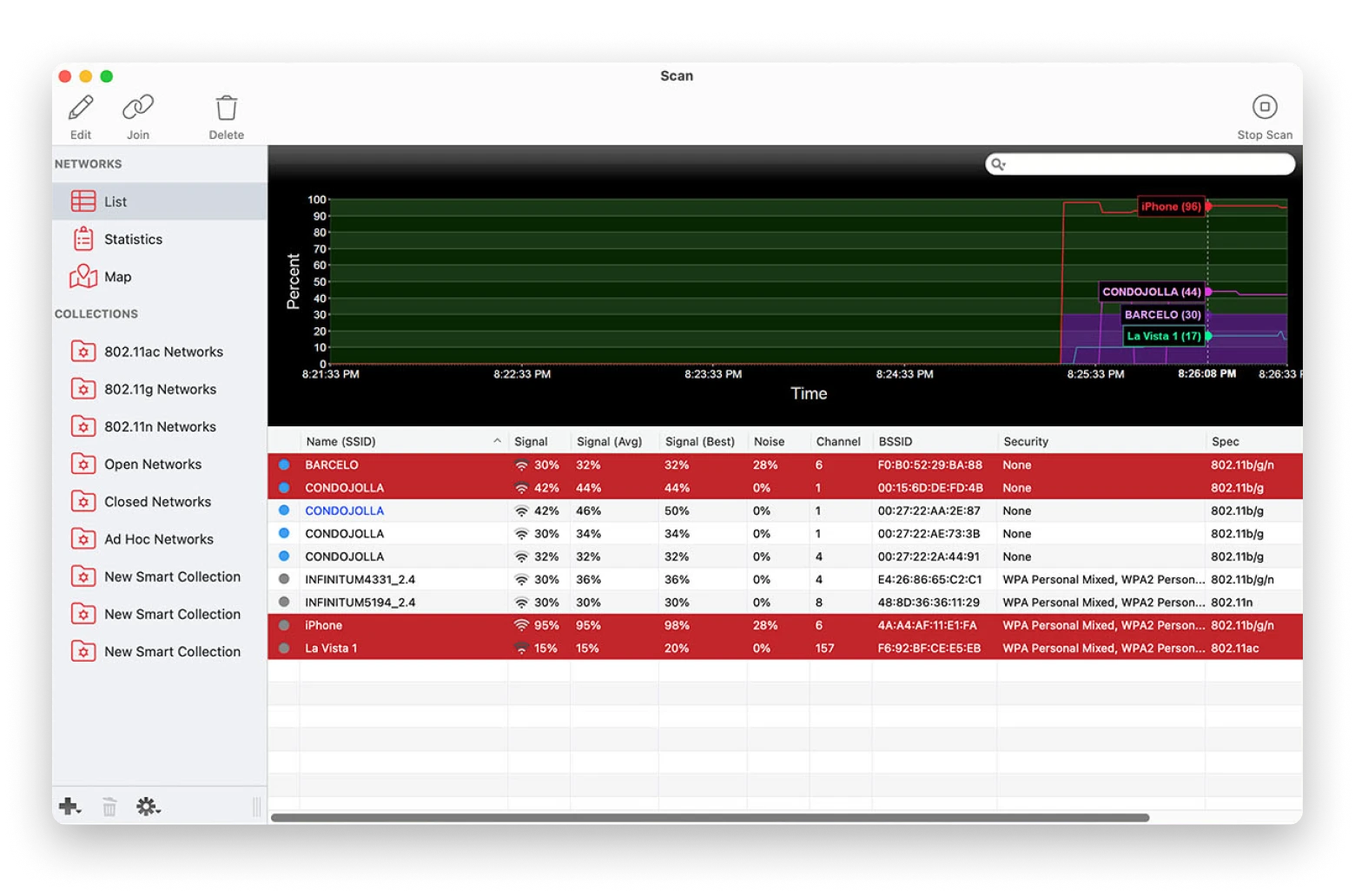 iStumbler
iStumbler is another popular product for analyzing WiFi networks. Apart from a classic set of wireless analytics parameters, like the network's signal strengths and channel number, iStumbler also provides information on the Bluetooth devices close by. Plus, it features a map reflecting your Mac's location and all the WiFi access points you can connect to.
Here's a big letdown: iStumbler crashes at launch on macOS Monterey or Ventura and is currently off-sale on Mac App Store. We can only hope iStumbler's team will make the necessary updates and reintroduce this product soon enough.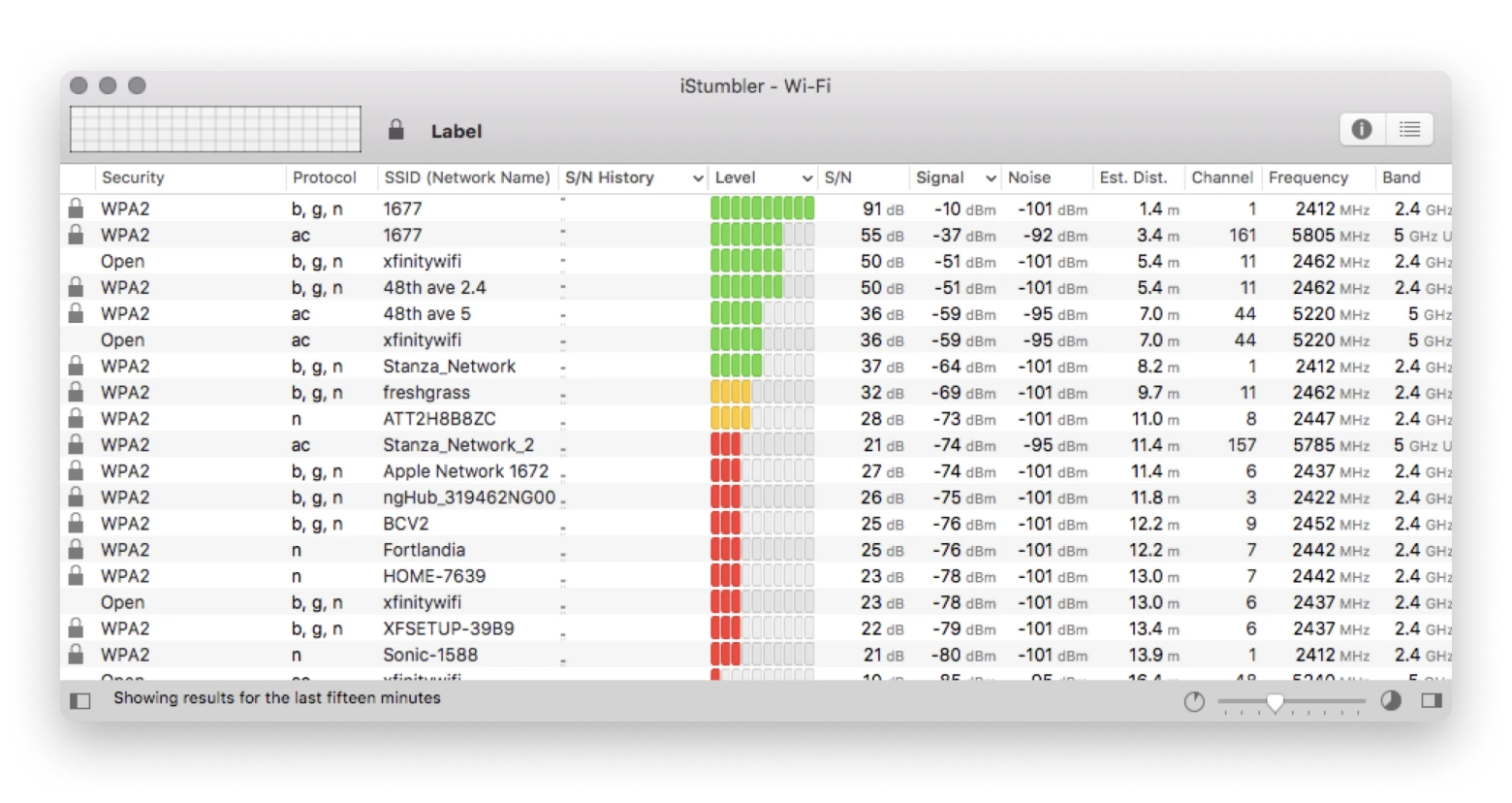 WiFi Scanner
WiFi Scanner is a wireless network analyzer you can download to your Mac. It boasts all the must-have features for troubleshooting issues with your WiFi, like network scanning, speed test, overlapping signal interference analysis, and more.
One advantage of the WiFi Scanner is its filter system — you can sort the nearby WiFi networks according to their channel number, signal strength, or other parameters to find the best-suiting one.
This feature set comes at the price of $95 for a one-time purchase, so if you are on a budget, consider more cost-effective or free options. For example, you can download WiFi Explorer with a similar functionality within a 7-day free trial from the Setapp app subscription service.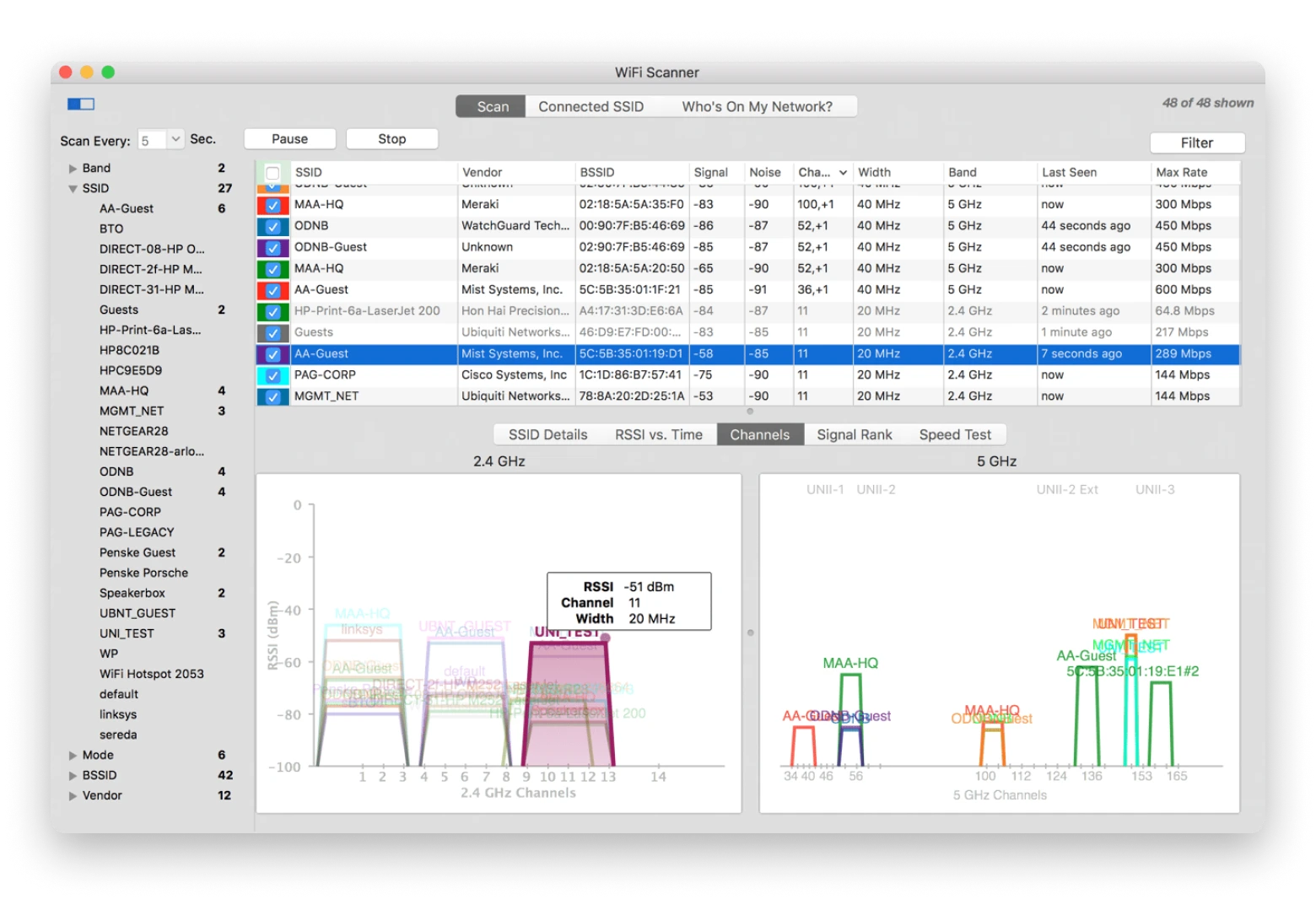 Monitor your network connections
If opening a dedicated tool every time you are experiencing slow internet seems like too much work, there is a simpler solution for you. iStat Menus allows monitoring of your current network connection from a pop-up window in the menu panel.
This is how you can check your current network connection with iStat Menus:
Install iStat Menus on your Mac
Click on the rectangle icon of the iStat Menus WiFi statistics in the menu bar
A pop-up window with network connection statistics and other data will appear.
As a result, you can run a quick check of your WiFi connection at any moment without extra effort.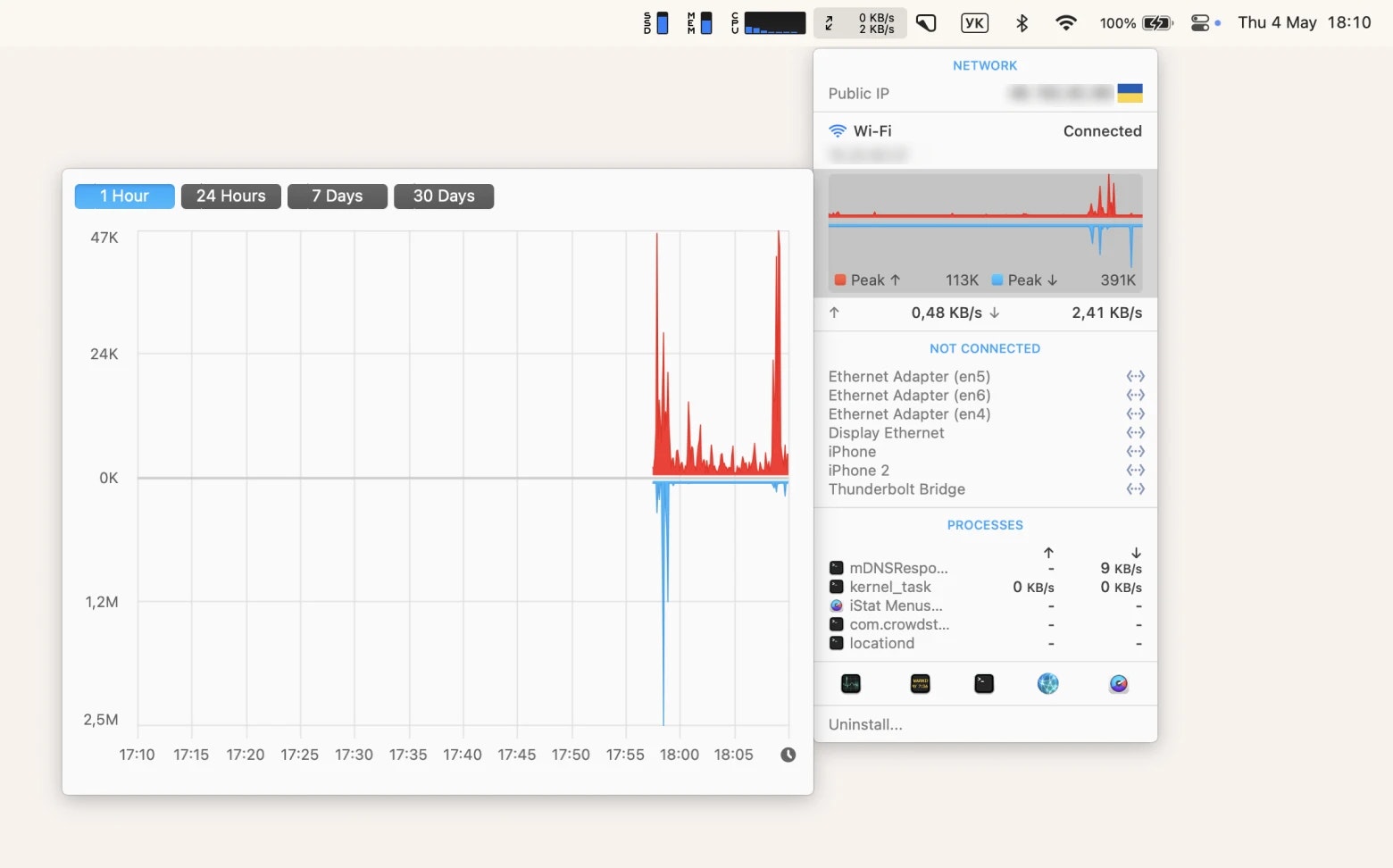 Tip: if you are a fan of things made simple on your Mac, try the One Switch app. With this tool, you can access all the basic Mac settings, like switching between light and dark modes or hiding desktop items, with just one click.
The best macOS WiFi analyzer: Final thoughts
We rely on wireless internet for completing numerous daily tasks, so it's best to have a WiFi analyzer on your computer at all times to identify any speed or connection issue immediately. There is a variety of WiFi analyzers available for download today, from minimalistic drop-downs to tools offering detailed reports on each WiFi parameter.
You can find some of the best WiFi analyzers we discussed today, like WiFi Explorer, NetSpot, and iStat Menus on Setapp, a Mac and iOS app platform, and use them all for free along with other 240+ apps within a 7-day trial period. Don't stay disconnected for long — the internet will miss you.
FAQ
Does Apple have a Wi-Fi analyzer?
Yes, you can use Mac's built-in Wireless Diagnostics to analyze your WiFi connection.
How do I analyze Wi-Fi networks on Mac?
To analyze Wi-Fi networks on Mac you can run Mac Wireless Diagnostics or get a third-party app, like WiFi Explorer or NetSpot.
How can I see all devices connected to my Wi-Fi on Mac?
To see all the devices connected to your Wi-Fi network, open a Wi-Fi analyzer app that supports this function, for example, KisMac, and click on your current network to get detailed information on it, including a list of connected devices.
Alternatively, you can use WiFi's IP address as well as a login and password from your router device to log in to your internet provider's website and view this information.