Best network monitoring tools
That feeling when you open your laptop or turn on your computer, ready to start your work and be productive, but the network is slow. You want to open your email, but it is unavailable. Pages aren't loading. The company's communications system isn't working properly. Is there anything more frustrating?
You need network security monitoring tools that will look for problems in every aspect of your network.
What is network monitoring?
On corporate or educational networks, network monitoring tools keep a watch on devices, traffic, and servers and alert network managers when something goes wrong. An average user might need to use network monitor apps to find out, for example, why the network is overloaded and if there are any devices connected to the network.
No matter if you're a system administrator in need of analysis software or just a regular user looking to see what apps are doing behind the scenes on your Mac, we've compiled a list of the best network management software for you. Let's dive in; we'll help you make a good choice.
How to select the best network monitoring tool
To find the best Mac network monitoring solutions, browse our curated selection below and try one or a few. But before we start, here's a quick primer on what to look for in a network management software:
Ease of use. Network monitoring doesn't have to be difficult.
Overviews, dashboards, and reporting. Good network monitoring tools display data in the form of clear, detailed graphs, reports, and lists.
Reasonable price
Free trial.
Comparison table for network monitoring tools


Ease of use
Main focus
Price
NetSpot
Moderate
Find the best network connection
Free trial;
Available via Setapp*
WiFi Explorer
Easy
Fix Wi-Fi problems
Free trial;
Available via Setapp
iStat Menus
Easy
Get stats on your network, CPU, battery life, etc.
Free trial;
Available via Setapp
Activity Monitor
Easy
View details about your Mac's network activity
Free
Terminal
Difficult
Network Monitoring and troubleshooting for Terminal geeks
Free
Jamf
Difficult
Best for Apple device management
Trial available upon request;
Inconvenient per feature pricing model
TripMode
Easy
Save internet data
Free trial;
Available via Setapp
AdLock
Easy
Block browser ads and improve internet speed
Free trial;
Available via Setapp
Stats
Easy
Monitor your macOS system
Free
CleanMyMac X
Easy
Speed up and declutter Mac
Free trial;
Available via Setapp
---
*Available via Setapp = best value for money. With Setapp, 230+ apps are part of the subscription, so you can simply try them all and decide later. The tools are free to use for 7 days. Then you pay only $9,99/month.
10 best network performance monitoring tools
We picked the top 10 Mac network monitoring tools you may like. Let's review the features and consider the pros and cons.
NetSpot – analyze your WiFi connection
Netspot is a sophisticated Wi-Fi analyzer for Mac designed to fix weak spots in your wireless coverage. The tool is uncomplicated and user-friendly. It has two modes for displaying useful Wi-Fi data: Discovery Mode and Survey Mode. The Survey Mode shows color-coded interactive heat maps to demonstrate the strength of Wi-Fi connections, while the Discovery Mode displays every minute aspect of a Wi-Fi network. It allows users to locate areas with poor connectivity. On top of that, NetSpot allows you to examine security settings, unauthorized workstations, cross-channel interference, and rogue access points. Simply put your position on the map, and the app will begin assessing your wireless signal right away.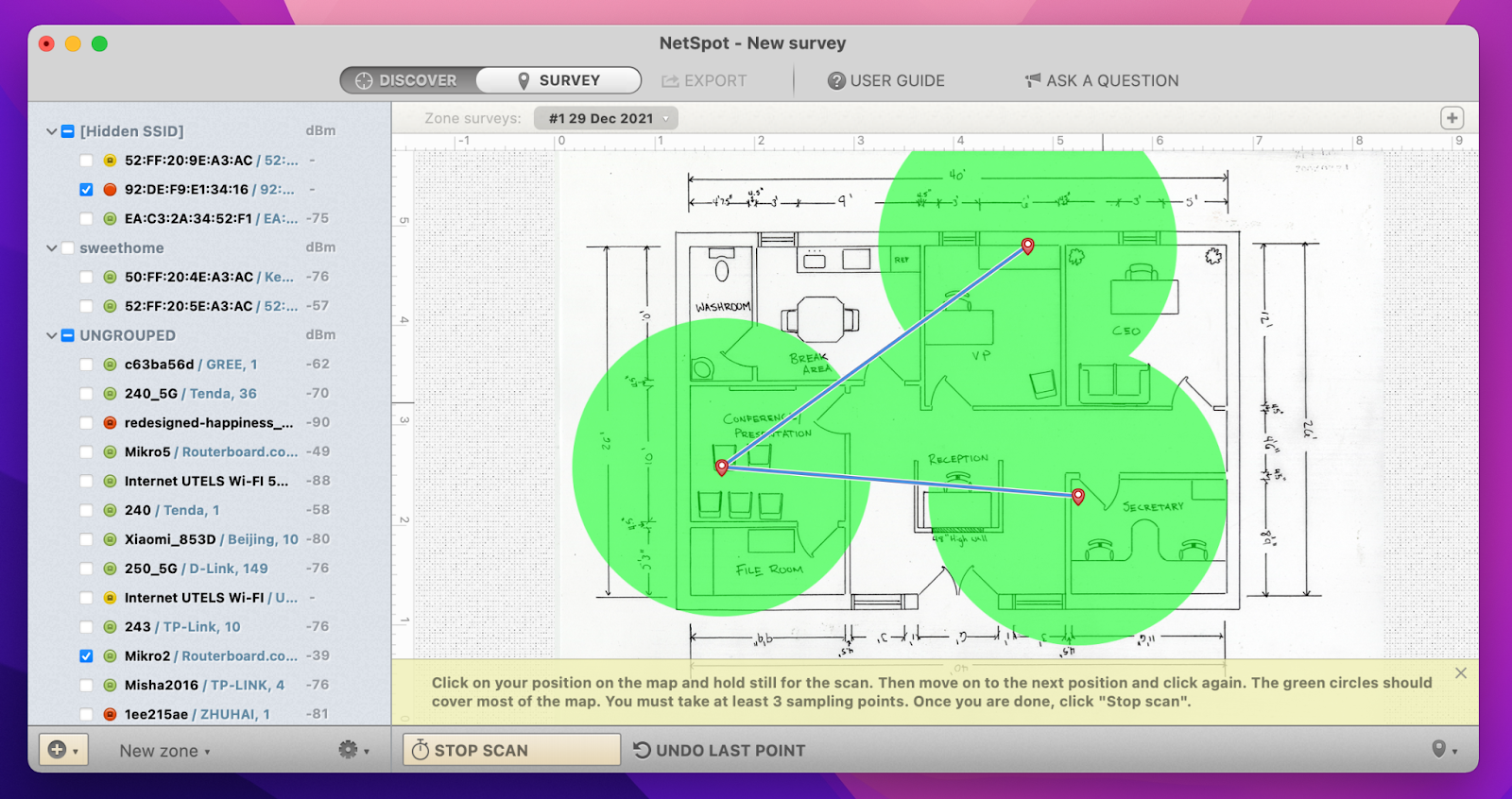 Pros
The user interface is clean, simple, and easy to use
Wi-Fi inspection tool with a lot of features
No prior networking experience is required
Free trial
Available on Setapp.
Cons
It takes some time to figure out how to use the mapping feature.
WiFi Explorer – fix Wi-Fi problems
As the name implies, WiFi Explorer is an app that scans, detects, and diagnoses wireless networks. It shows the settings of neighboring Wi-Fi networks, including the network name, vendor, country code, channel, band, security configuration, supported data rates, number of streams, and more. Basically, the app keeps an eye on network signal strength consistently and provides you with valuable metrics that can be saved to a CSV file. The best thing about this tool is that it suits both professional and average users.
One of the main advantages of WiFi Explorer, which belongs to the best remote network monitoring tools, is that it allows you to troubleshoot your own connections at work or at home without having any expert knowledge. To figure out what's wrong with your Wi-Fi connection and how to fix it, you don't need to be a system administrator; simply open the app and follow the instructions.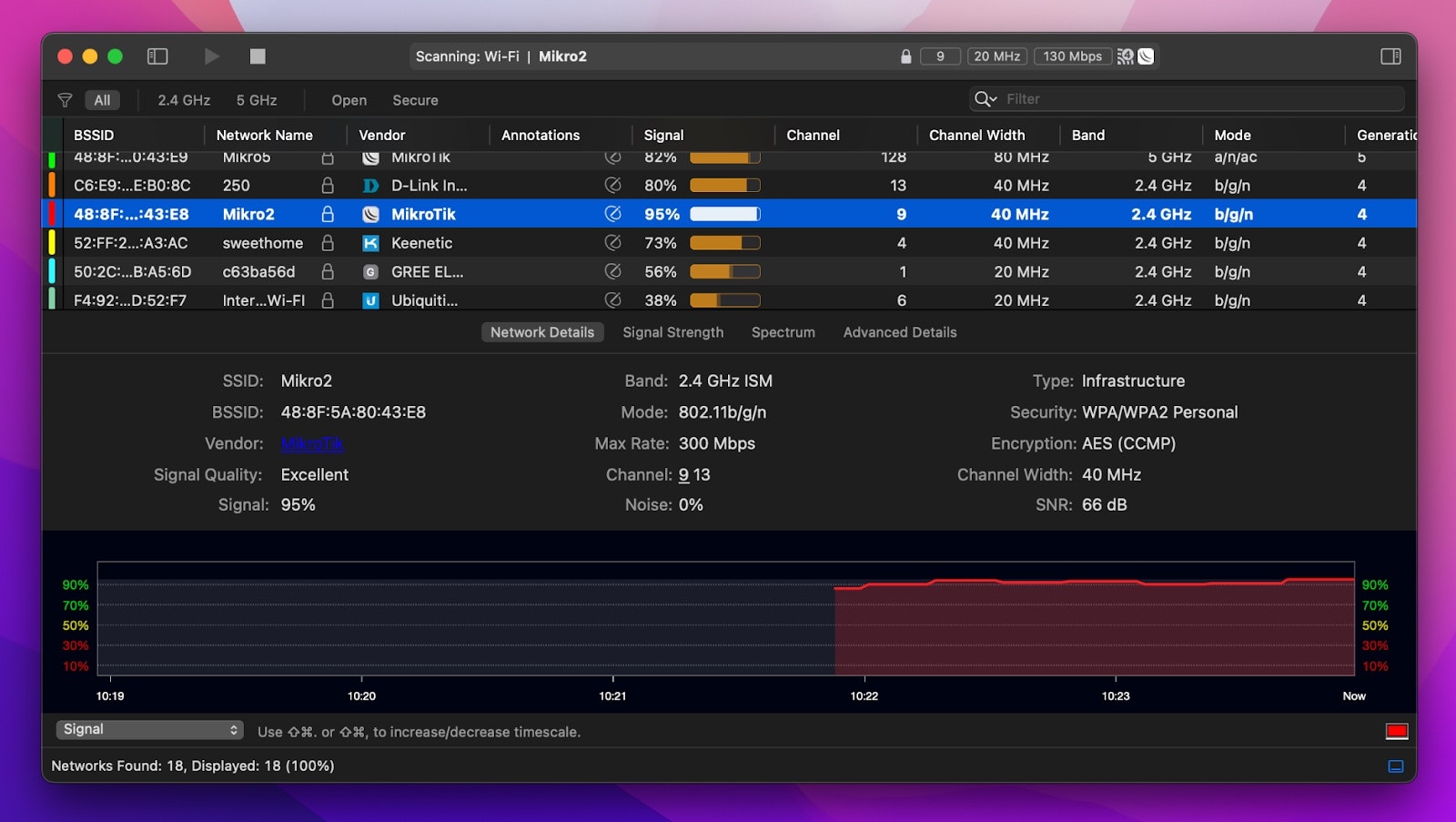 Pros
Reliable and minimal user interface
All of the networks and their coverage are shown graphically and visually
Free trial
Available on Setapp.
Cons
Requires macOS 10.13 or later.
iStat Menus – get stats on your network, CPU, battery life, and more
iStat Menus is a fantastic discovery for Mac users. The tool allows you to keep an eye on your network right from the menu bar.
Although the app does a great job of monitoring incoming and outgoing internet connections, it still has a stronger focus on hardware performance rather than network activity. On top of network connections, you can monitor CPU usage, memory usage, disk usage, the temperature of your Mac, and the fan speed. All the data is displayed remarkably clearly. So every user can understand how well their computer functions.
This tool also gives you rapid access to a number of Mac default apps, including Activity Monitor, Terminal, Network Utility, and System Information.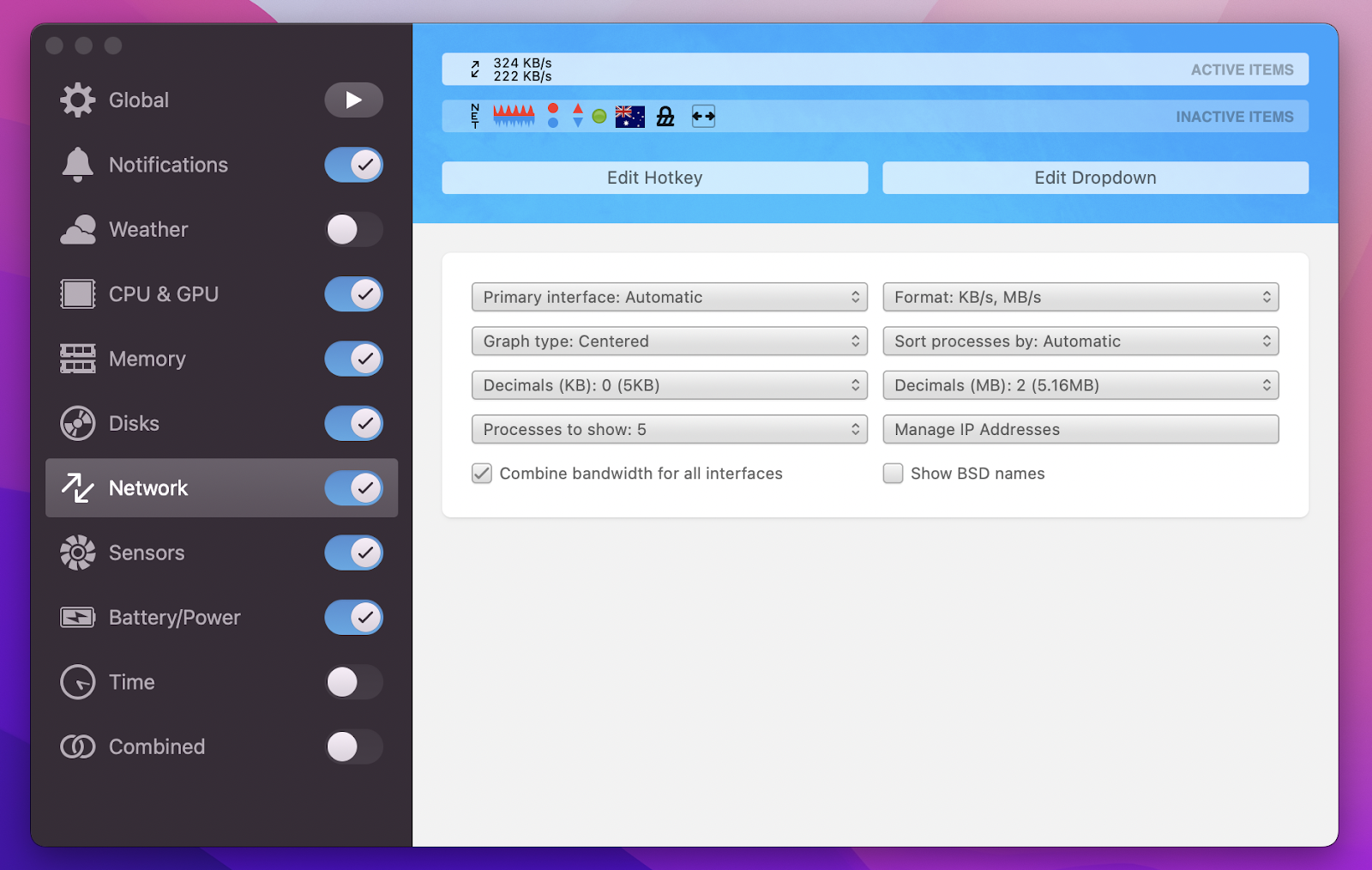 Pros
Provides easy to understand stats on your network
Displays accurate system metrics with the least amount of CPU resources
Gives you easy access to all of Mac's default applications
Allows to set alerts and notifications
Available on Setapp.
Cons
Has a stronger focus on hardware performance rather than network activity.
Activity Monitor – view details about your Mac's network activity
Activity Monitor is a built-in system monitoring tool that comes with your Mac. With its help, you can view details about your Mac's network activity. For example, to see the most active processes, click the Sent Bytes column to show the processes sorted by the amount of data sent.
To access the Activity Monitor, follow these steps:
Go > Utilities > Activity Monitor
Double-click on the Activity Monitor app to open it.
Here you can see five tabs such as CPU, memory, energy, disk usage, and network.
Apple's Activity Monitor is a decent program that is well-suited for beginners. However, if you want more control over what you're doing and the processes that are running, it's best to opt for the third-party solutions mentioned in this article.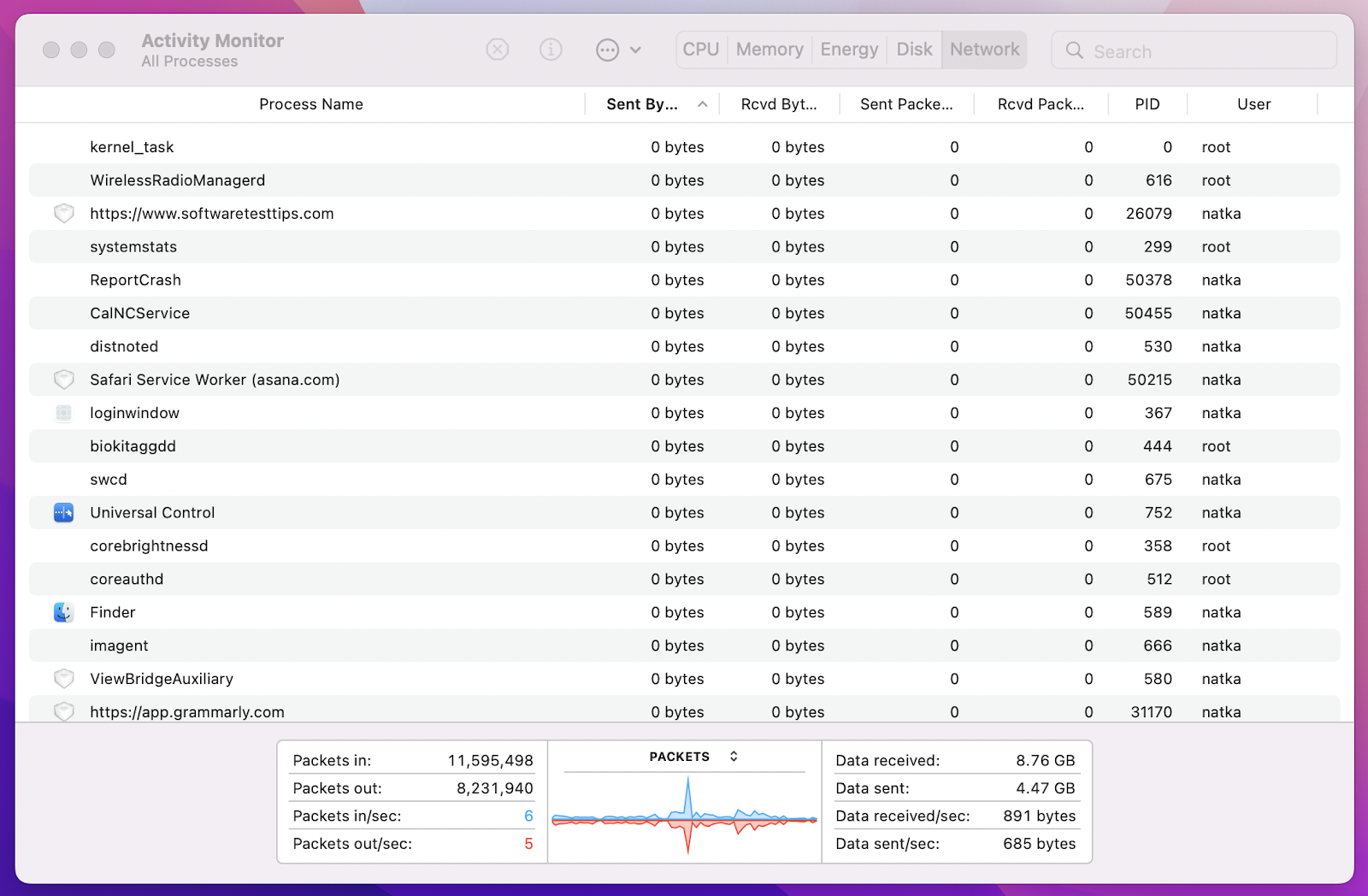 Pros
It's a built-in Mac feature
Easy to use for beginners
The app displays accurate system metrics.
Cons
It misses some features when compared to other network performance monitoring tools.
Terminal – network monitoring and troubleshooting for command line users
Terminal is among popular network utilities Mac users can try for network monitoring purposes. In Terminal, macOS supports a number of network identification and diagnostic commands. These encompass, but are not limited to:
ifconfig (interface configuration) – inspect data regarding hardware network interfaces.
netstat (network status) – check routing info and network stats.
ping – test network connectivity and latency.
nslookup, dig, host, and dscacheutil – test DNS resolution.
traceroute – look how your network connections are routed to their destination.
nc (netcat) – check whether a network device has specific services available.
To observe and troubleshoot network issues via Terminal, follow the steps below:
Go > Utilities > Terminal
Type the command: e.g., ifconfig
Press Return.
Please keep in mind that you must be able to interpret a trace packet. If you're a typical user with minimal experience with the Terminal and packets, you'll be better off utilizing other apps from our list.
Good news: there is a simple command such as networkQuality that allows you to evaluate upload and download capacity, upload and download flows, and network responsiveness.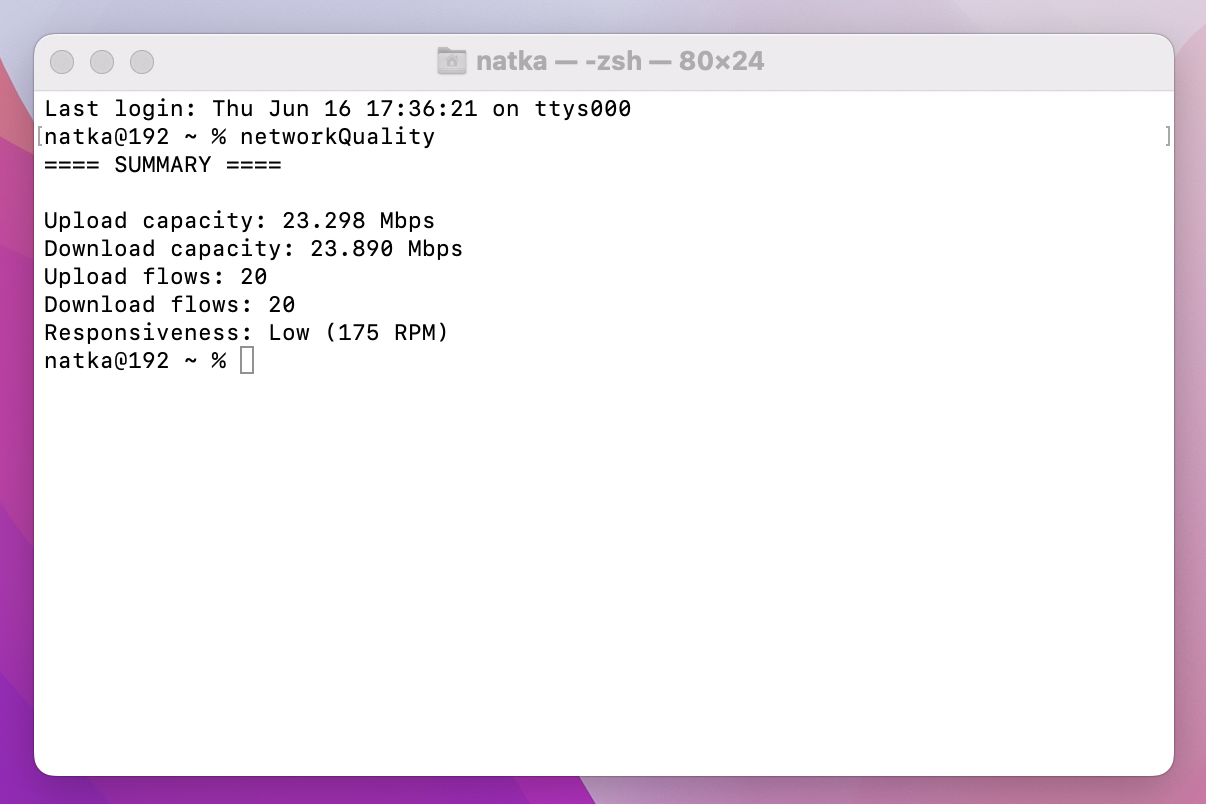 Pros
The app is easy to access; no installation required
Cons
It's challenging to use if you can't read trace packets.
Jamf – best for Apple device management
Jamf is one of the well-known remote network monitoring tools. It helps watch and manage Apple devices on the corporate network. In addition to management features, the solution provides preventive functions to protect devices from hacking and viruses. The ability to generate reports allows users to quickly identify and resolve any issues that arise. Besides computers, Jamf allows you to control Apple TV, iPhone, and iPad.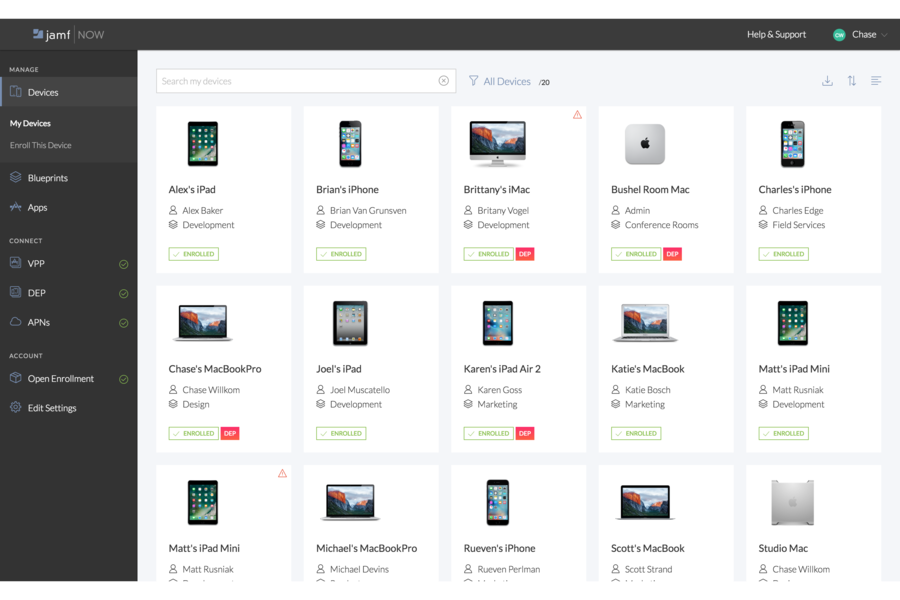 crozdesk.com
Pros
Integrates easily with Apple devices and applications
Allows users to manage several macOS/iOS devices
Provides reports.
Cons
The tool is designed for business rather than the average user.
TripMode – save internet data
One of the best network monitoring tools that allow you to easily monitor and control your data usage is TripMode. The app tracks data consumption by app, detects which one is too data-hungry, and lets you set the limit or block it. This is especially useful if, for example, you like to stream videos but don't want to use up your entire data plan. You can even check how much data your computer used during the last day/week/month and break it down by apps.
TripMode also has a scheduling option that you may use to turn on at specific times. To boost your productivity, you can selectively stop apps from accessing the internet from here.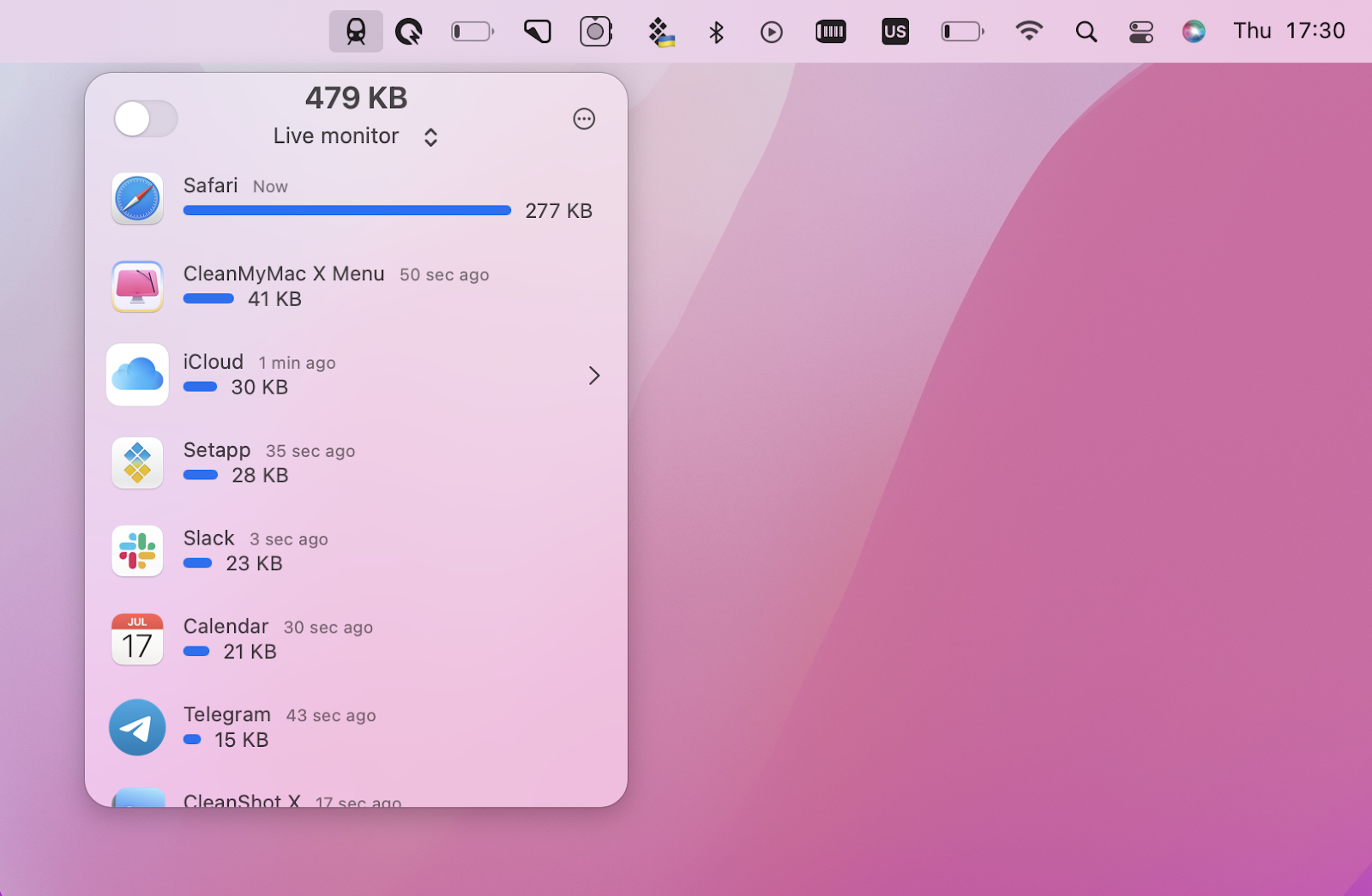 Pros
Comes with easy-to-configure settings
Provides valuable insights about your data usage
Free trial
Available via Setapp.
Cons
The app may seem a bit simple for pros.
AdLock – block browser ads and improve internet speed
With AdLock, you can block ads, trace spyware & bugs, fine-tune rules of internet usage, and more. The app has a clean and simple UI.
If you like numbers, you can get reports with the data on deleted threats and the amount of saved traffic in one click.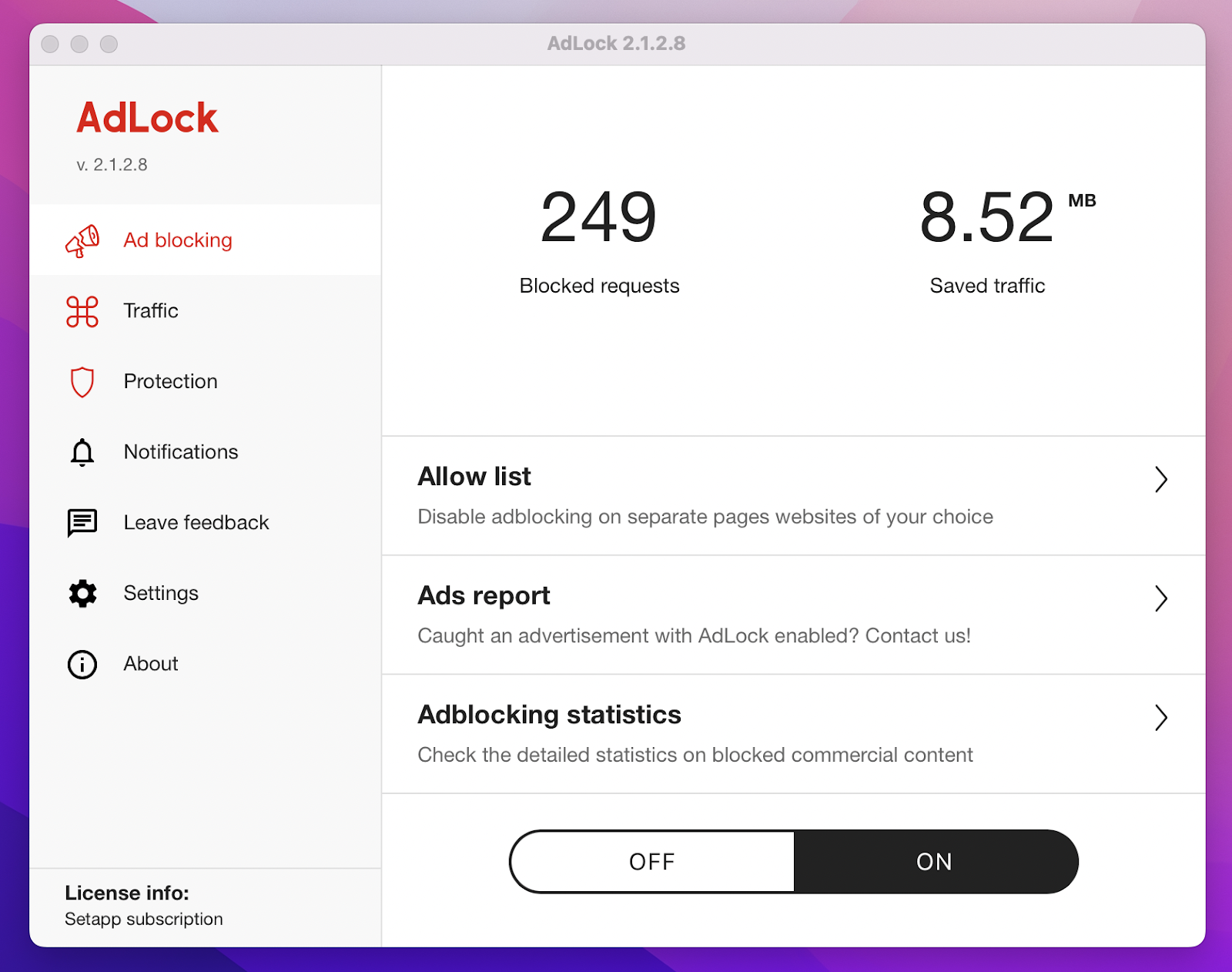 Pros
Simple to use
Multifunctional
Saves traffic
Protects your data and privacy while browsing
Free trial
Available via Setapp.
Cons
The tool may seem to have limited functionality when compared to other network monitoring tools from this list.
Stats – monitor your macOS system
If you're looking for completely free network management software, try Stats. With the help of this solution, you can keep an eye on your system for excessive CPU and memory consumption. You may also monitor network bandwidth usage if you need to control your network's performance. However, keep in mind that the Stats app is open-source and still in active development. So you can face compatibility issues and lack of support.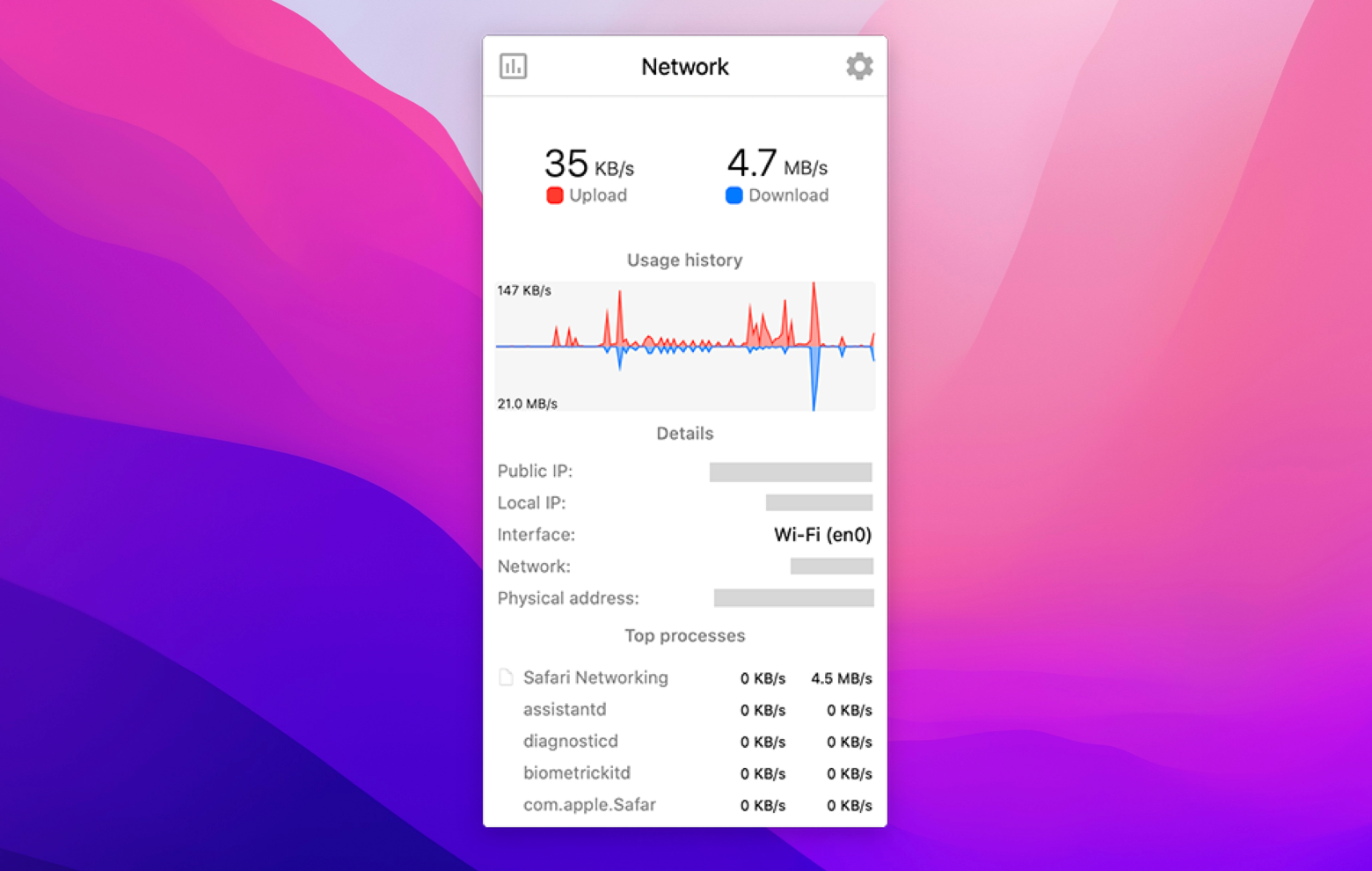 Pros
Easy to use
Completely free.
Cons
Open-source and is still in development
Requires macOS 10.13 or later.
CleanMyMac X – speed up and declutter Mac
CleanMyMac X is one of the most user-friendly tools in this list. To know the current amount of data sent/received per second and test the speed of your network, simply click the CleanMyMac X icon in the status bar of your Mac and refer to the Network section. On top of network data, you'll get other valuable insights about your device such as RAM-heavy processes and more.
While you're here to find decent network monitoring tools, you still need to try CleanMyMac for other purposes.The app is great for monitoring the overall health of your Mac including CPU monitoring, storage & hard drive monitoring, battery usage control, and more.
Once you try CleanMyMac X, you, hopefully, get your computer running as good as new, with a fast and smooth internet connection.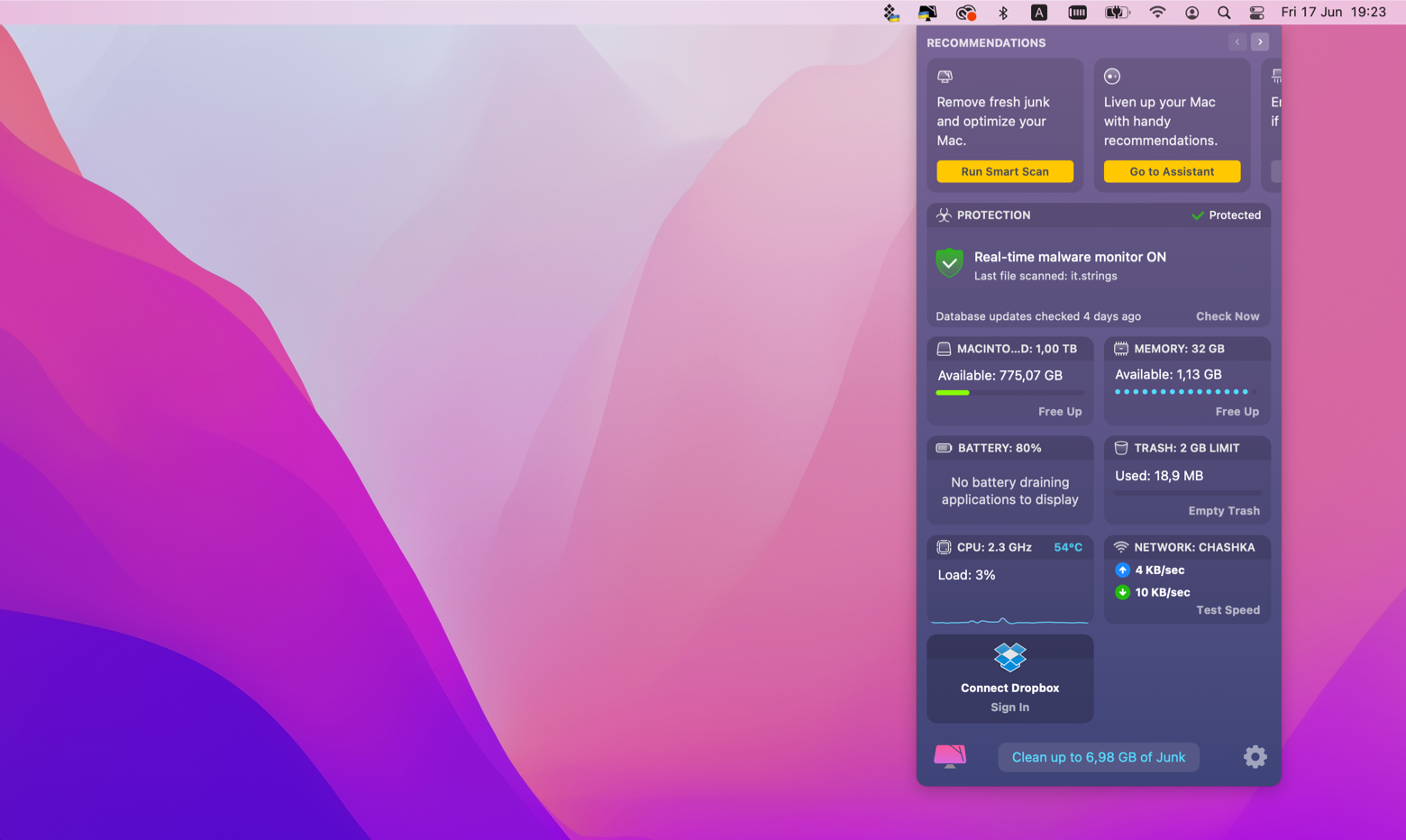 Pros
Easy to use
Brilliant and logical interface
The rich feature set and ease of use
Cons
It's more focused on the entire system rather than network.
How to save on network monitoring tools with Setapp
Many people think that network monitoring tools are only used by busy IT teams in large organizations. In reality, a regular computer user can greatly benefit from these tools. Let's quickly walk through the reasons why use network monitoring software.
In short, the right set of apps will allow you to find out why your internet speed is so low, what apps make your Mac so overloaded, and how to fix issues faster to continue enjoying the best online experience.
Today, you can find lots of useful apps on the market to choose from. Ones are designed to fix Wi-Fi problems, others help optimize your Mac performance in general. You might think it's expensive to test all the apps. And that's true. But only partly!
Fortunately, you can try the best apps mentioned in this article (NetSpot, WiFi Explorer, iStat Menus,TripMode, AdLock, CleanMyMac X) plus a ton of other amazing apps on Setapp. With a single subscription, you get access to 230+ other Mac and iPhone apps to solve almost any task.