Meet Apple AirPods Max, $549 over-ear headphones with Noise Cancellation
Apple maxed out AirPods, literally. The new over-ear wireless headphones cost hefty $549 and boast top-notch perks like Active Noise Cancellation and Spatial Audio. Most of these features are not new — we've seen them in AirPods Pro — but it's the first time Apple brings them to over-ear headphones.
Apple debuted AirPods Max in December 2020 (shipping starts on December 15), solving the Christmas present trouble for many. In this article, we look at the AirPods Max features, price, as well as compare AirPods Max vs Beats and Pro. Is the new model good value for the money and how is it different from Apple's other flagship headphones? Let's find out.
AirPods Max price
We'll start on a down note. For most people (at least those we follow on Twitter), the AirPods Max price is anything but attractive. To get the new over-ear headphones, you'll have to pay $549. Just to compare: the price of superstar Bose Noise Cancelling headphones is $400 and Sony WH-100XM4 with 30-hour battery life will cost you no more than $280.
Rumor has it, Apple will be launching a budget model of over-ear headphones in the future. But right now, it is what it is. Let's see how the AirPods Max features justify premium pricing.
AirPods Max Noise Cancellation and Transparency mode
Noise Cancellation paired with Transparency mode first debuted in AirPods Pro. Basically, Apple expands these features to AirPods Max. We can assume that the over-ear design will allow for a better quality of AirPods Max Noise Cancellation — more immersive sound and less outside noise.
According to Apple, each earcup in AirPods Max has one inward- and three outward-facing microphones, which ensures a perfect regulation of the outside sound and the sound produced by the headphones. You can switch between AirPods Max Noise Cancellation and Transparency mode by pressing the noise control button.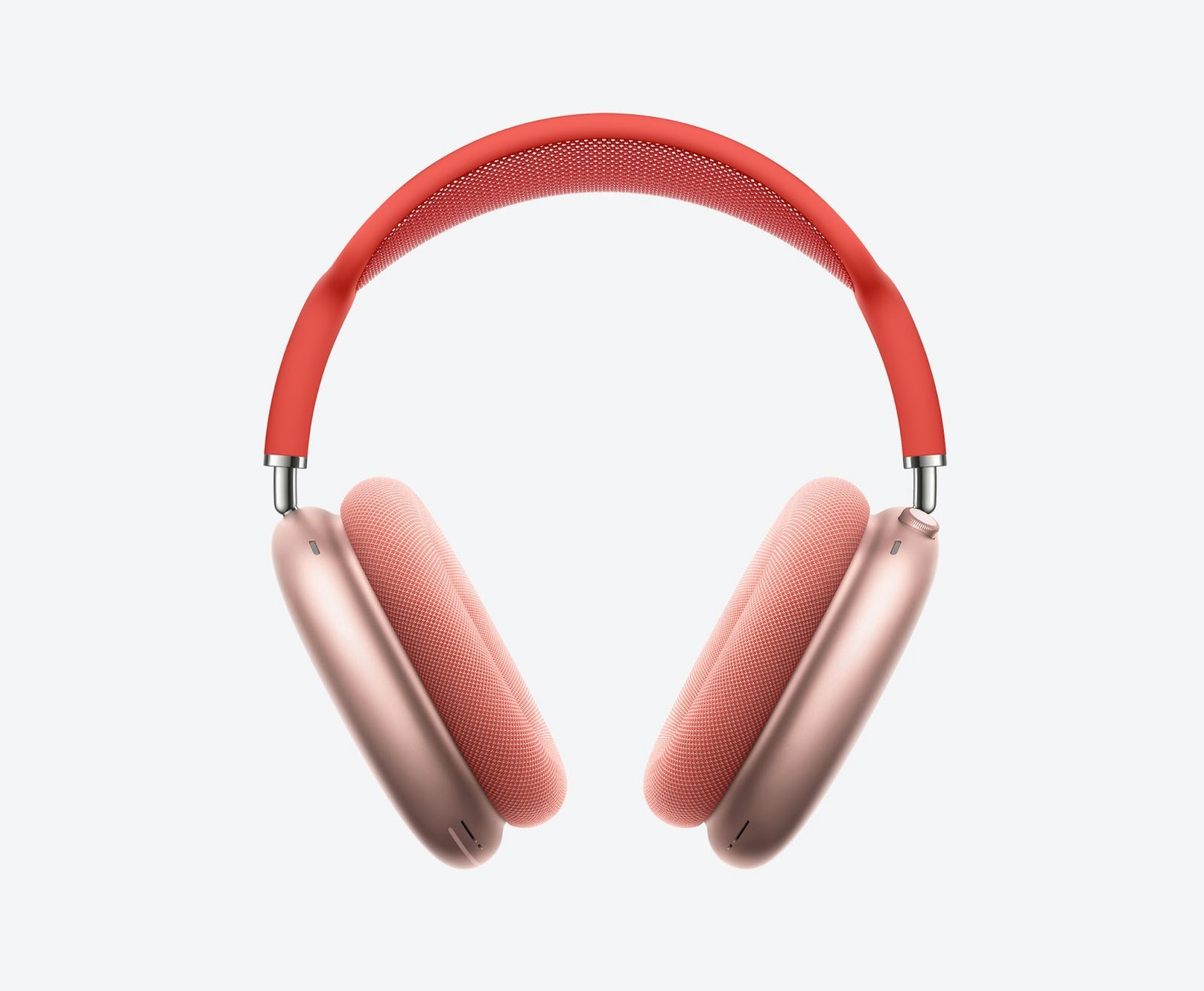 apple.com
AirPods Max Spatial Audio
If there's one feature that makes AirPods Max stand out, we say it's Spatial Audio. The headphones, along with the device you connect them to, use gyroscopes and accelerometers to track head movements and adjust the sound accordingly. This gives you an all-around theater-like sound experience. So it's like you watch a movie on your iPhone or Mac but it feels like you're sitting in a movie theater. Magic.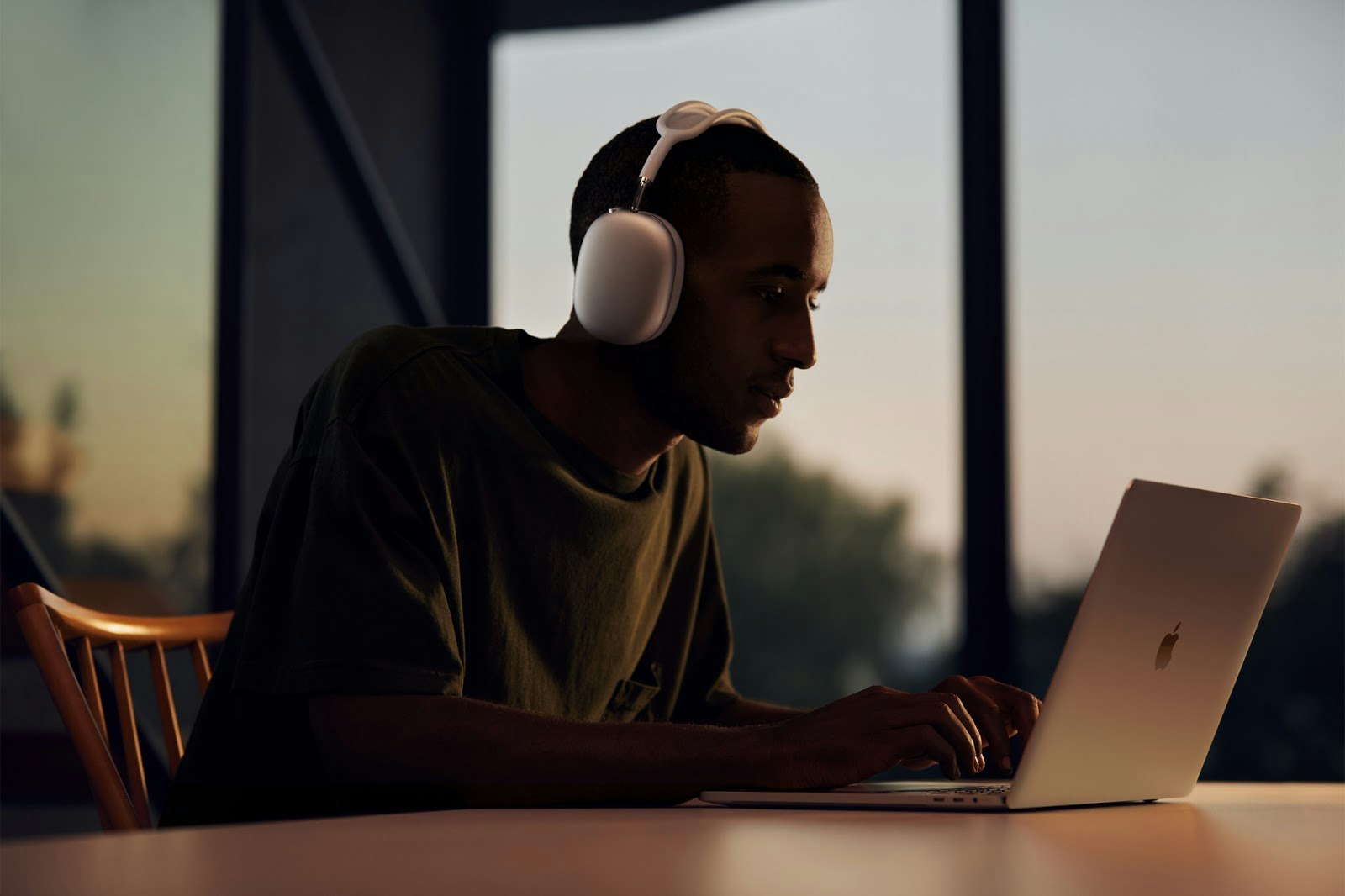 apple.com
By the way, the Boom 3D app allows you to experience theater-like sound with any headphones. So if you're not ready to buy AirPods Max yet but would like to try Spatial Audio, install Boom 3D on your Mac. The feature is called 3D Surround Sound, and it's essentially the same thing. In addition to spatial audio, Boom 3D offers volume control and a few advanced equalizer presets. The app is free for 7 days with the Setapp membership.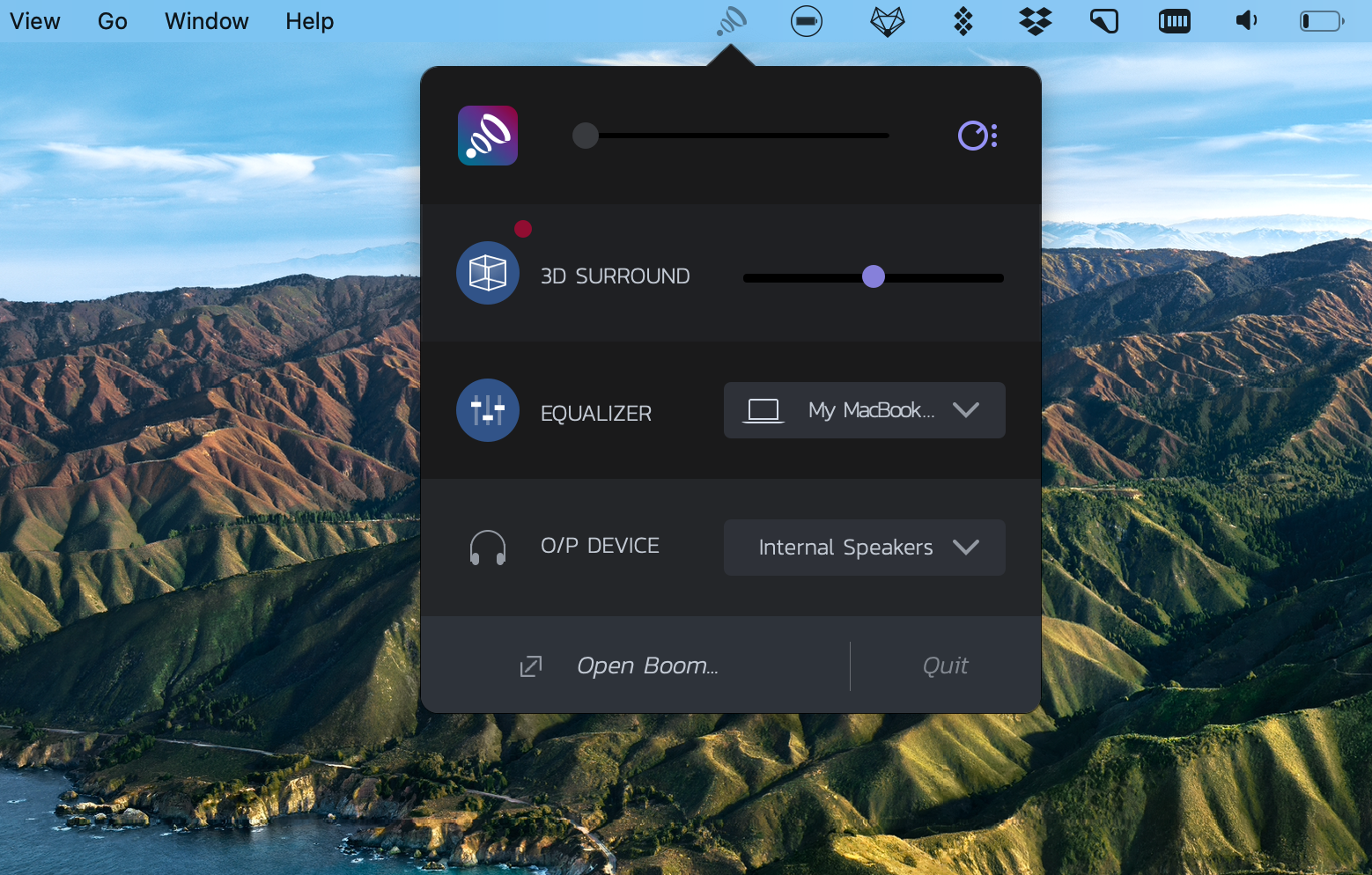 AirPods Max design
Just like anything Apple, the new AirPods look stunning. Here's everything you should know about AirPods Max design and how it caters for great acoustic performance:
Every element just fits in. Stainless steel frame wrapped in soft material, the breathable knit mesh, even the way ear cups are attached to the headband — all of these small details produce an incredible acoustic effect.

Digital Crown: You can regulate AirPods Max volume, as well as switch between tracks and pause/play audio, using the Digital Crown.

AirPods Max smart case: Just like Apple's wireless earbuds, the Max headphones come with a case that allows for preserving charge. The case is made of a soft material matching the color of the headphones. According to Apple, the smart case puts AirPods in an "ultralow power state."

5 AirPods Max colors: Traditional space grey and silver or uniquely tailored sky blue, pink, and green. Choose from among five different colors — there's no price difference.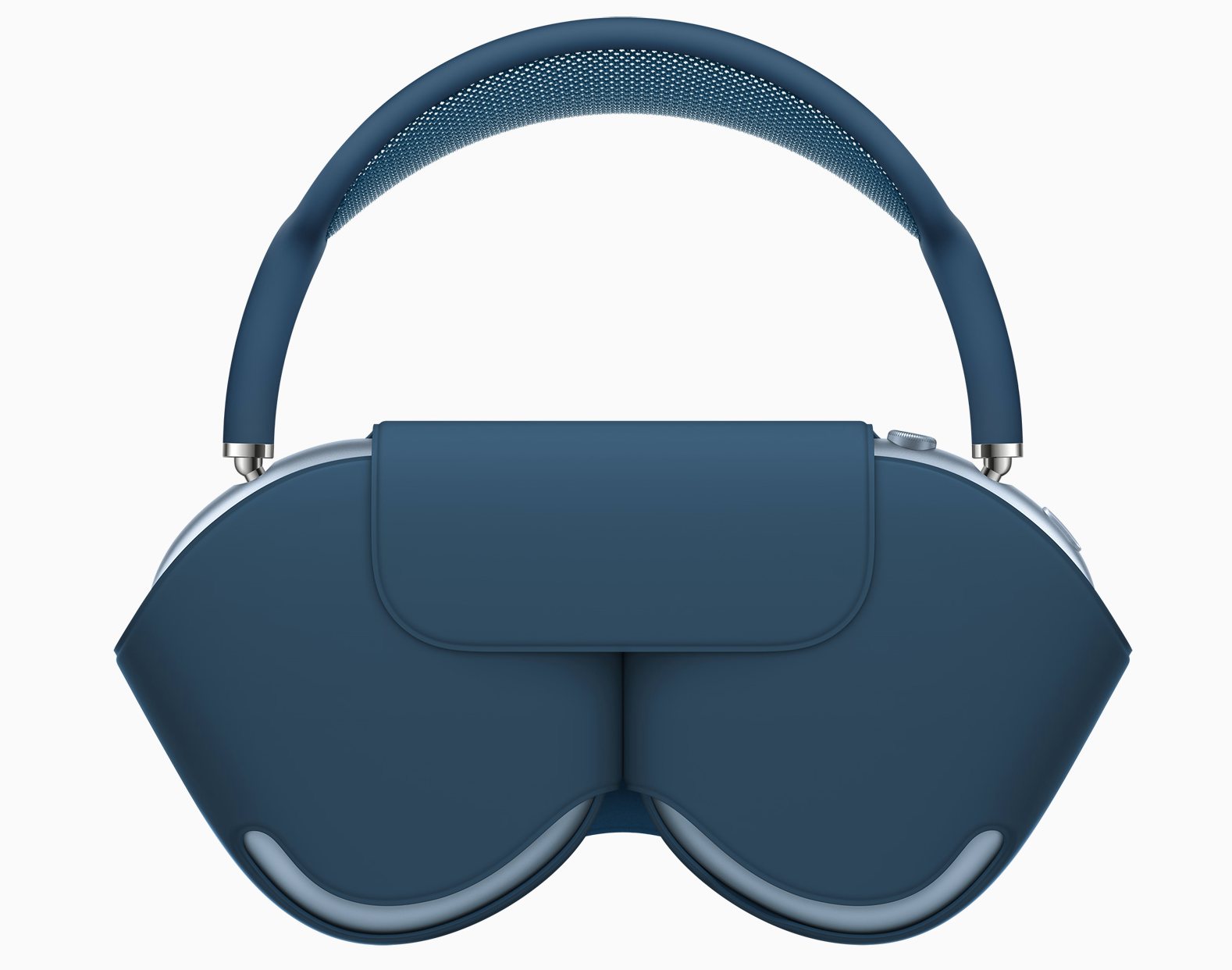 apple.com
AirPods Max battery life
The new headphones promise up to 20 hours of non-stop Spotify, Netflix, or Zoom calls (hope you don't have to test that, ever). You can charge AirPods Max using a regular Lightning connector: 5 minutes of charging will give you 1.5 hours of listening time. Note that the regular 3.5mm Lightning cable and the charging brick are not included in the AirPods Max price.
AirPods Max compatibility
AirPods Max use Bluetooth 5.0, which means you can connect them to both Apple and non-Apple devices. There are certain limitations, though. If you pair AirPods Max with an Apple device running older software or a non-Apple device (like an Android phone or Windows computer), you won't be able to use some features, including Spatial Audio and automatic device switching. Here's the list of devices that are fully compatible with AirPods Max:
iOS 14.3 or later

iPadOS 14.3 or later

watchOS 7.2 or later

tvOS 14.3 or later

macOS Big Sur 11.1 or later.
Comparing AirPods Max to Apple's other high-end headphones
Not so long ago, Apple released an upgrade to its first wireless earbuds, AirPods. The pro version of AirPods arrived with Noise Cancellation and advanced in-ear design. Apart from that, Apple's product line already includes great over-ear headphones called Beats Pro. So how are AirPods Max different and why you should consider choosing them over the others?
AirPods Max vs AirPods Pro
AirPods Pro are Apple's most expensive earbuds featuring in-ear design and Active Noise Cancellation (ANS). Obviously, the difference between the two is that AirPods Max are over-ear headphones while AirPods Pro are in-ear earbuds. Two different-looking products that offer different sound experiences.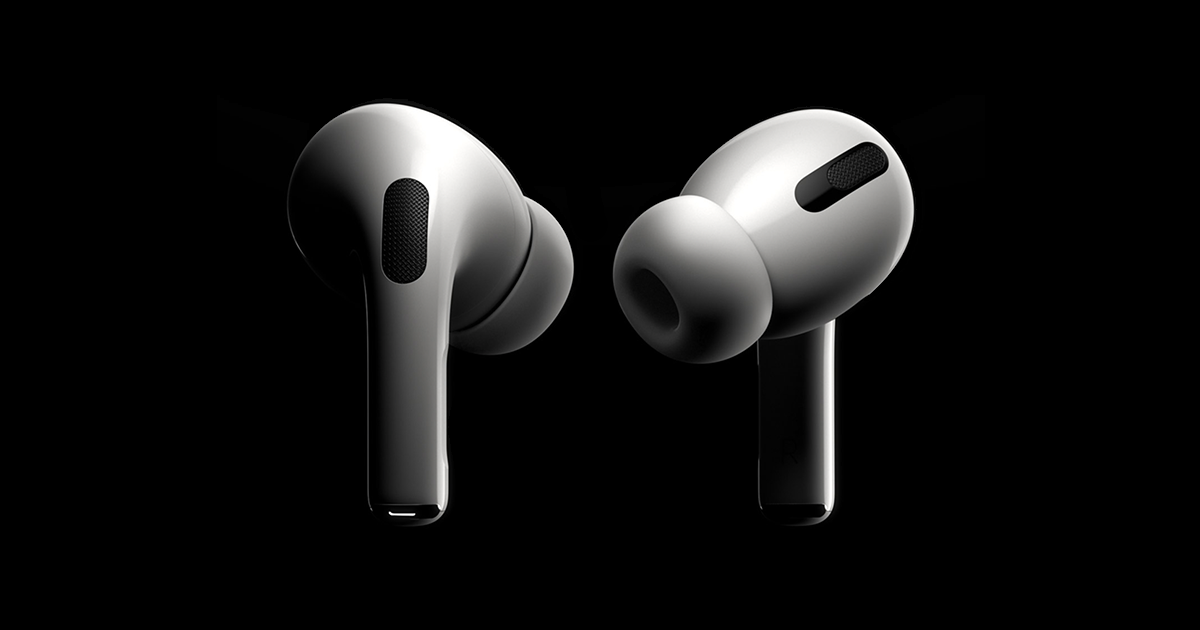 apple.com
However, they have one thing in common: the H1 chip. This chip is the driving force behind Siri interaction, ANS, and Transparency mode — the pro-level features that both models have. Also, both AirPods Max and AirPods Pro are completely wireless and have to be charged after a certain period of time.
Price: $549 for AirPods Max versus $249 for AirPods Pro
Max or Pro? AirPods Max volume and sound quality are better than in AirPods Pro, mainly because of the over-ear design and Spatial Audio. Plus, you get superior AirPods Max battery life — up to 20 hours of listening versus 4.5 hours with Pro. Other than that, both models offer a decent listening experience and share most of the features like ANS and Transparency mode.
AirPods Max vs Beats Pro
Beats Pro are the top-tier studio headphones marketed by Apple. Beats have long been considered Apple's flagship pro headphones, so releasing AirPods Max seems like poaching on their own territory. Right? Wrong. In fact, the only similarity between Max and Beats is that both are over-ear headphones. Other than that, these are two completely different gadgets.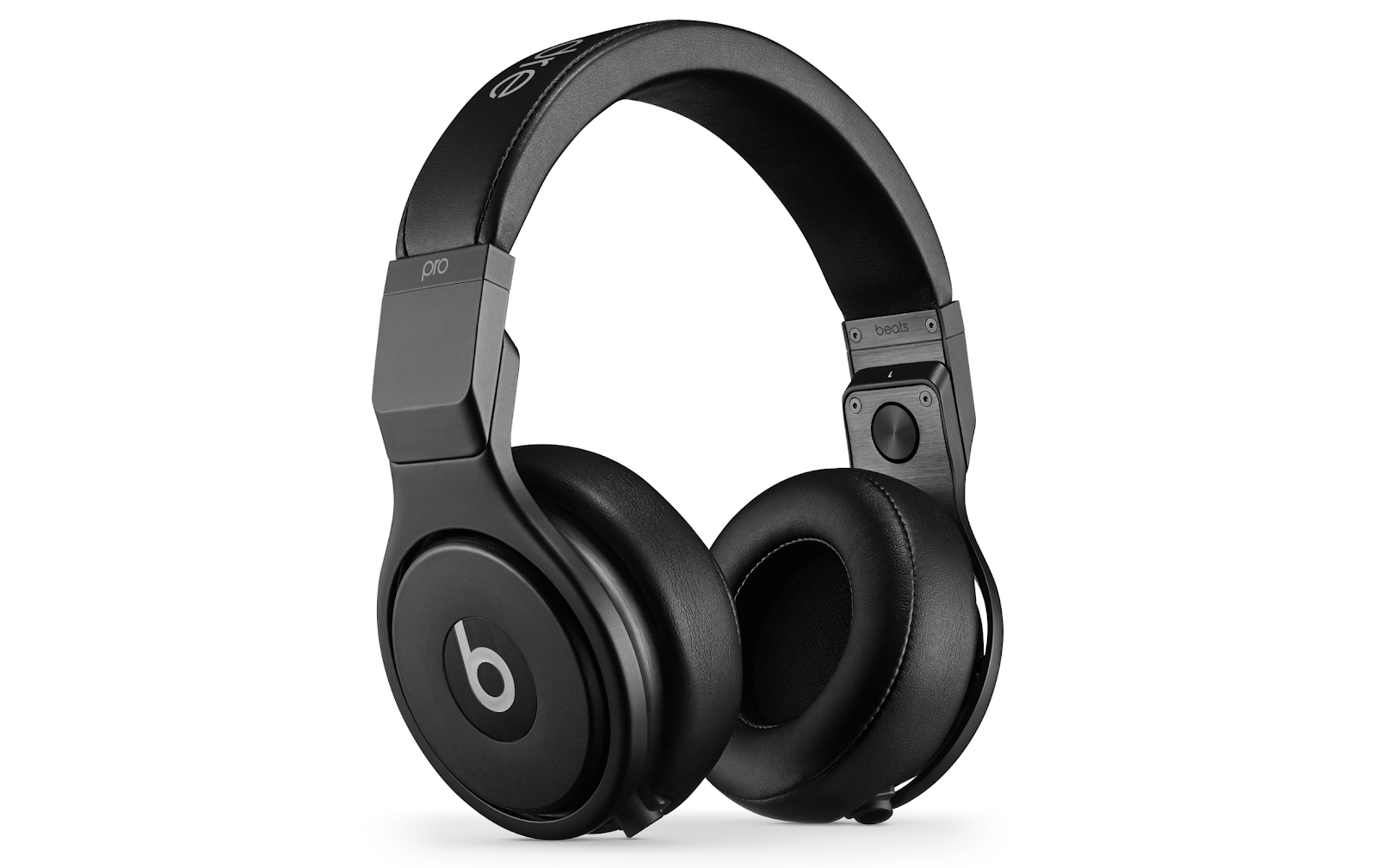 apple.com
Beats are bass-heavy club and studio headphones that "let you hear music the way it was originally heard by the artist in the studio." They come with the traditional audio cable. In contrast, AirPods Max are wireless and use Bluetooth, which allows you to pair them with non-Apple devices like an Android phone or Windows computer.
Price: $549 for AirPods Max versus $399 for Beats Pro
Max or Beats? If you want headphones of superior quality for personal use, get Max. If you're a professional that needs powerful old-school headphones for studio or club use, Beats are a better choice.
How to get more out of AirPods Max on Mac for $9.99
If you have a desk job, love working in crowded spaces, or just like being immersed in music, AirPods Max's Spatial Audio and Noise Cancellation will bring you a lot of joy. Combine them with these three Mac apps (all of them are free to try for 7 days, then $9.99/month) — and you'll have the sound experience of a lifetime, pinky promise.
ToothFairy helps you pair AirPods Max with Mac — easier than with the regular Bluetooth toggle. The app takes control of your Bluetooth-connected devices like no other. A single click or a keystroke, and you're all set. While it might seem like a small thing, ToothFairy will save you a few extra clicks every time you connect/disconnect AirPods. That's a lot.

Batteries is another great menu bar utility to use with your AirPods Max. The name speaks for itself — just click on the Batteries icon and it will show all your battery levels: your Mac, iPhone/iPad, and all Bluetooth-connected devices (including AirPods). What's more, Batteries sends you notifications whenever any of the devices runs low on battery.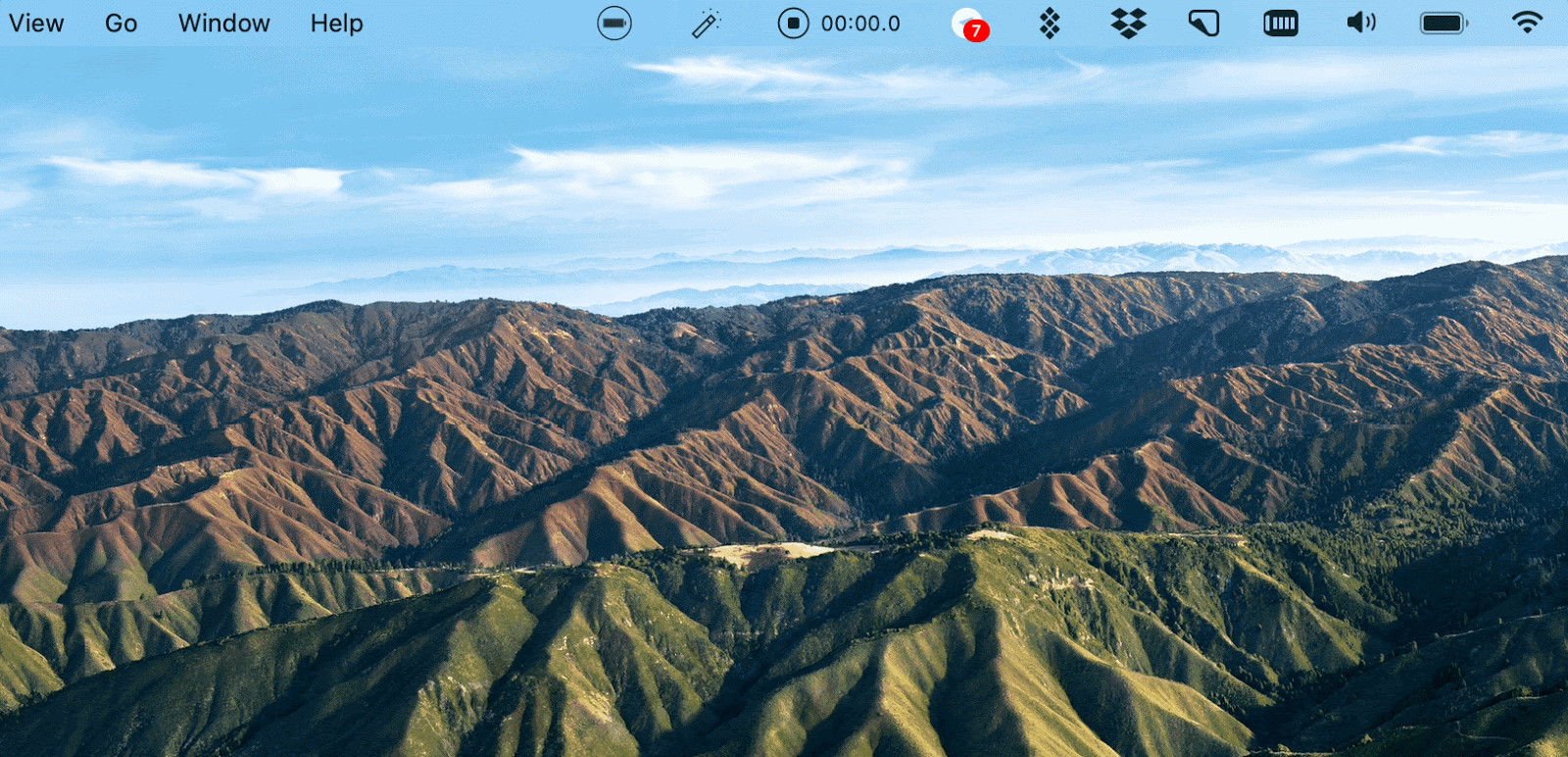 One Switch lets you combine AirPods connection toggle with lots of other switches you use regularly on Mac. If your Mac runs the latest macOS Big Sur, you have the new Control Center with quick access to a few popular switches from the menu bar (Dark Mode, WiFi, Bluetooth, etc.) One Switch takes it even further — it's 100% customizable so you can bring all the switches you use to one spot. One click to hide desktop icons, keep your Mac awake, run Xcode cache cleanup, or connect your AirPods Max.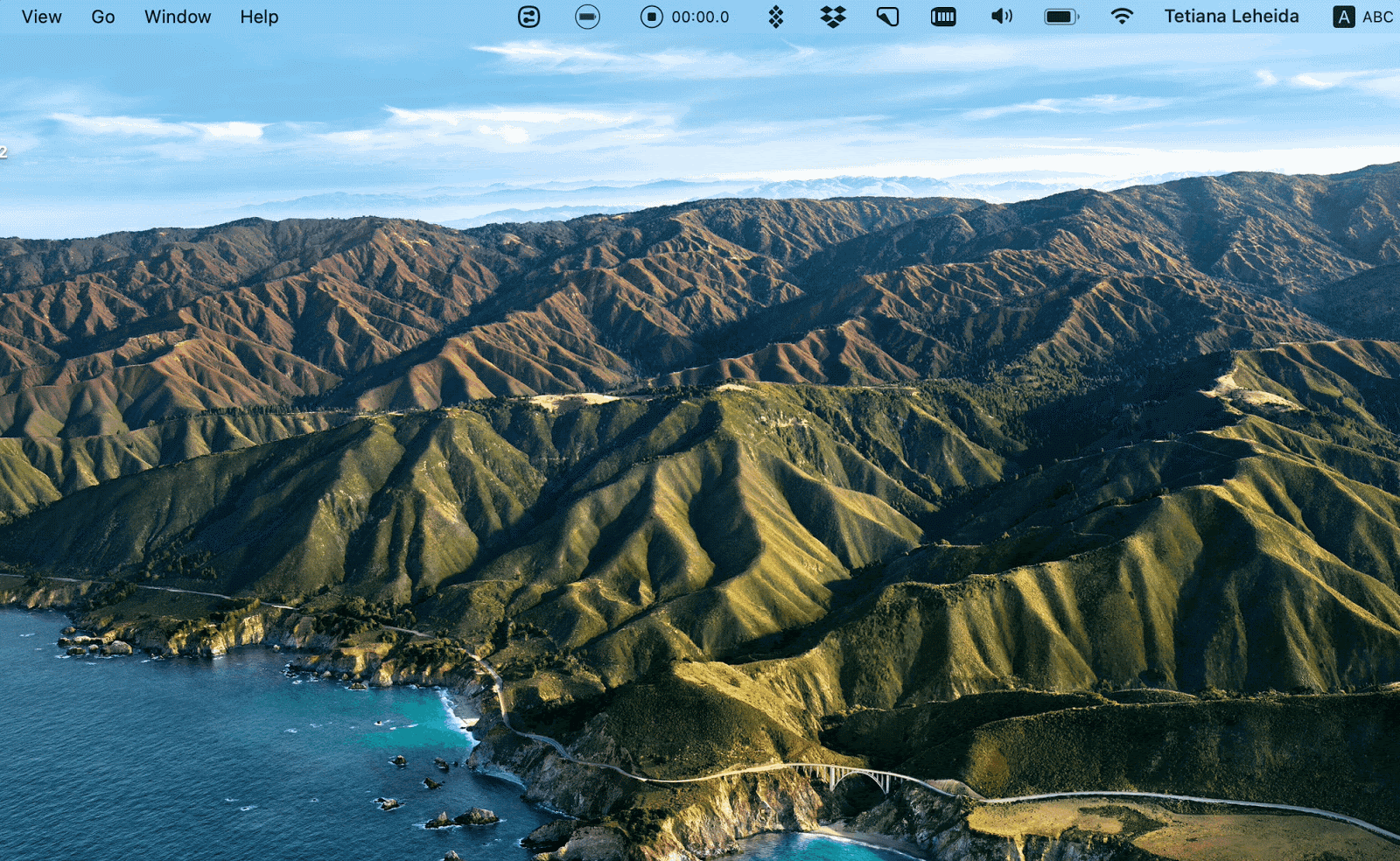 ToothFairy, Batteries, and One Switch are available on Setapp — along with other 200+ Mac and iOS apps. Setapp is a subscription suite for apps, helping people become their most productive selves, with ready-to-use workflows, apps organized by professions and tasks, etc. So the AirPods Max bundle we've described above is only one of the benefits you can get with Setapp. Give it a try, Setapp is free for 7 days, then $9.99/month.