The best Adobe Lightroom alternatives for 2023
Since Adobe switched from lifetime license to subscription, many Lightroom users started looking for alternatives. In this article, we lay out the key features of Lightroom and why so many photographers and designers love it; how much is Lightroom and how much you can save by replacing it. Plus, we'll share a unique photo editing workflow you can create with other apps for less money.
What is Adobe Lightroom
So what is Lightroom and why do you need to look for alternatives? Designers often call Lightroom a lighter version of Photoshop. Both are photo editors created by Adobe. While Photoshop is a hardcore pixel-level software that gives you unparalleled control over your photos, Lightroom is a simpler cloud-based photo editor with less advanced features but more possibilities for workflow automation, such as presets, batch editing, etc.
Is Adobe Lightroom free?
No, and it's rather on the pricey side. Lightroom and Photoshop are both part of Adobe's Creative Cloud, which covers lots of pricing plans and options. The starting Adobe Lightroom price is $9.99/month. Adobe switched to a subscription model a while ago, so there's no option to buy a lifetime license at the moment.
How to choose the best Lightroom alternative
Let's face it, Lightroom is expensive. Plus, it doesn't always cover all your needs. And if you get both Lightroom and Photoshop, you'll pay even more, spend more time figuring out how it works (Photoshop's UI is pretty complicated), and waste a good deal of space on your drive.
Instead, you can replace Lightroom software with a toolkit that fits your specific workflow and doesn't drain your budget.
Most valuable Lightroom software features
If you google "Lightroom alternative Mac," you'll be overwhelmed with the options. With the rise of Instagram and advances in professional photography, the number of photo editors is growing. How do you choose the right one? Since you're obviously searching for something like Lightroom, let's not reinvent the wheel and look at the best features Lightroom offers:
RAW file editing. With Lightroom, you can work on RAW photos from different cameras. This means you preserve the original quality of the photo despite all the edits you apply.
Presets. You can use built-in presets or create your own. Presets help photographers maintain a consistent style across all their work, without having to apply the same edits to every photo manually.
Batch editing flow. One thing where Lightroom stands out is processing large collections of photos very quickly. It's easy to match exposure, align color balance, or correct light across a batch of photos.
Adjustment tools. Brightness, contrast, noise reduction, gradient effects, removing unwanted objects — the traditional adjustment features are all there.
Catalogs. Most photo editors use the traditional folder structure to organize photos. Lightroom gives you the choice to organize by folders or catalogs. People love catalogs for the ease of file referencing, tagging, assigning ratings, etc.
Good news, there are apps that have all of the Lightroom's stellar features. And even more! Some of them are geared towards professional use, others are free, yet others are part of a large photo editing toolkit in Setapp (which is way more affordable and feature-rich than Adobe software).
The top 7 best Adobe Lightroom alternatives
1. Luminar Neo
Luminar Neo has been developed by Skylum as a plugin for Adobe apps and a standalone photo editor with RAW support and impressive AI capabilities. Today, it's a full-featured app that can be used as a Lightroom alternative.
With Luminar Neo, you can do almost all the same things you do with Lightroom — upload a whole folder and apply consistent edits to a collection of photos, use professional presets and filters, and edit RAW format to preserve the original quality.
Even more, Luminar Neo has its advantages. You will love its AI effects. Try AI Skin and Portrait enhancer for portrait photography, or AI Augmented Sky mask for nature landscapes — you'll be impressed with how one-click edits can transform your photos.
Another outstanding feature of Luminar Neo is the collection of Looks (portrait, aerial, nature, etc.) that will help style your photos. Last but not least, Luminar Neo has Layers. By the way, there are no layers in Lightroom — you have to use Photoshop to get access to this feature. So Luminar Neo is clearly a win-win.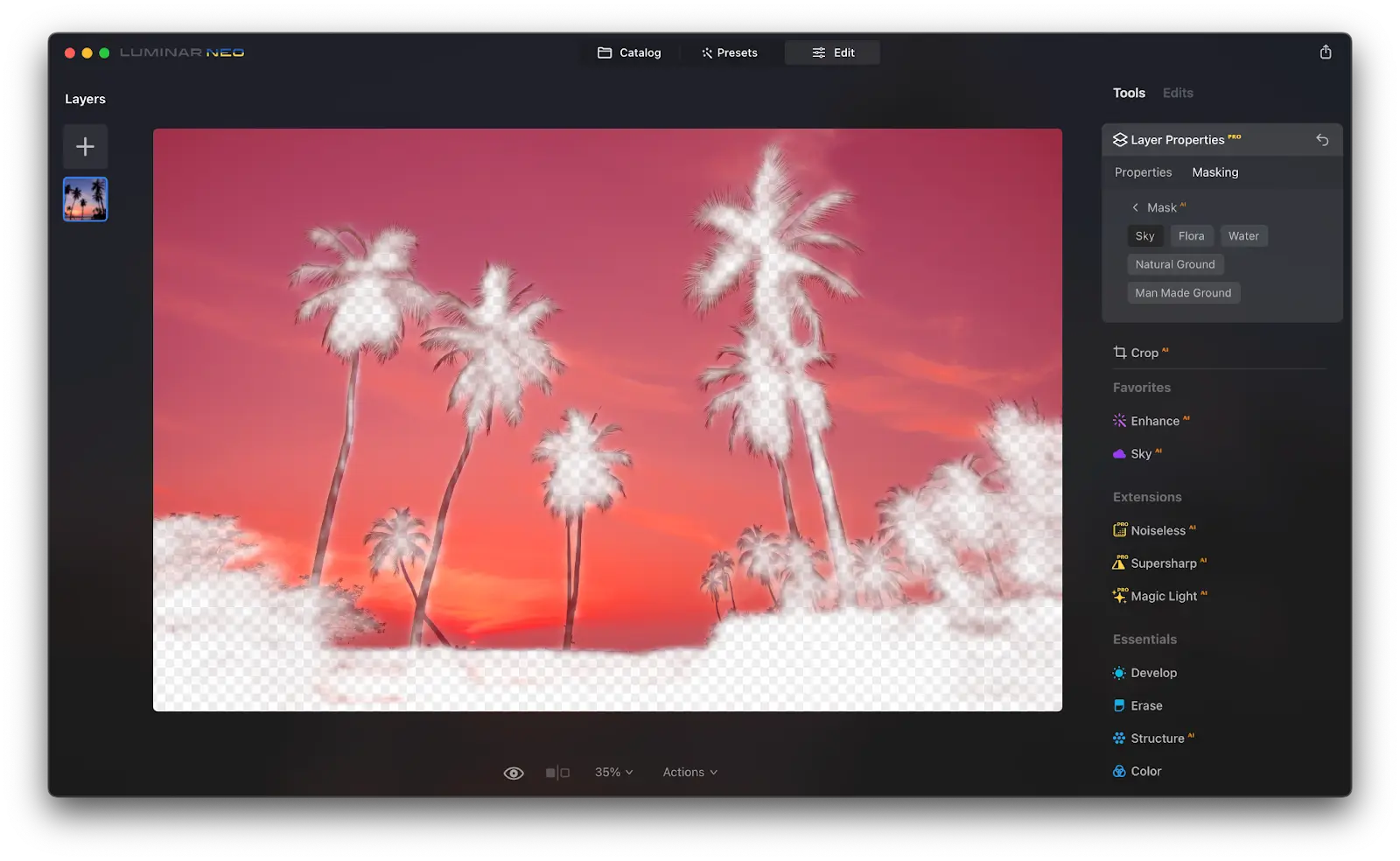 Pros:
Great layers (similar to Photoshop's)
Unique AI enhancements
Available with Setapp membership
Cons:
Healing brush works slower
No keyword-based sorting
Price: $9.99/month for Luminar Neo and 10+ other photo editing apps in Setapp or $89 (one-time purchase).
Best for: Newbies and photography enthusiasts. People who want to experiment with AI effects and one-click edits. People who miss Layers in Lightroom.
2. TouchRetouch
TouchRetouch is essentially a photo editor meant to "fix" whatever is wrong with your photos. It's the best tool to get rid of blemishes, remove unwanted objects, run quick color correction, etc. Think of it as a first aid kit for photos.
The app also offers some basic tone and color adjustments and a handy compare tool to check the before-and-after. We wouldn't call TouchRetouch a legit Lightroom alternative because it misses most of the advanced features such as presets and batch editing. But you don't always need those, right? If you need an easy and quick retouch tool, this is the one.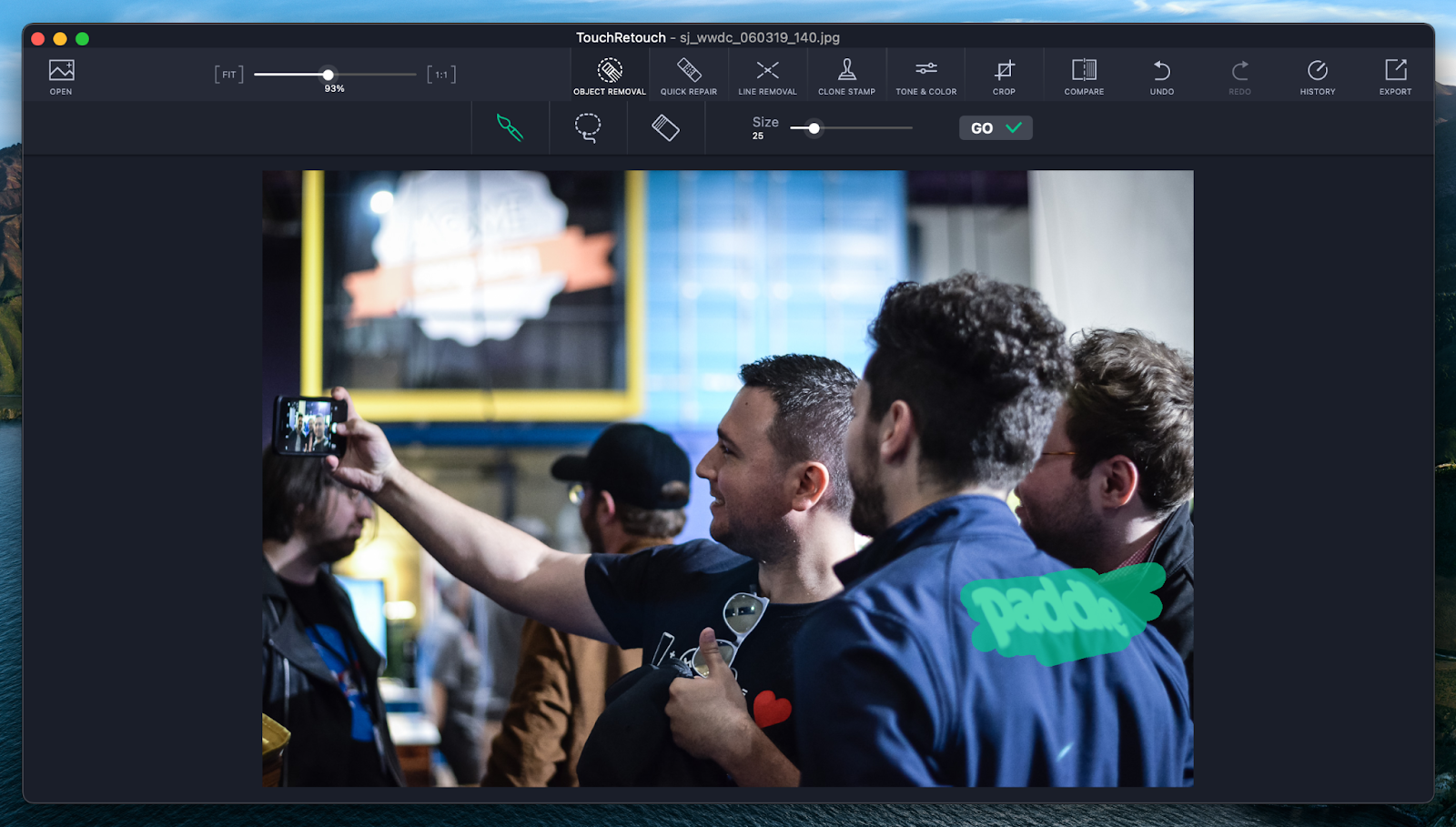 Pros:
Quick retouch flow
Clone stamp, line removal, and other advanced retouch tools
Available with Setapp membership
Cons:
No batch editing
No presets and filters
Price: $9.99/month for TouchRetouch and 10+ other photo editing apps in Setapp or $1.99 (one-time purchase).
Best for: When you need to cover up a logo, remove a person from the photo, get rid of any flaws and defects.
3. Capture One Pro
If you're a pro photographer, you need a pro Lightroom alternative. Capture One Pro is a good choice for people who want to have the power of Lightroom and Photoshop in one suite. The app was developed by a camera company and has lots of what you could call "studio" features.
You get RAW editing, Photoshop-style layers, excellent processing power, advanced color wheel, and more. Some people think you can achieve even better results with photo editing if you choose Capture One Pro over the entire Adobe Creative suite. But it all depends on your flow and priorities. For instance, Lightroom is better with HDR tools. Capture One Pro has more customization options but it's also harder to navigate.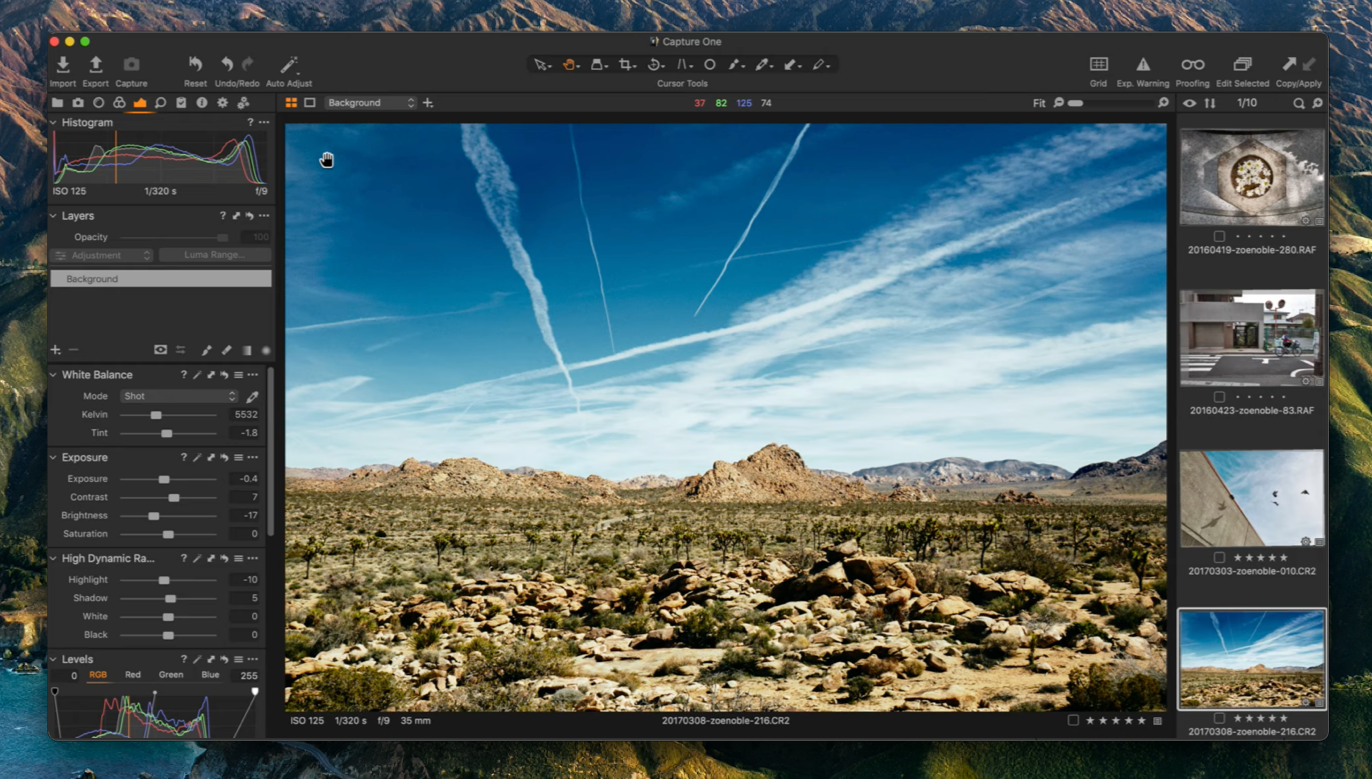 Pros:
Lots of Lightroom and Photoshop features
Extensive customization
Great processing power
Cons:
Expensive
Misses HDR tools
Steep learning curve
Price: Starting at $14 per month.
Best for: Pro photographs looking for more studio features.
4. PhotoBulk
Imagine you have a folder with photos — from an event, photoshoot, whatever — and need to resize and rename all of them, maybe also change metadata, add watermarks, or convert the whole batch to other format. PhotoBulk does exactly that.
PhotoBulk can't be called Lightroom for Mac, but it's definitely a great app to install with Setapp and use alongside other photo editing apps.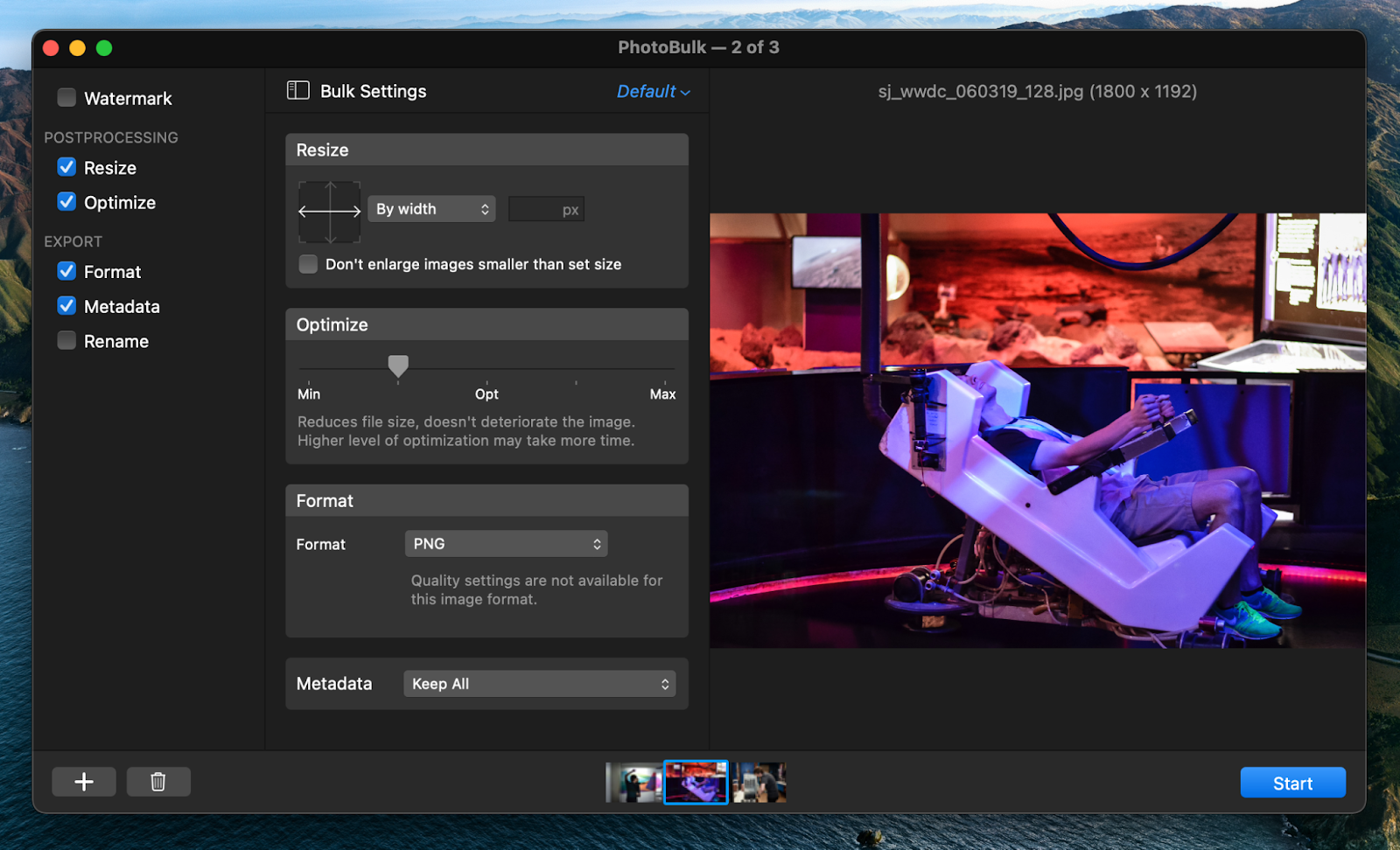 Pros:
Quick batch editing
Add watermarks to your photos
Available with Setapp membership
Cons:
No color and tone adjustment tools
No filters and layers
Price: $9.99/month for PhotoBulk and 10+ other photo editing apps in Setapp or $9.99 (one-time purchase).
Best for: Quick size and format optimization; initial processing of photoshoot materials; organizing photos by collections.
5. CameraBag Pro
If Photoshop is pro and Lightroom is mainstream, CameraBag Pro is somewhere in between. This Mac app has lots of professional filters (200+), great retouching tiles, custom presets, masks, and much more. At the same time, it's super intuitive and easy to make part of your workflow — no matter if you're switching from Lightroom or if it's your first photo editor.
Another cool thing about CameraBag Pro is that it can also edit video. From trimming to preview to color grading, you get everything you need in your videography toolkit. CameraBag Pro works with RAW format and can even help you fix "dead" pixels.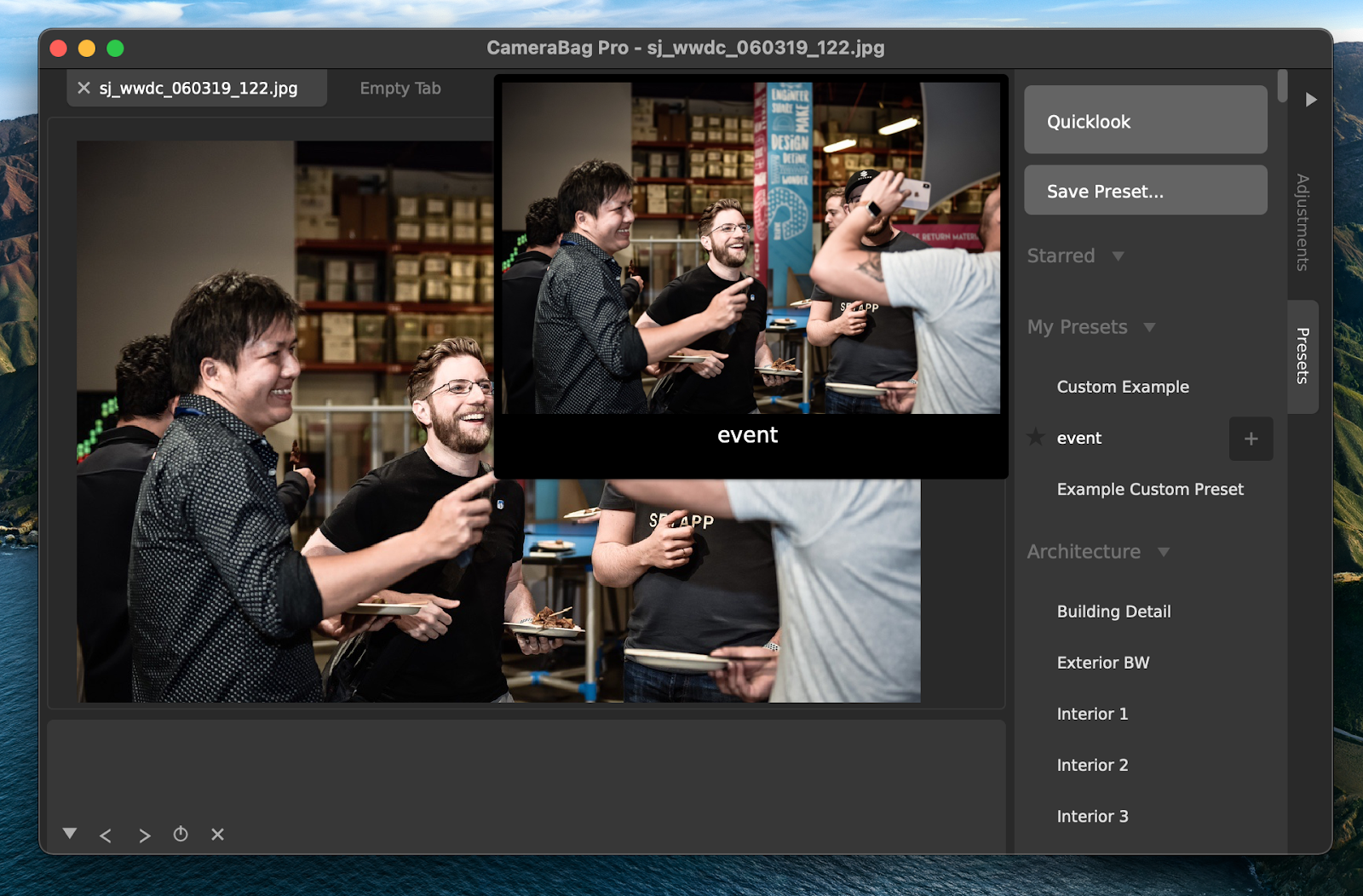 Pros:
Covers most of Lightroom and Photoshop features
Video editing toolkit
Available with Setapp membership
Cons:
Doesn't have Lightroom's catalog feature
Price: $9.99/month for CameraBag Pro and 10+ other photo editing apps in Setapp or $50 (one-time purchase).
Best for: Professional photographers/videographers and newbies alike.
6. RawTherapee
RawTherapee is an open-source RAW image processing app that shares many of its features with Lightroom. As the name suggests, it works with RAW format so you don't have to worry about losing the quality. Best of all, it's free.
You won't find the same range of adjustment tools as in Lightroom, but you can still do many basic things like color correction, adjusting exposure and sharpening. The main difference is file organization. Most people who've used Lightroom love its catalog feature for the ability to quickly manage a batch of files. With RawTherapee, you'll have to use the traditional folder structure. Despite the limitations, if you're looking for a Lightroom free alternative, RawTherapee is a decent choice.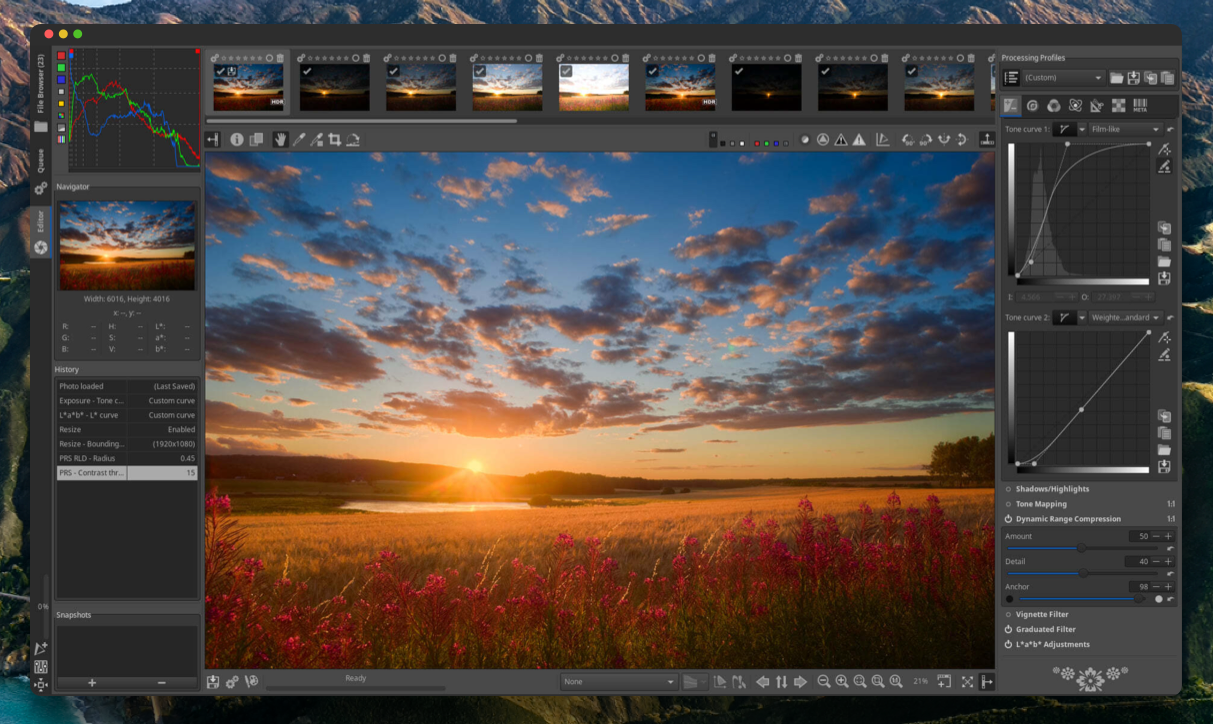 Pros:
Works with RAW files
Basic adjustment tools
Free
Cons:
Doesn't have Lightroom's catalog feature
Limited adjustment tools
Price: Free
Best for: Newbies or people who need a tool for basic photo adjustment.
Final verdict: What's the best Lightroom alternative?
We hear you thinking: "Okay, seven Lightroom alternatives is nice and all, but what exactly should I choose?" Here's the obvious truth: there's no single app that is less expensive than Lightroom and gives you all of the same features. But you can get a collection of tools that do all those things Lightroom does, and use them together in your workflow. Why? Because this way you'll save money on Lightroom subscription and get powerful photo editing software.
Setapp is by all measures the best toolkit you can get to replace Lightroom. Even more, Setapp can partly replace Photoshop so you get all the photo editing tools you'll ever need, from initial post-processing to more complex things such as layers.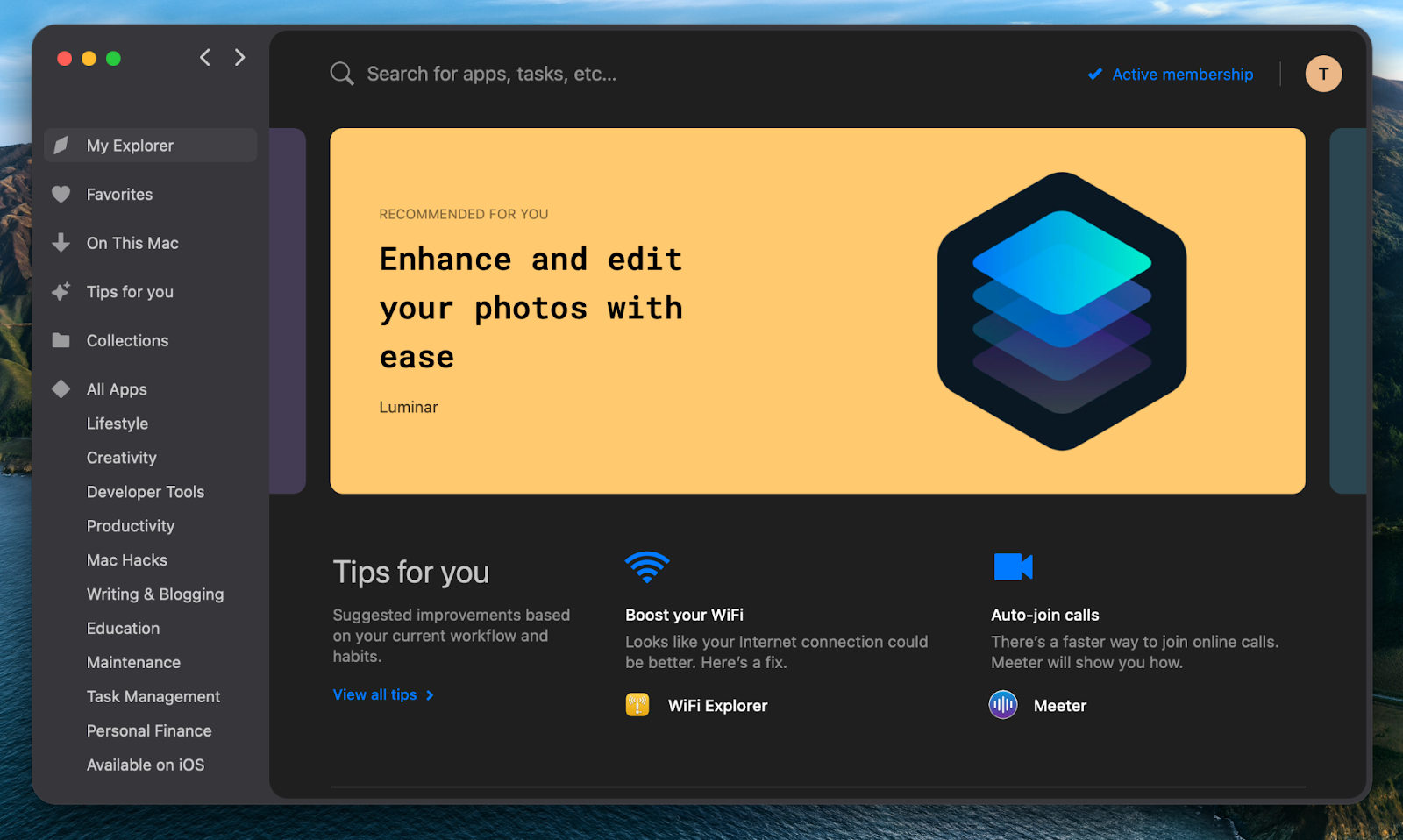 Here's what your Lightroom alternative flow could look like:
Organize photos by catalogs or folders with Emulsion
Fix minor defects and remove objects or lines with TouchRetouch
Change metadata, name, size, and file format for a collection of files with PhotoBulk
Create custom presets, apply filters and masks with CameraBag Pro
Try advanced AI effects and layers with Luminar Neo.
All of these apps are part of Setapp so you don't have to pay for them separately.
Bonus apps you get with Setapp
What's Setapp and what does it have to do with photo editors? Setapp is a productivity tool for Mac and iOS users. It has curated collections of apps geared towards different tasks and jobs. Access to the whole suite (210+ apps) costs $9.99/month, and you can try it for 7 days free.
If you're interested in photography, design, and creativity, Setapp gives you the whole "Lightroom alternative" package we described above plus many other helpful utilities. For instance, there's Squash for file compression that will help you save space on your disk, Tayasui Sketches for drawing (similar to Paint), many more.