How to avoid Google Photos storage limit
Few people today keep their photos on external hard drives, like most of us did just about 10 years ago. Photography has gone mobile, as we almost exclusively use our smartphones to take and share pictures. But as cameras get better (e.g. more megapixels), photos weigh more and put a strain on the storage capacity of our devices.
Buying smartphones with more storage space would seem like a good idea, but those models often cost hundreds of dollars more. Another solution is moving some photos to the cloud. It also makes sharing easier. There are quite a few cloud storage providers available right now: Dropbox, iCloud, OneDrive, etc. But the one that attracted the most attention in the past few years has been Google Photos, mostly because it offers free photo storage for all. Is this too good to be true?
Let's explore all the questions around the Google Photos storage limit and see how you can leverage it properly to get the best deal possible.
Is There A Google Photos Storage Limit?
Google Photos was first released as a standalone app in 2015 and immediately gained widespread attention for its unlimited free photo storage promotion. In reality, as many things are, this statement came with a caveat.
You can really get unlimited storage on Google Photos if you allow your photos to be downsampled to 16 megapixels and your videos to 1080p. This doesn't sound that bad as 16 MP is plenty for most screens and 1080p is Full HD. But it is considerably lower than what most cameras are capable of today.
If you want to save your photos and videos in Google Photos in their original quality, however, the app will count them against your Google Drive storage limit, which also includes your Gmail and any other files stored in Google Drive, except for Google files like Docs, Sheets, Slides, Forms, and any other files in the "Shared with me" section.
By default, a free Google Drive account gives you 15 GB, but you have the option to expand storage by upgrading to Google One, with plans for 100 GB ($1.99 a month), 200 GB ($2.99), or 2 TB ($9.99).
If you don't yet have a Google Photos account (or a Gmail account), starting one is easy:
Visit photos.google.com
Click Get Google Photos
Go to "Create account" ➙ "For myself"
Enter all the information ➙ Next
Verify your email address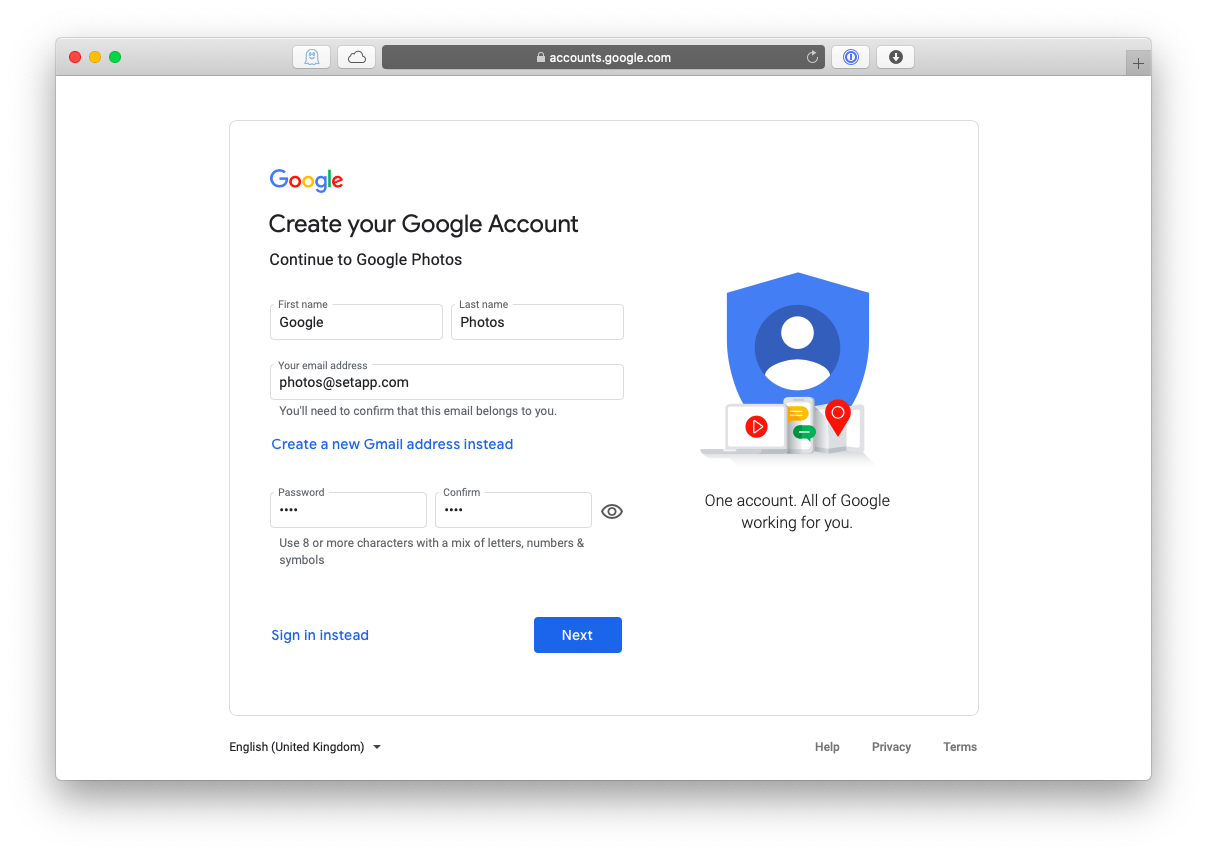 Tip: Sometimes, even when you have an old Gmail account, creating a separate one for Google Photos is a good idea to avoid having all your mail taking up shared space.
How to use free photo storage
Once you have a free Google Photos account, you can start populating it with pictures. There are a few ways to do it:
You can click Upload in Google Photos and choose anything that's on your Mac
You can drag and drop images directly into Google Photos
You can install the "Backup and Sync from Google" app from Google, which will create a syncing folder directly on your Mac and store your photos there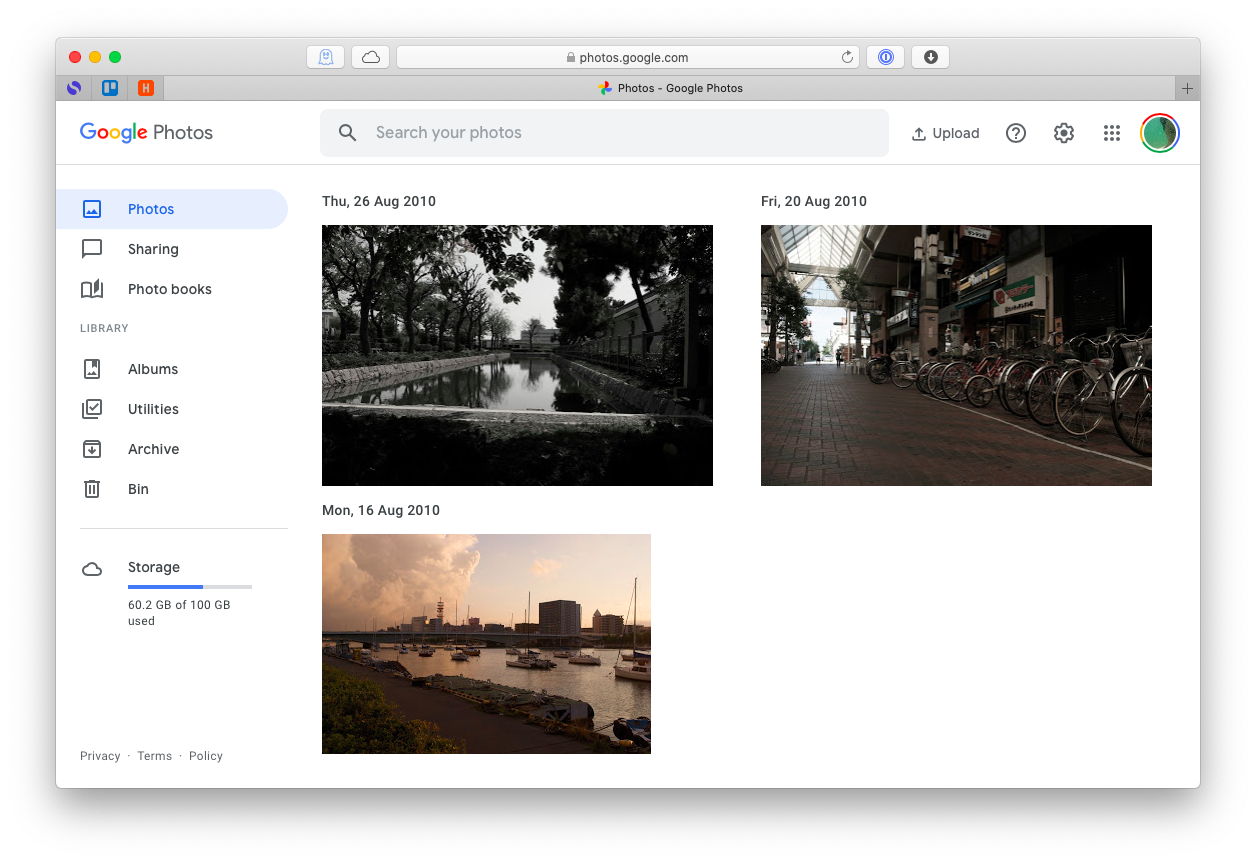 How to check Google Photos storage limit
If you're an avid photographer, soon enough you might be nearing your free Google Drive storage limit of 15 GB. But how would you know?
To check the amount of Google Photos space you have left, whether you're a free or paying user:
Log into Google Photos
Click on the Storage icon in the sidebar
Notice how much space is taken up by Google Drive, Gmail, and Google Photos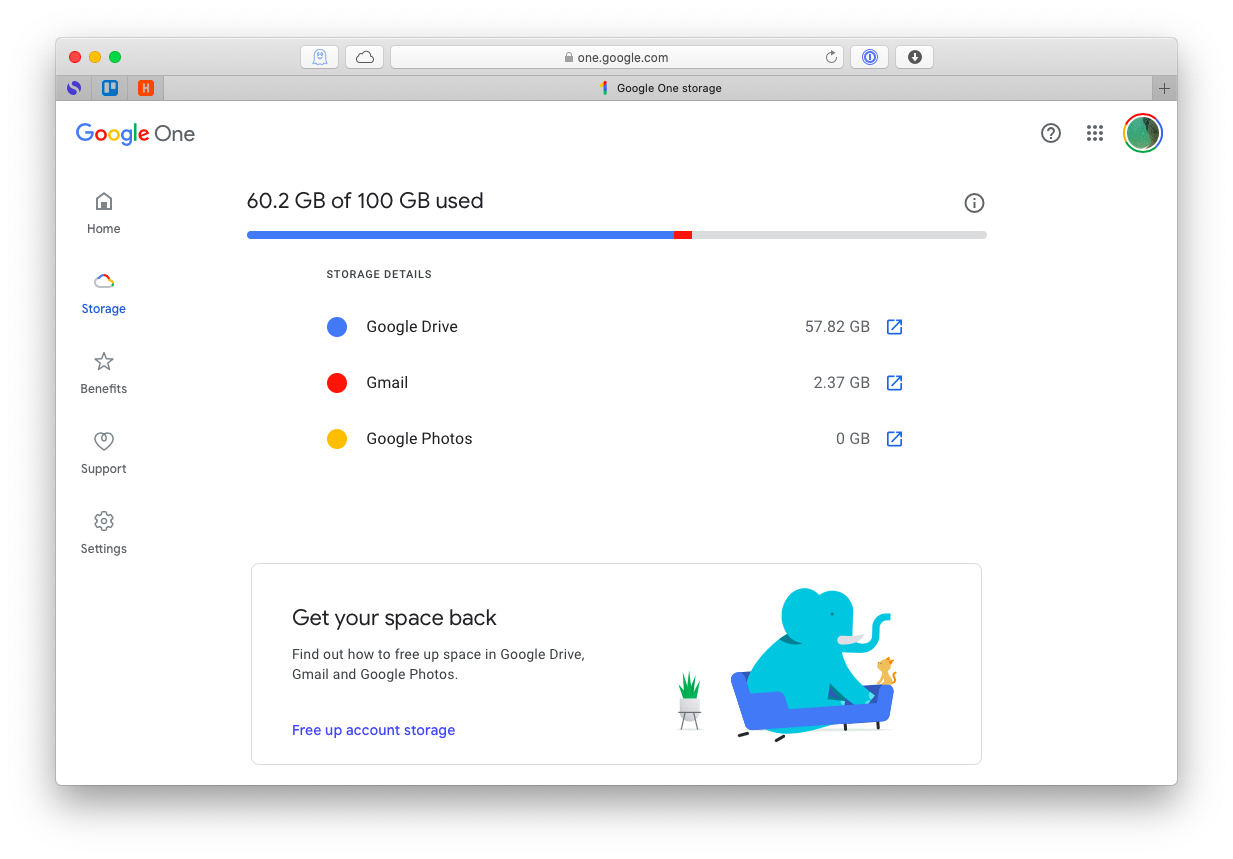 Note: If you're hitting your Google Photos storage limit, you can always choose to pay for more storage by simply clicking "Get more storage" and picking the plan that suits you best.
Those who have Backup and Sync from Google active in their menu bar, can see the storage they are using at any time just by clicking the cloud icon. However, it will show the total space used, without breaking it down into Google Drive, Photos, and Gmail.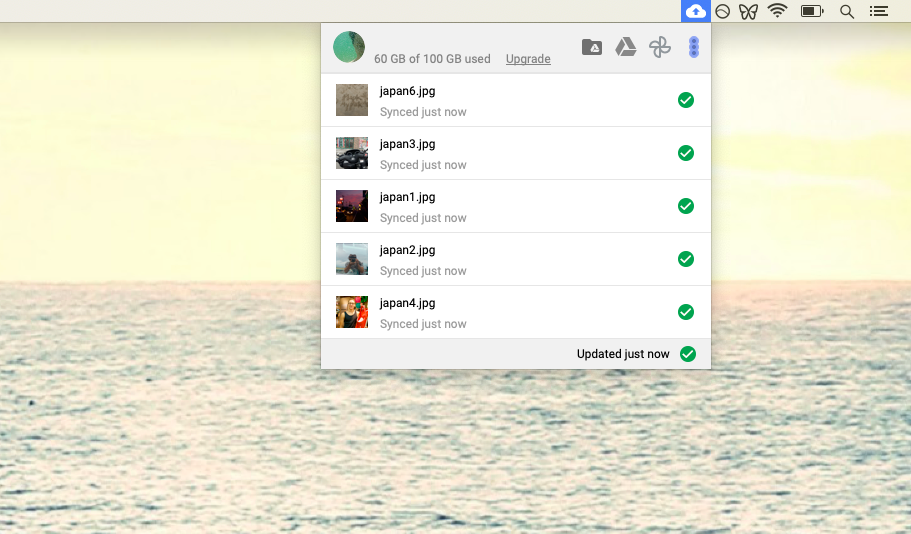 CloudMounter is another way to keep an eye on your Google Photos storage limit. Since most of us use multiple clouds these days (think Dropbox, Drive, OneDrive, etc.), it's becoming increasingly more difficult to manage them all. CloudMounter acts as a single point of access across all your cloud services (or multiple instances of one), combining them all into a single icon in your menu bar. Moreover, it's able to mount any cloud storage as a local drive on your Mac, so you get the safety of the cloud with the accessibility of a hard drive.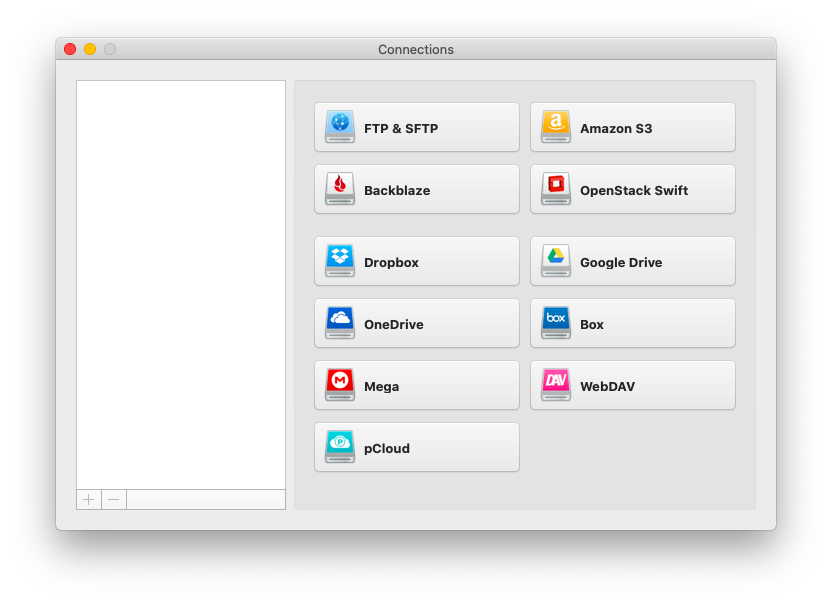 Once you mount any cloud service as a local drive, you can check on its storage usage through Finder by right-clicking and then choosing Get Info (⌘ + I).
How to get unlimited free photo storage
As mentioned above, Google Photos got popular (currently over one billion users) by advertising unlimited photo storage. So far, however, all the photos you've been uploading to the service counted towards your 15 GB limit. How come?
By default, Google Photos keeps the resolution of your photos and videos at their original quality, which often exceed the maximum allowed 16 MP for photos and 1080p for videos. To get truly unlimited free storage, you'd have to let Google to "downgrade" your library to a "High quality" version:
In Google Photos, click the cog icon in the top-right corner to open Settings
Select "High quality," check the box, and Confirm. Now you've recovered all your Google Photos space.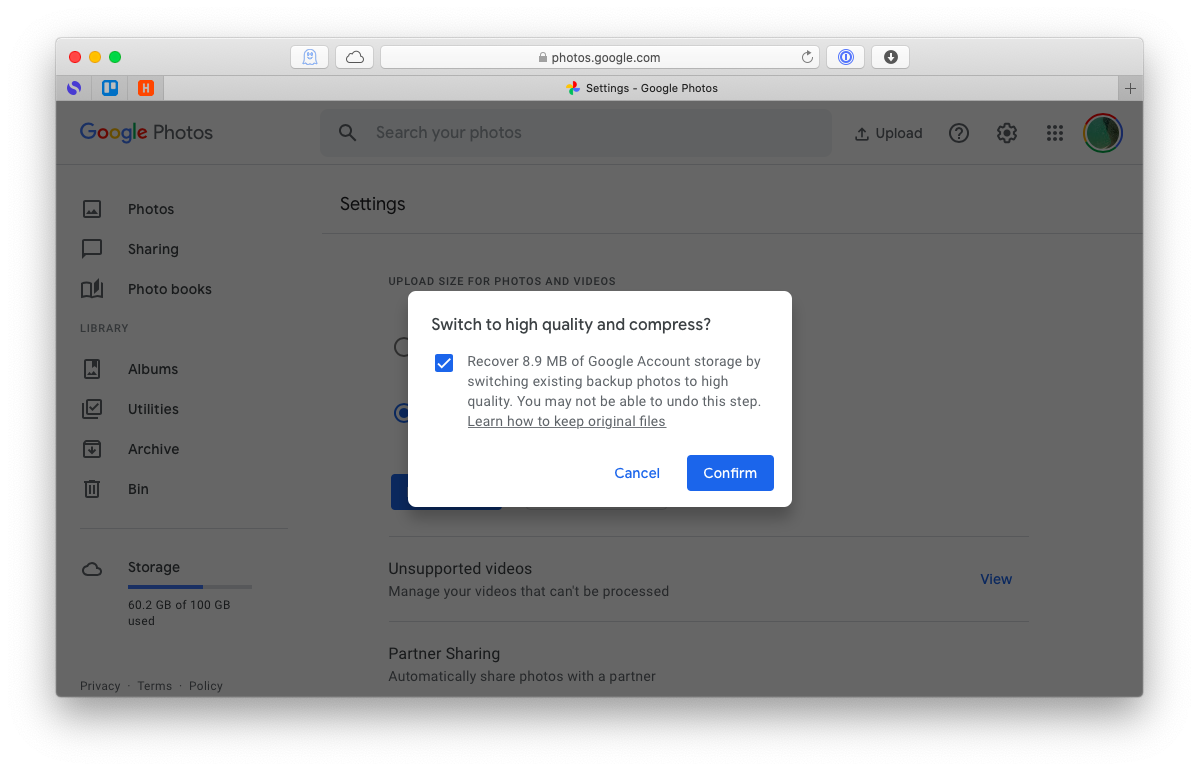 Note: This step is irreversible, so make sure to have an appropriate backup before proceeding.
If you don't want to lower the quality of your photos or pay for more storage, there are a few other things you can do to extend your available Google Photos space.
Since digital cameras (and smartphones) don't have the physical restrictions of film, we tend to take multiple photos of the same scene all the time and then transfer the results directly to the cloud.
Gemini is a brilliant duplicate remover app that would instantly scan your Google Drive not only for perfectly matching photos but also for similar ones, and even suggest the best image to keep. The built-in AI algorithm gets better with every use and you'd still have a chance to restore anything recently deleted by accident.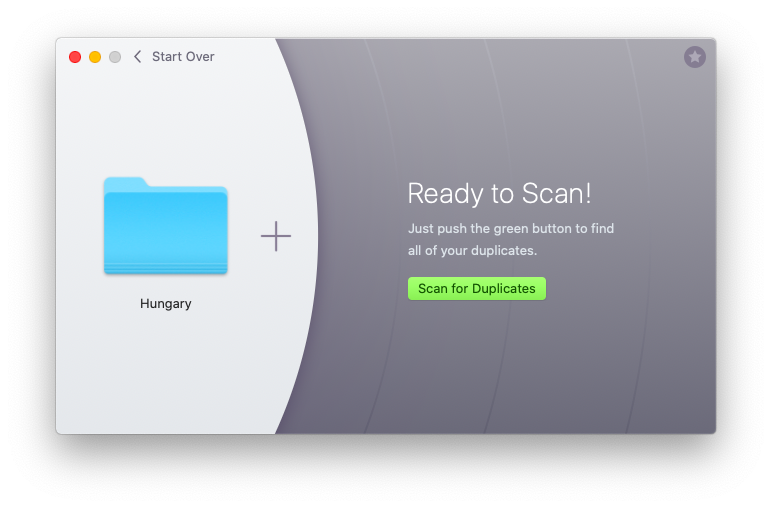 Another option for getting the most out of your Google Photos is to use a few accounts at the same time. Since Backup and Sync from Google can handle only one account at a time, your best bet would be to mount every Google Drive account separate with CloudMounter and then transfer files between them as needed with Forklift.
Forklift is the smartest file manager available to Macs. It allows you to connect to multiple drives at the same time and preview them all in side-by-side windows. You can then seamlessly compare files as well as drag and drop them from one folder to another to avoid going over the Google Drive storage limit.
As you can see, there's more than one way to get your photos to the cloud. You can, of course, pay for enough Google Photos storage right from the start or convert your library to lower quality. The best hack, however, is to remove all duplicates with Gemini, create a few Google Photos accounts, and manage them with CloudMounter and Forklift for near unlimited storage.
Best of all, Gemini, CloudMounter, and Forklift are available to you absolutely free for seven days through a trial of Setapp, a platform with more than 200 best-in-class Mac apps that save you time, energy, and money. Try them all at no cost today and see how much more optimized your Mac life can be.