How to host and manage Facebook Watch Party
Remember we used to invite real people to our houses and binge-watch weird videos? The world has changed since then — but binge-watching didn't go anywhere. With Netflix Party and Metastream, users of streaming services can get together and watch movies online. With Facebook Watch Party, anyone can share the moment of savoring Facebook watch shows with a huge crowd. It's all free and pretty much limitless. So if you haven't used Watch Party yet, here's what you're missing out on.
What is a watch party on Facebook?
Facebook released Watch Party in 2018 as a native co-watching feature. For video lovers, Watch Party quickly became an irreplaceable social entertainment, especially in the times of the global pandemic — when all entertainment is happening online. So what is a Facebook Watch Party and what's in it for you? Short answer: Everyone watching the same thing and commenting on it in real time. Long answer: Lots of cool ways to connect with your friends, followers, community, or anyone in the world.
How to host Facebook Watch Party
Your Watch Party can happen anywhere — whether it's your Timeline, a Group, or a Page. In fact, you don't even have to plan ahead. Facebook allows you to invite friends to watch videos together whenever you come across something interesting. Can't promise they will be ready to join right away, though.
If you want your friends or community to be there, make sure you send the invites in advance, and plan what you're going to watch. Facebook Watch Party lets you add multiple videos to the queue and play them in any order. You can either upload your own content or pick something from Facebook suggestions. If you realize the video is no good, you can remove it from the queue or replace it with something else. The host is the boss.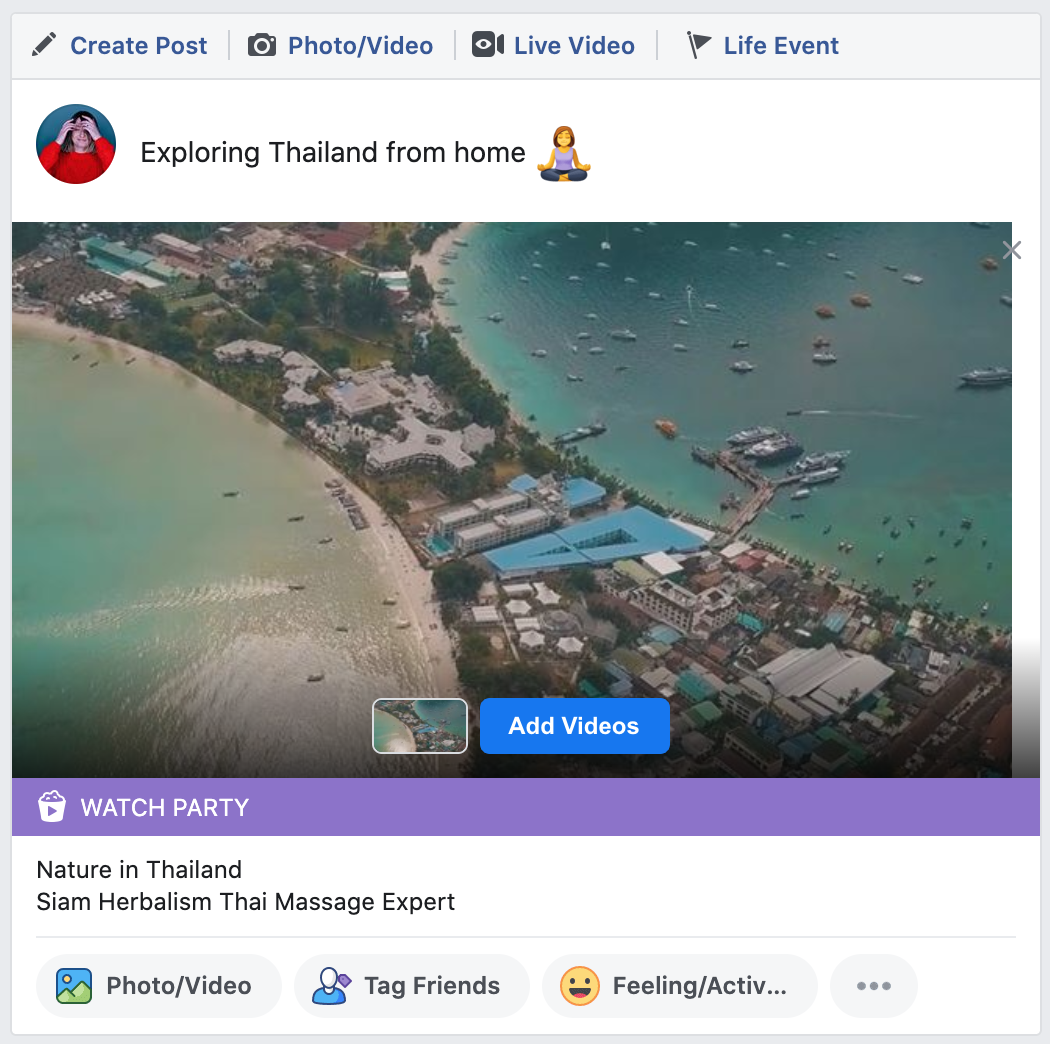 Create a watch party from your timeline
The first option is to start a party on your timeline. Because home parties are the best parties — or at least they were before the global pandemic hit. In the Facebook world, home probably translates to a timeline, your private spot for interacting and sharing things with the loved ones. If you want a private Watch Party experience with your Facebook friends, this is your perfect choice.
Here's how to host a watch party on Facebook from your News Feed:
Click on your timeline to create a post

Select Watch Party from the list (click on three dots to see the full list of options)

Browse through the suggested content, upload your own video, or use the search to find a specific video/page

Whenever you come across the videos you like, hit Add to Queue

Click View Queue to have a look at your playlist

Once you're satisfied with the selected videos, click Done

Add a description to your watch party and hit Post

Once the Watch Party begins, invite friends to join you.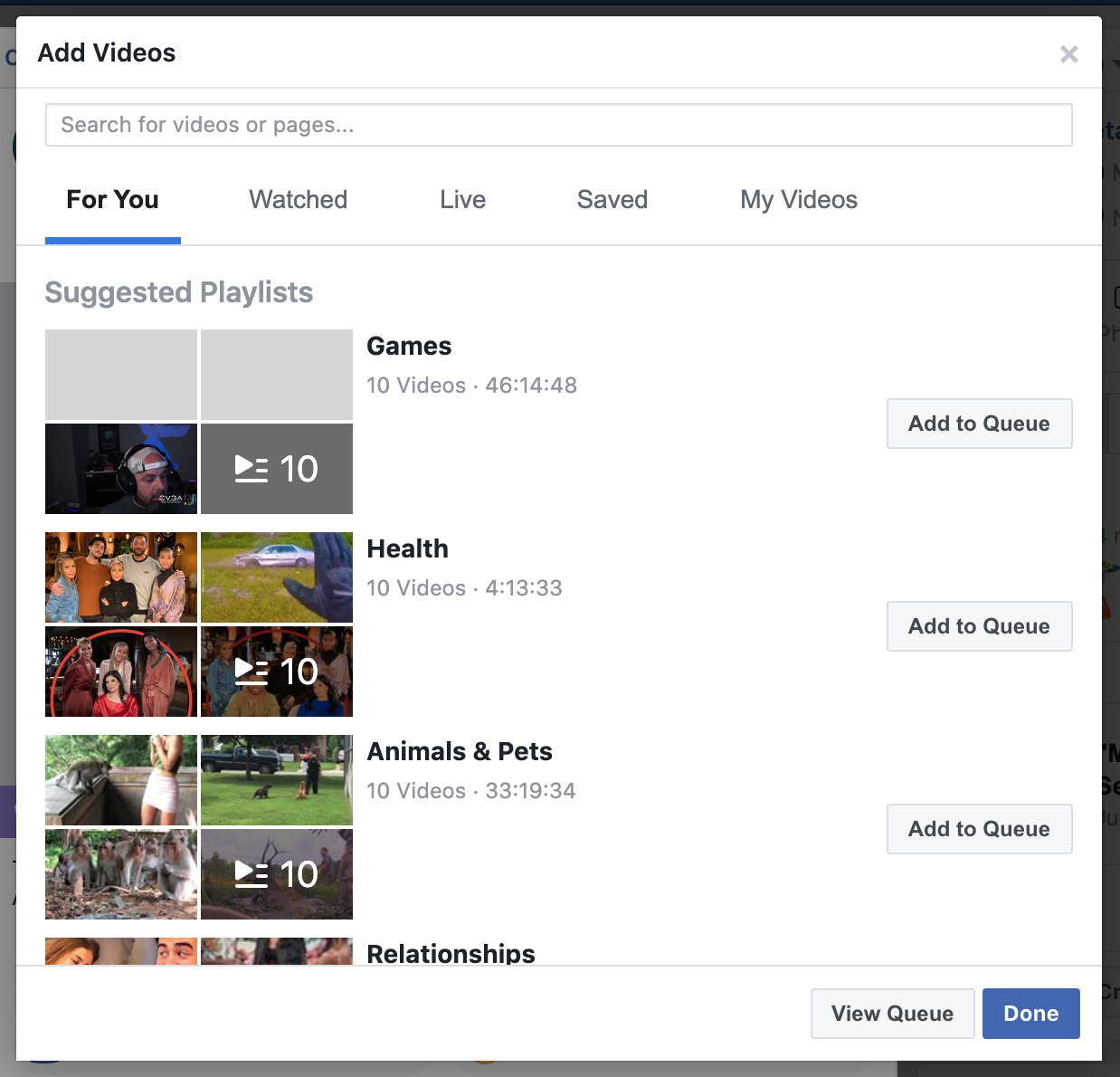 Start a watch party on a Page or in a Group
You can also watch videos together from Facebook Groups or Pages. This is very handy if you want to share something cool with your community or followers. Keep in mind that you need admin/editor rights to be able to start a watch party on a Page. Here's how it works:
In the left menu, select Groups/Pages

Pick the group or page where your watch party will be hosted

Click Create Post > Watch Party

Browse through suggested content, search a specific video, or upload your own content

Click Add to Queue next to the videos you want to watch

Once you're satisfied with the selected videos, add a description and Post

You can invite people to join your party in a group by typing their names. You'll be receiving notifications as the invitees join. You'll also see their profile pictures appear in the bottom left of the screen.
Share videos with friends as you watch
Finally, you can throw a spontaneous party if you come across an interesting video on Facebook and want to invite your friends to watch it with you:
Play the video on Facebook

Click Share at the bottom of the video > Start a Watch Party

If you want to queue more videos, click Add Video in the bottom right > Add to Queue > Done

Once you're ready to go live, add a description and click Post

Invite your friends to join the party by typing their names.
How to manage Watch Party on Facebook
Hosts can tweak lots of things, even after the party has been posted. Here are the key options you can use to customize your Watch Party experience:
To add more videos: Click the Add Video button on the right and search for videos the same way you did it before. Click the plus button on a video thumbnail to add it to the queue.

To change the queue order: Click the dropdown arrow on the video > Play Next.

To remove a video from the queue: Click the dropdown arrow on the video > Remove From Queue.

To add co-host: Hit the Add Co-Host button and type the person's name.

To chat with friends while you're watching: Go to the Comments section on the right and start typing your message. You can add GIFs, emojis, and upload media files.

To end your watch party: Click the three dots in the corner > End Watch Party.
Record your Facebook Watch Party
Since Watch Party launched, Facebook videos embraced lots of new meanings. People are using the feature to run product demos and tutorials, host Q&A sessions, or simply watch YouTube videos together. From what it looks like, Watch Party is taking Facebook's original mission statement from "stay connected with friends and family" to "stay connected with anyone you want." In the world where meeting for a coffee is not always possible, things like these make a big difference.
Another cool thing is you can make your watch parties last forever using one handy Mac assistant. With Capto, record your Facebook get-together and rewatch it later, or share the recording with those who could not attend. Capto is a powerful screen recording app for Mac with a built-in video editor. Working in the background, Capto will help you record your entire Game of Thrones Watch Party — and then customize it. You can crop or cut the final version, add audio and voiceover, and upload your recording to any shared storage.
Here's how to record Watch Party on Facebook with Capto:
Once the party has been posted, launch Capto on Mac

Hit the Record button in the toolbar

Choose Screen or Area

Hold down Command+Shift+Esc or click on the Capto icon in the menu bar > Stop and Save Recording.
The recording will automatically appear in your Capto Library under All Videos. Click on it and start editing right away, or take a quick Capto tour to see your options.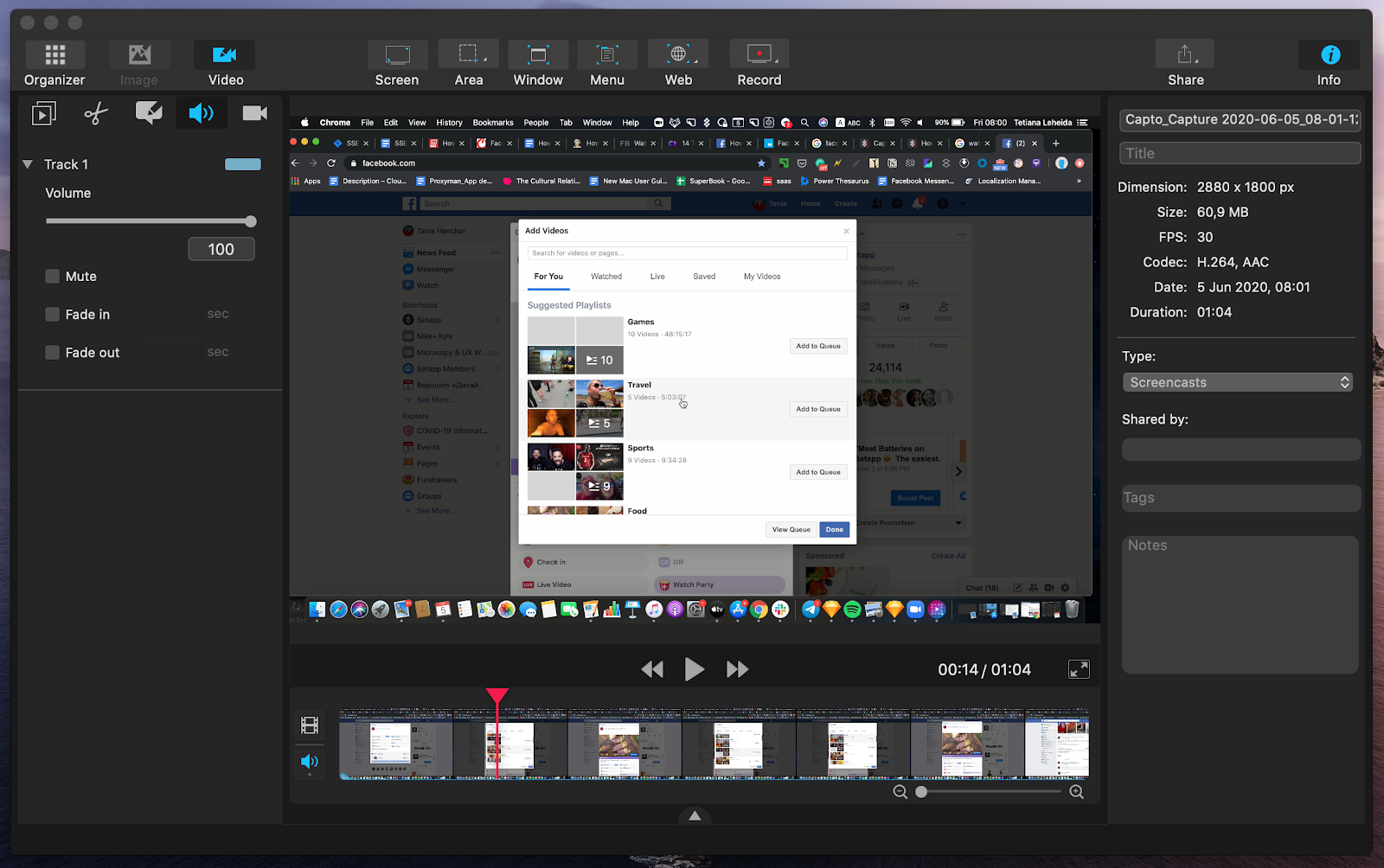 How to save a Facebook video on Mac
Recording watch parties makes total sense in case you want to capture the interaction between the participants — like a Q&A session. If you're rather interested in saving the video you've watched together, you'll need to use Downie for the job. It's a media downloader for Mac that helps you save videos via the browser extension or drag and drop.
Here's how you can use Downie to download the best videos from your Watch Party:
Install Downie on Mac from Setapp

Drag and drop the video URL from Facebook to Downie

If it's your first time using Downie for Facebook downloads, the app will ask you to log in to your Facebook account first

Wait a few seconds for the download to finish.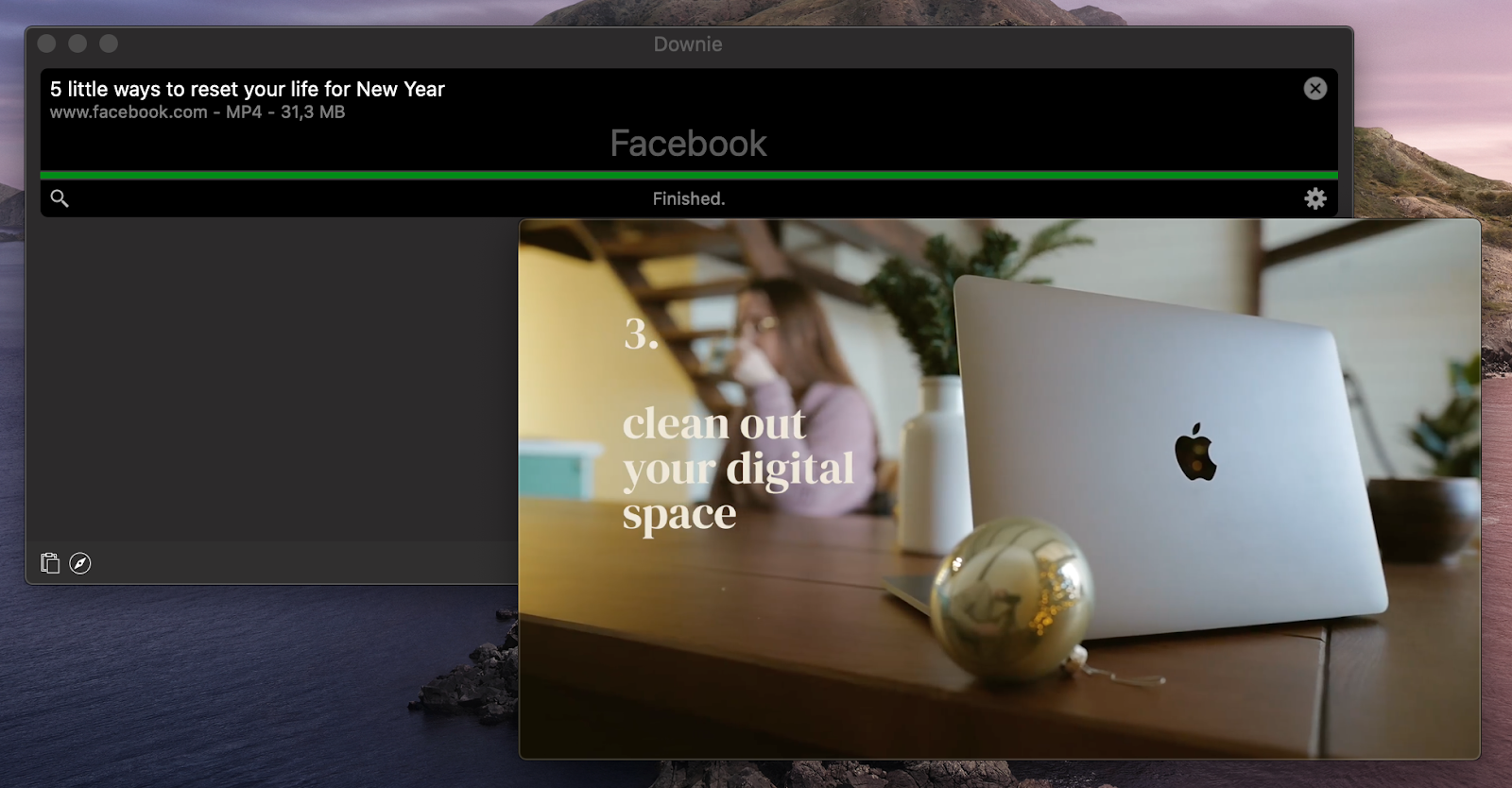 Since Downie is essentially a universal media downloader, you can use it to save videos from 1200+ other platforms, including YouTube, Vimeo, Instagram, and more. What I personally love about Downie is its internal search engine that allows you to search for videos right inside the app. So you don't even have to open any browsers to download what you need.
You can try Downie and Capto for free with a Setapp subscription, which covers 180+ Mac apps. Now when you know how to do a Watch Party on Facebook, the Setapp toolkit will definitely be super helpful — it has the apps for streaming video from Mac to TV, boosting network quality, and even fixing all kinds of misbehavior. Knock yourself out, Setapp is the entertainment of its own.