How to delete screenshots on a Mac
Taking a screenshot is one of the quickest and most convenient ways to record and recall any activity on a Mac. However, there is the caveat that such files may occupy a lot of space and lead to slower performance of your device. So when these screenshots no longer serve a purpose, it's best to get rid of them. In the following paragraphs, I'll explain how to delete screen captures on a Mac. Keep reading.
Where are screenshots saved on a Mac?
Screenshots are saved to the Desktop by default. They have their own stack on the Desktop if you use a recent version of macOS and have Stacks enabled in the Finder.
Screenshots on a Mac, unlike those on an iPhone or iPad, are not added to the Photos app's library.
How to manually delete a screenshot on your Mac
On a Mac, you can get rid of screenshots with a few different methods.
One of the best ways to delete a file, including a screenshot, is to press the Command + Delete buttons on the keyboard at the same time. Don't forget to select the file(s) first before doing this operation.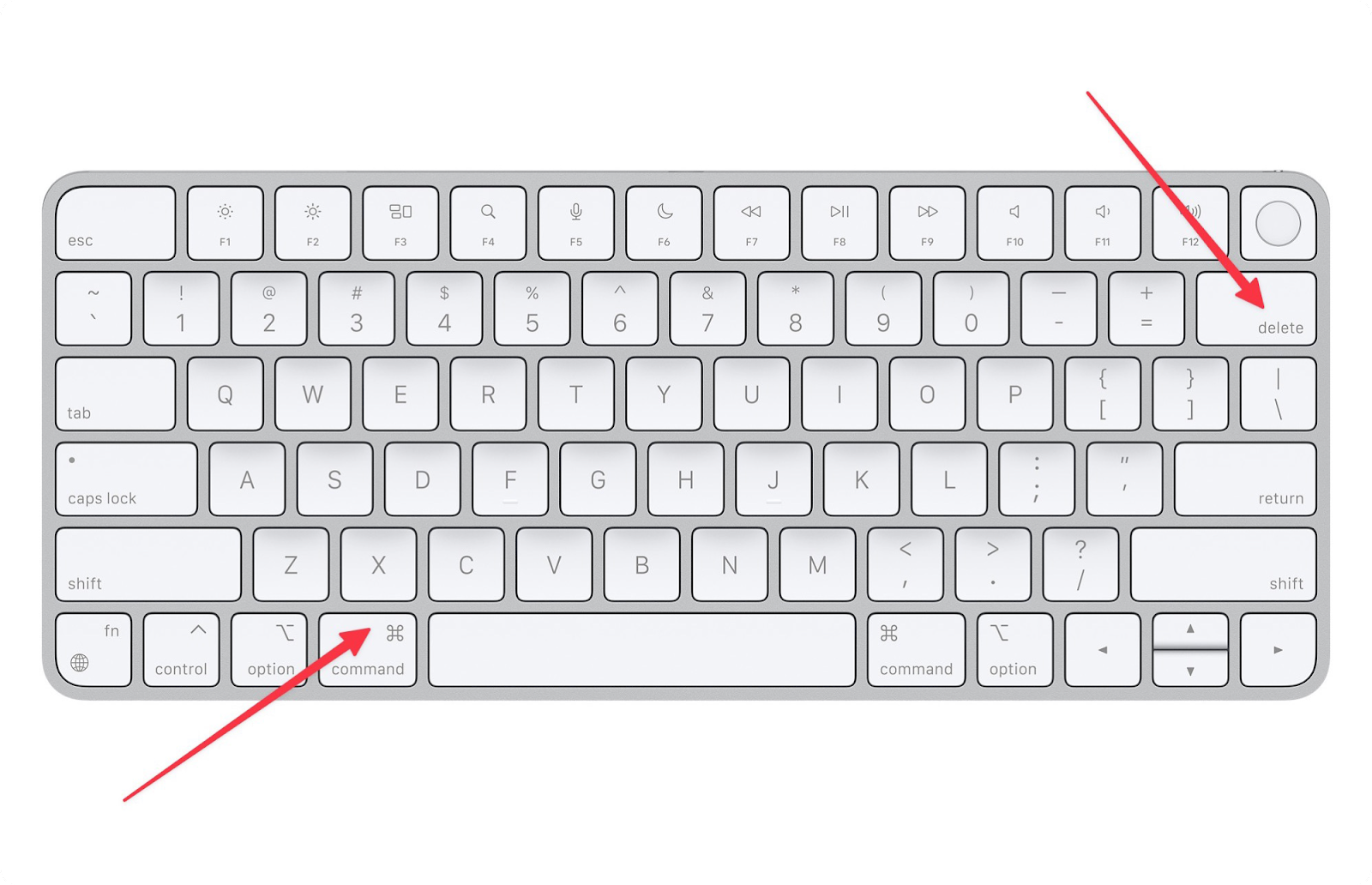 If you're looking for more ways of how to delete screenshot on Mac, you can also use two fingers to click on the screenshot stack/folder and then choose Move to Bin.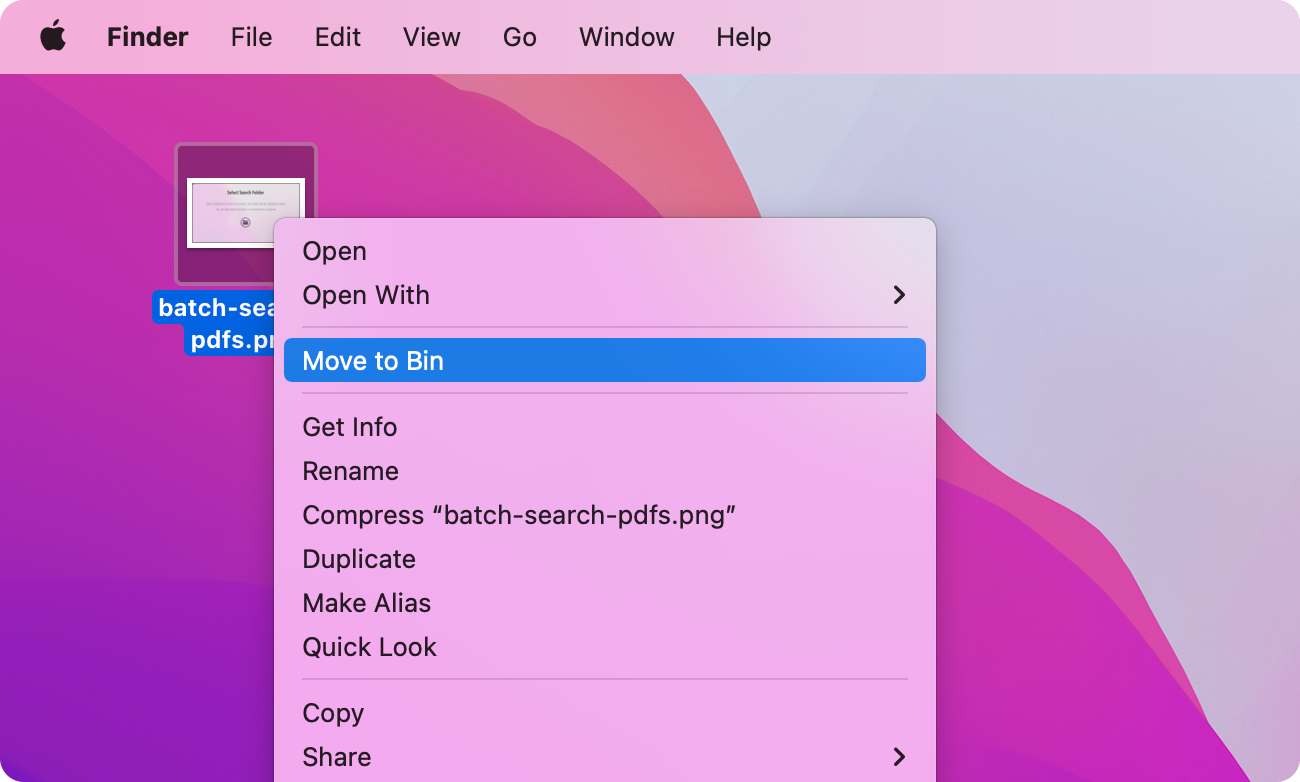 The final step is to open the Bin and empty it.
That's it! This is how to remove screenshots from Desktop Mac. As you can see, it's as easy as taking a screenshot.
Tip: If you prefer clean and neat screenshots, try CleanShot X. Unlike macOS native tools, the app lets you change everything you capture instantly. For example, it's possible to highlight what's important or blur specific parts. On top of that, you can hide desktop icons visible in the backdrop, record your screen, and even align screenshots with custom wallpaper.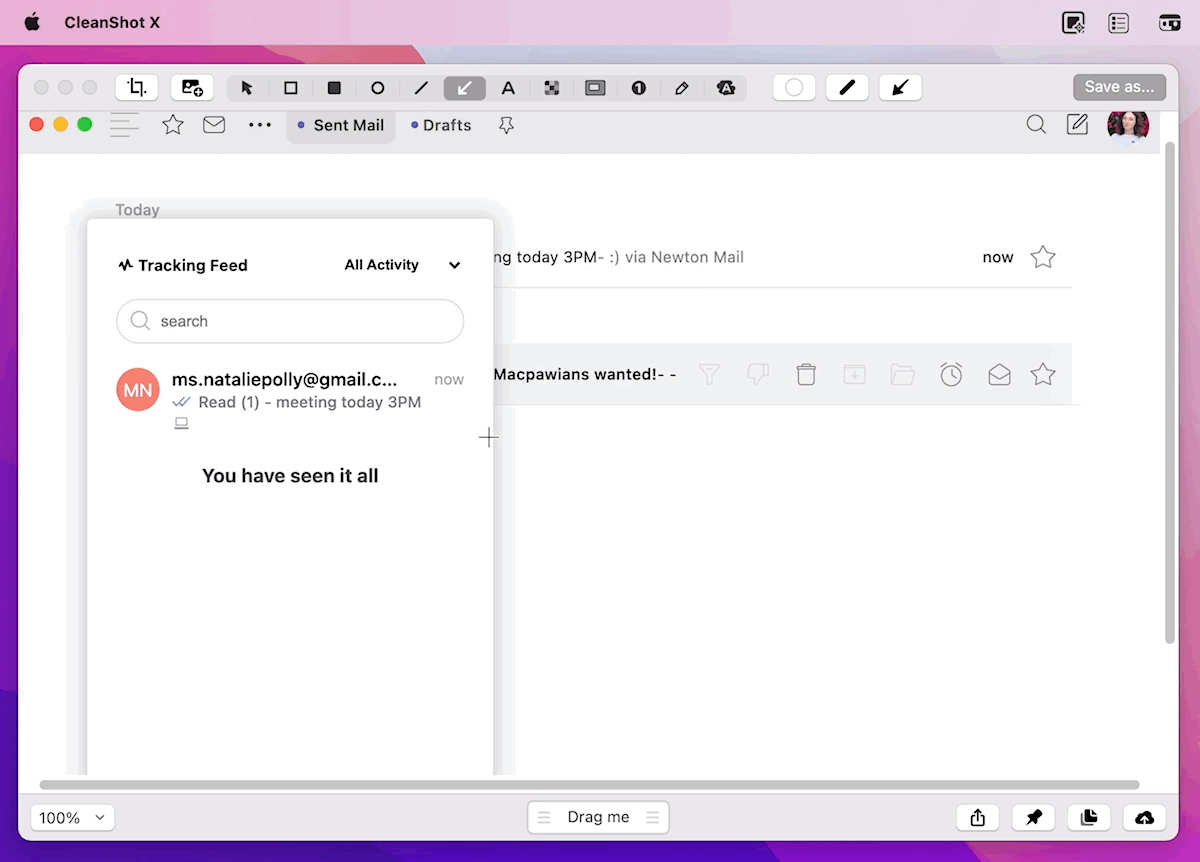 I'd also want to mention that I used CleanShot X when making this GIF. Simple as can be!
Delete multiple screenshots at once
On Mac, it can be challenging to delete multiple screenshots at once. So, you might try making a folder with all the screenshots you need to get rid of. Then, drag the folder to the Mac's Bin folder and empty it (Command + Shift + Delete).
So how do you save screenshots in a separate folder? You need to change the location where your screenshots are saved. If you're running macOS Mojave, Catalina, Big Sur, or Monterey, it's easy to do. Here's how:
Press Command + Shift + 5 to open the Screenshot app
Then choose Options
From the Save to section, choose where you want to save screenshots
Choosing Other Location lets you choose a different folder or create a new one.
That's it. Once you've chosen a new location, all your new screenshots will be saved there until you change it again. This will help you avoid sorting your screenshots from other desktop icons when you want to get rid of them quickly.
How to automatically delete screenshots on Mac
Each screenshot you keep on your Mac takes up some storage space. As more screenshots are taken, gigabytes of memory can be used up. So, these need to be cleared out every so often to save on space. Since you can have lots of screenshots, it can take a while to go through them all. When this happens, you can use an app called CleanMyMac X to make the job easier. Follow the steps below to delete screenshots automatically:
Open CleanMyMac X – you can install it from Setapp
Then choose Space Lens in the left sidebar and click the Scan button at the bottom
After that, double-click the Users folder, then your user folder
Choose Desktop from the list and double-click on it
Check the box next to the screenshots you want to get rid of (you can preview them in the main window)
Finally, click Remove.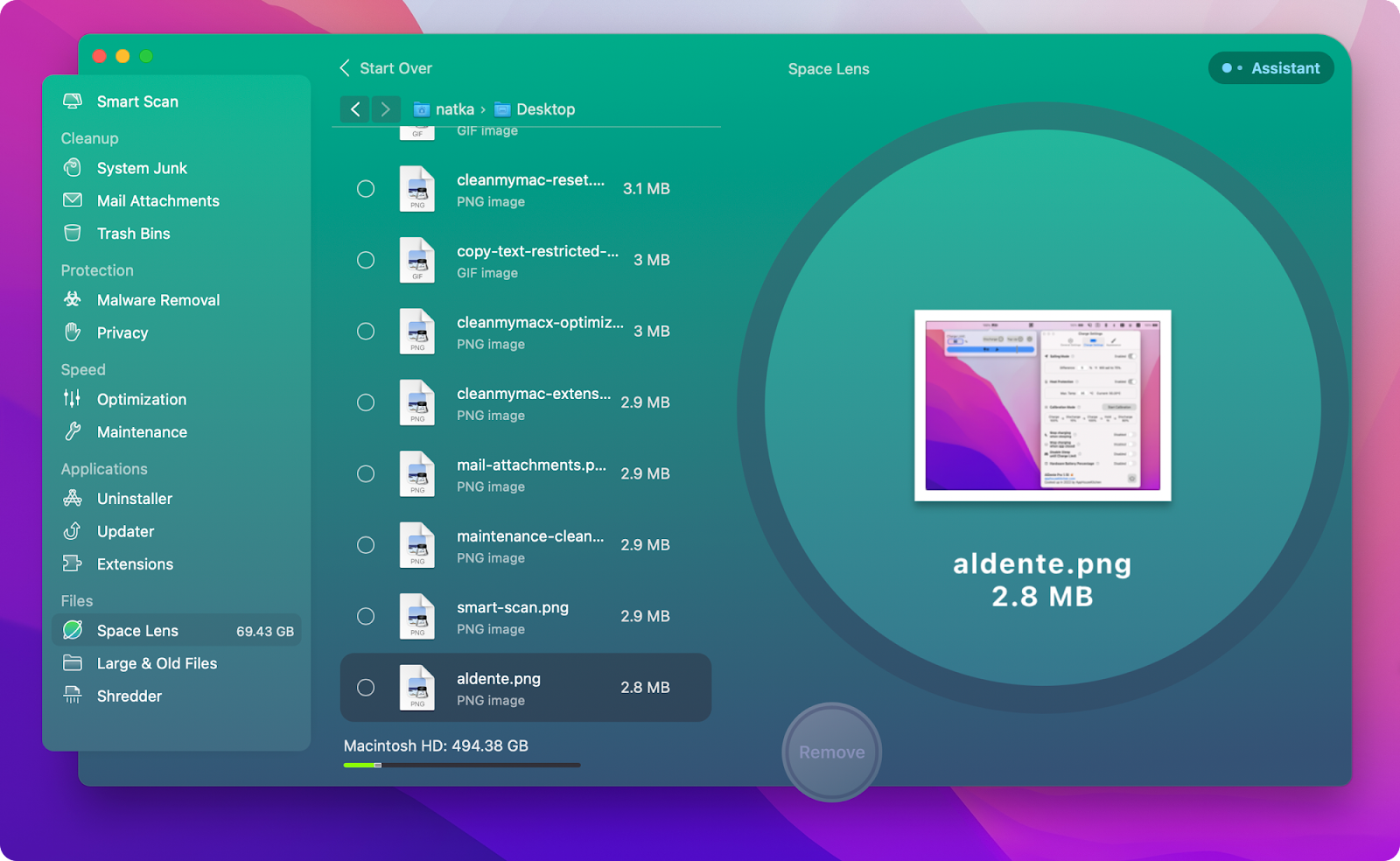 Tip: If you don't want to get rid of all your screenshots but still need to free up some disk space, I recommend using PhotoBulk to compress your screen captures in bulk. Simply drag and drop your screenshots onto the app, check the box next to Optimize, choose how much you want to reduce the file(s) size, and click Start. PhotoBulk will save the optimized screenshot(s) into a new folder called [optimize].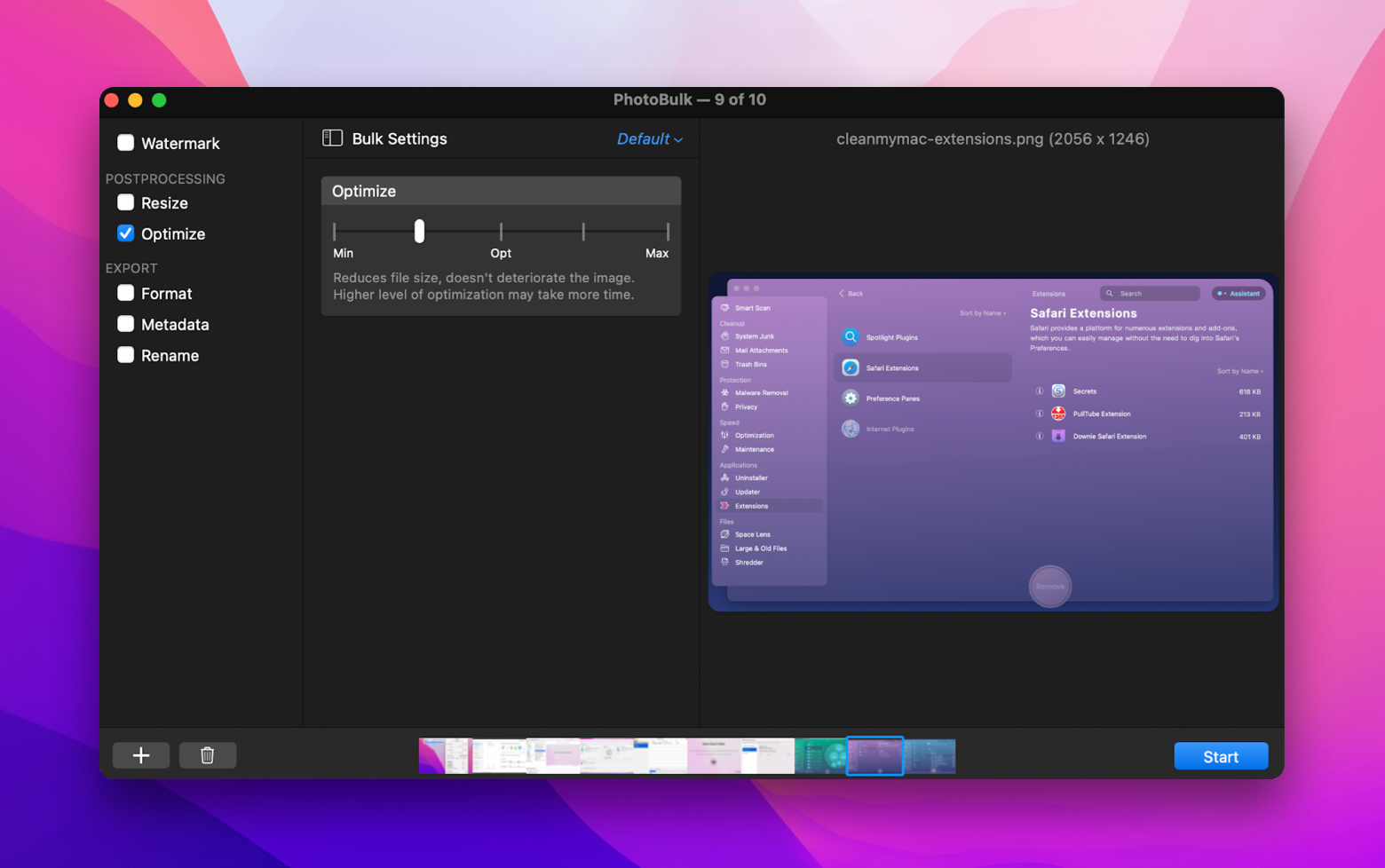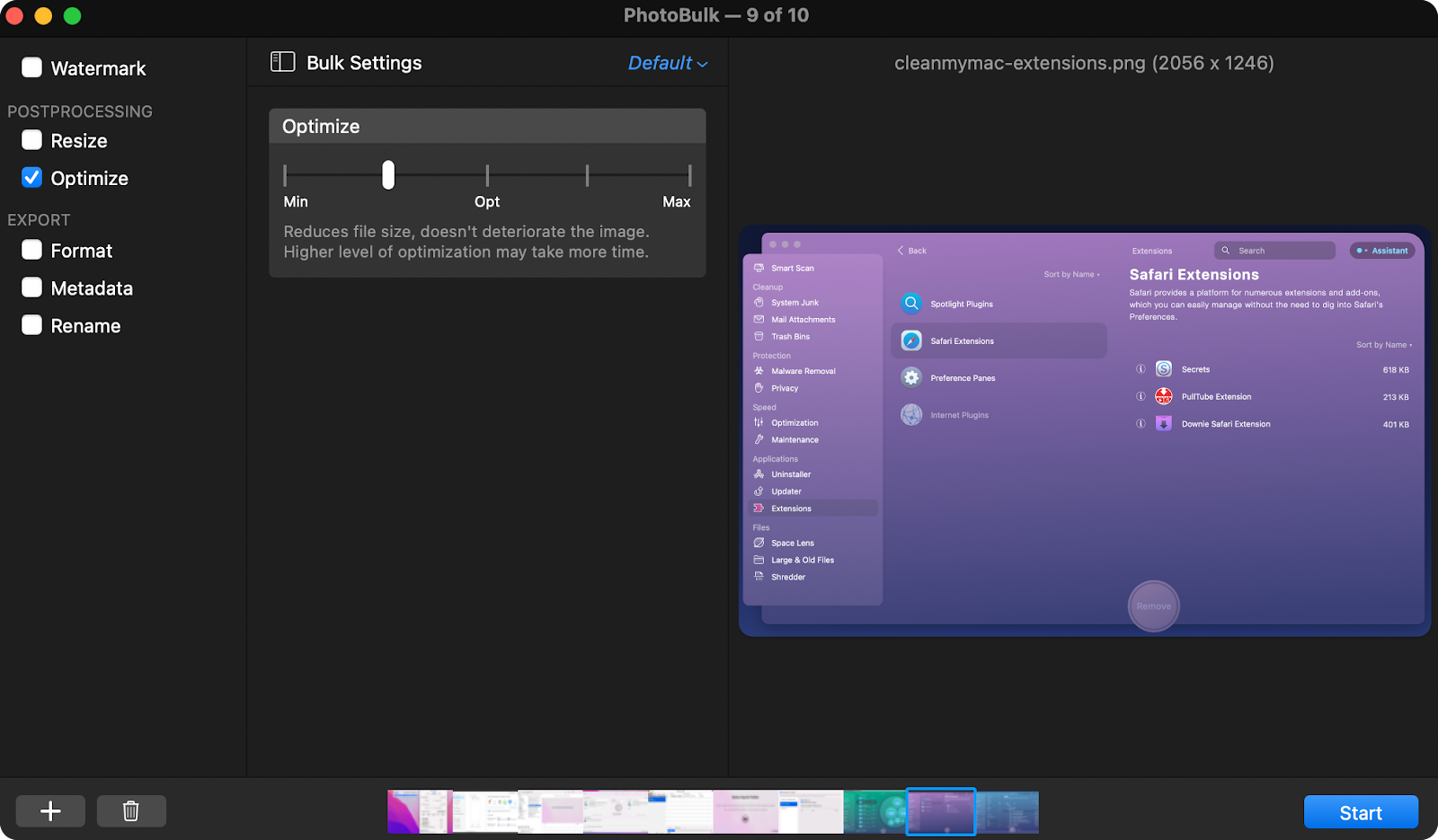 How to find lost screenshots on Mac
As mentioned, when you take a screenshot on your Mac, it goes to the Desktop by default. But you can easily set them to save to a folder of your choice, like Downloads.
If you're like me, you probably move some screenshots, like those of certain apps, to your project folders. This helps keep things in order, but it makes it harder than it needs to be to find all the screenshots you've saved on your Mac.
Fortunately, there is Finder to find screenshots on your Mac by using the search function.
So here's how to use the macOS Finder to find screenshots:
Open a Finder window. Then choose Find from the File menu on the menu bar. You can also use the Command + F shortcut
Make sure to choose This Mac for the Search option
After that, type kMDItemIsScreenCapture:1 in the search field and press Enter
Your screenshots will show up in the results of a search
Right-click anywhere in the window and choose View > as Icons. This will show you the thumbnails of your screenshots.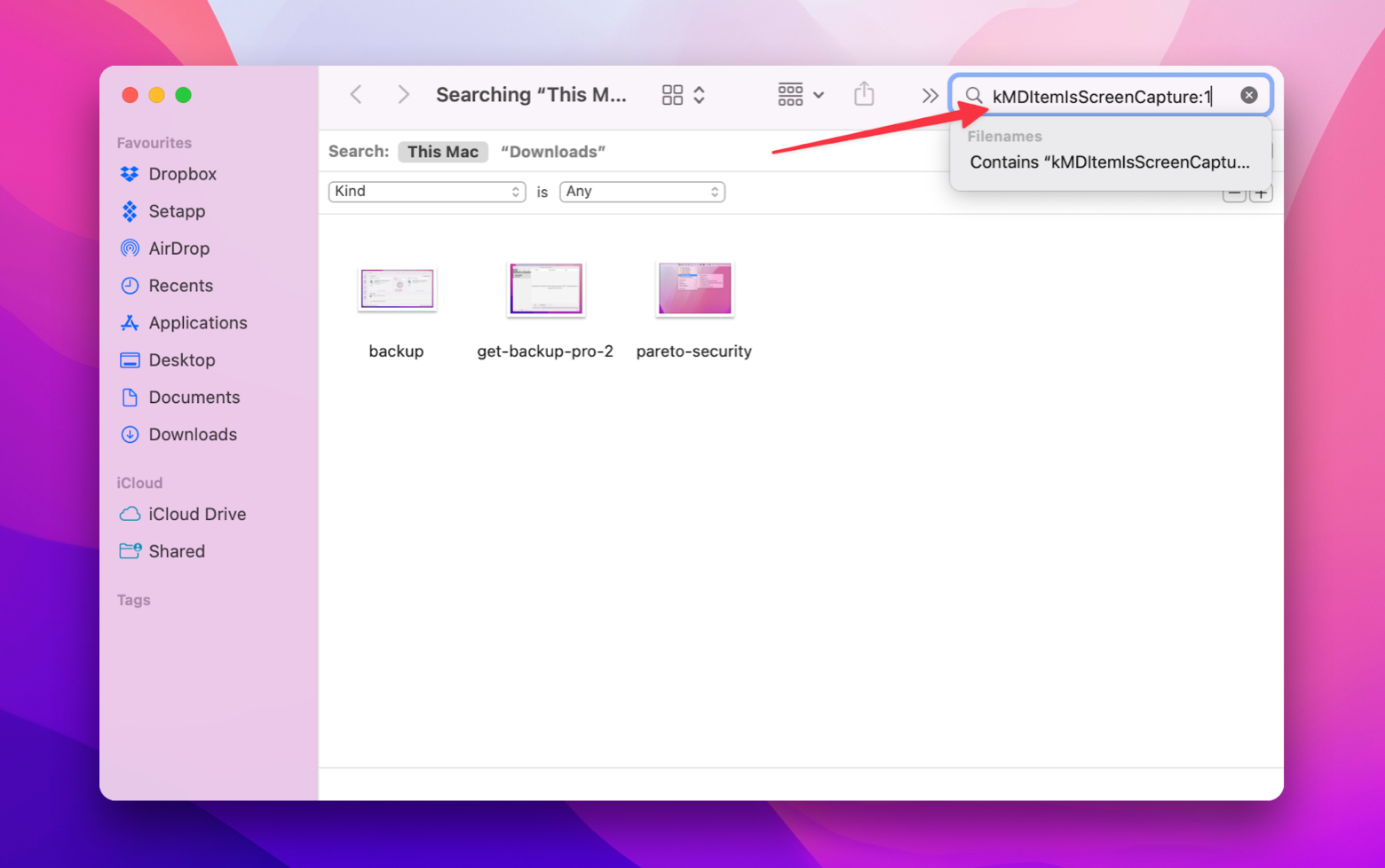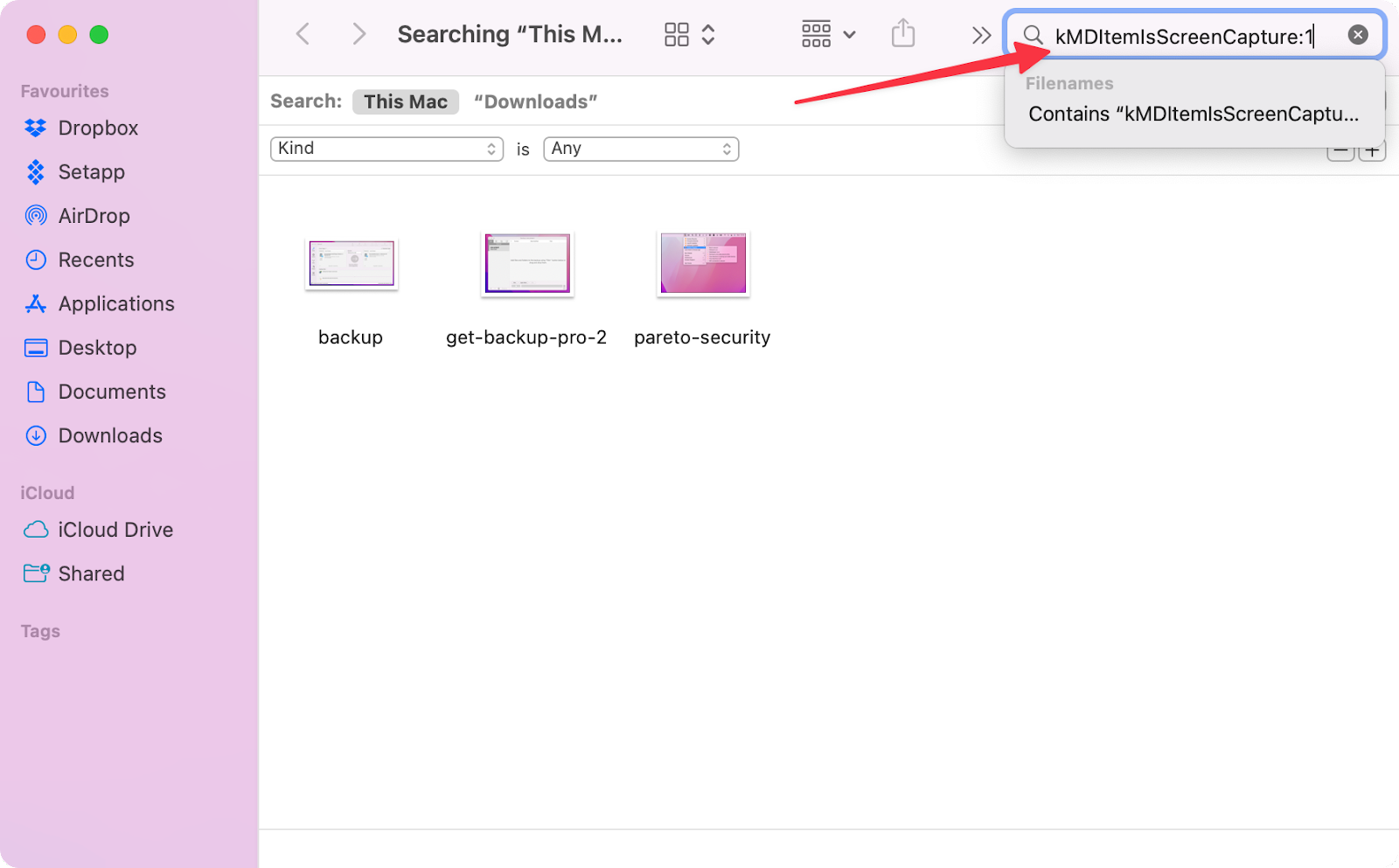 You can also type the name of a specific screenshot into the search bar to find it. However, you can only do this if you know the name exactly.
To refine your search, install HoudahSpot and add more criteria such as file extension, file size, last opened, content kind, etc. The best thing: you can combine different criteria in one search.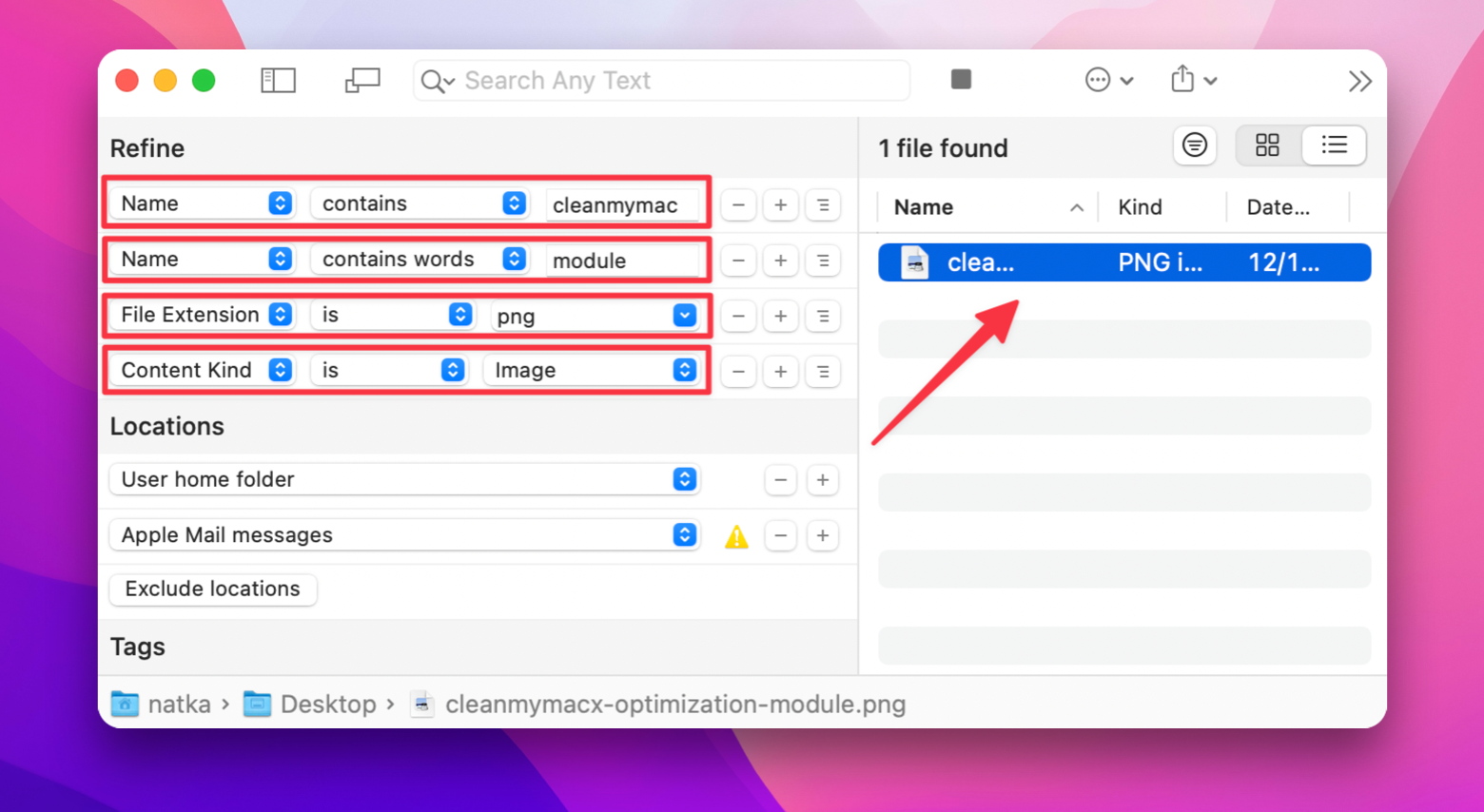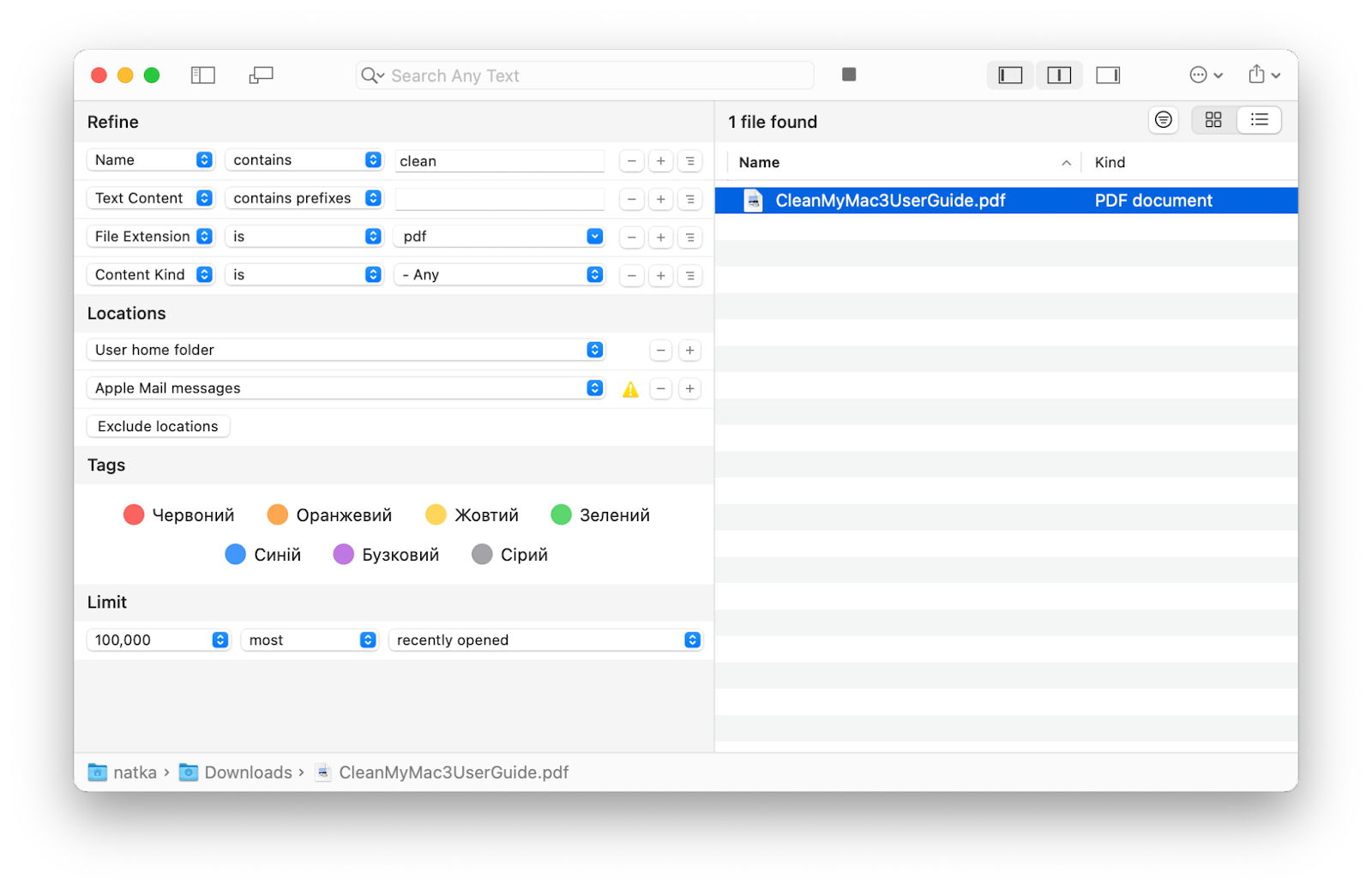 How to delete screen captures on a Mac and optimize your workflow with Setapp
Now the question "How do you delete a screenshot on a Mac" isn't a problem anymore. In this guide, I've explained how to do it manually, in batches, and even automatically with CleanMyMac X.
If you deal with screenshots often, you'll definitely benefit from the apps I've mentioned. For example, CleanShot X will help you take better screenshots and GIFs; PhotoBulk will resize screen captures in bulk to save up disk space; and HoudahSearch is great for more refined searches in case you lost some screenshots.
Don't worry; you don't need to buy these apps separately. Install them from Setapp and save money. In addition to these tools, the platform offers hundreds of cool apps for your Mac and iPhone. Good news: you can try them all for 7 days free!
I hope this advice will help you do your tasks quickly and stay more productive.