Extra security: Lockdown Mode in macOS Ventura
Focus on data security and user privacy is what Apple has always been known for. We keep loads of personal information (such as image and video files, documents, contacts, and credit card details) on our Macs and iPhones, and trust Apple to prevent any unauthorized access to it.
But in the world where cyberthreats and citizen surveillance technologies are on the rise, protection of information demands additional attention. A new safety feature called Lockdown Mode from Apple is designed to counter sophisticated targeted attacks and spyware.
Apple's Lockdown Mode was first introduced in iOS 16 and iPadOS 16 update, and is now available for Mac with the latest macOS Ventura. What does Apple mean by "extreme" level of security, and what happens when you activate Lockdown Mode on your Mac? These are the questions definitely worth exploring before deciding whether to turn on Lockdown Mode.
Want to enable Lockdown mode on iPhone or iPad? Check out our dedicated guide here.
What is Apple's Lockdown Mode?
Lockdown Mode is a new extraordinary level of security settings that offers protection for high-risk situations when a cyberattack is targeted against you personally and all data on your Mac is potentially at risk.
To block hackers from accessing your data, Lockdown Mode disables certain features, websites, and apps:
Most types of message attachments, links, and link previews
Incoming FaceTime calls from people you haven't previously contacted
Shared albums in Photos
Complex web browsing technologies (this feature might cause longer loading times, fonts and images missing, and other functionality not operating correctly)
Wired connections with other devices or accessories
Incoming invitations for Apple services from new contacts
How to enable Lockdown Mode in macOS Ventura
Lockdown Mode is available to anybody who wants to try it out or feels that their personal data is at risk of a cyberattack.
Because of the enhanced security limitations that significantly restrict your performance on Mac, Lockdown Mode default setting in macOS Ventura is Off. But you can activate Lockdown Mode in a few simple steps, should you find it necessary:
Go to System Settings in the Apple menu
Choose Privacy & Security from the sidebar
Scroll down to Lockdown Mode ➙ Turn On
Enter your password if prompted ➙ Turn On & Restart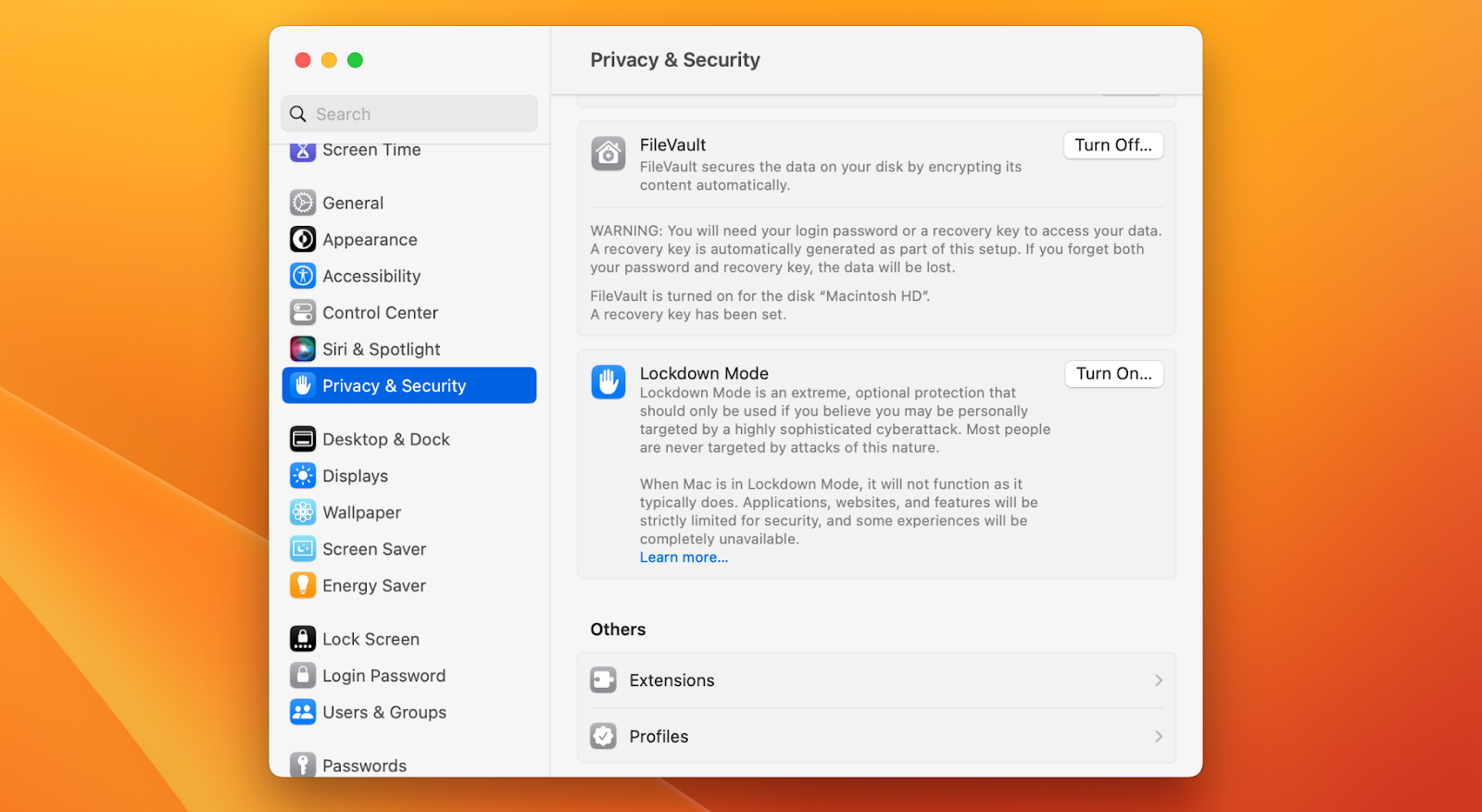 Another great way to ensure your Mac is protected without accepting any limits on its functionality is CleanMyMac X. It runs regular system cleanups to guard your data against malware and virus threats. All while optimizing Mac's general performance and speed.
CleanMyMac X is powerful, effective, and very easy to use. Its Protection features neutralize virus threats, detect and fix system vulnerabilities, and ensure your privacy by wiping all browsing and offline activities data. To start the scan:
Launch CleanMyMac X
Choose Malware Removal from Protection in the menu panel on the left
Hit Scan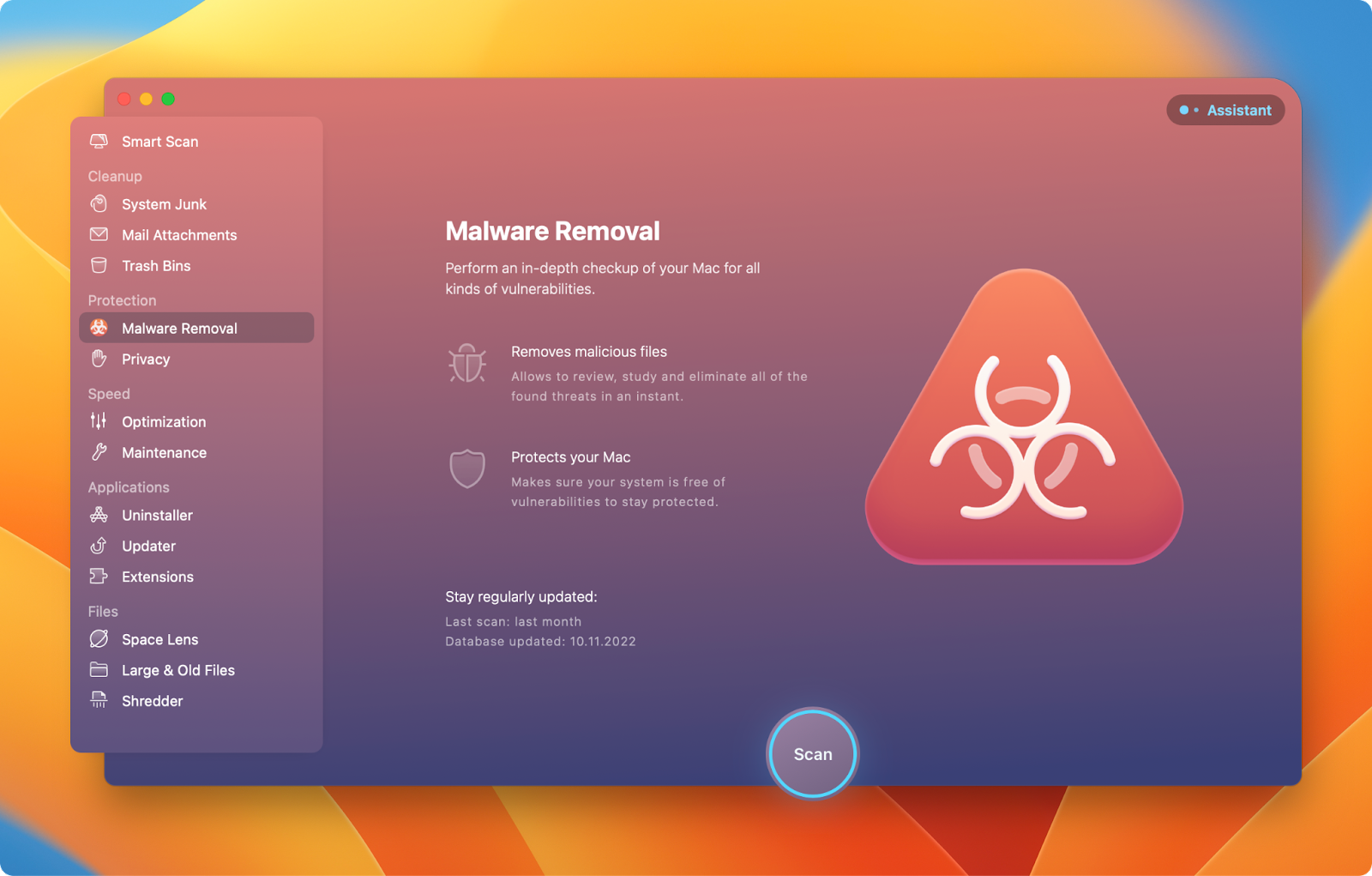 Plus, CleanMyMac X makes it easy to declutter and boost your Mac's performance:
Sort through the old unused files and random app caches
Uninstall and update apps without leaving behind the leftover files and folders on your drive
Take care of gigabytes of disc space occupied by the email attachments you've never even downloaded
View detailed visualization of your storage in Space Lens
How to turn off Lockdown Mode
Since Lockdown Mode is designed for exceptional security circumstances and is an optional feature, you can disable it at any time.
To turn off Lockdown Mode simply change its status to Off in System Settings:
Go to System Settings ➙ Privacy & Security
Choose Lockdown Mode ➙ Turn Off Lockdown Mode
Confirm when prompted: Turn Off & Restart
When should you use Lockdown Mode on Mac
Lockdown Mode is designed to counter high-risk threats, such as personally targeted cyberattacks or use of sophisticated spyware. Primarily it's intended to protect activists, diplomats, political dissidents, or journalists dealing with potentially sensitive information.
It's very likely that most users will never be in situations calling to enable Lockdown Mode. So think twice before you voluntarily restrict certain websites, features, and apps on your Mac when you turn on Lockdown Mode.
It might be a good idea to first check if you're effectively utilizing protective features already available on your Mac. For this, give Pareto Security a try.
Pareto Security regularly checks your Mac's built-in protection settings and, just as its name suggests, takes care of 20% of core tasks, responsible for 80% of security problems. It automatically runs against a list of 20 security settings, including whether your FileVault and Firewall are on, your password is on after inactivity, and the like.
Guard your privacy with Pareto Security to:
Prevent your data from being stolen or accessed by unauthorized people
Run checks to see if you've utilized all available safety measures
Know what can be improved or updated
Get reminders about turning on important security settings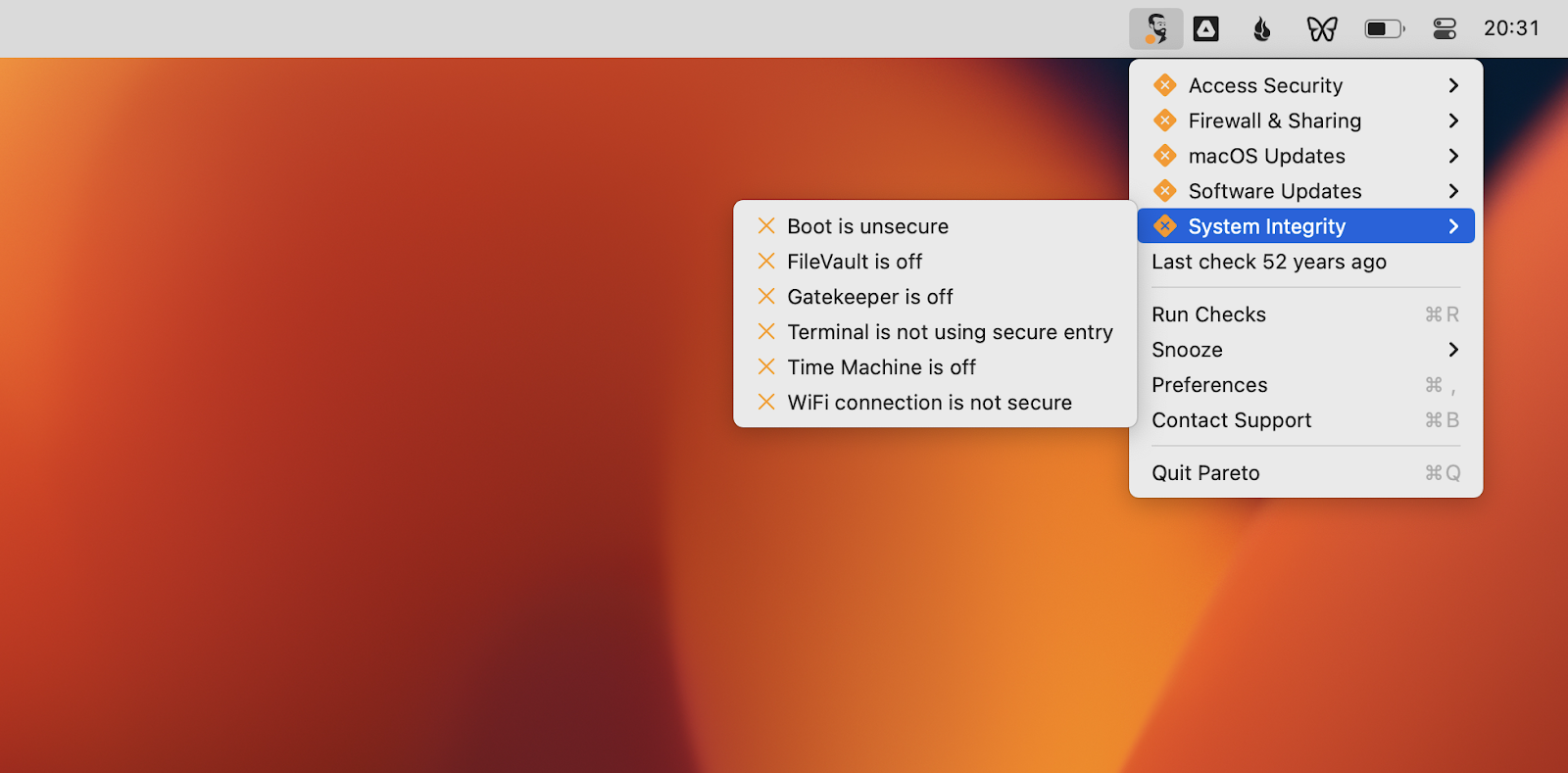 Another thing you need to be aware of when you activate Lockdown Mode is that your IP starts attracting unnecessary attention, since you act as someone who believes they may potentially be targeted for secrets.
To browse the web privately use ClearVPN. It grants you secure access to content and online services unavailable in your region and lets you:
Change your location to the country of your choice
Enjoy anonymity with none of your data ever collected, stored, or shared due to the strict no-log policy
Avoid being tracked for torrenting with all your incoming and outcoming web traffic being ciphered
Use a server with the fastest available connection
Bypass regional limitations for shows and movies on popular services, such as Netflix, Hulu, HBO Max, Disney+, and others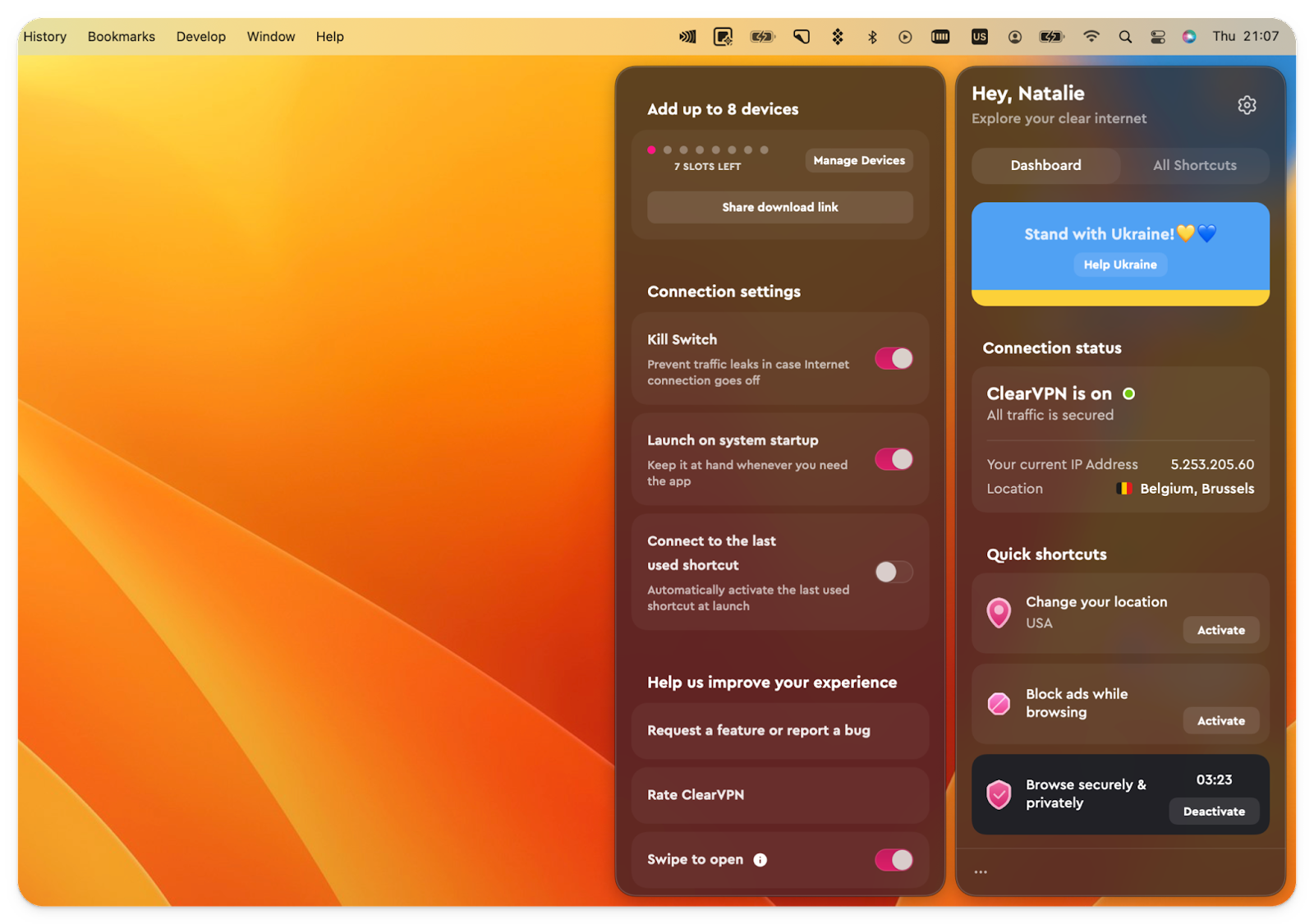 Lockdown Mode: activate or not?
Apple's Lockdown Mode is introduced to secure users' personal data against the most advanced cyberthreats to privacy. When we activate Lockdown Mode, all files, notes, videos, and images on our Macs are inaccessible to hackers, but unfortunately we ourselves also lose access to many functions and websites. Luckily, if you don't have solid reasons to suspect an attack on your data, there are ways to boost both your security and performance without the need to enable Lockdown Mode.
You can make sure your system is regularly scanned for malware and uses all available safety settings with CleanMyMac X and Pareto Security. Or choose ClearVPN to gain fast and protected access to content and services anywhere in the world.
What is great is that you can try using CleanMyMac X, Pareto Security, and ClearVPN for free with the seven-day trial of Setapp, a platform of high-performance, best-in-class iOS and macOS apps. See how much more secure your digital environment can get and check out more than 240 other options to boost your productivity.