How to screen record on iPhone while gaming in 2023
With the exponential increases in the power of Apple chips in the past few years, the iPhone has become a definitive gaming machine for millions of people worldwide.
As you know, in our era of social media and sharing, if it's not on Twitch or shared with your friends on Discord, it didn't happen, right?
Well, you'd be happy to know that it's entirely possible and actually easy to record your gaming experience on your iPhone. And if you want more options available to you (like annotating your video, adding audio, etc.), you can even record your iPhone or iPad from your Mac! Keep on reading to find out how to record your screen on iPhone right now.
Record your iPhone or iPad's screen by connecting the device to a Mac
While iOS devices come with built-in screen recording features, these may not always be enough, especially when you need to edit your videos or capture additional content. We'll show you how to record your iPhone or iPad's screen by connecting the device to a Mac using the Capto app. With its help, you can record your iOS device's screen while you're on a Mac. Once you've finished recording, you can use Capto's editing tools to trim, cut, and add effects to your video before sharing it with your audience.
To record your iPhone or iPad's screen using Capto, follow these simple instructions:
Connect your iOS device to your Mac using a lightning cable
Open Capto on your Mac
In Capto, click the Record button, which opens a dropdown menu
Capto will detect your iOS device. Click on it to display it on the screen
Then click on the red Record button to start recording your iOS device's screen
Once you've finished recording, click the same button to end the recording
Capto will automatically save your recording to its library. You can edit your recording by selecting it from the library and using Capto's editing tools
When you're done editing, you can export your recording to a variety of formats, including MP4, AVI, and MOV, and share it with your audience. If you don't want to record your iPhone or iPad from your Mac, try the regular method using the iPhone or iPad native tool.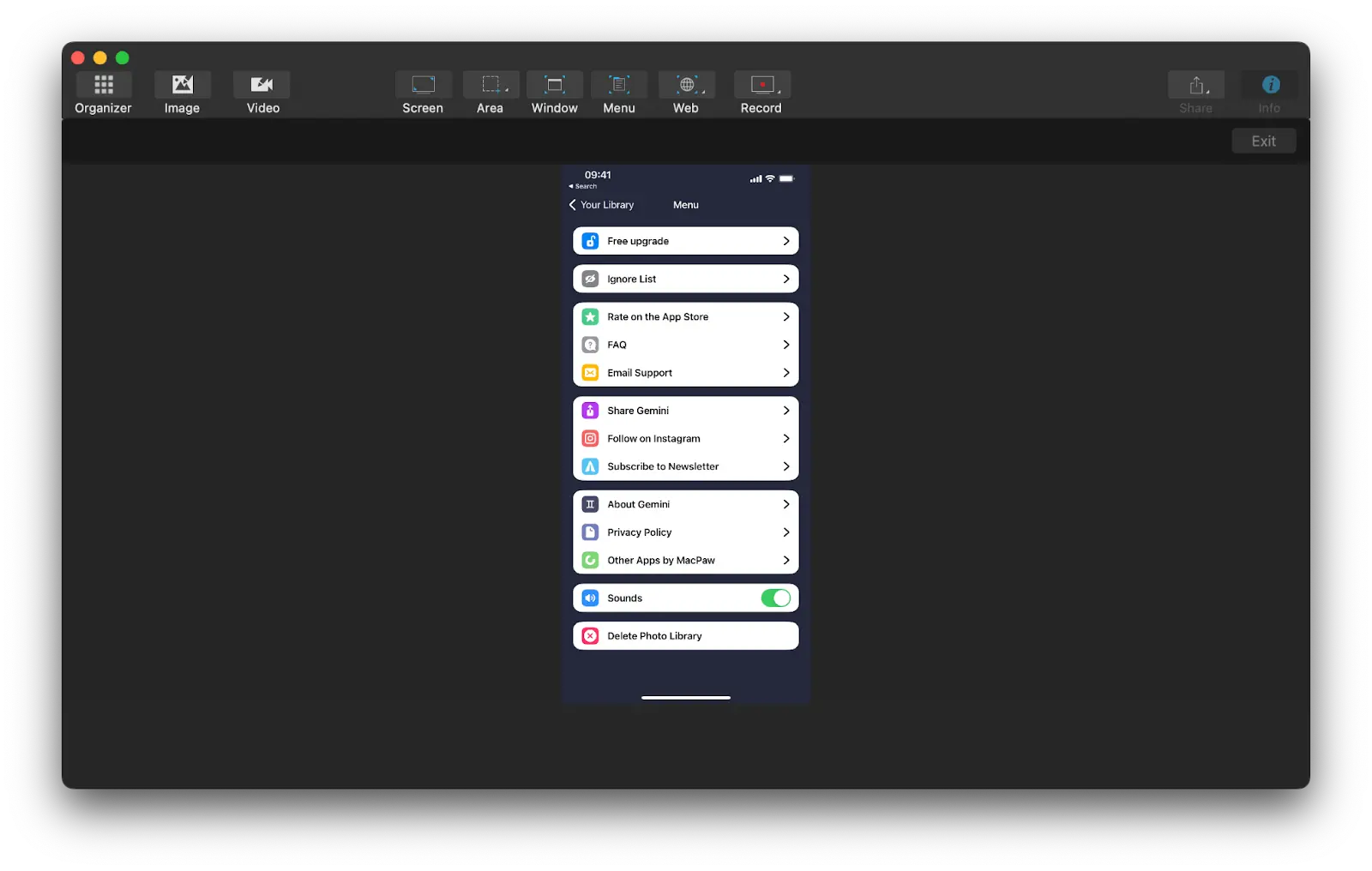 If you don't want to record your iPhone or iPad from your Mac, try the regular method using the iPhone or iPad native tool.
How to record screen on iPhone and iPad with native Apple tools
The first thing you need to know about how to get screen record on iPhone is that this feature is only available on iOS 14 or newer. So if you're running an outdated iOS, go to Settings > General > Software Update and install the latest version available.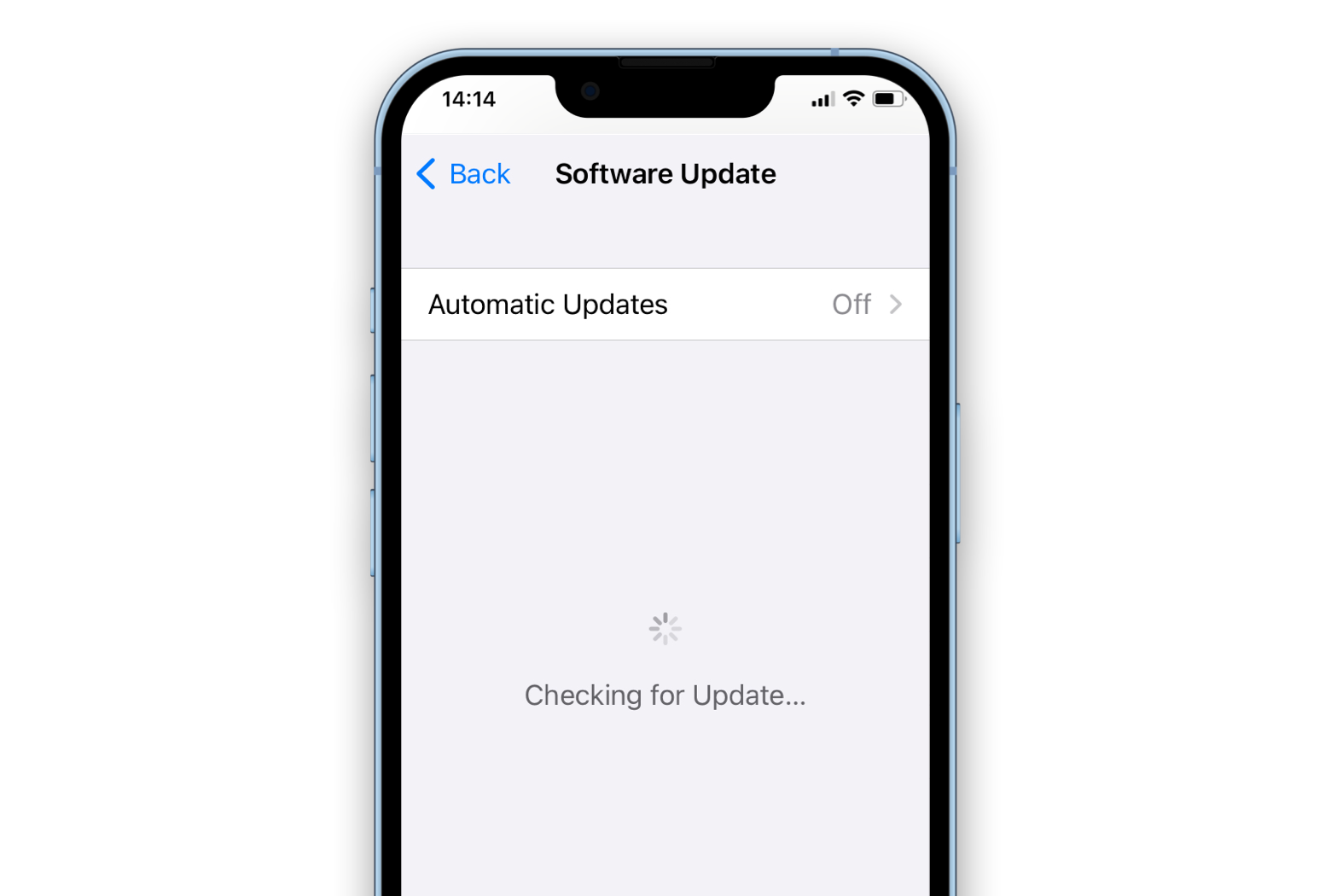 Then you need to learn how to add screen record on iPhone, since Screen Recording is an extra button that appears in your Control Center. To do that:
Launch Settings > Control Center
Scroll through the list and select Screen Recording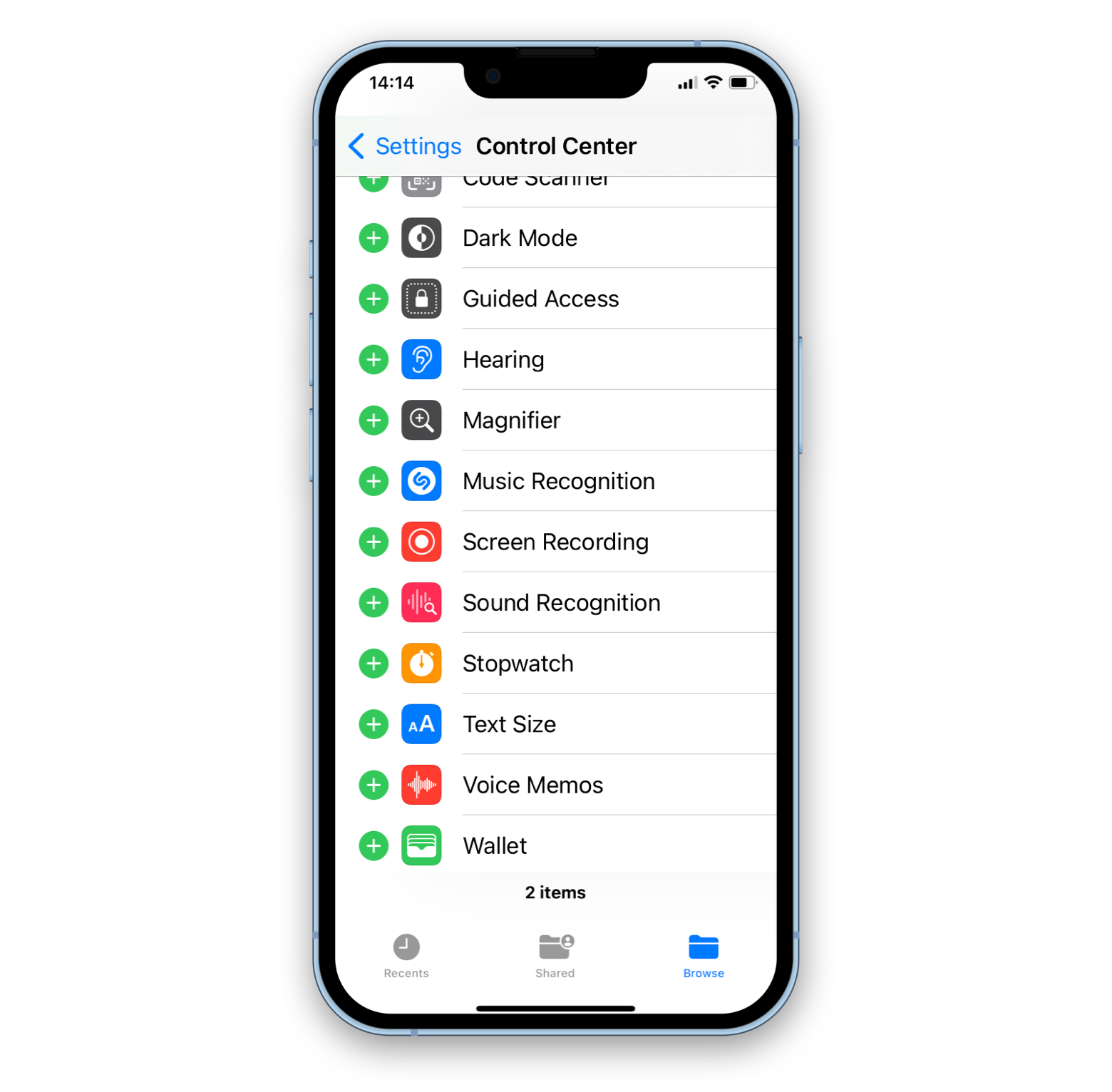 Now that you know how to get screen record on iPhone, it's always with you, accessible from the Control Center menu, which you simply swipe down from the top-right corner to get to (or swipe up on older iPhones).
So how to record my screen on iPhone? At any time, you can simply open your Control Center and tap the Screen Recording button. There will be a three-second countdown before the recording starts, so you can get ready and back in your game.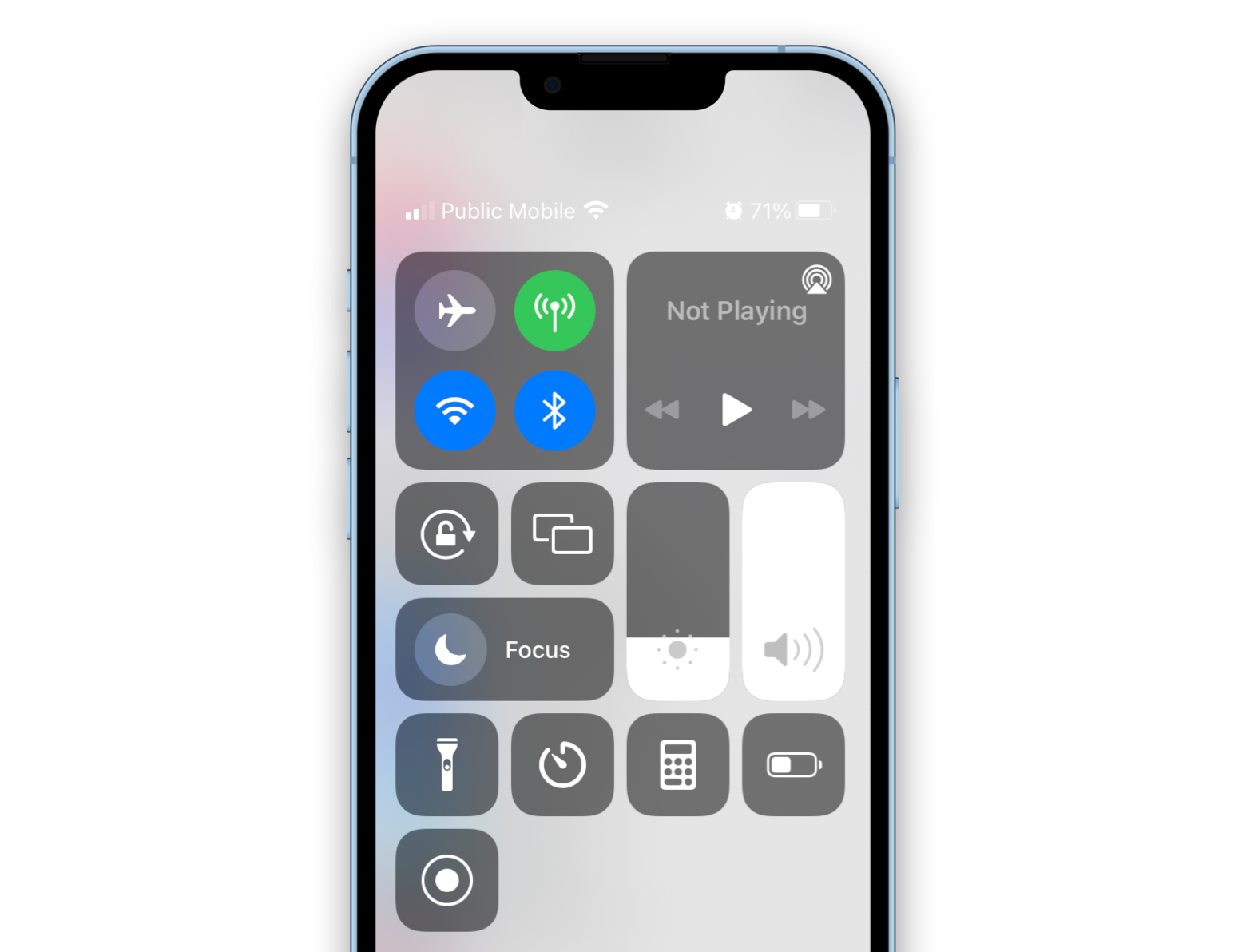 While screen recording is active, you'll see a red panel at the top of your screen. Keep recording for as long as you like.
If you want to know how to screen record with sound on iPhone, it's pretty easy too:
Instead of tapping on Screen Recording, long-press it
Tap the Microphone Off button to switch it to On
Start Recording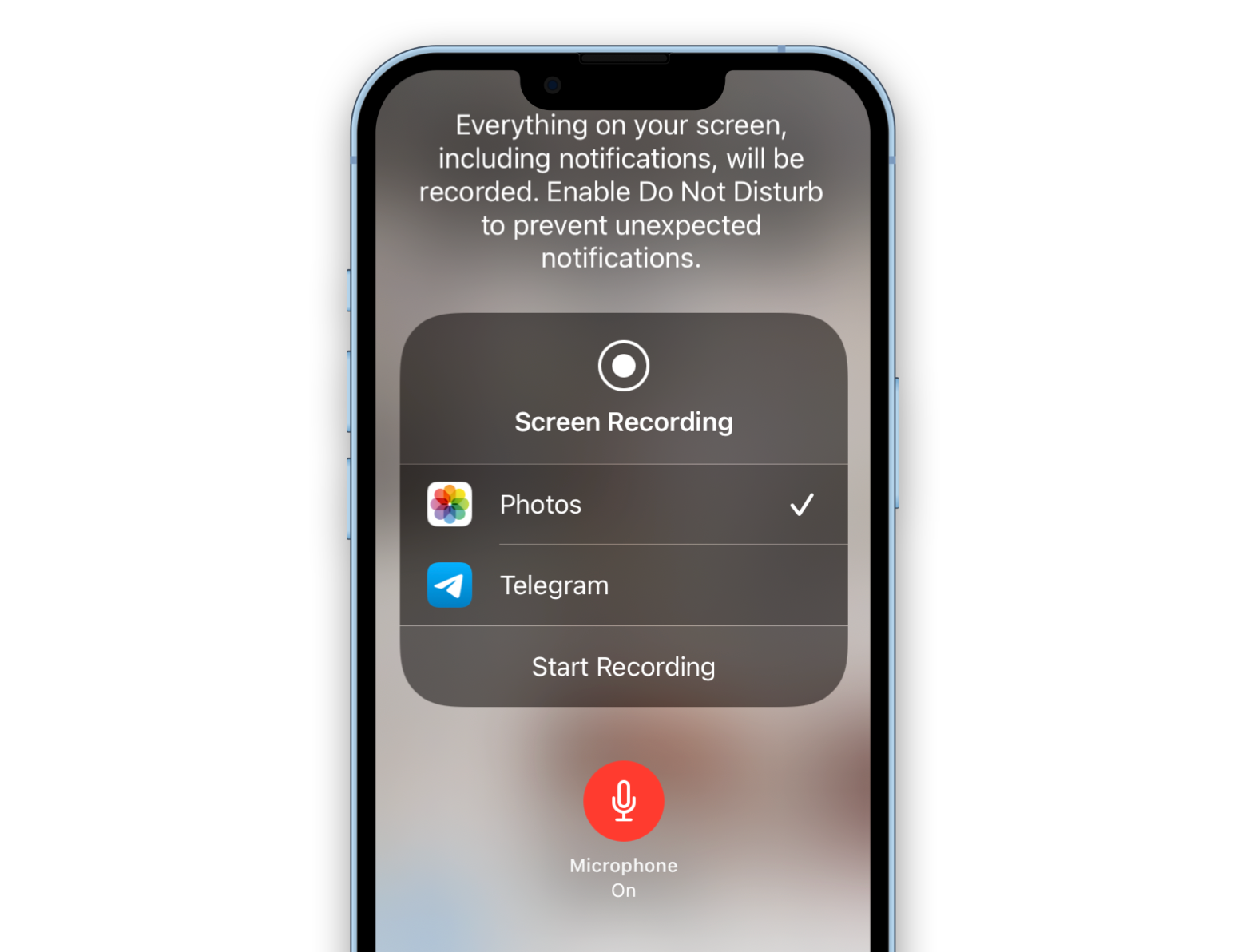 How to end screen recording on iPhone
So once you've figured out how to activate screen record on iPhone, you also need to know how to cancel it.
You have two options here. You can either tap the red panel on top of your screen. You'll see a pop-up menu — just tap Stop. Alternatively, you can go to the Control Center again and tap the Screen Recording icon.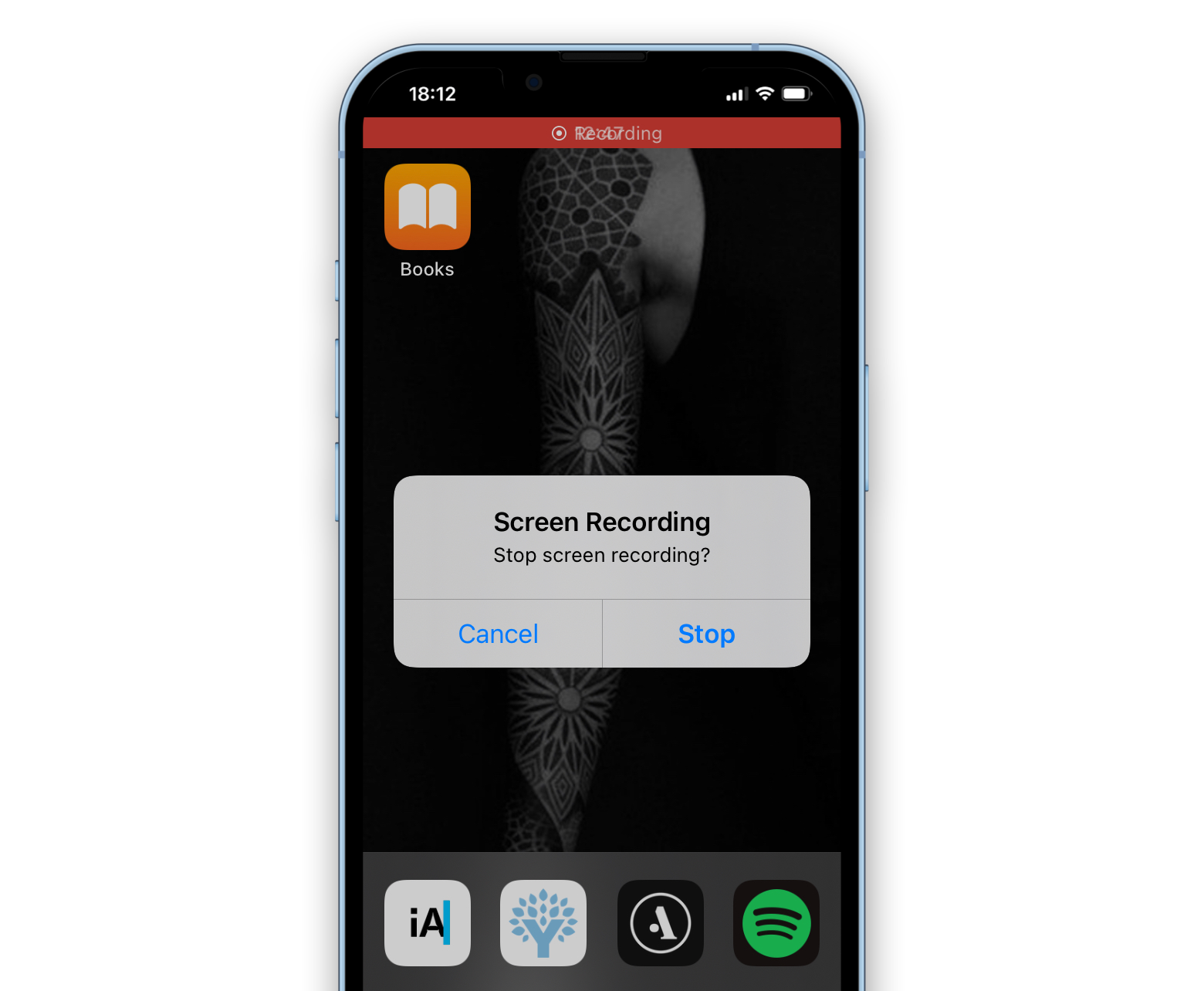 How to edit your iPhone screen recording
Now you know how to turn on screen record on iPhone and how to turn it off. All recordings that you make are then automatically saved in the Photos app, from which you can watch it and edit it to your liking.
Speaking of editing, if you're recording your gaming experience, especially a lengthy one, it's probably not perfect throughout. At the very least you should trim the edges and save the result as a new video clip.
Here's how to find screen record on iPhone to edit:
Open your Photos app
Tap on video you've just recorded
Edit
Drag the edges of the timeline at the bottom of your video to specify where the video should start and end
Play the video to make sure you're happy with the edit
Tap Done > Save Video as New Clip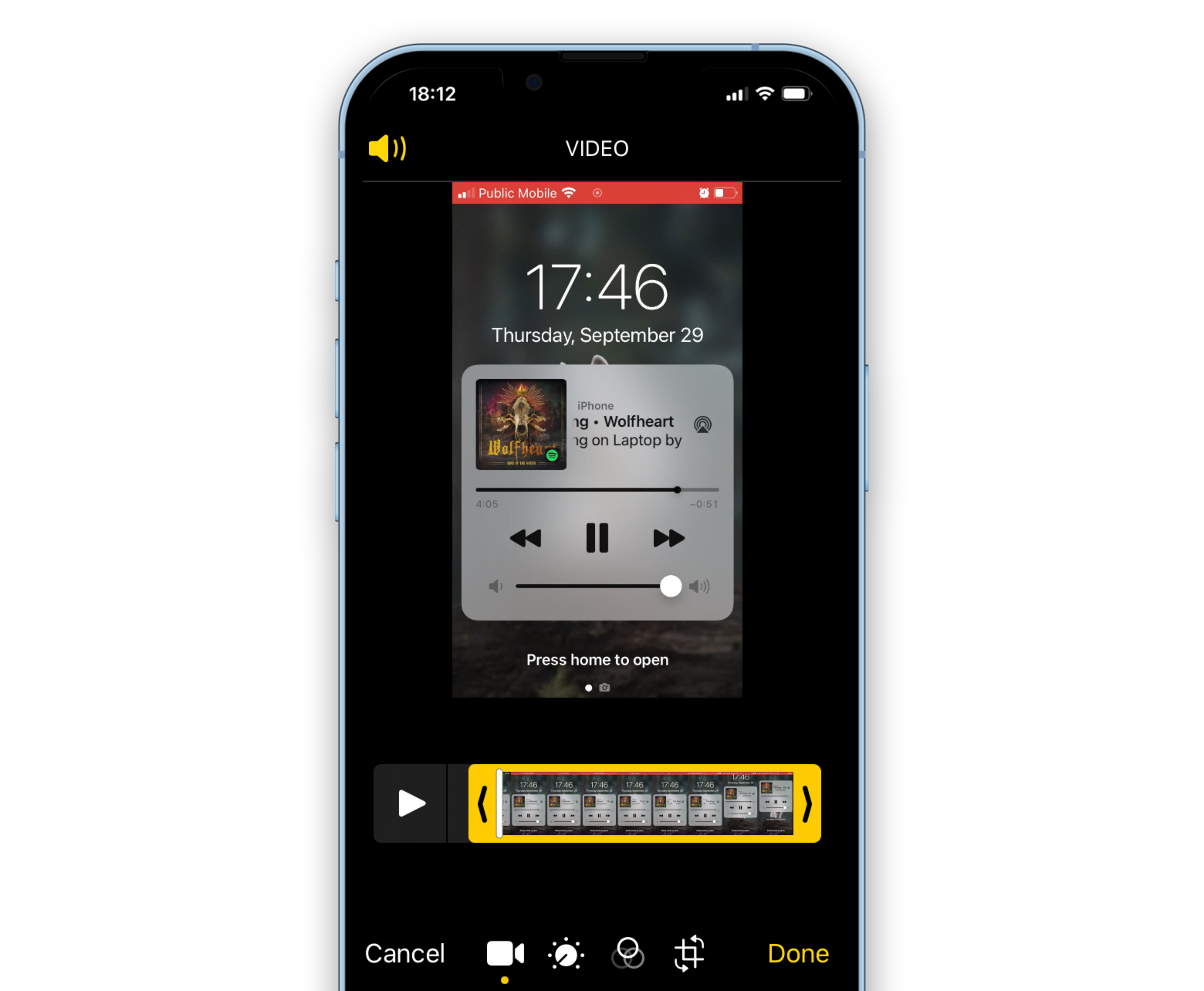 You can also go much further with your video edits in Photos. Tap the dial button to adjust brightness, contrast, shadows, and saturation. Tap the circles icon to apply preset filters and change the look of your video. Finally, tap the last icon to rotate or crop your video, if needed.
After you've finished with the edits, you still need to upload your video for sharing. However, most sharing services will need a cover image to showcase your video. And to make sure people click and watch your video, your cover image should be great. You could try taking a screenshot with the iPhone's built-in tool, but it's really not that precise. Instead, just use SnapMotion.
SnapMotion is the best way to take images of your videos. Its simple editing interface measures video speed down to the thousandth of a second, allowing you to select the exact moment you want to feature as your cover. Even if you've recorded a vertical video and need to upload a horizontal screenshot — no problem. Just rotate the video right in SnapMotion. You can also take as many screenshots as you want, and it all takes seconds!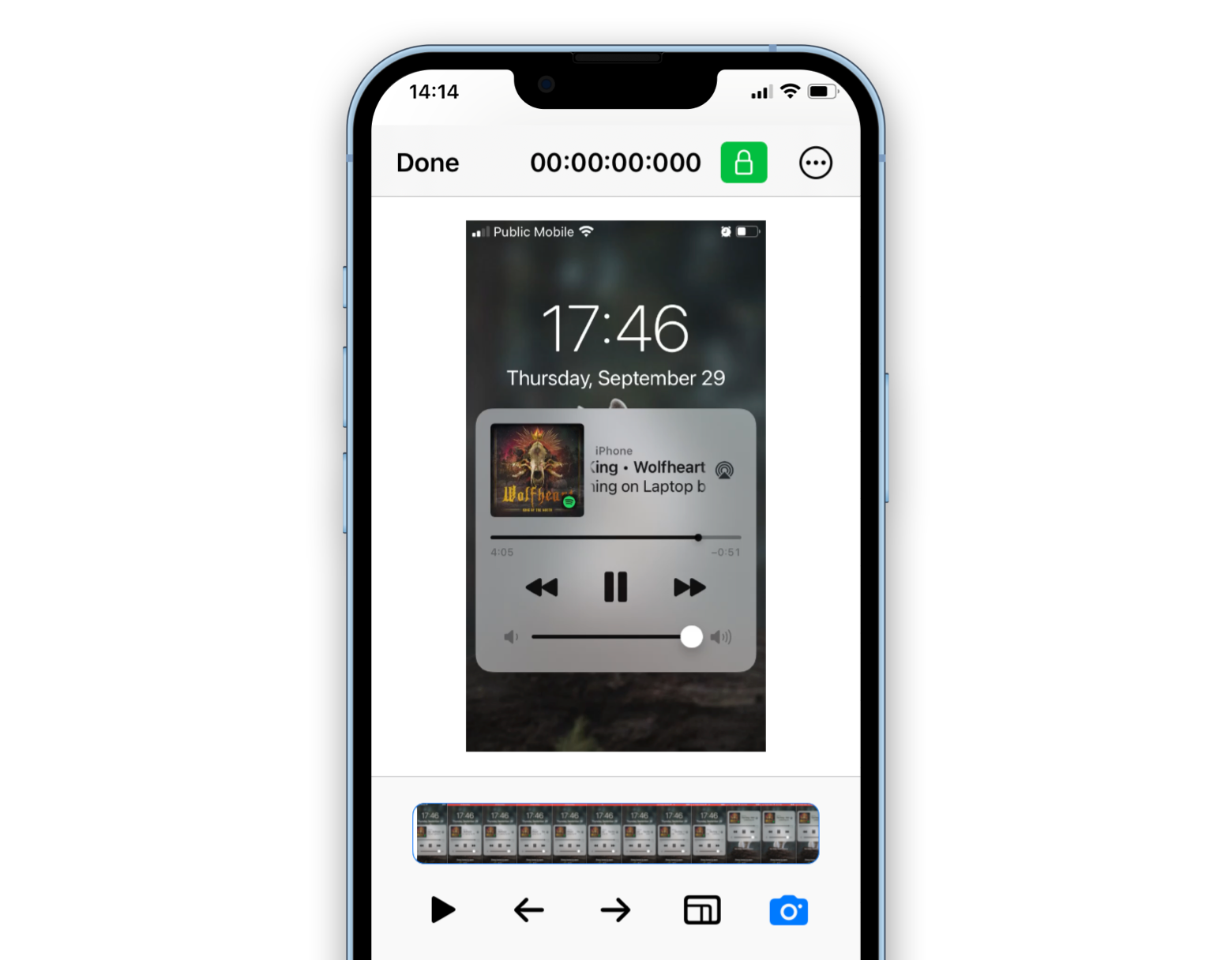 How to share your screen recording with others
After you've learned how to record video on iPhone screen, you might start recording lots of gaming videos. But how do you share them with others?
iPhone suggests a few ways, although some of them might be limited:
Open your video in Photos
Click the share icon
Choose between AirDrop, Messages, Mail, and other apps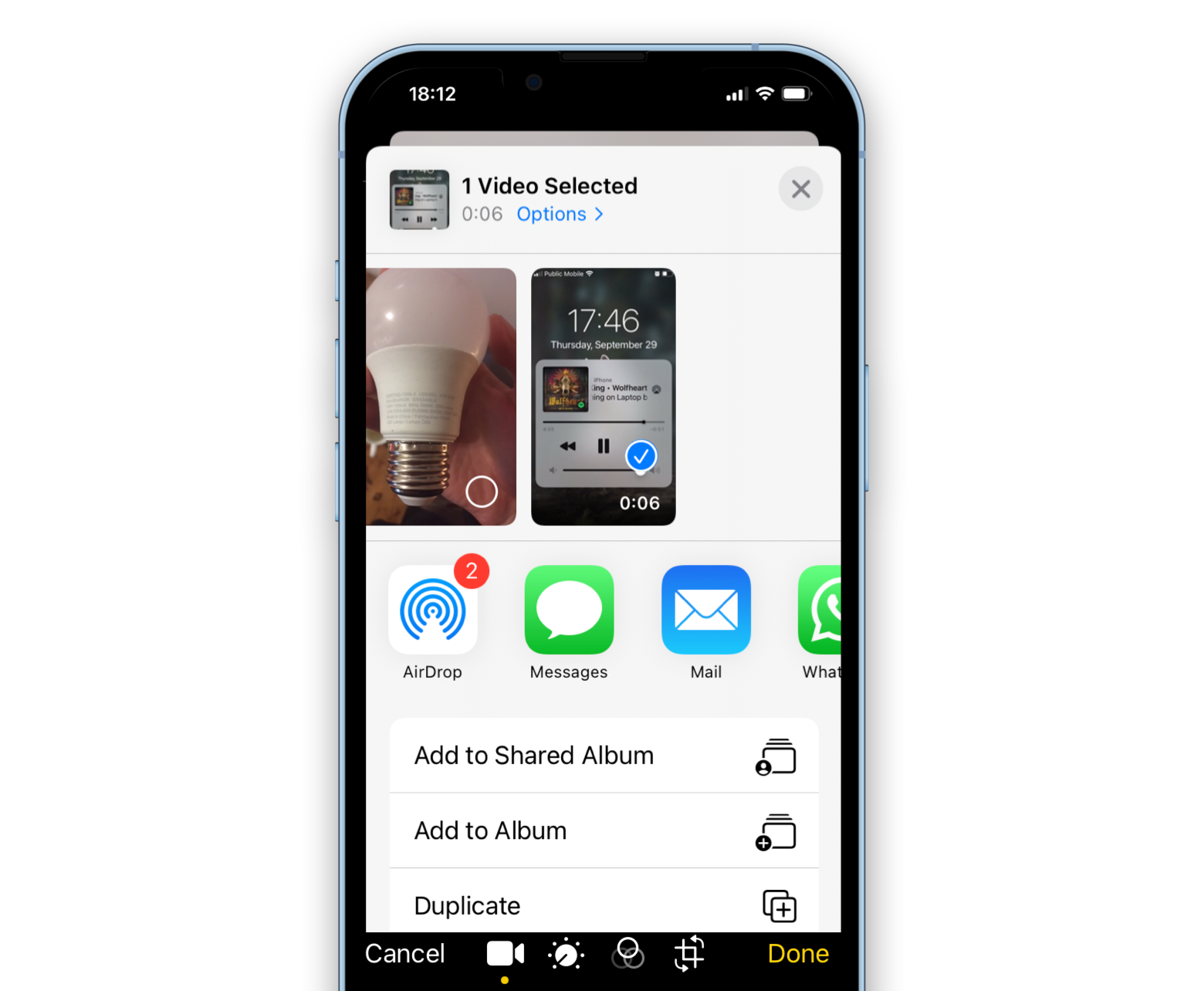 The problem is that some of these apps either have size limits or decrease the quality of your video during transfer. Plus, if you plan to put your video online, it's a much better experience if you can do so from your Mac. In which case, the best transfer tool you can use is AnyTrans for iOS.
AnyTrans for iOS is an intuitive iPhone manager for Mac, letting you oversee iCloud, save backups, change ringtones, download media, install updates, and more. You can also use AnyTrans to transfer any files between devices, including your videos in full resolution.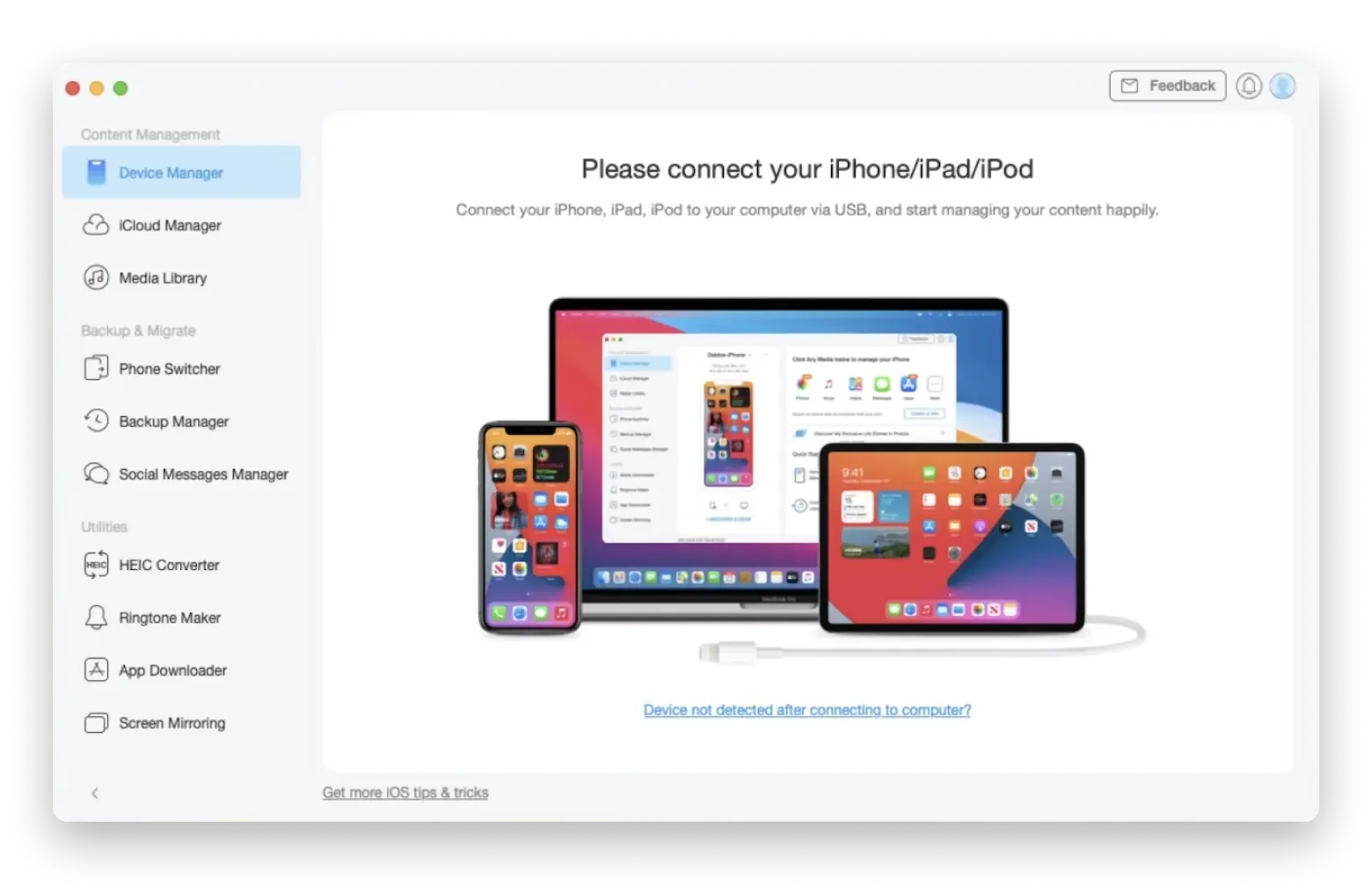 Remember we mentioned Capto for recording your iPhone or iPad's screen by connecting the device to a Mac? Recording with Capto makes it easy to share even large videos from your desktop with ease. With its powerful editing tools, compression capabilities, support for multiple export formats, and cloud storage integration, Capto is an excellent choice for anyone looking to record and share high-quality videos.
How to record my screen on iPhone: final thoughts
As you can see, knowing how to set up screen record on iPhone is not difficult and will allow you to become much more engaged in the gaming community online. Just follow the guides above and learn how to screen record on iPhone with sound too. You should also use some of the best apps to help you. SnapMotion will get you a great cover image, while AnyTrans for iOS will make getting your video on Mac a breeze. And if you want to record iOS screens on a Mac with ease, use Capto.
Best of all, SnapMotion, AnyTrans for iOS, and Capto are both available to you absolutely free for seven days on Setapp, a platform with more than 240 outstanding apps and utilities for Mac and iOS. You can completely optimize your Mac with CleanMyMac X, for example, and manage all your work with NotePlan. Try these and other Setapp apps at no cost, and find your new favorites!