How to split screen on Mac
By default, apps that you open on your Mac don't open in full screen. They take around 40 to 60% of the screen real estate. This means that no app is using your screen's full potential and, at the same time, it's difficult to arrange two app windows side by side without downsizing them.
If you open one app in full screen manually, you'll have to swipe in and out of it all the time, since nearly every workflow today requires more than one app to complete.
To remain productive and use all the screen real estate available you can open two or more apps right next to each over in a split view. Let's explore the best ways to do it.
The best app to split your Mac screen
When it comes to split view, the default utility is limited in the number of available options. Swish is not.
Swish is a gesture-based windows controller for your Mac that expands the capabilities of your trackpad (or Magic Mouse). You can use 28 presets or add new gestures to control app windows across multiple monitors with more precision than ever. Any movements in Swish automatically snap to a grid for a gapless screen coverage.
With Swish, you can arrange windows vertically or horizontally, and see not only two but three, four, six, or nine at a time. Plus, adapt your Swish settings as you go at any time.
To organize app windows in Swish, go through its Settings (Command + ,) and define shortcuts for every arrangement that you want to use.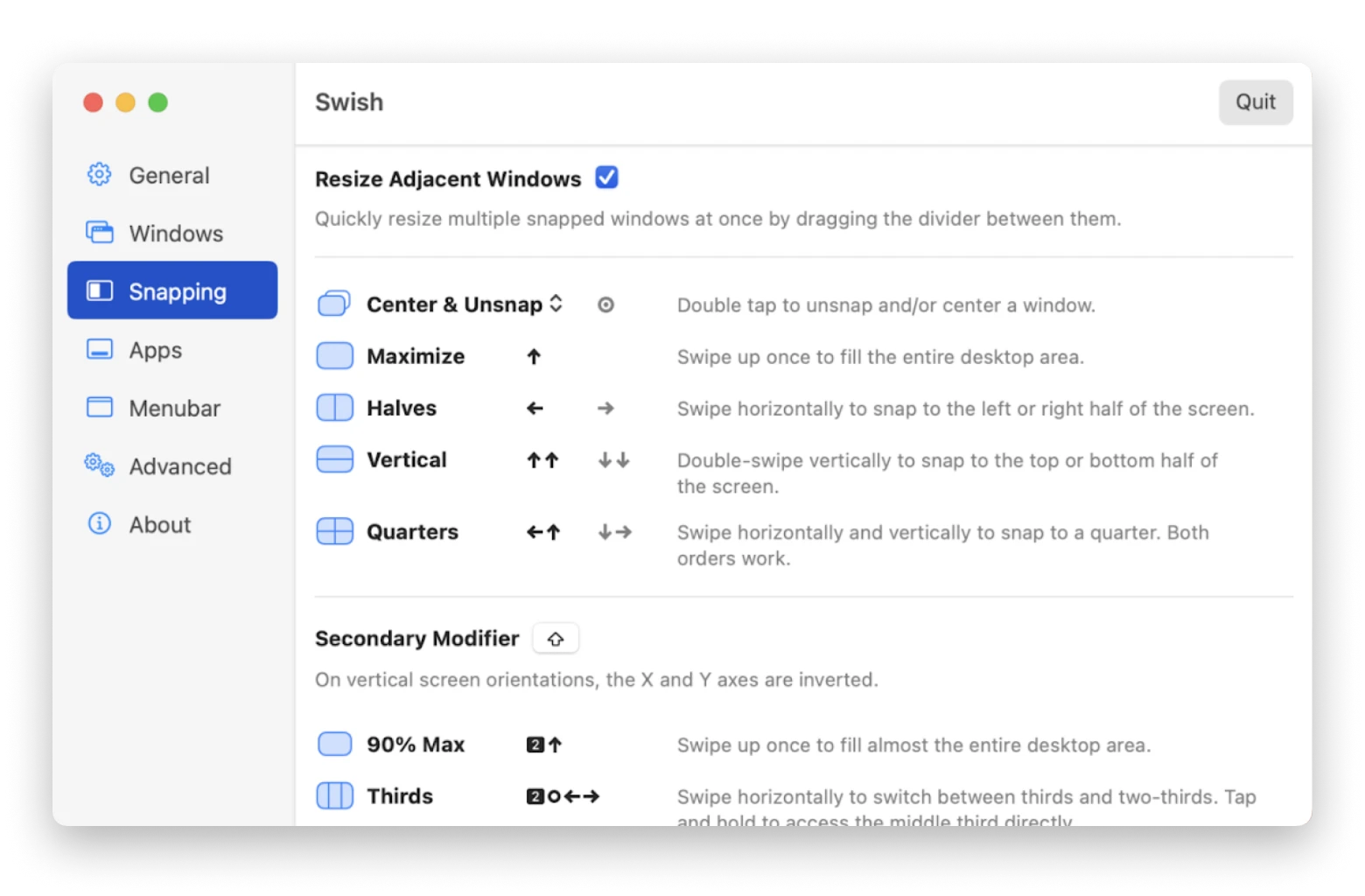 How to split your Mac screen with Split View
How do you split the screen on a Mac if you want to use a native utility?
The Split View functionality first appeared in macOS Sierra and has been popular ever since. It allows you to open two apps side by side in a way that takes over your whole screen. You can also use a slider to regulate how much space each app is taking.
To enter Split View on Mac:
Hover over the green button in the toolbar next to minimize and close
Select "Tile Window to Left of Screen" or "Tile Window to Right of Screen"
Click on any app window on the other side of your screen to open both side by side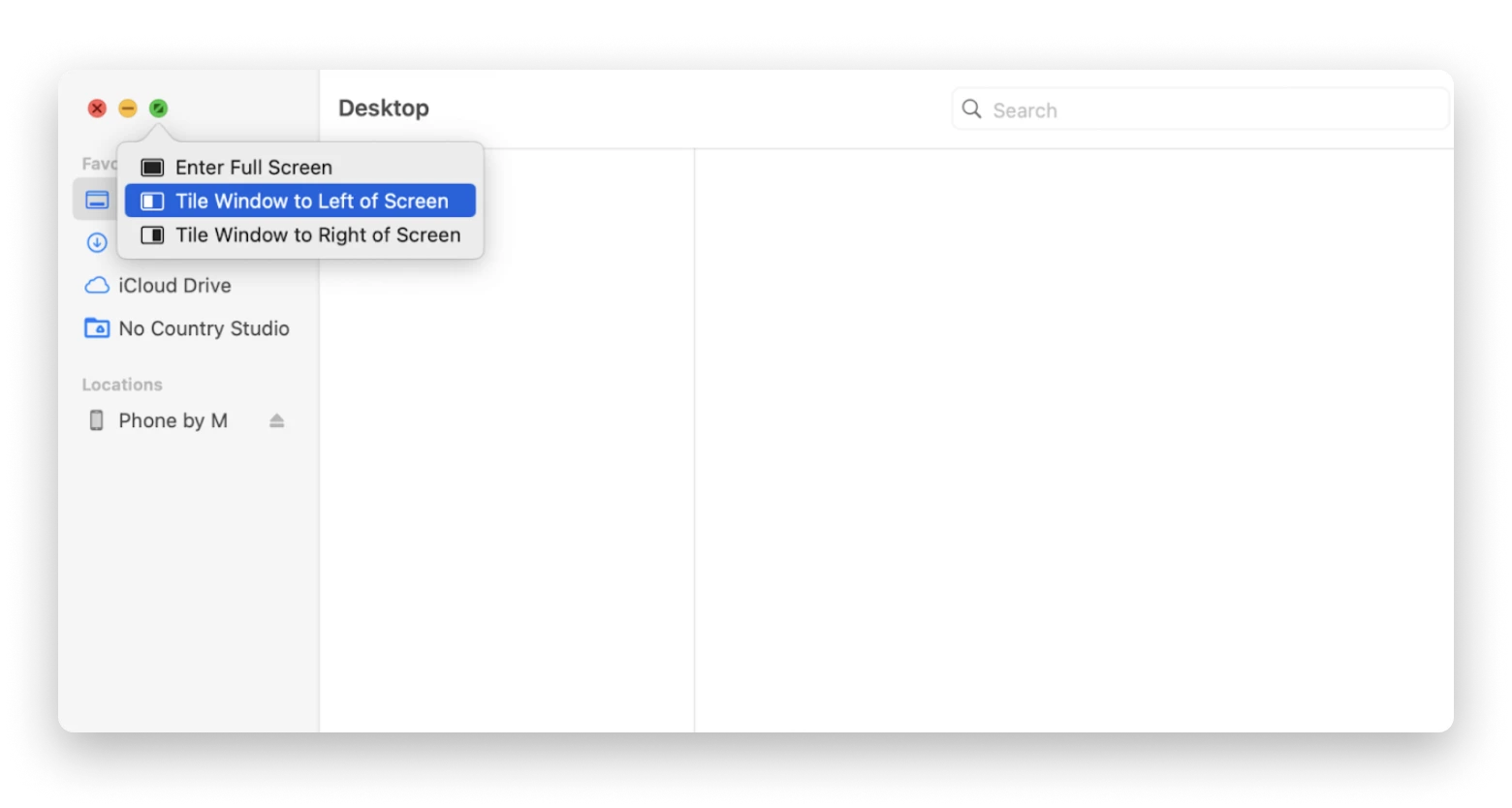 How to split screen MacBook in macOS Mojave or earlier
The process of opening Split View on Mac is different in macOS Mojave, El Capitan, Sierra, or High Sierra.
Here's how to divide screen on Mac if you're using an old macOS:
Click and hold the same green button in the toolbar
Drag the app window either to the left or right side of your screen
Click another app window to fill up the opposite side of your screen
How to adjust split screen view on Mac
If you have two Mac side by side windows open, they don't always have to be the same size. Imagine you're working on a presentation and referencing your notes or a map — the presentation in this case should take up more spaces since it's your main focus.
Split View gives you a handy way to resize the share of the screen each app is taking. All you have to do is click and drag the central divider with your cursor. That's it — resize the configuration as many times as you want.
Another helpful option is to drag one window to the other side to make them switch spots.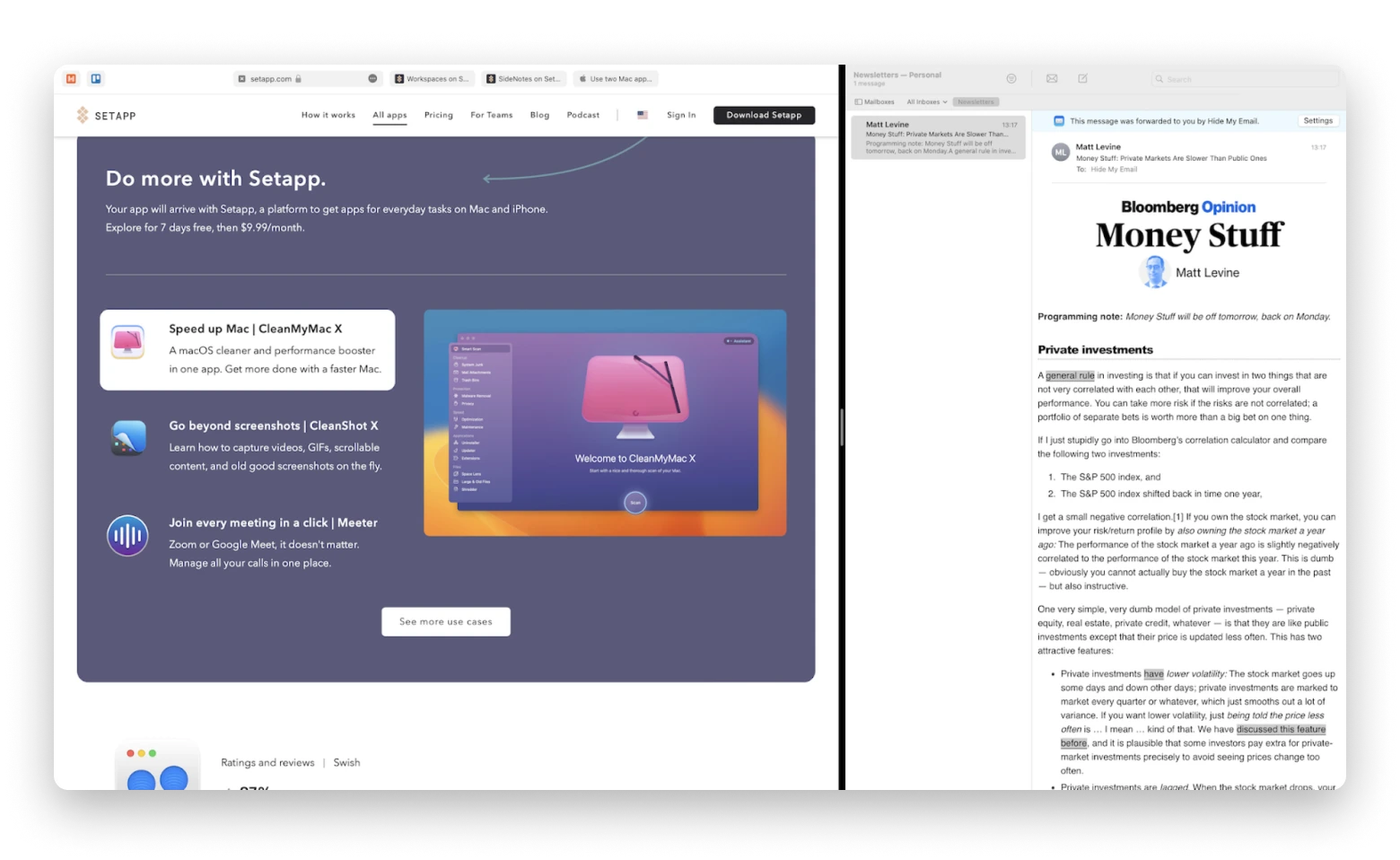 How to exit Split View on Mac
When you're done working in Split View, you can quit the dual-window configuration by pressing the Esc key or by moving your cursor to the top of the screen and clicking the same green button.
How do you split screen on Mac without full screen?
Sometimes you want your apps to take all the available space on your screen without going into full-screen mode (to be able to use the toolbar, for example).
A quick solution to this is manually dragging the sides of the app windows with your cursor to fit in a specific space. You can also create custom configurations that way.
An alternative solution is to press Option before you click the green button in the toolbar. You'll see the first option change from Enter Full Screen to Zoom. In Zoom, the width of the app window will stay the same, but the height will expand to take all the available space, making it easy to set apps side by side.
What is the shortcut for split screen on Mac?
If you want to know how to double screen on MacBook via a shortcut, you might be somewhat out of luck.
While there's the Shift + Command + F that enters the full-screen mode on most apps, there's no dedicated Split View shortcut.
One idea is to create the shortcut on your own, which is easier to do than you think:
Go to System Settings
Navigate to Keyboard ➙ Keyboard Shortcuts… ➙ App Shortcuts
Click the plus icon
Enter the menu name of the command: Tile Window to Left of Screen
Record the shortcut you want to use
Click Done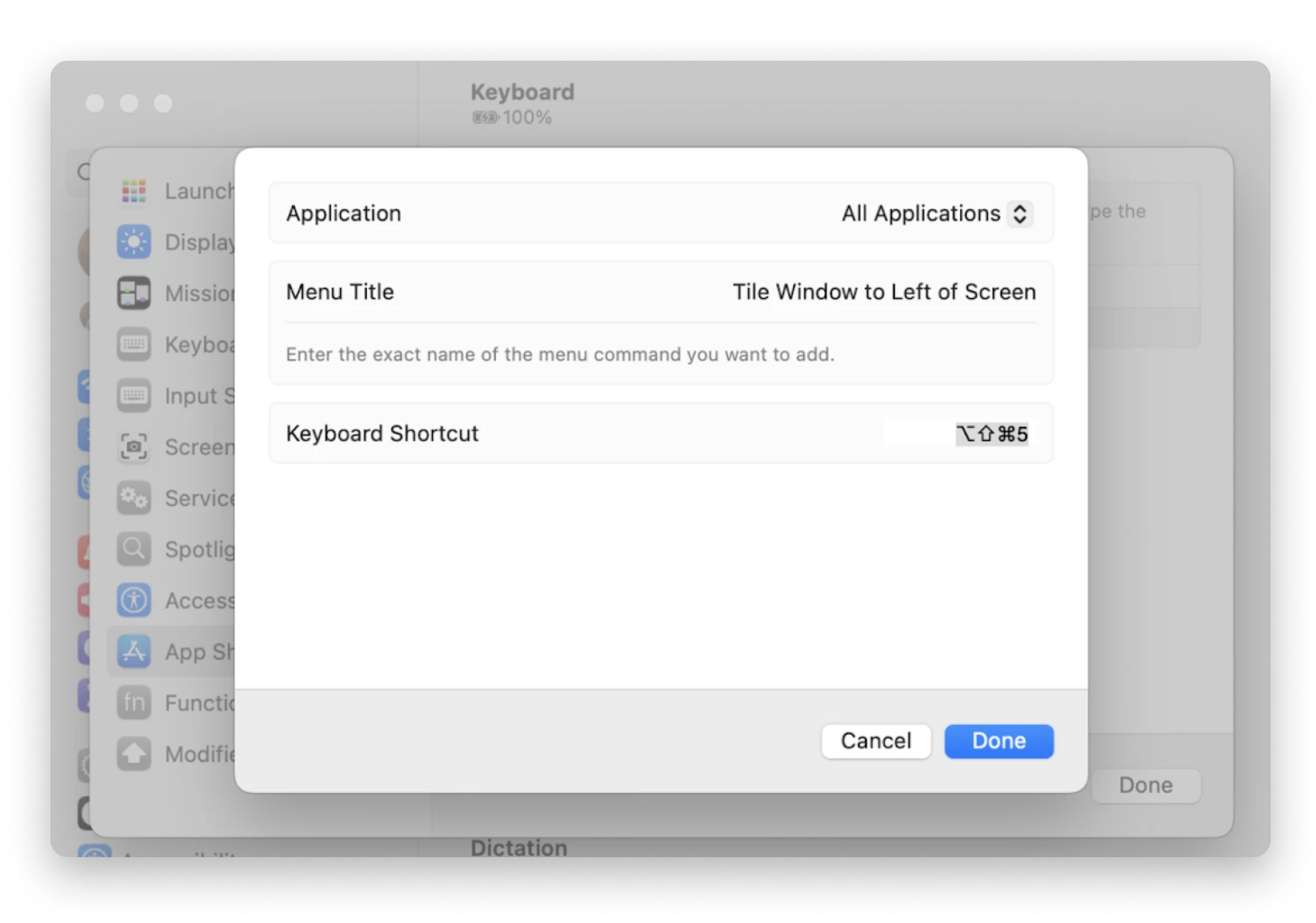 How to do a split screen on Mac using Mission Control
If you like juggling multiple apps on your desktop, prioritizing those that need to be in focus at any given moment, Mission Control will make your life easier.
Unlike Split View, Mission Control doesn't line up apps actively, so you can work on them. Instead, it shows you all the apps and desktops you have open at once, so you can easily switch between them.
To activate Mission Control, use F3, a four-finger swipe up on a trackpad, or type Mission Control into Spotlight.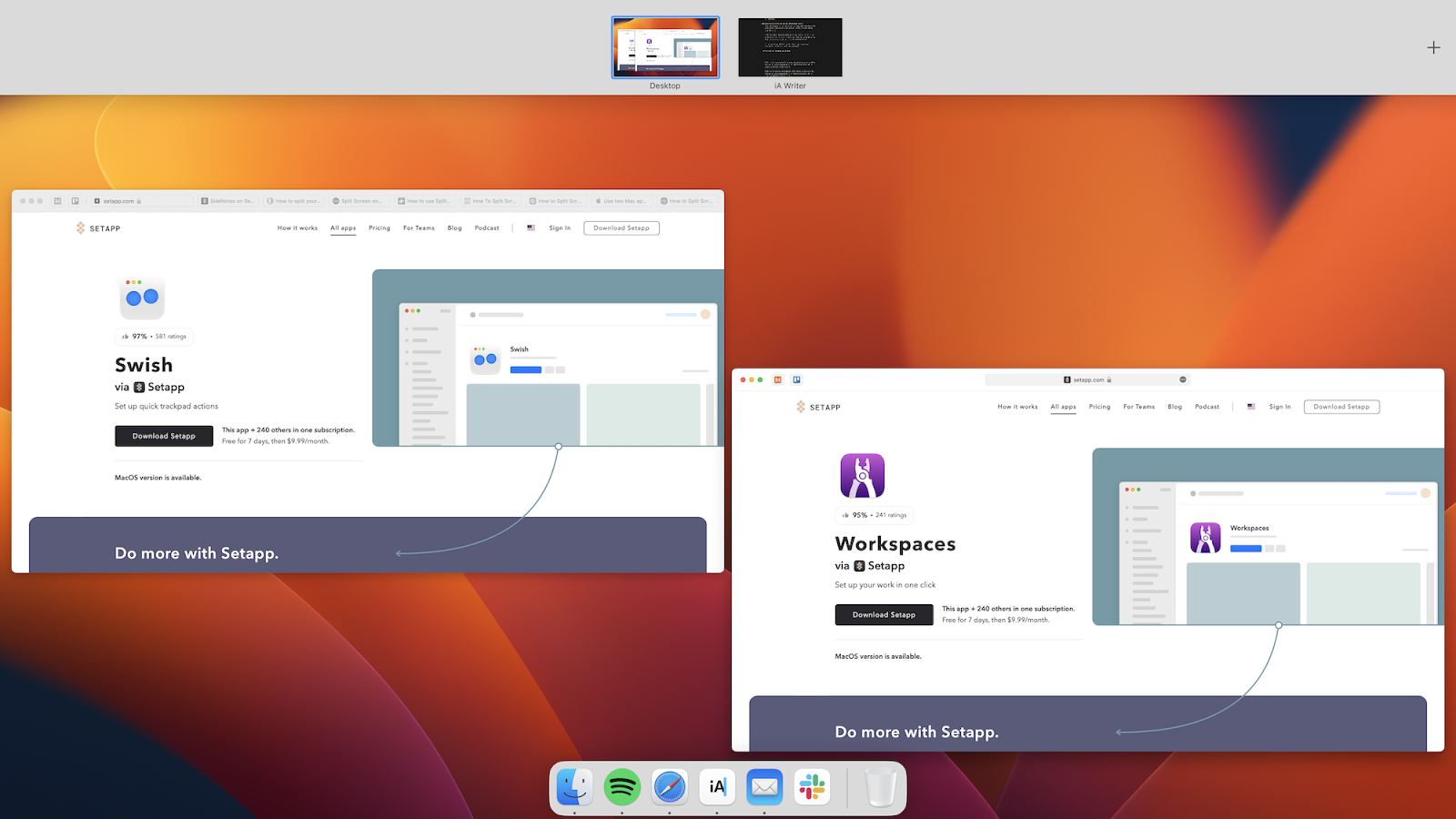 More tips for managing app windows
When it comes to improving your workflow, using Swish or Split View to organize your app windows is just one small part of the process.
What if you had all the apps and files that you need for a given project open in one click? That's what Workspaces is for.
Workspaces is a Mac organizer that lets you define anything you need open (e.g. websites, emails, apps, files) for a project and launch it at any time. You can even create multiple workspaces and switch between them with ease. As your projects change, simply move the files in and out of your predefined workspace, or remove certain workspaces altogether.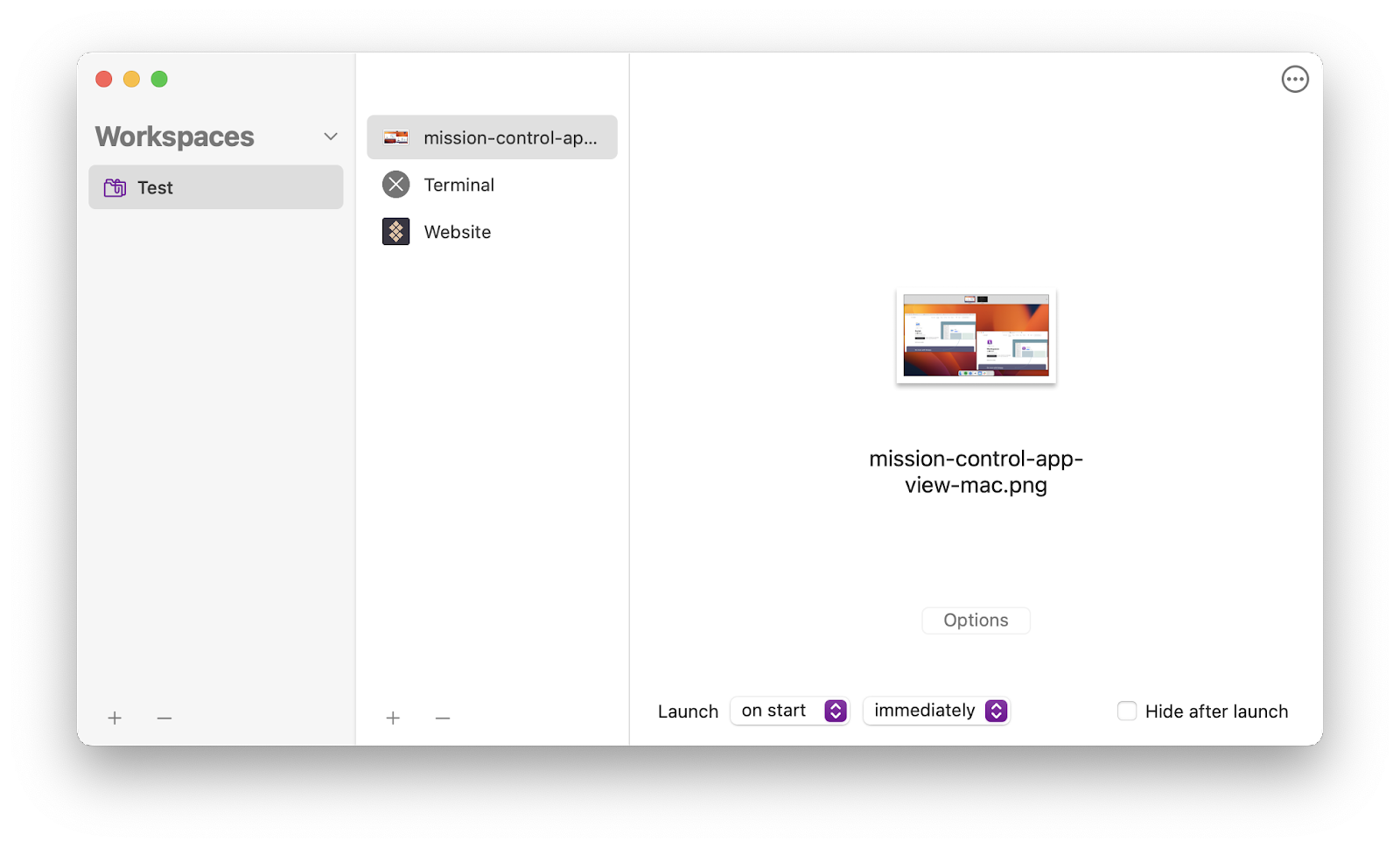 Another useful productivity tool is SideNotes.
SideNotes keeps a multifunctional sidebar on your Mac that you can use to write notes, drop documents, write snippets of code, create to-dos, and much more. Plus, you can design your notes in a way that doesn't distract you but still use powerful Markdown for formatting.
As you can see, learning how to split screen on Mac is easy and will serve you for a long time. Using all available screen space is especially important if you find yourself frequently using a 13" MacBook. So give Swish a try for effortless app-window splitting. In addition, call up everything you need for a project with Workspaces and keep any notes at hand with SideNotes.
Best of all, Swish, Workspaces, and SideNotes are available to you for free for seven days through the trial of Setapp. Setapp is a unique platform of hand-picked apps across all possible categories. With more than 240 top-rated titles for Mac and iOS, you'll without doubt find something great to add to your collection.
FAQ
How do I split more than two screens on Mac?
You can split more than two screens by using great third-party software like Swish, which lets you define up to nine screens at the same time.
What is the shortcut for split screen?
You can use F3 to launch Mission Control, use a shortcut from Swish, or define your own in Keyboard Shortcuts in System Settings.
How do you switch between split screens on a Mac keyboard?
You can switch between all open apps at any time by holding Command and pressing Tab or Shift + Tab. The same applies to Split View apps.