How to use multiple desktops on a Mac
Using multiple desktops on Mac is one of those subtle ways you can make your desktop experience infinitely better without much effort. Many don't realize their Mac can support several virtual desktops, and you can switch desktops at any time you like.
You might be wondering why you'd need to have several MacBook virtual desktop environments and if having so many open workspaces on your computer will cause confusion. It may at first, but follow our guidelines for creating and managing your virtual environments and you'll be more productive in no time.
Why do you need more desktops?
It might not make immediate sense to you why the single workspace for Mac you've been using the entire time you've owned a Mac is not adequate. But think about it: how many apps do you have open? How many apps do you use in your workflow? How many apps are you minimizing to save space on your Mac's screen? How many apps are still open on your Mac because you forgot all about them?
Managing desktops on a Mac is also a practice that helps optimize your workflow. Rather than minimizing and resurfacing apps, swiping between desktops will help you focus more and increase productivity.
Here are a few great reasons to use multiple desktop spaces on Mac:
Organizing open apps. With multiple desktop spaces, you can have all your essential apps open and waiting for you. No more minimizing and quitting apps. Once you know how to switch between desktops on Mac and organize your apps properly, the benefits become immediately apparent.
Finding the right tools faster. Those who have several apps open often spend far too much time trying to find the app they want to use. Sometimes it's minimized, other times the app is in the background. With multiple desktops you can move between unique environments instead of hunting for the app you want to use.
Great for multiple monitors. When you have several desktops and multiple monitors, displays have separate spaces Mac alone can't do. You can extend your display across monitors and configure your virtual desktops to display in the order you want.
How to create a virtual desktop
Before we discuss how to change desktop on Mac, let's go over how to create a new desktop. It all happens in Mission Control and takes advantage of a feature named Spaces:
Swipe up with four fingers on your Mac trackpad to enter Mission Control

You can also double-tap a Magic Mouse with two fingers if you're not a trackpad user
If you're a keyboard warrior, press F3 to launch into Mission Control
Press Command + Space and search for "Mission Control" in Spotlight search

At the top right corner of the screen, tap the "+" icon (this is Spaces)

The thing is, Mission Control view has one downside — and we are a bit surprised Apple hasn't fixed it by now — you can't close active windows from the Mission Control view. That's a pity because every time you switch between Spaces, you'll stumble across some active app and browser windows you don't use, and you'll want to close them.
Mission Control Plus puts this important feature into your hands — it adds the "X" button to all active windows in Mission Control. This is how you'll quickly declutter each of your workspaces.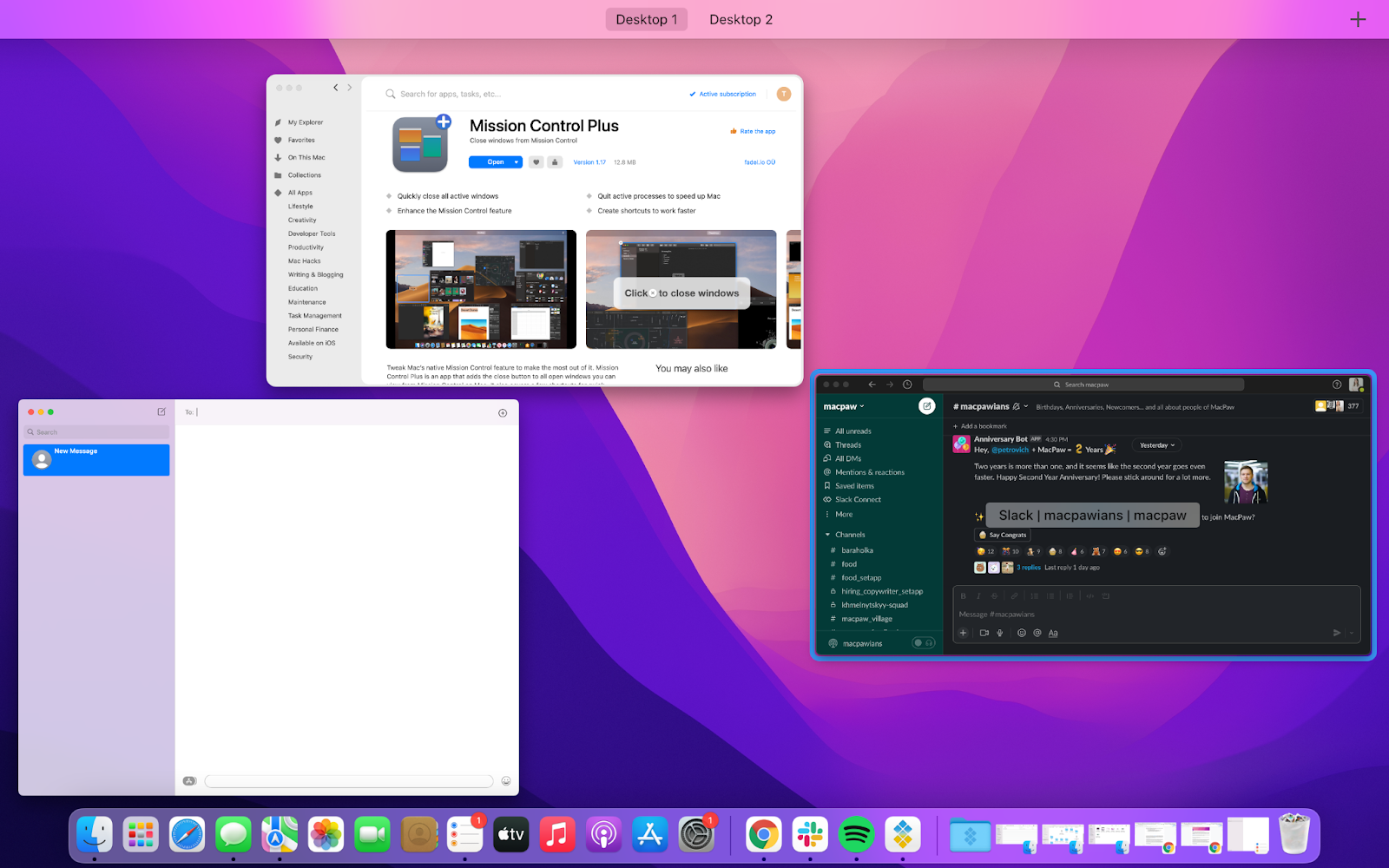 Best of all, there are no new commands to learn. Mission Control Plus utilizes all the familiar Mac shortcuts and works exclusively in the Mission Control view.
Create multiple desktops
You can create up to 16 spaces on one Mac. You can set a different desktop picture for each of your workspaces so it's easier to navigate between them. We like to create unique desktops for each task we perform, like emailing. Though it can seem a bit silly to have a desktop just for email, those who spend a lot of time communicating with others — and use different email clients and messengers for their tasks — having more space to read and respond to messages is handy.
All you have to do is tap the "+" icon in Mission Control to create a new desktop and tapping the icon more than once will create a new desktop each time you tap it. To move between desktops, simply swipe left or right with four fingers on your trackpad or press Control + right arrow or Control + left arrow.
Move apps between desktops
If you have a cluttered desktop and want to create a new desktop to offload apps onto, you can!
Here's an example: you created a desktop for messaging, and that desktop has your email app, Messages, Slack, and your Twitter DMs. It's getting a bit cluttered and you want to give your email a space of its own.
Follow the commands above to launch into Mission Control, then drag and drop apps onto whatever desktop you like. Here, once again, notice how useful the feature of closing redundant apps from Mission Control can be — make sure you use Mission Control Plus when moving between desktops.

How to remove desktops when you're done using them
Desktops don't have to last forever, you know! When in Mission Control, hover over a desktop you want to delete. A small "X" will appear at the top left corner of the desktop icon. Click the "X" and that desktop will be removed from your setup. We still don't get it why there's an "X" button for spaces, but no such button for open windows in Mission Control view, but now you know how to solve it with Mission Control Plus.
Any apps on the desktop you're shutting down will be moved to the desktop you're currently on. If you were on the desktop with all your messaging apps, launched into Mission Control and deleted the desktop with your email app in the example above, the email app would automatically move to the desktop with your messaging apps.
If the desktop you want to delete has full-screen apps, you will first have to minimize those apps in Mission Control before deleting the desktop.
Tips on how to declutter your workspace
Spaces are not for everyone, we have to admit it. If you've tried using multiple desktops — even with Mission Control Plus supporting your flow — and you don't like it, there are alternatives. For example, you can set up a great decluttering routine. Here are a few tips:
Run cleanups with CleanMyMac X once in a week. This will help save storage space and remove redundant files from your desktop.
Install Workspaces and organize your files, emails, and apps by menu bar "folders." This will let you launch all the resources that you need for completing a certain task with one click.
Spotless is a perfect tool for automatic desktop cleanups — you can just drop all your files and screenshots onto Spotless and it will organize them automatically by folders.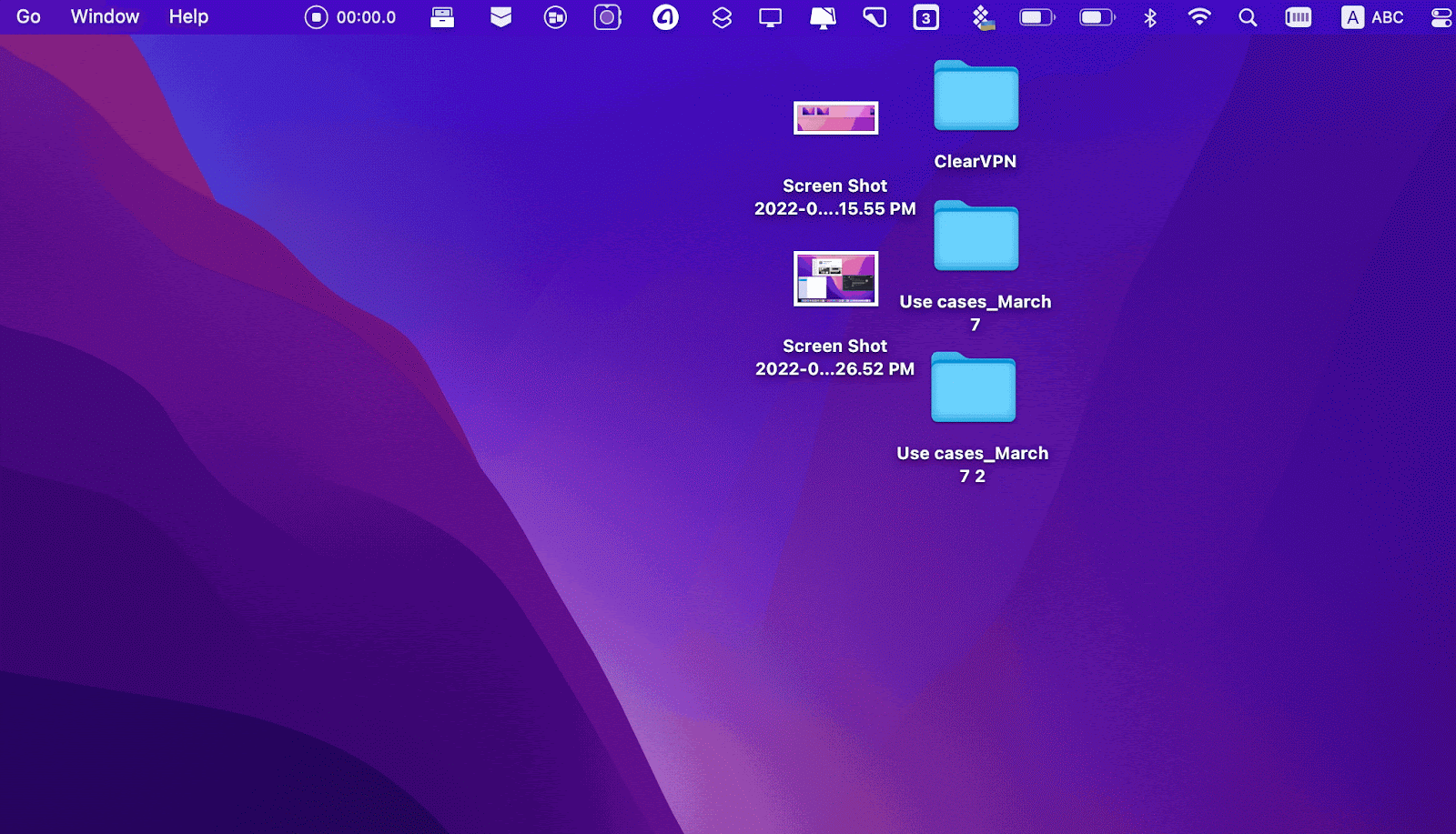 Conclusion
Multiple desktops on Mac can help you stay organized, and we're sure once you start using desktops on Mac you'll be in favor of swiping between desktops rather than hunting down apps you want to use. That's also why we think Mission Control Plus is one of the best apps you can have on your Mac. Power users will love the added controls the app provides!
But it's also okay to not be a fan of multiple desktops — you can use Workspaces, Spotless, CleanMyMac X, and other tools to declutter and optimize your workspace. These tools, along with Mission Control Plus, are available for 7 days free with Setapp, the world's biggest and best suite of productivity apps for Mac and iPhone.