Top 5 Benchmark Apps For Mac Performance Tests
We all know Macs are quite durable machines that tend to last for years. Naturally, their performance starts lagging at some point, but for a long time, it's barely noticeable. So how do we know it's time for a change and our Macs are a bit behind the current industry standard? Benchmark apps!
Benchmark apps and utilities that help you measure your Mac's performance against a variety of user benchmarks set by top computers in production at the moment. Knowing how your Mac fares against its alternatives helps you better evaluate its capabilities when it comes to projecting what you'll need it for in the future. In addition, you can also perform a benchmark test on a Mac you're planning to buy to see if the purchase makes sense for you.
What Are The Most Common Mac Benchmarks?
While userbenchmarks are great, what exactly do they measure? In general, there are six common metrics: a CPU speed test, a RAM speed test, a GPU benchmark test, a network connection test, and a disk speed test Macs use to check how long it takes for information to be written on and read from your hard drives.
Here are the five best apps to help you perform Mac speed tests quickly and effectively.
1. Conduct CPU and GPU tests with Geekbench Mac
CPU and GPU benchmarks are probably what everyone immediately assumes when someone mentions Mac speed tests. CPU stands for central processing unit and is basically represented by a chip in your Mac, such as Intel Core i7, for example. GPU then is a graphics processing unit — your video card, responsible for how quickly and accurately your Mac is able to display everything. If there's one app that excels at both benchmark CPU and GPU tests, it's Geekbench.
Geekbench is a cross-platform (Mac, Linux, Windows) GPU and CPU test utility that measures the performance of your Mac against a widely publicized and well-known standard. For Geekbench 5, the latest version, the passmark CPU was 1,000, as performed by an Intel Core i3-8100 chip.
Starting with Geekbench couldn't be easier:
Download the app from the App Store (costs around $9.99)

Launch and check the Device tab to make sure your Mac's info is correct

For benchmark CPU tests, go to the CPU tab and click Run CPU Benchmark

For benchmark GPU tests, select Run Compute Benchmark in the Compute tab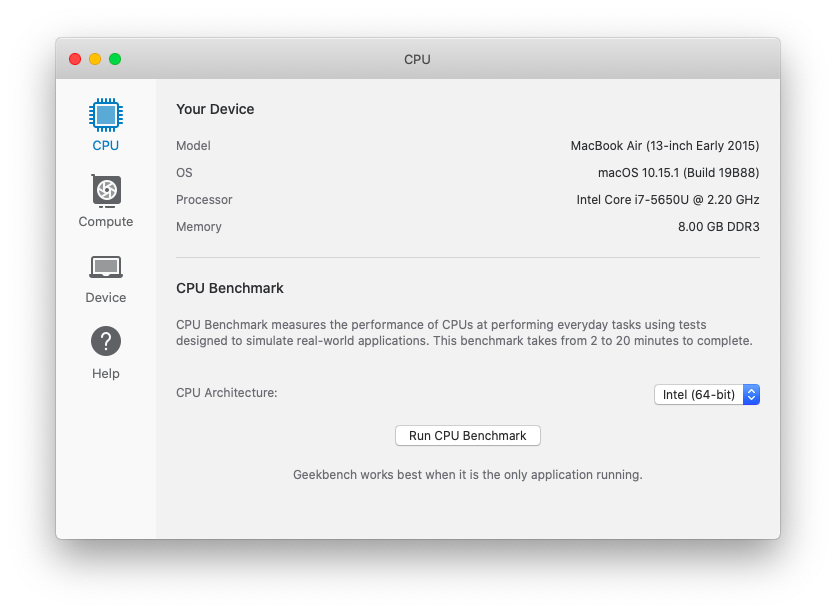 Now you can always be aware of how your Mac performance and potentially think about various tactics to improve it (closing Safari tabs, using fewer apps, etc.) or replacing it altogether.
2. Check you hard drives with Blackmagic
The second most important parameter after CPU and GPU benchmarks is the hard drive speed test Macs can perform with the help of Blackmagic disk speed test Mac utility.
Blackmagic is as straightforward of an app as possible, with only one large interface button — Speed Test Start. Simply press the button to calculate your userbenchmark score based on the performance of your hard drives. Done!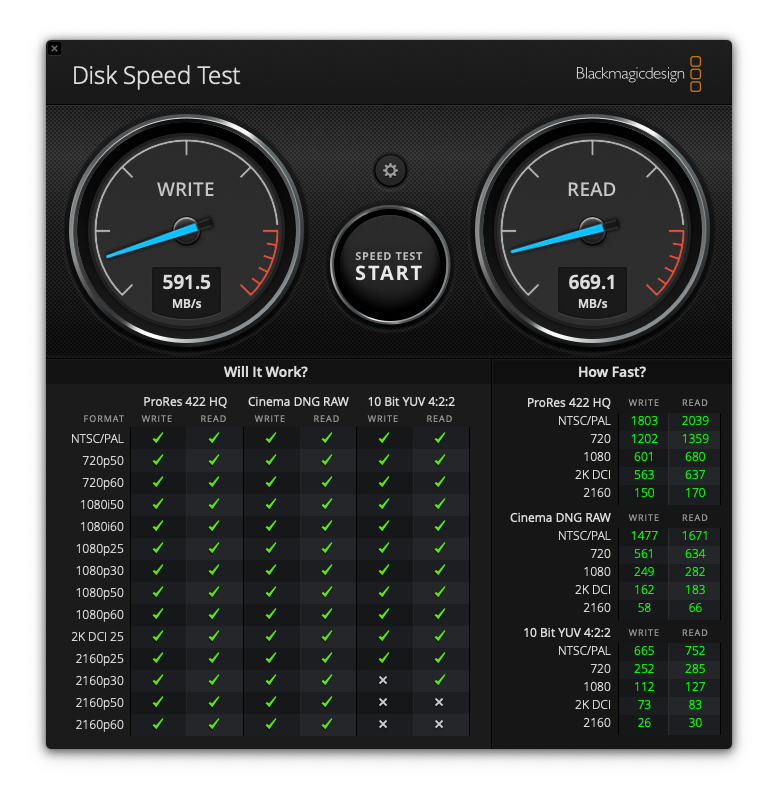 Make sure to undergo the tests regularly (once a quarter or so) to consider swapping your storage disks when they get too slow.
3. Manage your network with WiFi Explorer
Another crucial Mac performance test, especially since nearly all our work today takes place online, is measuring the efficacy of your network. After all, maybe it's not your MacBook that should be replaced but your WiFi provider?
WiFi Explorer is exactly the app you need to see how good your internet connection really is. It clearly maps out the strength of your signal, displays signal quality, and calculates the level of interference.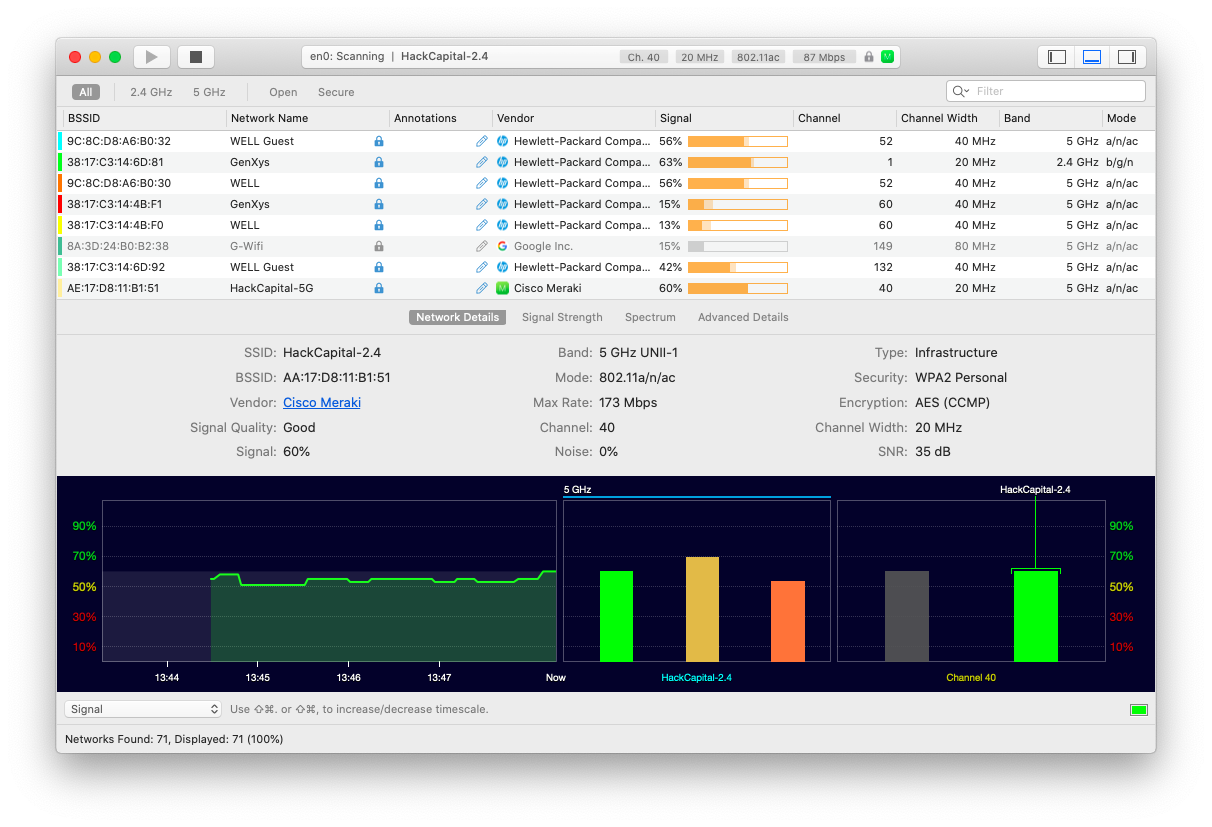 Anytime you think your WiFi has been underperforming, just turn on WiFi Explorer and it'll start to do its job automatically (press the play icon if not). Then you have the precise information to tell your ISP and get them to fix it or agree on a discount (hopefully), or both.
4. See all metrics in real time with iStat Menus
By now, you might wonder whether there is an easier solution than having Geekbench, Blackmagic, and WiFi Explorer constantly turned on? While WiFi Explorer is quite important and can only be used when you notice a connection problem, Geekbench and Blackmagic could certainly be replaced by a single powerful system monitor called iStat Menus.
iStat Menus is one of the most comprehensive and unobtrusive Mac monitors on the market today. This utility lives in your menu bar and gives you a complete overview of what's going on with your processor, graphics card, hard drives, memory, and various sensors.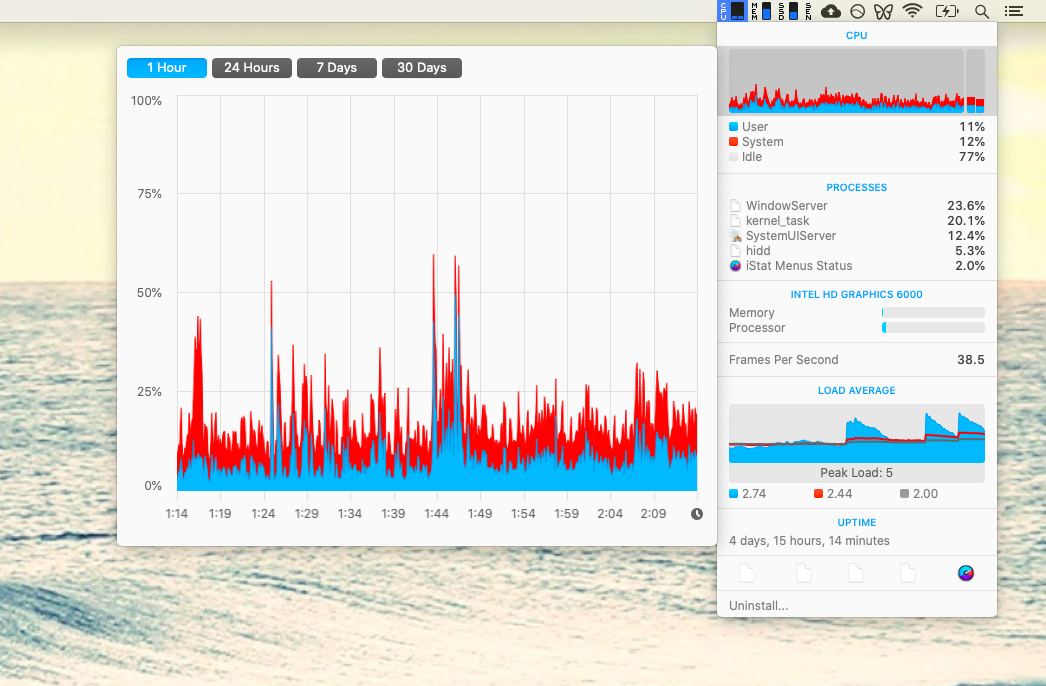 Unlike many other GPU and CPU benchmark tools, iStat Menus provides you with a real-time picture of what's going on, so you can react to any issues as soon as they come up or see the dip in performance over time more clearly. All the best Mac performance tests in one!
5. Improve benchmark tests with CleanMyMac X
When iStat Menus is giving you clear indicators of user benchmarks not being reached, what do you do? Of course you can run to the Apple Store and buy a new Mac, but a more sensible (and inexpensive!) solution would be to try to fix the problem with a good optimization tool.
CleanMyMac X is often regarded as the best optimization app on the market, able to perform a variety of tests to free up RAM, speed up your hard drives, clear useless cache files, and smoothen your Mac's performance overall.
Let's walk through a few CleanMyMac X tests for a real-life example of its possibilities. Start with a general system cleanup to act on your CPU speed test:
Navigate to the System Junk tab and hit Scan

Click Review Details

Check all log files, login items, downloads, and more, and press Clean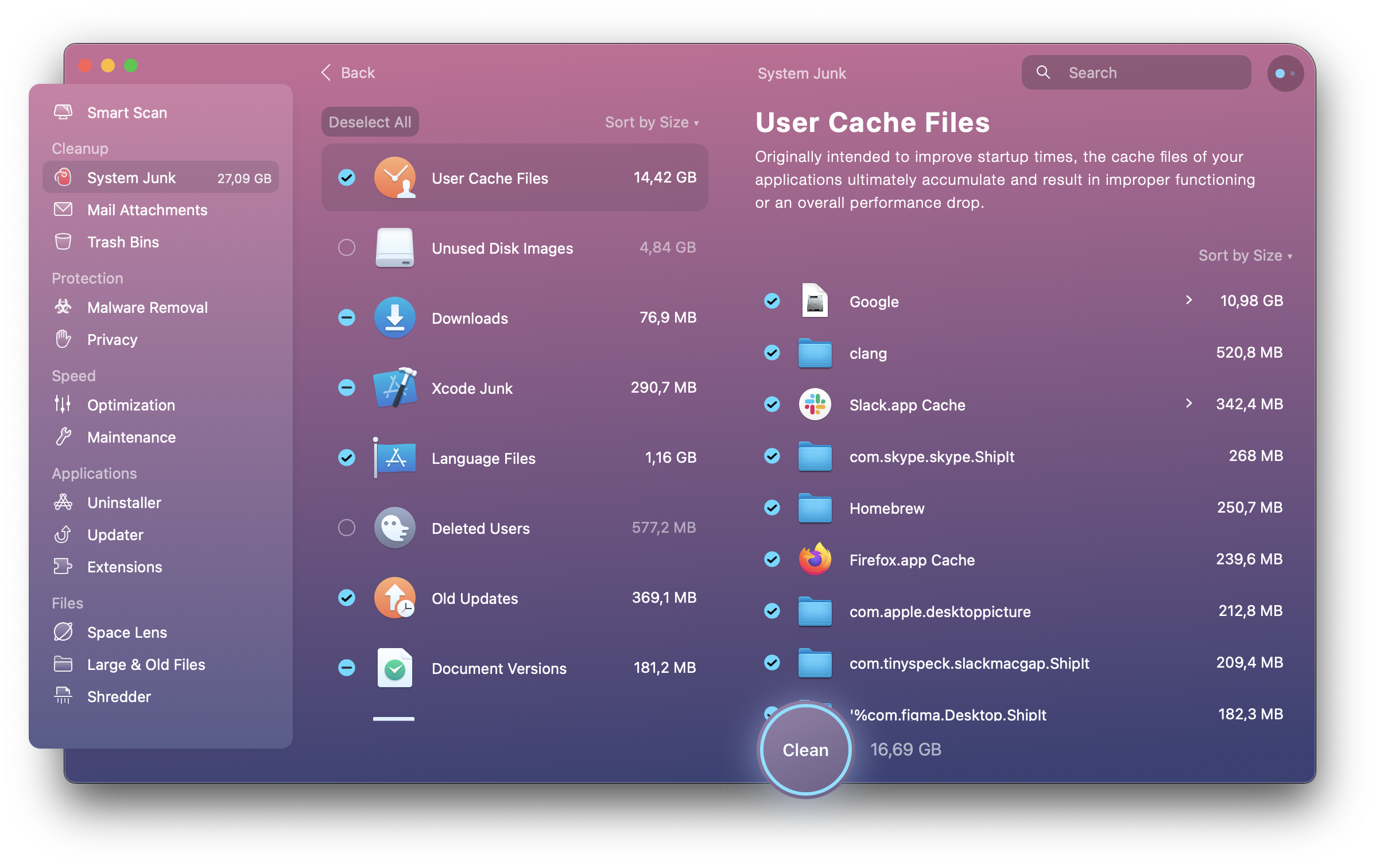 Go to the Maintenance tab, under Speed

Check the box next to Free Up RAM

Hit Run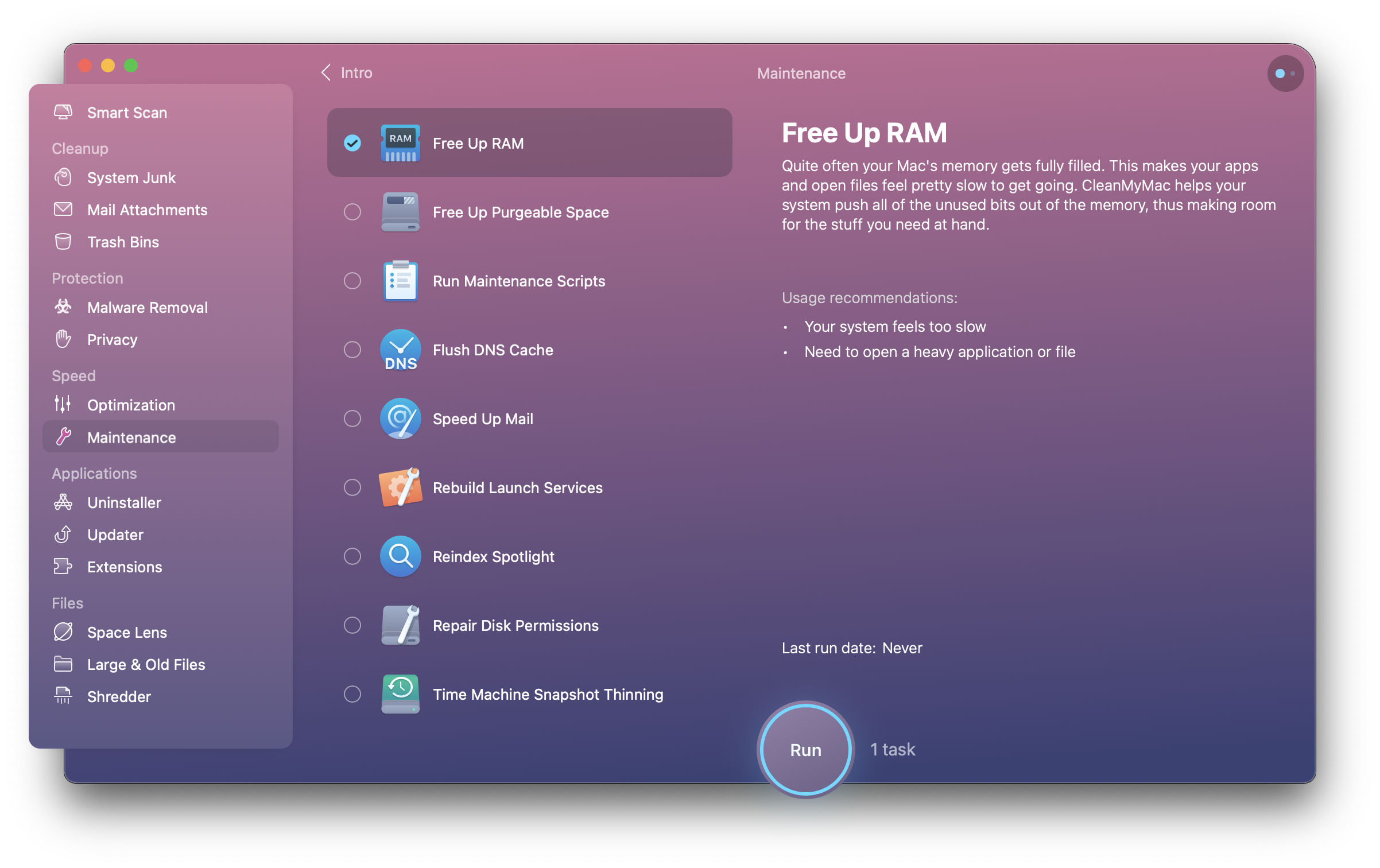 Make sure you're in the same Maintenance tab

Select Free Up Purgeable Space and Repair Disk Permissions

Click Run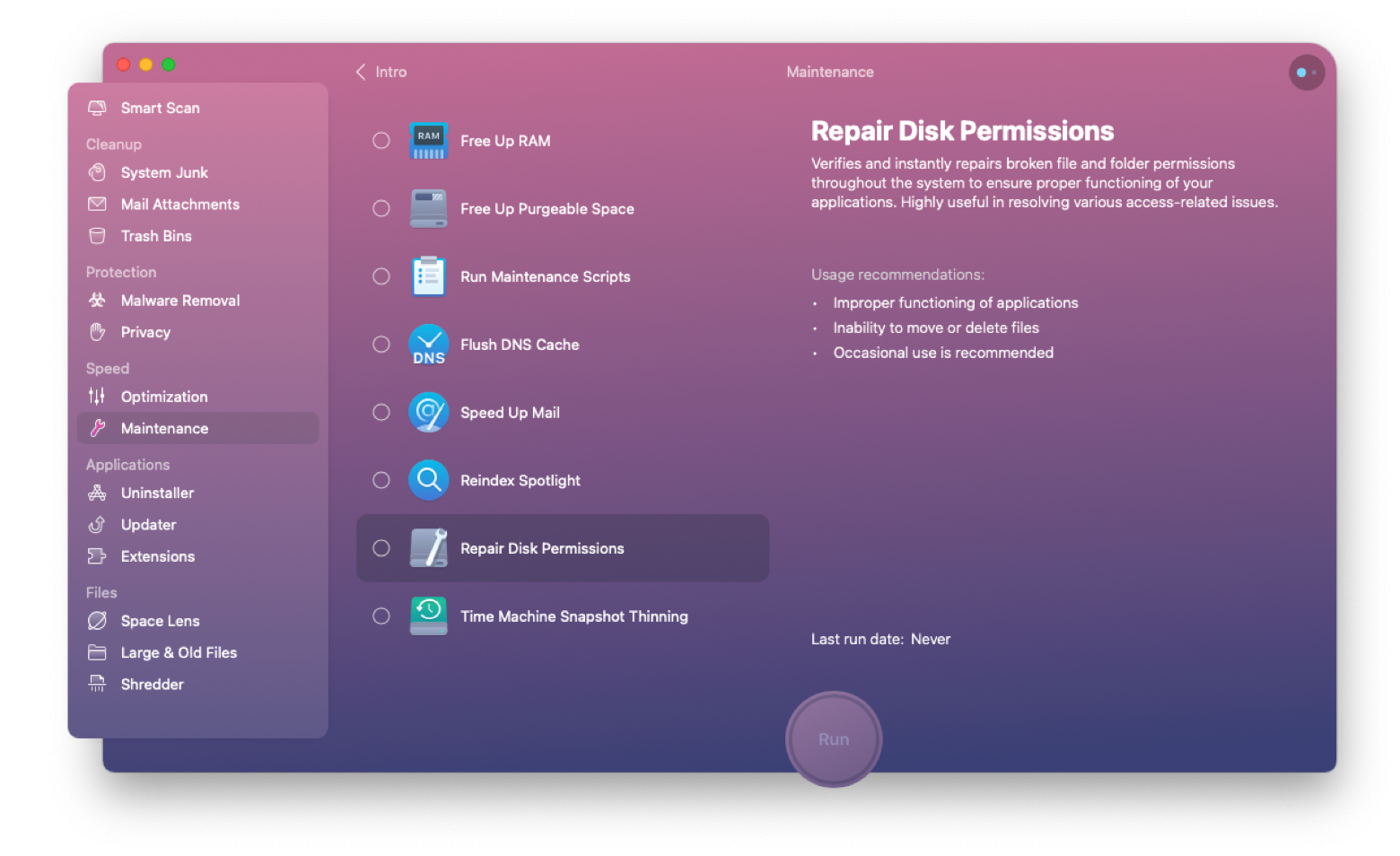 Best of all, WiFi Explorer, iStat Menus, and CleanMyMac X are available to you free during a seven-day trial of Setapp, a platform with more than 200 top-notch Mac apps that can help you with almost any task imaginable. And now that your Mac is super quick, why not explore some new ideas?