How to do a Microsoft Office update on Mac
Microsoft Office is a set of essential tools to create, manage, and edit documents. The pack has been around for decades and is a staple for document and project management and presentation.
To get the best out of your experience with MS Office, keep your MS Office up to date. This will ensure your apps work smoothly and all the latest features are at your disposal. The newest Office suite version will also have latest security fixes.
Microsoft Office update is set to auto by default, which means you should get all updates automatically. You can, however, turn off this feature and choose to update manually whenever you want.
How to update Microsoft Office for Mac?
If you'd like to find out how to check if your MS Office pack is up to date, how to see if you are running the latest version, and set it to update automatically, read on.
Check the MS Office version on Mac
To check the version of your Microsoft 365, open one of the apps in the pack, e.g. Microsoft Word, Microsoft Excel, Microsoft PowerPoint, and click on its name on the left side of the Menu bar (Excel for Microsoft Excel, Word for Microsoft Word, etc.).
In the dropdown menu, choose About Microsoft Excel: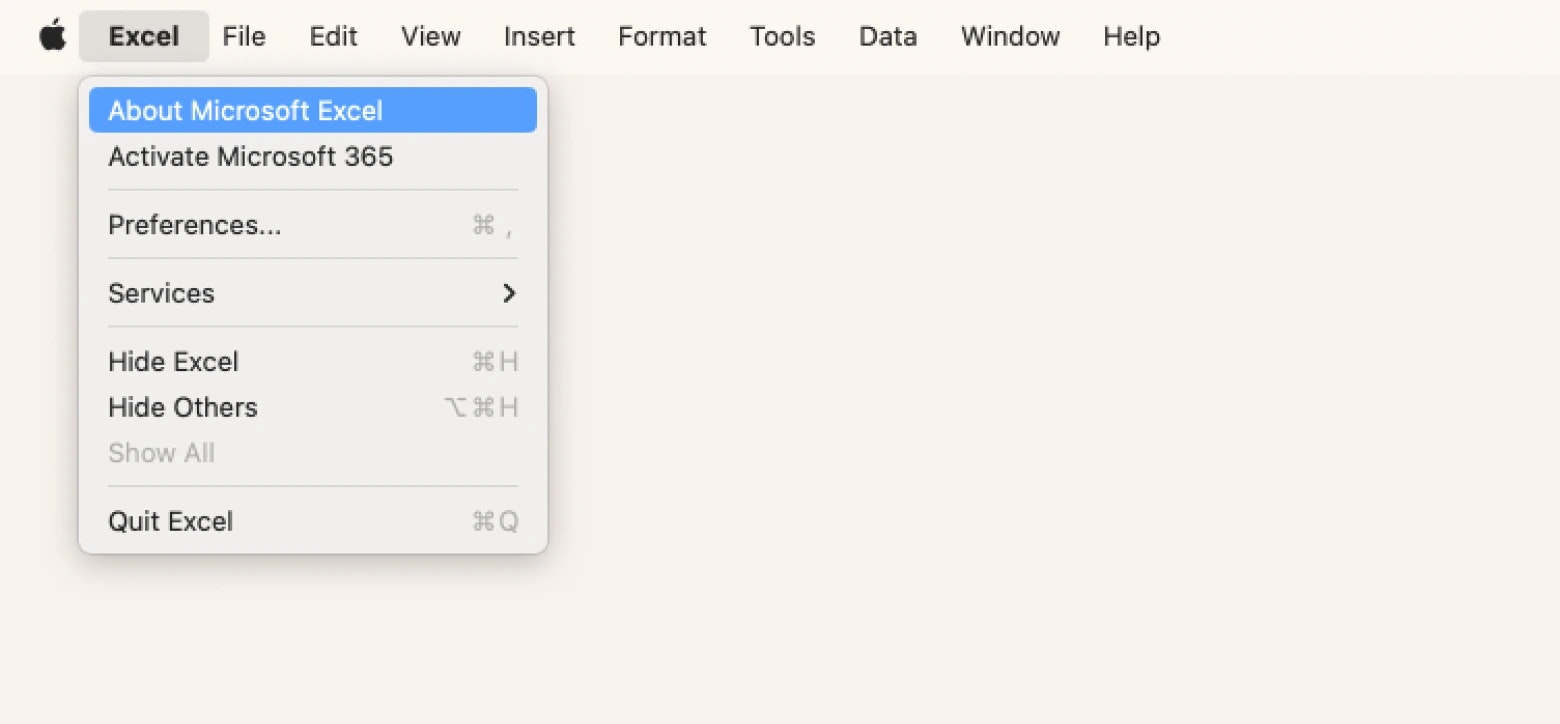 After you click on this option, you'll see the window with all the information about your app, including the version: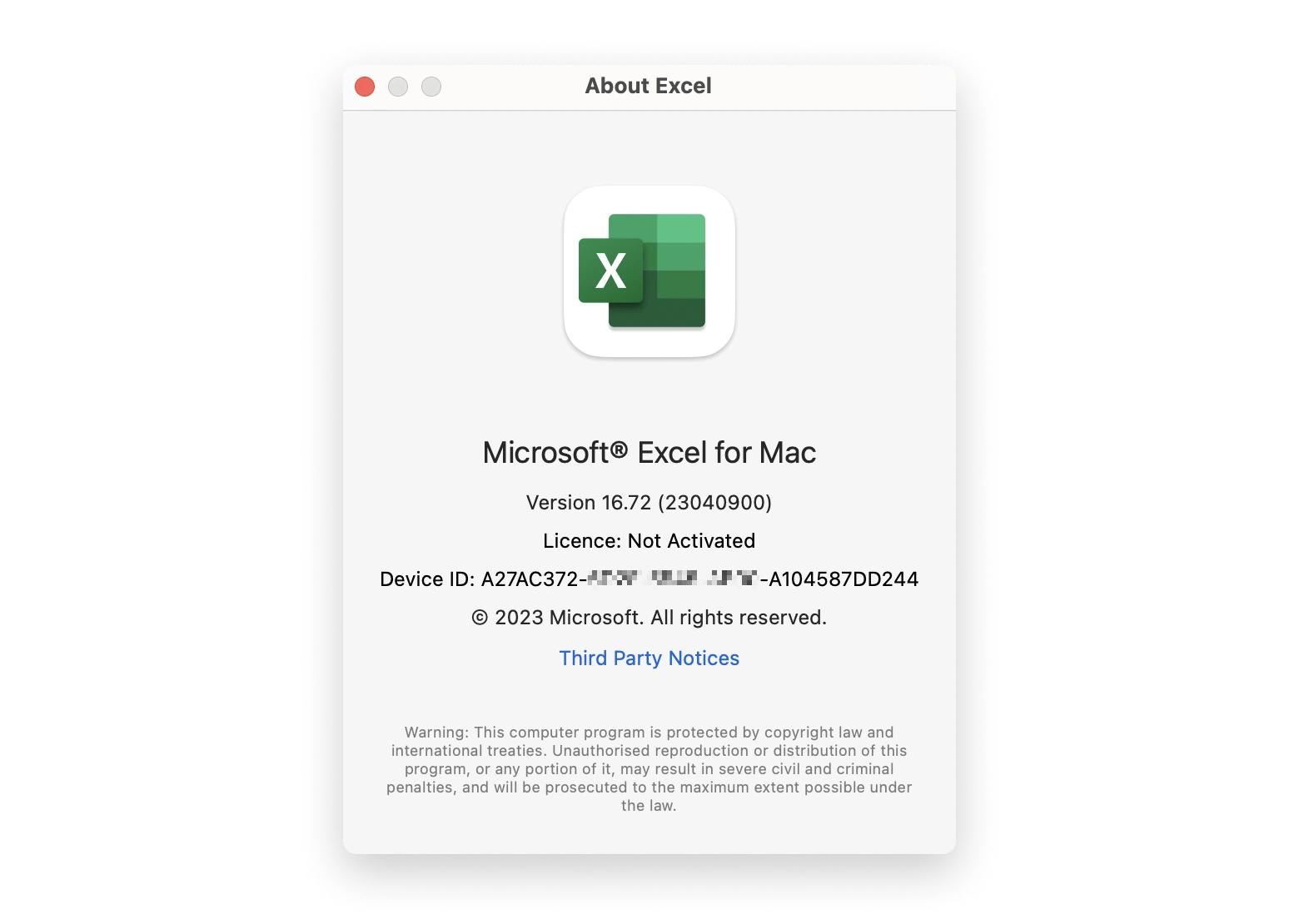 Enable auto update in MS Office
Next, check if your Microsoft autoupdate is on. To do that, open any Microsoft app, like Word or Excel, find Help in the top menu and click Check for Updates in the drop down list.
Microsoft AutoUpdate window will pop up and show if any updates are available. Click Update to install available updates.
To enable autoupdate, check "Automatically keep Microsoft Apps up to date":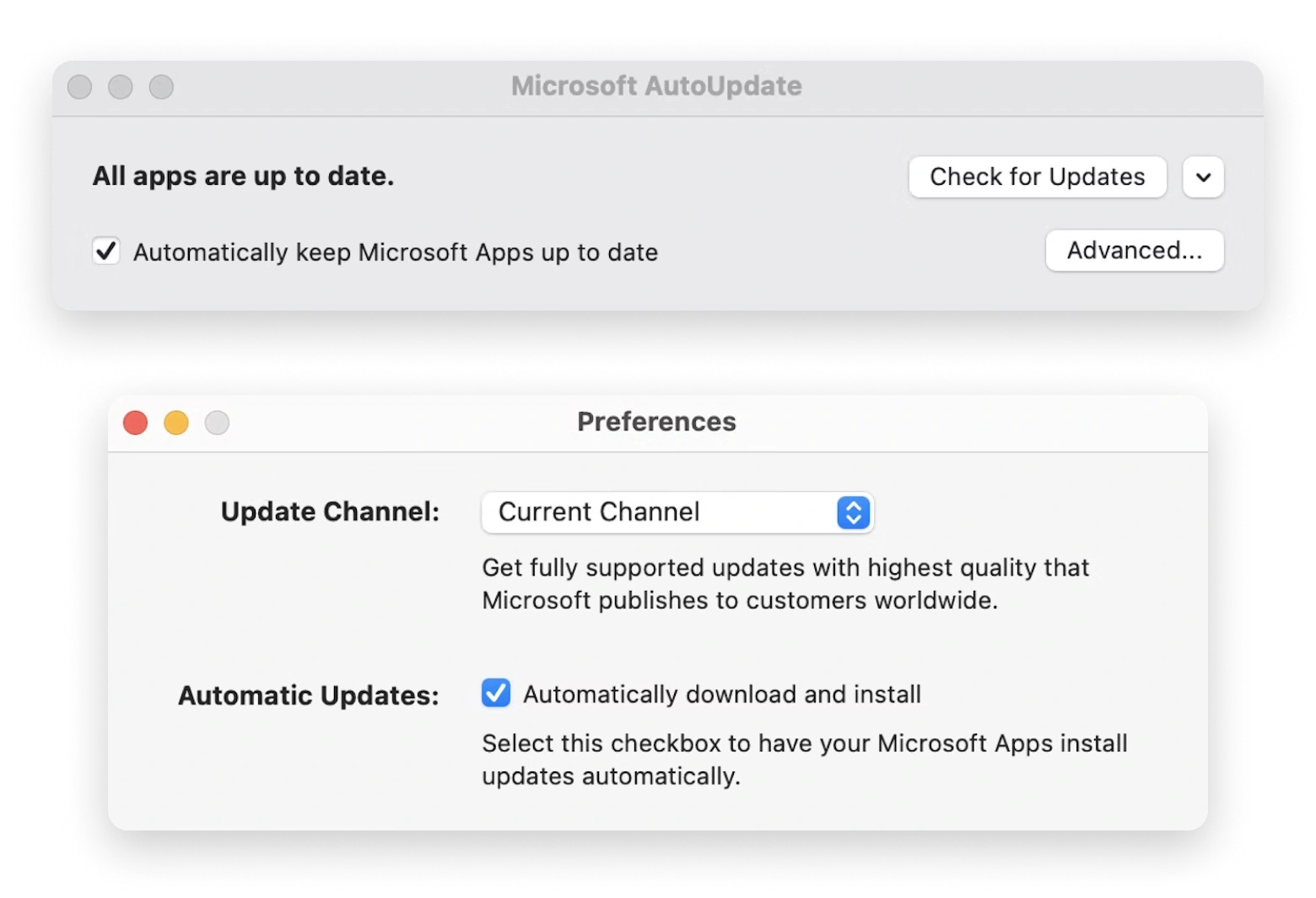 Use CleanMyMac X Updater to stay up to date
Updating all your Mac apps helps you have access to all the latest features, have the most optimized versions of your tools, as well as latest security patches. To stay on top of all your updates, you can use CleanMyMac X Updater.
CleanMyMac X Updater is a part of CleanMyMac X toolkit, so you can clean your Mac from malware, junk, old files and check for latest versions of the apps on your Mac all with the same app: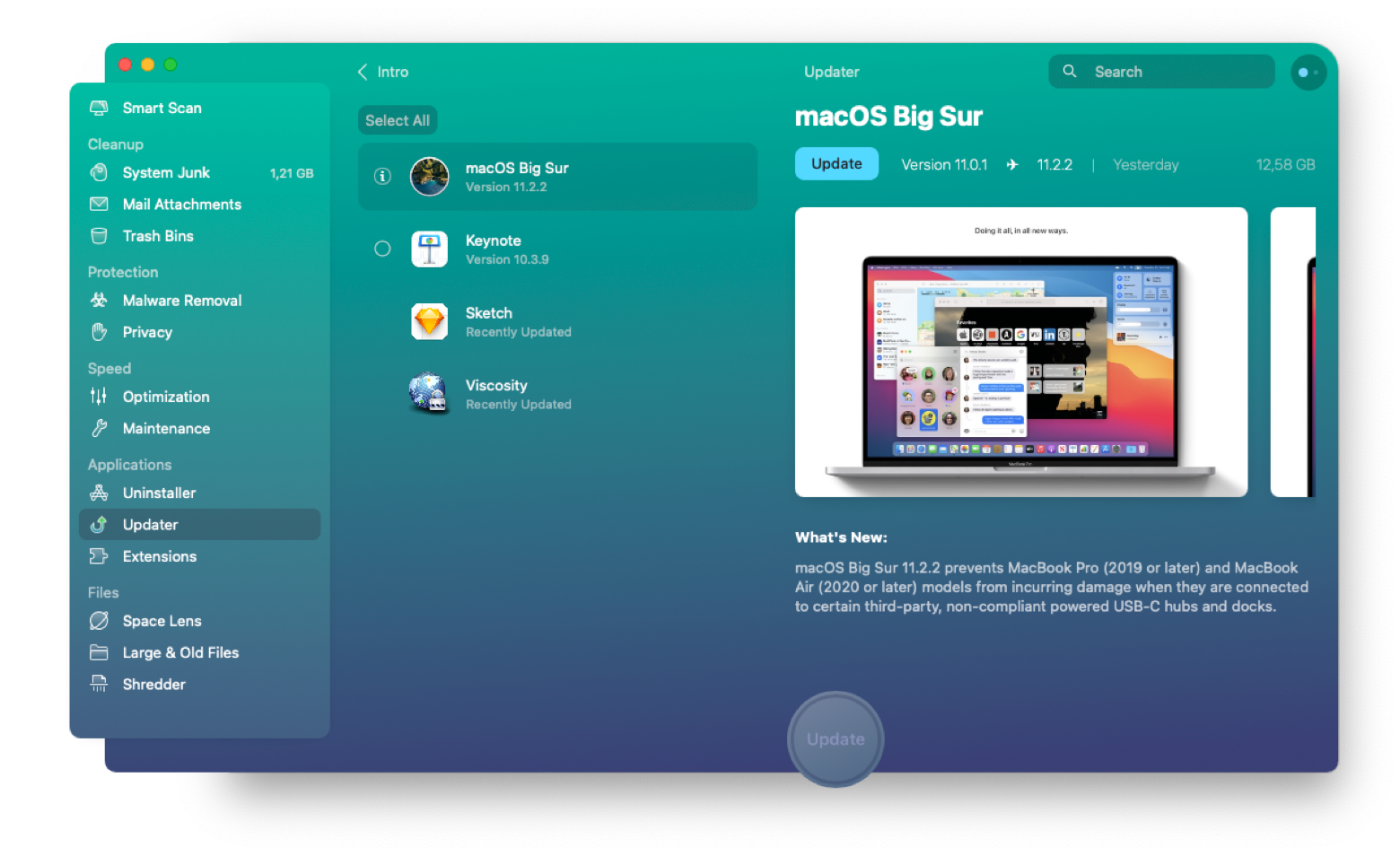 Update MS Office tools in App Store
Whether you are using just one or two apps out of the full MS Office pack or the whole Microsoft 365 bundle, you can keep it updated through the App Store.
To update your Microsoft Office pack from the App Store, click on the App Store icon on your Dock or go to Finder > Applications and click App Store.
Go to Updates in your App Store menu to see if there are any updates for your apps: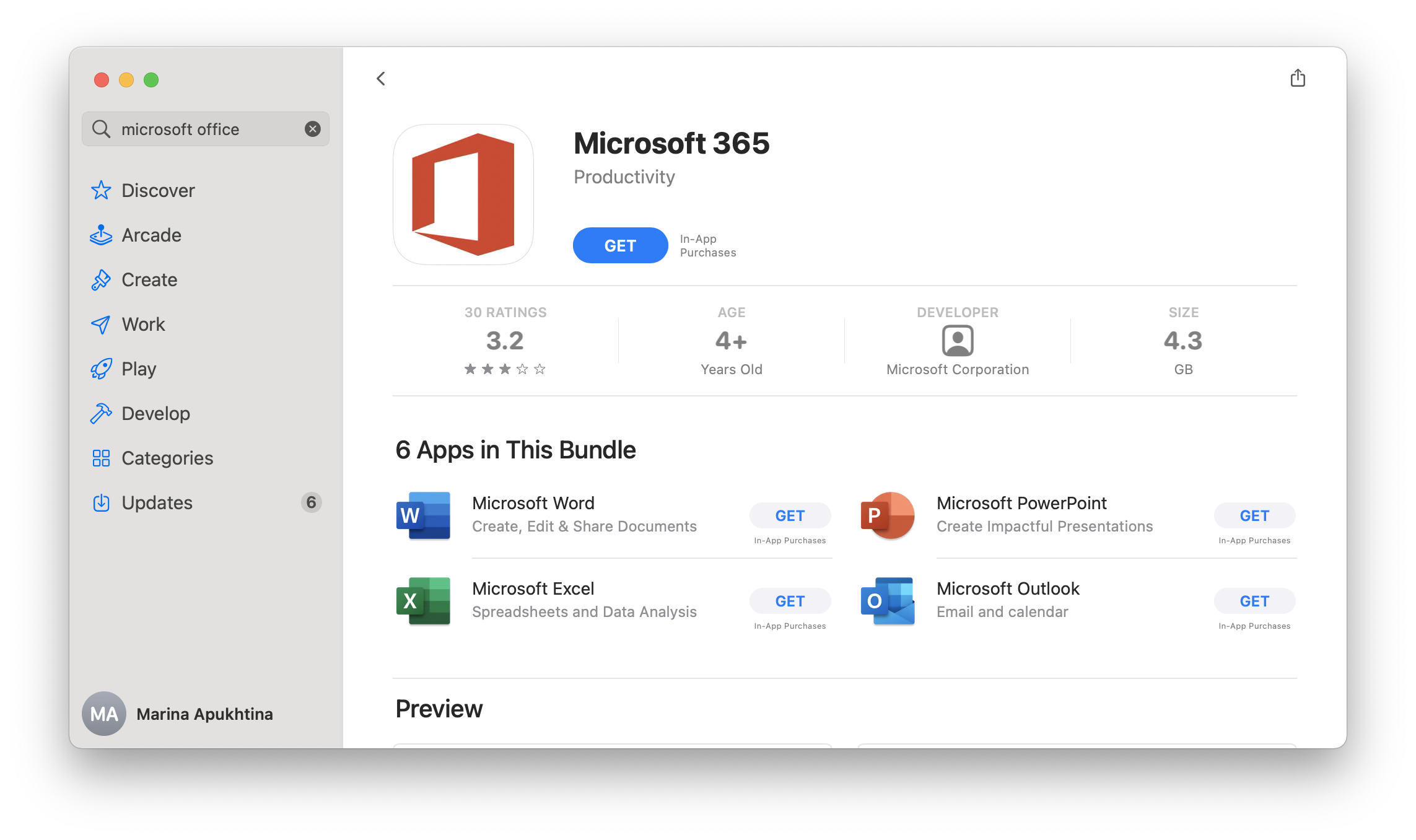 If there are any updates available, you'll see them there.
By default, App Store checks for updates to the apps you have installed on your Mac and notifies you when updates are available for your apps. To check if your autoupdate is on, go to App Store > Settings: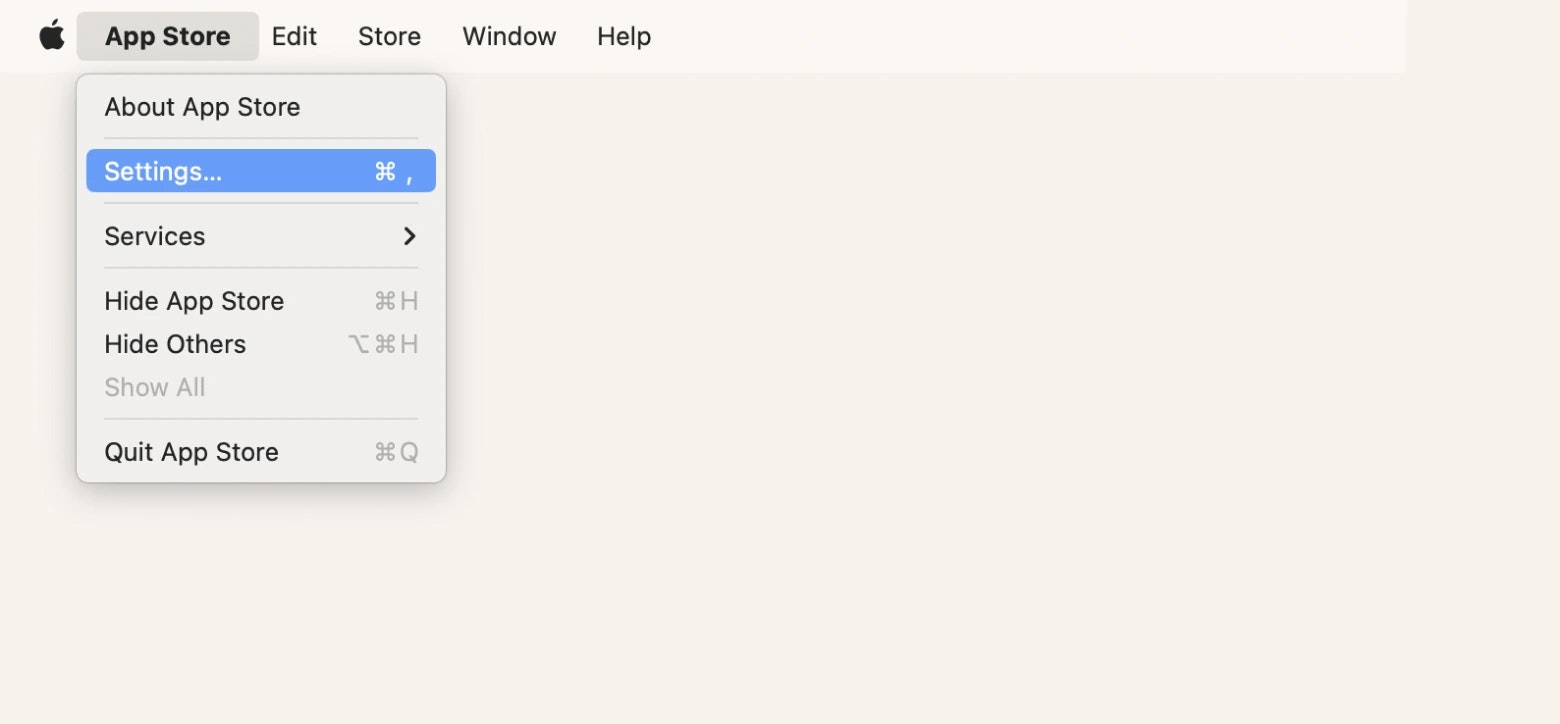 And make sure the option Automatic Updates is checked in your App Store Settings options: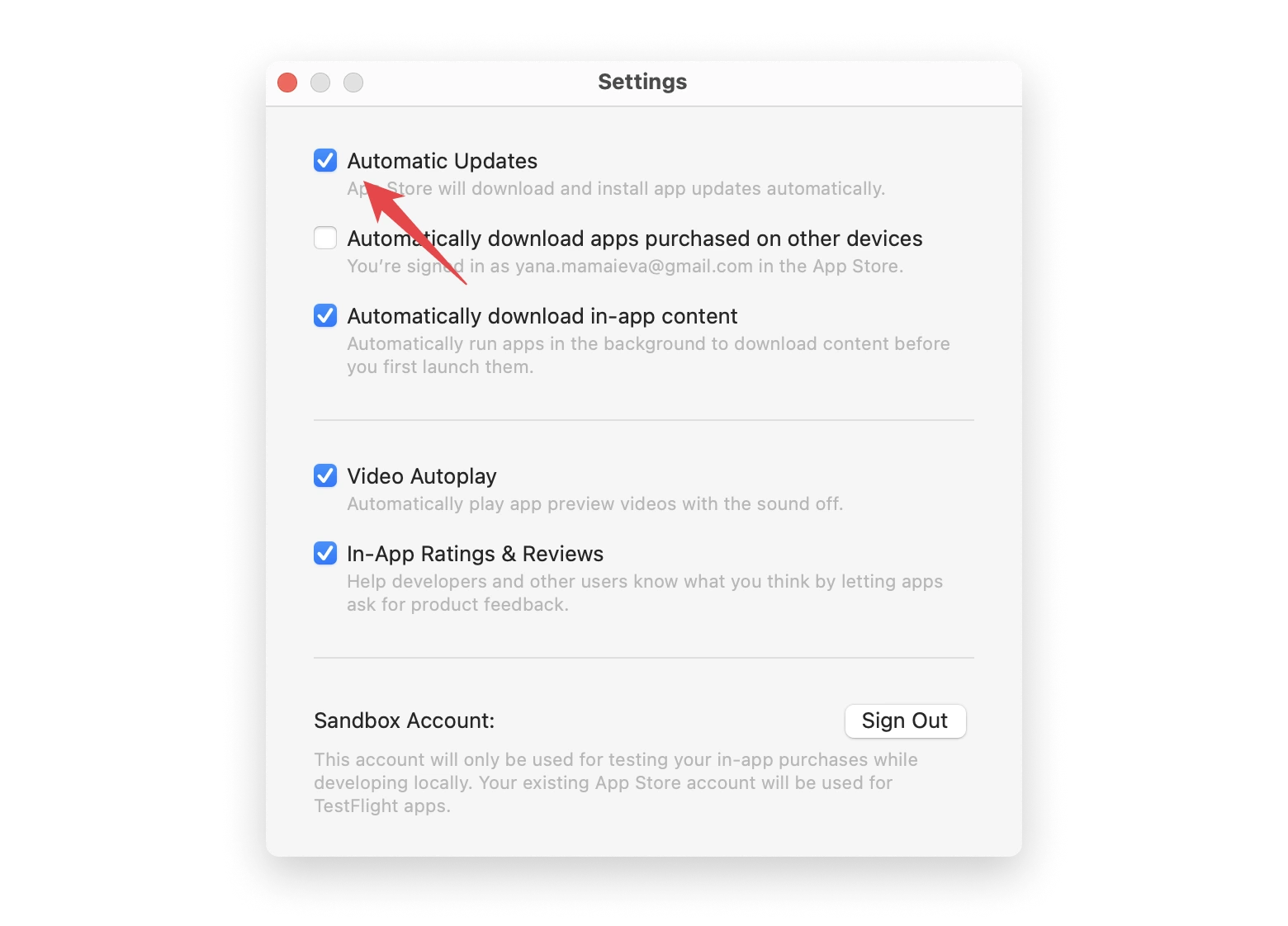 MS Office alternatives
Now that you know how to update your Microsoft Office on Mac, let's consider some alternatives you can use. Whether you are bored of the same old tools you've been using since you were a kid or need more functionality, there are plenty of new and exciting apps you can try to shake up your daily routine and bring in some fresh context to your work and personal projects.
With your Setapp subscription, you can try out Ulysses as an alternative text editor to Microsoft Word, NotePlan as a note-taker you can use instead of OneNote, and Craft as a text editor, co-editing and note-taking tool with a smart AI Assistant.
Ulysses is a text editing app that is not only beautifully designed in a minimalistic, yet arresting way, but a handy tool to manage your text. With Ulysses, you can do an advanced check of your spelling, grammar, style, semantics. You get built-in text stats, including average words per sentence, number of lines, sentences, and more. You also can view reading time for your text for various reading speeds.
Ulysses allows you to publish your text as PDF, ePUB, DOCX, HTML, and more.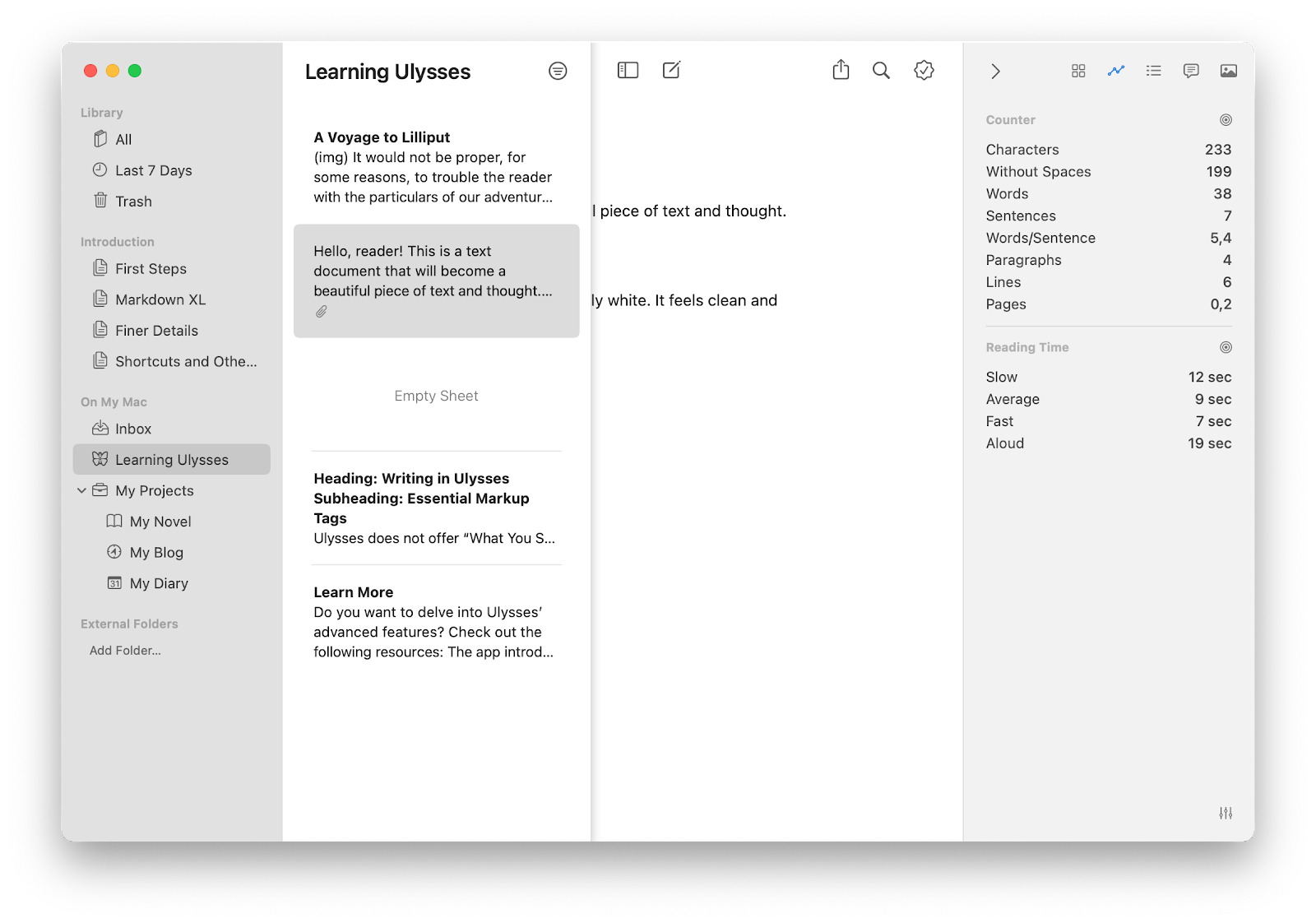 We can't say Craft is just like Microsoft Word. It's better! This is an AI-powered document editor and writer with multiple amazing features, such as flexible note-taking, collaborative editing, tags and filters, advanced formatting, and more.
If you're searching for a streamlined and organized platform to create visually appealing documents and collaborate on them, you'll definitely like Craft.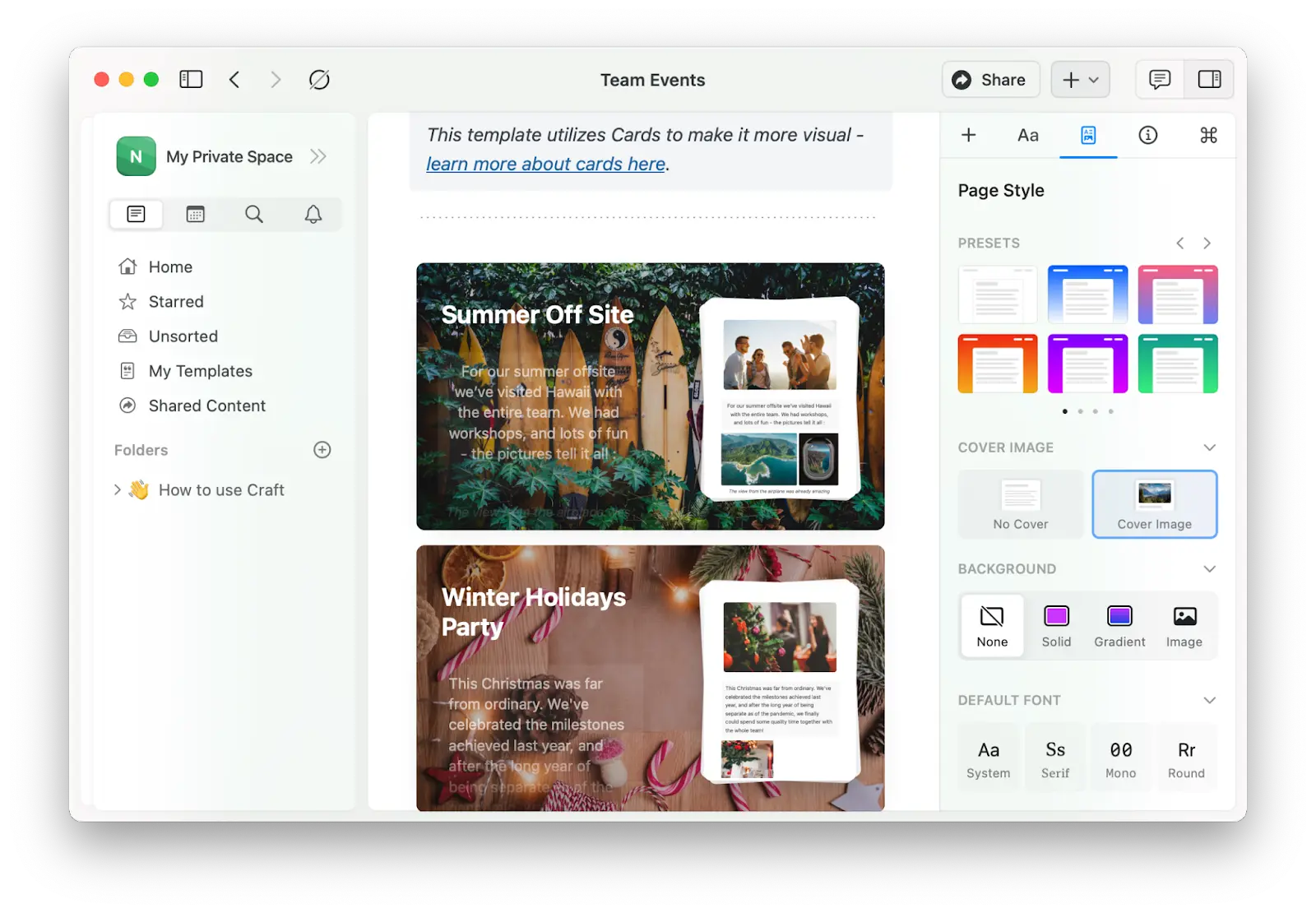 NotePlan is a simple note-taking app that helps you keep track of tasks and ideas, while also being able to sync up with loved ones, friends, and colleagues by sharing links to your individual notes.

The app allows for easy scheduling of your upcoming tasks. You can create reminders, events, and tasks to keep yourself on track.
Add images and simple editing to make your lists and tasks more manageable.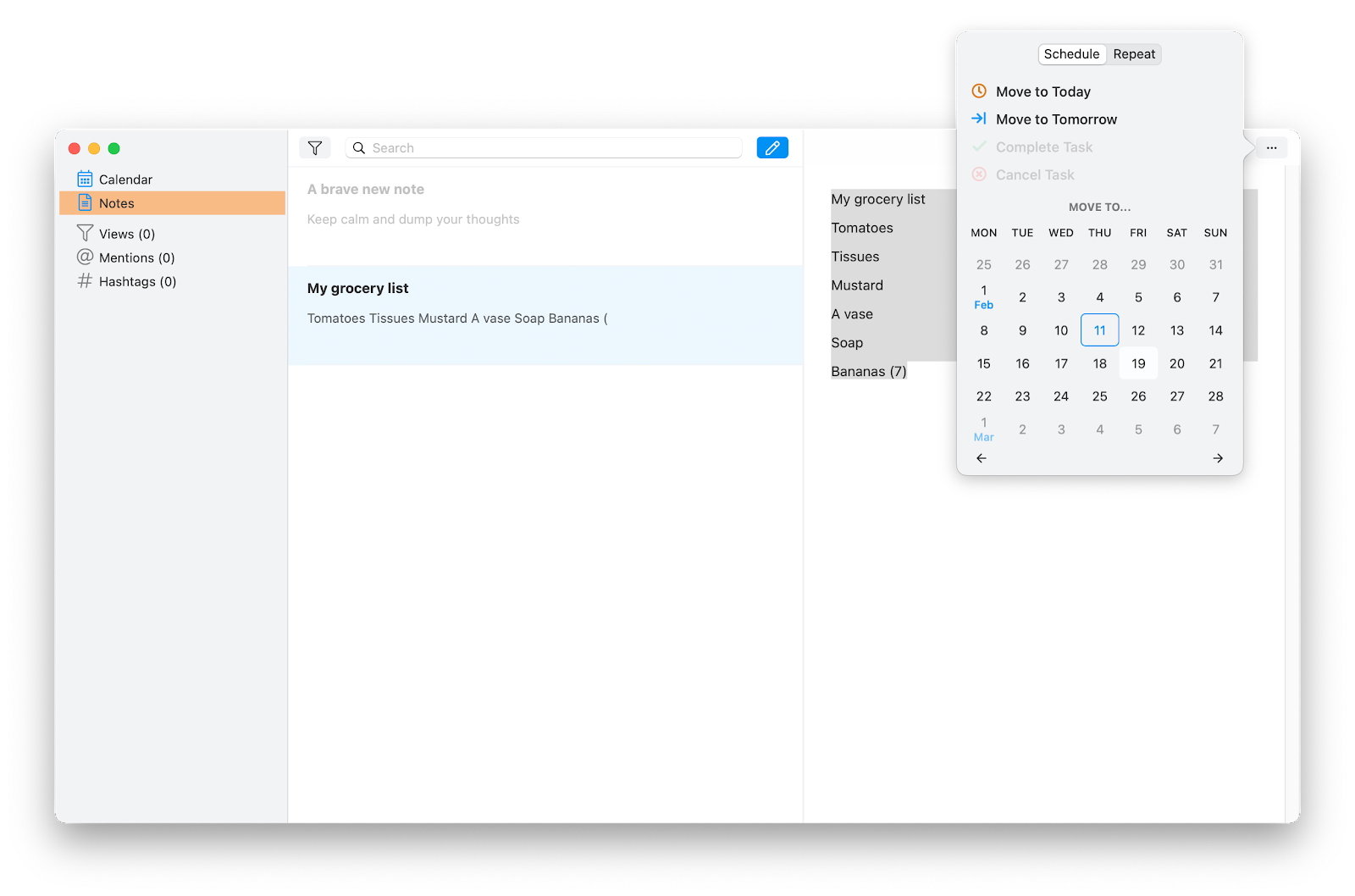 Keeping your Microsoft Office pack updated and ready for your daily tasks is an important aspect of your work, so turning on auto-updates for all your Microsoft apps is probably the optimal solution for most users. Luckily, your automatic Microsoft Word update, as well as updates for other Microsoft pack apps, is turned on by default.
If you want to do your updates manually, uncheck the "Automatically keep Microsoft Apps up to date" field in Microsoft AutoUpdate as shown at the beginning of this article. Open Microsoft AutoUpdate whenever you are ready to update and click Update. You can also update your Microsoft apps from the App Store, so refer to the instructions outlined above.
We recommend you keep the default auto update settings for all your apps, including Microsoft Office, as that allows you to get automatic updates for your apps and work with the latest and most optimized features and security updates.
If you're feeling adventurous, try out the Microsoft pack app alternatives we've mentioned – Ulysses for writing and formatting, Craft for co-editing, and NotePlan for keeping track of your daily tasks, projects, and overall schedule. These apps are available for seven days free on Setapp, a platform with dozens of powerful apps for your Mac, iPhone, and iPad. Give it a try, and you'll be surprised how many awesome apps Setapp has to offer. These are CleanMyMac X to speed up your Mac, Gemini to find and remove duplicates, PDF Search to find anything in a PDF, Bartender to personalize your menu bar, and many more.