How to use Picture-in-Picture on Mac
Picture-in-picture mode on Mac is a feature many don't use often, but really should. It's great for multitasking, especially if you're trying to watch a video about a task you're trying to do on your Mac. YouTube is filled with tutorials on complex things like Excel that you can follow in real time using picture-in-picture YouTube.
You can use Picture in Picture just about everywhere. Safari Picture in Picture is great for YouTube videos, and Picture in Picture iMovie setting lets you play local videos. But that's not it! This article explains some top-notch tricks on how to browse streaming services in a floating window, use PiP to enhance the quality of your video conferencing, and more. The picture in picture MacBook feature is a game-changer for many, and we're sure you'll love it.
What is Picture-in-Picture Mode?
Picture in Picture (PiP) is a feature that shrinks any video playing to a thumbnail size at the bottom corner of your Mac screen where it hovers over other apps, always on top. The video can be resized, placed elsewhere on the screen, and it will stay put if you're using multiple desktops on your Mac.
Multitask effortlessly with Picture-in-Picture mode
PiP will come in handy for the following tasks:
Watching YouTube and working at the same time. Sometimes you can find full movies on YouTube, or maybe you need to watch a YouTube video to complete some task on Mac. (Remember when we said YouTube has tons of Excel how-to videos?) Picture-in-Picture mode lets you watch the video while continuing to work on whatever else you've got going on.
Viewing local videos and movies in a floating window. If you've got a movie saved to your Mac, there's no better way to watch it while doing other things than PiP. Simply start the movie and select the picture in picture setting in the iMovie app to have it at the lower right corner of your screen hovering while you work.
Streaming on the side. Did you know there's Picture in Picture Hulu and Picture in Picture Mac Netflix settings? If you didn't, it might be a game-changer for you! Stream all your favorite shows on Hulu and Netflix while working, or maybe just stream a bunch of videos at once. Why not, right?
Working during online meetings. Have you ever joined a browser-based video call and wanted to multitask without minimizing your browser window? Using Picture- in-Picture mode may help! Hover over your video using PiP and continue working while everyone else chatters away.
Top-notch tools for Picture in Picture on Mac
Let's be honest – most of the time you're using Picture in Picture is for streaming video of some sort that you probably shouldn't be trying to watch while working. It's fine, everyone sneaks in an episode or two of their favorite show while getting work done! And if that sounds like you, you'll definitely want to check out Lift, a Picture-in-Picture browser available via Setapp.
Lift is a floating browser that lets you watch Netflix, Hulu, Twitch, YouTube, and other streaming services while completing other tasks on Mac. We'd even say it's a full-scale mini browser that not only lets you enter PiP — you can browse Netflix home page or Twitch right in this small window, so there's no need to open the streaming service on the web before entering PiP.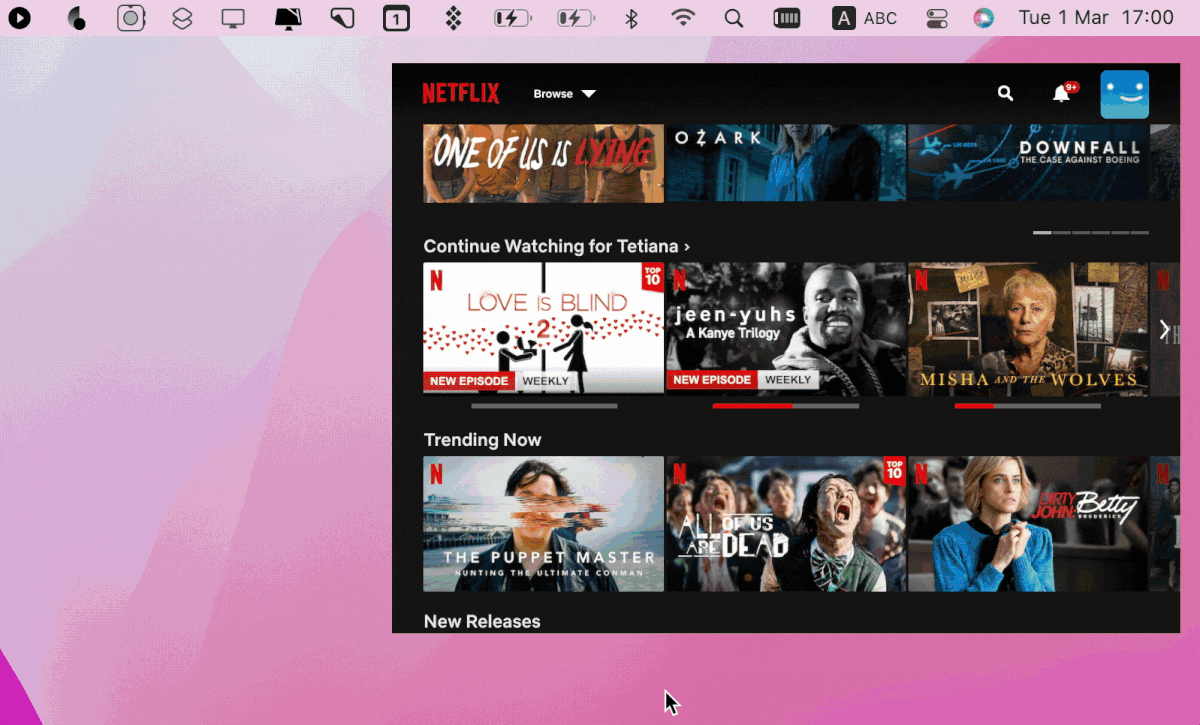 Lift's cute feature: the floating window can be transluscent! And you can regulate transparency level flexibly, depending on whether it feels distracting or not.
Elmedia Player is great for applying Picture-in-Picture mode to your local media on Mac. You can toggle between PiP and full-screen as needed, and Elmedia Player even supports native video playback in several formats. Generally, it's a strong alternative to most popular media players for macOS.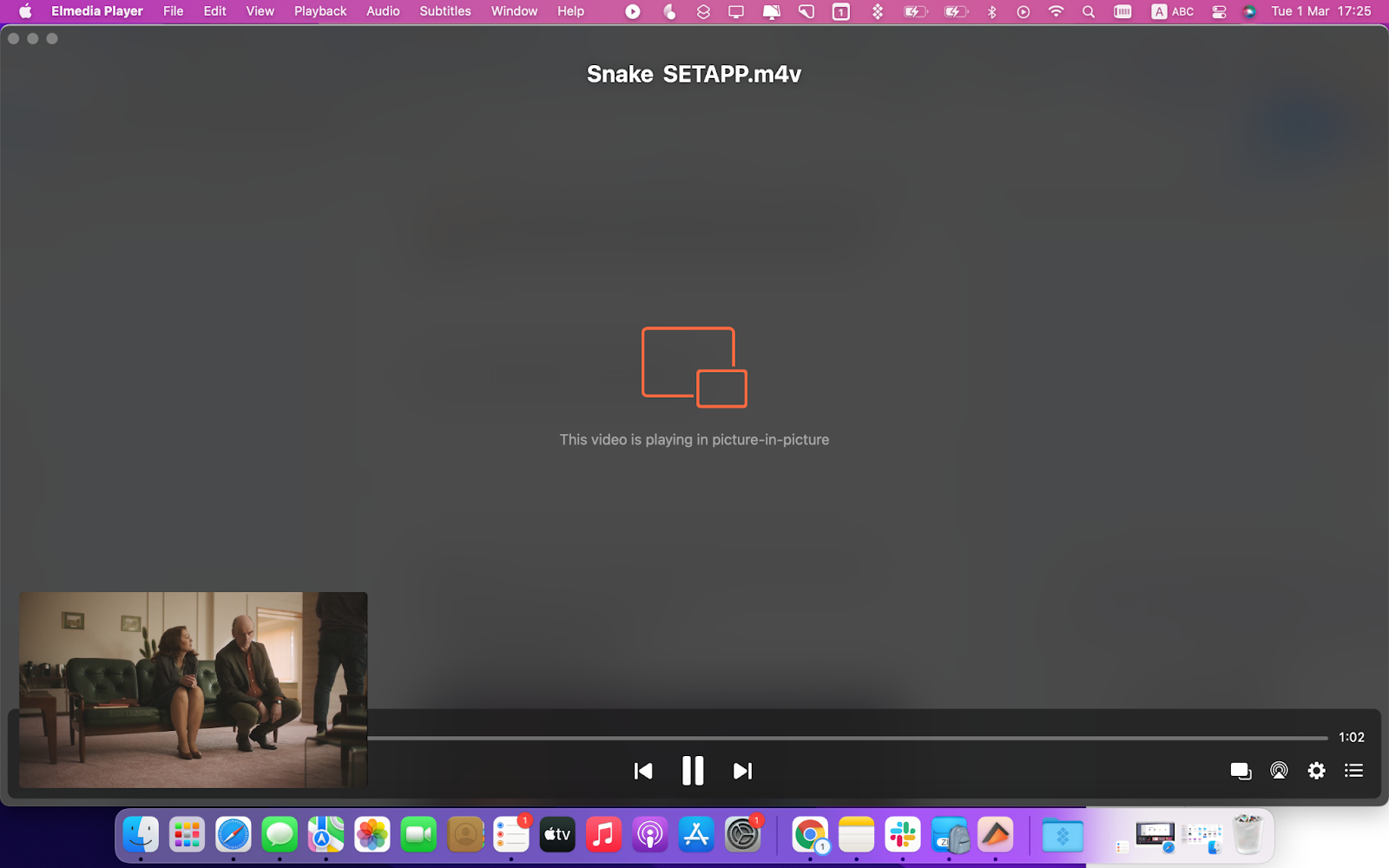 How to use Picture in Picture in Safari
If you want to watch videos in a browser while switching across other tabs, doing your usual work, here are the practical guides on Picture in Picture Safari, Picture in Picture Chrome, and Picture in Picture Firefox features.
How to use Safari's Picture in Picture on YouTube
Open the Safari browser on your Mac
Go to youtube.com in Safari
Click on a video you want to watch
Right-click the video twice
Select "Enter Picture in Picture."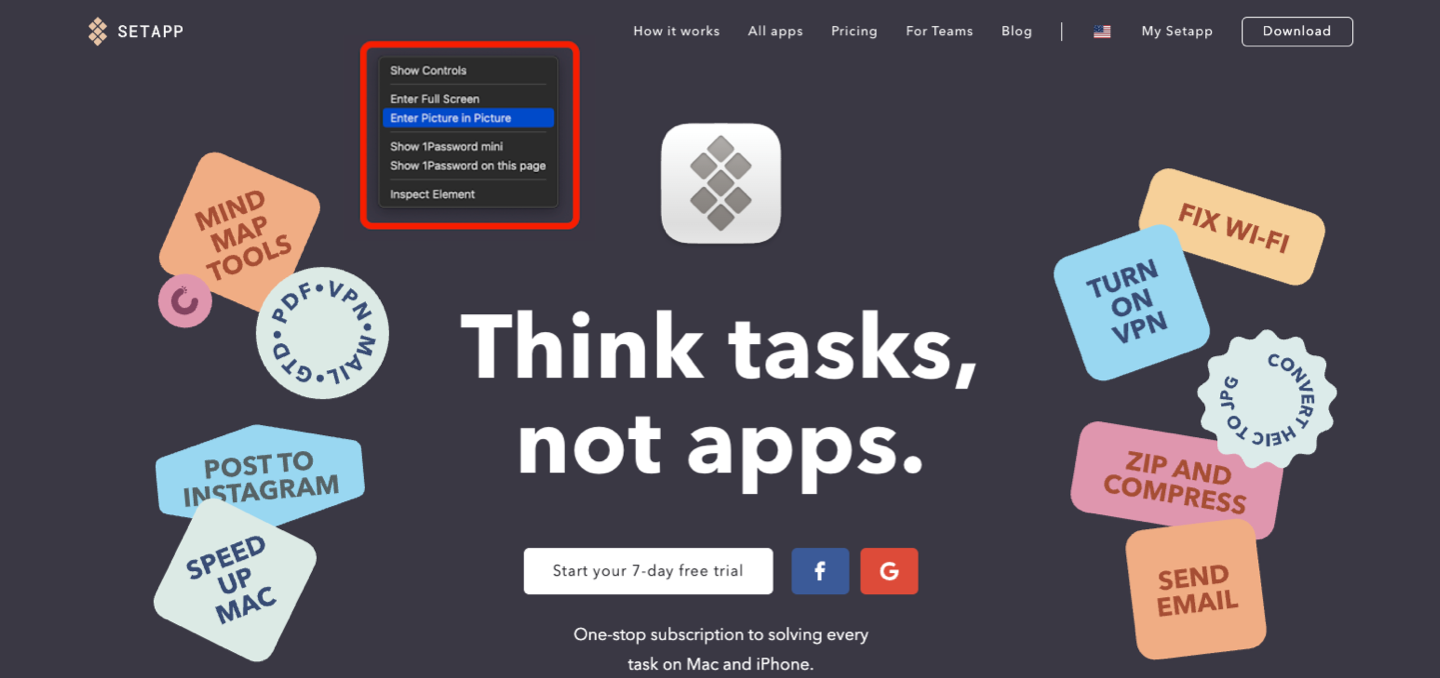 How to enter Picture in Picture mode from the playback menu
Some video players – like YouTube – have their own Picture-in-Picture mode. In YouTube, it's called "miniplayer". Other platforms may call it by a different name, but you should always look for an icon similar to YouTube's.

Simply click on that icon and you'll be launched into a PiP mode. Keep in mind these options may not be native PiP, and you may not have the full controls you're looking for.
Access Picture in Picture from the address bar
Some video platforms, like Vimeo, don't support right-clicking to go into PiP mode, and don't have their own native Picture in Picture option. So what can you do?
When watching a video you'd like to view in PiP, simply right-click the volume icon in the address bar. This brings up a menu where you'll find "Enter Picture in Picture" as an option.
Enter Picture in Picture mode using a Safari extension
With Safari open on your Mac, click "Safari" from the menu bar
Choose "Safari Extensions"
In the Mac App Store app that opens up, type in "picture in picture"
Select the extension you'd like to use.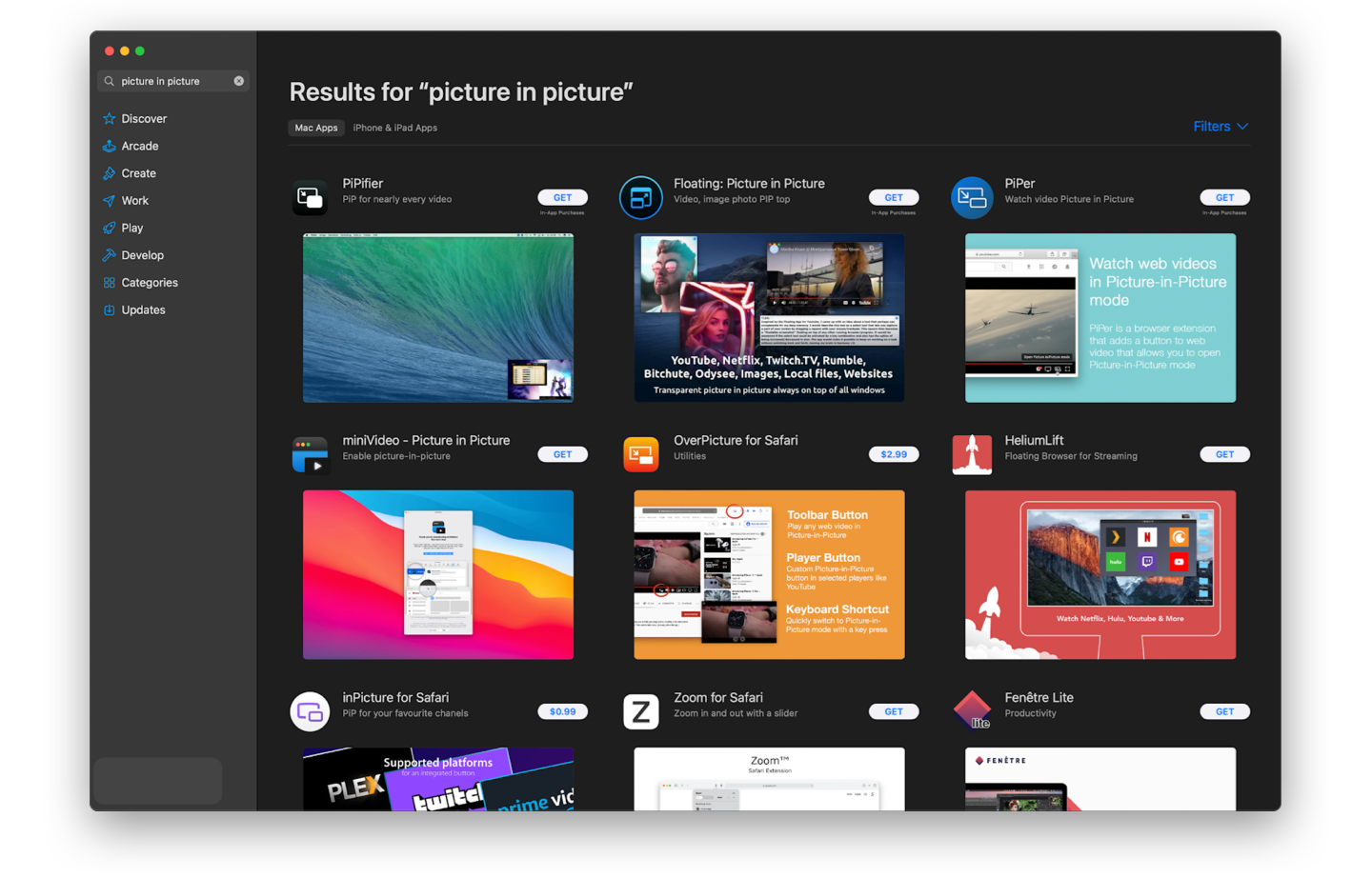 How to use Picture-in-Picture Mode in Google Chrome
Chrome is a major browser, so you might as well need to use its Picture-in-Picture functionality. Here's what you should know.
How to watch YouTube in Picture-in-Picture Mode in Chrome
Chrome settings for PiP are pretty similar to what you get in Safari. You can easily watch YouTube videos in small floating windows:
Find the video on YouTube and play it
Press and hold Control, then righ-click on the video two times
Choose Picture in Picture.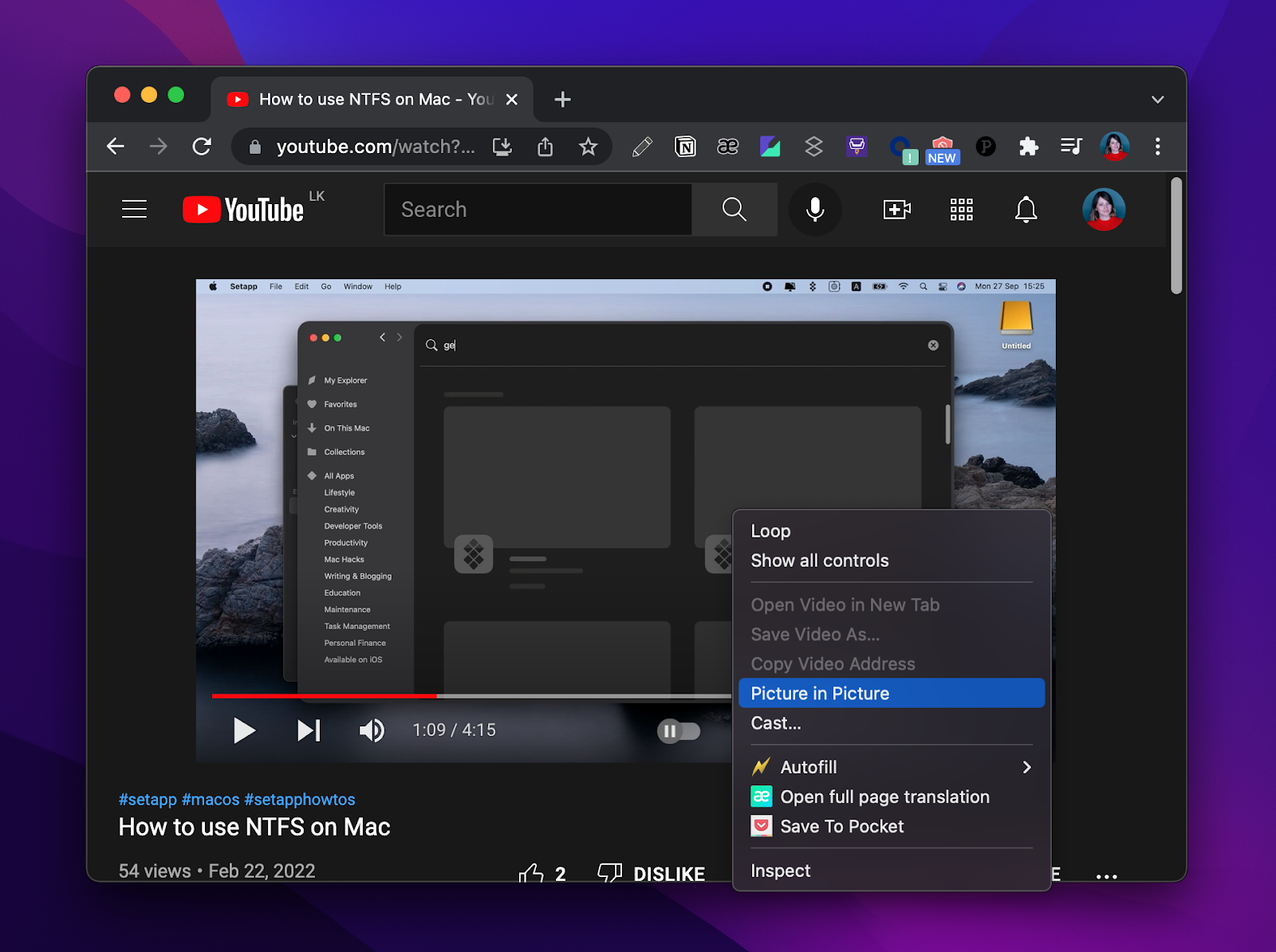 If you want to watch videos in a miniplayer while browsing YouTube — kind of like a video preview — use this method:
Find the video on YouTube and play it
Click the Miniplayer button in the bottom right corner
Continue browsing YouTube.
Video calls in Picture-in-Picture Mode in Chrome
In March 2021, Google announced they'd be extending Picture-in-Picture to video conferencing soon. This will allow meeting participants mute the mic, enable/disable camera, and end the meeting from a PiP window. With more and more people switching to remote and hybrid work, this new capability can be a big hit. Let's stay tuned for the future release!
How to use Picture in Picture in Firefox
Open Firefox on your Mac
Tap the menu button (three horizontal lines on the top right of the Firefox app window)
Select "Settings"
In the "Browsing" menu, choose "Enable picture-in-picture video controls"
With Picture-in-Picture mode enabled, open the video in YouTube, and click the Picture-in-Picture icon in the bottom right corner.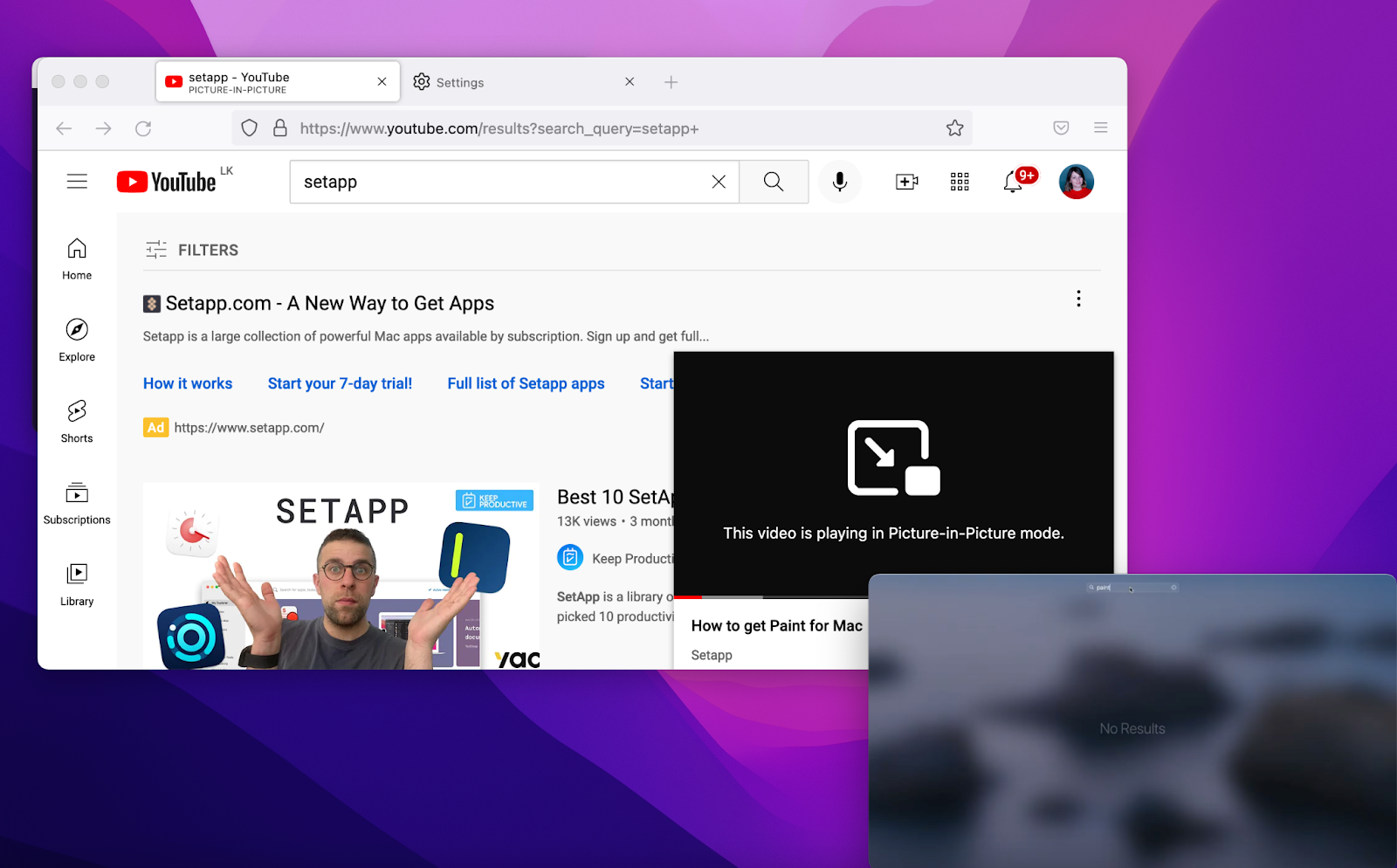 Picture-in-picture mode keyboard shortcuts
Picture-in-Picture mode is available via iTunes, on Apple TV, and in the QuickTime player on your Mac. All of these platforms and apps were created by Apple and have Picture in Picture included natively for a seamless experience. It works the exact same way as right-clicking and choosing PiP on YouTube or the web.
If you're a devoted Firefox user, entering Picture-in-Picture mode can be as simple as using one of these keyboard shortcuts: command + option + shift + ] or command + option + shift + ).
What if Picture in Picture isn't working?
You may have followed all our guidelines, recommendations, and rules only to find Picture in Picture isn't working for you. If that's the case, we've got a pretty easy solution.
Some settings on your Mac can be altered without you triggering them, or even knowing it happens. This occurs often as apps and services compete to do their job behind the scenes. An app trying to perform a task might inadvertently break a feature from another. It's frustrating, but there's not much you can do to prevent it.
But you can fix it with CleanMyMac X. CleanMyMac X not only identifies issues with your computer, it can help restore settings to their default state so you can continue working as you like. CleanMyMac X quickly and easily restores settings, clears a browser's cache, and removes troublesome apps so you can use Picture-in-Picture mode however you like.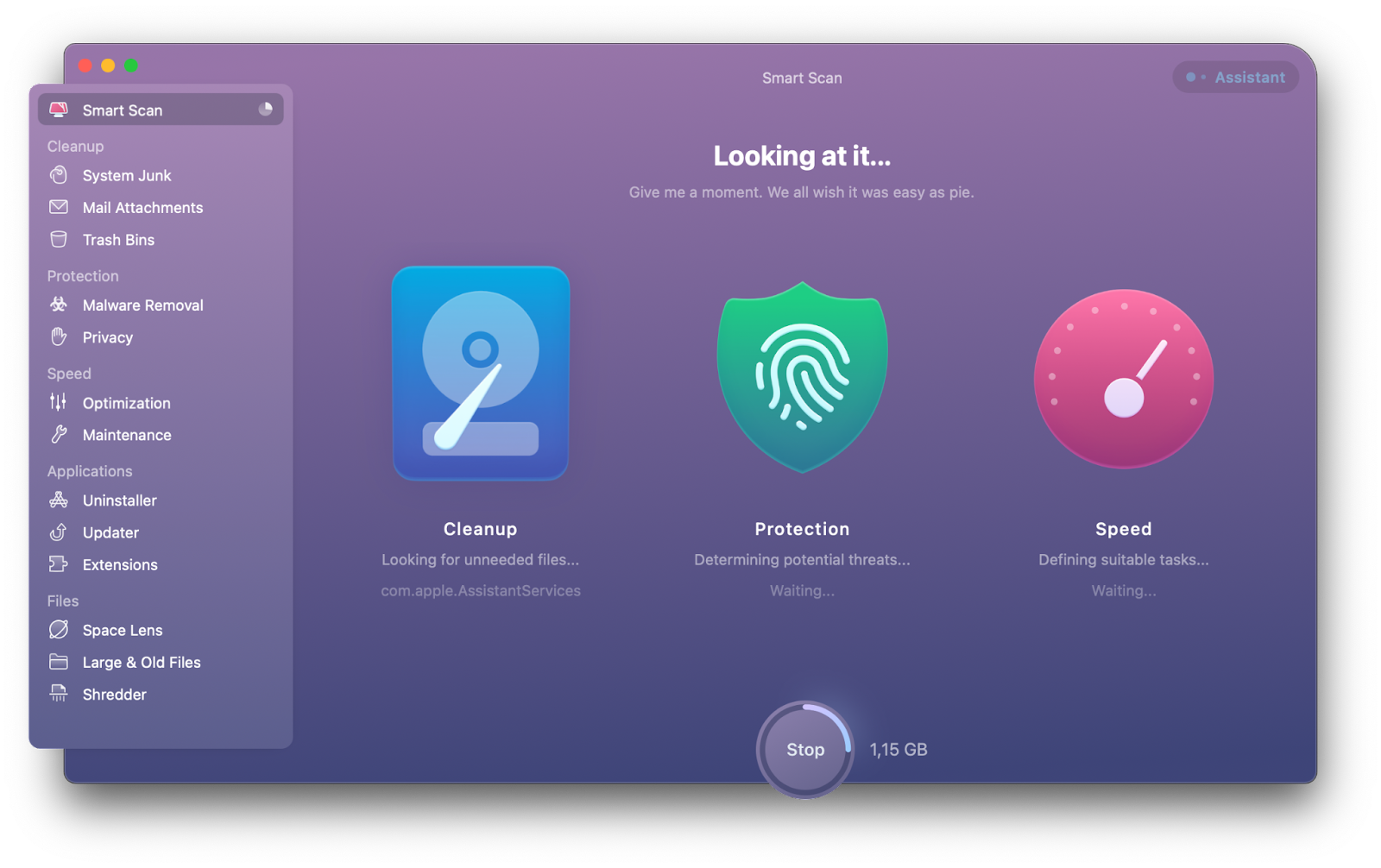 Third-party apps like Lift, MeetInOne, Elmedia Player, and extensions shouldn't interfere with any settings, and all have a deep focus on making sure Picture in Picture works seamlessly. A good app or extension might be just what you need to avoid issues down the line.
Conclusion
Picture-in-Picture mode for Mac is generally unheralded, but once you start using it more often you're bound to love it. It's especially great for those using multiple desktops who want to watch a video in a small player on one screen while continuing to browse the web in their browser.
Still, you might find favor with third-party apps like Lift browser, which is essentially a lightweight browser with a focus on Picture-in-Picture mode. Elmedia Player is a media-first browser that has a ton of features.
All three, along with CleanMyMac X, are available to use for free during a seven-day trial of Setapp, the biggest and best suite of productivity apps your Mac will ever have. These four incredible apps are joined by over 200 other apps, all native for your Mac and all free to use during your trial period with Setapp.