Travel planning is fun but not a breeze, so let's eat the elephant one bite at a time. Here's a step-by-step guide with a list of websites and apps for trip planning that can help automate some of the processes.
How to plan a trip on your own
Grab your Mac, open any note-taking app, and get started.
1. Choose your destination
If you already know where you want to go, skip this step. If you just want a change of scenery, go with your desires.
2. Check the Travel Advisories
Before making travel plans, check your country's recommendations for your desired destination. Typically, travel advisories include the country's security level, list of required vaccinations, visa requirements, local laws, etc.
Just google "government travel advisories + the name of your country".
3. Book tickets
It's a good idea to search for tickets not on the airline website but on aggregators such as Skyscanner, Kayak, and Momondo. But we advise you to search for flights on several aggregators simultaneously, as the offers may vary. And one more thing: check the price of the aggregator with the official website. Sometimes it helps to save money.
4. Check the local time
If your route is in a different time zone, set an additional clock to the time of the country you're traveling to. Try World Clock Pro. It's convenient because it adds events directly to your calendar so that you can set reminders for your flight back or whatever you need based on the time in your destination country.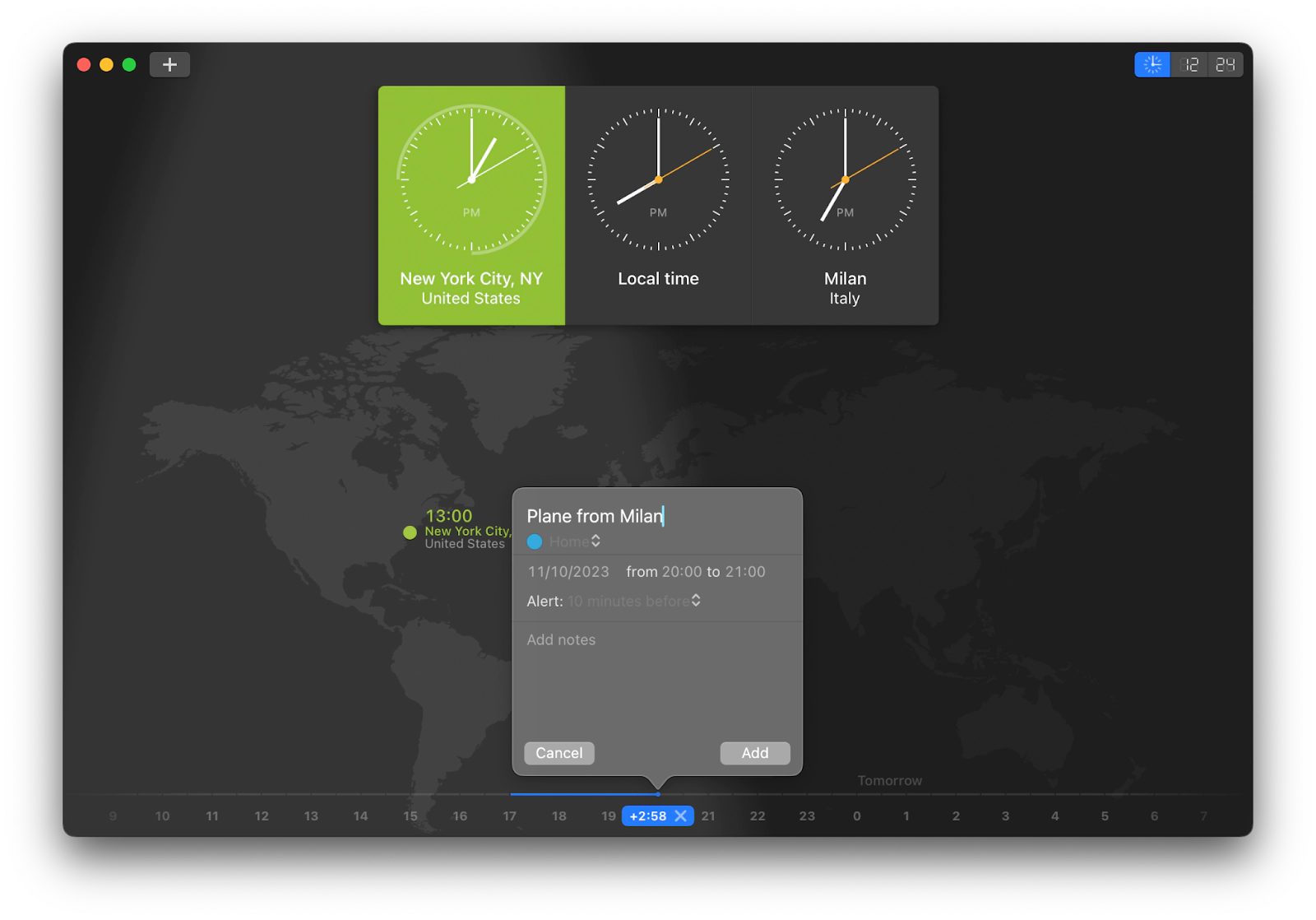 5. Research your destination
Two things are important at this stage. First, make a complete list of the places you want to see, and second, expect to see only some of them.
Here's a step-by-step guide for trip planning:
Google the list of attractions in your destination. Get inspiration from itineraries offered by travel companies and blogs. Also, try a query "travel blog + your destination" on YouTube.
Make a complete list of places to see and check TripAdvisor for reviews.
Make a list of the places you definitely want to see, and leave a few in reserve. You'll return to them if something goes wrong with the main list.
Since "something goes wrong" often involves the weather, consider an app that alerts you to it. We recommend Forecast Bar. It alerts you when precipitation or severe weather is expected. The app syncs with your iPhone and iPad, so you won't miss a notification and can adjust your plans quickly.
Forecast Bar is also great for vacation planning, as it predicts the weather up to 70 years in advance.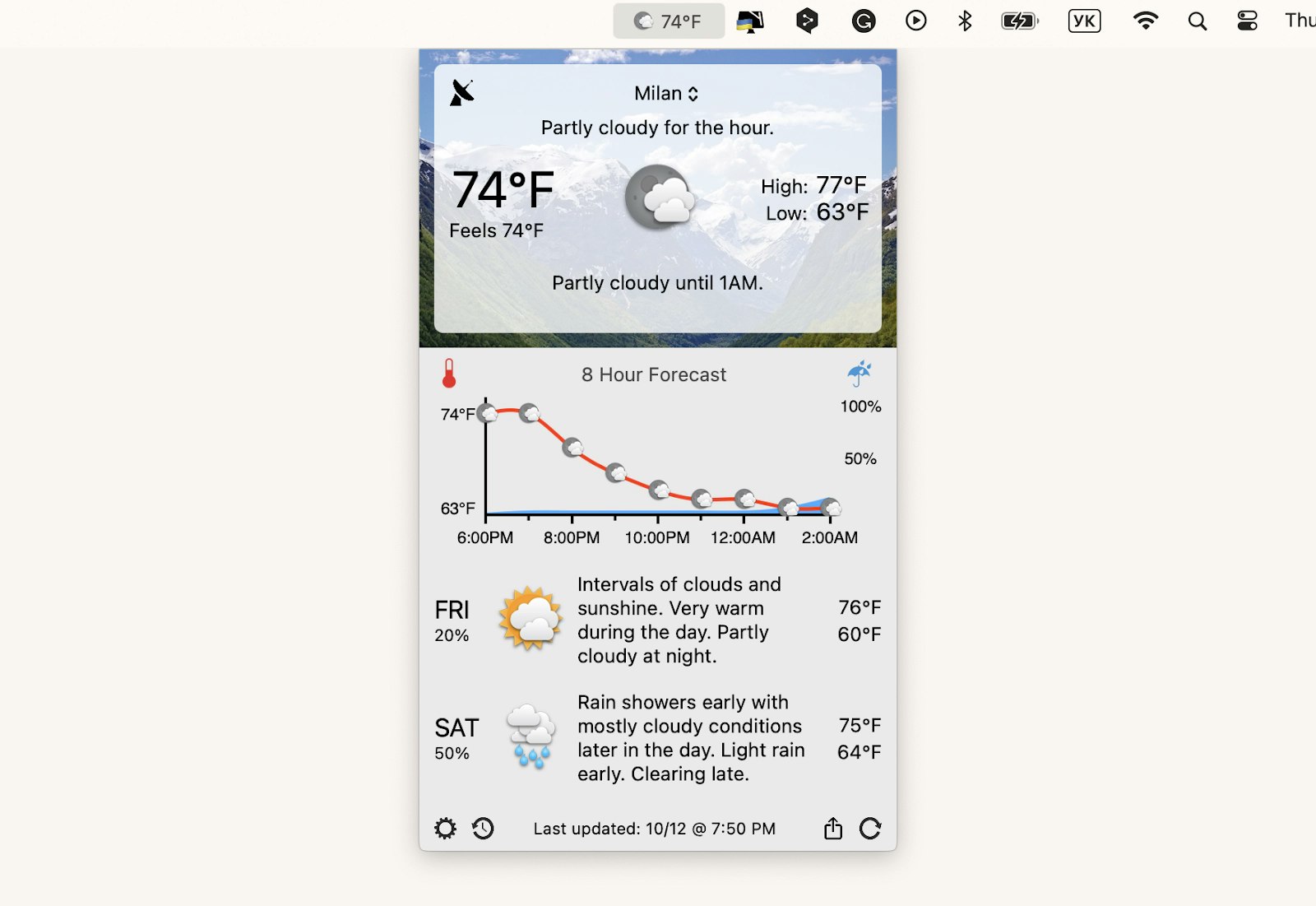 6. Prepare maps and plan your itinerary
You'll need online and offline maps, preferably in multiple apps. Start with Apple and Google Maps.
To save Apple Maps offline:
Open the Apple Maps on your phone.
In map search results, tap the location you're looking for.
Tap the Download button.
or More > Download button
Adjust the area and download the map.
To save the Google Maps offline:
Open the Google Maps app on your phone.
Tap your profile picture > Offline maps.
Tap Select your own map and adjust the area.
Tap Download.
As a backup, download the offline maps on HERE WeGo or OsmAnd Maps (both on iOS).
Below, we'll return to the question of which maps – Apple's or Google's – are better and offer some itinerary planners. Keep scrolling.
7. Book accommodation
There are several popular websites for finding accommodation based on your trip plans, and usually, you don't need to look any further. Booking offers hotels, hostels, and villas. Airbnb is good for finding apartments. For free accommodation, try Couchsurfing and Bewelcome. If you want to get a better price on booking sites, try these tricks:
Google "discount code for [insert: Airbnb or other services] travel blog." Bloggers often offer referral links where you can get a discount. But be careful about which sites you open, as there is a risk that you could end up on a phishing website.
Book in the suburbs if it's okay for you. Prices can be twice as low there.
Rent a separate room in the apartment (this option is available on Airbnb). Tourists usually behave respectfully (because it is the community's custom, and they also care about their rating on the booking sites), so the chances of a pleasant neighborhood are high.
8. Book and prepare your activities
You don't have to book tickets for attractions in advance, but sometimes, it can help you get a better price or get in faster through a separate line. Some attractions may sell out several days in advance, so check ticket availability.
It may also be a good idea to buy a "city card" (e.g., Roma Pass) – a bundle of services available to tourists, such as a public transport pass + free or discounted entry to attractions.
If your vacation abroad involves lying in bed and binge-watching, make sure you have a VPN. Netflix, Hulu, Disney, and other streaming services may restrict content geographically. For example, in Greece, you may lose access to shows you normally have in the US. Try ClearVPN. With it, you can choose the streaming service you need and watch content wherever you are.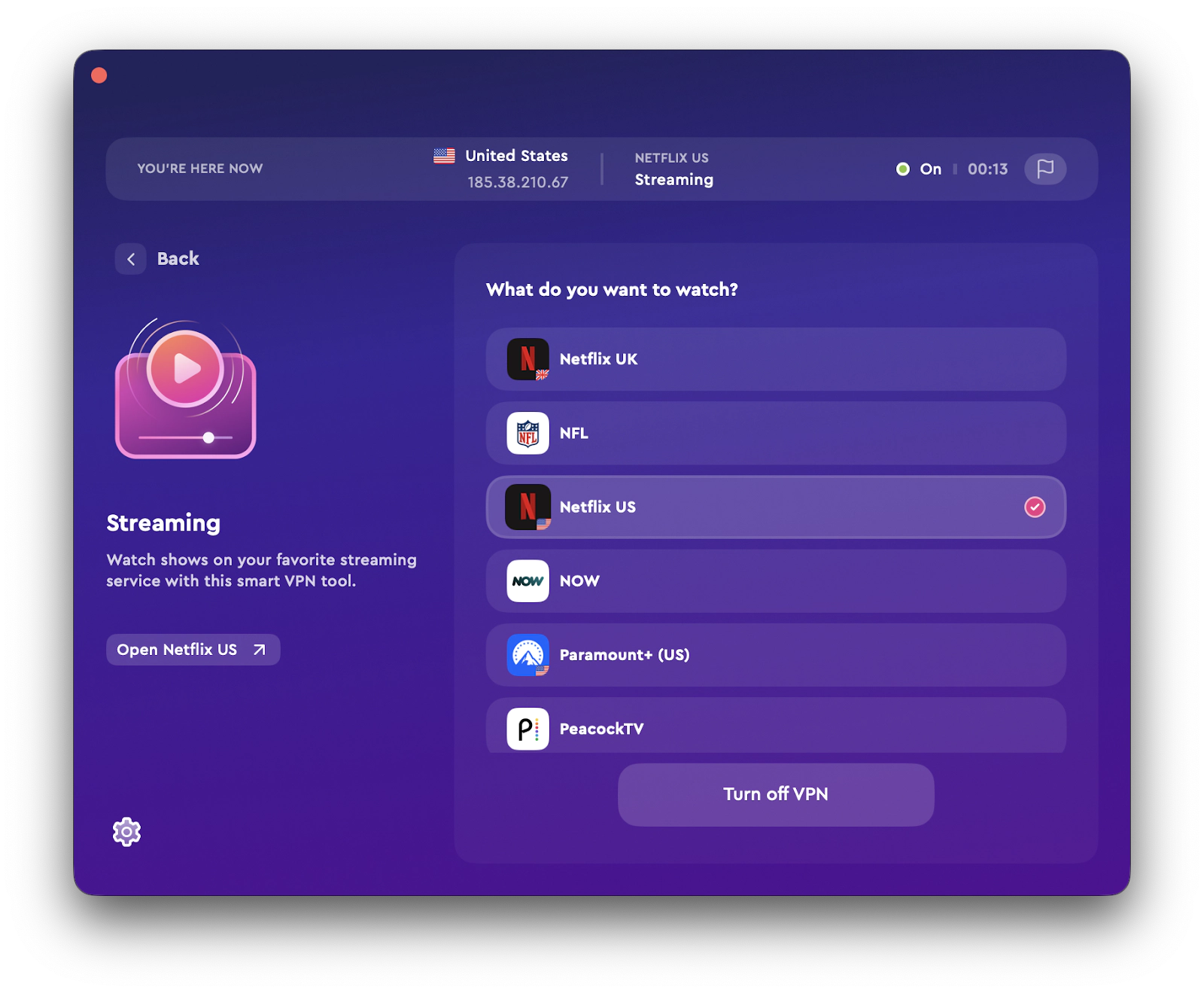 9. Prepare your laptop to avoid data overage fees while abroad
You may encounter internet problems when traveling: the hotel Wi-Fi may not be strong enough, and roaming mobile internet is expensive. Try TripMode. It monitors your resource usage and lets you activate only the necessary programs. This will help you avoid data overage charges, and your internet speed might improve slightly.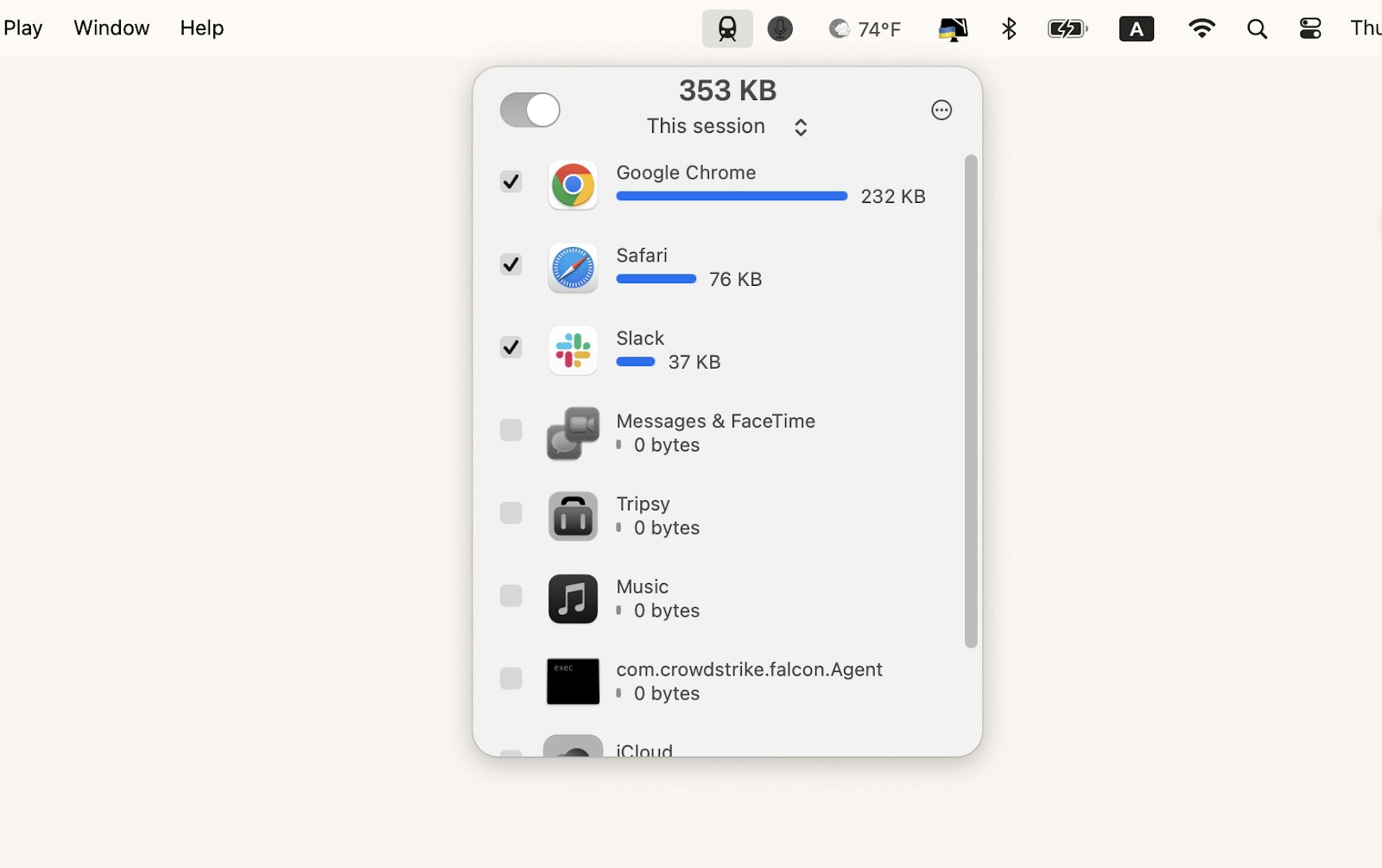 10. Make a before-you-depart to-do list
Before you go, you'll have a lot to do: get time off from work, set up an email autoresponder, find a hotel for your dog, buy sneakers or a swimsuit, etc. Write down every little thing on a list and set a reminder. You can do this with a calendar (Google or built-in on the Mac) or an app like Due.
Due doesn't require any specific format to create a reminder – write it in your own words. The app will persistently remind you until you mark the task as done, reschedule, or cancel it.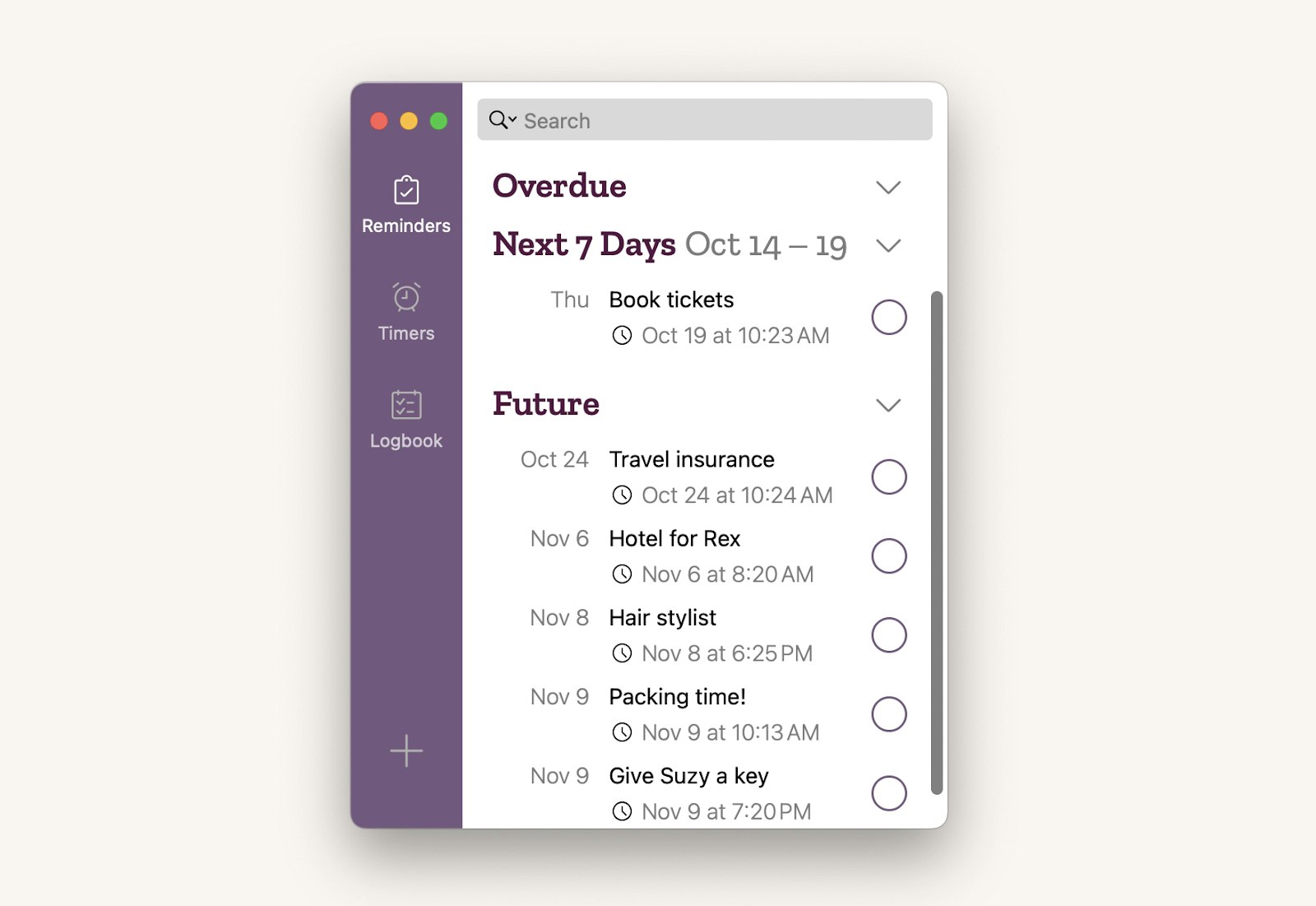 11. Organize chores while you are away
When traveling, it's easy to forget everyday tasks. To avoid problems with late payments or penalties, take care of your bills in advance or set a reminder for your due date.
To make it easier, try Chronicle, an app that helps you track bills, subscriptions, and online product trials. Add all your regular or one-time payments into the app, and it will remind you when they are due.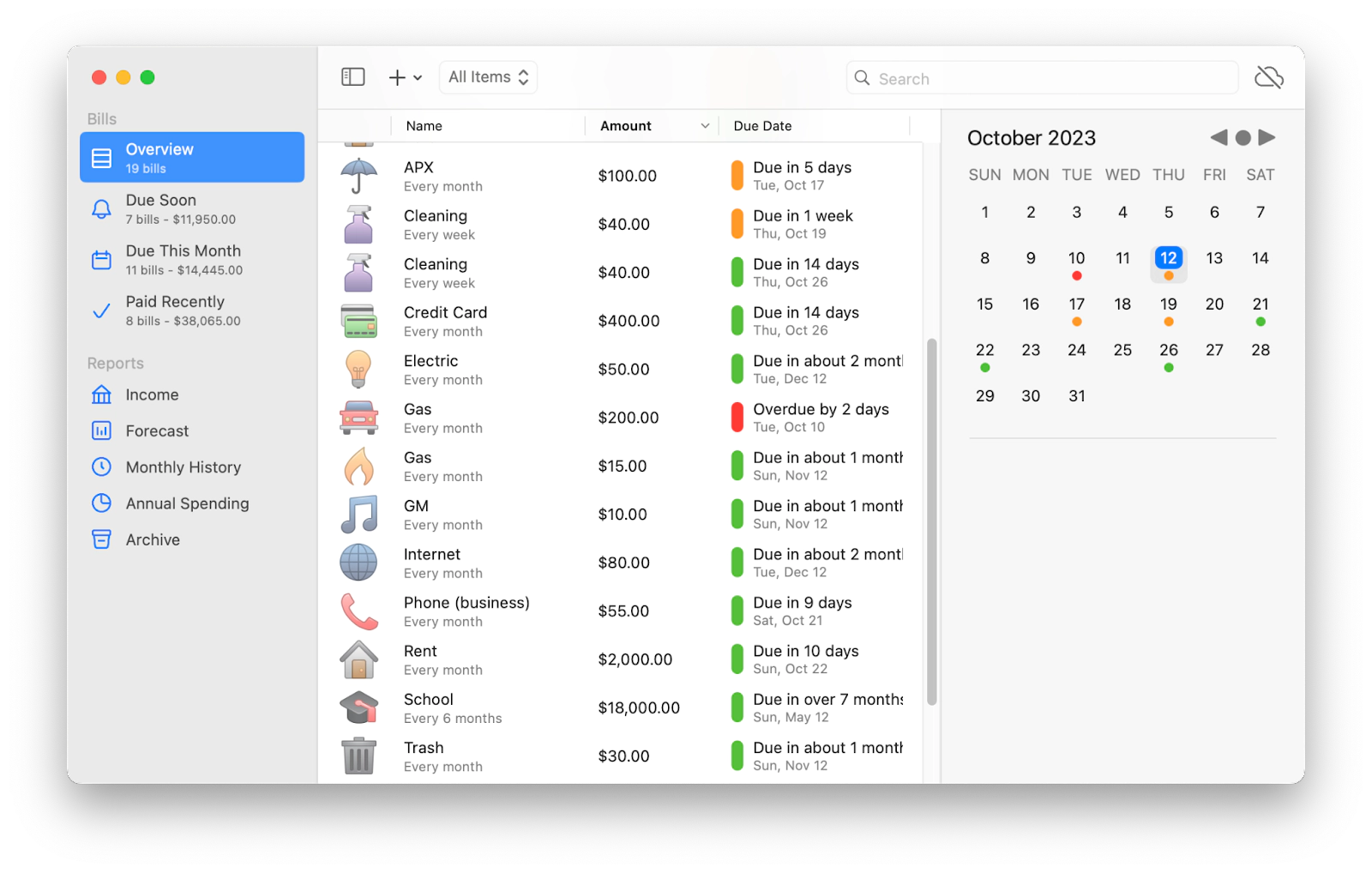 12. Pack and go!
Use this packing checklist as a starting point and customize it for your trip.
Are Apple Maps and Google Maps good for trip planning?
Now, let's get back to trip itinerary planning. Google and Apple Maps will give you a good route, show you traffic jams, and help you find public transportation. But both have their strengths and weaknesses.
Use Apple Maps:
To avoid heels, stairs, and busy roads on walking routes, and to avoid tolls and highways on car routes. Plot a route on the maps > Choose Options > Select the terrain you want to avoid.
To get guides. Type your destination in the search box and click Guides. You'll get a selection of places to visit. Guides are only available for some locations and don't allow you to create a route with all the points, but they can still be helpful.
To stay safe and anonymous. Apple Maps doesn't store information about where you've been. Also, most of the data isn't tied to your Apple ID.
Use Google Maps:
To create walking routes with stops and waypoints. An excellent option for exploring new places on foot.
To get comprehensive information about a place: ratings, reviews, working hours, etc.
To search for places (restaurants, hotels, attractions). The interface is more straightforward here: You can find them on the main screen and search faster.
You might have special needs while traveling that these maps can't handle. In that case, try another.
To create the best route automatically and avoid walking in circles → Sygic Travel Maps (iOS).
To find spots that may not be on other maps: places with wheelchair access, shelters, places where animals are allowed, free parking, etc. → Sygic Travel Maps, too.
Find gas stations with the best prices → GasBuddy (iOS).
What app to use for trip planning
If you've been planning a trip according to this list, you've already done a lot of work by now. You can leave it at that or combine all your plans in one app. We recommend trying Tripsy, an app for trip planning that will help you organize everything you'll do while traveling.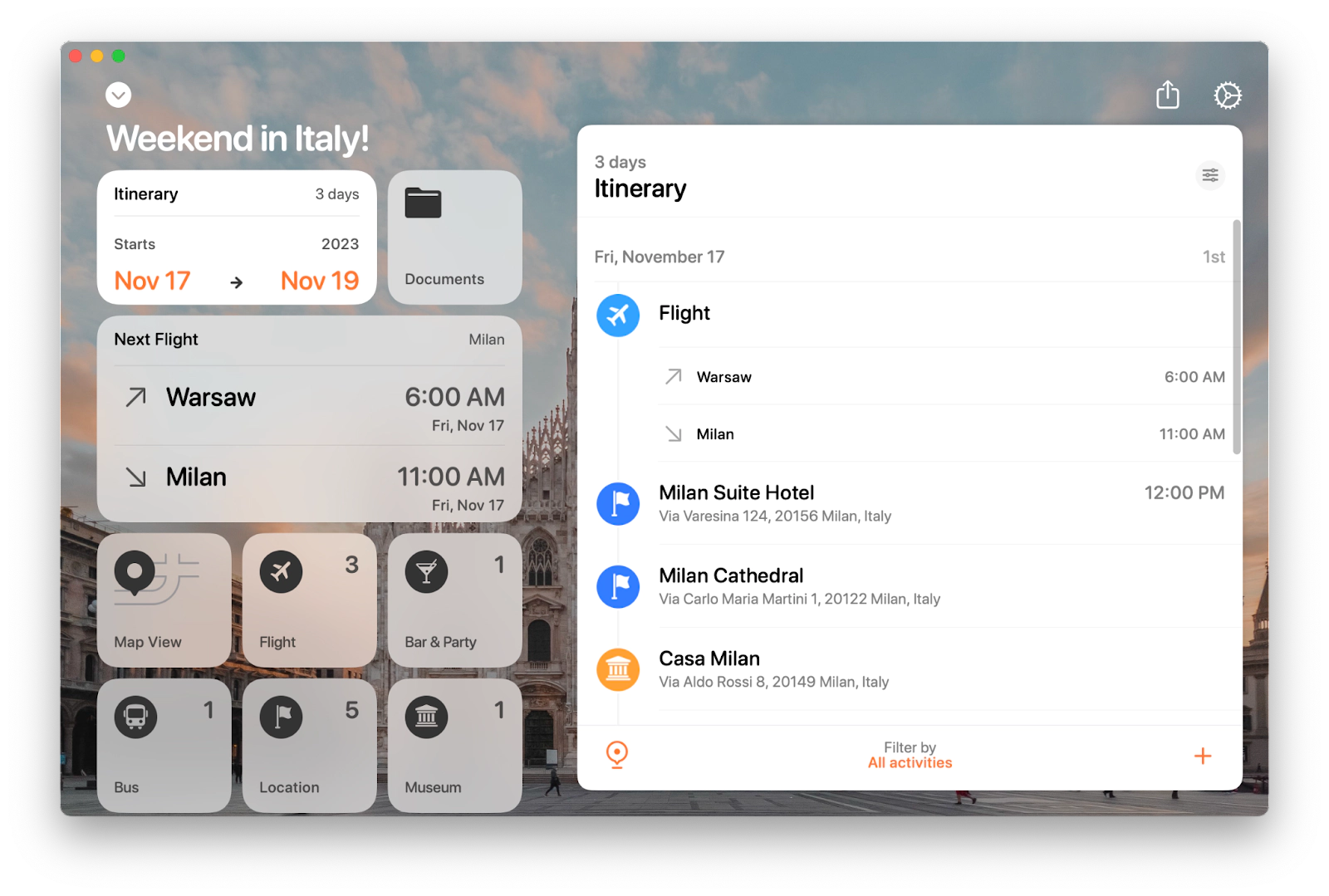 For each day, add locations or activities that you have planned earlier. Write down which restaurants you want to dine in and the transportation you need to make. The whole plan, as the palm.
You can upload copies of documents, such as insurance, to a separate folder. Photos and notes can also be added there.
What is especially convenient is that you can share your plans with friends. And, of course, there is a widget for iOS.
How to choose the best trip planner
If you continue your search for a trip planner, consider the following features:
Easy organization. You should be able to add your plans in one to three clicks.
A built-in map. This is a must!
File storage. It's good to have a place to store photos and files.
Sharing feature. It's a must if you're traveling with more than one person.
Integration with your phone. Mobile version, widget – anything, but you need to be able to access the app from your phone.
Check Tripsy free trial as an example of a good trip planner app.
Try every travel planner app for free
Most of the websites and apps we've included in this guide are free or have a free trial. On Setapp, you can try the following apps:
Tripsy – to plan a trip.
World Clock Pro – to keep track of time in different time zones.
Forecast Bar – for notifications about weather changes.
Due – for persistent reminders during planning.
TripMode – to avoid internet traffic overuse and overpayments.
Chronicle – to remember to pay bills before you leave.
With Setapp, these and 240+ other apps are free for 7 days. Sign up to try them out.