Top 7 note-taking apps for Mac in 2022
What's the best way to take notes on Mac? The way that fits your workflow and content best, of course! That's right, picking the most suitable note-taking app for Mac is the key to your productivity and satisfaction with the app's functionality.
But worry not, you don't have to do it alone. In this post, we will be looking at seven excellent note-taking apps, exploring their features, and discussing how they can improve into your daily routine.
Let's dive in!
How to choose the best note-taking app for Mac?
To choose the best Macintosh notes solution, browse our curated selection below and install the one you love most. But before we start, here's a quick primer on what to look for in a note-taking app:
Lightweight
Fast
Has the functionality to accommodate your specific note-taking habits
User-friendly
Pro tip: With Setapp, all the apps are part of the subscription, so you can simply try them all and decide later.
Now that we've gotten this out of the way, let's look at the note-taking apps to possibly meet your requirements. Without further ado, let's get started.
Best note-taking apps for Mac
Below, we take a look at seven excellent Mac note-taking applications — SideNotes, MarginNote, Unclutter, NotePlan, MarsEdit, and MindNode. We discuss each on the list in detail, outline the key features and highlight some pros and cons to help you get a balanced view on each of the tools.
We tried to find a balance between brief and concise while also giving you just enough to make the right decision. Scroll down for our overview.
SideNotes
SideNotes is a convenient Mac note-taker that can be swiped into life from the right side of your screen. Create notes, manage to-do lists, and add images and files to your notes. Color code your items for easier management. What's more, the app supports markdown formatting and has built-in sharing.
We love SideNotes because it's always just a swipe away, it's discreet but accessible, has all the right tools for note-taking and management, and is integrated seamlessly into your Mac workflow.
Pros:
Easily accessible
Built-in to-do list functionality
Code-friendly
Available on Setapp
Cons: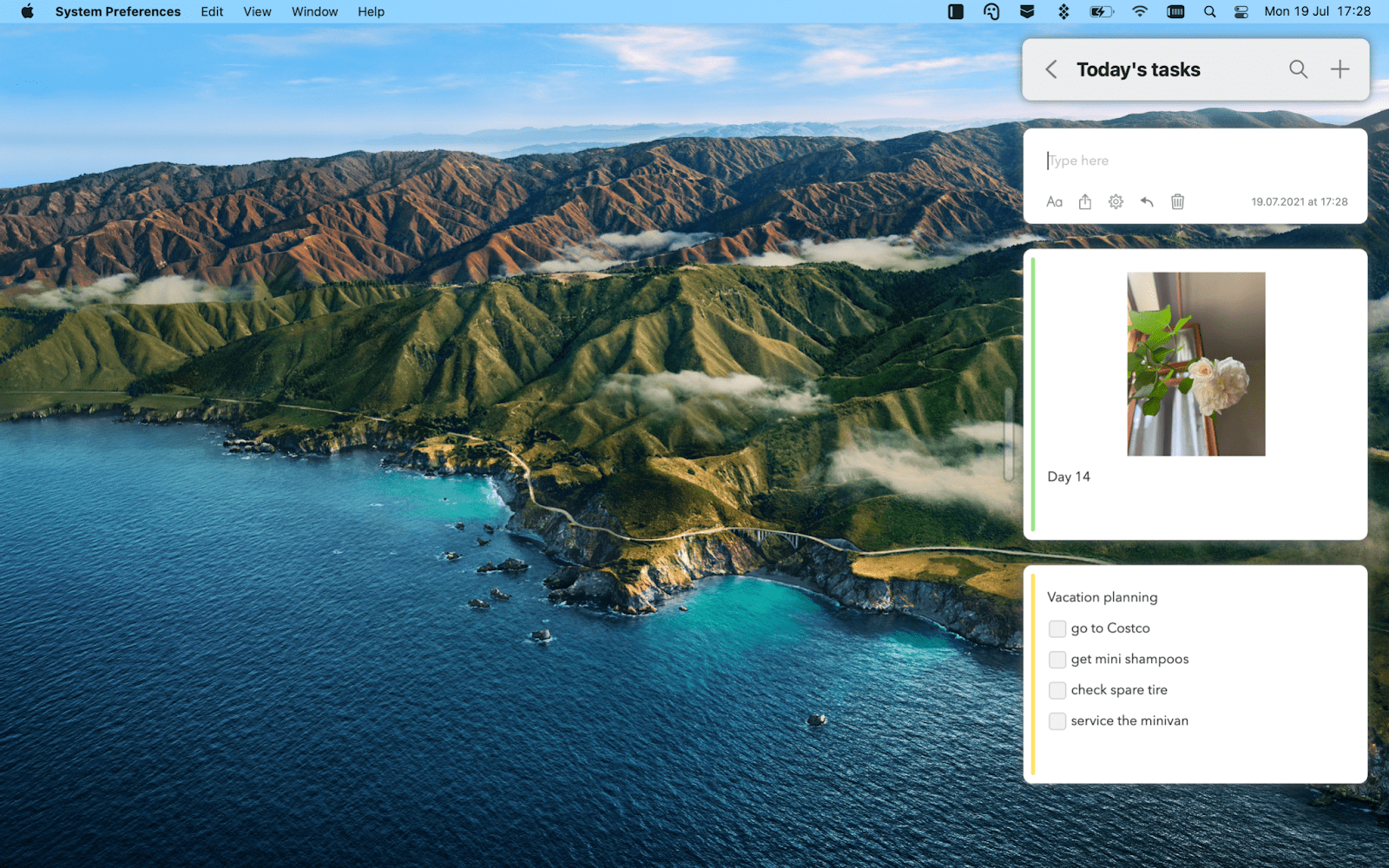 MarginNote
MarginNote brings highlighting and margin note-taking from the physical world and into the digital one. Highlight bits of your text documents, add comprehensive notes — both handwritten and typed, and much more.
This app is perfect for really getting into the nitty-gritty of your project or study materials. Actively working with text helps you digest and remember the information better, and MarginNote is just the tool to do that, without all the paper waste.
Pros:
Functionality to draw on top of documents
Perfect for complex, multilevel notes
Flashcard functionality
Available on Setapp
Cons:
Takes some time to figure out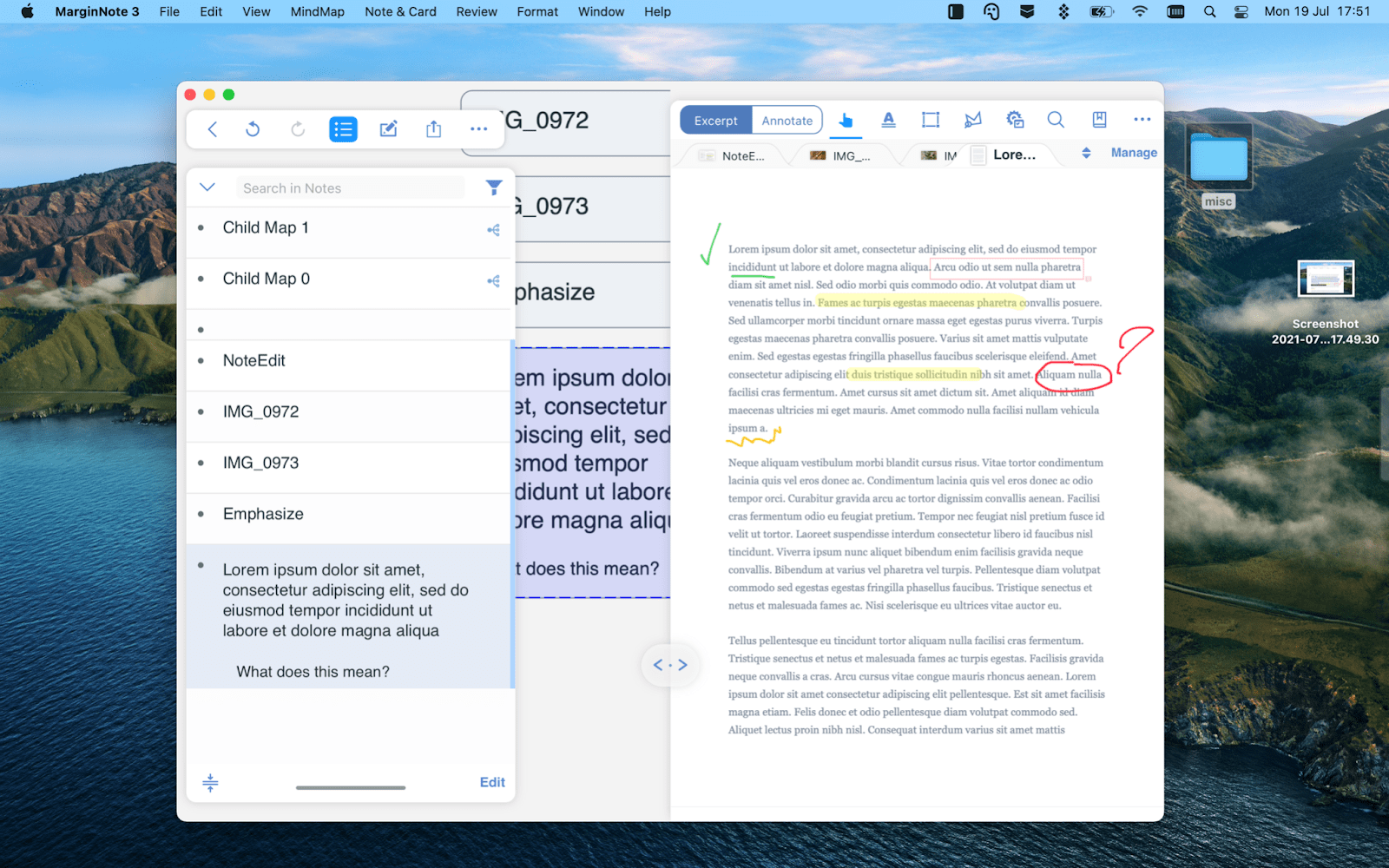 Unclutter
Systemize your files and take notes? This Mac notes app does it all. Try Unclutter if you want to take notes, but also add files and use clipboard history to keep better track of your work and items.
We have to admit, we are fans of Unclutter not just for its note-taking capabilities but for file management. Dragging and dropping a file or folder onto the Files tile of the app and then moving the item directly where you need it when you need it? This simple solution frees up a lot of mental space spent on remembering which files go where. Just relax and let Unclutter take care of all the stuff on your plate!
Pros:
Built-in file management
Clipboard history
Sections can be used as desktop sticky notes
Available on Setapp
Cons:
Limited ability to structure notes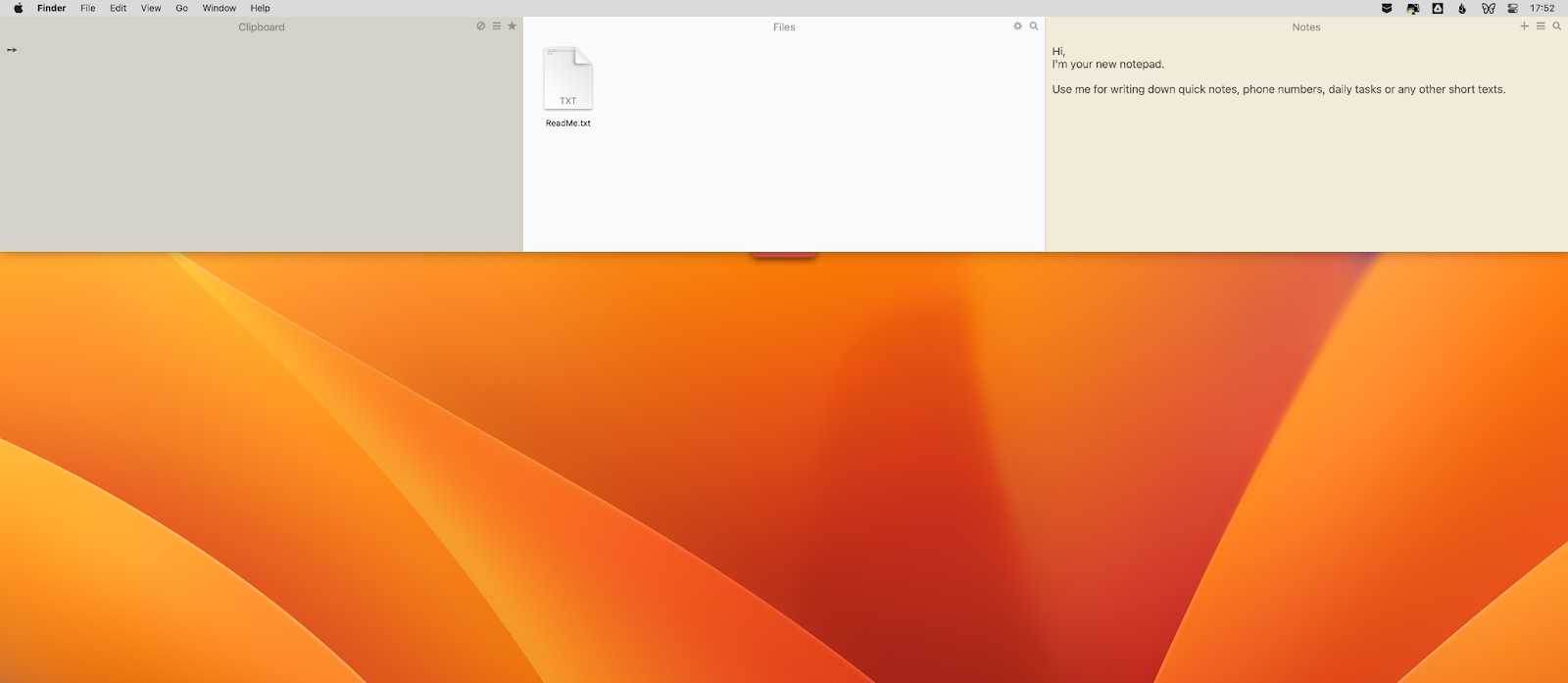 NotePlan
One of the best notes solutions for Mac is NotePlan, and we are not just saying that because it looks so good. The app has a handy built-in calendar and a bunch of note editing and structuring functionality, enabling you to really get your thoughts and ideas in order.
Ever find yourself in a meeting and someone says "as we've discussed last time" and you have no idea what they are talking about? NotePlan is perfect for people who are drowning in meeting invites and struggling to keep track of it all. The app allows you to create brief meeting notes, agenda, and action points, keep track of past events, and show up prepared every time!
Pros:
Perfect for detailed, highly structured notes
Markdown functionality
Built-in calendar
Available on Setapp
Cons: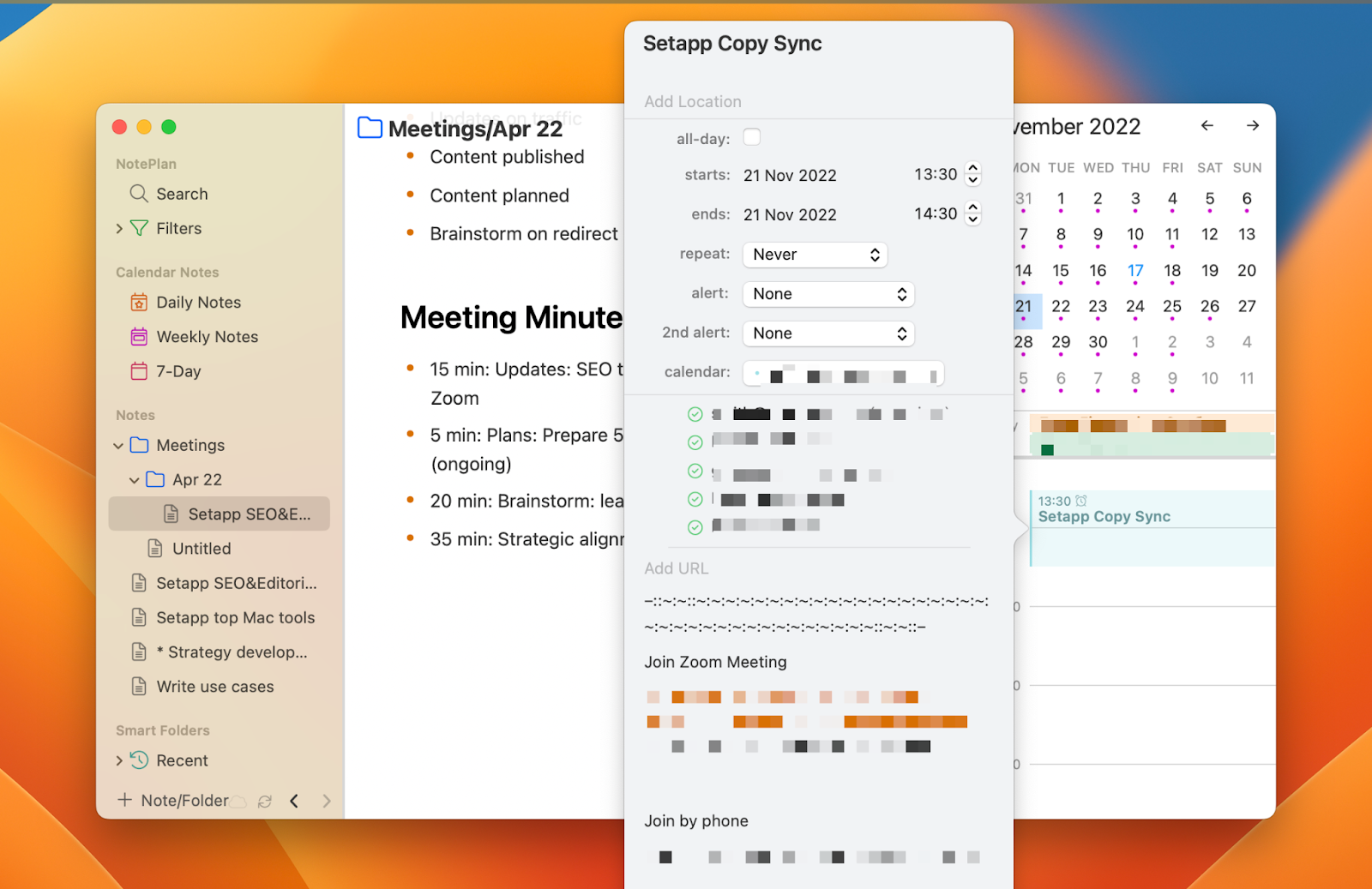 MarsEdit
If your primary use for note-taking software on Mac is creating content for your blog, MarsEdit is just what you need. The app is designed to help you make full-fledged blog posts and publish them to integrated blog services.
Now, you don't have to be an influencer or a full-time blogger to need MarsEdit. This amazing tool can make it easy for you to post to multiple platforms, plan content, create and backup drafts and posts for any purpose, whether professional or hobby, — all without getting distracted from what you really have to say.
Pros:
Ideal for anyone running a blog
Smart previews
Built-in publishing
Available on Setapp
Cons:
Geared strictly towards blogging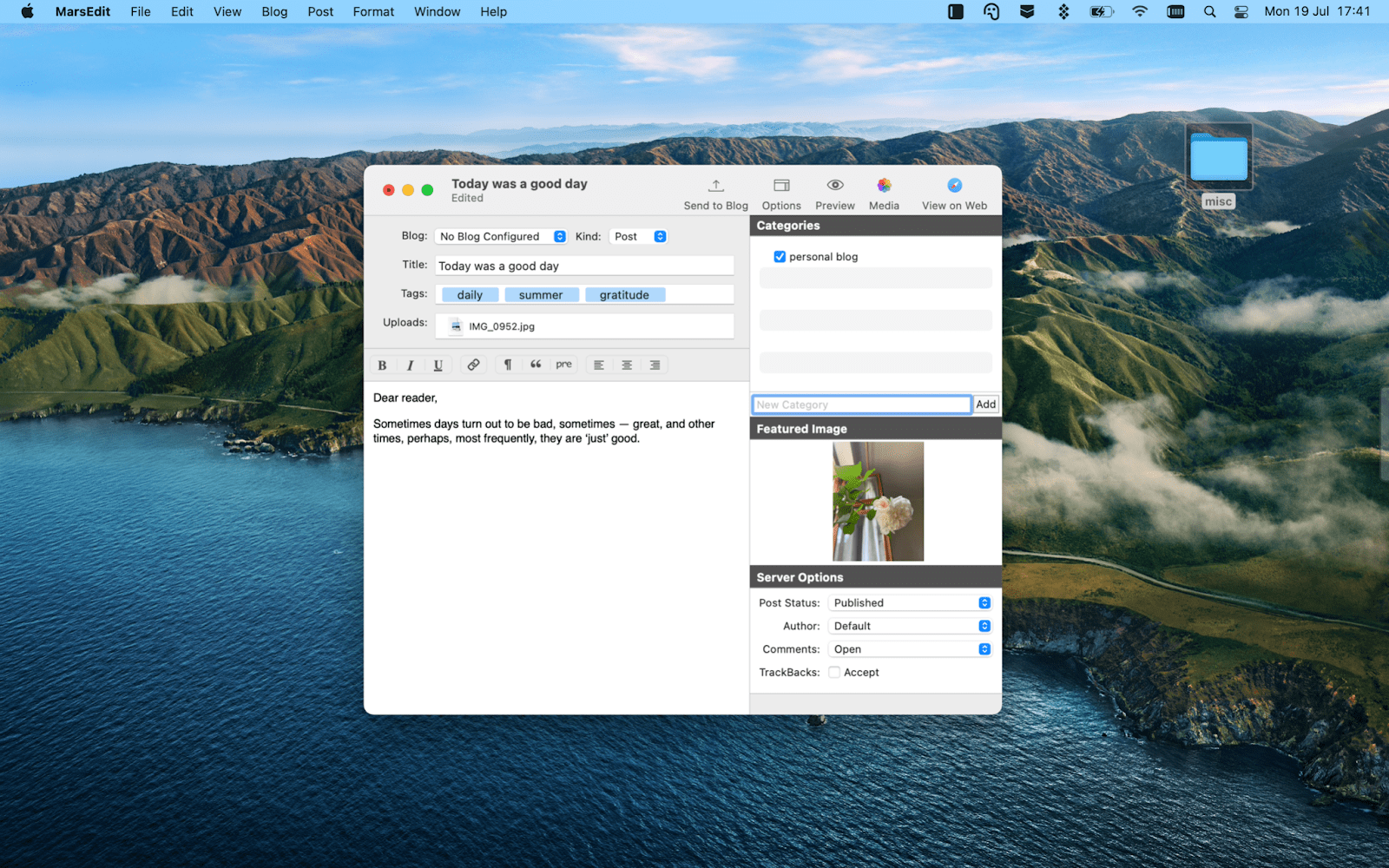 MindNode
Perfect for organization, planning, structuring, and refining ideas, MindNode is yet another option for your note-taking needs.
This mind-mapping and note-taking tool is as flexible and comprehensive as you want it to be. Need to take down just a few key points and understand your main flow? Easy. Want to create a detailed plan with numerous simultaneous steps and additional info? No problem! MindNode can handle your most eclectic ideas and seamlessly fit anything you throw at it while keeping it neat, structured, and truly glanceable (just zoom out of your map to view all of its elements).
Pros:
Mind-mapping capability
Cute icons
Comprehensive idea structuring tools
Available on Setapp
Cons:
Each map is stored as an individual file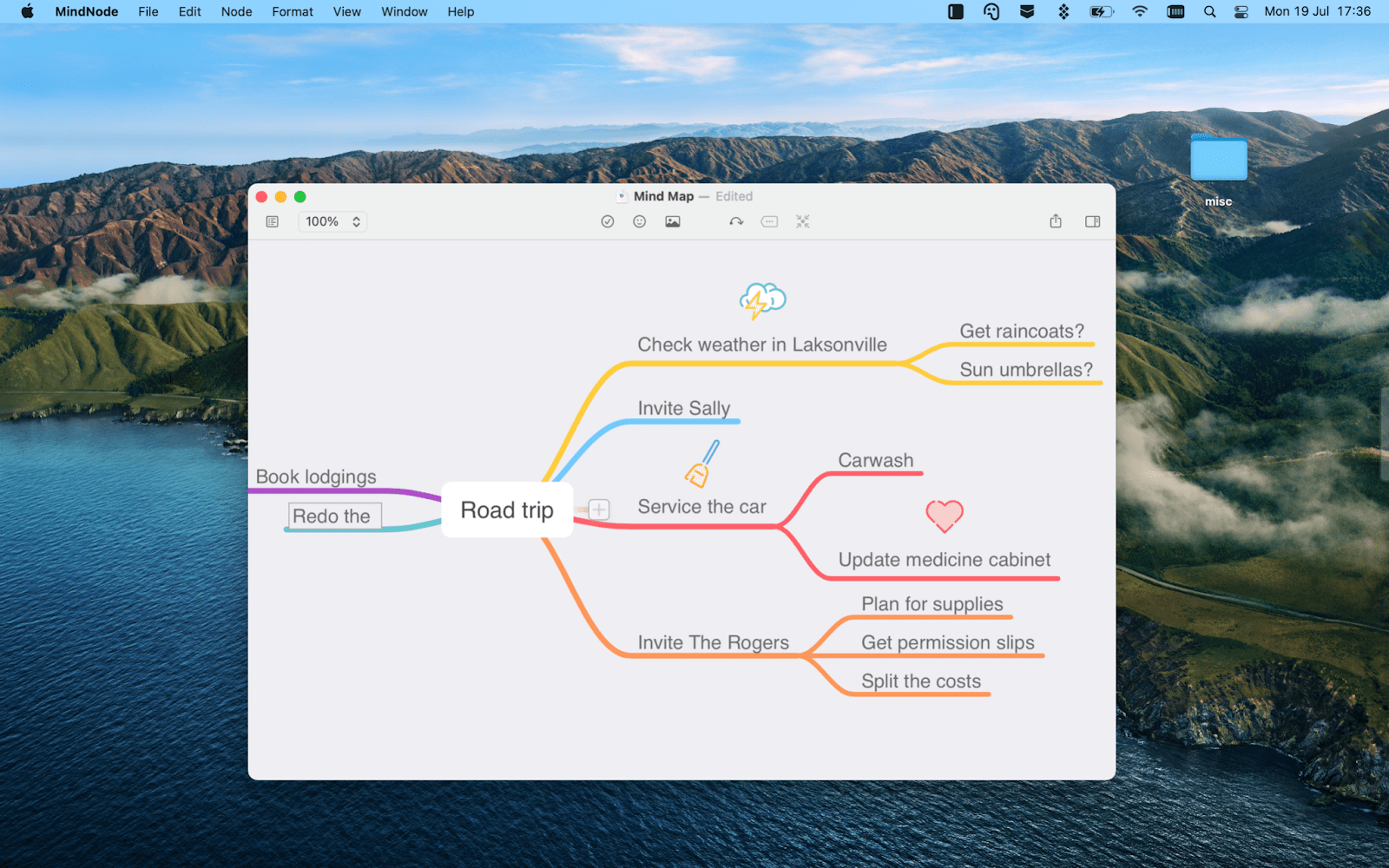 Conclusion
Selecting the best note-taking software for your Mac can make or break your productivity. Whether you are working on a project, developing a piece of software, planning a trip, designing a marketing campaign, studying, or running your blog, picking the note app tailored to your needs is one of the best things you can do for your productivity and inspiration.
Get inspired by our selection of seven amazing note-taking apps that can turn your workflow around and become invaluable helpers in creating content, producing ideas, and getting results without leaving anything out. Produce amazing plans with NotePlan, jot down ideas without breaking your flow with SideNotes, create mind maps with MindNode, work on your blog posts with MarsEdit, track ideas and items with Unclutter, get your hands dirty with highlighting and handwritten notes in MarginNote.
And the best news? You can try all of the note-taking apps we've mentioned today with your Setapp subscription! That's right, all the apps — SideNotes, MarginNote, Unclutter, NotePlan, MarsEdit, and MindNode — are on Setapp. Get them all, several, or just the one you like most and become a true note-taking aficionado.
Not on Setapp? Try our app suite for free with the 7-day trial and find these and many more apps to help you save time, improve productivity, and solve tasks you face on the daily!