File explorer apps for Mac
Finding the files you need quickly and efficiently is one of the key things you want your device to be able to do.
If you've ever found yourself wondering where did that freshly downloaded file go or how to find that report you were working on last week but totally can't find now, this post is for you.
To track all of your files and find what you need, you can use built-in file explorer on your Mac or handy Mac file managers from third-party developers. Each tool will fit a different flow and user needs, so let's take a closer look at all of your options.
How to explore files on Mac?
First things first, let's take a look at your Mac's already available tools. You can look for files on your Mac using built-in Mac file manager Finder or with Mac's native search tool Spotlight.
Finder, Mac file browser
Finder is an app on your Mac that allows you to create and manage folders and files. Here's how to open this built-in file explorer on your Mac.
Locate the Finder icon in your Dock — it's the left-most icon, and click on it:

If you have any folders on your desktop, you can simply double-click on any of them to open the folder in Finder.
From there, you can navigate across your folders using the navigation bar on the left: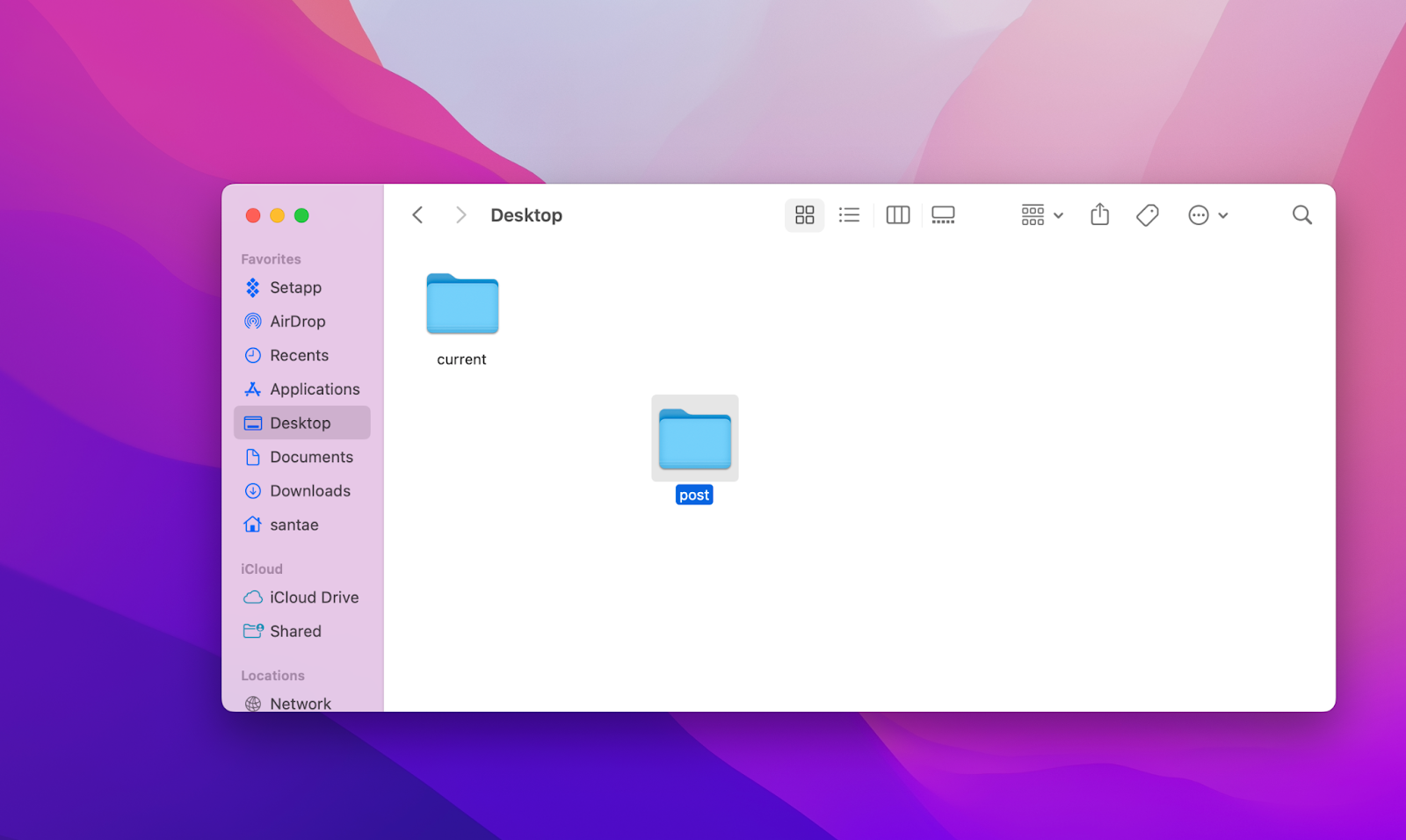 You can also use search in the top right corner to type in the name or approximate name of your file.
You can sort the files and folders in your folder by name, kind, date modified, and more.
Finder is a robust file manager for Mac that offers a variety of basic functions that are a must for any file manager.
Finding files with Spotlight
Spotlight is a favorite Mac tool with many users as it's easy to access and allows you to search across apps, bookmarks, files, folders, and more on your Mac.
You can use it as a file explorer in Mac, but note that it sometimes will show you a lot of results, some being previews that don't reveal the name of the file. We struggled with this when we knew the name of the file we were looking for but did not remember exactly what the visual inside looked like.
To open Spotlight, press Command + Space and type in what you are looking for.
For example, we wanted to find a folder titled "sketch stuff", so we typed in "sketch" in the Spotlight search and got the exact thing we needed: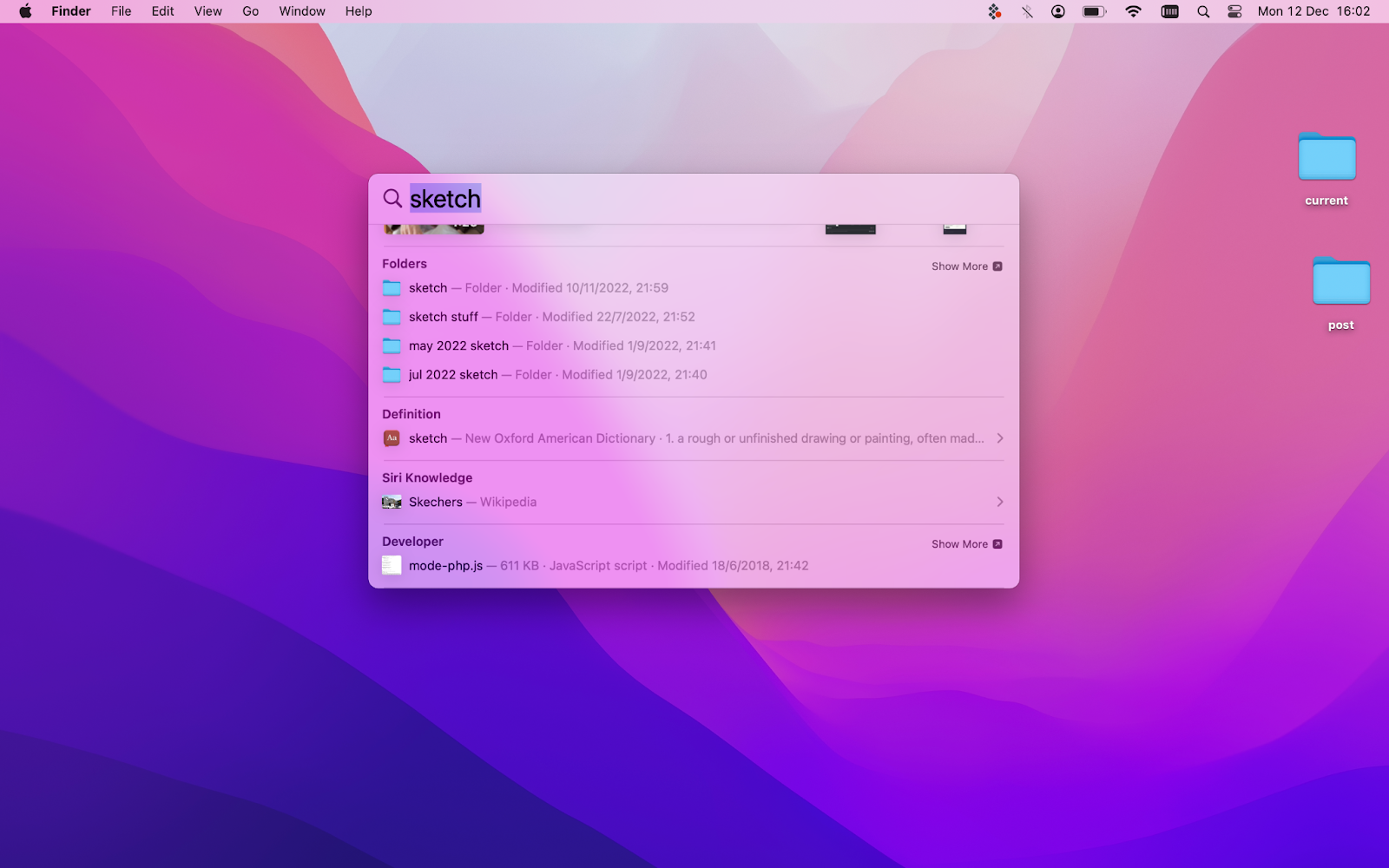 Must-have features of the best file manager
While you can have your choice of file explorers for Mac, we believe that finding the best file manager for Mac involves all or most of the following features:
Intuitive search and navigation
Mac-friendly interface
Easy file preview
File path information
Bulk renaming
Dual-pane view
A lot of the time, it's inconvenient to use tile view to browse files in your folders — this is especially true if you have tons of them, so an easy way to preview your files is something you will be looking for in your macOS file explorer go-to.
Intuitive interface and Mac-friendly look is something many of us care not just for the aesthetics of it, but for ease of use and a more comfortable learning curve, when incorporating a new tool into our Mac routine. Especially something as vital as a file manager.
Features like bulk renaming and dual-pane view are time-savers that can be pretty essential for many heavy Mac users.
While it's up to you to decide which features are deal breakers for your day-to-day routine, we recommend taking the above list to heart as it covers most common file explorer needs we've observed.
The best file explorers for Mac
ForkLift – perfect Mac file explorer for Finder lovers
ForkLift is like Finder, but much better. Its extended functionality allows connecting to several servers at a time and managing files there. You can also rename a few files at once, access your favorites in a flash, rename many selected files with one action, and all that in a stunning interface that has a Night mode.
Path Finder – a Ferrari in file management
Path Finder, another Mac equivalent of file explorer, was made to offer a brand new way of file management. With such features as Dropbox integration, easy file arrangement, a dual-pane panel with instant copying, convenient file navigation and access to hidden files, Path Finder becomes an all-time favorite of many Mac lovers.
Store notes, files, and clips in Unclutter
Unclutter is created to store notes, pasteboard clips and files. It makes your messy desktop look shiny. Drag and drop files to the top of the screen and get back to them later. Store what you need, manage your clipboard, search for items. Use sticky notes to never forget what's important. Unclutter is your magical three-in-one time-saver.
Drag and drop with Filepane
Filepane reveals the power of file management with a drag-and-drop feature, simple interface, and easy workflow optimization. This Mac file explorer can help you do pretty much anything with your files: edit and customize, zip and print, convert multiple files into PDF, count words in texts, save images from other apps in a click, create folders and documents exactly where you need them, and many more nice features. Perfect!
Share files with Dropshare
Dropshare is one of the most flexible sharing tools for Mac one has ever met. Upload any kind of file or other info to your fav hosting provider and share it. Take screenshots and share them in no time, or record your screen. Create stunning landing pages for your uploads, design them the way you like, and have all your uploads easily accessible on the go!
Manage your Mac life in Commander One
Commander One is the macOS file manager every Mac user dreams of. Its dual panel is a real lifesaver – it helps manage all your files smartly and efficiently. You can get to your cloud and network servers from one place, use advanced search, and simplify your work routine by setting up your own hotkeys for specific actions. All that makes Commander One a worthy alternative to Finder.
All-in-one dual-pane DCommander
DCommander is another dual-pane file manager with numerous advanced features like renaming multiple files at once or creating empty files at location. Choose your own interface style, transfer data to servers, use advanced search, browse archives, view and edit files in an instant. Get this all-in-one solution to improve your daily work.
Easy files renaming with Renamer
Renaming files has never been easier! Handle the most complex challenges of renaming files as chains, get full control of renaming files using CSV spreadsheets, choose Dark mode to avoid eye strain, and get started quickly with built-in Renamerlets. Only drag, drop and click to rename loads of files. So easy and so essential.
Finding your Mac file explorer
What is a file explorer on Mac? Most people would say Finder, the built-in app that helps Mac users name, search, and navigate their files and folders. But some will give a different answer.
Depending on your specific workflow and personal preferences, a different file explorer might be best for you and your Mac. We've outlined some of our favorites above — Forklift, Path Finder, Unclutter, Filepane, Dropshare, Commander One, DCommander and Renamer.
Some of these apps cost a fortune. Be a little smarter about your app choice for your Mac by getting numerous apps under one simple subscription. Setapp saves your Mac app budget by letting you have all these and more than 200 other apps for Mac and iOS in one subscription. Pay a fixed fee for the whole app collection and get yourself equipped with tools you need for your day-to-day tasks!
Start your 7-day free trial of Setapp right now to try any or all of these file managers for Mac, as well as dozens more apps for better productivity, study, Mac management, and more, — and see if Setapp fits your needs.