Top video conferencing software for Mac
As the world shifts towards remote work, we're embracing more and more new tools to stay in touch and collaborate. Video conferencing software means we're always just a click away from any meaningful conversation, which explains their popularity.
The problem for most remote workers and teams, however, is to find the best free video conferencing software or paid tools that fit the budget for their particular needs. How do you go about it? Let's explore.
What are the best video conference tools?
There are so many online meeting apps available today that it's easy to get lost in the variety. So you need a structured approach to compare the options available and choose the one that suits your needs the best.
And once you find the right online meeting tools for you, you can keep using them far beyond the current work-from-home environment. After all, consider how much more effective it would be to simply hop on a call than travel to visit your clients in person. Anyway, here are some qualifying categories to help you choose the best video conferencing software.
Video and audio quality. Delivering a perfect picture and crisp sound to dozens of participants in real-time is no easy feat, and some online meeting tools do better than others. It's important to try a few options under different conditions (e.g. home WiFi, mobile LTE network) to pick one with the best video quality available.
Screen sharing. One of the most useful features that you'd be likely to use every day at work is sharing your screen with others — for example, running a presentation or walking someone through a certain issue.
Screen recording. Not everyone can attend every meeting, and it's generally considered to be a waste of time to repeat yourself. So the ability to record your presentation once could yield benefits for a long time. Plus, it's a great way to make communication in your company more transparent overall.
Number of participants. Depending on how you want to make video calls, the amount of people you're able to invite is an important constraint. Do you want to keep it small and go with free video conferencing or do you occasionally hold company-wide meetings with dozens or hundreds of participants? The answer will largely determine the free conference call app you need.
Price. Since video conferencing software is so difficult to create, it's no wonder that most of it is not free. If your team is small, you might be able to squeeze into some free online calling plan, but otherwise, most apps charge a set price per certain number of seats per month.
Interface. The usability of some free web conferencing tools leaves much to be desired. Thus, it's important to pick a tool that doesn't require a lot of training and is naturally easy to use.
Platform availability. As the work today is done from anywhere, an ideal video conference app would be accessible natively from desktop, but also from mobile devices and the web.
Now let's look at some of the best conference call services on the market right now through the prism of these requirements.
Incumbent: GoToMeeting
As one of the original players in the video conferencing space, GoToMeeting (founded in 2004) is still considered to be a frontrunner by many. This video conferencing software features a straightforward UI that anyone can pick up right away and lets you share your screen and even record meetings (on a Business plan). While not a call free online tool, GoToMeeting costs a reasonable $12 a month on a Professional plan and $16 on a Business one. Full-featured mobile apps are also a great plus.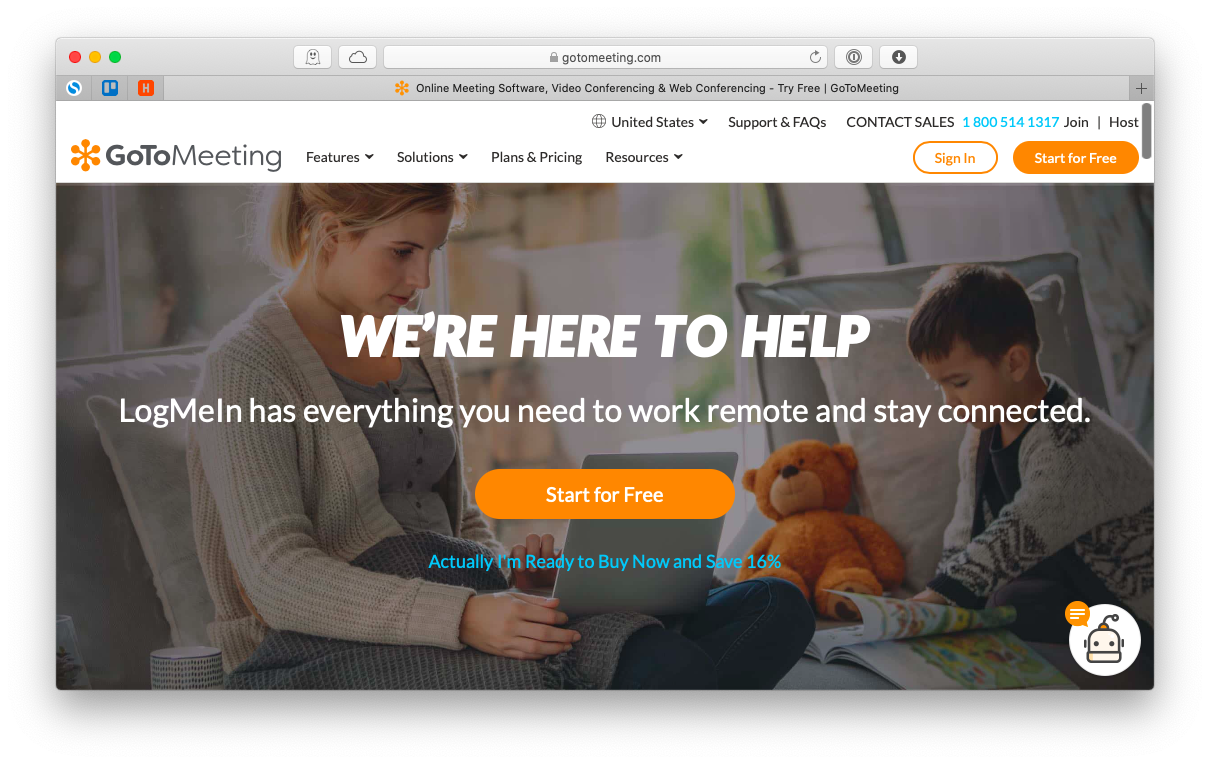 Challenger: Zoom
Since the start of the pandemic, Zoom probably has been discussed more often than any other software for video conferencing because of its suitability to the work-from-home environment.
On the positive side, Zoom has been praised for its call quality, both video and audio, user-friendly interface, the ability to run meetings for free with up to 100 participants (for up to 40 minutes), the screen-sharing as well as screen-recording (for paid users only) functionality.
As for the negatives, Zoom has been criticized for its attitude towards privacy and user security. In addition, the paid plans are per host per month and could get pretty expensive if you want to have multiple hosts or run a meeting with more than 100 people.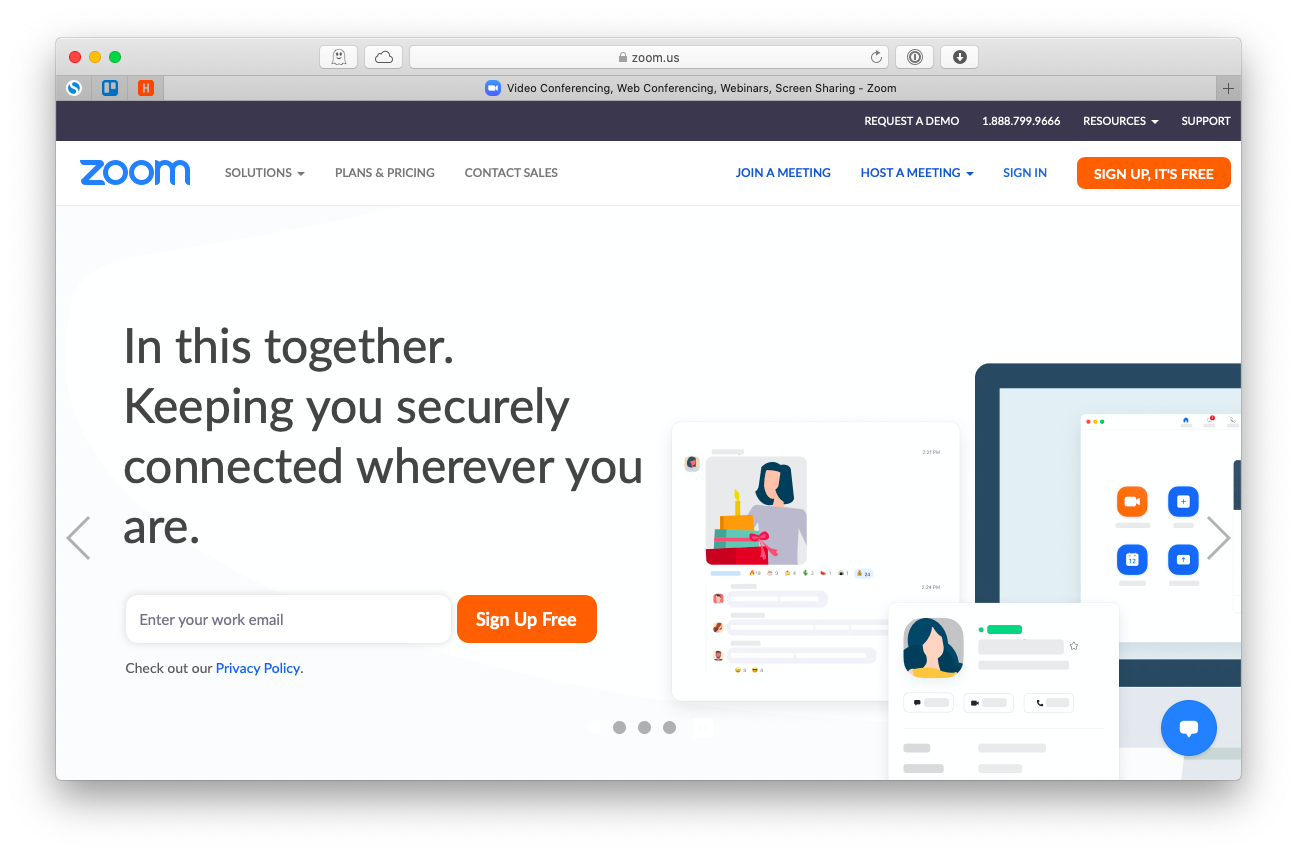 Office 365 users: Microsoft Teams
Those who use Microsoft Office 365 on a daily basis don't have to conduct video conferencing software comparison. They can already use the Microsoft Teams collaboration software that comes together with the Office suite
Microsoft Teams is natively integrated with other Microsoft apps, which makes it easy to send invites to your colleagues via Outlook, for example. This secure video conferencing software supports up to 10,000 participants and has some interesting features, such as blurring the background and putting the speaker in focus — perfect for those work-at-home moments when all kinds of stuff can be distracting in the background.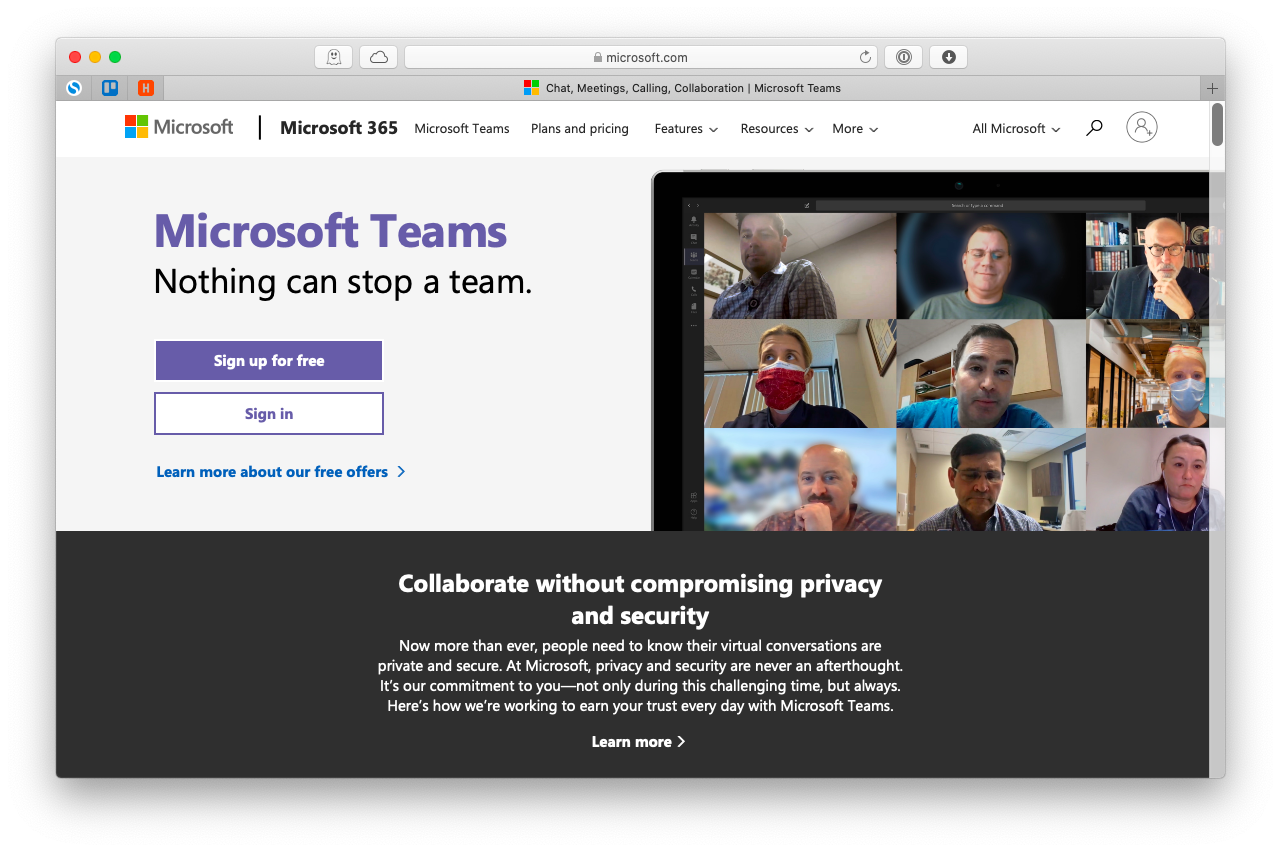 Small teams: Skype
If your team is just a few people working remotely and you don't need any extra bells and whistles, consider Skype. Not the most popular video conferencing software and quite outdated, but it might do the job for you.
The limits are video calls that can handle up to 10 people and the price you have to pay for Skype phone if you want people dialing in from a landline (plans are quite affordable). As a bonus, since acquiring Skype, Microsoft has done a good job at integrating it into its own software ecosystem.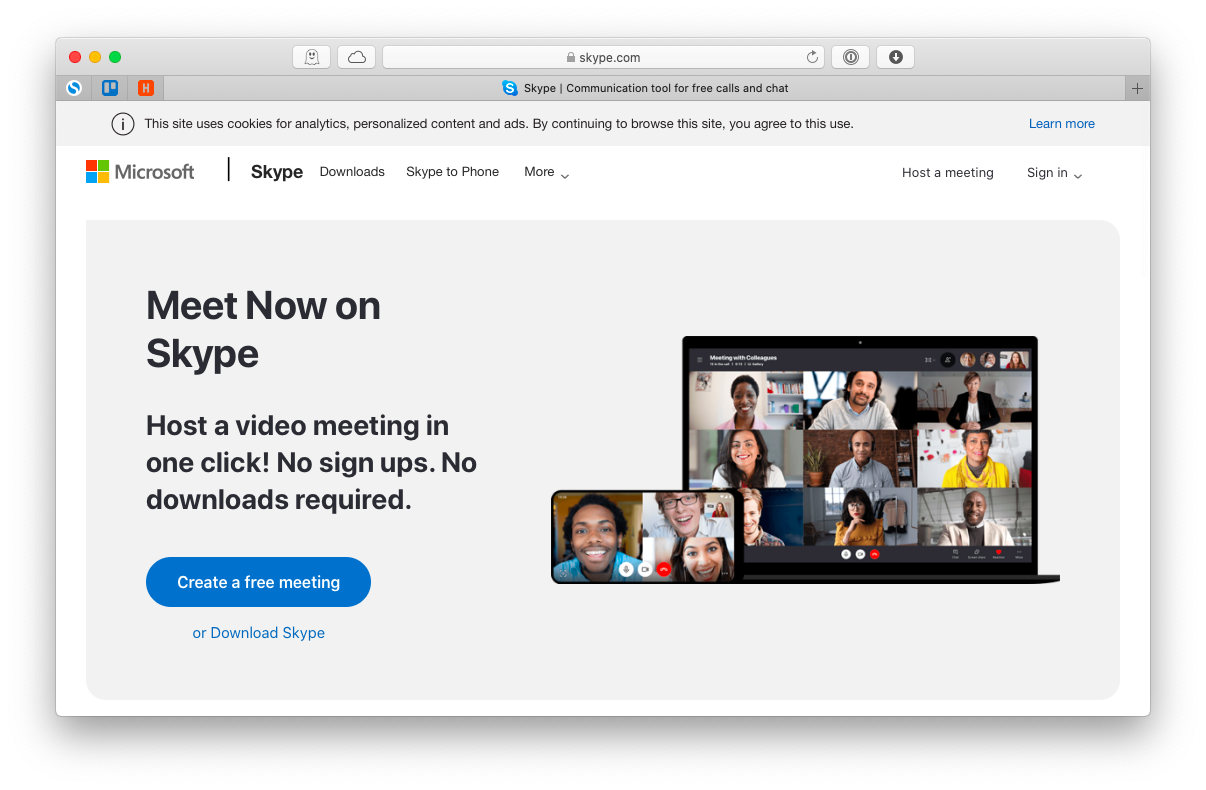 Free: FreeConference
When it comes to any type of software, free is the most powerful feature. Similarly, once you know you need a free conference call app, you should definitely give FreeConference a try.
FreeConference allows you to call free online (international dial-in plans are available) and hold online meetings over video with up to five participants. The app works seamlessly just over the browser and doesn't require any installations. And it's free!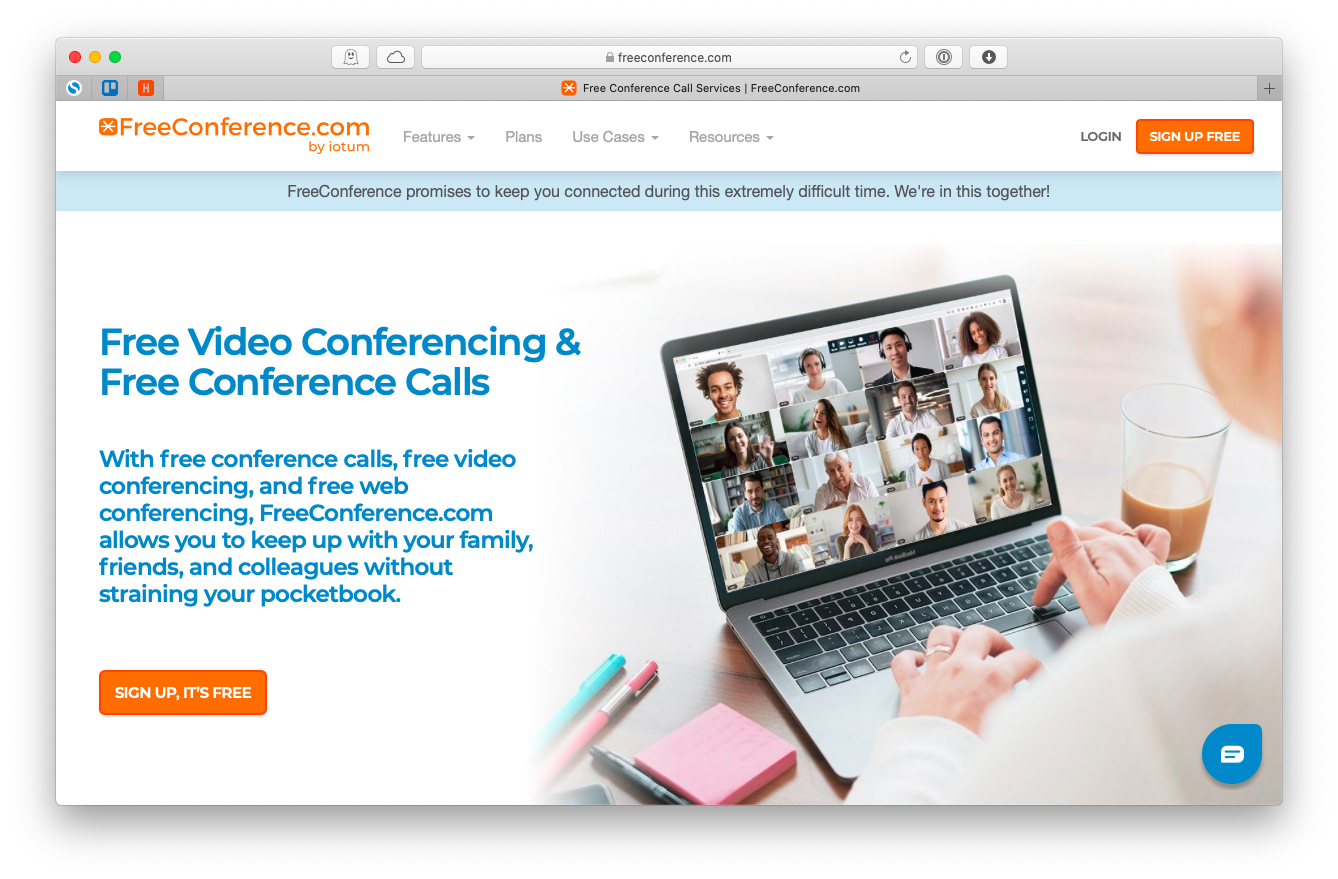 Mac apps for productive online meetings
When you feel like you've found the best free conference call service or paid video conferencing software for business, your next step should be ensuring that your Mac is up to the task as well. After all, it could've been a while since the last time you gave your Mac a marathon video conferencing workout.
First, check that your Mac camera is working properly. If it's not, refer to this handy step-by-step guide to fix it. Second, inspect your WiFi connection. Streaming video requires a lot of bandwidth, so it's good to make sure that your desk is right at the optimal WiFi spot in your home. WiFi Explorer will help you run a network check. Finally, grab a pack of free-to-try tools for online meeting scheduling and management. We overview them below.
Enhance sound with Boom 3D
Boom 3D isn't your average sound enhancer and equalizer. Its core feature is 3D Surround Sound that creates the unique wraparound sound around you from built-in speakers on your Mac or earphones. Thus, outside construction sounds or a neighbor playing piano won't distract you during an important call.
On top of that, Boom 3D offers a variety of equalizer presets and an audio enhancer. This simple app significantly improves sound and increases volume without deteriorating quality. We call this app a must-have for audiophiles, but busy bees that spend half of their day in online meetings and presentations will benefit from this application too.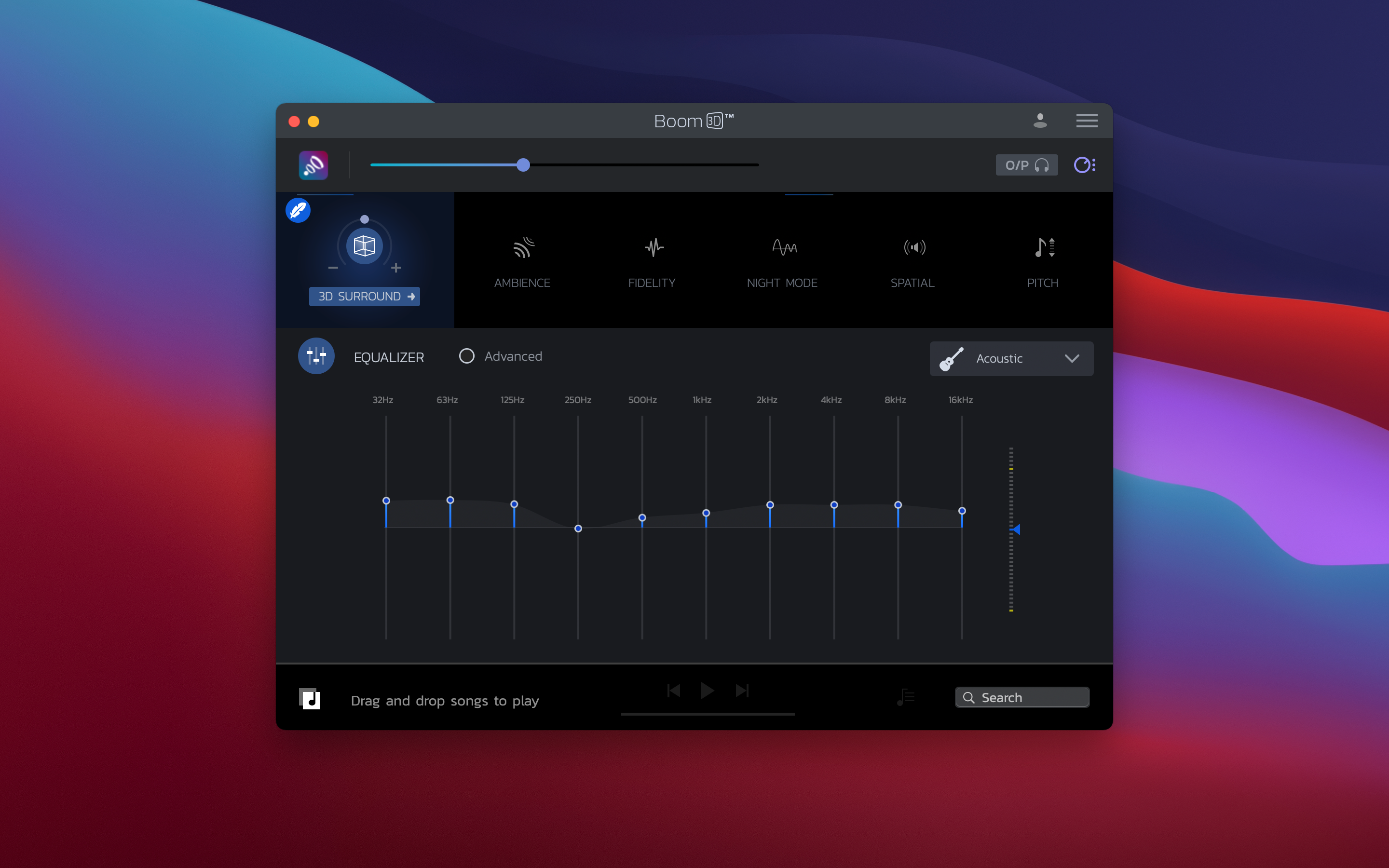 Tape is a dedicated screen recorder for collaborations with a great capability to choose the window you want to record right from the menu bar. Make instant screen recordings with this app, make highlights in your record, include webcam feed, and quickly share with colleagues. The best thing: You can send messages anytime, no matter the time zone, because your team will be able to watch them when it's most convenient for them.
Run asynchronous meetings with Tape
If you get overwhelmed with online meetings, Tape comes to the rescue. This tool lets you create instant screen recordings to collaborate effectively when working on a project, giving product demonstrations, or providing customer support.
You can record your screen with Tape by using the Command + Shift + X shortcut and selecting the app you want to show. You can also add voiceover to your screen recordings for effective walkthrough videos or quick tutorials. In addition, Tape offers a webcam overlay option to create personalized communications.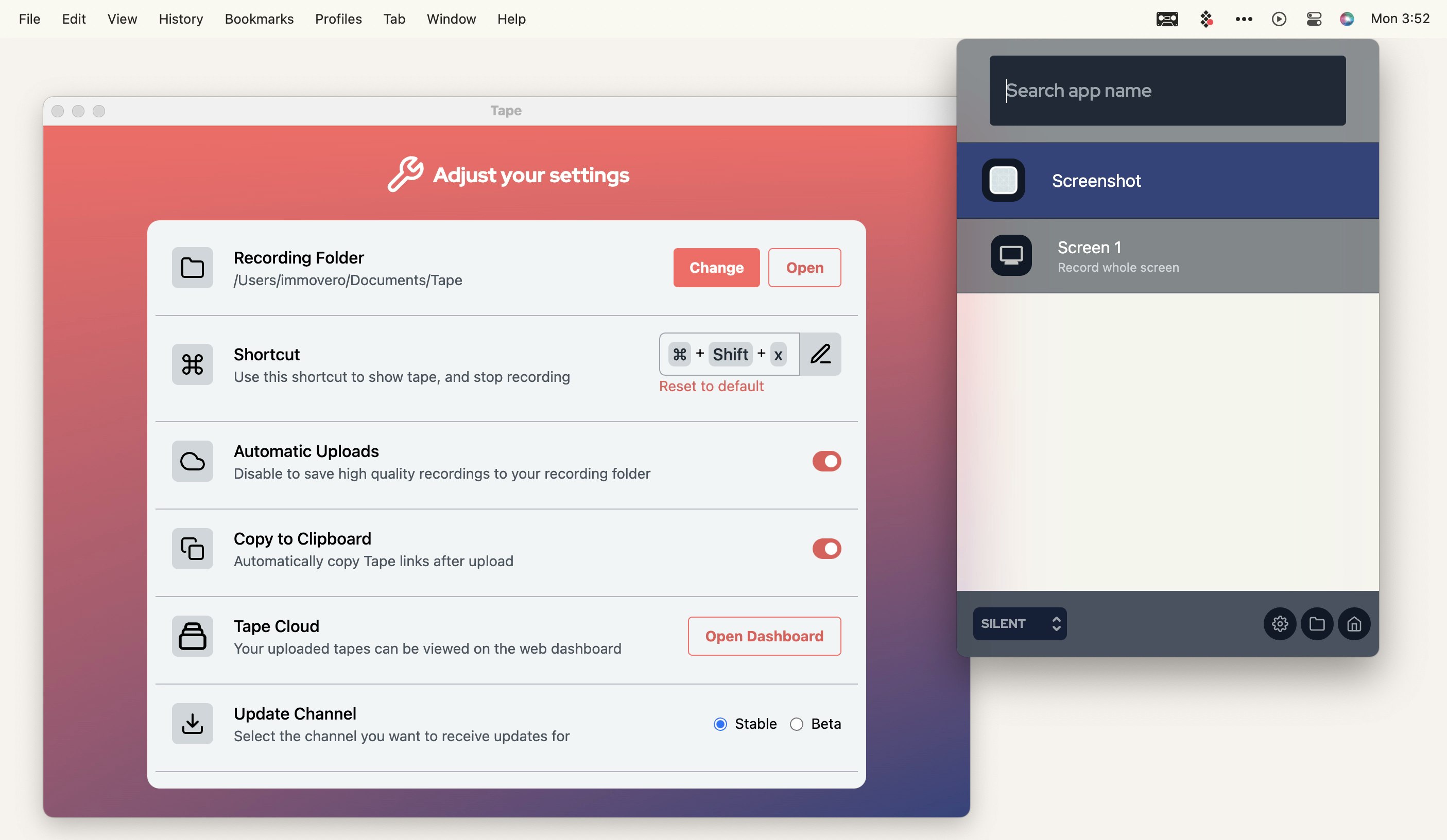 Get an AI-powered speech coach
Speeko is a unique AI-powered speech coach that helps you cope with several tasks at once: anxiety giving a speech, lack of confidence, and unclear speech.
Record your speech, and Speeko will analyze parameters like intonation, pauses, and speech pace. Then, this assistant will provide you with actionable tips and warm-up exercises to build your muscle memory and polish your speech skills.
If you prefer a consistent approach, take on-demand courses to practice skills like storytelling, impromptu speaking, and online presentations.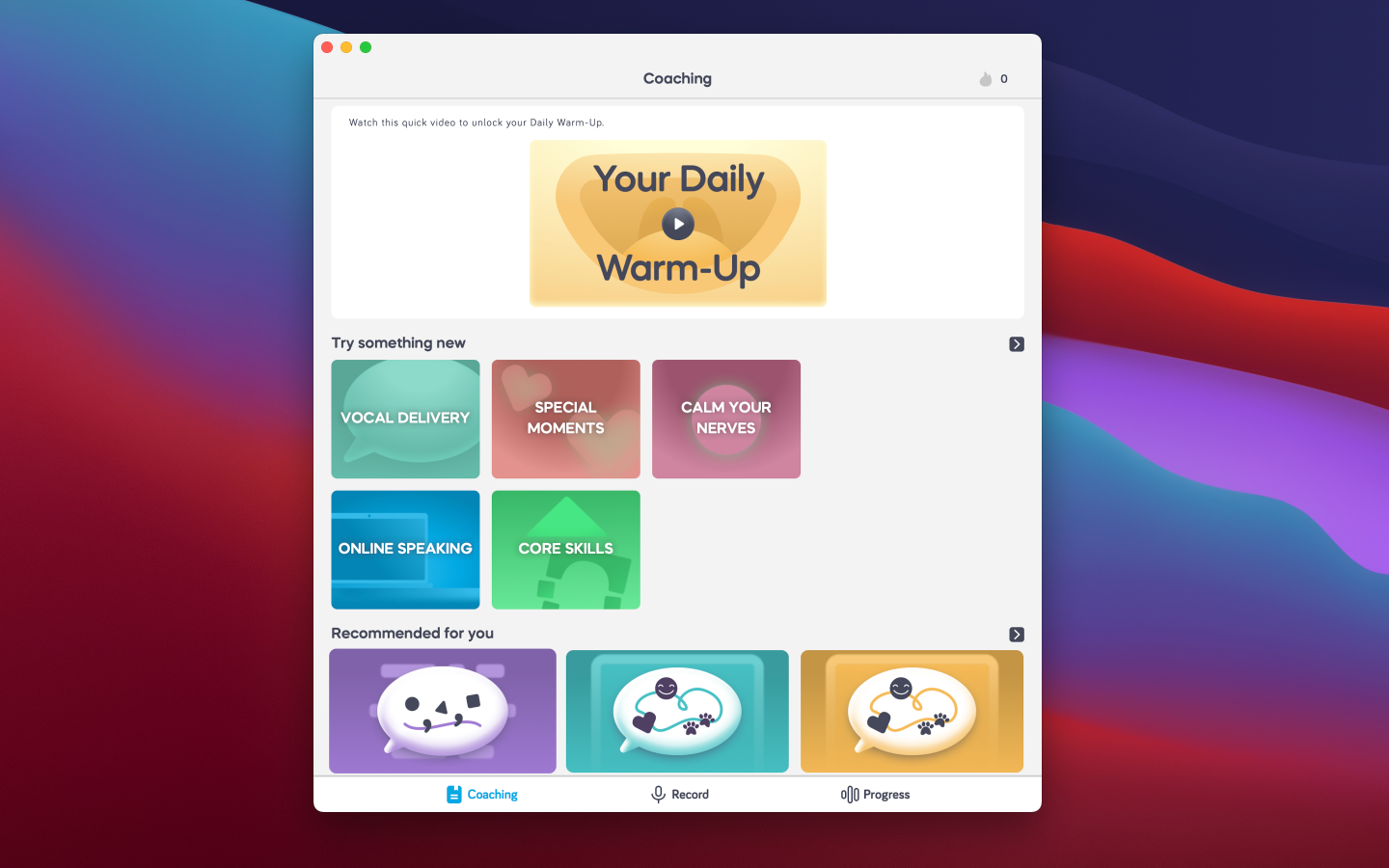 Record your meetings with Capto
Screen recording isn't rocket science. However, tools like Capto spice up screen recording and video editing a bit. We recommend this Mac app for people that record meetings.
First, Capto allows you to record a specific screen area if you want to focus your viewers' attention on important things. Second, Capto enables voiceover and simultaneous recording from your front camera.
Third, you can edit your video recordings, adding effects like fade-in and fade-out. Enough spoilers, get to know Capto yourself – you'll love this app!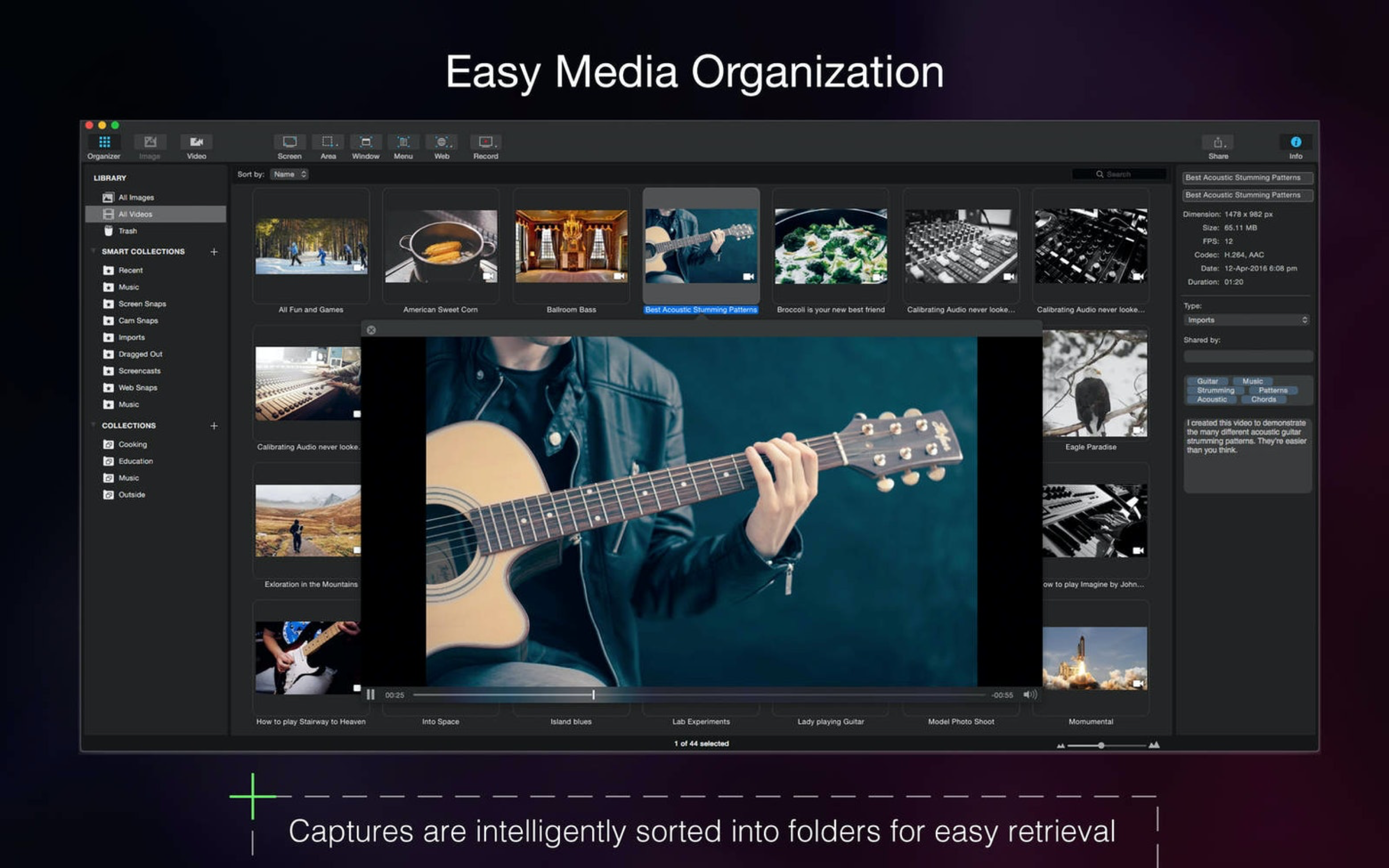 Get a powerful meeting scheduler
Schedule meeting online or on your Mac — sounds like a trivial task, doesn't it? Well, if you have to attend multiple meetings over the day, it might be a bit cumbersome.
Whether you use Zoom, Google Meet, or both, you can have one consolidated spot on Mac where all your upcoming meetings appear. It's called In Your Face and it's hands down top video conferencing software that pulls meeting information from anywhere on your Mac and puts it into one handy schedule.
When the meeting is about to begin, In Your Face sends you a notification with a link. Click on it and get right in. No more pasting meeting links anywhere — you don't even need to open Calendar to find a path to your next video call.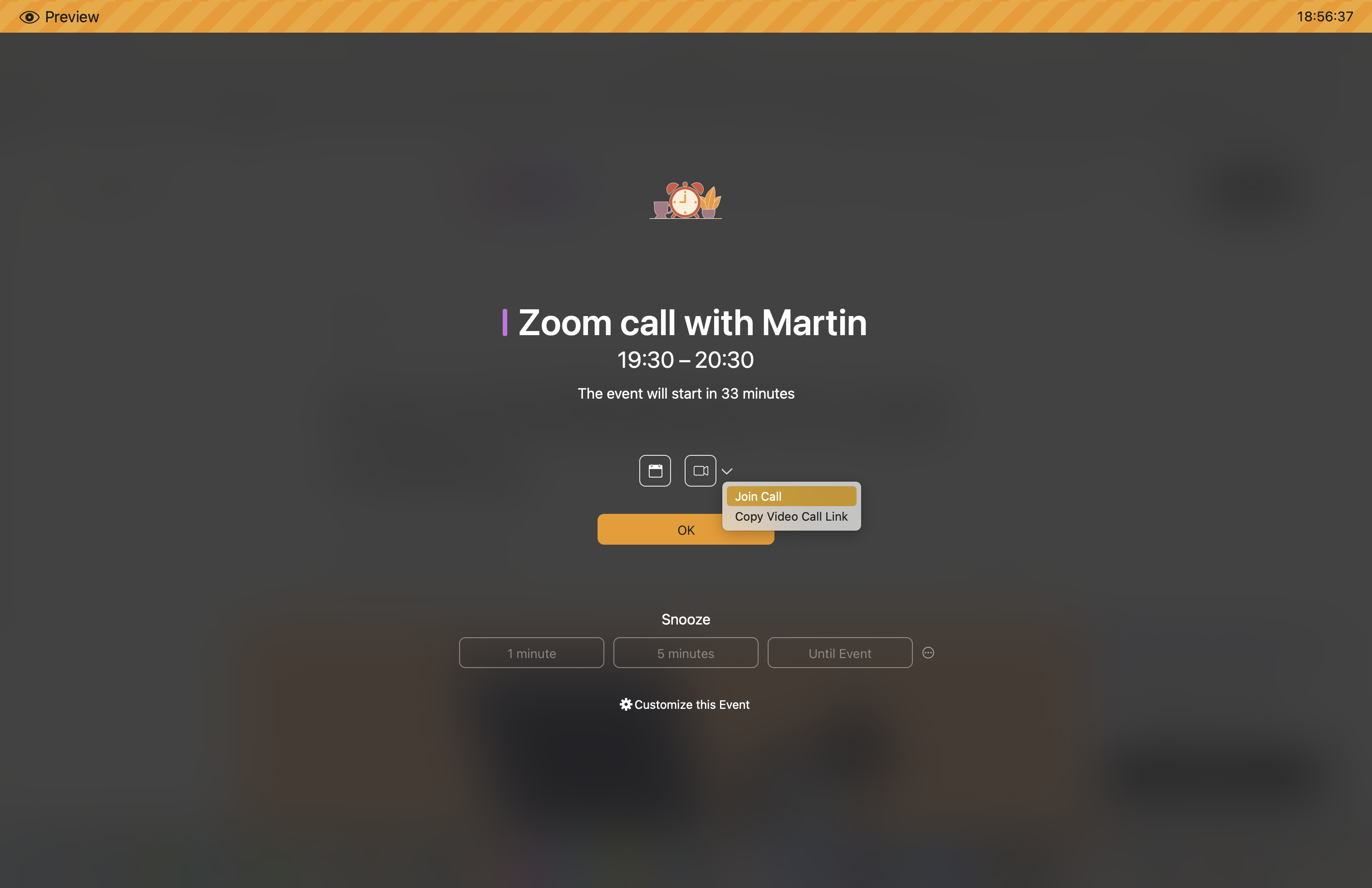 Best video conferencing software plus Setapp
As you can see, the list of video conferencing software is pretty extensive, from traditional players like GoToMeeting to lightweight and free online calling tools like FreeConference.
It might be a bit more challenging to choose business video conferencing software if you're on a tight budget or there's a large team you need to accommodate for, but it's still doable.
Don't forget you can always rely on Setapp, an app subscription for macOS and iOS with a free trial, which will tune up many things for you. Such as, you can make your internet connection as fast as it can be with WiFi Explorer, use In Your Face to consolidate meeting links in one spot, get Boom 3D to enhance sound on your Mac, record your videos with Capto, try asynchronous meetings with Tape, and more. All these little helpers and web video conferencing software available via Setapp are yours once you sign up for the service.