The top word processing apps for Mac
Text documents are everywhere. Some write them, others edit them, yet others just look at them. This is why one of the most ubiquitous tools on every computer is a word processor.
There are well-known paid word processors Mac users love such as Ulysses and MS Word, but there are also brilliant free solutions that can match your workflow. Which one to choose? In this guide, we discuss the best word applications for Mac as well as tell you a little secret — you can get access to the top five writing programs for Mac without buying them. Here's how.
How to choose a good word processor for Mac
First, let's figure out what the best word program for Macs is. The short answer is it really depends on what you do. If you take notes often and want to be able to interlink and share them, you don't even need a word processor — what you need is a solid notes app. And if you write books, a basic word processor like Pages can kill your inspiration by messing with your images, not letting you duplicate pages or save bookmarks, and well...it just doesn't look well.
Here are a few things you should consider when choosing a document writer for Mac:
Does it work offline? You don't want to lose a genius sentence because your internet went down. In most situations, word processors that can save your progress offline will have a clear advantage.
Formatting tools. Bookmarks, styles, or even a built-in Markdown editor — some word processors for Mac have very advanced tools. Ulysses is one of the best choices for formatting, but you can also get a reasonably good toolkit with MS Word. Also, check out is notepad++ available on macOS.
LaTeX and equations. Some people will need to work with LaTeX and equations. In this case, you'll have to look at a particular category of word processors.
Converting to other formats. Think about your flow. Who do you share your documents with, and which mediums and formats do you use? Make sure your word processor caters to that.
Distraction-free mode.Some people will never feel focused when writing or editing in a browser. Luckily, there are incredible tools that can weed out online distractions for you.
Collaboration tools. Google Docs has the great benefit of letting you edit and comment on a doc along with other people. Craft goes even further by letting you share private offline access to your docs.
Best word processor apps for Mac
Here's our top 10 list of word processors Mac users should try this year.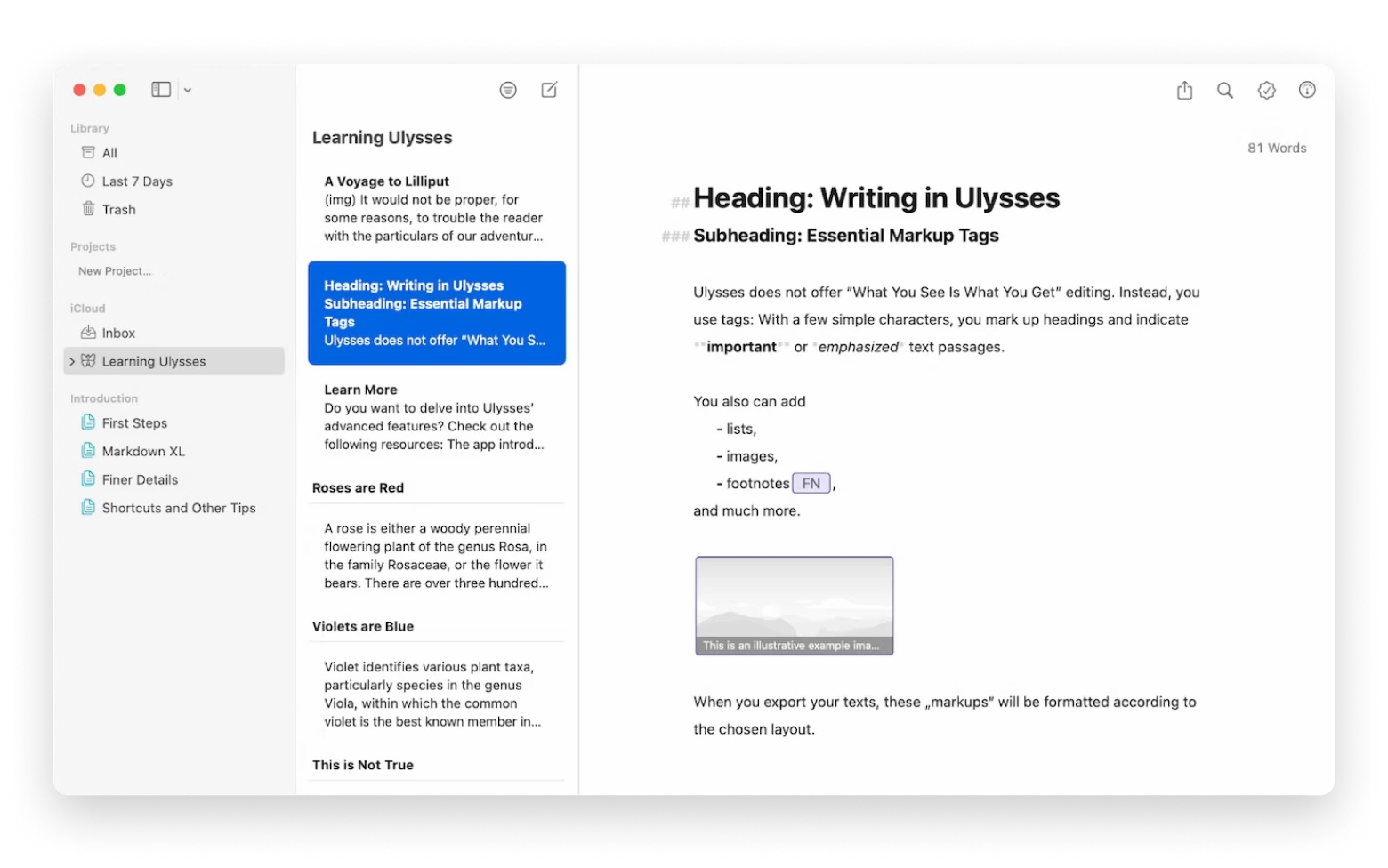 Perks:
Write on Mac, iPhone, and iPad
Distraction-free mode
Use markup to format texts
Direct publishing to blog, website, etc.
Writing goals and grammar check
Best for: writing books, blog content, articles, etc.
Price: Free to try with Setapp, then $9.99/month
Ulysses is the award-winning writing software for macOS and iOS. Seasoned Mac users who get their apps through Setapp know Ulysses and use it for all writing and editing cases. The app has a superb markup-based editor and even a style and grammar checker to help you elevate your writing. All you need to write, edit, polish, and publish your content.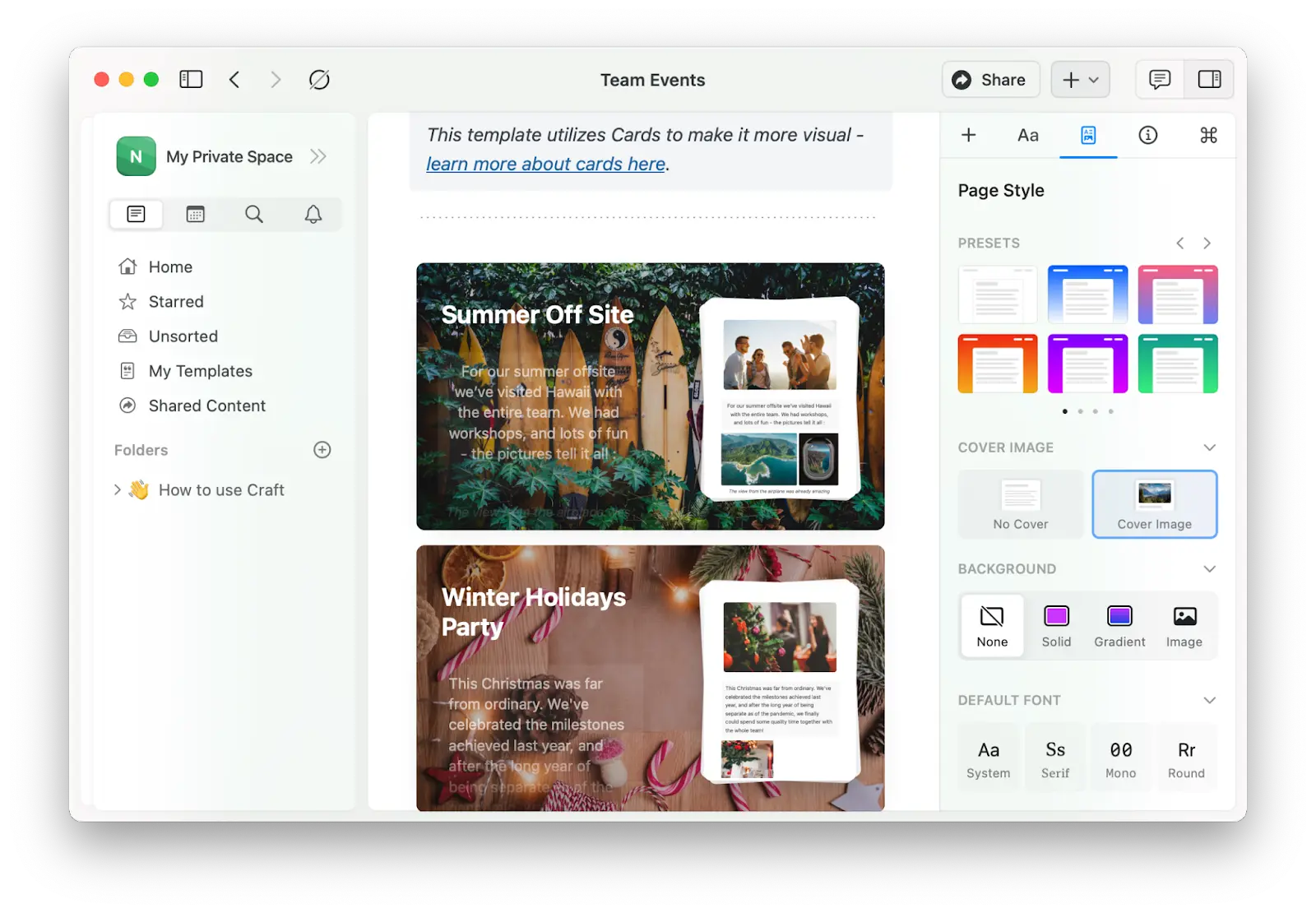 Perks:
Rich feature-set

Courtesy of the native app experience

Offline editing

Markdown support

AI Assistant
Best for: building visually appealing documents, taking notes, and organizing your docs
Price: Free to try with Setapp, then $9.99/month
Go beyond word processing to creating beautiful documents. Craft brings structure to the documents you create and gives you the tools and freedom to do it your own way. Combine images, text, media or tables seamlessly for the perfect experience. Allow readers to consume your document as if it were a website for deeper understanding and engagement.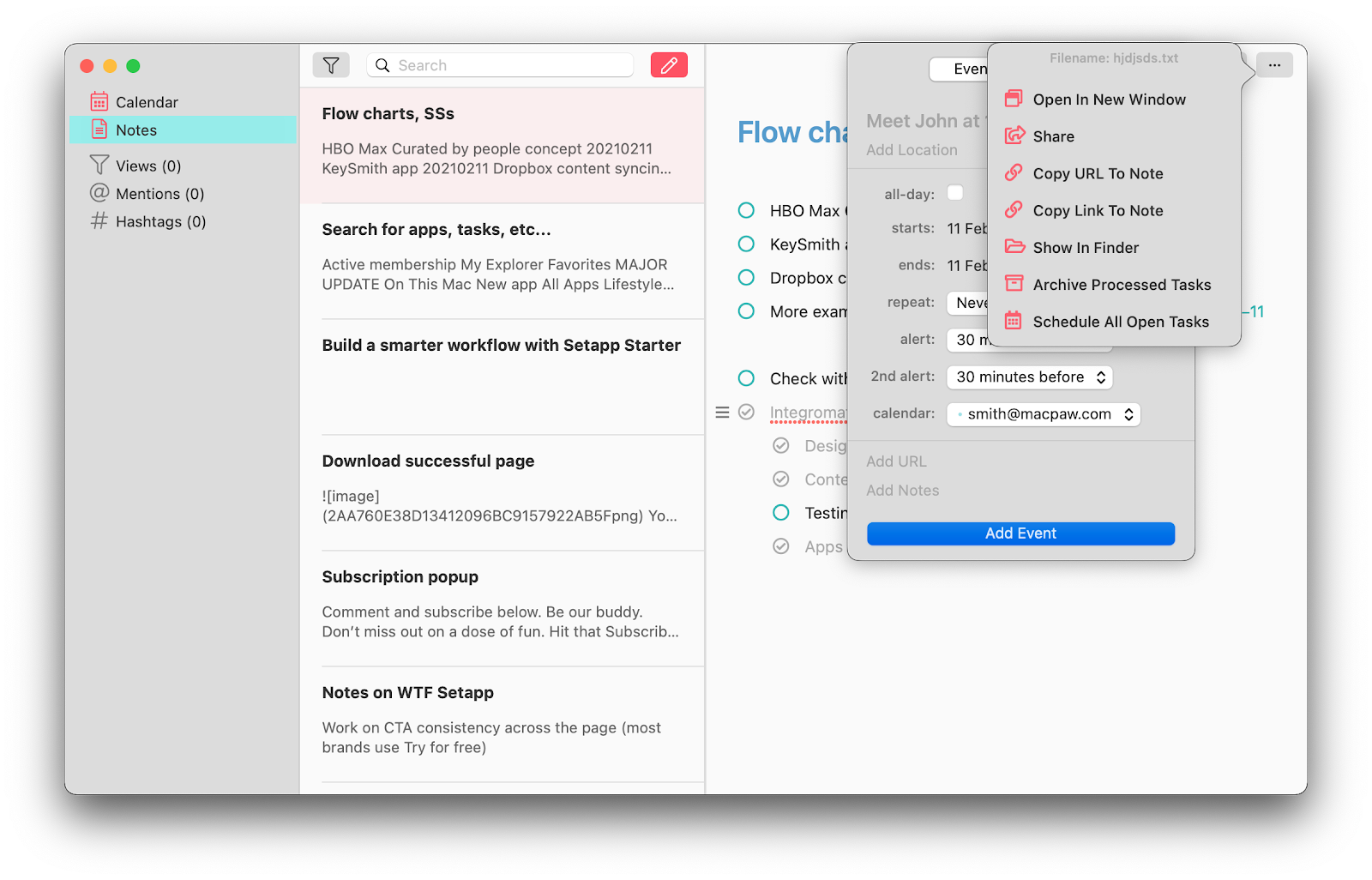 Perks:
Integrates with Calendar
By-directional links to build connections between notes
Markdown support
Great for task management with notes
Best for: meeting notes and calendar-driven notes
Price: Free to try with Setapp, then $9.99/month
If your writing routine primarily involves taking notes at meetings, brainstorming, and planning, what you need is NotePlan. Not exactly a word processor, NotePlan can be an excellent spot for your writing. It integrates with Calendar, has a task planning tool, and even Markdown support. So if you need a tool to document, plan, and create ideas that are easy to share, try NotePlan.
Tip: Subscribe to Setapp and get Ulysses + Craft + NotePlan + Pages free for 7 days, then $9.99 per month. Well, because the best alternative to one good words program for Mac is four stellar words programs for Mac!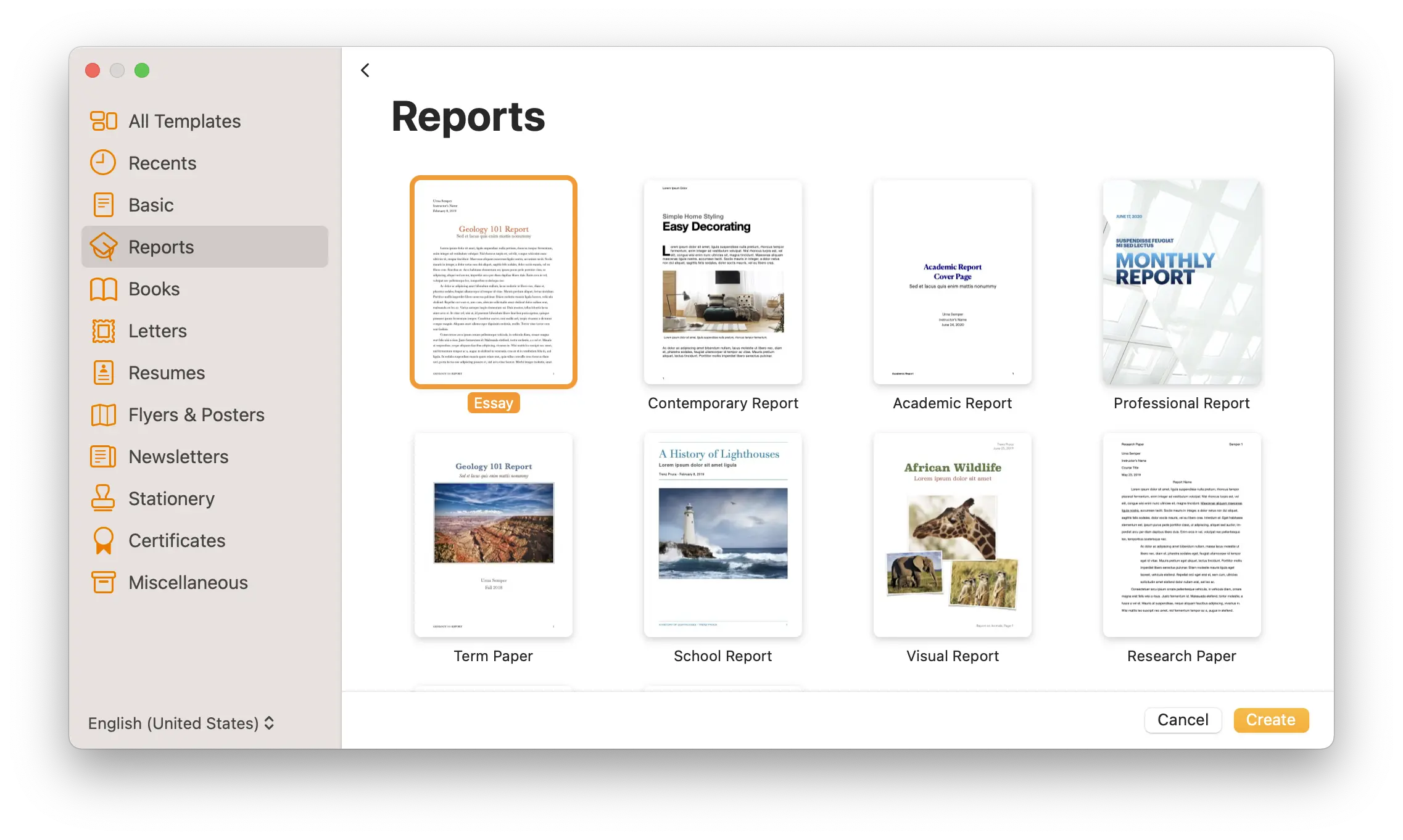 Perks:
Built-in templates for your content
Real-time collaboration
Ability to add images, videos, shapes, etc.
Best for: writing reports, books, posters, etc.
Price: Free
Since you have Pages installed on your Mac and can check what it offers, we'll focus on what it doesn't offer. Here's what a Reddit user reported: "I used Pages for all the texts, and imported everything else as images (plays, routes, defenses, etc). When I converted to PDF to email it to the team, some of the images were lost." Indeed, Pages can mess with your visuals, so it's better not to write in Pages if you intend to convert and share that document later.
Other than that, Pages is a decent basic word processor with some good Apple-developed templates, collaboration features, bookmarks, and more.
iA Writer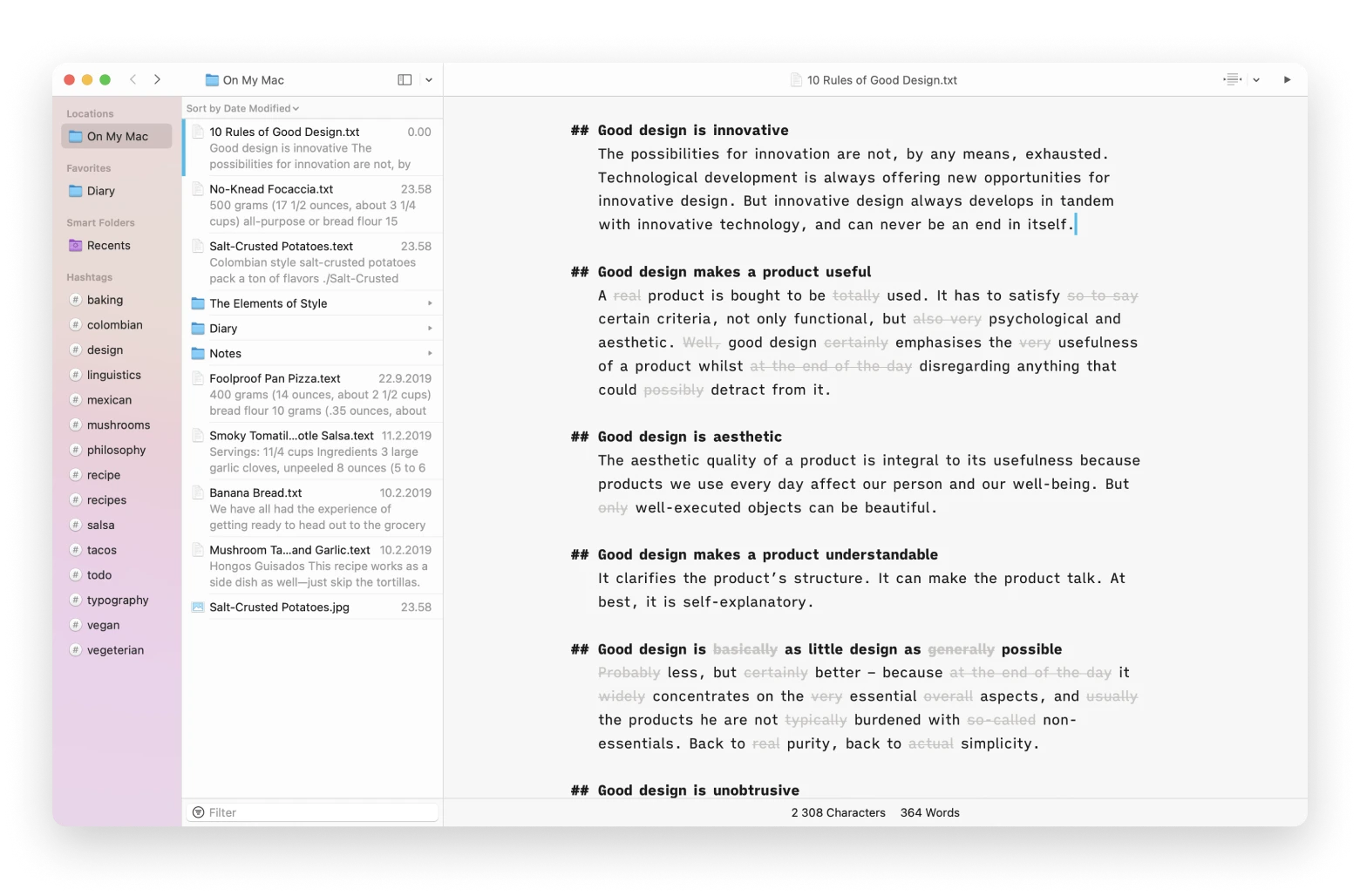 Perks:
Focus Mode and typewriter-style design
Color coding system
Style check
Best for: honing your writing skills
Price: $29.99
If you see yourself sipping mint tea at the wooden desk, writing your next novel, iA Writer is the best tool for that. Its minimalist design will help you focus on one thing — your writing. We also love that you can color-code certain words or parts of the text to get back to them later. And there's a style check that can point out redundant words or phrases.
Google Docs
Perks:
No need to keep documents on your computer
Great for real-time collaboration
Good basic formatting
Best for: co-authoring texts, reports, and documents
Price: Free
It's a free word processor for Mac that has revolutionized writing on the web. Google Docs has been the first tool to prove you can write and manage texts online. Although there are some privacy issues involved, and we certainly wouldn't recommend Google Docs for writing books or any sort of super confidential documents, it's a great word tool for individuals and teams.
Microsoft Word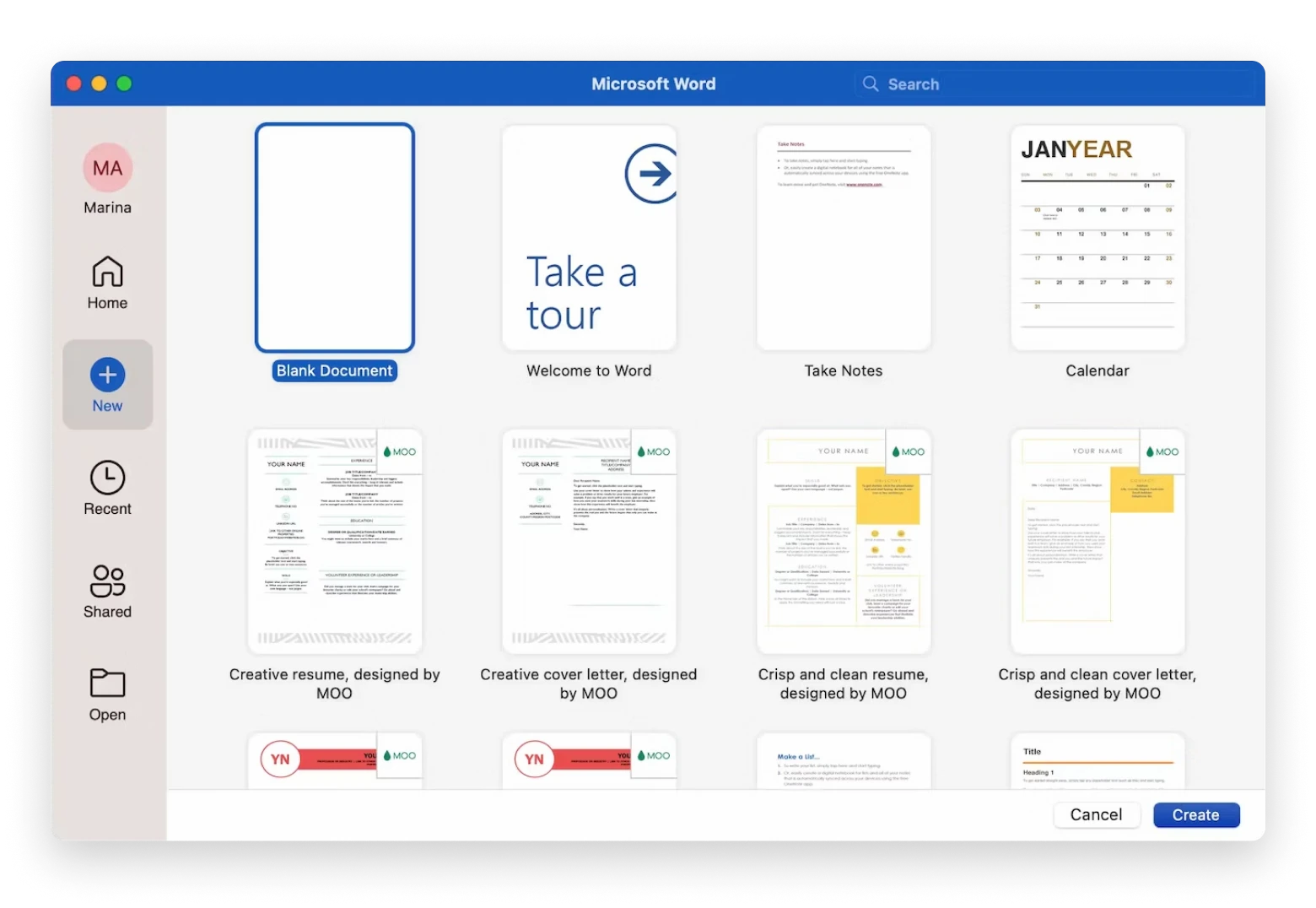 Perks:
Impeccable reputation
Great formatting and file sharing options
Integration with MS Office
Best for: business documents, reports, etc.
Price: from $6.99 per month
If you google "word processor Macintosh," you'll certainly be directed to their majesty Word. Both on Windows and macOS, MS Word is a mammoth in the world of digital documents. The biggest perk is the MS Office ecosystem — if you work with other MS tools, it certainly makes sense for you to use Word. Also, with this word processor, you can be sure your documents are securely protected and won't be subject to any formatting glitches.
Byword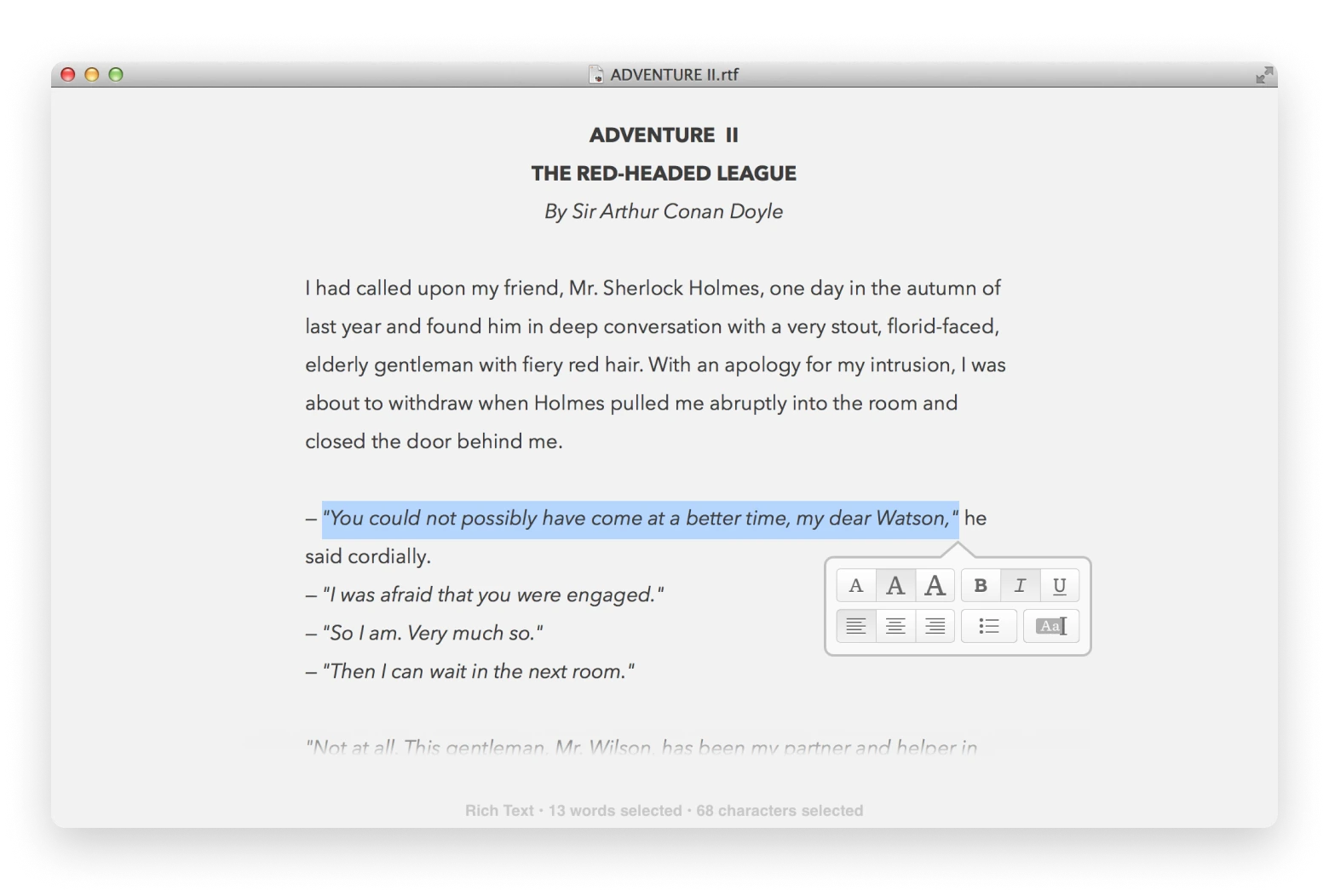 Perks:
Markdown formatting support
Publish directly to Medium, your blog, etc.
Sync across devices
Best for: blog posts, reports, etc.
Price: $10.99
Byword is a minimalist writing app with Markdown support. The major perk is Byword's integration with major blogging platforms, including Medium, Blogger, Tumblr, WordPress, and EverNote. The app doesn't have all the formatting and style check perks of Ulysses, but it's still a pretty decent alternative if your main goal is to publish your content from the app to your site.
Try 4 word processors for free
Word processors Mac users love are not always the ones that cover your particular use cases. Sometimes, a small free app can solve a big problem for you. This is why it's important to research and try as many word processors as possible to find the right fit.
Setapp is a unique toolkit that gives you the chance to experience top-rated word processors for free. Install it on your Mac and enjoy free access to Ulysses, NotePlan, Pages, and Craft (plus dozens of other Mac,iPhone, iPad, and web apps) for seven days free, then $9.99.
FAQ
Is there a free word processor for Mac?
Yes, Pages is Apple's native word processor that comes pre-installed. It's free to use, as well as Google Docs, which you can use for free as long as you have a Google account. You can also try some of the best paid apps for writing with Setapp's 7-day free trial.
What is the best document writer for Mac?
It really depends on your use cases. We love the award-winning Ulysses because of its grammar and style check, Markdown, and amazing UI. However, if you have MS Office, it makes sense for you to use MS Word on a Mac. If you're worried about privacy when sharing files with other people, check out Collabio. And if you use a word processor for meeting notes and brainstorming, NotePlan will be the best for you.
What word processor comes with Mac?
Pages. It's a native word processor that has templates, collaboration features, and decent formatting options. However, it has some issues with converting files to other formats and lacks advanced writing and publishing tools.