How anyone can check storage on Mac
Sometimes, you need to know how much storage space is on your Mac. Apple doesn't make this info readily available because not many of us need to know about Mac storage often enough. It's really easy to check, though.
People need to check their storage space for a variety of reasons. Sometimes, just for the sake of effective storage management; sometimes, when your computer is running slowly and storage is the first culprit you can think of. Ideally, about ten percent of the storage space on your Mac should be free at all times so your computer can run smoothly.
Depending on which model you have, this can be tricky to accomplish routinely. Maybe you need to delete some older apps you're not using, or the app isn't supported anymore. Maybe you're just holding onto old documents you no longer need.
Whatever your use case, here's how to check disk space on Mac.
How to check storage on Mac
Let's start with the easiest solution — a handy storage tracker in your menu bar.
iStat Menus is an app that can keep tabs on your Mac's health and performance, completely automatically. It gives a graphical overview of CPU and GPU use in real-time, network connections, and memory use. Instead of dipping and diving through Apple's hierarchal menus, you can just click on iStat Menus to get the same information in a much better interface.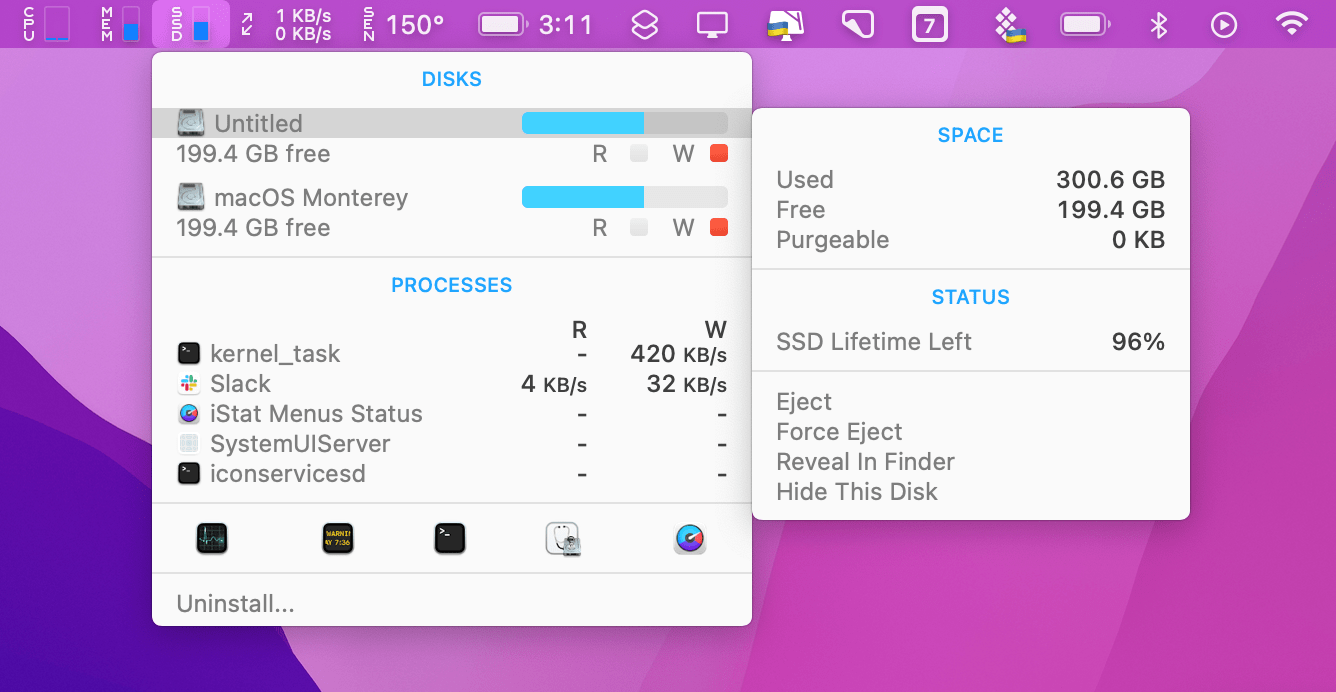 If you want to see how much memory on Mac you have left, click MEM. For information on disk space, go to SSD > Disks, and so on. iStat Menus even allows you to keep the data surfaced directly on your menu bar. Instead of clicking the icon, you can choose to have things like CPU or memory usage as icons so the information is always available in real-time.
If you don't have access to iStat Menus, you can go with a bit more laborious method and check storage manually. Here's how to check storage on Mac:
Click the Apple logo in the menu bar
Choose 'About this Mac'
Choose 'Storage'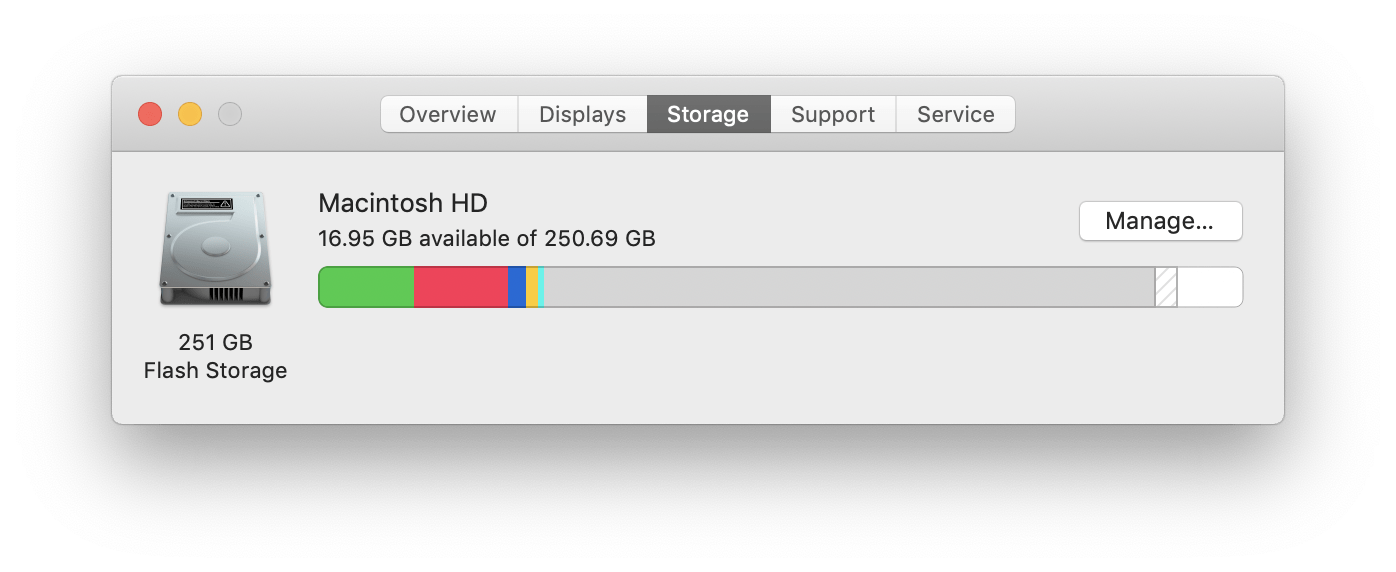 This is the easiest method for how to see storage on Mac – but you can go deeper! If you need a closer look at your Mac's memory use, there are a few ways to go about it.
From the Storage screen, you can select 'Manage,' which takes you to a new window.
Applications, Documents, Photos, and other sections can be found on the left of this window, and a detailed view of those files on the right.
Check your Mac storage via Disk Utility
Disk Utility is another resource. Open Disk Utility, and it will launch into a view of the volume(s) on your Mac, which also shows how much space is used, and how much is free. Keep in mind Disk Utility is meant for power users who want to manage their storage, and is a bit of overkill for most users.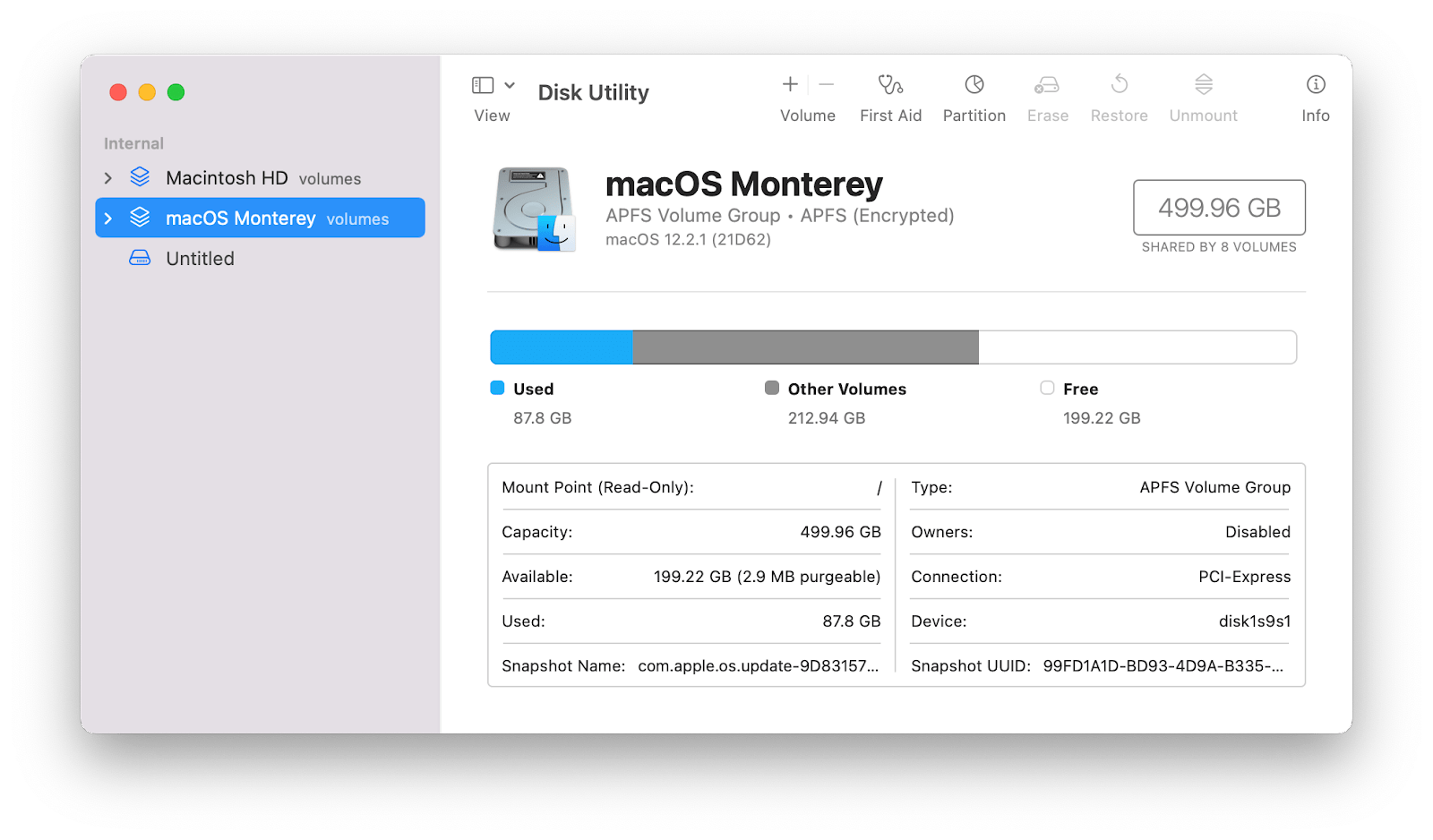 How to view storage in Finder
You can also use Finder to check how much free space is left on your drive:
Open Finder and find your disk in the left sidebar
Right-click the disk > Get Info
Under General, look for Available and Used storage.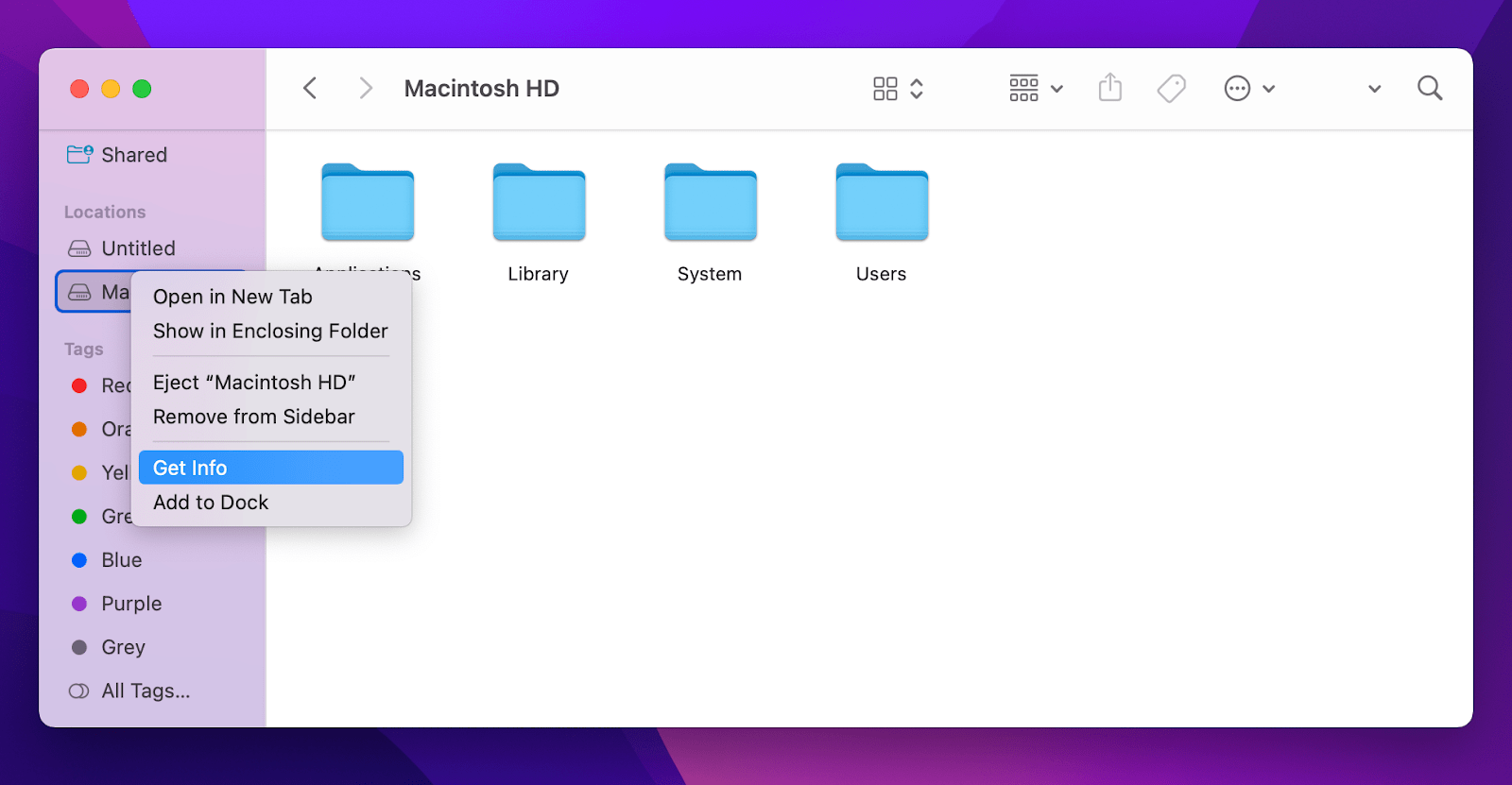 How to manage storage in macOS
There are also easy ways to manage the files or applications taking up room on your Mac.
In Finder, select the category from the left side pane, then the application or file you want to delete. Right-click on that file or app, select 'delete,' and it'll be removed. From the System Information menu, simply select the file or app you want to get rid of, and select the 'delete' button on the bottom right of the window.
But these two methods often don't solve the issue! One clever way to better manage the storage on your Mac is to use cloud storage options like iCloud, Dropbox, Google Drive, and OneDrive. Apple's iCloud is woven into your AppleID, and using it is a very straightforward approach; it's automatically added to the storage options for your Mac!
But iCloud is not the only solution for cloud storage on Mac. If you have something else, CloudMounter is the easiest and best way to manage all your cloud storage containers. It lives in your menu bar for easy access, and shows all your cloud storage options in Finder. It helps your Mac treat cloud storage as a local disk, making access and managing files really simple.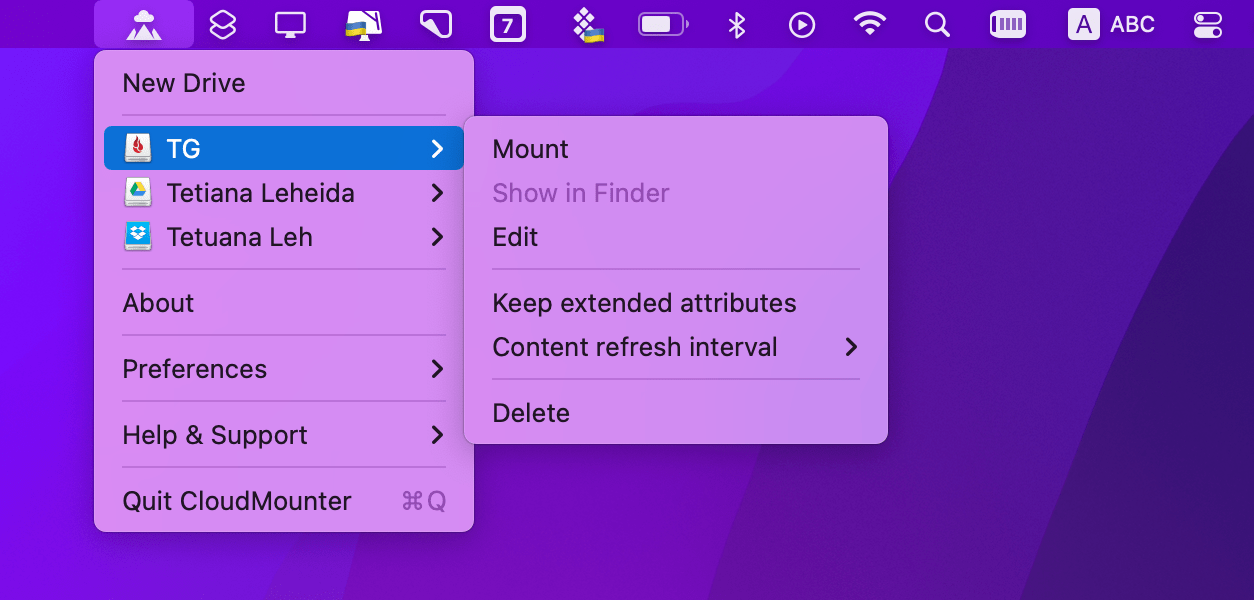 Best of all, CloudMounter uses 256-bit encryption, so your documents are always safe.
Probably the best (and definitely the most powerful) option for managing your Mac's memory is CleanMyMac X. Like iStat Menus, it has a drop-down window from the menu bar showing details like CPU or memory use, as well as which apps may be kicking your Mac into overdrive.
CleanMyMac X really shines when you open it up. The app scans your system and identifies unused files, random system junk, mail attachments – and also manages your trash bins. It scans for malware, checks for privacy leaks, optimizes your system for speedy performance, and does routine maintenance.
That's a lot, but we're not done! An option within CleanMyMac X named 'Space Lens' is a lot like Apple's Finder, only better looking and much easier to use. Here you'll see all your applications and files divided into sections, and broken into sub-menus. You can also manually delete apps or files.
'Large & Old Files' is a feature in CleanMyMac X that – you guessed it – finds large files and files you haven't touched in a long time. The goal is to help you identify which files might be worth deleting, or at least shuffling off to cloud storage. It even tells you how long it's been since you used a file!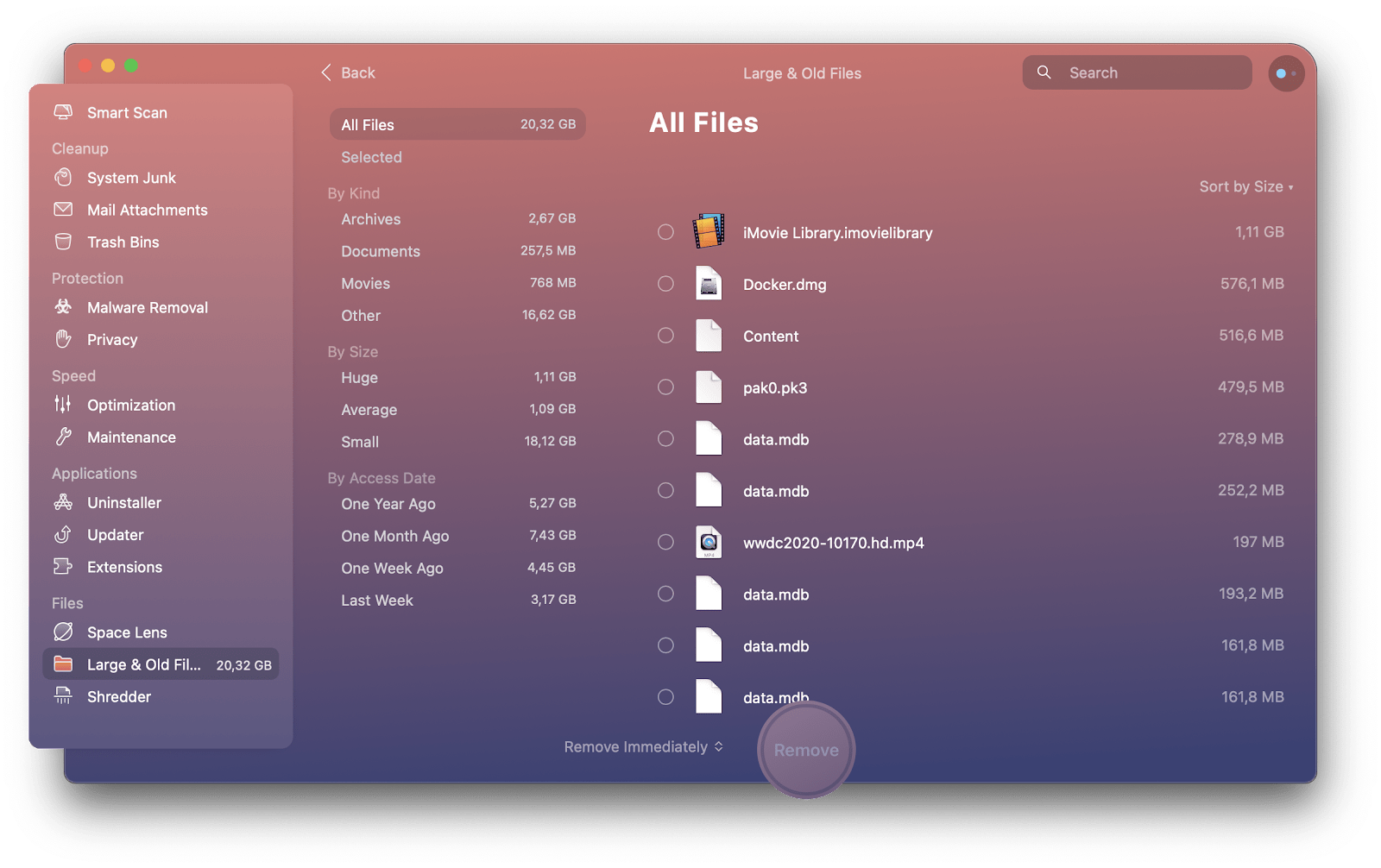 But let's be honest: most of the space on your Mac is probably taken up by apps. And chances are, you don't want or need most of those apps anyway. This is where CleanMyMac X shines bright! Under the 'Applications' menu, you can update and manage apps and extensions with ease.
The 'Uninstaller' option is a lot like the 'Large & Old Files' option, just for apps. It shows you which apps are old, which may be abandoned (32-bit apps are no longer supported on Mac!), and which are just plain unused. It even shows you how large the apps are, letting you do the quick math on which will free up the most space when deleted.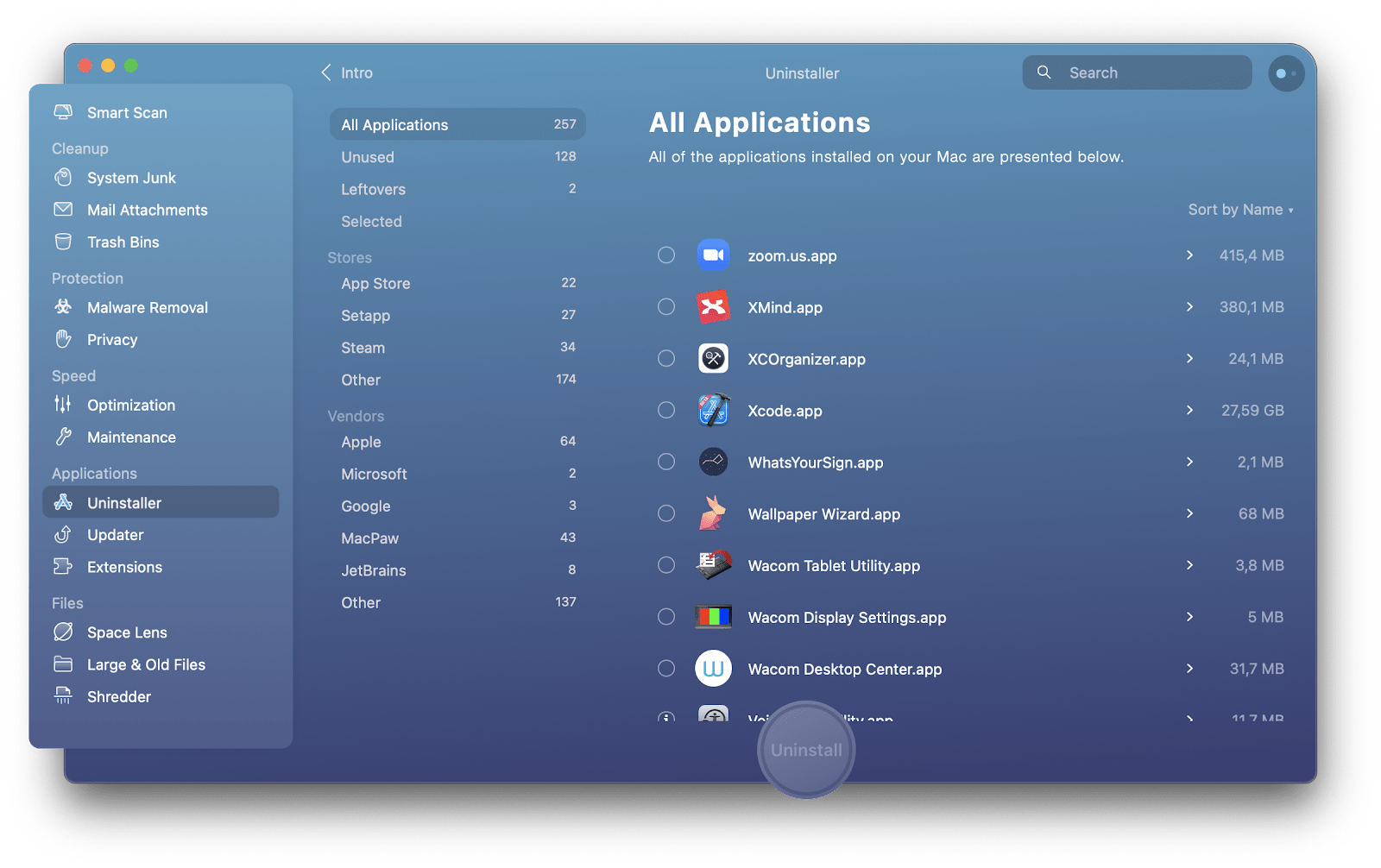 To get rid of apps or files, simply select them from the CleanMyMac X menu, and select the 'Uninstall' or 'Delete' option at the bottom of the window. It's that easy! Undoubtedly, CleanMyMac X gives us a good understanding of how to look at memory on Mac and how to get rid of unneeded stuff. But what if you can't get rid of that stuff?
If you're not ready to uninstall some apps — we get it, some of them may be essential for your work — you can tame them with App Tamer. The app works in the background, monitoring apps' impact on the CPU. Once it finds memory hogs, it slows them down so you can do your work without interruptions.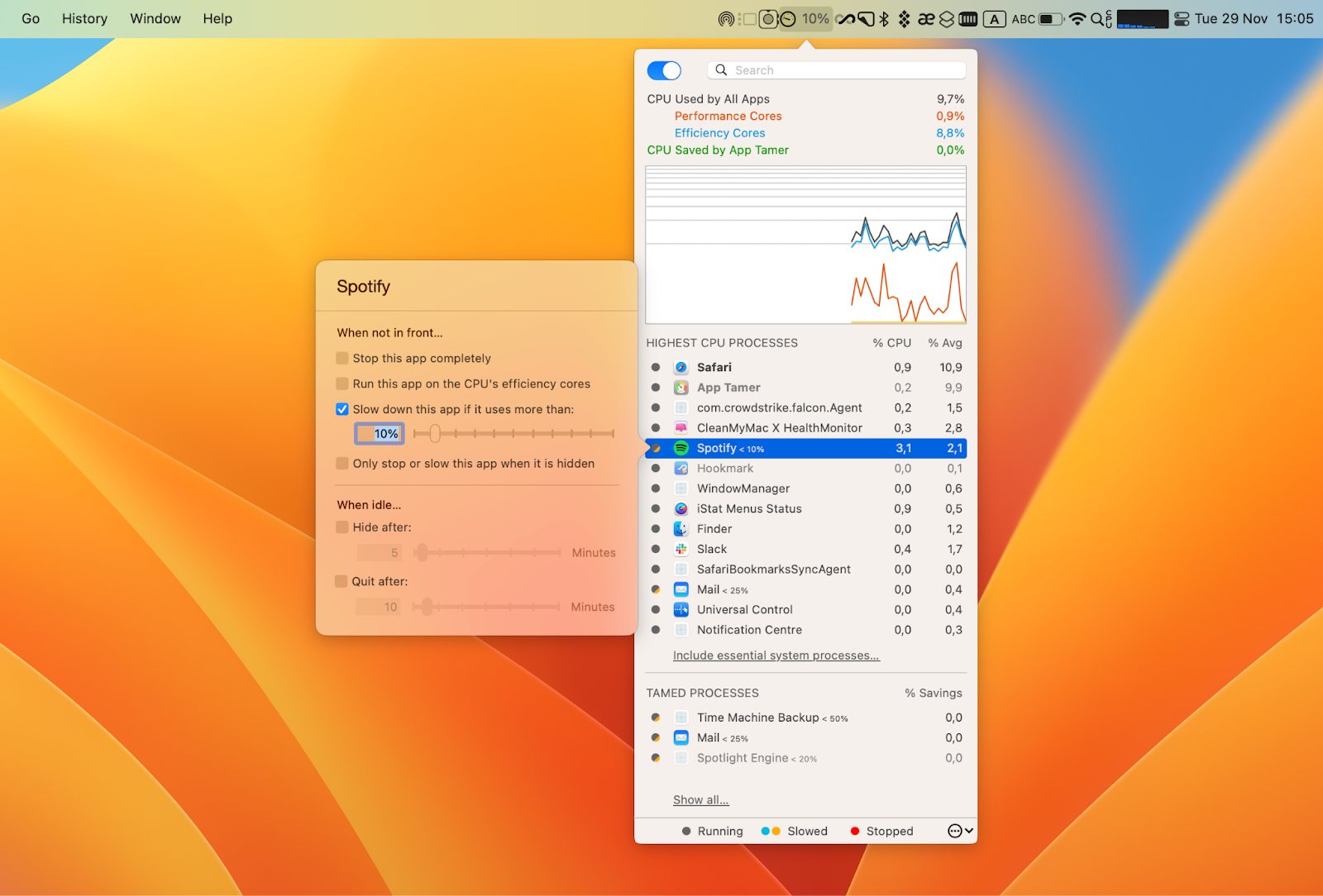 Keep your Mac in top shape
Now you know how to view memory on Mac, as well as how to check and manage the storage on your Mac. While viewing your Mac's storage is easy to do without having a separate app, there are good reasons to have something beyond Apple's own options to manage your Mac's memory.
iStat Menus is the answer to most questions you might have had before reading this article — how to check remaining memory on Mac, how to keep track of disk space, and how to do all that super easy, with one click. You can try iStat Menus for free with a Setapp membership, just to make sure it's your thing.
CleanMyMac X is a great bet for handling your storage. It's smarter at deleting files, folders, and apps, and gives you a much better view of what may be occupying your Mac's storage. It also removes associated files for apps you delete.
There's no silver-bullet solution, though! We also like CloudMounter for those with multiple cloud storage solutions, and App Tamer for taming CPU-hungry apps. All these apps are available for free as part of a 7-day free trial for Setapp, along with dozens of other great apps.