How to fix horizontal or vertical lines on Mac's screen
Encountering colored lines on Mac screen can be an unsettling experience at best. We choose Macs because they are easy to use, cool, and reliable. So when at some point we notice any display defects, we instantly feel worried. We know trouble when we see one — in this case literally.
The great news is that there are quite a few things you can try to easily fix the problem. On the other hand, lines on Mac screen might also be an early warning sign of serious hardware issues with your Mac.
Lines can appear vertically or horizontally, occupy different areas of the screen, and be of different colors — green, purple, black, yellow, and sometimes even multicolored. The specifics of line color and pattern don't really make any difference. What's important is that you address this glitch with MacBook Pro screen lines as soon as you can to prevent it from becoming a problem.
Why are there lines on a MacBook or iMac screen?
The key reasons for why lines appear on Mac screens are overheating and hardware issues. Sometimes the problem may also be caused by software errors or a combination of both hardware and software malfunctions.
The problems with your Mac's hardware may include the following:
Physical harm to the screen after it's been accidently hit or dropped
Damaged T-con board
Failed fan or blocked air vents
Problems with motherboard or graphics card
Damaged or improperly connected cable
Software issues that may result in encountering colored lines on Mac screen most often involve:
Power management software
Graphic card drivers updates
Software conflicts
Users of Mac mini, Mac Pro, and Mac Studio models can also notice screen glitches because of the problems with external displays or a connecting cable.
How to fix lines on your Mac's screen?
Try the following advice to troubleshoot for MacBook display problems vertical lines point to. Reserve contacting Apple Support for later, should you still need to.
Check Mac's temperature
A very common reason for why lines appear on Mac screen is overheating. It's usually caused by the outside temperature if you live in a hot climate, resource-intensive tasks like video editing, or simply high CPU usage when you have lots of apps running in the background on your Mac.
It's a good idea to take overheating seriously, as it may cause permanent damage to sensitive hardware components of your Mac. Ideally, you should aim for the temperature within the range of 100° F to 192° F.
To be sure you know what's going on with your Mac's temperature at any given point, try using iStat Menus.
iStat Menus is a comprehensive system data collector that provides you with vital info on your Mac's performance. After you choose the stats important to you, the app menu bar icon will show you all the data. No need to even open the app to access:
Instant CPU and GPU usage and overall activity check
Real-time temperatures, fan sensors, voltages, current, and power
Memory load, including the list of apps using most memory at the moment
Disk usage and activity
Network graphs, including a bandwidth breakdown for the top 5 apps
Other detailed daily info, including world clock with date and time, moon phases, temperature calendar, wind speeds, and more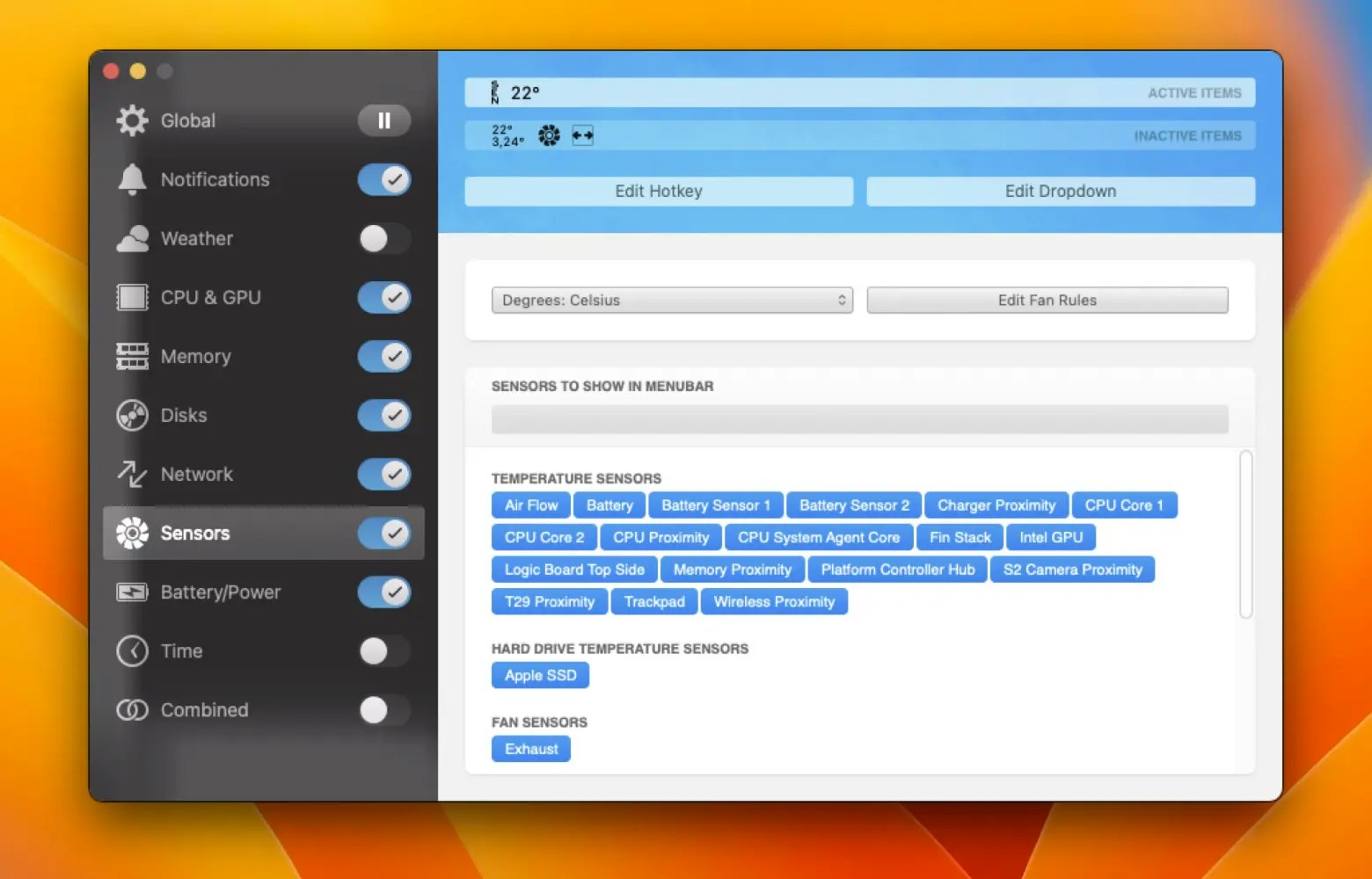 When encountering colored lines on Mac because of the overheating, be also sure to leave some place in your menu bar for AlDente.
AlDente's Heat Protection feature can manage your battery for you — should the temperature rise too high, it will stop the charging automatically. The app is also a perfect tool to help you prolong your battery life (yes, you can do it):
Set charging limits so that your battery doesn't go below 20% or all the way up to full charge, while being free to top up to 100% for when you know you won't have access to power
Use specially designed Sailing and Calibration modes to keep your battery healthy
Monitor battery with live status icons in the menu bar
Use shortcuts for quick actions

If you're interested to learn more, you can find detailed information in our dedicated article on how to fix an overheating Mac.
Try a different display
Connecting an external display to your MacBook or a different display to your iMac will help you understand whether the issues with lines on Mac screen are display-related at all.
If you don't have a spare Mac display to connect to, any HDTV will do. Simply use a cable or try JustStream to connect wirelessly.
JustStream is supported by every major TV manufacturer and is an awesome app for sound and video quality: it supports 4K and HD resolutions and picks up external and embedded audio, ensuring the best sound.
Best of all, it only takes a few clicks to get the content you want to the big screen:
Turn on your TV and make sure it's on the same WiFi network as your Mac
Launch JustStream on Mac
Choose your TV from the list of available devices you can stream to
Hit Start Streaming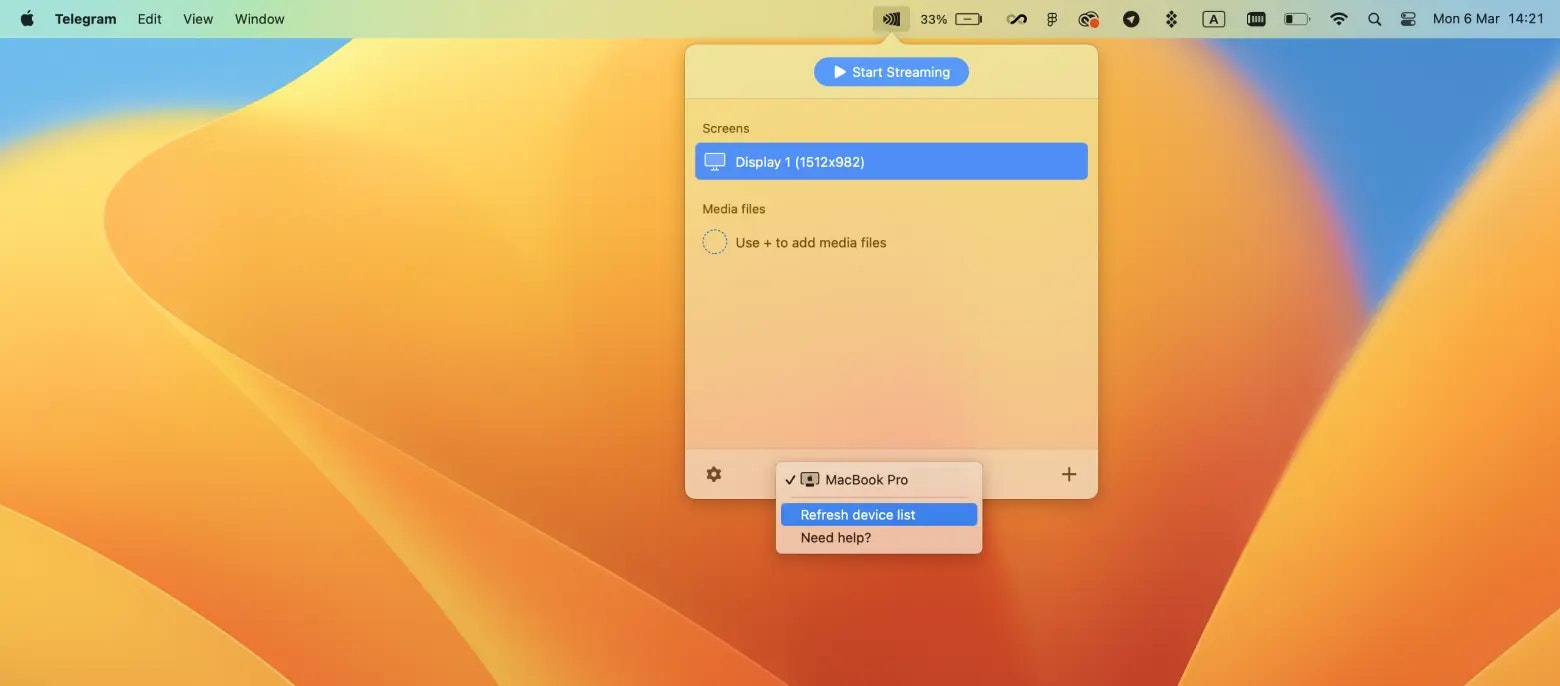 Check the connection in case you use external display
Sometimes it's issues with the cable that lead to encountering colored lines on Mac screen. To double-check your connection:
Unplug the screen from your Mac
Disconnect the cable
Connect back, making sure that both ends are properly attached
Tip: Trying a new cable or a different connection type (USB, HDMI, VGA, DVI, or other) is also a good idea that might fix lines on Mac screen glitch.
Run maintenance scripts by CleanMyMac X
To troubleshoot for possible software issues that might be the cause for why lines appear on Mac screens, consider running maintenance scripts. They perform cleanup tasks with system logs and temporary files, supporting your Mac's health long-term.
Running these basic system routines manually requires time and attention, but CleanMyMac X can do all the hard work for you.
CleanMyMac X features a designated Maintenance module that unifies different periodic scripts into a single task that you can run with a click.
To start the process:
Launch CleanMyMac X
Choose Maintenance from the menu panel on the left
Check the box next to Run Maintenance Scripts
Hit Run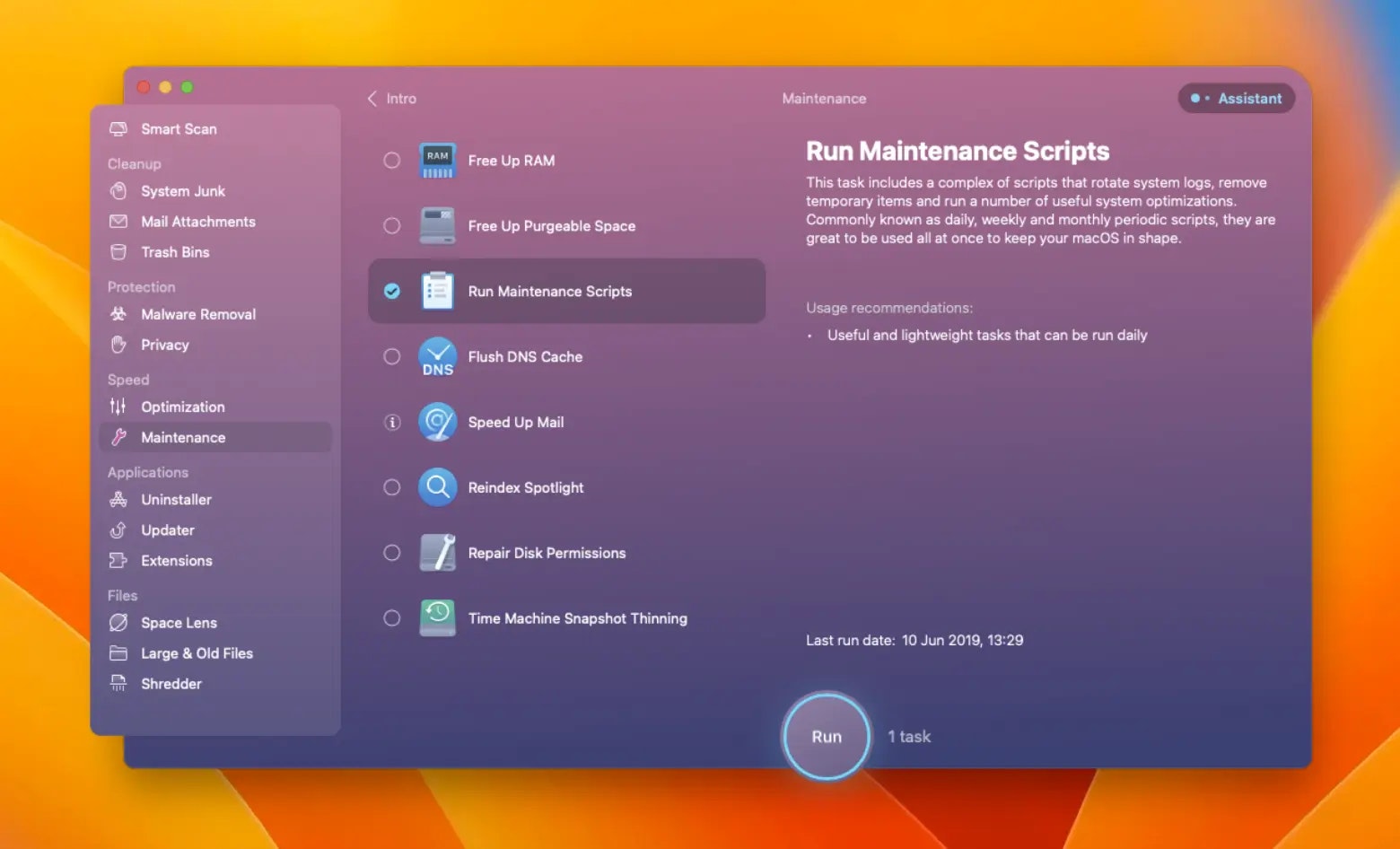 Reset SMC
SMC (System Management Controller) is a hardware component responsible for crucial system settings including battery, power, video, and thermal management.
Resetting SMC on your Mac could fix issues causing MacBook display problems vertical lines, horizontal lines, or random colored effects.
The process of SMC reset is fairly easy to complete, but varies greatly depending on the model of your Mac:
Macs with Apple silicon M1/M2 or M1/M2 Max chips reset SMC every time you restart your Mac while it's plugged in
Intel-based Macs call for a bit more complicated procedure, different for devices with or without T2 security chip
Desktop Macs (Mac Mini, Mac Pro, and iMac models) have their own SMC reset algorithms
You can look up the detailed instructions for your particular model in our article on how to reset SMC on Mac.
Are lines on Mac screen something you should tolerate?
Definitely not. If you're unhappy with the look of your Mac screen have colored lines disappear. Because, honestly, there are only two good scenarios to consider:
Either it's not a big deal and you can easily fix the issue (therefore, there's no reason for you to tolerate any glitches on your display)
Or it's an early warning of serious hardware problems (then you'd want to fix it to prevent permanent damage)
Either way, first of all, try to exclude overheating as the most frequent cause for lines on Mac screen. Team up with iStats Menu and AlDente to gain control over your Mac's vitals, and ensure that high temperatures don't damage your Mac. Second of all, try using a different screen and check your HDMI cable connection to see if the problem persists: JustStream offers effortless streaming from Mac to TV in case you don't have a spare display. And, finally, to troubleshoot for software errors — consider running maintenance scripts with CleanMyMac X and resetting your Mac's SMC.
Be sure to try iStats Menu, AlDente, CleanMyMac X, and JustStream for free with the seven-day trial of Setapp, a platform of high-performance, best-in-class iOS and macOS apps. Learn to fix encountering colored lines on Mac screen and check out more than 240 other options to boost productivity.