How to flip or mirror your iPhone pictures
Sometimes you snap the perfect picture – and your phone stores something that's not quite what you had in mind. Your iPhone or iPad sometimes stores images that appear to be flipped. Other times, you realize your selfie is the reverse of what you imagined, so mirroring the image may be necessary.
It may seem like a lost cause when the image saved isn't what you wanted, but it's not! Here, we'll tell you how to flip a picture iPhone stored backwards, how to mirror photo iPhone selfie mode got wrong, and tell you the best ways to manage your phots on iPhone or iPad to reduce clutter and save cloud storage space.
Why Does the iPhone Camera Flip Pictures?
The reason it's important to know how to invert a picture on iPhone or how to flip image on iPhone is actually simple: your iPhone gets it wrong sometimes.
Most users find their iPhone or iPad has stored the wrong image when turning the phone to shoot in landscape mode. Often, we snap images in landscape, but they're stored in portrait mode. The reason for this is your iPhone relies on internal sensors to know it's sideways, and those sensors don't always get it right.
For pet owners, this is common. They snap a pic of their pet in landscape, often facing down, but the iPhone stores the image in portrait mode because the sensors don't recognize the iPhone is landscape. Your phone still thinks you want a portrait mode image, and saves it as such.
It's important to remember your iPhone isn't picky; it'll save whatever you capture, just not always in the right mode.
What Is Mirroring and How to Use It?
Knowing how to mirror a photo on iPhone is important. There are plenty of times you'll want to save the image as though you were viewing it from the backside.
Mirroring takes a photo and flips it 180 degrees. If you are facing left in an image, mirroring it will cause you to be facing right. Similarly, everything else in the picture will also flip to the other side.
Plenty of us like to flip selfie shots that turned out wrong. The front facing camera mirror image trick is useful when you want the image to reflect what you see on-screen. The front-facing selfie camera acts like someone else is taking the pic, and what shows up on-screen to you while snapping the pic may not be what the results show.
How to Flip A Picture On iPhone
So how do you flip a picture on iPhone? It's actually very simple. After taking a picture, all you need to do is head into your iPhone's Photos app and follow a few easy steps:
Open the Photos app on your iPhone or iPad
Select the image you want to flip
Tap "Edit" at the top right corner of the screen
Select the image editing icon at the bottom right of the screen
Choose the "rotate" image icon at the top left of the screen (Note: tapping the icon once rotates the image 90 degrees. Continue tapping to rotate further.)
Select "Done" at the bottom right corner of the screen when you're finished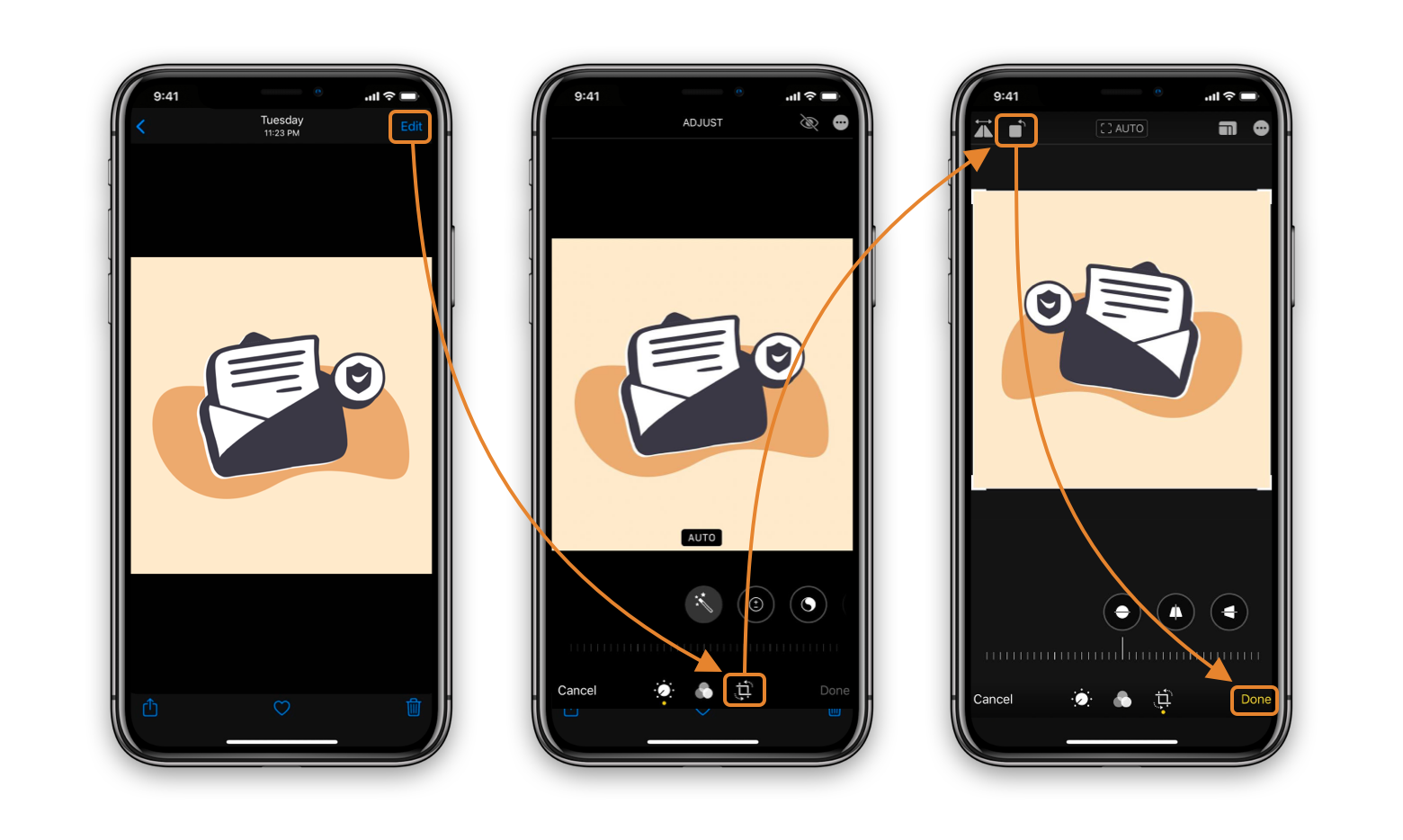 To prevent damaging important photos, it's smart to make a duplicate before editing an image. This brings up a new issue: too many photos on your phone can fill up your phone's storage, and limit the available space on your iCloud account. To avoid these issues, use Gemini.
Gemini is a Mac and iOS app that helps you manage duplicate files and images with ease. Simply open Gemini on your Mac, scan your files (or images only) and Gemini takes care of the rest. Not only will Gemini find duplicate images, it discovers similar images as well. Gemini is perfect for discovering and discarding images snapped in burst mode.
When Gemini finishes its scan, you have the option to review its findings. On iOS, the Gemini app is dedicated to scanning your Photos storage so you can quickly and easily find and delete images using bulk deletion.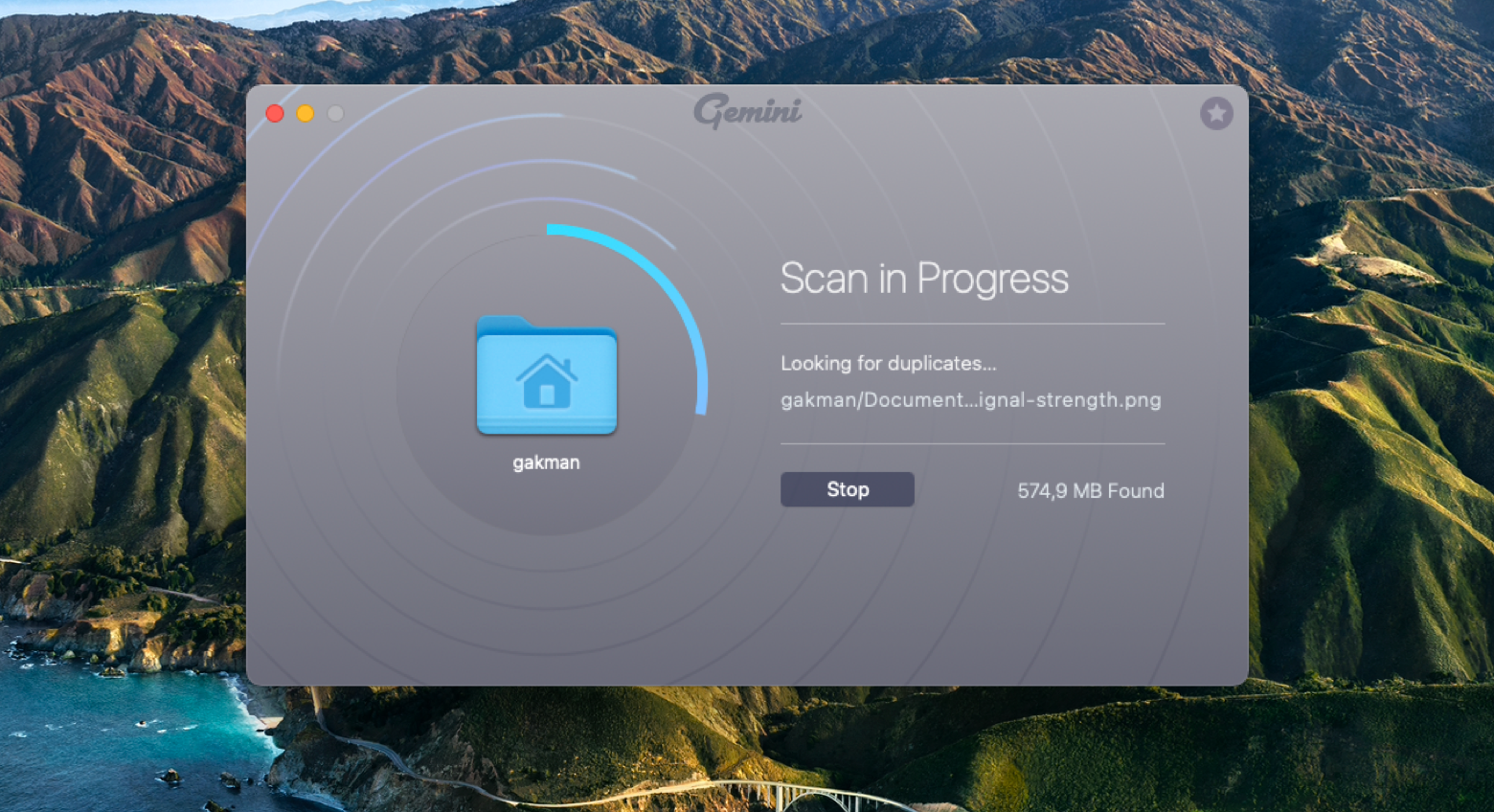 Transferring and Backing Up Your Photos with Ease
iPhone backups are important, but some prefer to avoid iCloud backups. Maybe you have file formats iCloud can't save, or just prefer to manage your own backups. Whatever your reason, it's easy to schedule and manage all your iPhone backups with AnyTrans.
AnyTrans for iOS (there's also a version for Android users) lets you plug any iPhone or iPad into your Mac and back files up manually. Simply open AnyTrans, plug your iPhone in, and the AnyTrans window will come alive with all the details from your phone. You'll see folders for images, messages, media, iCloud, and more.
If you simply want to back your photos up, it's simple with AnyTrans. Plug your phone in, tap on the Photos icon, and select the images you'd like to back up to your Mac. (Yes, you can choose "select all" to back everything up to your Mac, too!) To save the photos to an external drive, just make sure that drive is also plugged into your Mac and choose it under "export path" during the export process.
When it comes to quick, effective backups of your iPhone and iPad, there's just no better app than AnyTrans.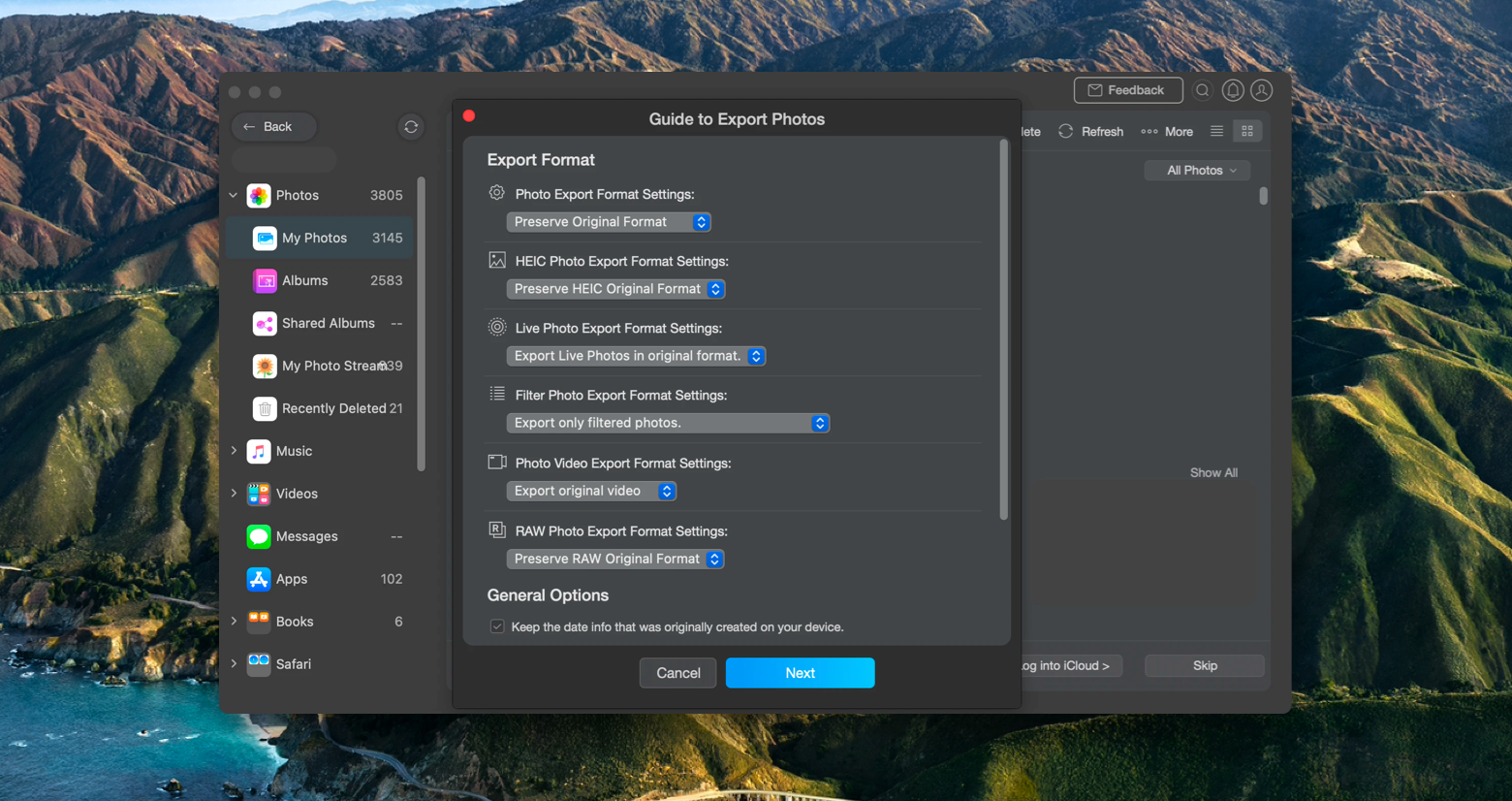 How to Mirror Selfie Photos
An iPhone selfie mirror image is actually pretty easy to achieve. Now that you know how to flip a photo on the iPhone, let's discuss how to reverse photo on iPhone.
Here's how:
Open the Photos app on your iPhone
Select the image you'd like to mirror
Tap "Edit" at the top right corner of the screen
Select the image editing icon at the bottom right of the screen
Choose the "mirror" image icon at the top left of the screen
Select "Done" at the bottom right corner of the screen when you're finished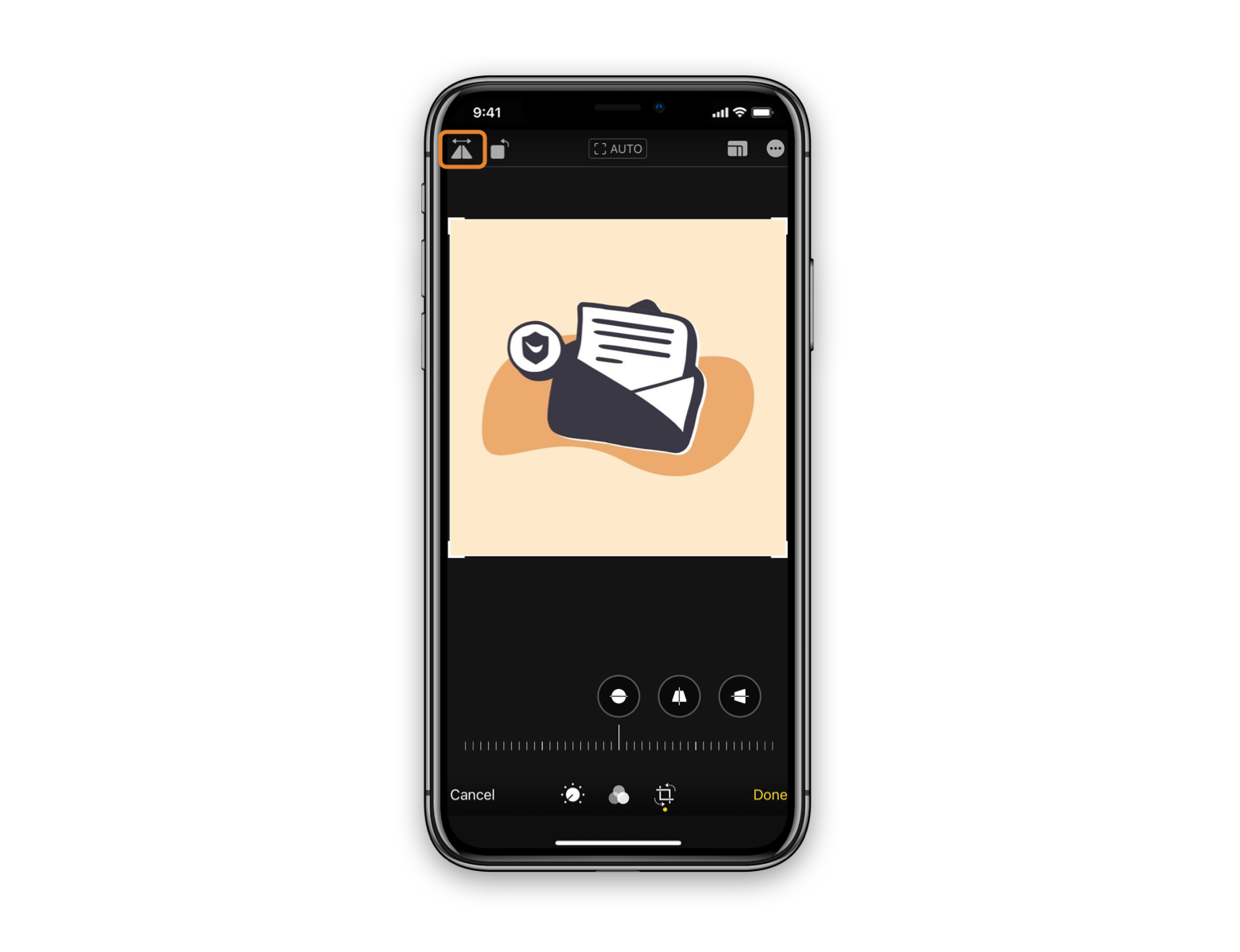 It's the same process as flipping images, you just select a different icon at the top of the screen. As you can see, the image is now facing the opposite direction, and the characters on the banner have also mirrored.
For selfies, it's important to keep in mind that what you see on your screen when framing selfies may not be the image your iPhone will produce. You are viewing a mirrored view, while the iPhone is capturing a head-on image. This is when mirroring becomes a valuable skill; you may prefer what you saw on-screen versus the image your iPhone snapped. With mirroring, it's really easy to create exactly what you want!
You may also be wondering how to stop iPhone front camera from flipping. That's not really possible; it will always snap an image as the lens sees it, so you won't be able to capture what you see on-screen – but there's a workaround for knowing what your phone will actually snap.
If you want to see what your phone will capture when using the front facing camera, head into the Settings app and select Camera > Mirror Front Camera and your screen will show you a preview of exactly what your phone will capture!
Mirror Selfie Photos on iOS 13 and Earlier
Prior to the changes Apple made to the Photos app in iOS 14, editing images on iPhone required third party apps. Now, Photos can help you perform most editing duties, including mirroring, flipping, and adjust color or exposure in your images.
For more in-depth edits, the Photos app on Mac is a better option. It has a plethora of tools the iOS and iPadOS simply don't. The Photos app across platforms also accept plugins for third party apps, so features you may find useful in an app like Pixelmator may be usable within Photos via a plugin.
Each app will have a different method for mirroring images. Here, we''l provide you with the steps for mirroring an image using Pixelmator:
Open Pixelmator on your iPhone
Select (or take) the image you'd like to mirror
Select the paint brush icon at the top of the screen
Choose "Format" at the bottom of the screen
Tap "Arrange"
Choose "Flip Horizontally"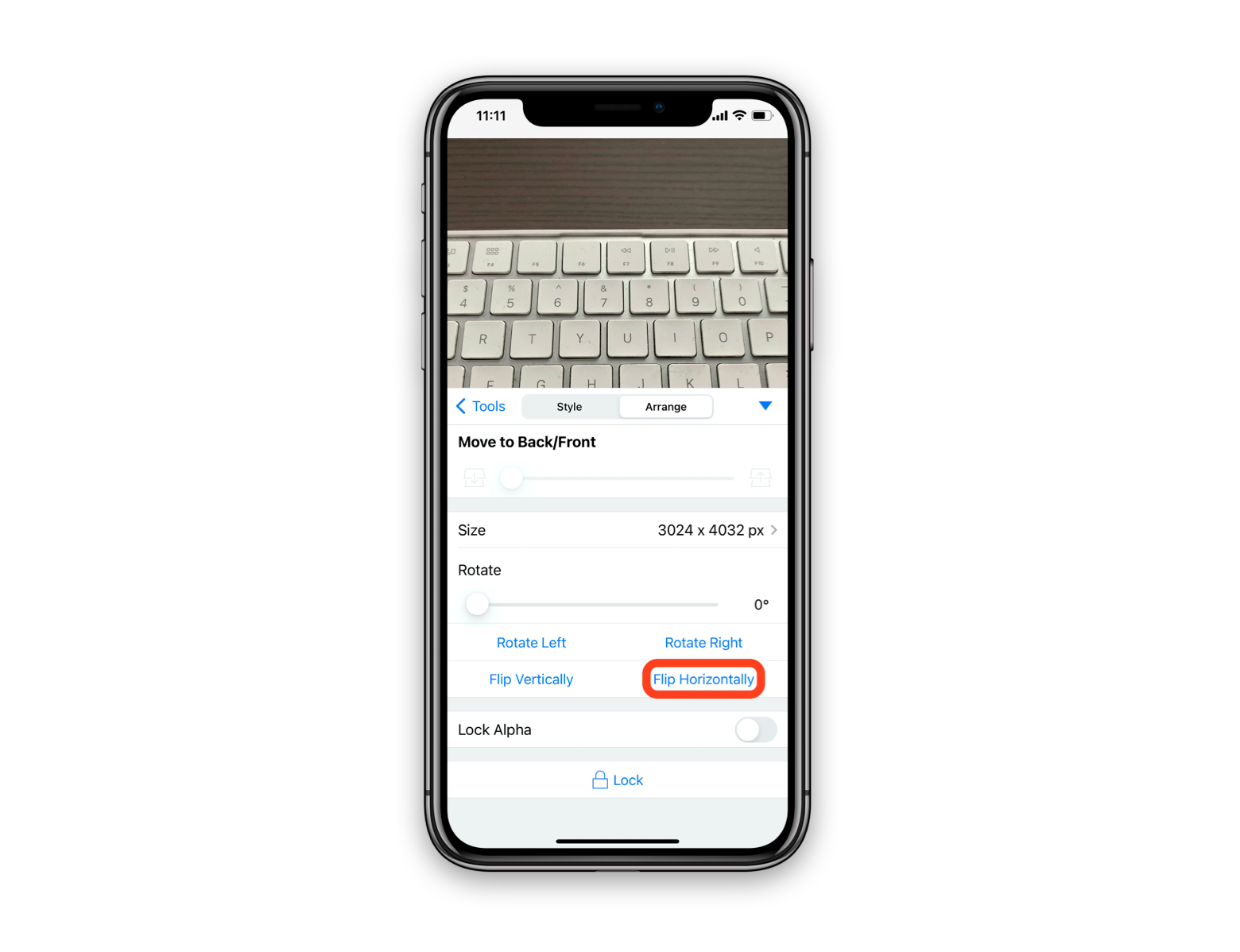 That's all it takes. Now, your image is mirrored, saved, and is ready for sharing.
Conclusion
Whether your phone captures images that need to be flipped – or you just want to mirror what was captured to share exactly what you saw on-screen – these simple photo editing tips can help you save and share your images exactly as you envision them.
But be safe: always create duplicates before editing, and only edit the duplicate. There's a chance you will lose detail; this is especially true if you use Portrait mode on your iPhone or capture Live images. Often times, edits strip your images of important detail, and the chance to edit those Apple-specific image types later on. Be safe, not sorry!
This is why we advocate for Gemini and AnyTrans. These two apps help you manage and backup your images better than any other apps available. Gemini for iOS makes quick work of a cluttered Photos app with bulk delete, and AnyTrans is a lifesaver if you've ever deleted an image and regretted it later on. Being able to dive into a backup to retrieve files is incredibly handy.
Both apps are available for free during a seven-day trial of Setapp, the world's largest and best suite of productivity apps for your Mac. Bursting with over 210 amazing apps, the Setapp catalog undoubtedly has exactly what you're looking for, no matter what you need to accomplish.
When your free trial conclused, retaining access to the entire Setapp catalog is only $9.99 per month. It's an incredible bargain for so many apps, and the Setapp suite is always growing. Why wait? Now is the best time to try Setapp, so get your free trial started today!