How to Fix "Mac Cannot Connect to App Store" Problem
The Mac App Store is becoming a central part of the Mac ecosystem. Apple is making efforts to corral all apps into one central location, much like we find on iOS and iPad iOS. The Mac is simply becoming a lot more like its mobile counterparts.
That's why it's critical that we all have a reliable connection to the App Store on our Macs. When you need an app, and it's hosted in the App Store – well, that's soon going to be your only option!
We'll answer your most common questions like 'why does it say cannot connect to the App Store' and highlight some amazing apps for ensuring your connection is secure and reliable so you can connect to the App Store without any issues.
Why My Mac Cannot Connect to App Store?
If you've ever had issues getting into the App Store and wondered 'why can i not connect to App Store?' there are a few key reasons your Mac would be unable to connect to the App Store. Here are some common issues:
Connectivity issues. When you cannot connect to app store Mac computers are often showing that message because there is a connection issue. Make sure your connection to the internet is reliable first.
The App Store is down. You can also check Apple's System Status page to see if the App Store is having issues. It actually may have nothing to do with you!
You need to sign in. It's possible that your Mac needs you to sign into the App Store, even if you've signed into your Mac using the same Apple ID as your App Store utilizes. If you can't sign into Apple App Store on Mac, try signing into your Mac with your Apple ID again, which may require signing out and back in. This is a common answer for the question 'why can't i sign in to App Store?'
Some random issues you can't detect. There are times you run through all the proper fixes, and your Mac is still not connecting to the App Store. It may mean your Mac simply needs to be restarted.
Ways to Fix "Mac Cannot Connect to App Store" Problem
If you've been left asking yourself 'why does it say cannot connect to the app store' and 'why can't i download apps on Mac' it's usually because of the issues we've noted above. Now we'll discuss how to fix them.
Keep one more thing in mind before we start: it's possible the app is no longer available. Sometimes the App Store tells you it can't connect because an app doesn't exist there anymore, so try to verify the app is still offered for Mac, especially newer versions of macOS which have made significant changes for how developers make apps available for the platform.
Here are fixes for "cannot connect to app store Mac" problems mentioned above:
Monitor your WiFi
If you're experiencing WiFi connectivity issues when trying to log onto the Mac App store, the first thing you can do is try toggling your WiFi. To do that, follow these steps:
In your Mac menu bar, select the Apple logo on the far left hand side
Select "System Preferences"
Select "Network"
Make sure the "WiFi" section is highlighted on the left side of the window
Select "Turn WiFi Off"
Click the button again to turn your WiFi back on
If you have the WiFi icon on the right side of the menu bar, click it and toggle your WiFi from there.
This is how you toggle your WiFi off and on, but it fails to identify the proper network with the strongest connection. For that, we advise using WiFi Explorer or NetSpot. Both of these great apps are far better than your Mac at monitoring and identifying the best network available to you. In many cases, your Mac is simply on an unreliable connection; WiFi Explorer and NetSpot both keep close tabs on your network, and can tell you in short order what may be going wrong, and which network is the fastest available for your Mac. They also tell you which connection is the most secure.
These two apps are the absolute best for monitoring your WiFi connectivity, and both open into a list of all available networks when you start the apps. You'll get the granular details you need, and both offer a visual look at how the WiFi network you're on is currently performing if you don't know what all the numbers mean!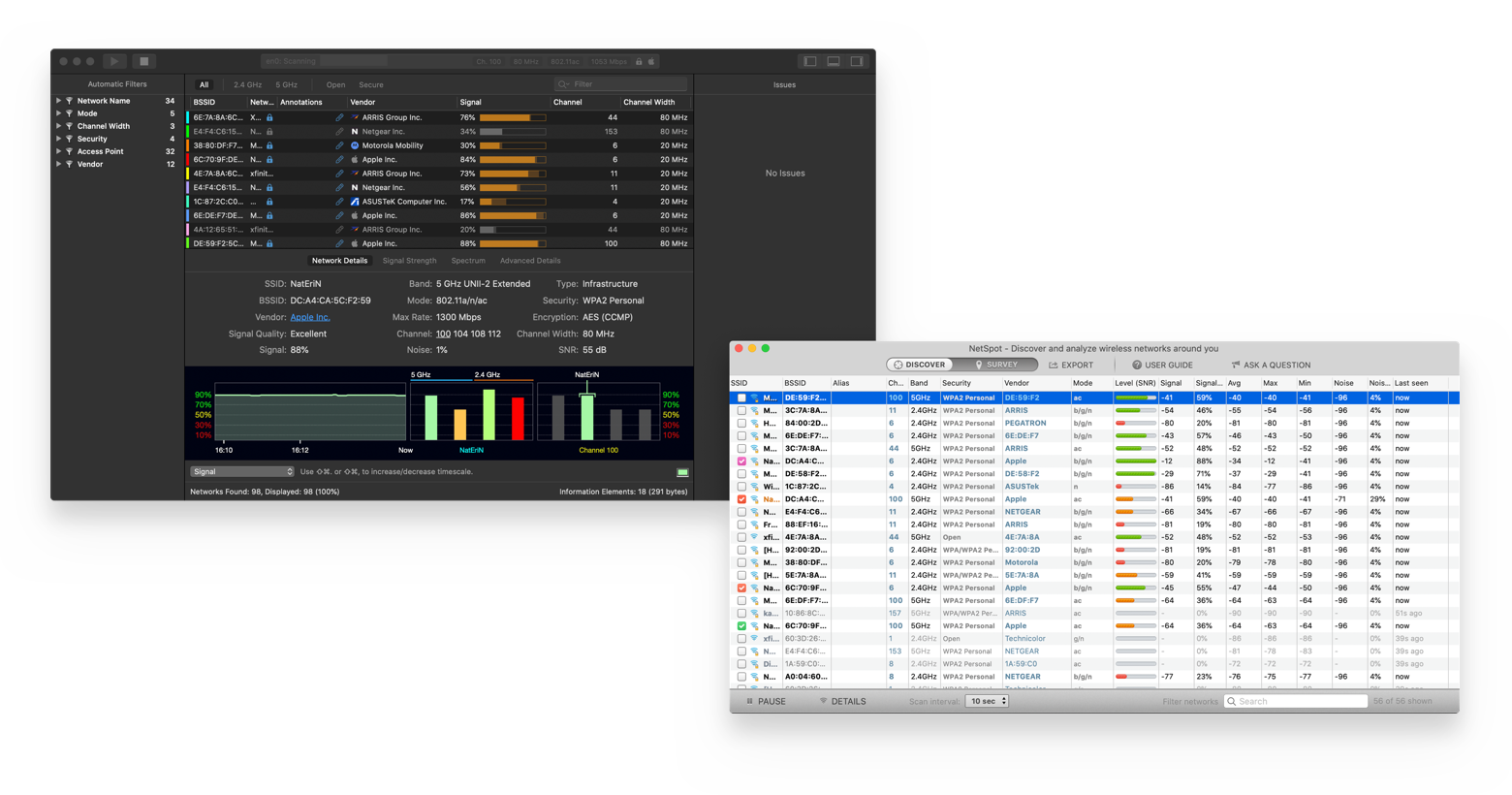 Random issues
When your Mac can't connect to the App Store, but you've used WiFi Explorer or NetSpot and know everything is fine with your connection, there may be a problem with other things. So, if you are still wondering 'why can i not connect to app store', that's where iStat Menus and CleanMyMac X come in handy.
iStat Menus keeps a watchful eye on your Mac's system, and tells you how your CPU, GPU, battery, network, sensors, and memory are performing in real-time. It's a great app to have when you think your Mac may be hitting its tipping point. We like it because there are times the App Store may not be able to connect if you don't have enough resources available to open the app, and iStat Menus can tell you immediately if that's a likely scenario. All you have to do is tap its menu bar icon, and it tells you exactly what's going on in detail.
CleanMyMac X puts your Mac back on the right track with tons of excellent modules for learning and organizing your system. In some cases, it can even sidestep the Mac App Store!
While an app like iStat Menus can keep tabs on your Mac's performance, it doesn't offer a way to clean things up. CleanMyMac X does, though; it has modules to clean up your mail attachments and system junk, two common reasons Macs slow down over time. It also has an excellent malware removal module and optimizations for speed and maintenance issues you're likely not doing on your own.
Finally, CleanMyMac X has a module named Updater that lets you update your apps without ever having to dig into the Mac App Store. It's a great tool if you're trying to get into the App Store just to update a few apps, and we're also big fans of CleanMyMac X's ability to remove apps and the associated files with a few clicks.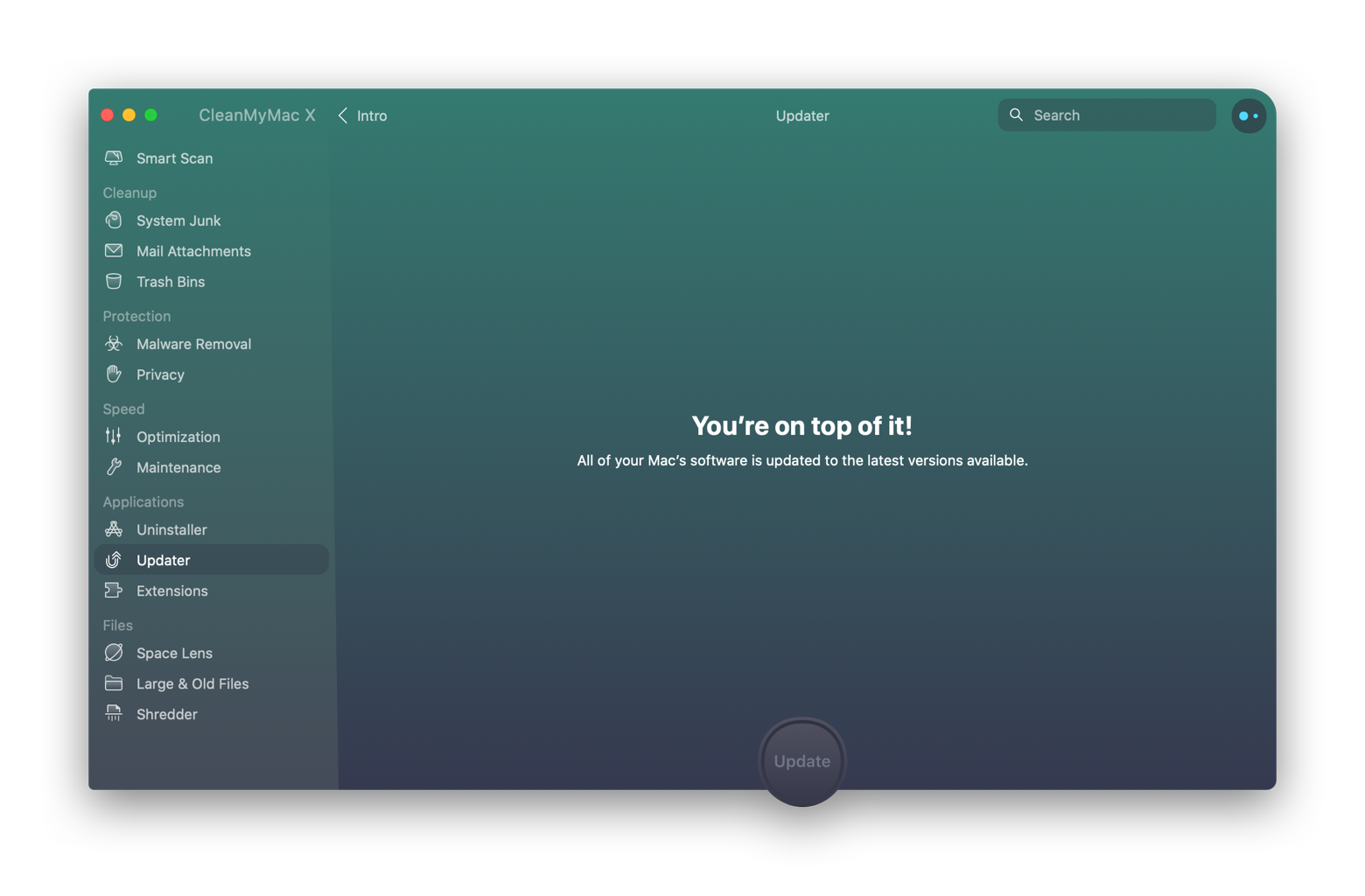 If you don't want to run modules individually, CleanMyMac X's Smart Scan feature is a great way to keep your Mac running in tip-top shape. The app even reminds you to run a scan on a designated schedule!
Conclusion
Your Mac may be unable to connect to the App Store for a variety of reasons. Most often, it's something local you can control. There will be instances the Mac App Store is down, but it's extremely rare and doesn't last for long.
That's why it's critical to have great apps that can manage your system, and keep an eye on its performance so you never have to guess and waste time doing things that don't need to be done in the hopes it will fix your connection.
All four of the great apps we've mentioned here today – iStat Menus, WiFi Explorer, NetSpot, and CleanMyMac X – are available for free as part of a seven day trial of Setapp, the world's best suite of productivity apps for your Mac. In addition to these apps, you'll get immediate and unlimited access to nearly 200 other great Mac apps during your trial.
To retain access to all of these incredible apps, Setapp is only $9.99 per month – and doesn't need a connection to the Mac App Store! It's an incredible deal we know you'll love, so give Setapp a try today!