Even though function keys on Mac, or F keys, have been a staple of Apple keyboards forever, it seems like fewer people are using them these days, or even know what they are for. It's time to fix that!
Mac function keys are not the most versatile, as they come pre-programmed and literally have icons printed on top of them to explain their intended use.
Lots of apps, however, change Mac function key behavior to enhance their own shortcuts. You can even customize the function keys yourself if you need to tailor the keyboard to your specific workflow.
Let's do a brief overview of what each F key is for and then explain how their functionality can be expanded.
What are the F1 through F12 keys on Mac?
There are 12 F keys and all of them are located at the very top of your keyboard. They shouldn't be mixed with the fn button on keyboard that lives in the bottom-left corner. Function keys are not considered to be modifier keys but keys like fn keys are.
Every F key has a default, system-integrated function assigned to it by default:
F1 decreases display brightness
F2 increases display brightness
F3 launches Mission Control
F4 opens Launchpad
F5 decreases keyboard brightness or activates dictation
F6 increases keyboard brightness or toggles Do Not Disturb
F7 skips back audio
F8 pauses and plays audio
F9 skips audio forward
F10 mutes / unmutes
F11 turns the volume down
F12 turns the value up
Depending on your default settings, the function keys list might work on its own or require an fn key (a modifier function key) to be pressed first.
How to use F keys on Mac
To use function keys in their pre-programmed state (e.g. to dim your screen), you can just press them — no extra setup is required.
Some apps use F keys in their shortcuts (e.g. Shift + ⌘ + F3). To use your F keys in that way, you first have to press the fn key, so your shortcut really becomes Shift + ⌘ + fn + F3.
What is fn key? It's really just another modifier that for the longest time didn't have any action assigned to it. If you press the fn key today, however, it'll launch the Character View window (handy for emojis!).
If you're using lots of shortcuts that involve the F keys, it might be annoying to constantly press the additional fn keys all the time. Luckily, you can enable standard function keys to reverse the behavior — so that you'd hit fn + F1 to dim the screen but F1 would work on its own in all the shortcuts.
How to change function key behavior
Here's how you enable standard function keys and instantly invert the role of the function keys list:
Open System Preferences ➙ Keyboard
Check "Use F1, F2, etc. keys as standard function keys"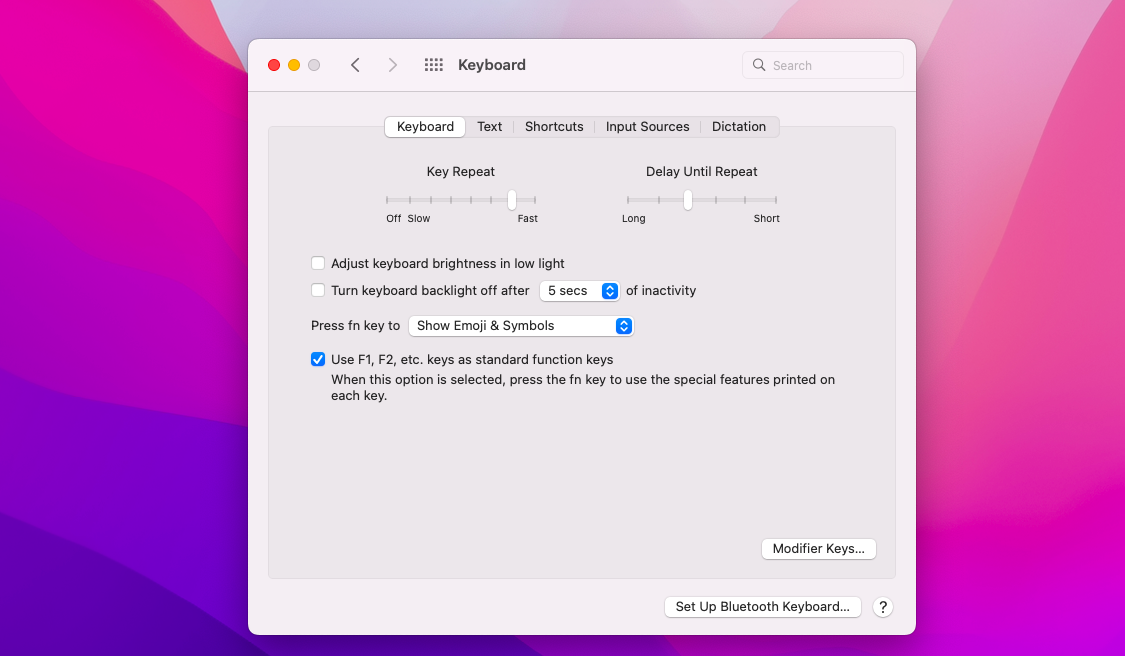 Now all your shortcuts will be faster but you'll have to press fn + a specific F key to perform a predefined keyboard action.
Are you interested in changing the behavior of more default keys on your Mac? You should try a utility like BetterTouchTool.
BetterTouchTool is the ultimate action customization tool for your Mac. It lets you map any inputs to any consequent actions. You can input mouse clicks, keyboard shortcuts, trackpad gestures, Touch Bar widgets, remote triggers, and much more — and then output any action desired. So if you ever thought of doing things on your Mac in a special way, BetterTouchTool is the utility you need.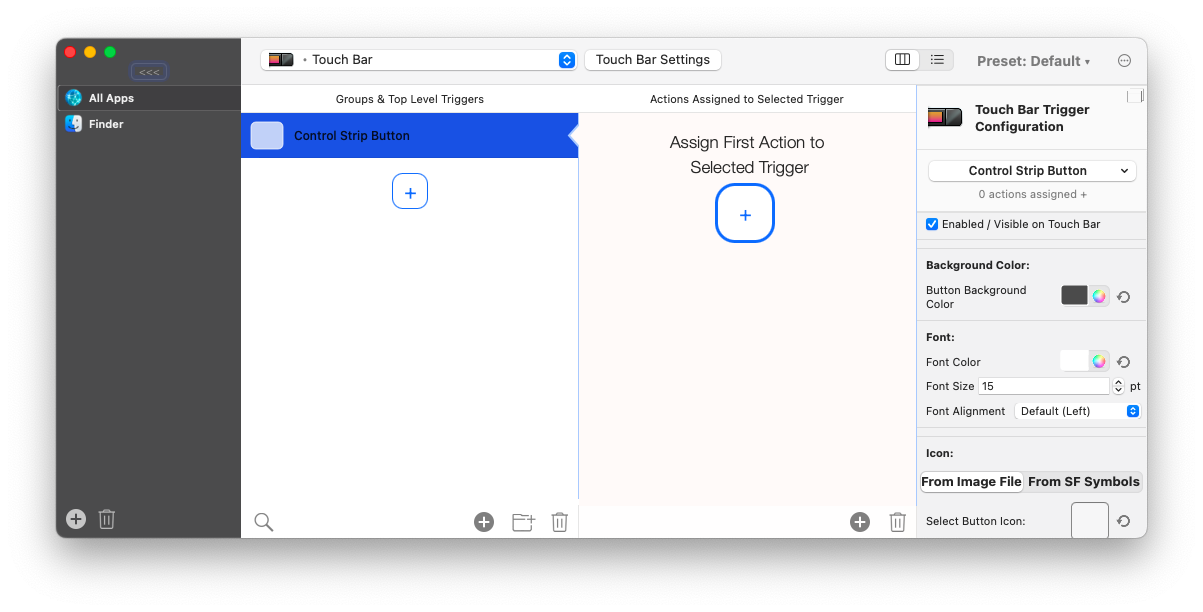 How to show F1, F2, F3 … keys on Touch Bar
If you have a MacBook with a Touch Bar, you might have noticed that there are no F keys on the keyboard at all. You need to customize the function keys instead.
There are two ways to change Mac function key behavior with Touch Bar. If you just temporarily want to see F keys displayed on the Touch Bar, you can press the fn button on keyboard.
If you want to know how to use F keys on Mac with Touch Bar in a way that they show permanently, you need to tweak some settings:
Open System Preferences ➙ Keyboard
Under "Touch Bar shows," select "F1, F2, etc. keys"
Now your Touch Bar will always show real F keys, which might be preferable for people who use them a lot across different apps.
What's the main difference between Mac function keys and fn keys on Windows and Linux?
If you're using Windows or Linux operating systems, you should know that F keys are assigned to completely different actions there.
For example, F2 can rename a folder, F4 goes to the address bar in the browser, F7 helps check spelling in Microsoft Word, and so on.
There's also no dedicated fn key to change the F key behavior, but you can use the regular Ctrl key instead.
What's the difference between function keys and modifier keys?
Modifier keys on your Mac keyboard don't do anything on their own, but only work in conjunction with other keys. These keys are Command (⌘), Option or Alt (⌥), Caps Lock (⇪), Control (⌃), Shift (⇧), and fn. Although, fn has been assigned to the Character View menu lately.
F keys are not considered to be modifier keys because they are functional on their own. By default, they dim the screen (F1), play the next track (F9), etc. Even when F keys are combined with the fn key, they can do something assigned to them individually.
Final thoughts
As you can see, benefitting from the expanded world of F keys and modifiers is extremely easy. You just need to learn shortcuts. To save time, you can try Keysmith and BetterTouchTool, the apps that make custom shortcuts for your Mac. Both of them are absolutely free for 7 days through the trial of Setapp, a platform with more than 240 premium Mac and iOS tools to solve any problem. For example, keeping track of tasks with 2Do or mounting external drives as local ones with CloudMounter. Upgrading your Mac experience has never been this easy!