How to create folders on a Mac
A proper file system is critical for keeping your digital life organized on a Mac. Too often, we allow our 'desktop' or 'documents' folder to become cluttered with random files.
Some rely on the Mac's search feature to find files, but what about those times you can't remember a file name? Even worse: what if the file name is some garbled string of characters instead of having a proper name, or the dreaded 'untitled document'?
Here, we'll show you how to create a folder on your Mac, and discuss some best practices for staying organized and productive on your Mac computer.
3 ways to make a new folder on a Mac
There are three main ways to create a new folder on your Mac:
Finder. In your Mac's Finder utility, you can make a folder for your Mac. The folder appears wherever you currently are in your Finder file tree. Simply go to File > New folder in the Finder menu.

Mouse or trackpad shortcut. From your desktop or in the Finder file system, simply right-click (mouse) or two-finger tap (trackpad) to bring up a menu; the first option is 'new folder,' which creates a new empty folder wherever in the system you are.

File selection. Most often used for sub-folders, you can select multiple files and use the mouse or trackpad shortcuts above to create a new folder that has those files in it.
How to create folders via Terminal
Your Mac's Terminal features is powerful; it's essentially root access to your entire machine. You can create a file or folder in Terminal, but a word of caution before you proceed: don't mess with Terminal unless you're really confident in what you're doing.
But when you need to create folders Mac terminal is really powerful. Here, we'll go through how to create a folder on the desktop using your Mac's Terminal.
Launch Terminal on your Mac
Type 'cd desktop' into Terminal
Press enter
Type 'mkdir test-folder-1'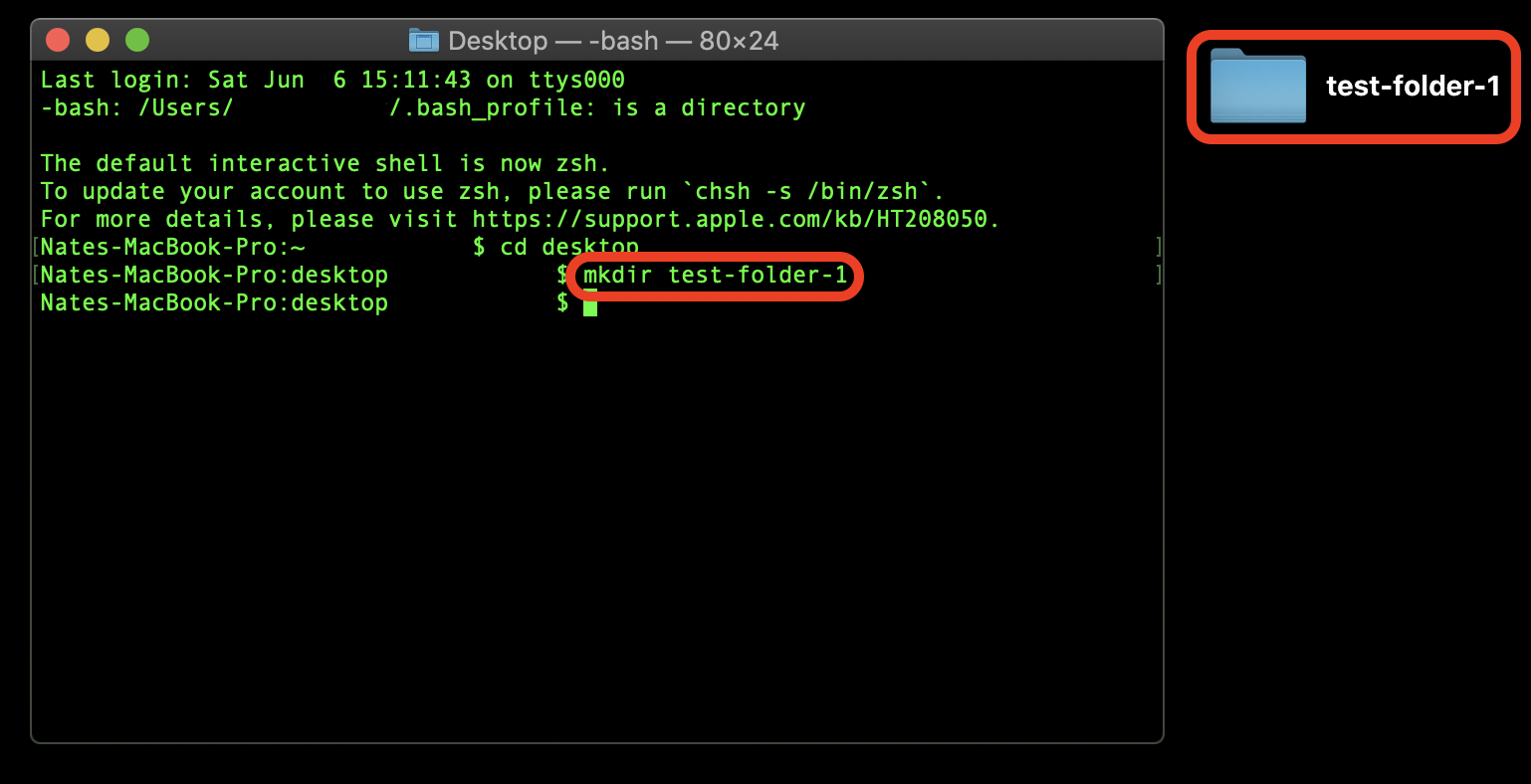 That's all you have to do! So, a few notes on Terminal commands for creating files and folders. The term 'cd' means 'change directory.' It's a navigation command; you could also 'cd' into documents, downloads, or any other main destination.
Keep in mind you can't change directory straight into a sub-folder. If you wanted to access a folder named 'personal' in your 'documents' folder, you would have to 'cd' into documents, then 'cd' into personal. It's a bit laborious.
The 'mkdir' command means 'make directory.' In computer-speak, any folder is a directory. In the above commands, we're telling the Mac to go to the desktop and make a folder named 'test-folder-1.'
But there's one great time-saving trick for Terminal: you can create multiple files with one command. Here's how:
Launch Terminal on your Mac
Type 'cd desktop' into Terminal
Press enter
Type 'mkdir test1 test2 test3'
As you can see, this creates three new folders on the desktop. Every time you hit the space bar after the first folder name in a 'mkdir' command, Terminal understands it as a new 'mkdir' command.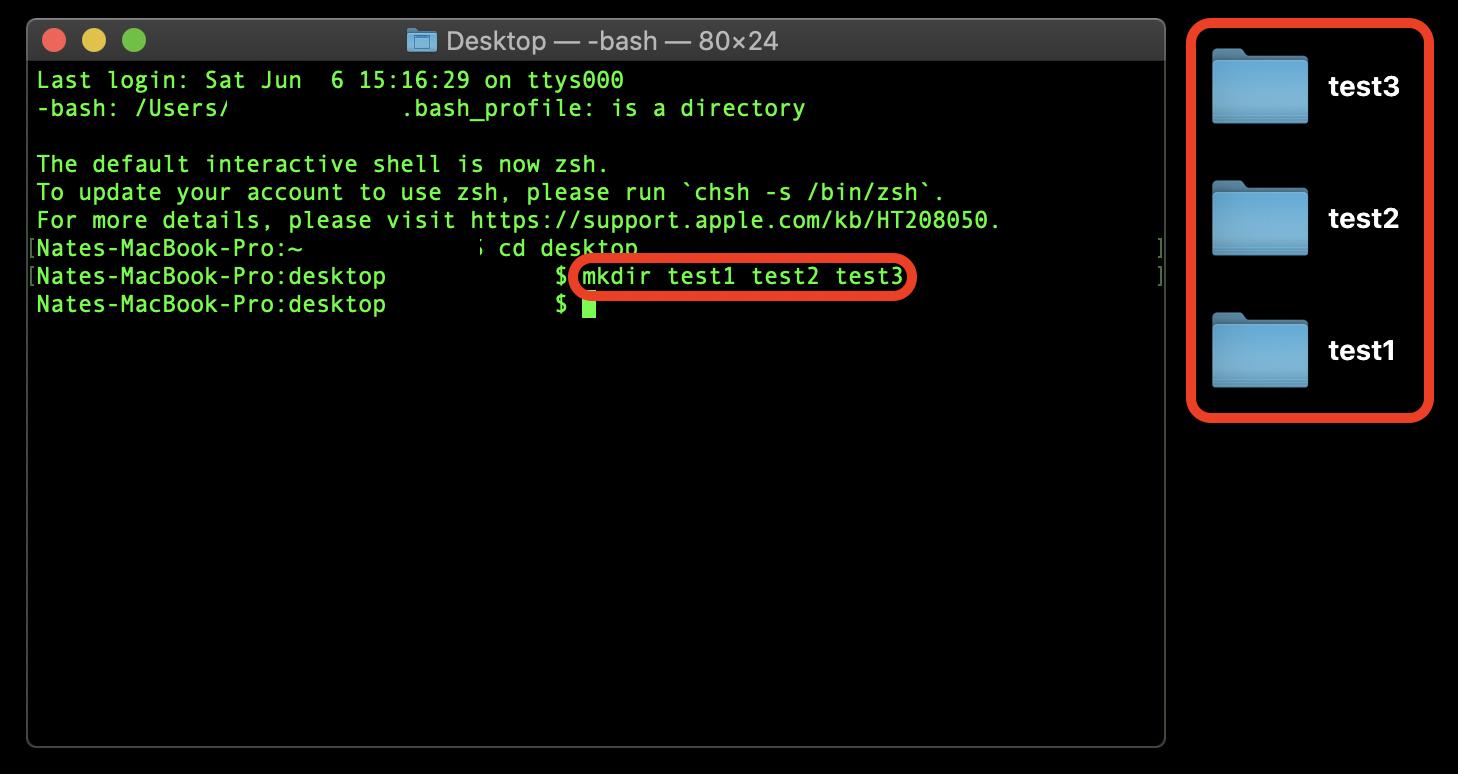 Create folders to clean up Mac desktop
If you don't feel like remembering all the terminal commands or want a fresh way to create and organize folders on your Mac, you can try some alternative tools.
Spotless is a great tool to manage your files by simply dragging and dropping them onto the app's pop-up drawer in your Menu bar. Set the rules to sort your files and don't worry about organizing your desktop anymore!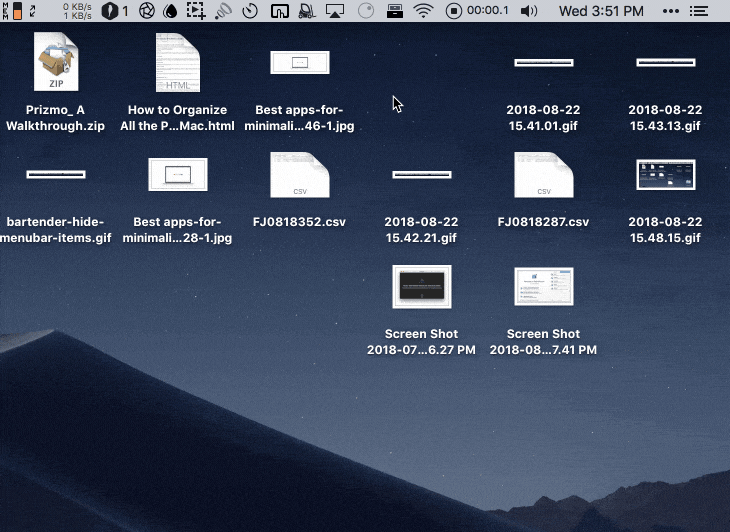 You can create a schedule for Spotless to organize files on your desktop according to your preferences and the app will automatically take care of the random files.
Let's say you're working with three different clients and saving all the related docs to your desktop. Just add 'client1', 'client2', and 'client3', respectively, to your file names, set a rule in Spotless to clean them up in their own folders at the end of the day/week, and there you go – your files will be organized automatically, without you having to sort through them a month later when your desktop is a complete and hopeless mess!
Pro tip: You can also set Spotless to send some items straight to Trash (in case you are creating a lot of temp files which you won't need later).
This is a feature we really like about Spotless. If you're the type to create new files instead of updating old ones, Spotless can help mitigate duplicate files by offering to replace newer versions of documents. If you had two versions of 'invoice-for-house-client1' and Spotless noticed you wanted them in the same folder, it would tell you there are multiple versions.
From there, it would ask if you wanted to keep both, or replace the older version. This can also be automated. Depending on your workflow, you can choose to have any duplicate file replaced, or keep both. There's even a confirmation page within Spotless for confirming the changes, and the app keeps track of every cleanup it's done so you can reverse-engineer when a file may have been replaced.
These conflict resolution patterns, automation, and scheduling features help make Spotless a really useful tool when managing your Mac's file system.
For those who prefer a lighter tough with handling files on the Mac desktop, there's Stacks. It's a built-in Mac utility that organizes desktop files into – yes, stacks. Simply right-click on your desktop and select 'use stacks' from the menu. Your Mac will place like files – such as PDFs, images, and text documents – together. It's really handy for quickly cleaning up a desktop, and keeping it clean, but it's imperfect.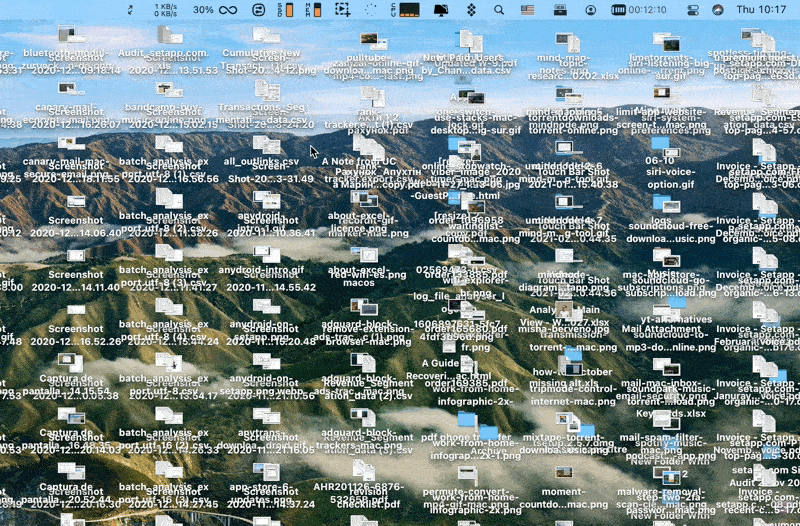 Keep in mind when you use Stacks, it will be active until you disable the feature. So any new PDFs, for instance, will be placed in the PDF stack rather than standing along on your desktop.

Customize folder icons
An integral part of your folder creation and management are the icons. Did you know that you can customize them?
Image2Icon is a small handy app that can help you do that in three simple steps.
Drop the image you want to use for the icon into Image2Icon:

Select your folder icon type:

Drop the file or folder you want to use the icon for into the circle.
That's it!
You can color-code your icons, use images that closely correspond to the content, or use Image2Icon to create a unified custom desktop that's pleasing to look at and unique.
Be as creative with this as you wish.
That's why we prefer Spotless. The app is wonderful for quick and easy management of your file structure and folders. We especially love that it can be automated, too; it's a really practical addition to any workflow, and even those who aren't very busy with creating or editing documents will find Spotless useful. You can set the app to run on your schedule. Maybe a once-a-month cleaning of your file system is in order!

And if you want to customize your icons and make your work experience more visual – use Image2Icon to create unique icons for your folders.
Both apps are available free during a seven-day trial of Setapp, the leading suite of productivity apps available for your Mac. In addition to these two apps, you'll gain unlimited access to tons of others spanning a wide variety of use-cases. No matter what your needs are, Setapp has great apps you'll love.