How to select multiple files and folders on Mac
Selecting a file in the Finder is easy. You just need to hover over it with the mouse pointer and click. But what if you want to select multiple files at once? It'll let you copy, delete, or move them in bulk and save you time.
So, here's how you multi select on Mac.
How to select multiple files at once
There are several options to do that, depending on whether the files are contiguous (display next to each other in the Finder) or discontiguous.
Here's how you select multiple contiguous files:
Click on the first file you want to select
Press and hold Shift, then click on the last file
It's going to select everything between those two clicks.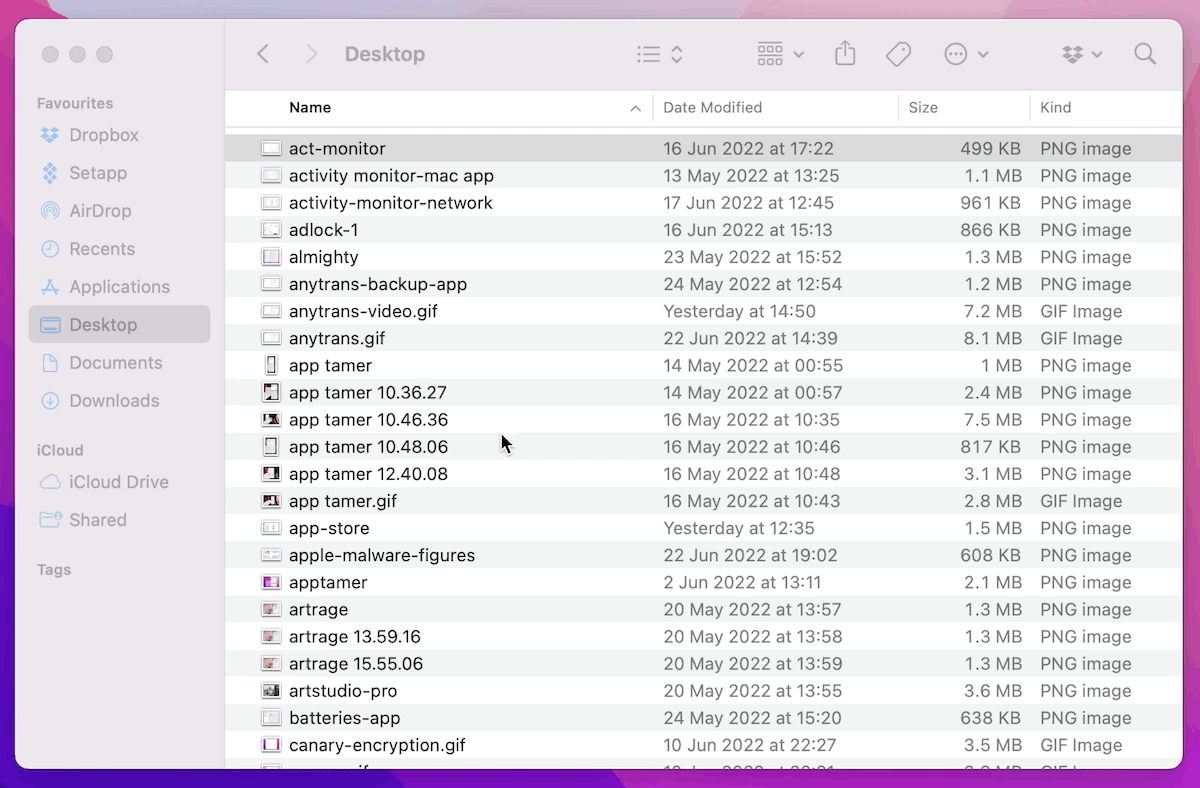 Here's how you select multiple discontiguous files:
Click on the first file you want to select
Then press and hold the Command key and select the other files
You can also deselect multiple files by Command-clicking each item.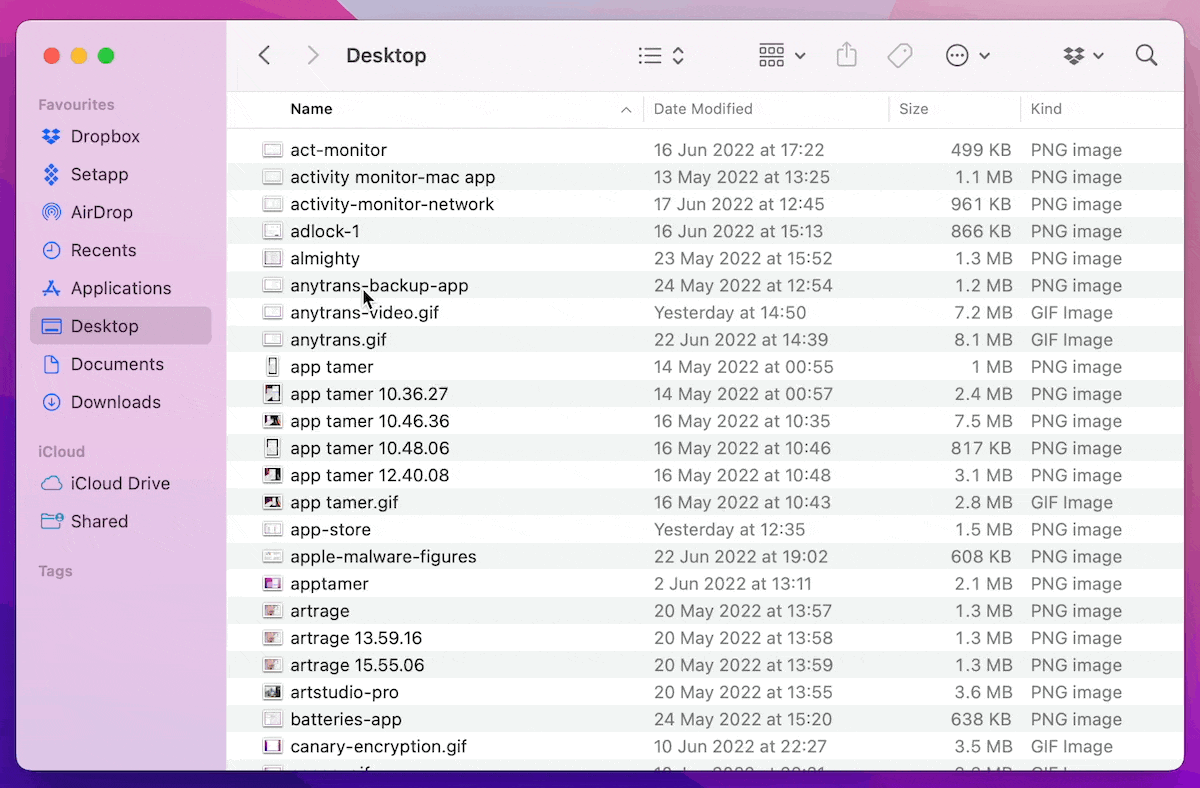 If the reason you want to select multiple files simultaneously is that you need to move them, chances are you're now reorganizing your digital workspace. We've all been there, and sometimes, it feels overwhelming. Workspaces is a workspace organizing app for Mac that will help you keep your documents in order and save you time in the long run.
The app allows you to add resources such as web pages, emails, applications, documents, and more to your created workspace, enabling you to open everything you need for a project with a single click.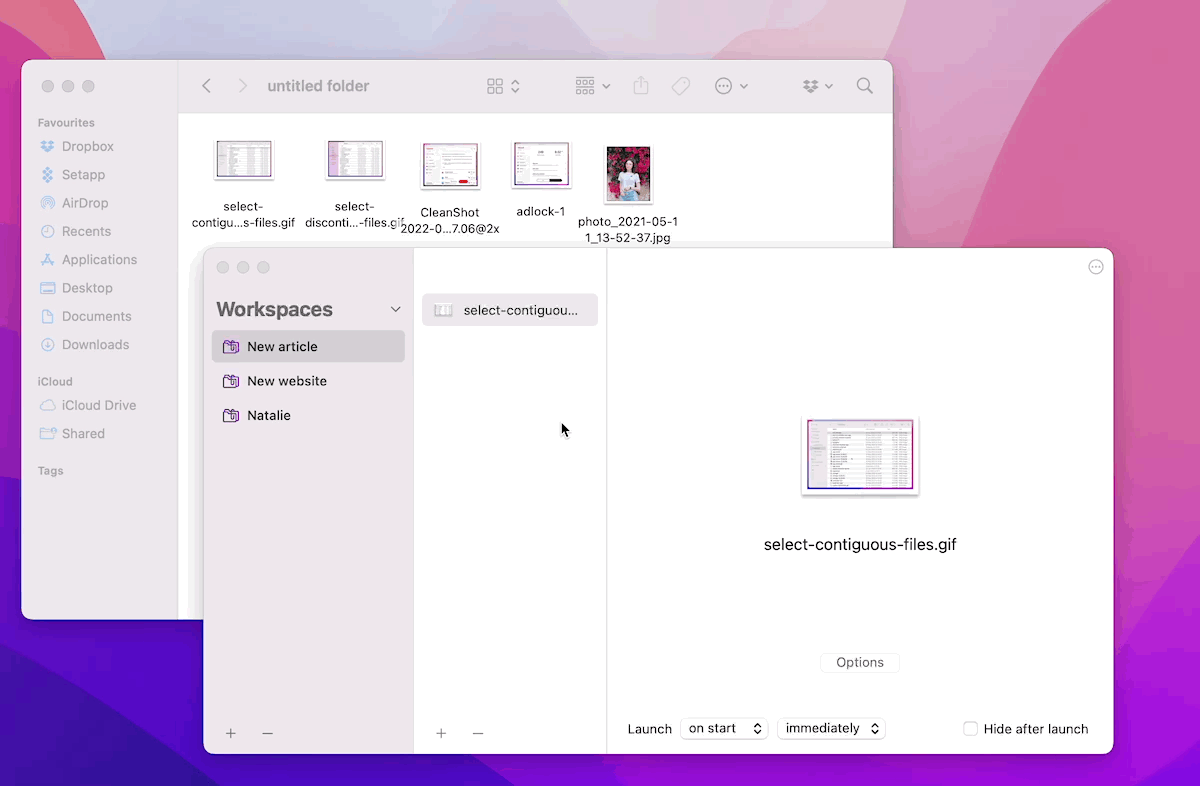 Another great thing about Workspaces is that the app doesn't move anything. When you drag files or folders into a workspace, they aren't copied or moved from their location on your hard drive.
How to select all files in a folder
To select everything in a folder really quickly, you can press Command + A. That's going to select all files. Then, of course, you could use Shift or the Command key (as we described above) to deselect any items if you want to.
Alternatively, we recommend you to try iBoysoft MagicMenu. The tool adds the Quick Access panel to the Mac's right-click menu, which allows you to right-click on your selected files and choose to move them to the location of your choice in an instant.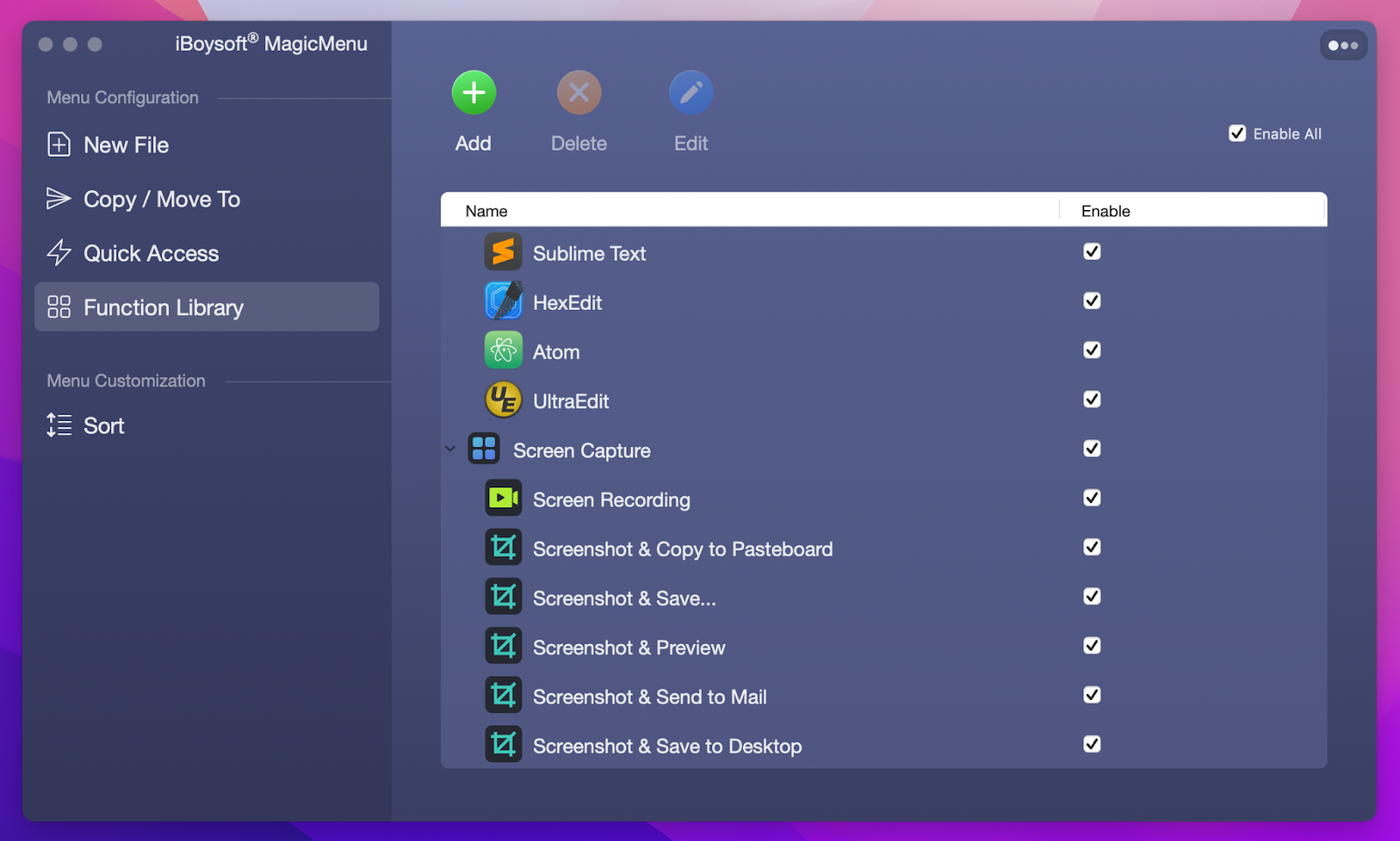 You can personalize your right-click menu using the Function Library.
Select multiple files with the mouse or trackpad
Clicking and dragging with your mouse or trackpad is another simple method for selecting multiple files on a Mac. This is quite useful for choosing several items on your desktop and works in the icon view as well. Simply click and drag the pointer to create a selection box that contains all the files you wish to select. Release your mouse or trackpad to select the enclosed files. You can add or remove files from your selection by clicking on them while holding down the Command key if you accidentally choose or miss certain files.
Imagine a scenario in which a friend or customer sends you a list of pictures they'd like a copy of. Of course, you could look for each file individually. However, if you knew there was a faster way, would you still want to waste your time?
Simply paste the search command and enumeration from your friend/customer's email into the search field in HoudahSpot (see the screenshot below), and the tool will find the required files.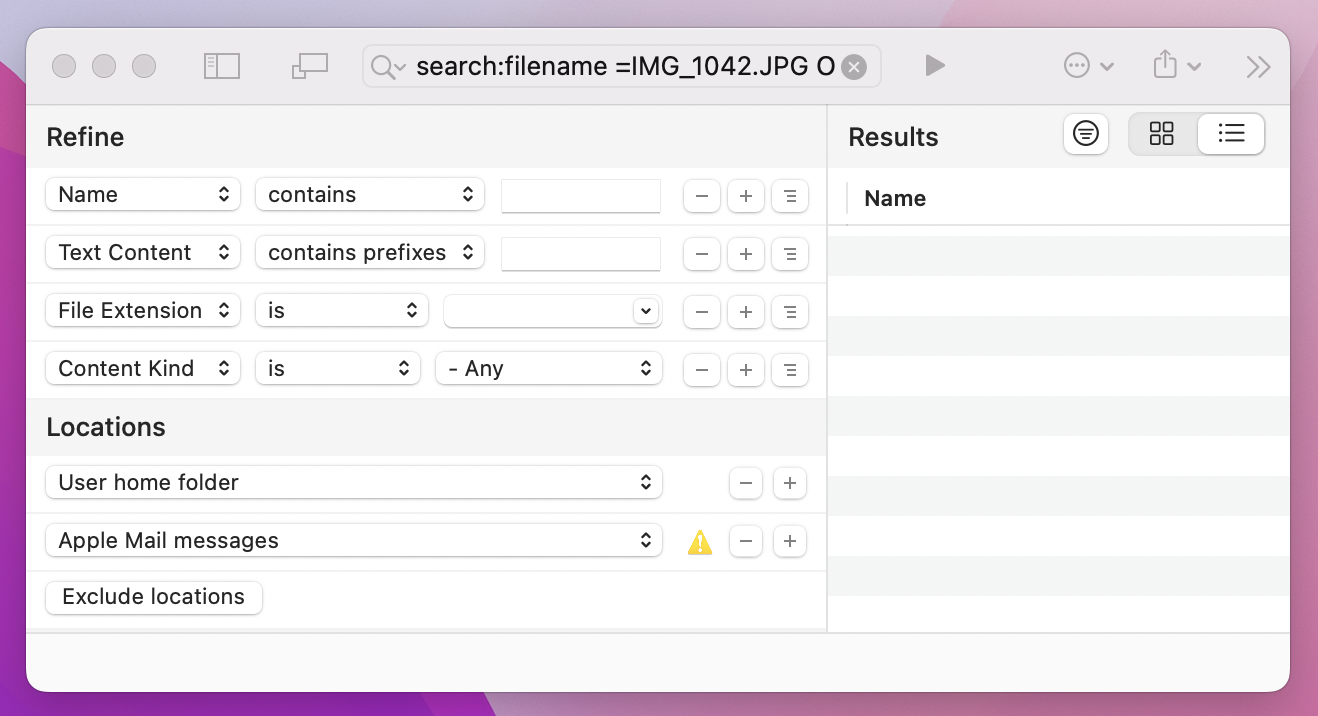 Keep in mind that the functionality of the app isn't limited to multiple files search. With HoudahSpot, you can combine different criteria, search across particular places, preview files, store results as templates, and more.
Why can't I select multiple files on a Mac?
Selecting files in bulk is easy, but sometimes, it may just refuse to happen. This may leave you wondering how to choose multiple files on Mac. Let's try to understand what's causing this issue.
Incorrect key combination. If you're new to Mac, you're probably just trying the wrong key combination because you get used to the Windows combination to select multiple files. So make sure you press the right buttons.
Improper mouse clicks. Another reason you might not be able to highlight multiple things on Mac is that you might be right-clicking in places where left-clicking is necessary.
Incorrect usage of the trackpad. If you're unfamiliar with Macs, it can be simple to drag the trackpad incorrectly, resulting in a malfunction. So before moving files, get comfortable dragging.
Problem with macOS. Occasionally, Finder may have problems for no apparent reason. Try to reboot your Mac. Hopefully, this will fix the issue.
Here's how to choose multiple files on Mac and delete them quickly:
Open CleanMyMac X
Click Large & Old Files from the left sidebar
Then click Scan
Select the files you want to remove and click Remove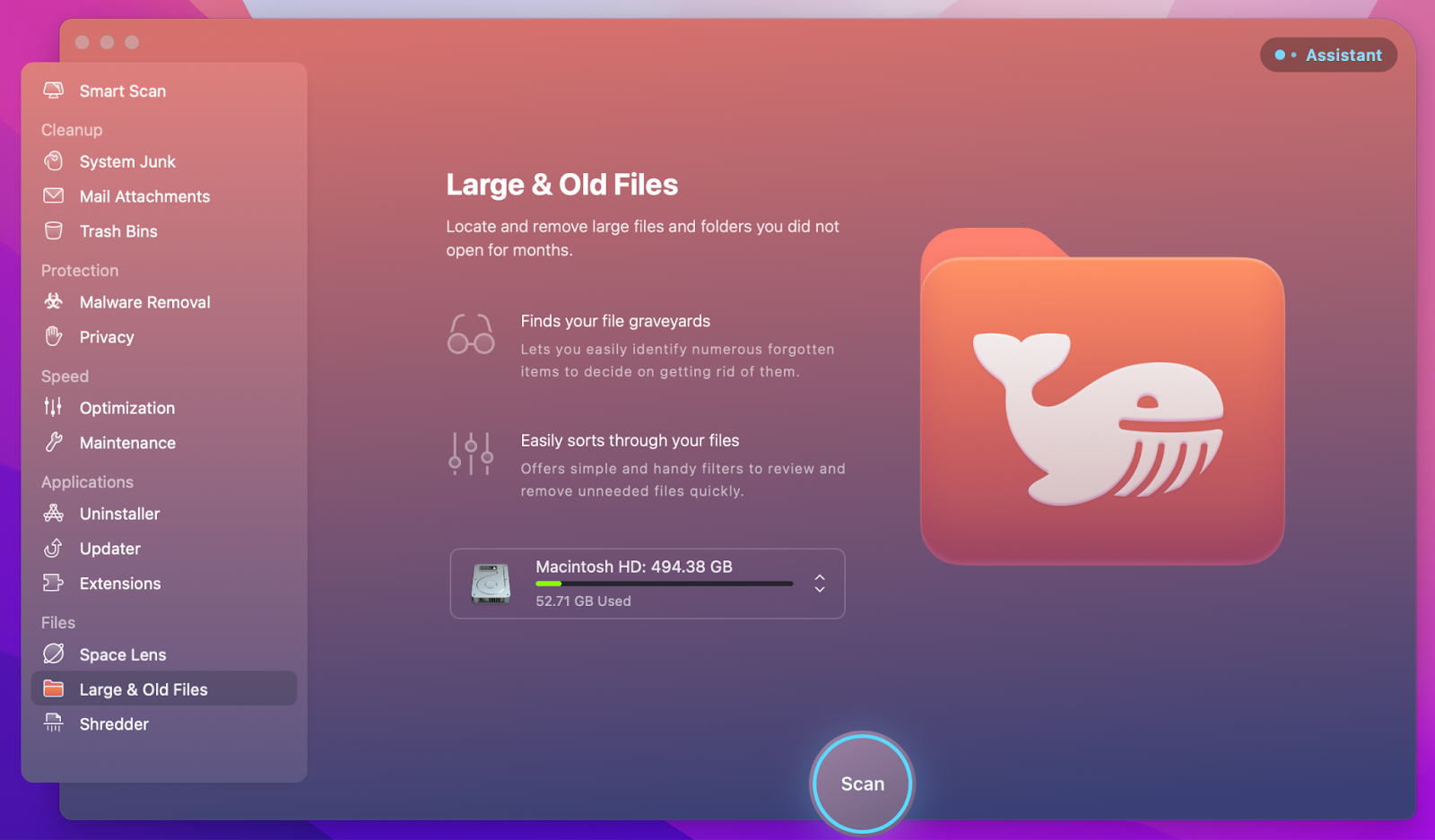 Select multiple files with ease on your Mac
Selecting multiple files on Mac is simple. Many of the ways, as you may have noticed, are comparable to their Windows counterparts. So even if you're new to macOS, it shouldn't be a problem for you.
If you want to perform more complex tasks with files, for example, find multiple files from a list of names, organize them into task-based groups, or maybe detect large and outdated files in a few mouse clicks, take advantage of the apps mentioned in this article. These are Workspaces to keep your documents in order; Dropzone to copy and transfer files faster; iBoysoft MagicMenu to personalize your right-click menu; HoudahSpot to find files quicker; and CleanMyMac X to detect and remove the unnecessary files in an instant.
More than 240 apps, including the ones we mentioned above, are available on Setapp – all under a single subscription. Plans start at $9.99 per month, but the good news is that Setapp is free to try for 7 days with our free trial!