Pagico: the best all-in-one organizer for your Mac
Meet Pagico on Setapp, an organizer tool with inboxes, calendars, projects, contacts, notes, and checklists to become more productive.

Pagico is an all-in-one organizational tool that fits your needs, whether modest or ambitious. It can handle large-scale, multi-month work projects with dozens of collaborators as easily as simple grocery lists.
With a natural language processor that gathers scheduling information from terms like "tomorrow," there's less clicking around calendars and more time getting things done. The app supports the creation of tasks, lists, and contacts and schedules them all in an ongoing timeline called the Dashboard.
With this intuitive timeline on your side, it's a lot harder to forget about an important commitment.
Tasks
The task is the most basic scheduling unit. Create a new task by clicking the "new task" button at the top of the app window, or by using (command+T). You'll be prompted to give a name to your task; you can include phrases like "tomorrow" or "next week" in the name and the natural language processor will automatically adjust the scheduling based on what you write. You can also adjust the timeframe manually by clicking the expand prompt.
When you're finished, click "create task."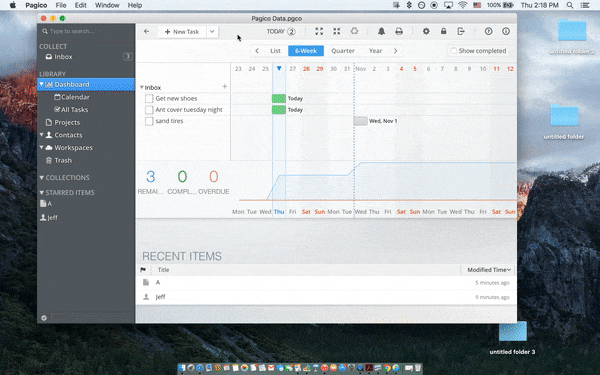 Lists
Lists are helpful when you need to gather several components or sub-tasks. Under the Inbox tab, click the "+" button and select "create new list." Once you name your list, you can add as many items to it as you'd like. If you add a date to any item, it will automatically register as a task as well and will be visible as such across your Pagico space.
Use the drop-down menu at top right to sort your list as needed. You can click the checkboxes next to each item to mark them as complete; an icon beside the list will track your progress.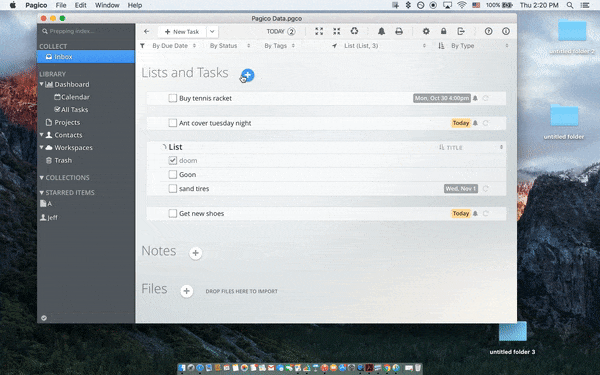 Contacts
When your plans involve other people, the app lets you create contacts to help keep your communications clear. To create a contact, click the "New Contact" button and enter a name, then fill out the contact information as needed.
Contacts can be linked to any list, task, or project either from the item's page or by clicking "+" on the contact's page next to the appropriate heading. Linking contacts to tasks and projects is a great way to assign responsibility and keep track of contact information.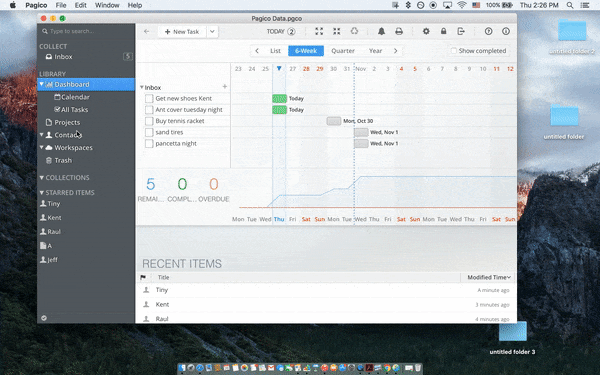 Projects
A project is a container for lists, tasks, notes, and files that helps you sort complex goals into manageable tasks. To create a project, go to the Projects tab and click "new project," title it, and click "create project."
Projects can help you keep tasks and lists for different purposes separate, and they also help organize your dashboard to improve clarity. You can also assign lists, tasks, and contacts to projects after the fact.
Pagico makes even complex tasks feel manageable. The more you cross-link your contacts and projects, the more it can help you accomplish your goals. Get Pagico and 100+ best Mac apps on Setapp with a full-featured free trial.