Best Mac Cleaner Apps in 2023
When you work hard, you get dirty. True of humans, true of Macs. Over time, even the most powerful Mac generates lots of clutter — from caches to outdated apps to system files and leftovers. If you do nothing about it, your Mac's performance will start deteriorating. In this guide, we discuss how to choose the best cleaner for Mac to optimize storage and keep your computer in a good shape.
What is a Mac cleaner and why do you need it?
Mac cleaners help clean Macs, as easy as that. Their primary feature is disk cleanup — removing unnecessary stuff from your drive to free up storage. By unnecessary stuff we mean system log files, user caches, language files, Xcode junk, and more. All of that clutters your disk and, in many cases, makes your Mac slower.
There are advanced Mac cleaners with extra capabilities such as malware tracking, real-time junk monitoring, duplicate finder, Mac cache cleaner, and more. We'll discuss the full set of those in a moment. Before we get there, there's one question that might have naturally popped up in your head.
Can't I clean my Mac manually?
There's a native feature in macOS that allows you to delete the files you haven't used for a long time, empty Bin, and optimize storage. To access it, go to the Apple menu > About this Mac > Storage > Manage.
The problem with manual storage optimization is that you have to go through long lists of files and different folders to decide what can be deleted. First, you waste a lot of time. Second, you might accidentally delete something important.
What's more, this feature doesn't allow you to get rid of system files — and these are usually the trickiest. If you look at "Other" in the left sidebar in the screenshot below, you'll see that "Other" files take the biggest chunk of space. You can't remove them without a good Mac cleaner, unfortunately. Read the full article about mac disk cleaning.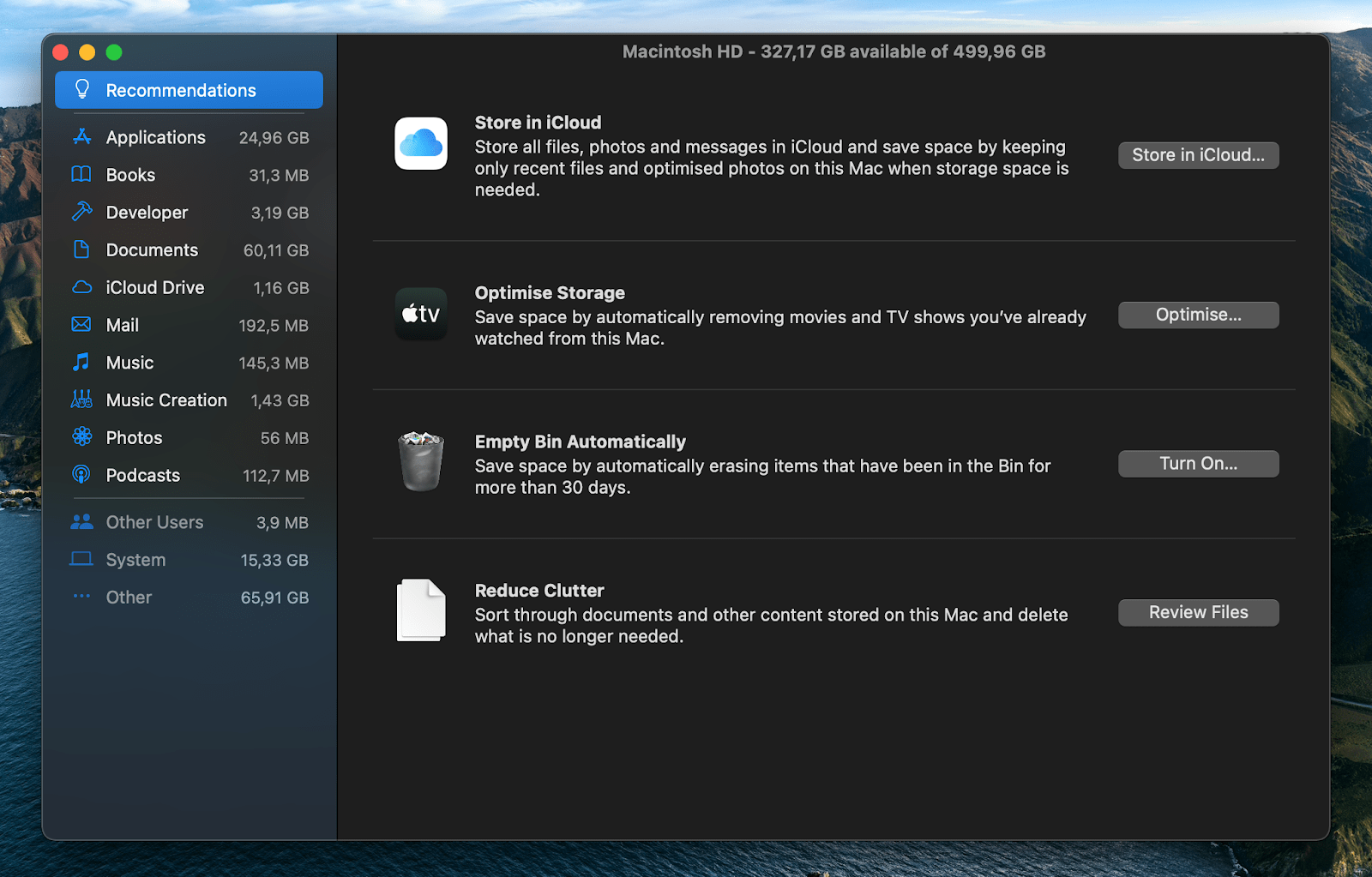 The top 10 best Mac cleaner software in 2023
People who've had a Mac in their life for quite some time know how much value a good Mac disk cleaner brings. Modern tools offer automated storage cleaning combined with a malware cleaner for Mac, optimization recommendations, and lots of other stuff that saves your time and helps Macs live longer. Here's our top 10 list.
1.CleanMyMac X
We'll start with a market leader, the best disk cleaner for Mac, CleanMyMac X. It's sleek, clever, and extremely protective of your Mac. CleanMyMac X's Smart Scan not only detects all the files and system junk you should delete, it also finds malware and analyzes your Mac's overall performance. If there's anything hampering your work, CleanMyMac X will suggest a couple of tasks like flushing DNS or running maintenance scripts to speed up your Mac.
The app does a great job revealing all the tricky system files that are typically hard to find. But it's so much more than that. Maybe your Mac is running slow because of some apps? CleanMyMac X will help you uninstall or update those. Maybe you've accidentally downloaded a malicious file? CleanMyMac X will let you know. It's a modern maintenance and optimization assistant that every Mac power user should own.
Price: $39.95 or $9.99 per month with 200+ other apps in Setapp
Free trial: Available here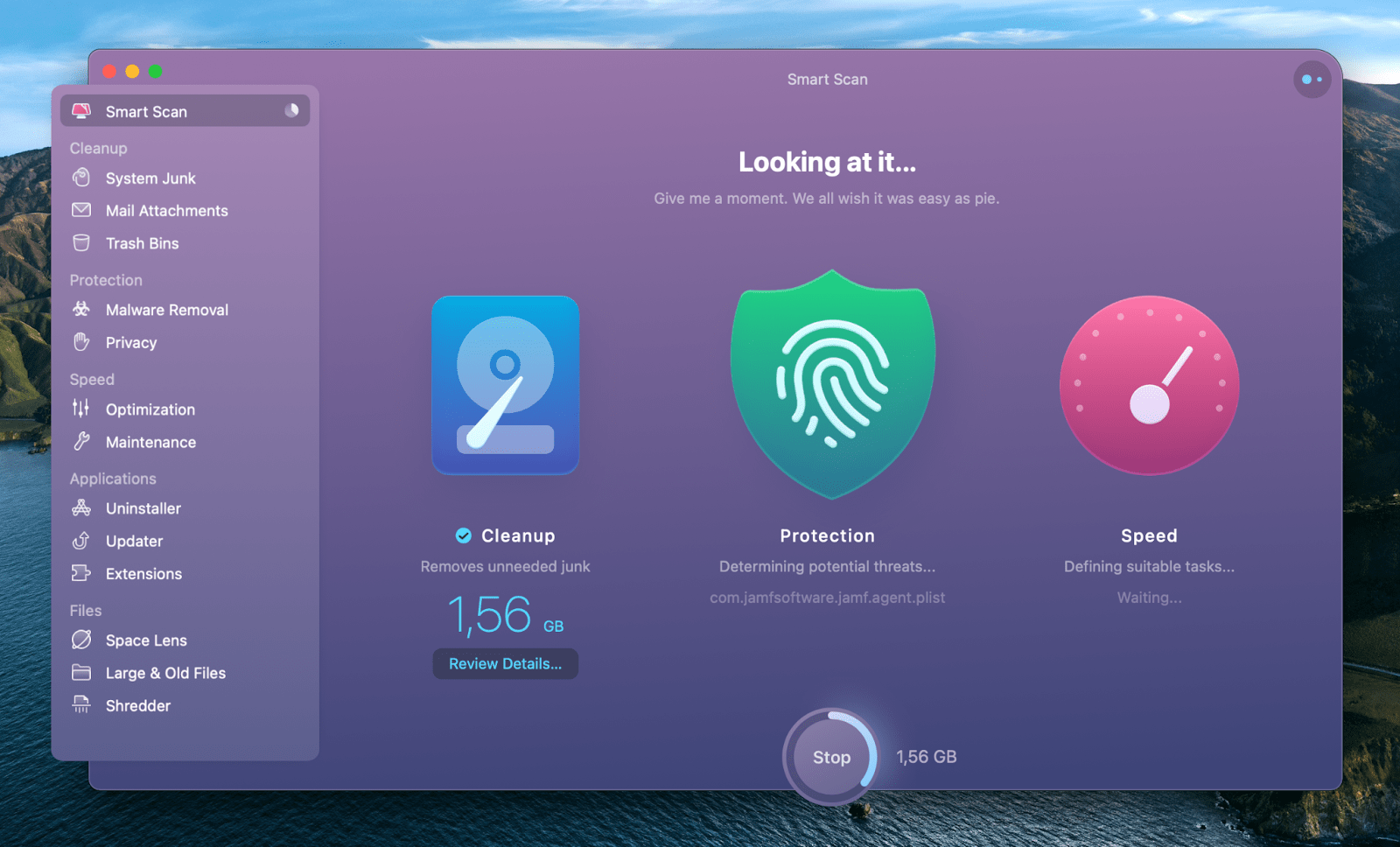 2.DaisyDisk
If you want to better understand what is cluttering your storage, try DaisyDisk. This system cleaner for Mac scans your disk (including any connected disks) and puts your storage on an interactive visual map. Different colors represent different types of files. It's easy to notice what prevails and identify unusually large files.
While DaisyDisk has an awesome approach to showing your storage clutter, it's not as good with cleaning it up. You'll have to hand-pick what you want to delete, which is not an easy task for someone who doesn't know what system files can be deleted.
Price: $9.99
Free trial: Yes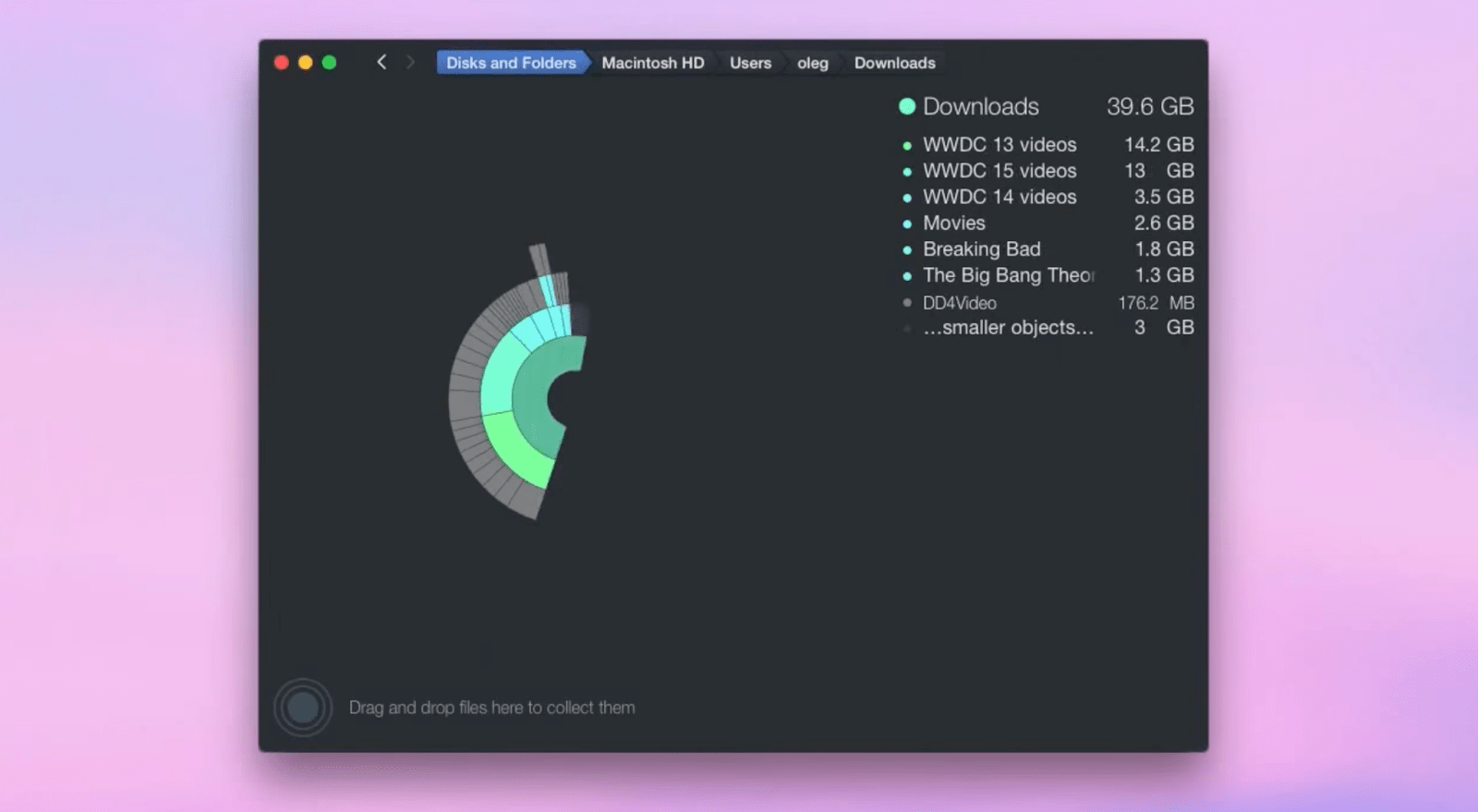 3.Gemini
Looking for a Mac storage cleaner that can free you from gigabytes of almost identical photos? Gemini is the best of its kind. Essentially a duplicate finder, this app not only removes copies, it can also detect files that look similar to each other and offer to delete them.
Gemini takes care of your storage on a long-term basis, with its powerful Duplicate Monitor. Whenever a new duplicate or similar file pops up on your disk, Gemini will ping you. This way, you can prevent files from piling up in the first place. Gemini doesn't solve the problem with under-the-hood system junk, but it can be very useful as a storage optimization tool.
Price: $19.95 or $9.99 per month with 200+ other apps in Setapp
Free trial: Available here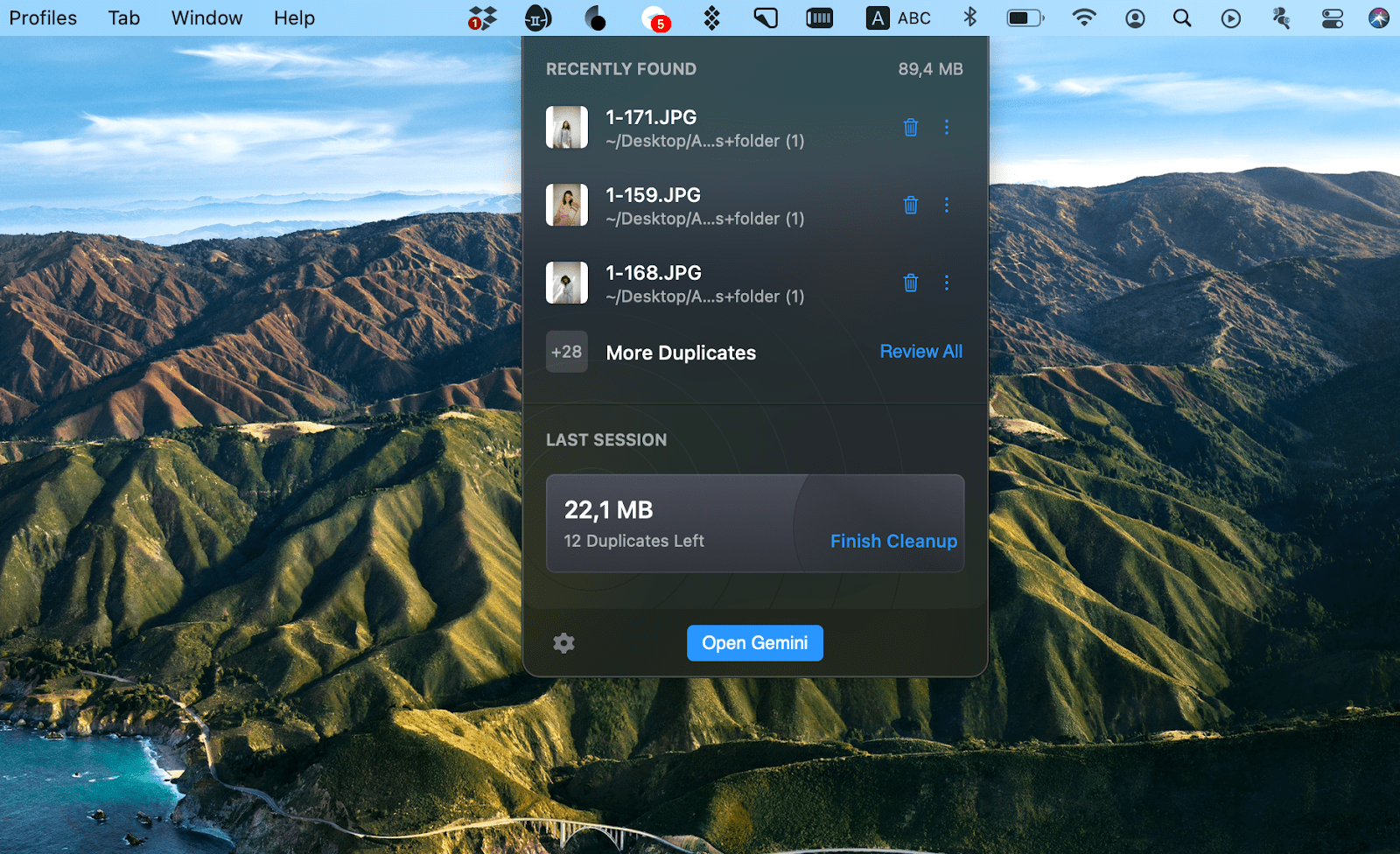 4.CCleaner
CCleaner is one of the pioneers on the market of computer cleaner software. Developed by Piriform in 2004, it's a cross-platform tool that was originally released on Windows computers and later expanded to Macs. It's not as fancy and macOS-friendly as CleanMyMac X or Gemini, but it does what it says.
A paid version of CCleaner can find and remove system files, scan your Mac for duplicates, and even monitor and alert you about junk in real time.
Price: $19.95
Free trial: Yes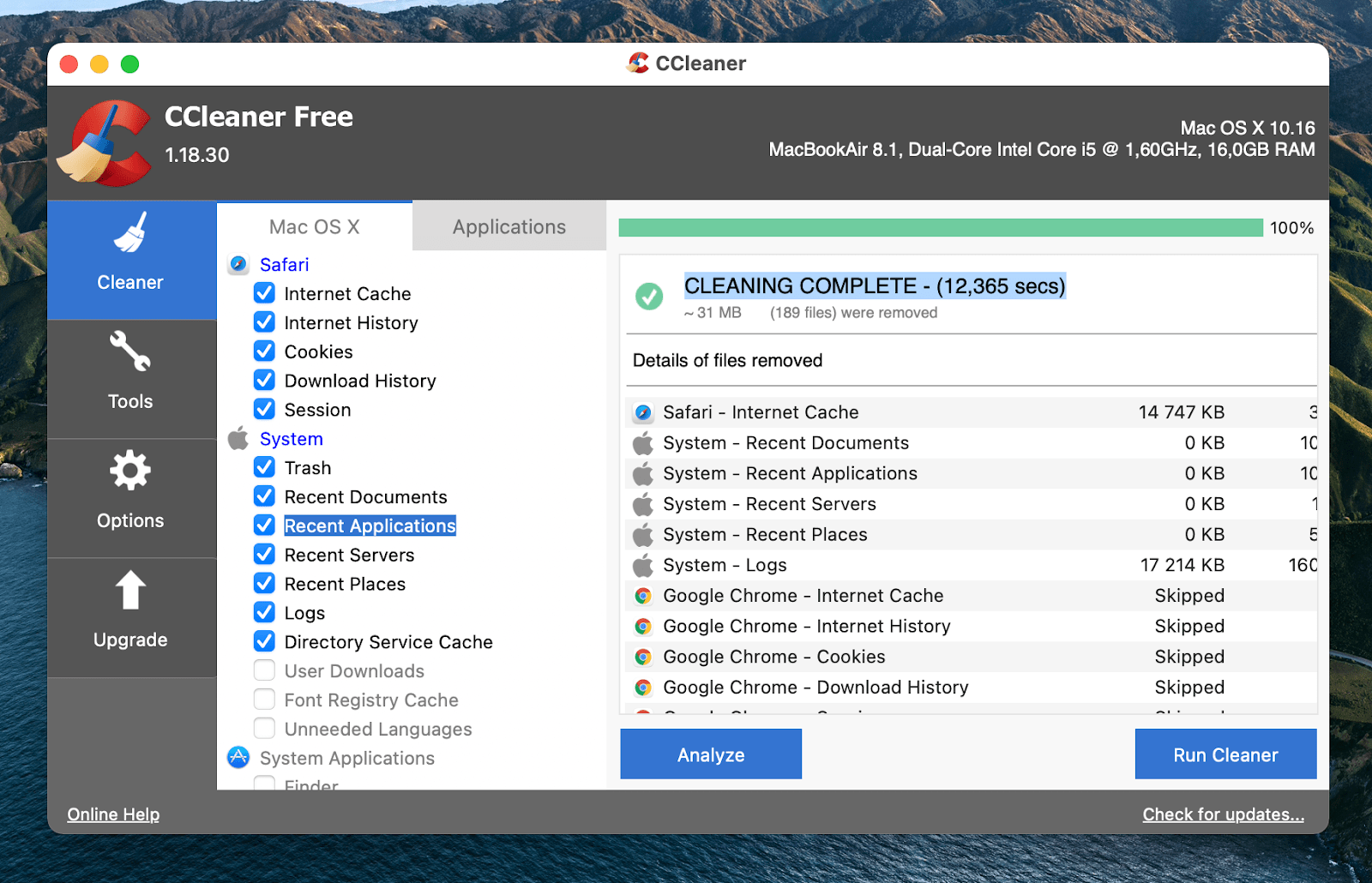 5.Cleaner One Pro
Another all-in-one cleaner solution is called Cleaner One Pro. It has a dedicated module for detecting large files — in case you want to quickly achieve the effect of clean storage by removing everything that is too heavy for your Mac. Cleaner One Pro can also scan Mac for malicious files, duplicates, and system junk, as well as suggest optimization tasks.
Unfortunately, you can't test the app because it offers no free trial. You can download the free version but it's very limited in functionality and doesn't give you any well-rounded insights.
Price: $14.99 per year
Free trial: No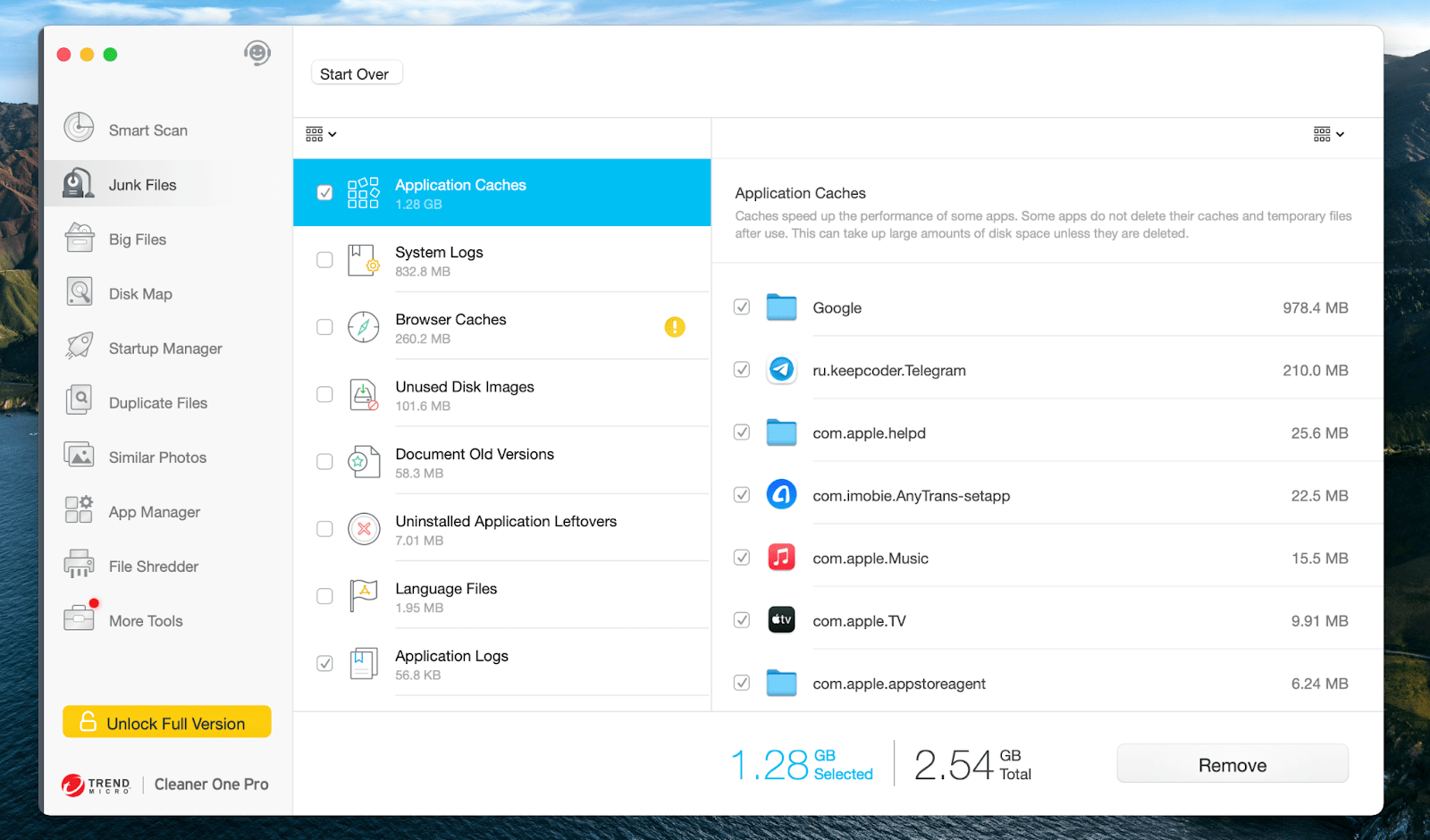 6.MacBooster
MacBooster is another Mac hard drive cleaner and optimization tool that looks similar to CleanMyMac X. You can remove system clutter and malware, and run optimization tasks upon the results of one scan. We compared the amount of system junk found by CleanMyMac X and MacBooster on the same Mac, and saw that CleanMyMac X does a way better job.
Still, MacBooster works as a budget tool to remove some of the system junk automatically. Plus, the app can detect malicious cookies.
Price: Starting at $2.49 per month
Free trial: Yes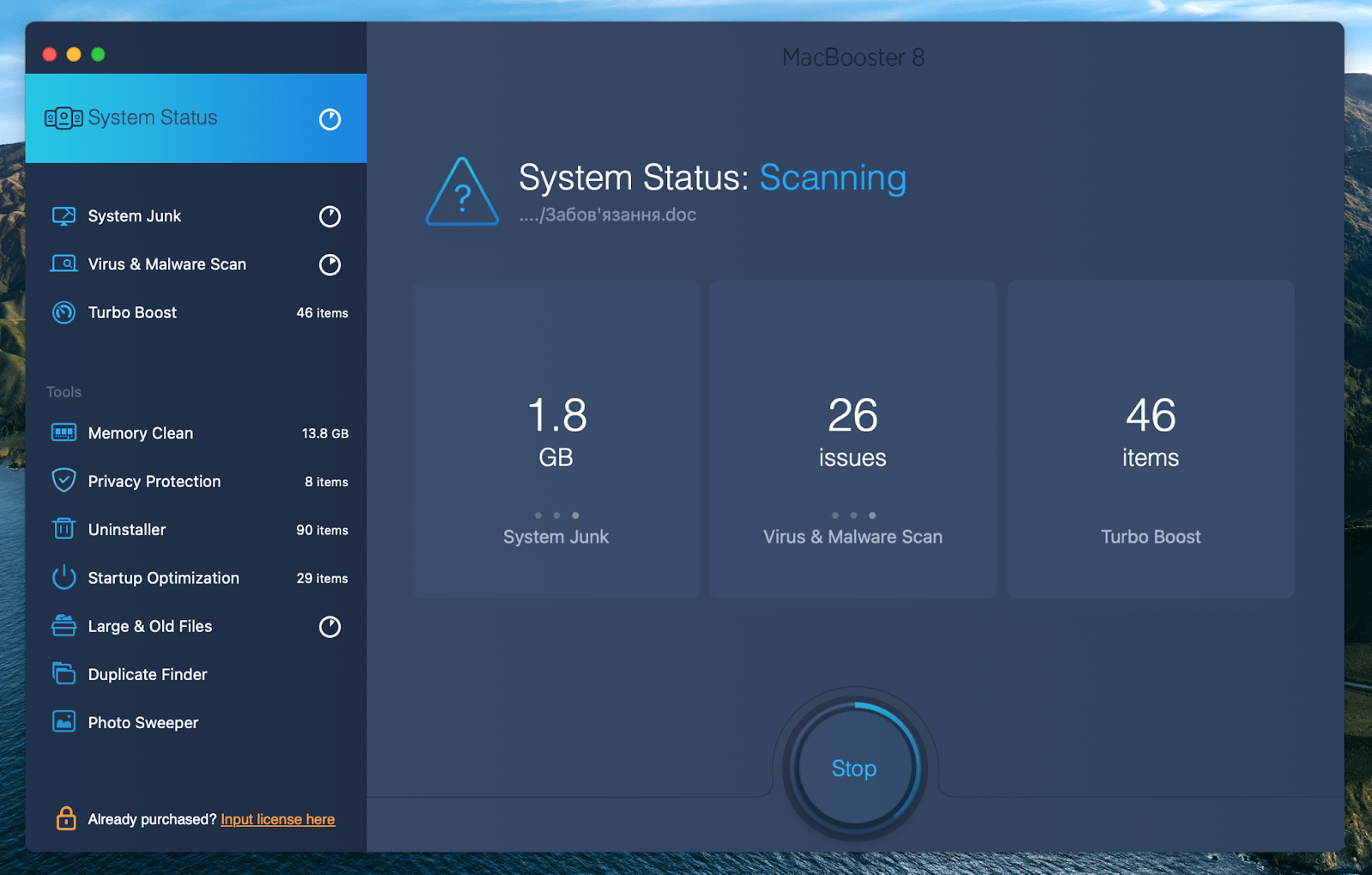 7.OnyX
You could call OnyX a more advanced version of Apple's native storage optimization feature. It can run a deep scan on your storage, remove system junk, and even help rebuild some broken indexes and databases. The app doesn't offer any fancy scanning options, there's no real-time junk monitoring or automatic cleaning. You'll have to do it all manually.
OnyX is free and can be very useful for people who know the ropes. In other words, if you can differentiate between types of system files and love optimizing stuff on your Mac, OnyX is a must-have. For non-technical folks who just want a clean Mac that works, the learning curve is too steep.
Price: free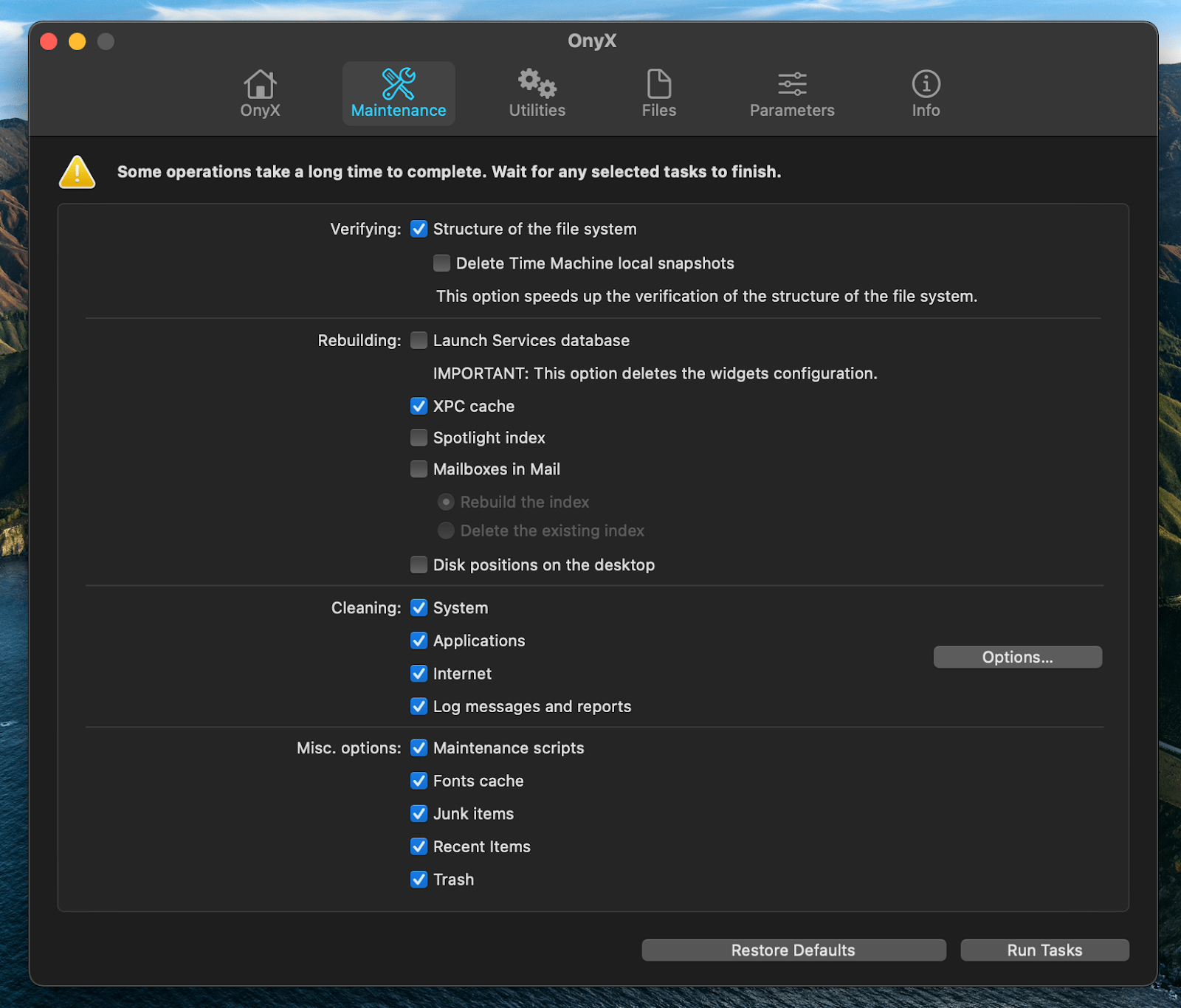 8.MacFly
MacFly goes beyond scanning and cleaning your Mac. It claims it can analyze how you work and provide tailored recommendations on how to optimize your storage. This could be both an advantage and disadvantage. The good thing is you don't have to run scans often. The bad thing is MacFly might miss something if you change how you do things on Mac.
We've tested MacFly and it seems to have all the essentials — disk cleanup, shredder, uninstaller, and duplicates detection. The first smart scan was painfully slow, but you could probably bear with it since MacFly asks you to run a thorough scan only once.
Price: $115.70
Free trial: No
9.Parallels Toolbox
Parallels Toolbox is an all-in-one toolkit with many optimization options for your Mac. From custom alarms to hiding desktop icons to disabling notifications, Parallels Toolbox was created to make your daily flow a bit more productive. The arsenal includes a disk cleaner and a duplicate finder, both available in the menu bar.
Seasoned Mac users might argue that many of the Parallels' tools are available in macOS. And they are right. The app just adds a few extra things on top and brings the essentials into one spot. Still, its disk cleaning feature works. So if you need something basic for system junk cleanup, you might want to consider it.
Price: $19.99 per year
Free trial: Yes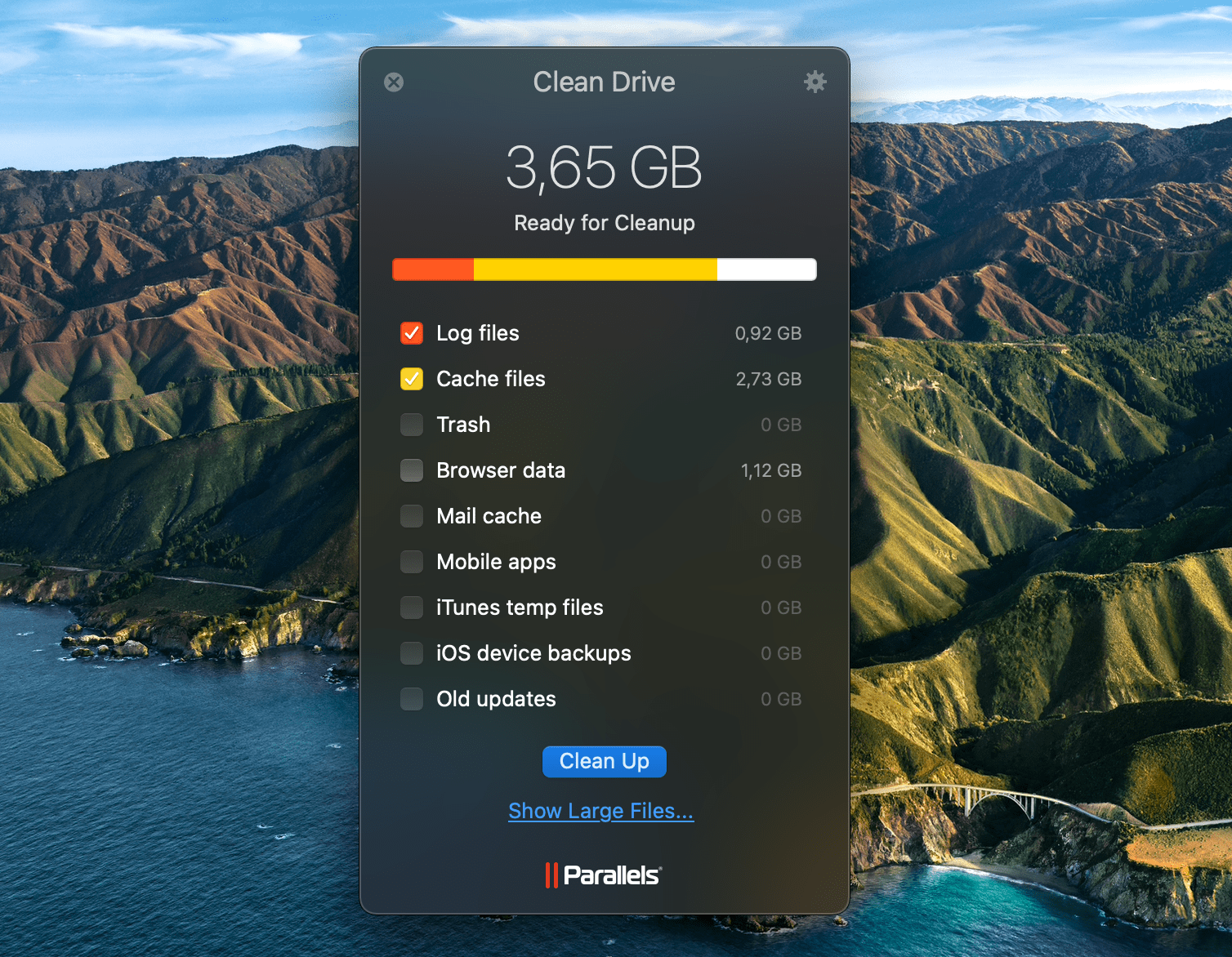 10.AVG Cleaner
A free junk cleaner for Mac, AVG Cleaner has only two modules — disk cleanup and duplicates finder. The former will help you get rid of log files, downloaded file history, caches, and uninstall leftovers. The latter saves your storage space by deleting photo, movie, and file duplicates. You can either choose the files you want to delete manually or follow the app's recommendations.
AVG Cleaner will make your Mac a few gigabytes lighter, but we can't call it a full-featured optimization tool. Without a malware scanner and performance monitor, the app will not help you figure out what's wrong with your Mac, why it's getting slow or acting strangely.
Price: free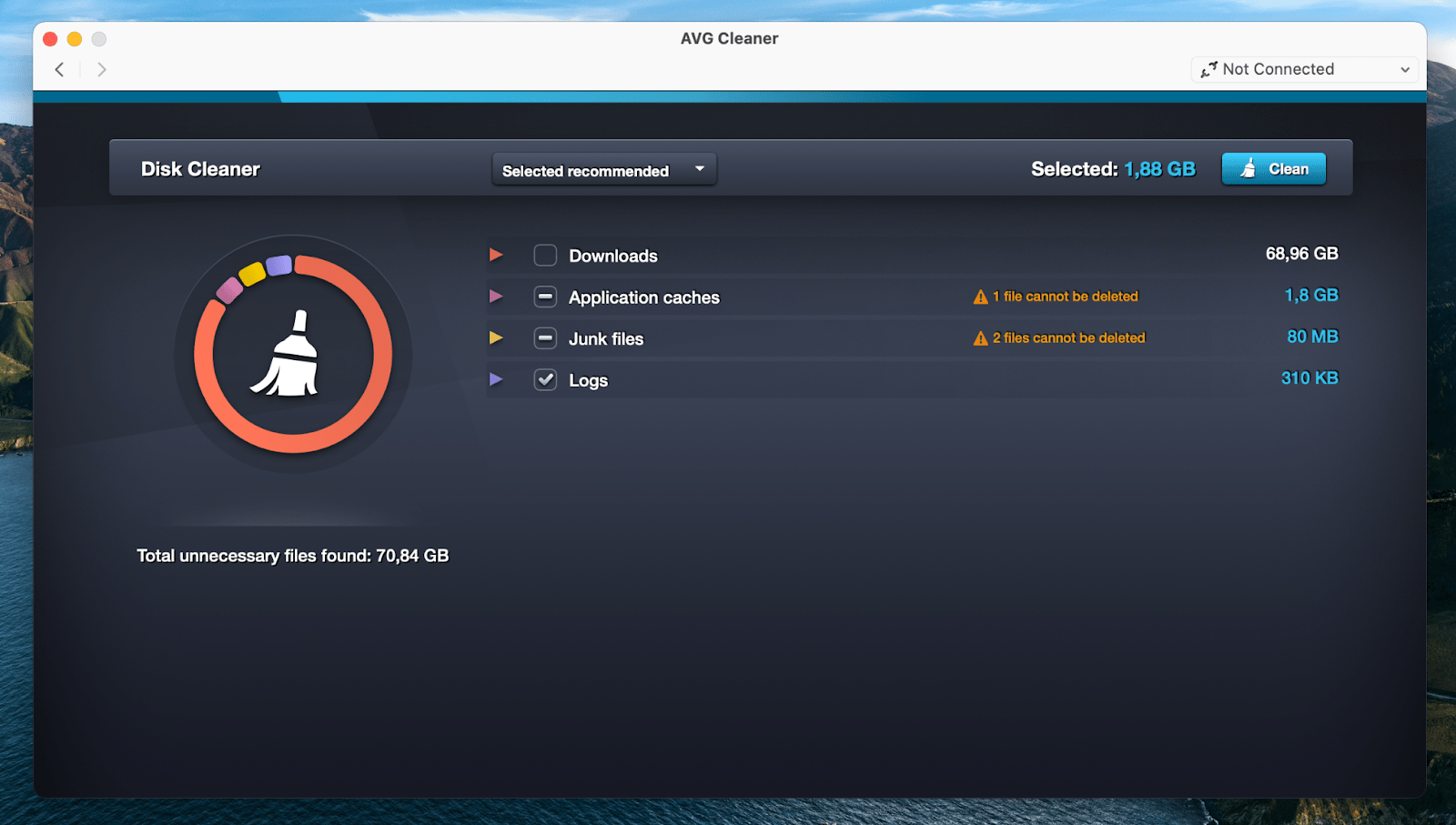 Bonus app: iStat Menus
We usually start looking for the best disk cleaner for Mac only after things get dirty. Low storage notifications, loud fan noise, Mac freezing, or getting slow — these are all very good reasons to run a thorough cleanup on your disk. But why not prevent the trouble in the first place?
iStat Menus constantly monitors your system performance in the background. From CPU to memory load to disk space usage. If there's any kind of unexpected behavior, the app will help you get to the root of the problem immediately.
Price: $11.99 or $9.99 per month with 200+ other apps in Setapp
Free trial: Available here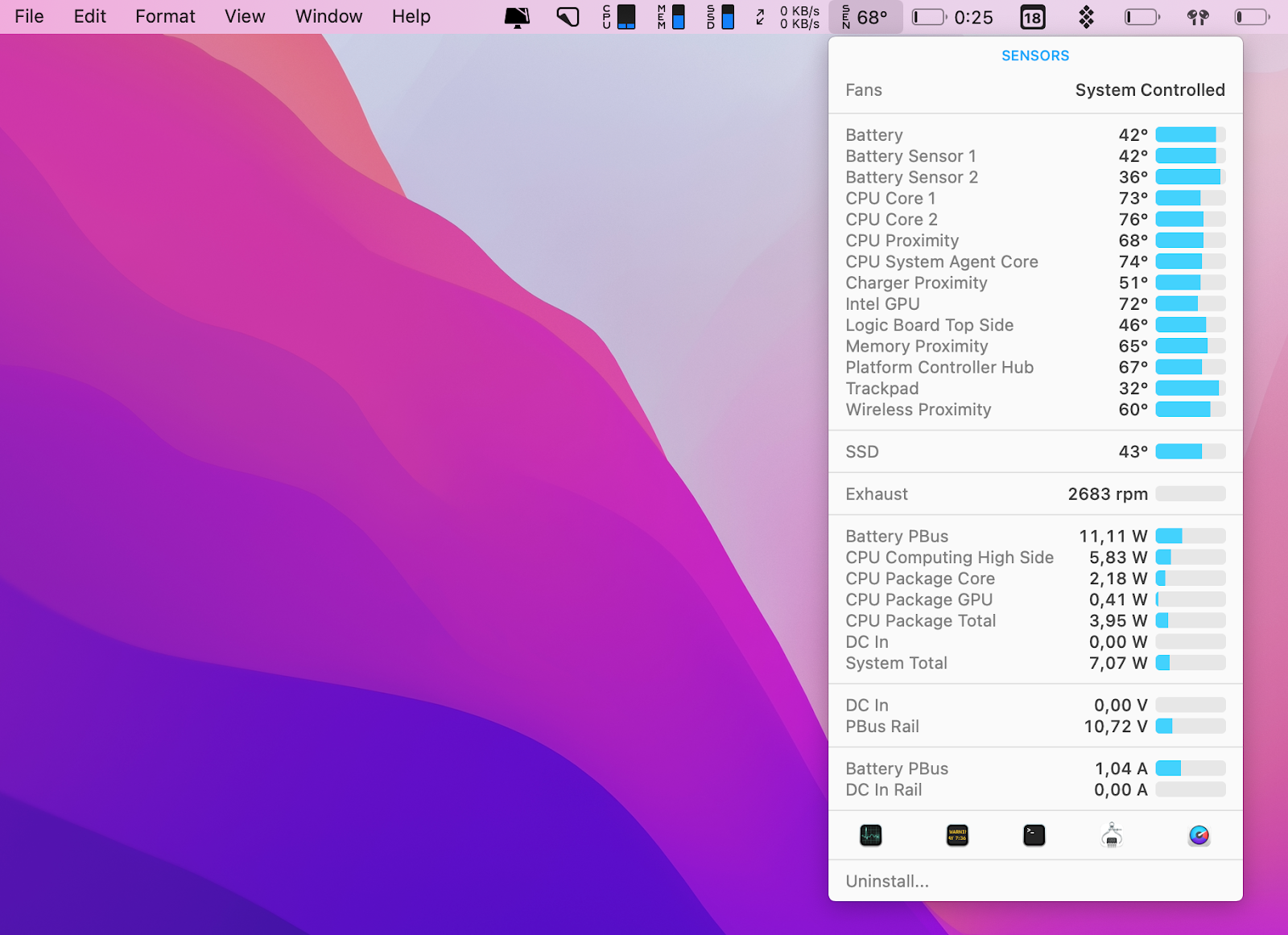 Conclusion
The best cleaner for Mac for all people, from beginners to experts, is CleanMyMac X. OnyX works great for geeky folks who love optimizing stuff manually. And if you're looking for a very basic disk cleanup feature along with other Mac utilities, Parallels Toolbox might be your thing.
The best deal is to use CleanMyMac X and iStat Menus through Setapp — a perfect combo that guarantees complete security and cleanness of your Mac. Plus, Setapp has Gemini.
Setapp is a productivity suite with the best Mac and iOS apps for your flow. As of now, it has around 220 apps on board, all available for $9.99 per month. Give it a try with a 7-day free trial.