The best Mac cleaner in 2023
If you've been using your Mac for a while, you know how quickly it generates clutter. This eats up valuable free space on your hard drive and inevitably leads to slowing down of your Mac's performance. Experiencing freezes? Often find your Mac overheating and running out of RAM? You can help your macOS out!
To free up some disk space you can move your biggest files to an external drive, clean up old and unused files, comb through your photos and media library, or try other tips from our dedicated article on how to clean up your Mac manually, using native and third-party apps.
You can also opt for specialized Mac cleaners to make your life much easier — turning hours of manually checking up every folder on your Mac into a few minutes that cleaner apps typically take to scan your system and detect junk.
For all those interested in optimizing performance of their Macs, we've put together recommendations for some of the best Mac cleaning apps available, so that you can decide which suits your needs the most.
What makes a good cleaner for Mac?
When trying to find the best cleaner for Mac, consider how well it scores against the following characteristics:
Effective: How much extra disk space can it free up?
Comprehensive: Does it apply different kinds of cleanup methods?
Easy to use: Are navigation, tools, and text instructions clear and easy to follow?
Safe: Does it come from a reputable developer? Is customer service support readily available?
Fast: Does it save or eat up your time?
Extra value: Does it come with additional capabilities such as malware protection, real-time junk monitoring, data shredder, or others?
Price: Is the value you get worth it?
The best Mac cleaner software in 2023
Modern Mac cleaners save us hours of manual storage cleaning and offer different ways they can help us get things sorted and our hard drive decluttered. Some specialize on a specific cleaning need, while others come with a whole set of storage scanning and optimization tools.
Here's our list of the best Mac cleaning apps we can recommend — so that you can try what works best for you:
CleanMyMac X is chosen for its award-winning UI, Smart Scan that combines cleaning, optimizations, and malware detection into a single process, and an impressive toolset that can replace a couple of Mac cleaning apps on its own.
Disk Drill is a free disk space analyzer that lets you quickly identify what files occupy most of your hard drive and remove or relocate them right from inside the app. It is also an indispensable tool for simple and fast data recovery — no matter what caused the loss of your files.
Gemini's made it to our best Mac cleaners list because it's a pro duplicate finder that's ready to take on clutter right where it accumulates most often — in Media and Downloads folders on our Macs.
Although technically not a cleaner, Spotless is our whole-hearted recommendation as a tool that prevents clutter from accumulating — by auto-sorting your files to designated folders, saving you the time and the need to declutter too often.
CCleaner — one of the first comprehensive system cleaning tools on the market with a great set of extra cleaning features.
OnyX is the best Mac cleaning app that features an incredible level of customization for those who know their way around system files and prefer manually adjusting cleanup processes on their Macs.
MacFly Pro is the newest addition to our top-rated Mac cleaners list that offers tailored cleaning and optimizations advice for your Mac based on your personal usage patterns.
CleanMyMac X is our No.1 choice because it's smart, powerful, well-rounded, and can boost your Mac's performance in a matter of minutes.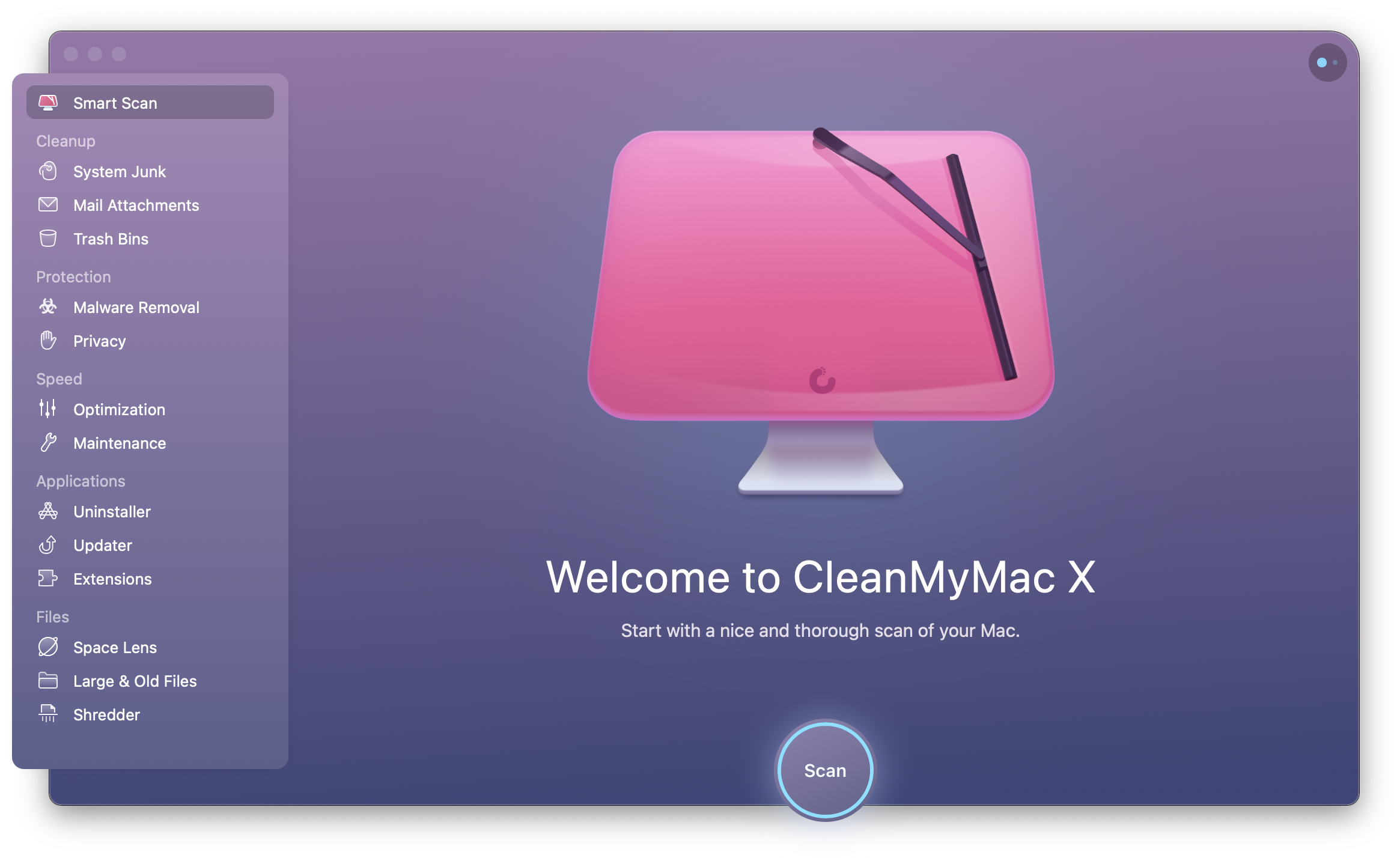 Cleanup is one of the app's five modules (in addition to Protection, Speed, Applications, and Files) that focuses on your Mac's system junk, mail attachments and trash stored throughout different apps on your Mac, including the ones you never even knew had Trash folders.
We especially love that CleanMyMac's idea of a Smart Scan combines cleaning with in-depth checkups of your macOS for viruses and system vulnerabilities. With a simple hit on Run you get Cleanup, Protection, and Speed covered in one click.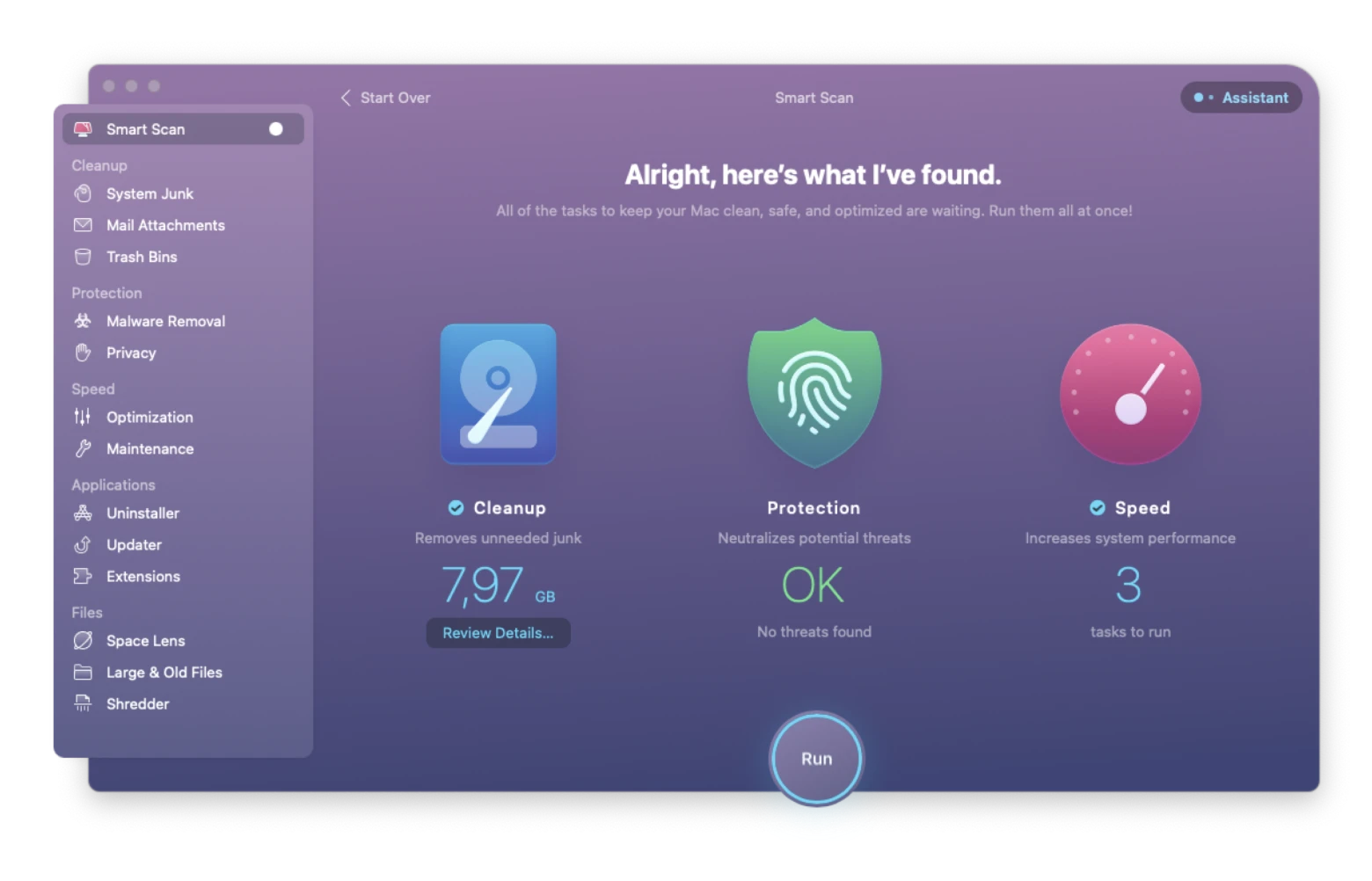 CleanMyMac X is also armed with a comprehensive range of instruments for freeing up RAM, running maintenance scripts, managing login items, launch agents, and hung applications. The app lets you uninstall and update apps, browse for old and large files, wipe browsing and offline activity data, shred files that you don't want anyone to revive, and much more.
But that's not all — CleanMyMac's real-time menu bar monitor can easily be considered an app on its own. It's always only a click away from whatever you're busy with and is packed with info on your Mac's key vitals — RAM, CPU load, battery status, temperature, hard drive, etc.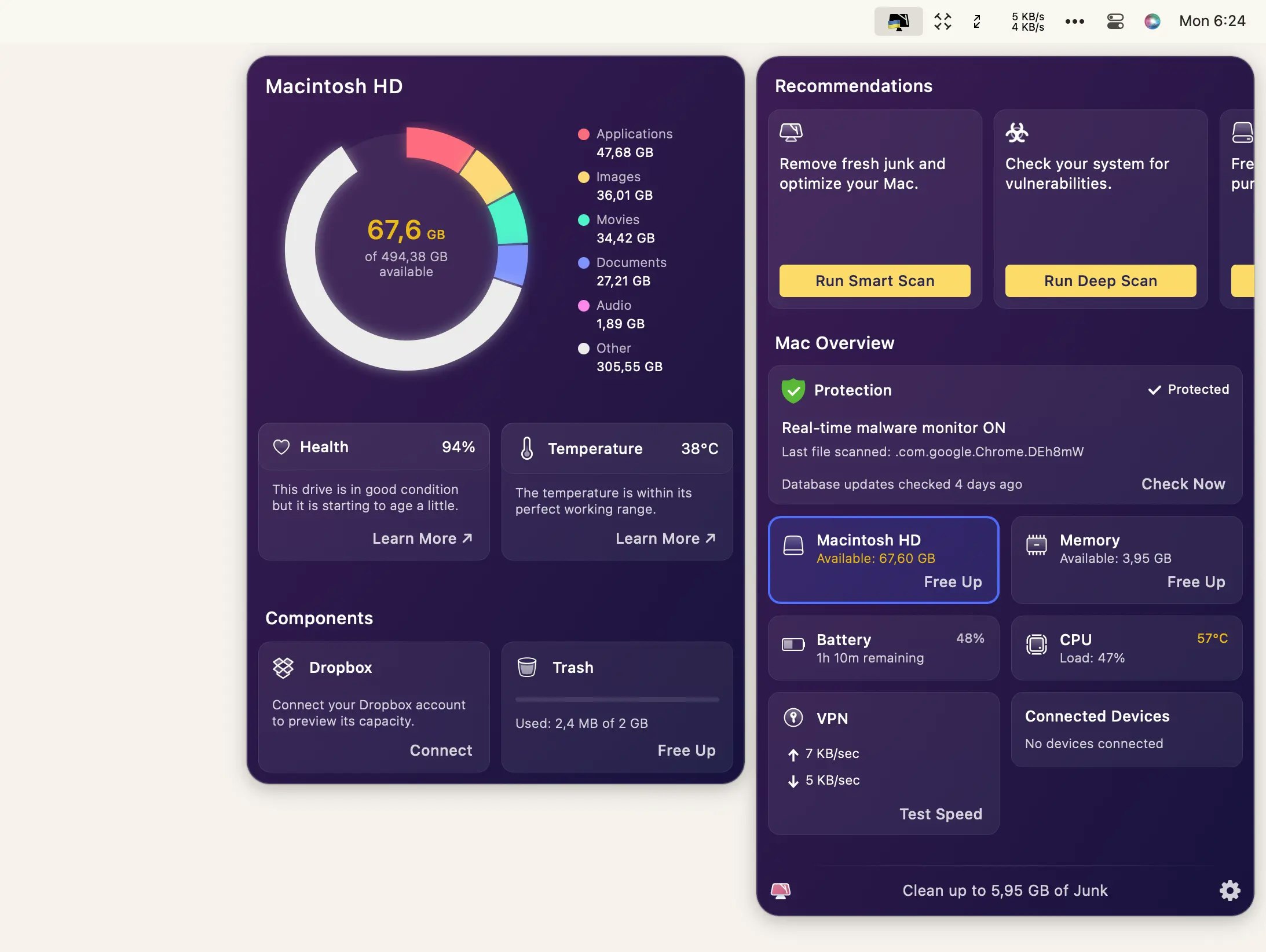 All in all, CleanMyMac X is a very friendly Mac cleaner that will send you alerts when you're running out of disk space or it's time to clean up, save you huge amounts of time and help you easily reclaim precious gigabytes of disk space.
Pros:
Smart and extremely easy to use
Combines different types of cleaning with optimization, maintenance, and malware protection
Scans system for vulnerabilities in the background and issues alerts
Incredible amount of value due to a multi-tool instruments set
Cons:
Doesn't allow to schedule scans
Doesn't search for duplicate files
Price: $34.95 for a one-year subscription
---
Another contender for the title of the best cleaner for Mac is Disk Drill.

Disk Drill is a hard-drive space analyzer that identifies what files take up most space on your Mac and lets you delete or move them to an outside location directly from the app.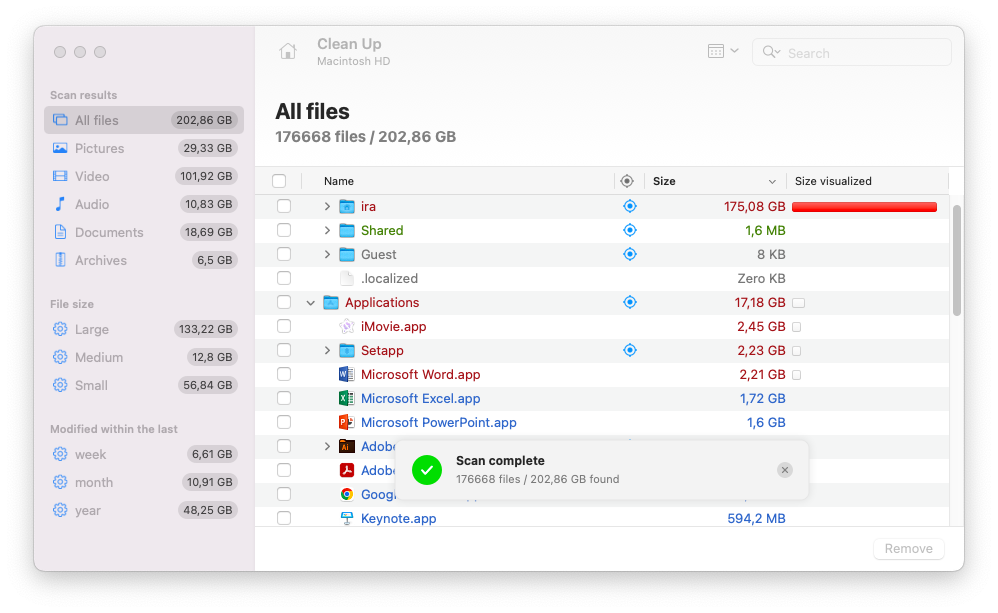 Once the cleanup scan is complete, you'll see a list of folders or apps that take up the most space on your Mac. You can then filter the results to review culprit files by type, size, or the date they were last modified — for instance, you might want to check out videos you haven't opened during the last year or go through your largest PPT presentations to decide if you want to keep them.
What Disk Drill is also praised for, in addition to being one of the most effective cleaning tools for Mac, are its data recovery, backup, and protection powers. It can restore files you thought you've lost no matter what caused the loss — unintended removal or some kind of data corruption, it helps you conduct regular data backups, and monitors disk issues to prevent data loss.
Extra cleaning features you get with Disk Drill include Data Shredder, Duplicate Files FInder, and a Safe Eraser that could wipe disk space marked as free, making it impossible to recover what was deleted.
It's extra convenient that you can use Disk Drill on both your macOS and iOS devices (it also works with Windows and Android).
Pros:
Visualizes disk space
Duplicate file finder
Powerful data recovery tool
Cons:
No comprehensive scan that could clean out browser cache, outdated apps, and other kinds of system junk
Price: Free with Setapp
---
Our next recommendation is an example of a highly specialized Mac cleaner that focuses solely on weeding out files duplicates on your hard drive — be it photos, music, or your office files.
If you've been using your Mac for a while, it's time you meet Gemini. Because chances are there are gigabytes of similar pics in your Photos and tons of duplicates in the Download folder you can easily get rid of to get some breathing room on your Mac.
Gemini is an intelligent duplicate finder for Mac that not only looks for identical copies, but also detects variations of the same file — which can go a long way when it comes to the numerous photo takes we often keep in our Photo libraries!
Gemini also offers real-time duplicate monitor alerts, so that you could avoid pilings useless files up on your Mac in the future.
Pros:
Great storage optimization tool
Goes beyond detecting duplicate files, also locaing similar copies that you can preview for comparison
Can scan specific folders, including external hard drives
Cons:
Doesn't clean system junk
Price: $19.95 for a one-year subscription or $44.95 as a one-time purchase. Free with Setapp.
---
Another type of Mac cleaner app is Spotless.
Spotless is a powerful auto-tidy tool for Mac that organizes your files for you, preventing chaos and clutter on your Mac.
You set the rules. You drop your files into the app's Drop Target on your desktop — and Spotless will automatically place your file into its designated folder. A winning move all around: you save time, your files are perfectly organized, and your Mac's desktop is clean.
You can choose your own tidying up style with Spotless:
Create a task for each type of tidying you want to do, specifying what action should be taken on each file (choosing from a list of actions, adding the specifics, and grouping the rules together to create actions with multiple steps)
Drop all the files into a working folder and then schedule cleanup for that specific folder or folders to sort them (set up to run in the background or ask Spotless to notify you when it's about to run a process so that you could preview the tasks)
Pros:
Automatically organizes your files to prevent clutter
Saves you time by streamlining your working routines
Extra: automated backups of your data to an external drive
Cons:
Doesn't scan for system junk or duplicate files
Price: $24.99. Free with Setapp.
---
Our Mac cleaner recommendations wouldn't be complete without CCleaner, one of the first cleaner solutions developed originally for Windows but now also available for Mac and Android.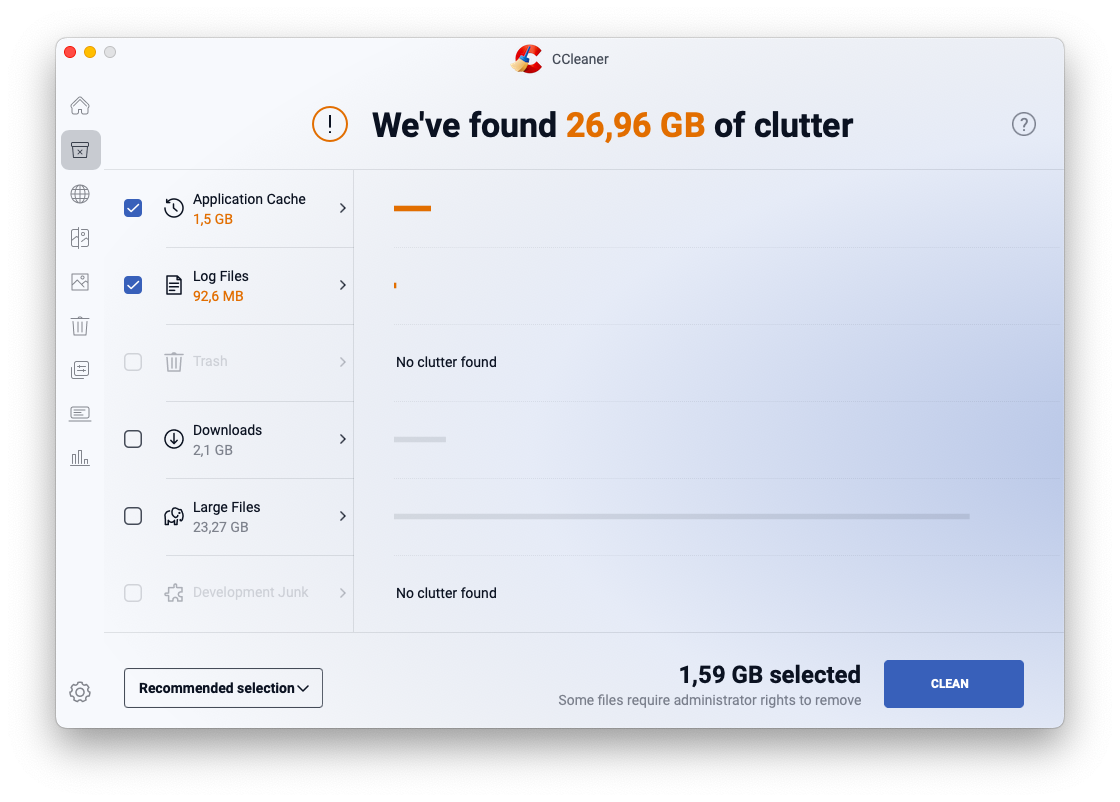 The app's Clean Clutter feature offers a comprehensive system scan for app caches, logs, downloads, trash, and large files. Besides, it offers other useful cleaning tools like Uninstaller, Duplicate Finder, Browser Cleaner (wipes out browsing history, cache, cookies, and autofill info), and Photo Analyzer (detects blurry and poor quality photos, as well as similar photos).
It's not often that you can customize cleanup settings and enjoy some level of control over what gets detected and identified as clutter. So it's convenient that CCleaner lets you choose which cookies you want to save or erase, what files are identified as large (in a range from 250 MB to 10 GB), when to send out cleaning alerts (when clutter is more than 500 MB, 50 GB, or anything in between), and others.
Pros:
All-in-one comprehensive Mac cleaner
Allows for customization
Photo Analyzer that helps asses photo quality and likeness
Great tools for ensuring web browsing privacy
Cons:
UI feels somewhat outdated
Duplicate Finder identifies only identical content and doesn't detect similar files
Lags behind in terms of cleaning results: in our case out of impressive 26.96 GB of junk found — 23.27 GB falls on large files that should be moved to a cloud to optimize storage on Mac, and only 3.69 GB is detected as system junk
Price: Free
---
Our next pick is OnyX, a freeware Mac cleaner popular among techies in the Apple community. It's designed specifically for macOS and makes customization its cornerstone.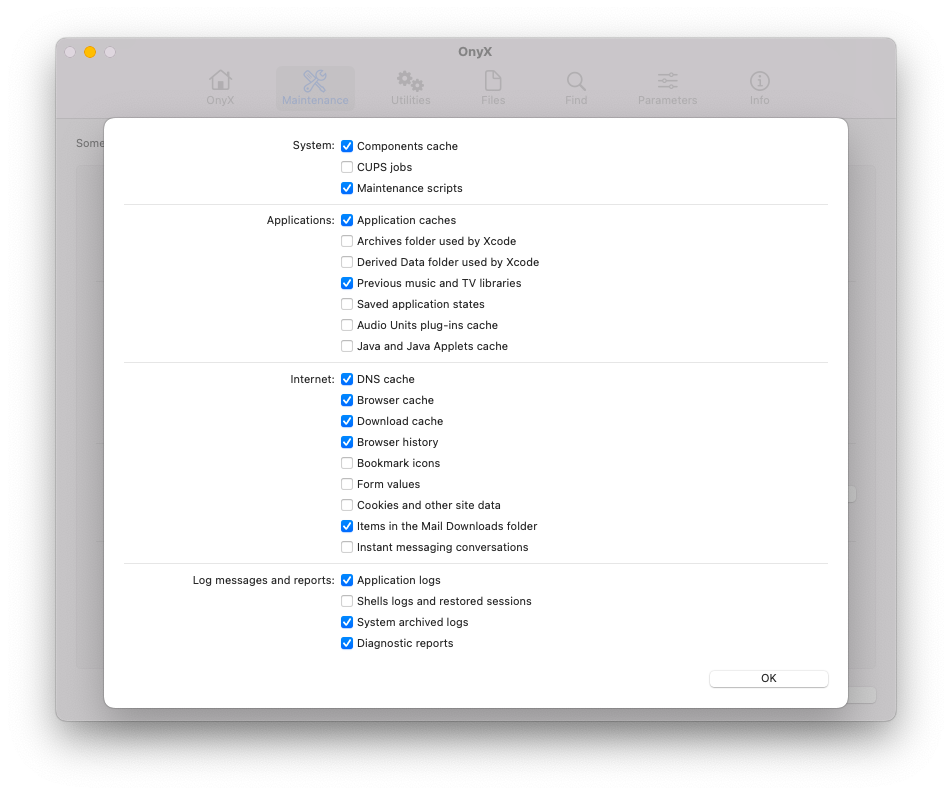 To be precise, OnyX isn't a cleaner per se — but rather a collection of utilities for Mac designed to simplify a range of tasks that would otherwise require using complex commands and a specialized interface like Terminal.
You can use OnyX to optimize your storage and run a deep clean of your system, apps, internet browsers, and logs. Just be prepared that every time you open the app it'll ask you for your administrator privileges first. The thing is that OnyX isn't for newbies — its UI basically looks like long lists of checkboxes you are free to configure to your liking as long as you're confident in what you're doing.
In other words, OnyX is a powerful tool with great cleaning features for macOS that can mostly be appreciated by people who prefer to optimize and adjust settings manually.
Pros:
Powerful toolset
Incredible level of customization
Tailored app versions for all major macOS editions ever published
Cons:
UI calls for a certain level of macOS expertise
Price: Free
---
FAQs about Mac cleaners
Does Apple have a Mac Cleaner?
Yes, macOS has a built-in Storage Management feature you can use to get an overview of what items and apps are taking most space on your hard drive, declutter your Mac, and optimize your storage.
Here's how you can find it in macOS Ventura:
Go to System Settings in the Apple menu
Choose General ➙ Storage
Use Optimize Storage option to take care of the TV app movies and shows you've watched
Click on the Info button next to Applications, Documents, Developer, and other categories to manage them
In the earlier macOS versions go the Apple menu ➙ About This Mac ➙ Storage ➙ Manage ➙ Recommendations.
Are Mac cleaning apps safe?
If you're worried about deleting the wrong files when using specialized cleaners, we suggest going for the top-rated apps and downloading them from official sites.
When you choose from the best Mac cleaning apps, you can count on their built-in protection and in-depth understanding of your Mac's operating system.
How to do a deep clean on Mac?
As time goes by, your Mac accumulates files, photos, apps, and various system junk you don't even know about. To declutter and give your system a deep clean, you need to take care of the following:
Delete old unused files, including downloads, mail attachments, and old backups you no longer need
Transfer large files to a cloud
Uninstall apps you don't use (simply sending them to Trash creates app leftovers that take up space)
Sort through large media files and photos
Clean up cache files on all the browsers you use
Wipe out system junk like unused language localization files, login items, launch agents, and old DMGs
How to choose the best cleaner for Mac
We use Mac cleaners to effectively regain disk space and help our Macs improve their performance. Different apps employ different ways to achieve this goal: some offer an all-in-one "multitool" approach that combines comprehensive cleaning capabilities with other valuable tools like malware tracking (CleanMyMac X), real-time junk monitoring (CleanMyMac X), menu bar Mac vitals monitor (CleanMyMac X, CCleaner), etc.
Others offer pro-level specialization in specific areas of storage optimization — such as searching for Duplicate files (Gemini), organizing files (Spotless), disk visualization (Disk Drill), and others.
You can also decide on whether customization is important for you (OnyX) or you'd rather go with a fully automated solution (CleanMyMac X).
Most importantly, don't pass on a chance to try CleanMyMac X, Disk Drill, Gemini, and Spotless for free with the seven-day trial of Setapp, a platform of high-performance, best-in-class iOS and macOS apps. Learn what makes a good Mac cleaner the best personally for you and check out more than 240 new options to boost your productivity.