What To Do When Steam Won't Open
As one of the largest game distribution platforms in the world, with more than 100 million users, Steam is an essential app for anyone who likes to play games on Mac.
However, from time to time, Steam not starting could be a problem. In fact, online you can find a growing number of complaints regarding Steam's "Could not connect to Steam network" message.
So what do you do when Steam won't launch? Let's look at the most common reasons for why Steam won't open and describe the ways to fix them in detail.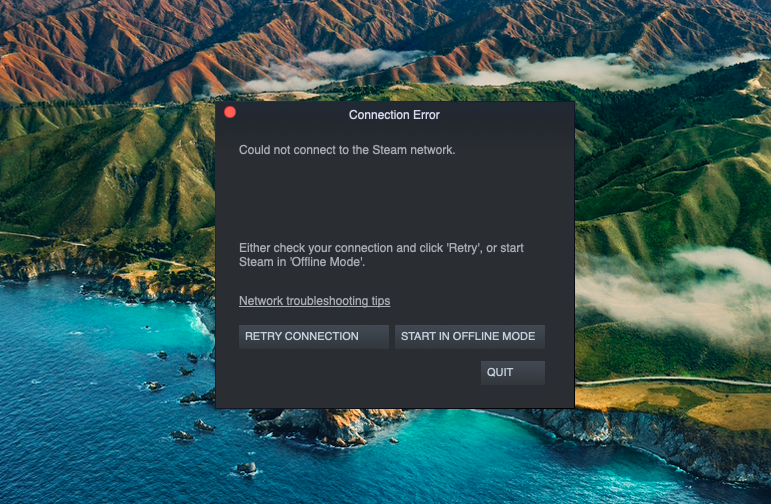 Why Steam Won't Open
Without a doubt, Steam is a truly complex system, connecting millions of people every day to resource-heavy games at lightning speed. Thus, sometimes, Steam's popularity could be the reason behind its servers not coping with the amount of requests coming in.
To rule out this error, start by checking whether Steam's servers are online by visiting store.steampowered.com/stats.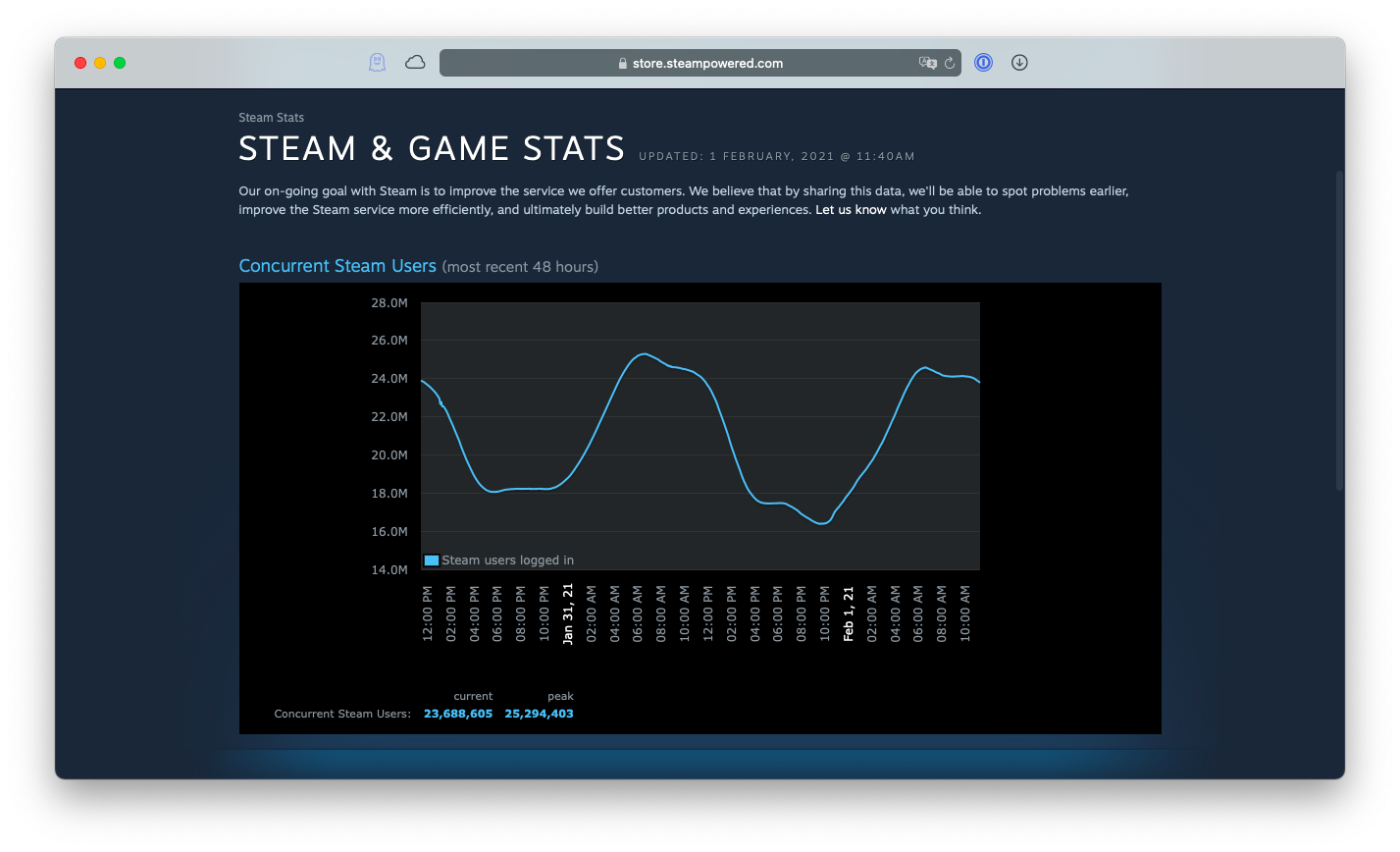 Other times, the reasons behind Steam not starting take root in your Mac or local network. It could be anything, from corrupt installation files to the app's cache. Here's how to proceed with your Steam troubleshooting step by step.
Troubleshoot the Steam app
When you get the "Could not connect to Steam network" error message, there are a few things within the Steam app that you could do to try to fix it.
First, the Connection Error dialog window gives you two options: Retry Connection and Stay in Offline Mode. Click Retry Connection — the app will try to connect to your account once again. A few tries in a row might do the trick.
If not, go with Stay in Offline Mode, then in the menu select Account ➙ Go Online ➙ Connect to the Internet ➙ Restart Steam. Additionally, check whether there are any Steam updates in Steam ➙ Check Updates.
Another option involves quitting Steam completely (⌘ + Q) along with any auxiliary processes it might be running. To do that:
Launch Activity Monitor
Find Steam in the list of processes or use the search box
Select the Steam process and click Stop in the top bar
Relaunch the Steam app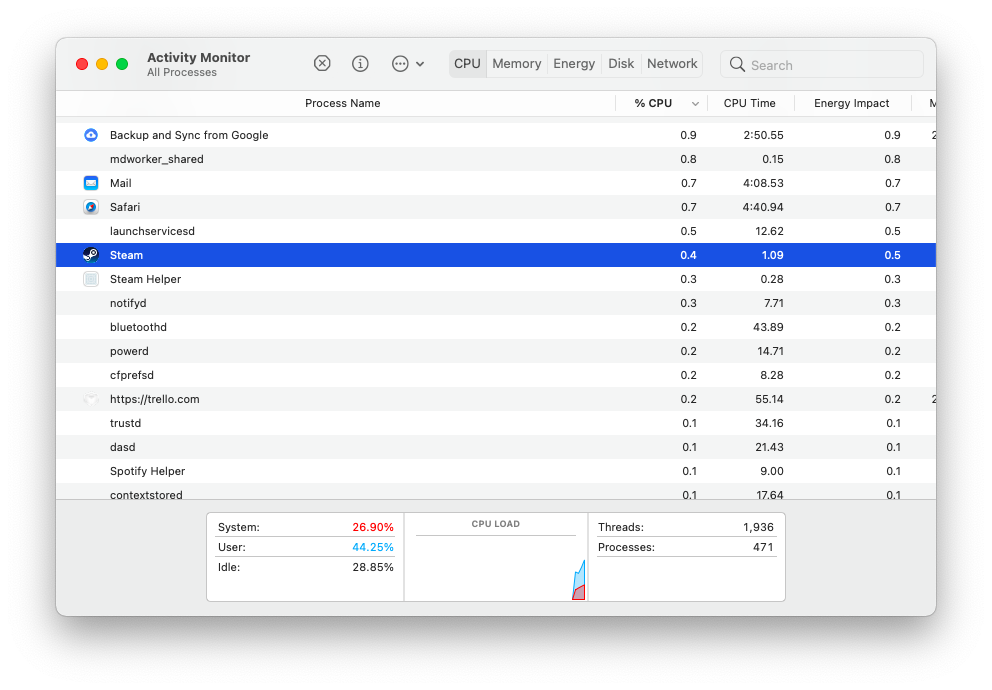 Since the problem could somehow be intertwined with your system, the next step is to restart your Mac: simply click the Apple icon in the menu bar ➙ Restart…
In case you still experience Steam not starting, you should reinstall the app:
Go to your Applications folder (Shift + ⌘ + A)
Select steam and move it to Trash
Visit store.steampowered.com
Click Install Steam
Proceed with the installation instructions on your Mac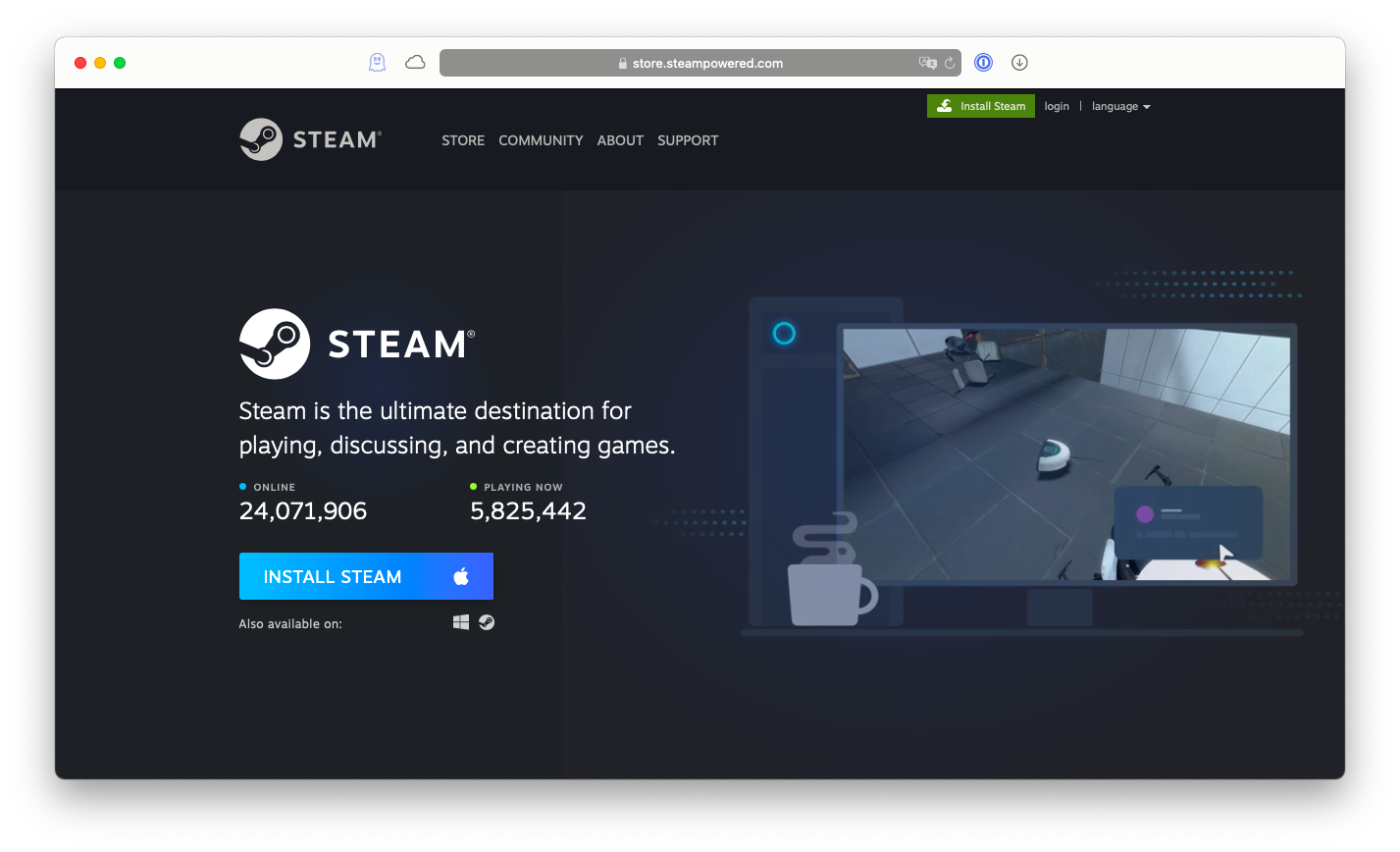 Clear Steam cache files
It's possible for Steam connection errors to remain even after you delete the app — since they could involve not the core app itself, but rather its cache files, which are kept in your Mac's Library folder.
To delete Steam's cache from your Mac:
Navigate to your hard drive ➙ Library ➙ Application Support and delete the Steam folder
Then select Go to Folder (Shift + ⌘ + G)
Visit ~/Library/Caches then ~/Library/Preferences and then ~/Library/Logs and delete Steam from all of them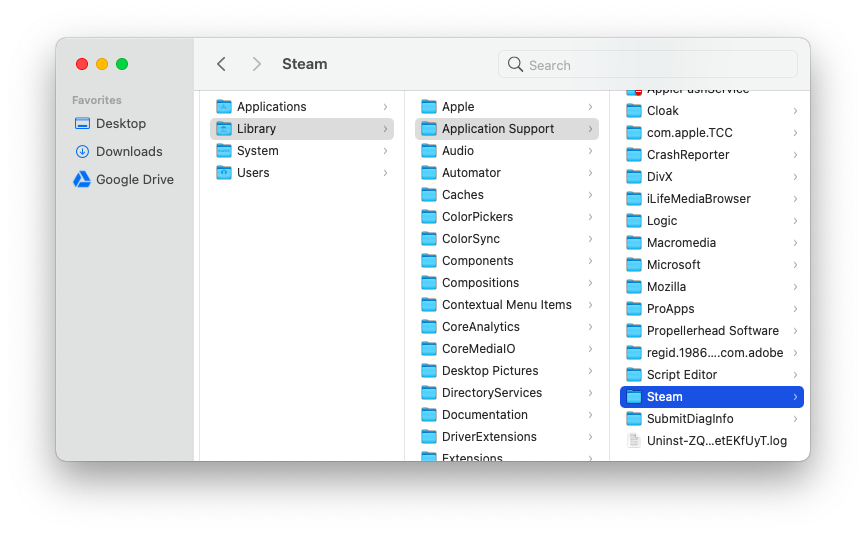 Now Steam should be completely removed from your Mac and you can proceed with trying to reinstall it once again. Don't feel comfortable deleting Library folders? Luckily, there's a much more user-friendly solution available as well.
CleanMyMac X is a top-notch Mac optimization tool that has all the functionality you need to keep your machine running at maximum speed, whether it's getting rid of old files, deleting email attachments, protecting your privacy while web surfing, cleaning your RAM, or flushing cache files for any app.
With CleanMyMac X, deleting Steam cache files can be done in a few clicks:
Launch CleanMyMac X
Navigate to the System Junk tab
Click Scan ➙ Review Details
Deselect All (or keep it if you want full Mac optimization) and find the Steam app in User Cache Files
Hit Clean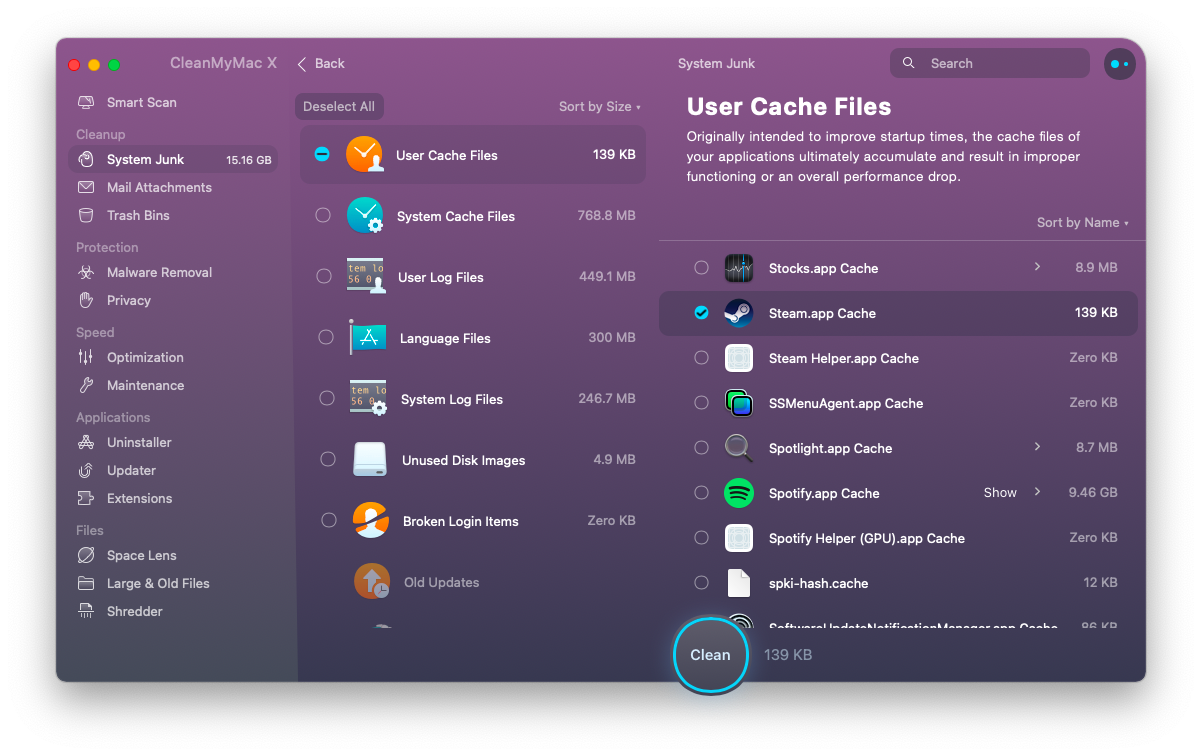 Configure your network
If the problem is not with the Steam app or servers, it's probably somewhere in your internet network.
An easy fix here is to turn your WiFi off and back on as well as restart your router. In addition, make sure your time and date are set to automatic, as Steam's server might output an error if they are not in sync:
Go to System Preferences ➙ Date & Time
Check "Set date and time automatically"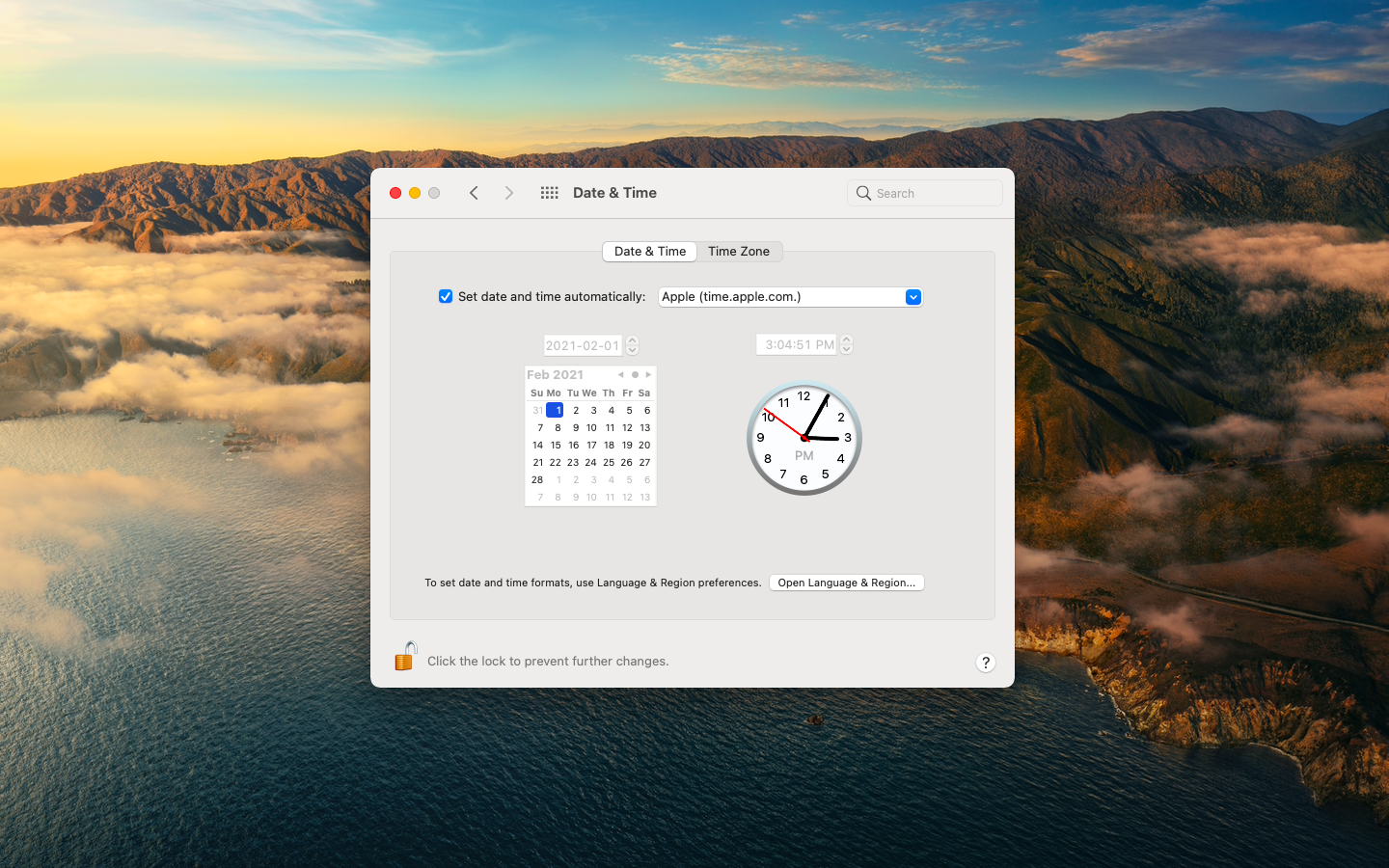 For all the other network fixes, use WiFi Explorer.
WiFi Explorer is a Mac app for deep network analysis and troubleshooting. It gives you all the extensive details you need to understand why your network could be malfunctioning, from signal quality to noise levels. What's more, WiFi Explorer features a thorough guide describing what you need to do to fix any situation imaginable.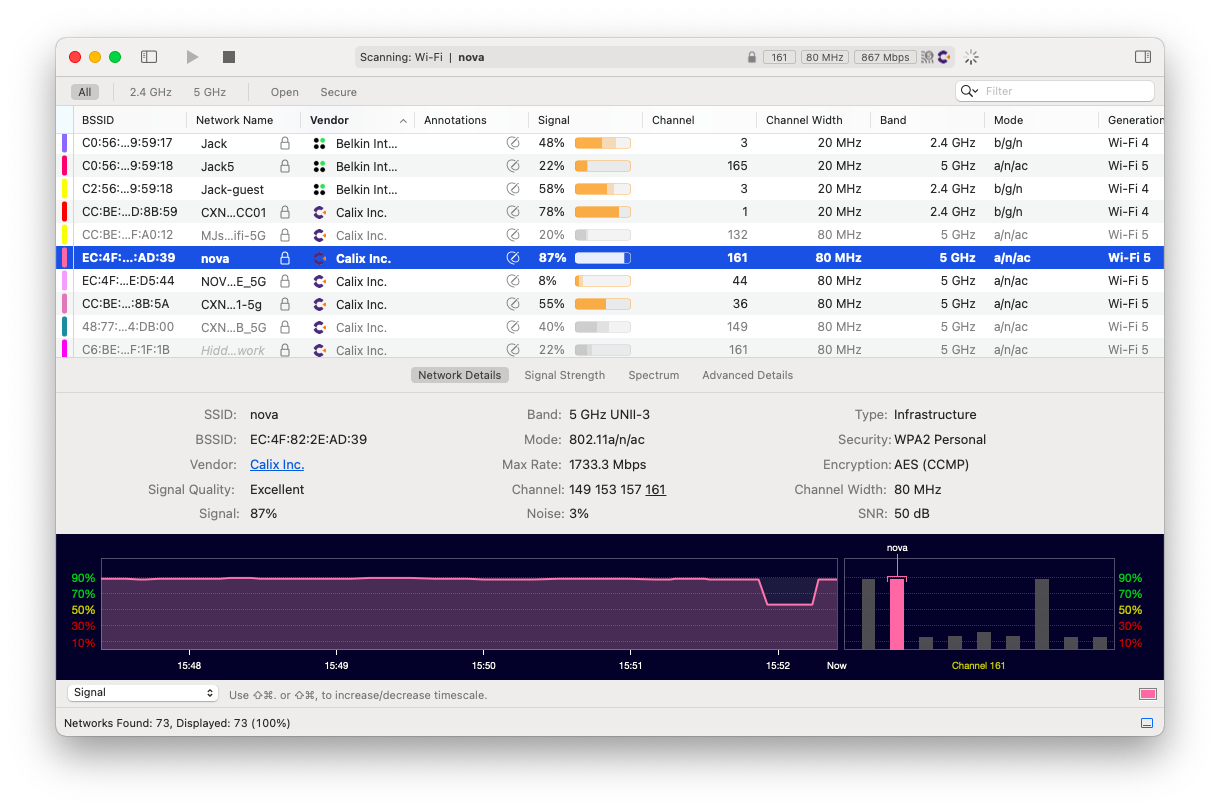 Improve network access
It's possible that it's not only your own network that results in Steam not opening — some ISPs (internet service providers) have been known to throttle or block streaming traffic from Steam for quite some time since it's heavy and lowers their profitability.
One trick to avoid that is by using a VPN (a virtual private network), which would encrypt your traffic and route it through a different server than the one your ISP uses by default.
Conversely, if you're already using a VPN, try turning it off and relaunching Steam. Some VPNs can interfere with streaming as they introduce a bit of a lag between your Mac and the server.
There's one VPN, however, that does it all: protects your privacy, reroutes the traffic around your ISP, and configures your network specifically for online gaming.
ClearVPN is an effortless and user-friendly VPN for Mac and iPhone, with a wide variety of presets to make often confusing network configurations a thing of the past. First, ClearVPN secures your connection with the industry-standard AES-256 encryption. Then, it helps you bypass your ISP and any other geo-restrictions with an extensive list of global servers. Finally, it features shortcuts that tailor the whole experience for you in one click.
So if your Steam won't launch, here's what you need to do:
Open ClearVPN
Navigate to the All Shortcuts tab
Find Gaming
Click Activate
Now your Steam performance should finally be optimized as well as it can be.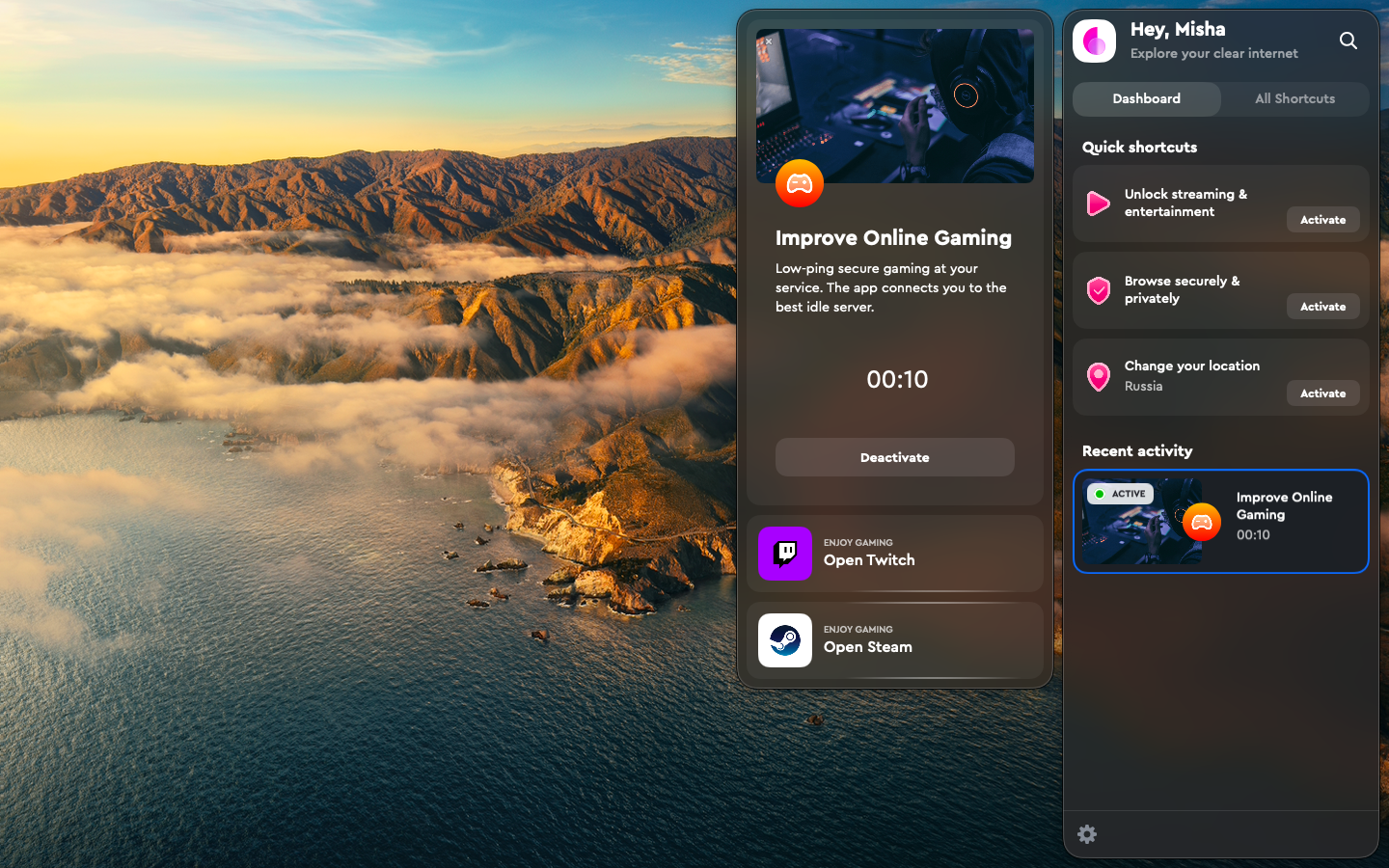 As you can see, the "Could not connect to Steam network" error is not that hard to fix if you have a thorough guide like this at your disposal. Start by troubleshooting and restarting the Steam app itself, and clear all cache files with CleanMyMac X. Second check your network connection with WiFi Explorer for any unusual activity. Third, download ClearVPN and set it to optimize your gaming experience.
Best of all, CleanMyMac X, WiFi Explorer, and ClearVPN for Mac and iPhone are all available to you for free through the trial of Setapp, a platform with more than 220 Mac apps that can help you with any problem imaginable. Try every Setapp app at no cost and find out how your Mac life can be more productive than ever!