How to Speed Up Slow Internet Downloads on a Mac
There are few things more frustrating than an internet connection that's very slow. Thankfully, there's a great deal you can do to troubleshoot the problem and speed up your connection. Here's how to do it.
Why is my download speed so slow?
The first thing you need to find out is whether the slow download speed is due to your broadband connection or your wireless network. Since your wireless network is the bit over which you have control, you should check that first. In any case, optimising and fine tuning your home or office wifi will improve performance.
How to increase WiFi speed
Check your router set-up

Check your router's position
2.4GHz or 5GHz?

Use NetSpot or WiFi Explorer to analyse your network
Reduce interference from other appliances
Firstly, look at where your router is situated. Ideally, it should be in the centre of your house, so that every room gets a good signal. It should be away from walls, the floor and the ceiling as much as possible. And keep it away from metal furniture, which will reflect radio waves rather than allow them to pass through. Modern routers support both 5GHz and 2.4GHz networks. The latter allows for faster speeds, but the former suffers from less interference from other devices like microwave ovens and cordless telephones. So connect to the 5GHz network on devices that support it. If you have devices that only support 2.4GHz, place your router away from appliances like a microwave or cordless phone.
When you're satisfied your router is in the best possible location, it's time to analyse your wireless network.
NetSpot will produce a full analysis of all the wifi networks within range of your home or office and highlight any problems. It produces a heatmap of your home or office and highlights 'dead spots' where wifi signal strength is low or non-existent. It can also advise on the best placement for your wifi router, and really useful suggestions to troubleshoot your networks.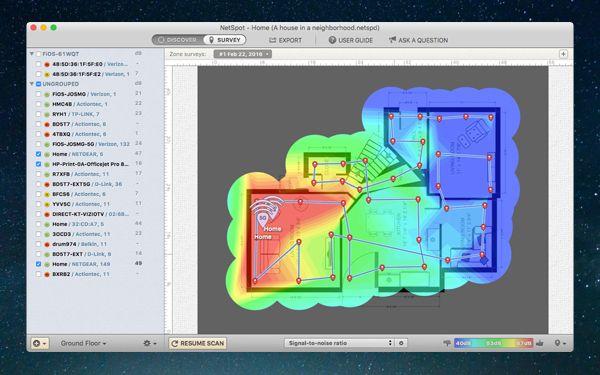 WiFi Explorer allows you to identify conflicts with other networks, identifies signal overlaps, and provides a graph of signal to noise ratio. By maximising the signal v noise, you can improve signal performance and speed up downloads.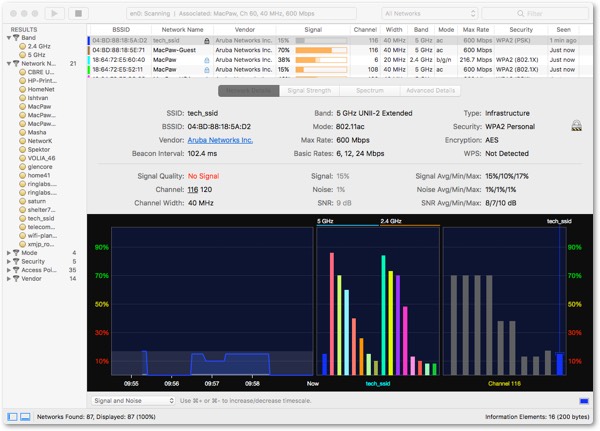 One possible cause of poor wifi performance is interference from other wifi networks in your street. WiFi Explorer and NetSpot analyze those networks and let you know if they are causing a problem.
If there are lots of routers in your neighbourhood using the 40MHz spectrum, known as wide band, it can cause congestion – wide band occupies seven channels, compared with five used by 20MHz networks. In this case, switching to the 20MHz band may actually improve the performance of your network by reducing interference. To do that you'll need to access your router's admin page in a web browser. You'll need to consult its manual, or look for a sticker on the bottom of the router, for an IP address, username and password.
How to increase download speed on a slow internet connection
Turn off bandwidth-hogging apps and plugins.
If you haven't been able to improve the speed of your home broadband or wifi network, or if you're on mobile network, you can still download faster. TripMode allows you to control which applications can download data. That means you can reserve bandwidth for apps you want to use to download and therefore improve their speed.

Split the downloads in threads to maximize download speed.
To spliting the downloads in threads try to use Folx, one of the most popular download managers for macOS. It has features for downloading movies, archives, or big files that allows you to split downloads into separate streams enabling faster downloads.

Schedule downloads.
One way to speed up downloads is to schedule them for a time when your ISPs network is less busy. Peak times are usually early evening through to around midnight, so use Folx to schedule downloads for the early hours of the morning. Some ISPs also throttle bandwidth for some users during peak hours, so downloading when it's less busy is a very good idea.

How to download torrents faster
Despite the negative publicity BitTorrent has had in recent years, there's nothing illegal in using it or in downloading torrents. As long as the content you download isn't protected by copyright or, if it is, you have permission from the rights owner to take it, you'll be fine. Additionally to Folx download manager it is also a torrent client. It has several features to make downloading torrents faster.
Check seeds and peers.
Folx has its own built-in torrent search engine, so you don't need to use a web browser. When you search for torrents in Folx, it will display the number of available seeds for each result. The more seeds, the faster the download is likely to be, so choose a torrent with lots of seeds.
Limit upload speeds and maximise download speed.
Torrent clients upload files as well as download them and so the bandwidth available for a torrent client like Folx is used for both. If you limit upload speeds, you can make download speeds faster. You can also limit download speeds for browsers on your Mac, making more bandwidth available for torrents. To limit upload and download speeds, open Preferences in Folx and click on the Smart Speed tab. Of course, if you want to improve upload speed, you can limit download speeds instead.
Check port number.
Many torrent clients use port numbers 6881-6889. ISPs know this and some of them throttle bandwidth to those ports. In Folx Preferences, in the Torrents tab, check the port number and make sure its outside that range. If the port is showing as 'in use' click 'Randomize port' to choose another.
Prioritize downloads.
If there's one download you want more than the others that are downloading at the same time, right click on the other downloads and use the 'Limit Speed' option to cap their download bandwidth and make the file you want go faster.
How to speed up Chrome downloads
There are a number of things you can do to speed up Chrome downloads.
Limit Extensions. Browser extensions can be very useful but they eat up memory and can make Chrome run more slowly.
Don't have lots of tabs open. Web pages in tabs use resources like memory and, if they auto-load, bandwidth too. Keeping tabs to a minimum will speed up your browser.
Use a download manager extension. Folx has a smart browser extension that allows it to handle everything you download in Chrome, Safari, Firefox, or any other browser. Using that can speed things up because Folx has features, like splitting files into streams, that are designed to make things faster.

Avoid noname extensions that promise faster downloading
There are lots of Chrome extensions that promise to make the browser download faster. However, many of them don't work, don't download the complete file, or, worse, are infected with malware. So, they are best avoided.
Downie does a similar job, even allowing you to down; pad 4K-resolution videos from streaming video and social media sites. Just copy and paste the URL for the video page into Downie or use its browser extension. Once you've downloaded the video, you can use Permute to convert it to any format you want.

Watch and download video at the same time
If you're downloading videos from streaming sites, Elmedia Player can help. It has a built-in browser and download manager. Paste the URL for the video into the address bar in the downloader, then when it displays a list of all the files it's found on the page, click Download next to the one that corresponds with the video file.
Elmedia allows you watch and download video at the same time.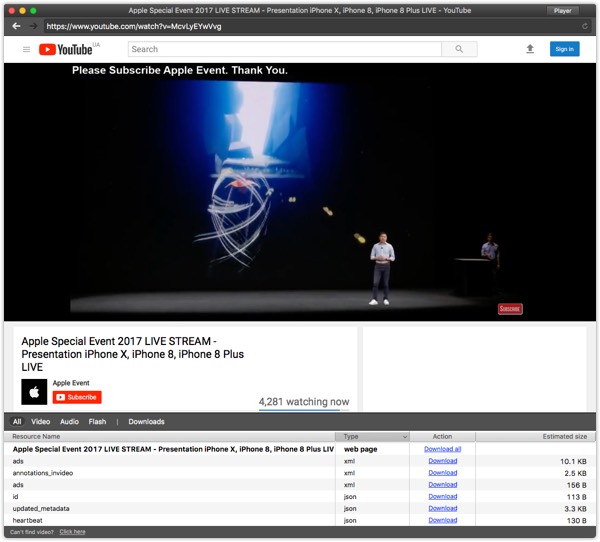 To view videos you've downloaded, click on the Downloads tab and press Play next to the one you want to watch.

If all else fails, check with your broadband provider
Check whether your broadband provider has a fault
Check whether wired is faster than wireless
Check that your broadband provider hasn't reported a fault in your area by calling its helpline number.
Once you've ruled that out you need to find out whether the problem is your wireless network or is caused by your router failing to connect to the broadband network. If you have a Mac that has an Ethernet port or you have a USB to Ethernet adapter, connect it directly to an Ethernet port on your router. If your download speed is much faster when connected by Ethernet, your wireless network may be the culprit.
Fortunately, there are lots of things you can do to troubleshoot and improve the speed of your wifi network.