How to Launch an Email Marketing Campaign
Email is probably one of the most powerful mediums to engage your audience. Sending emails is second nature to most of us, although not often in a marketing sense. But check this stats:
For every $1 spent, email marketing generates $38 in ROI;
Email is 40 times more effective at acquiring new customers than Facebook or Twitter.
There are hundreds more stats that back up how powerful email marketing can be, but the point is that this channel is the best way to reach your audience.
Email has played an important role in the growth of Setapp. In this post, I'll take you through how to set up your own email campaigns, with examples of how we've done things. Let's get into it.
Setting up your email marketing goals
It's essential to have clearly established goals. And that these goals align with your company's wider marketing strategy. Your goal could be to raise awareness and build the brand, generate more leads, upsell or cross-sell products, gain feedback, increase click-throughs, or just to engage more with your audience. For us, the goal is to increase the number of paying subscribers.
Setapp is the first subscription service for Mac apps with a growing collection of tools for any job. Through email, we're able to let users know about the variety of apps available on the platform and how they can help users in solving their everyday tasks. We also include app tips and tricks and inform users about newly added apps to keep them engaged with the service.
By deciding on what you want to gain from email marketing from the outset, you'll be able to tailor campaigns for better results.
Choosing an email marketing tool
Email marketing tools make life a lot easier when it comes to creating and sending mass emails, building lists, and measuring results. There's no shortage of tools on the market, but finding the right one for you is by no means a straightforward task.
To narrow down the choice, start by making a list of features that you require. Tools for A/B testing, user segmentation, email automation, in-depth analytics, and a newsletter editor are all must-haves and should be included in any service you decide on. But other things might also be important to you, like app and customer relationship management system integration, ready to use templates, auto-responders, and, of course, cost.
Here are a few things you should do to find the right software for the job:
Check whether the software has the desired features and compare them with other tools
Review the pricing plans — are there plans that can scale with your business?
Ask other email marketers for an advice — they can share their experience with different EMS
Read user reviews — these can provide a good insight into the usability of a system and the customer service
Sign up for a free trial and run a test campaign to get a feel for the product
Some popular email marketing services you should check out:
MailChimp
GetResponse
Constant Contact
Sendinblue
Building your email list
The most important thing here is make it easy for users to sign-up. A newsletter sign-up form on your website is the best place to start. You can place email subscription forms in the header, footer, or sidebar of your website. Test pop-ups too. They're not always successful, but depending on what you're offering subscribers, a pop-up can really boost numbers. If you have an app, make opt-in available there. Also, harness the power of social media by creating Twitter cards, or a Facebook call to action button that users can click to sign-up.
When building a list, it's important to remember (and accept) that not everyone who subscribes will stick around. You will have people that unsubscribe. Prepare an unsubscribe page that lets users know that you're sorry they're leaving. And be creative with it. Here's how the Setapp unsubscribe page looks like. Every 26th person clicks on a resubscribe button.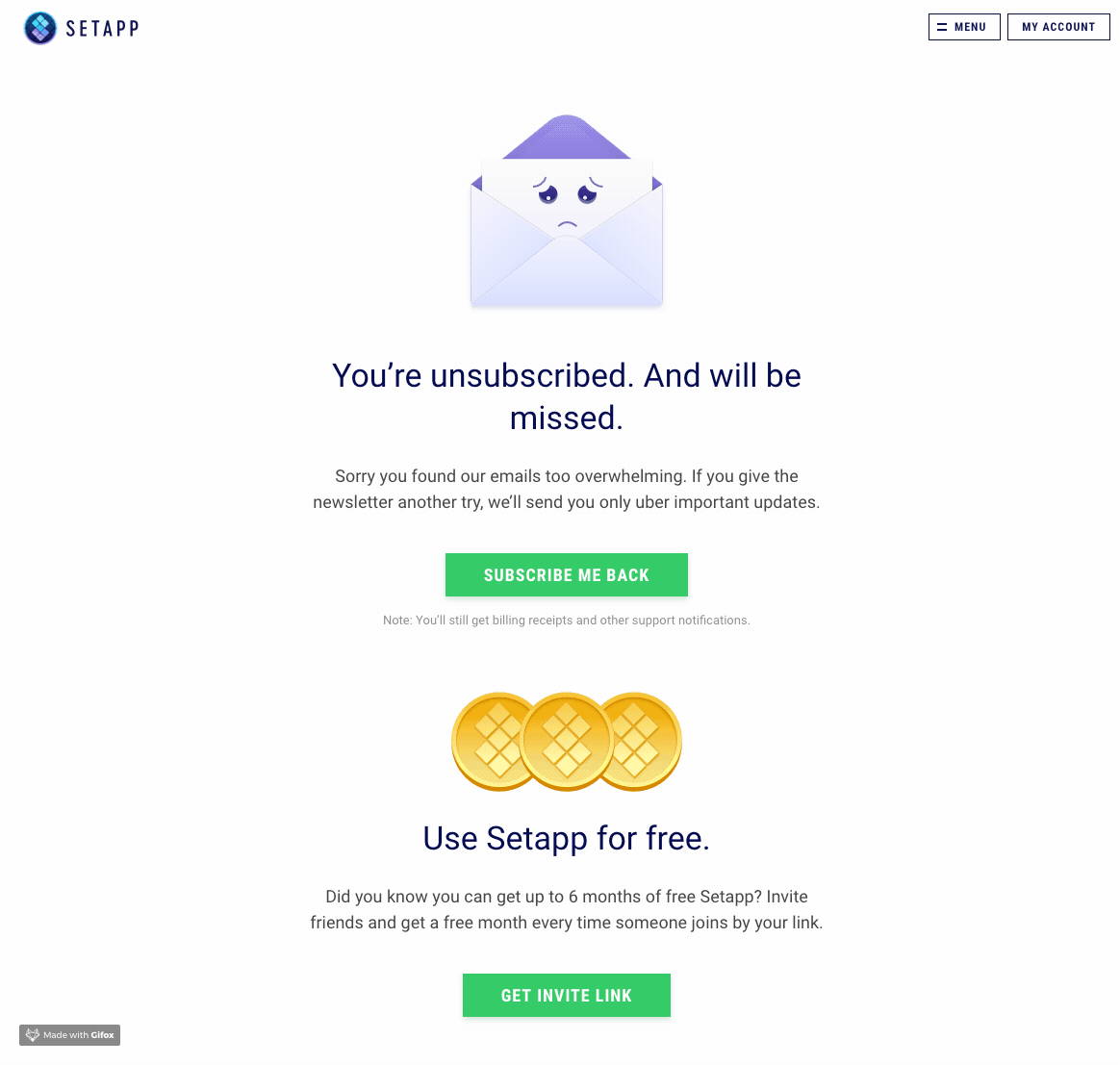 Setting up an automated welcome email
First impressions count for a lot. A good one can turn a subscriber into a paying customer, whereas a bad one can damage company reputation. Automated welcome emails have an average open rate of 32% — higher than promotional campaigns. Use this opportunity to send a warm greeting (preferably personalized), provide an overview of what the subscriber can expect, and include something immediately useful.
As an example, here's the Setapp welcome email, which boasts an open rate of 40% and a click-through rate (CTR) of 7% — both above average:

Creating reusable email templates
As your list grows, reusable email templates will help to save time and prevent design inconsistencies. Templates should be created for all main email types: welcome emails, user onboarding, special offers, re-engagement, transactional, etc. When crafting a template, it's best to keep things simple; this makes it easier to import new content when needed.

Take a look at this Setapp template: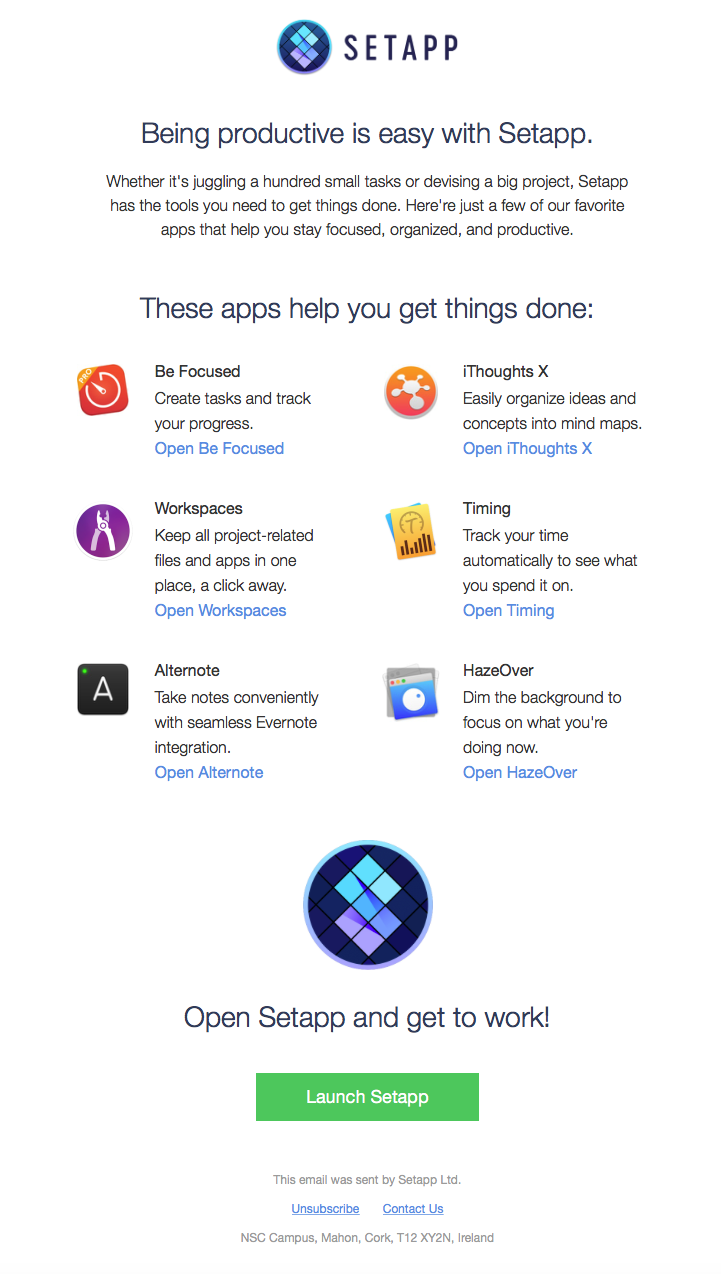 Notice that the design is clean, with plenty of white space and a clear call-to-action. Templates shouldn't overwhelm a user. Make them easy to read and navigate, and always include a visible unsubscribe link.
Segmenting subscribers
Email list segmentation ensures the correct emails are sent to the right person at the most optimal time. Lists can be segmented based on any number of metrics: location, age, gender, language, browser or device used, interests, social status, or purchase history. The more information you have, the easier it is to segment and tailor campaigns for maximum ROI. Below I've listed a few of the ways we've successfully segmented email subscribers.
Based on subscription event:
Users subscribed for Setapp trial
Setapp paying customers
Users whose trial ended
Based on engagement:
Active Setapp users
Rare Setapp users
Users who never launched Setapp
Device used:
Subscribed on desktop
Subscribed on mobile
Language spoken:
English (EN)
German (DE)
French (FR)
Brazilian Portuguese (PT-BR)
Italian (IT)
Using automated email journeys
That's my favourite part actually. Automated email journeys are initiated by user behavior and allow you to send targeted, promotional content that is relevant to an individual recipient. During the previous year, we've made over 10 iterations of an email journey for our tial users. We keep learning from it and making changes.
Over the past year, we've created over 10 iterations of an email journey for Setapp trial users, each time taking the results of a campaign and making changes for better performance.
Here's what an automated email journey looks like for seven-day trial users:
Welcome email
Little known app tips & tricks
Email featuring six productivity apps
Email featuring six Mac utilities
Personal app selection
Transactional email — 24-hours remaining of the trial period reminder
Your free trial is over! (sent on the eighth day)
For those who don't engage with the service, automated re-engagement emails are sent to entice them into interacting with Setapp.
Testing campaigns
Testing is a key to success, as it can bring some dramatic changes into your results. So try to A/B test as much as you can to tailor campaigns for better performance.
Some of the things we commonly test include:
Subject lines
Pre-header text
From name
CTAs
Headline copy
Using GIFs vs. Images
User testimonials vs. Press reviews
Use of emojis in subject lines and body content
Humorous vs. formal copy
Light vs. dark background
There's no limit to what can be tested in an email. Just make sure to measure and document results to avoid reusing elements that don't perform. Speaking of which...
Measuring results
Results, like testing, are essential for improved performance. You must track results to learn more about subscribers and how they interact with your emails. Results can be tracked via email marketing software reporting and analytic features, and your website analytics tool, i.e. Google Analytics.
Key metrics that you should measure:
Unique open rate
Bounce rate
Click-through rate (CTR)
Unsubscribe rate
Number of spam complaints
Number of users who visited your website
Conversion rate
Number of transactions
Revenue generated
Campaign profit
There are currently over 6.32 billion email accounts in the world. That number will rise to 7.71 billion by 2021. 3.7 billion people use email every day. Email is where your audience is, and now you know how to reach them.