How to show only active apps in Dock on Mac
In many ways, the Dock is the central hub of your Mac. You can launch Finder, Trash as well as recent, active, and bookmarked apps from there, and even add folders like Documents and Downloads.
By default, Mac has a dozen or so Apple-made apps installed in the Dock. Most people add even more, without removing anything. This results in a cluttered Dock that's hard to navigate and use in an effective way.
So why not re-organize and clean everything up? It only takes a few minutes.
How to make Mac Dock only show running apps with ease
There are a few ways to organize your Dock. You can start by doing so manually, removing unused apps and leaving the ones you do use.
To remove an app from the Dock:
Right-click on the app
Go to Options ➙ Remove from Dock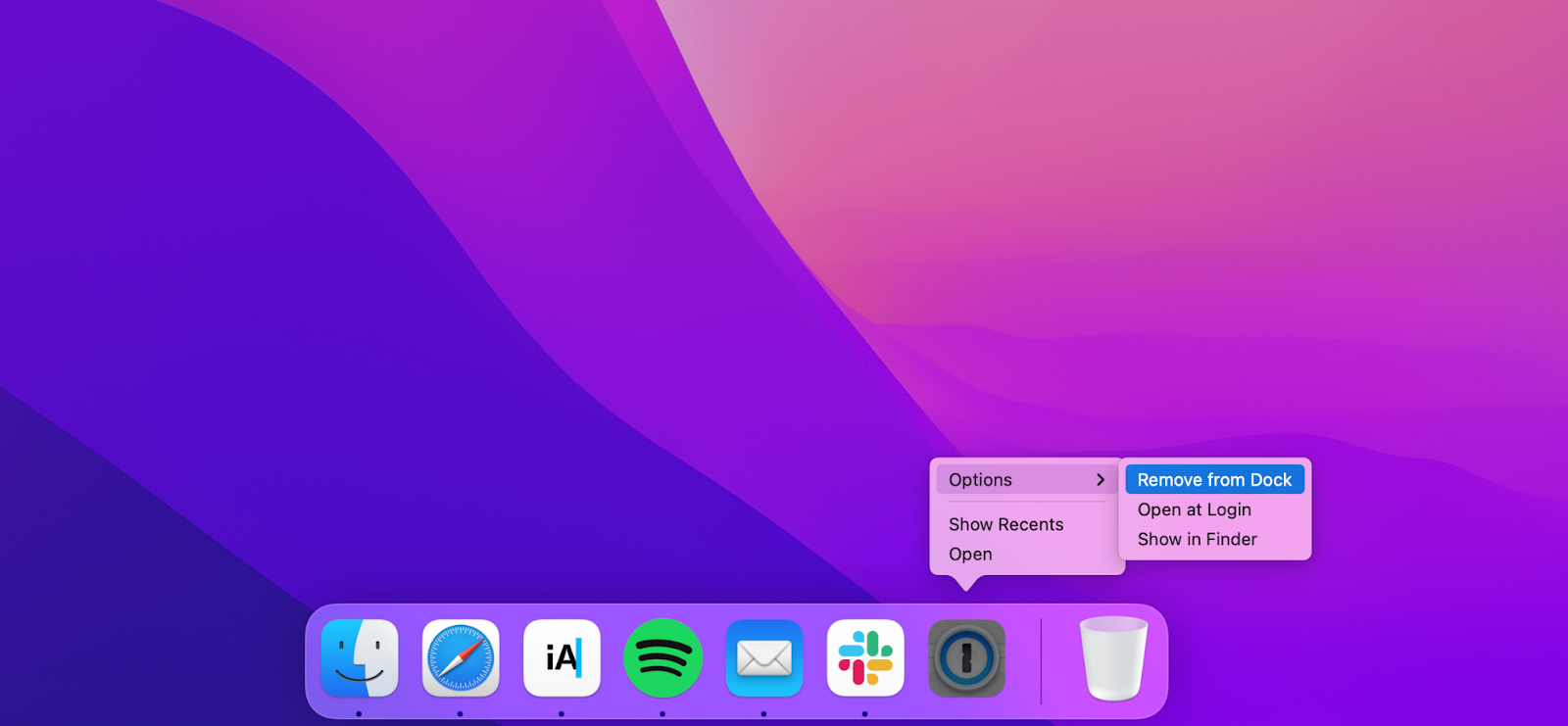 Alternatively, you can just drag and drop the app out of the Dock. For the apps you do want to keep, select Options ➙ Keep in Dock.
If you want to have the Mac Dock show running apps only, the easiest way to do this is with Almighty.
Almighty is a powerful utility that contains hundreds of unique shortcuts that are difficult (or sometimes impossible) to execute using Mac's user interface.
You can use this app to quickly customize your Mac and create a perfect workflow for your needs, from hiding any extra items to enabling shortcuts and changing default operations. And you can do all of this in just a click.
Here's how to show running apps Dock thinks are active at the moment:
Launch Almighty
Go to the Dock section in the sidebar
Slide Show Only Active Apps toggle on
To reverse the change, just toggle the option off.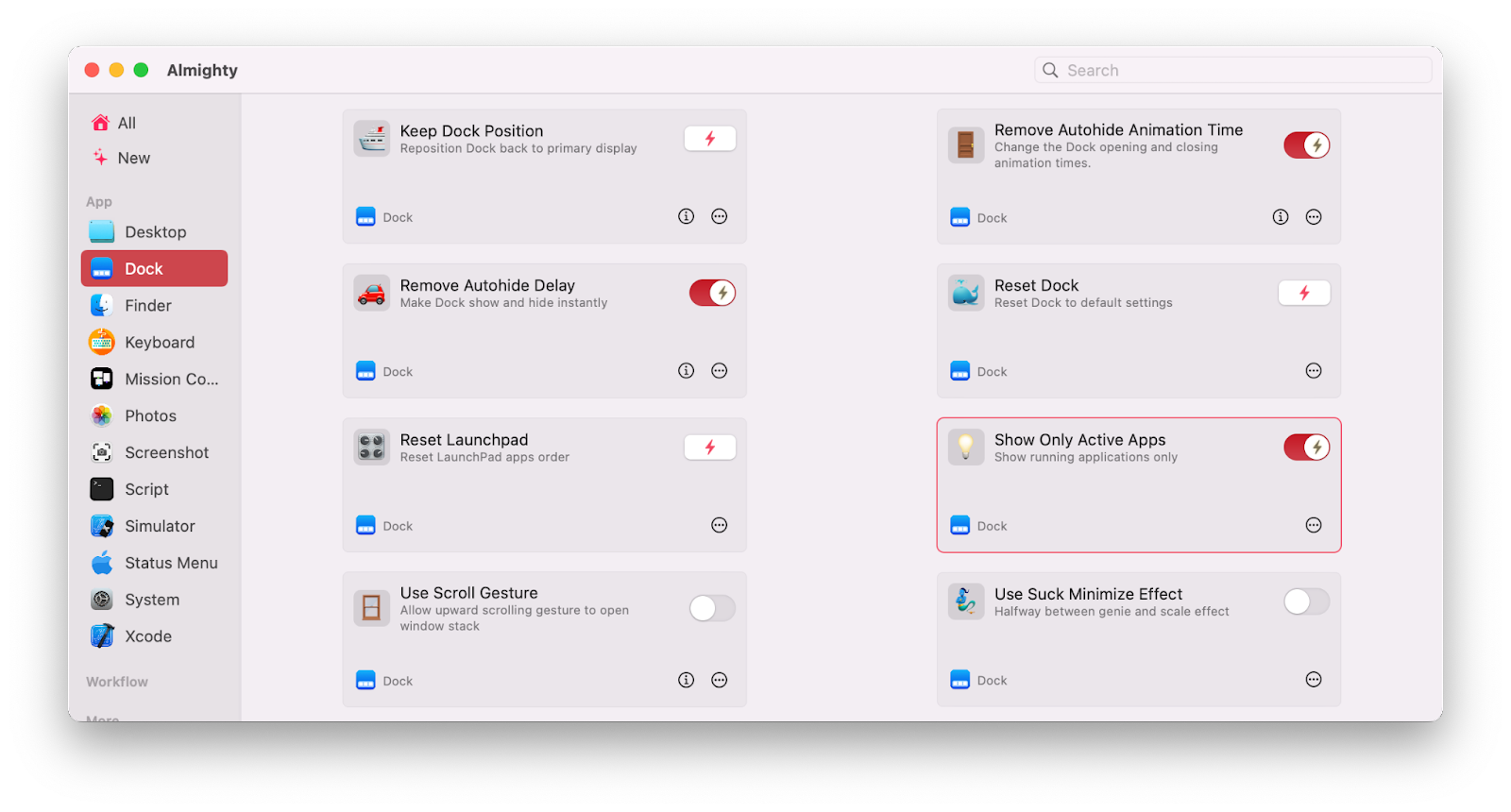 Terminal commands to show only active apps in Dock
Another, more complicated and advanced way to show only active apps in Dock is to do so via Terminal commands.
To have your Mac Dock show running apps only:
Launch Terminal from the Utilities folder
Type: defaults write com.apple.dock static-only -bool true; killall Dock
Press Enter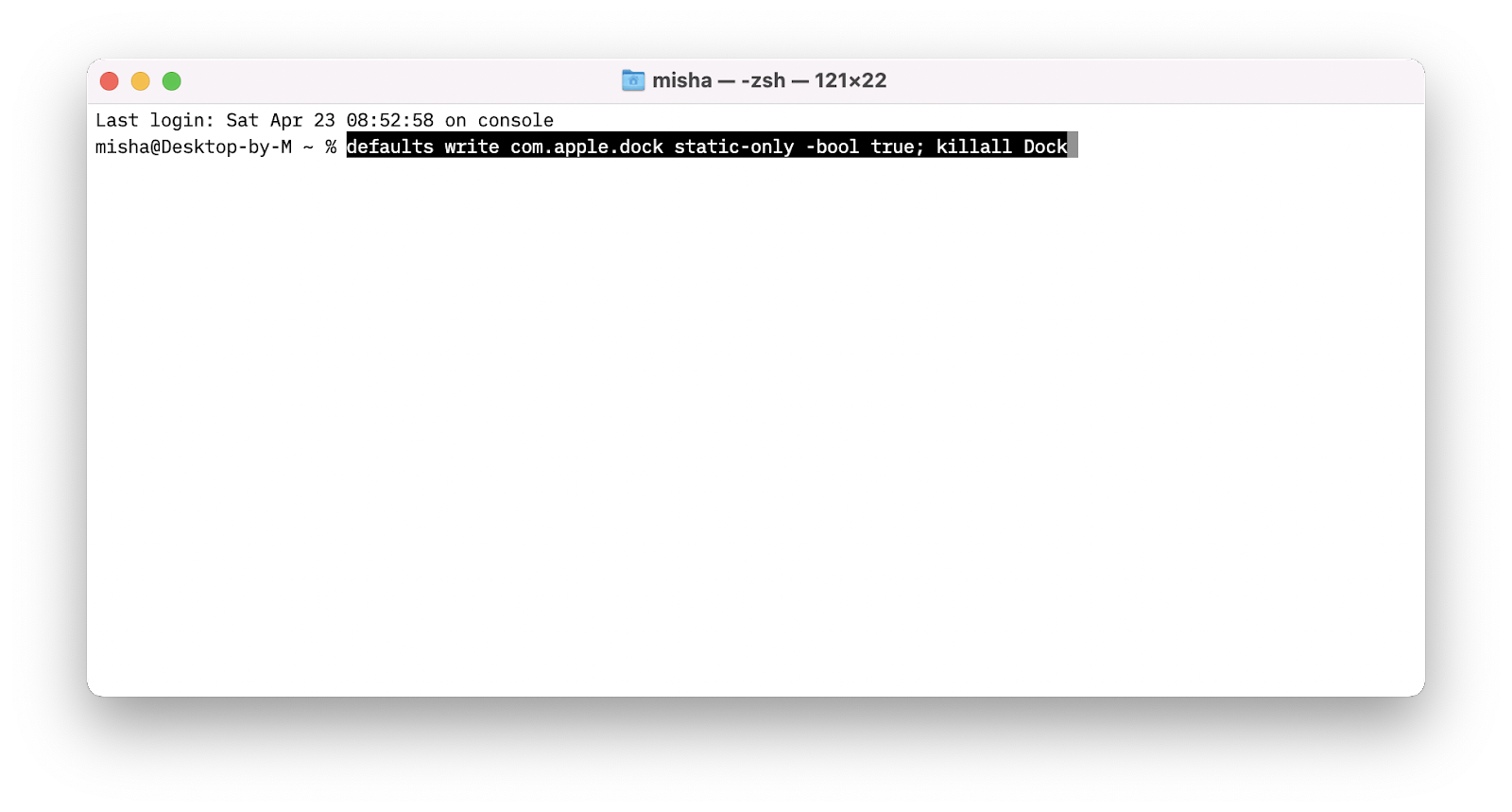 To reverse the change back to the default Dock at any time later on, type defaults write com.apple.dock static-only -bool false; killall Dock in the Terminal and press Enter as well.
How to use Dock Preferences to show active apps
You might not want the Mac Dock show running apps only in some cases. For example, when you start up your Mac, your Dock would be empty, which means you'll have to use Spotlight or go into Launchpad to open all the apps once again. If you tend to restart your Mac often, this might become annoying.
Because really what you want is to always have the apps you use the most easily accessible. And the Dock gives you that option — showing recently used apps.
To keep recently opened apps in the Dock:
Launch System Preferences
Go to Dock & Menu Bar
Check "Show recent applications in Dock"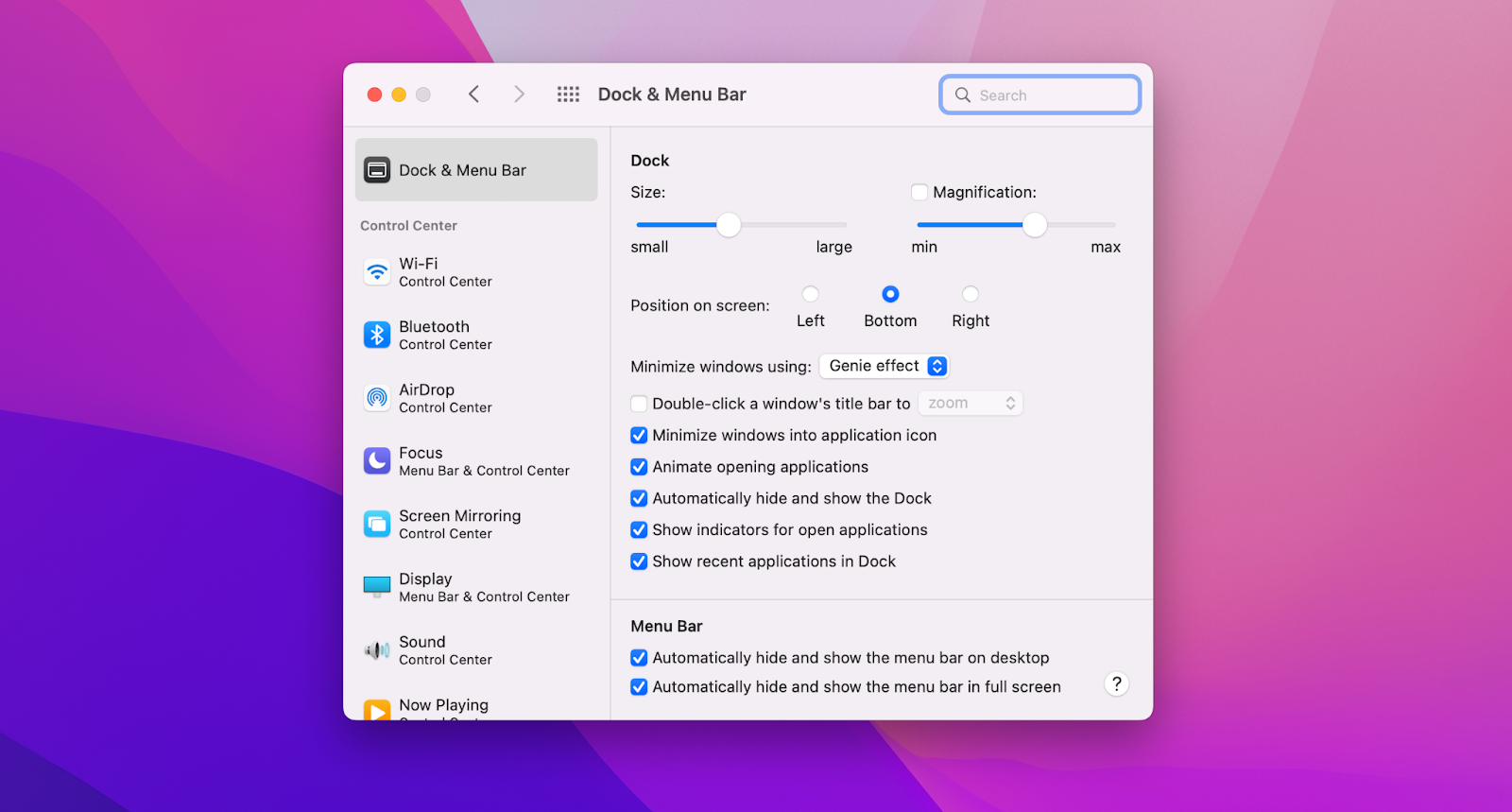 Now all the frequently used apps will be accessible in one click.
Additional Dock tips
The Dock is central to everything you do on Mac, so it makes sense that it's not just limited to the default options given by System Preferences.
uBar is an alternative and much more powerful taskbar you can use instead. It features a sleek profile, packs a lot of functionality, and can be customized in any way.
For example, uBar shows app activity right away, whether it's song progress in Spotify or downloads in Finder. It has support for multiple monitors. It takes much less space than a regular Dock. It also has ample space for all the folders and features a very useful mini-calendar.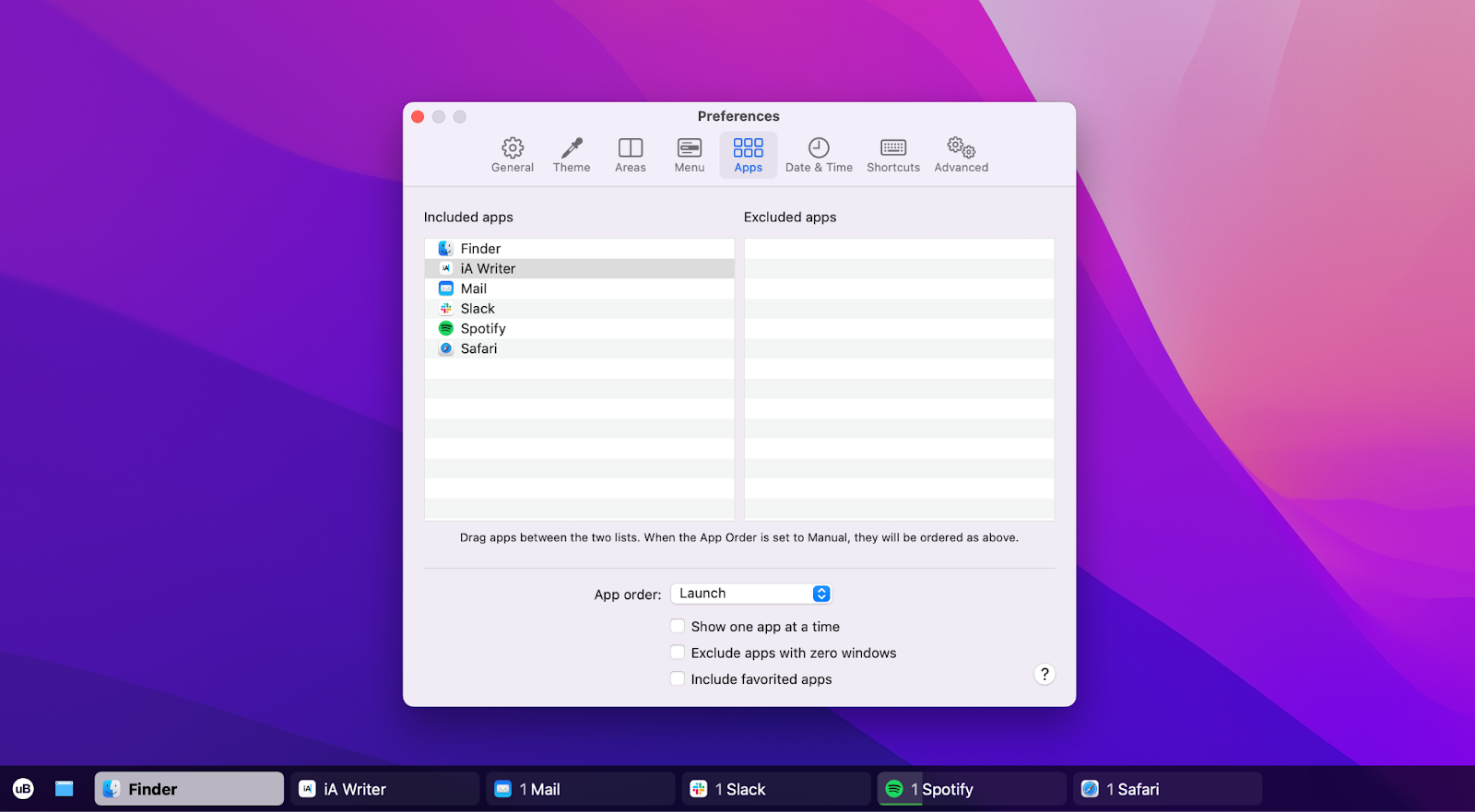 Sometimes, you might want to only show running apps Dock has to make sure the other apps are closed and thus improve your Mac's performance. You can use a utility like Quit All for that instead.
Quit All is a lightweight utility that shows you all the open apps at a glance and makes it easy to quit them quickly with one click (each or all at once). It lives in your menu bar, doesn't take up any space, and works like a charm.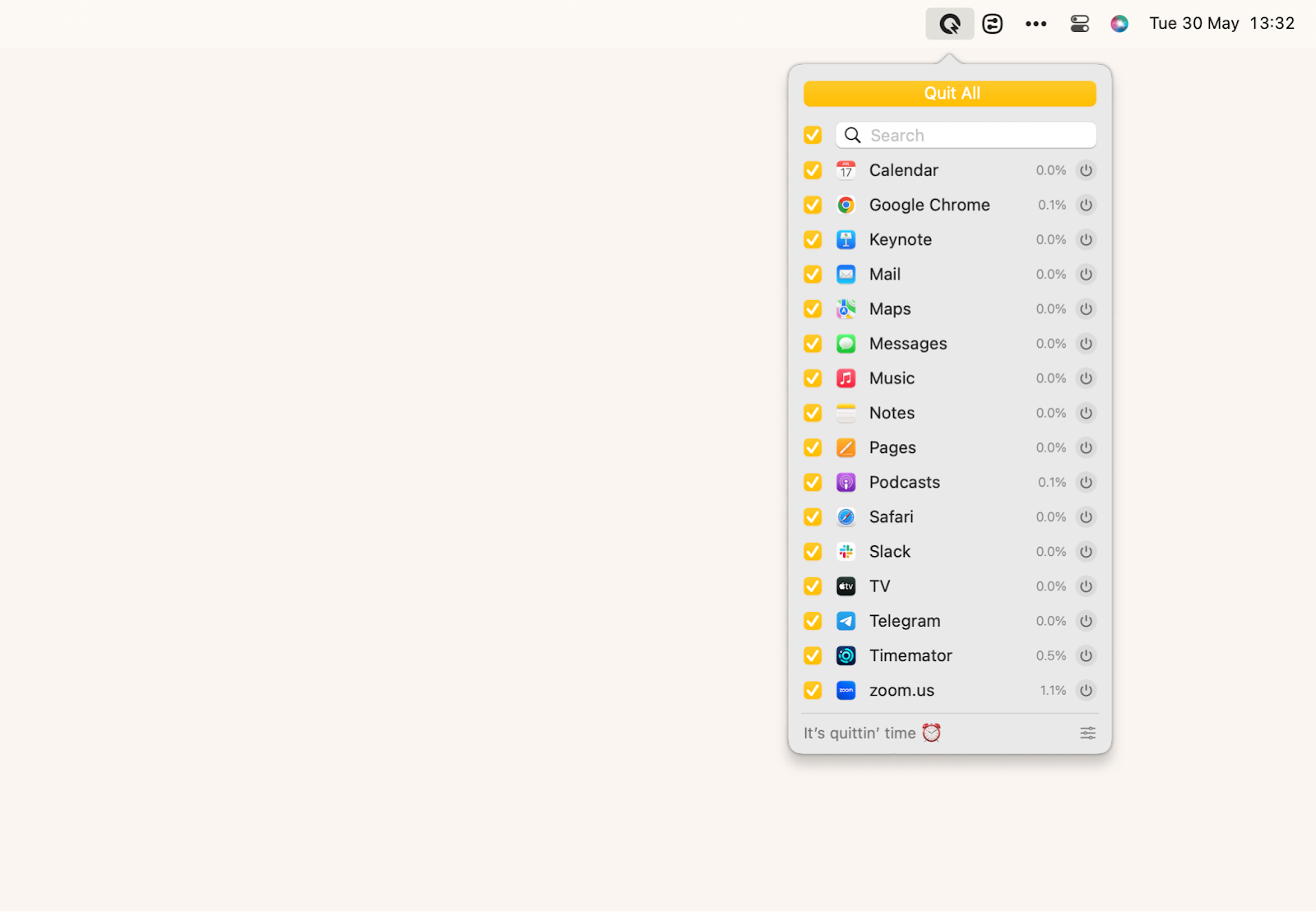 As you can see, there are lots of options to show only active apps in Dock, from tweaking some settings in System Preferences to using Terminal commands or an app like Almighty. You can also reinvent your Dock altogether with custom configurations from uBar or just control all the open apps at any moment with Quit All.
Best of all, Almighty, uBar, and Quit All are all available to you absolutely free for seven days through the trial of Setapp, a platform with more than 230 outstanding Mac and iOS apps for any task you can imagine, from creating reliable backups (Get Backup Pro) to reading text on any PDF document (Prizmo) to fixing a faulty WiFi network (NetSpot). Try every Setapp app at no cost today and curate your own perfect collection.