Switching to remote work during the Coronavirus outbreak
The global outbreak of coronavirus aka COVID-19 made many companies across the world enforce work-from-home policies. Exciting times for those who think the future of work is remote. Not that anyone would want to experience this future due to a pandemic, but here it is. And we have to stay positive. Hopefully, also productive.
The recent NYT article says remote work has controversial effects on our productivity. Even though self-isolation might actually boost your results, you're likely to experience a creativity downtime. How do you cope with that — especially if your work is all about creating? And how do you set up the right work environment across an entire company? We've collected the best tools and strategies that should solve the questions for you.
Spoiler: Coronavirus work policies can be effective — and even fun.
When to start work remotely due to COVID-19
The spread of COVID-19 has been increasing over the last months. And you've been tired of tracking the numbers, we know that. Still, if we want to be responsible, we need to stay in the know. The question is how do we determine when it's time to put a company on a lockdown.
How many reports of the Coronavirus should we wait for? Where's the line between "encouraging" employees to work remotely and enforcing a mandatory policy? The thing is, no one can tell you for sure. Coronavirus is a new challenge for humanity, which means we have to figure things out for ourselves.
Among the tech giants, Twitter was one of the first to develop the Coronavirus work-from-home policy. Facebook, Amazon, and Google followed. One thing is certain — a lockdown is the best way to fight the pandemic we've come up with so far. The numbers show there's been a huge drop in cases since the enforcement of lockdown in China. So we should definitely learn from it.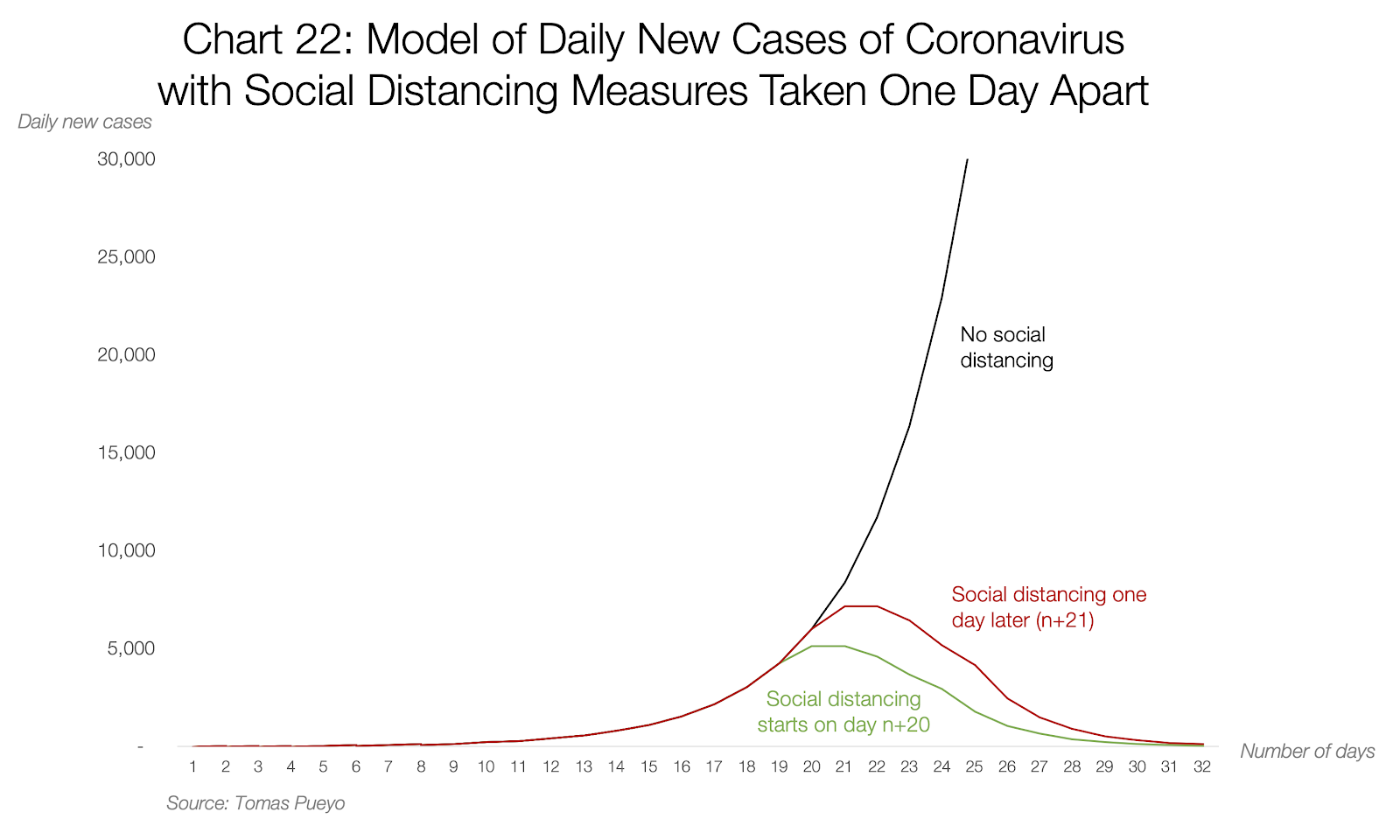 source: Thomas Pueyo
In other words, if it's possible for your organization to go remote — and it works for virtually every tech company — you should better do this. Here's a great summary we've found on the Reddit thread:
"Pull the chord and go remote. Your staff will thank you either way. Your customers will understand and probably take your lead.
Say you're wrong and coronavirus never becomes a big deal: Well, good learning experience. You tested your work from home plan. Your people appreciate you looking out for them. Back to work as usual.
Say you're right and coronavirus will become as big a deal as you presume: Might as well work out the kinks early before everyone is stressed out."
Once you make the decision, take a few days to plan your remote routine. Here are all the tools you will need to make it work.
Agree on communication methods for remote work
If your company already has a remote work policy, life is easier for you. All you have to do is effectively scale it across the organization. If this is a new thing, you'll need to run an extensive strategy meeting and communicate the agreed plan to your employees. This might come at the expense of some working hours — but planning is the most crucial part, which you shouldn't sacrifice.
Make use of free offers
Numerous companies that support work-from-home initiatives are enabling the use of their software for free. Google announced they are giving out free access to the advanced Hangout Meets functionality. The premium package covers 250 participants per call, live streaming for 100,000 viewers, and the ability to record online meetings. This should help workers and students stay connected.
Zoho made its new Zoho Remotely suite free to use, too. The suite integrates 11 apps for online conferencing, storage, project management, and more. Most offers for coronavirus-careful companies, including Zoho and Hangouts, are available for free until June 1.
Choose the best messenger for work
No matter how well you plan, the first few days could be a bit chaotic. People will be trying to reach one another using different channels. So we recommend you get an app that places all of them into one. IM+ is a one-stop aggregator for work and private messaging. Basically, it lets you connect the messengers you're using regularly for quick access to all. IM+ has WhatsApp, Slack, Hangouts, Skype, Telegram, and other popular messengers.
If you want a very focused messaging routine for work from home, here's the trick you'll love:
Connect all messengers you use daily.

Go to the Connected tab and click on a service to open the Settings.

Set up tags — "Work" for those you'll be using for work communication and "Home" for the rest. To avoid confusion, you can create your custom "Work from Home" tag.

To set up IM+ for work, click on Settings in the left sidebar and toggle your "Work" or "Work from Home" tag.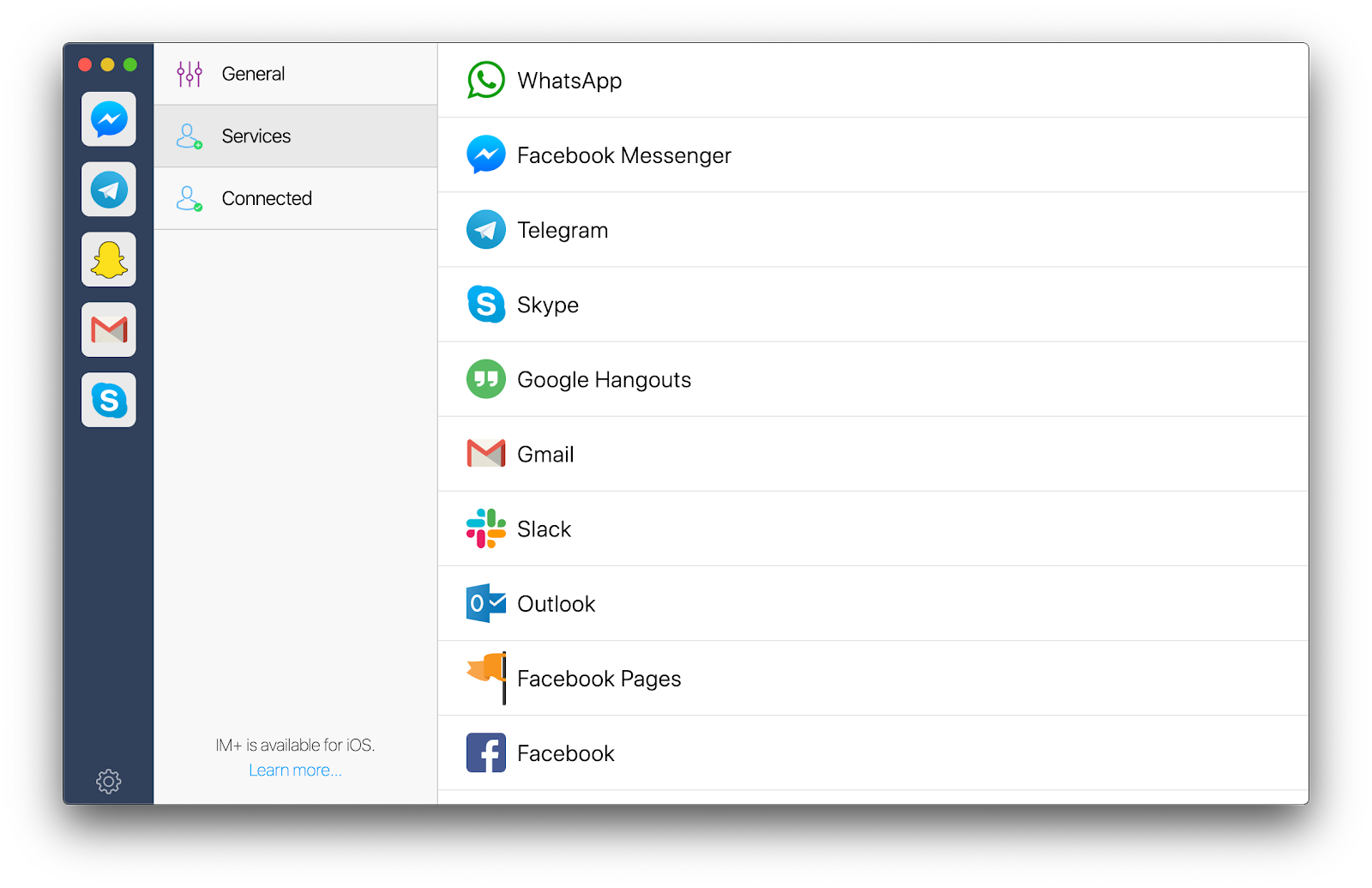 Once you filter by tag, only your "work" services will show up in the sidebar. This will weed out distractions, keeping important communication channels integrated.
If your team uses Slack for team conversations, make sure everyone is aware of how to use it at home. One of the most common scenarios you should think of is shared channels. Because many projects are tied to separate Slack channels, employees might need to learn how to work across them, inviting and messaging with people from outside projects. Slack has created an easy guide that explains how to set up shared channels — you can read it here. Make sure you share this one and any other relevant guides with your organization before going remote.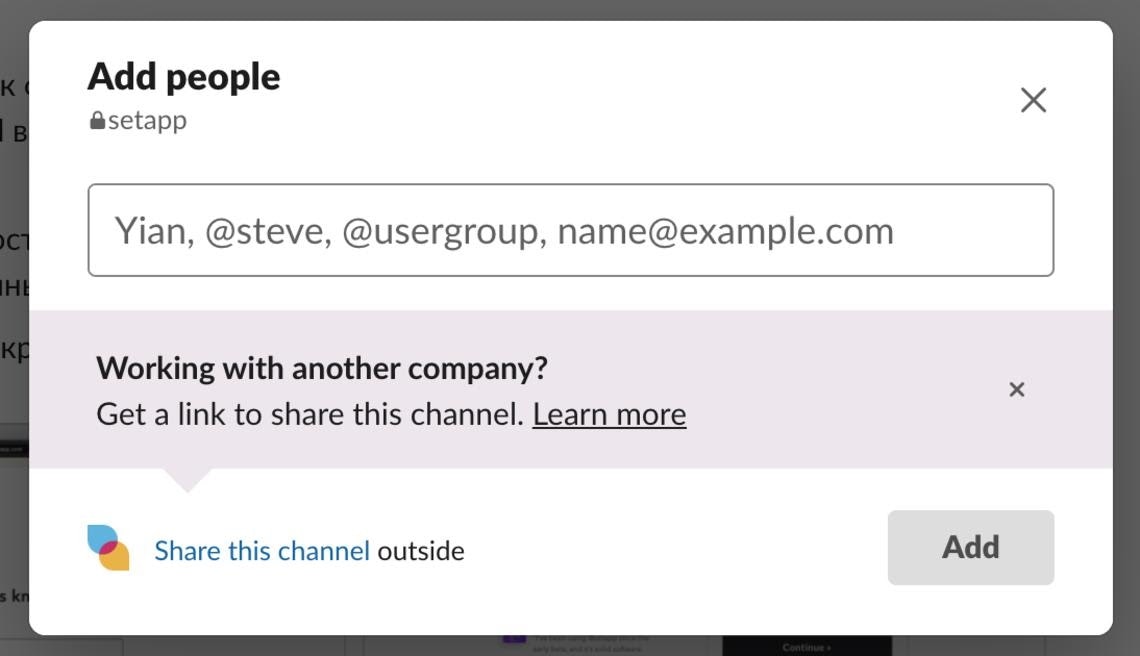 Enable remote access to work tools
Some daily tasks are tied to a workplace. VPNs, work computers, and shared accesses — these are a few things that might hamper remote work. Therefore, you might need to modify the way employees access data when they are at home.
Provide instructions on setting up VPN
Shimo is one of the best tools you can bring to your employees or colleagues in these challenging times. The app opens access to an office's internal network from any remote location. Even more, it can handle multiple connections at the same time — each of which is easy to trigger by setting your own conditions. Here's how to set up Shimo at home:
Install the app from Setapp and click on its icon in the menu bar.

Select Add VPN Account.

Open Accounts and add a new one by clicking on the plus button.

Type the server information, your username, password, and click Create.

In the Trigger tab, set up conditions for automatic connection.
That's it. Once you trigger a connection, Shimo will take you to the remote network. You can also customize notifications to know what network you're connected to — in case you're using more than one.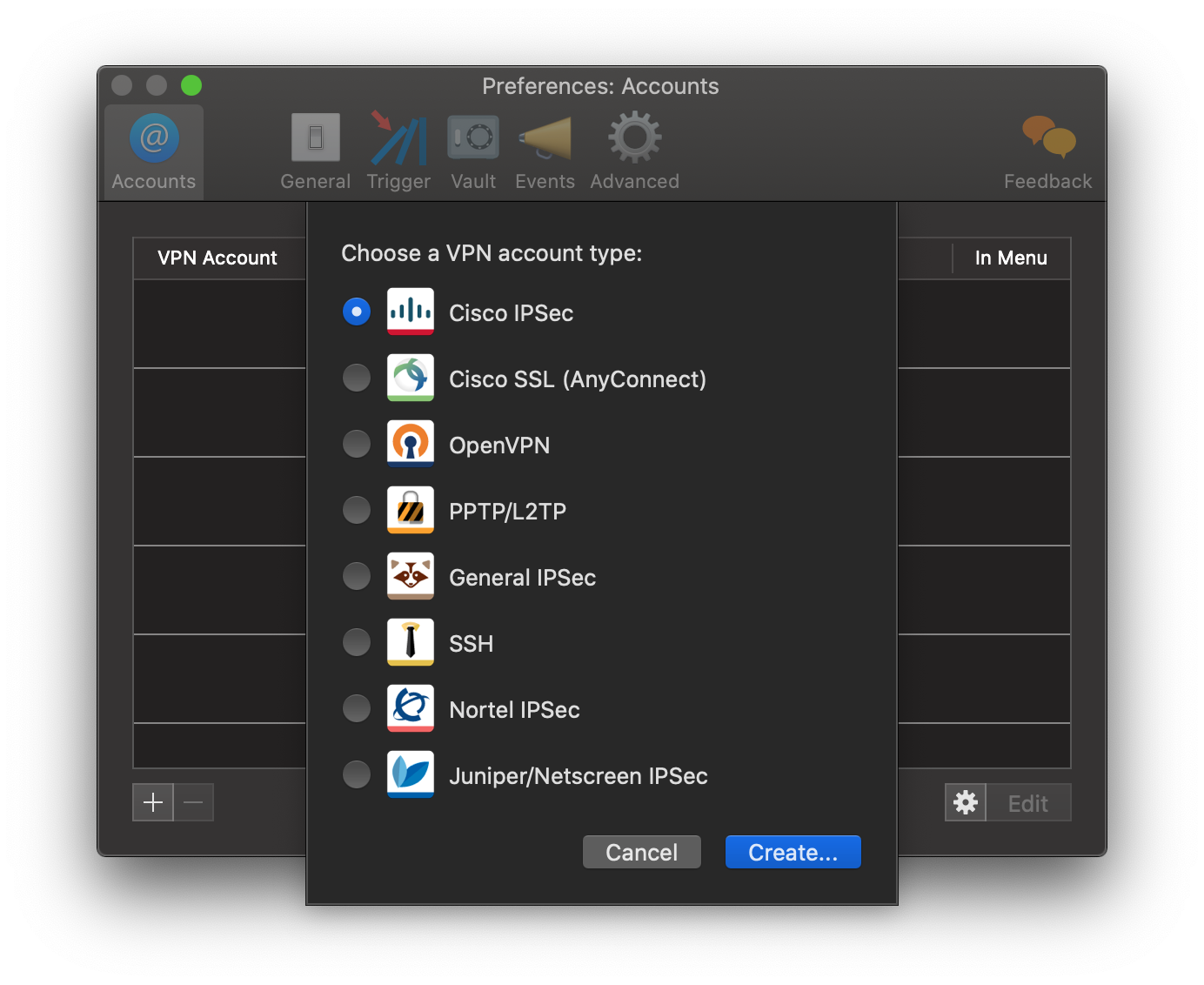 Get a reliable VNC client
Not everyone will be able to take their work computers home. Not everyone will want to — in case they have home laptops perfectly capable of doing the job. One way or another, a must-have tool for remote workers is a VNC client. Aka virtual network computing software.
The easiest VNC tool no one will have trouble setting up is Jump Desktop. Once you install this app on your Mac, it will open access to any of your remote machines. Be it a PC or a Mac you left in the office, Jump Desktop brings it to you. Connect the remote computer by entering IP details and name, or enable automatic connection via email.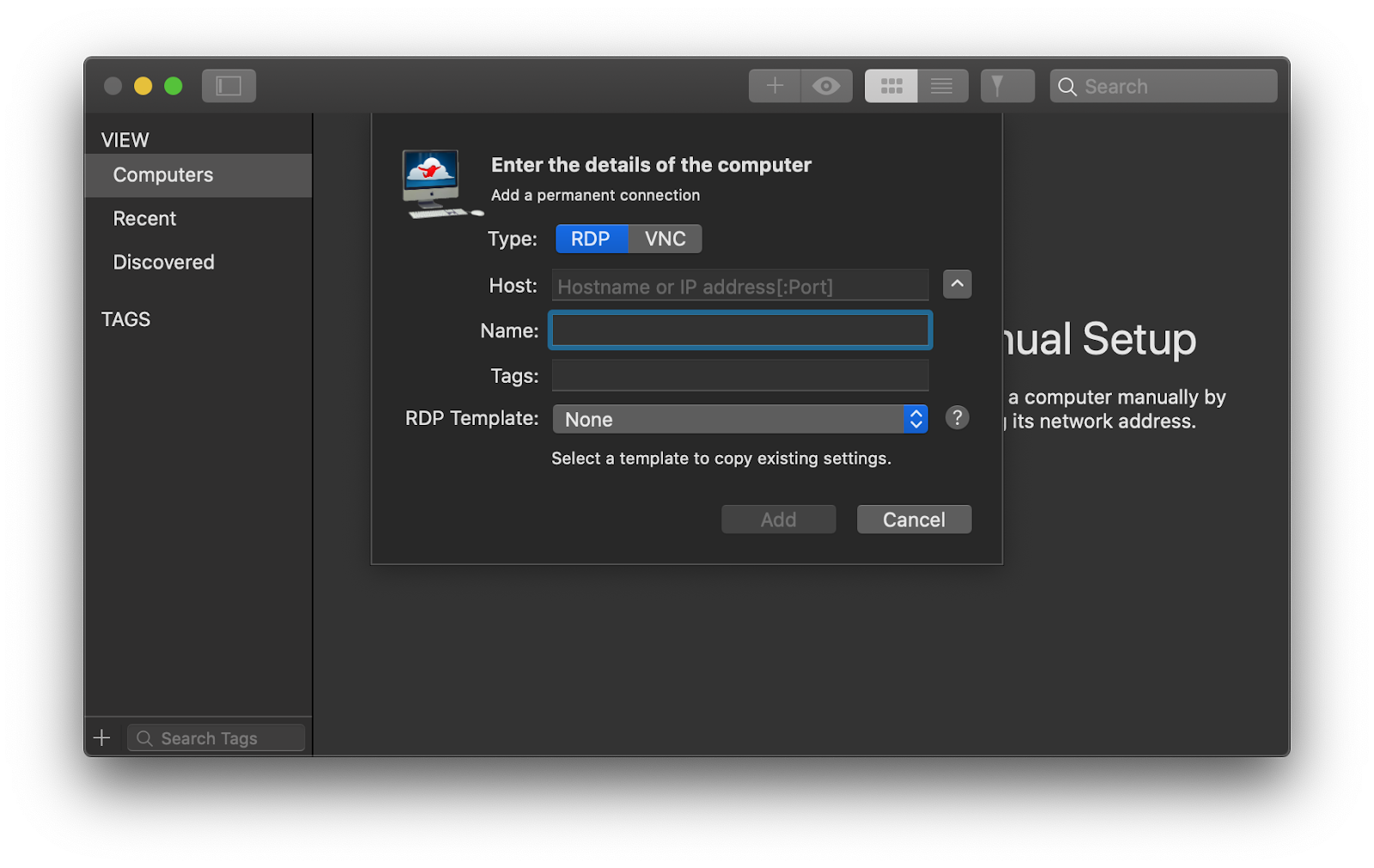 An alternative that does a similar job is a Mac app called Screens. If you need an extra layer of security because you're afraid someone can see your remote screen, this is the one. Screens has a special Curtain mode that lets you obscure a remote desktop.
Enable cooperation across time zones
If your work crosses the borders, you have to consider time zones when setting up calls and meetings. This might be easy to do in the office when someone is always taking care of the timing. At home, you're isolated, which makes it easier to lose track of time. To ensure you never miss an important event, get this time zone assistant — World Clock Pro.
It's a Mac app that syncs your schedule with the schedules of your colleagues, based on their locations. From one handy widget placed on your desktop, you'll be able to instantly view selected time zones. So that you never have to worry about time differences again.
For corporations involved in international business as well as those that have offices around the world, our advice is to encourage using World Clock Pro on a constant basis. At home or in the office, it will help employees avoid time zone confusions.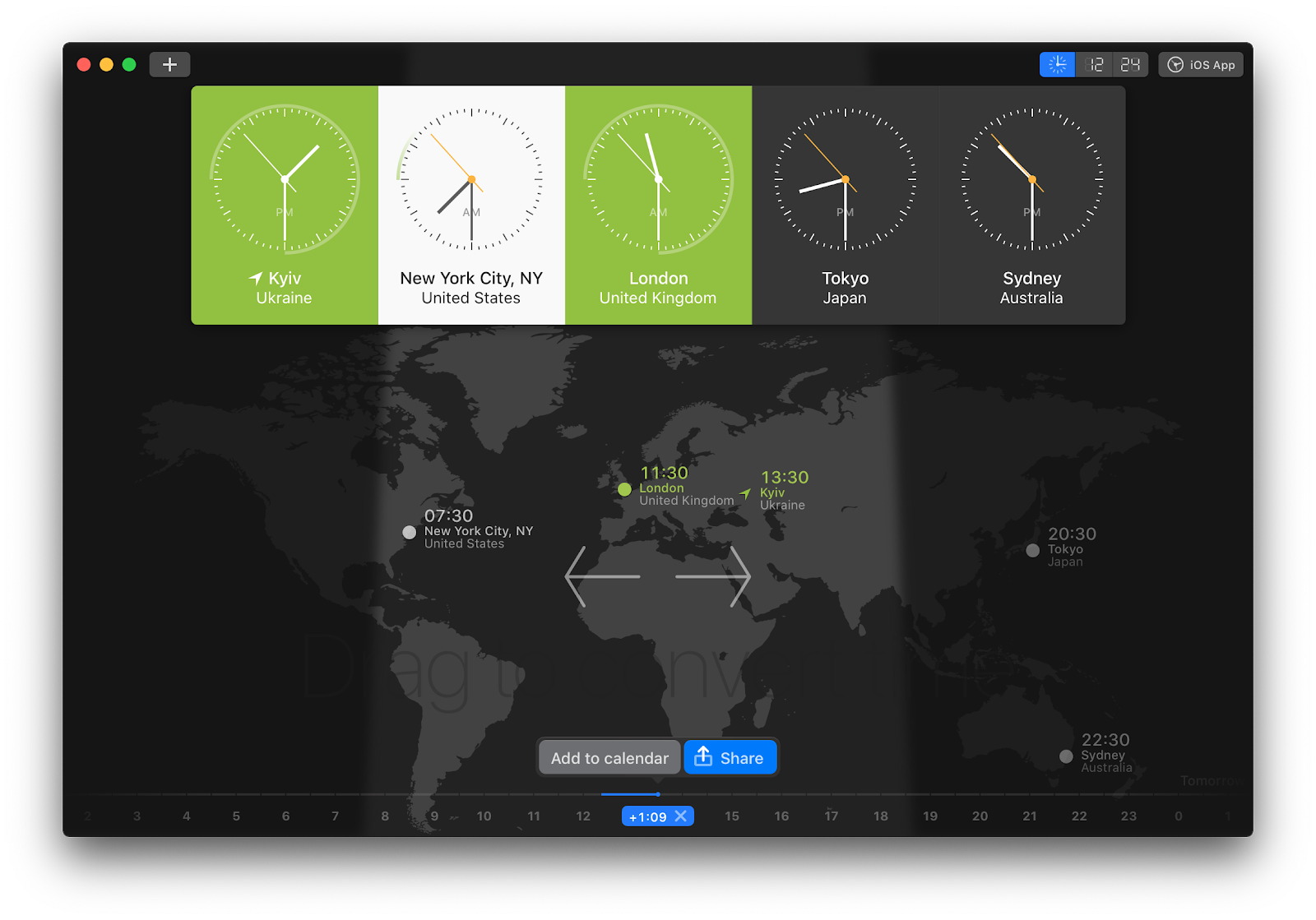 Make it the time of learning
While everyone is talking about the expected losses, a pandemic is an equally good time to think about the gains. Your team will have to figure out a new work mode, which means new ideas and tools. Think about what you can bring them, and encourage to explore new things that might benefit their work.
Here are only a few options of productivity boosters for those working on Macs:
iThoughtsX for mind maps and easy ideas sharing. This is a stunning outlet for all the creative ideas and solitary musing you will have. The app has a great toolkit for visualizing thoughts and building connections across the most complex mind maps. You can attach extensive notes to each point on the map and export it all to a selected format. This might be a great new way to brainstorm and share ideas without being in the same room with your colleagues.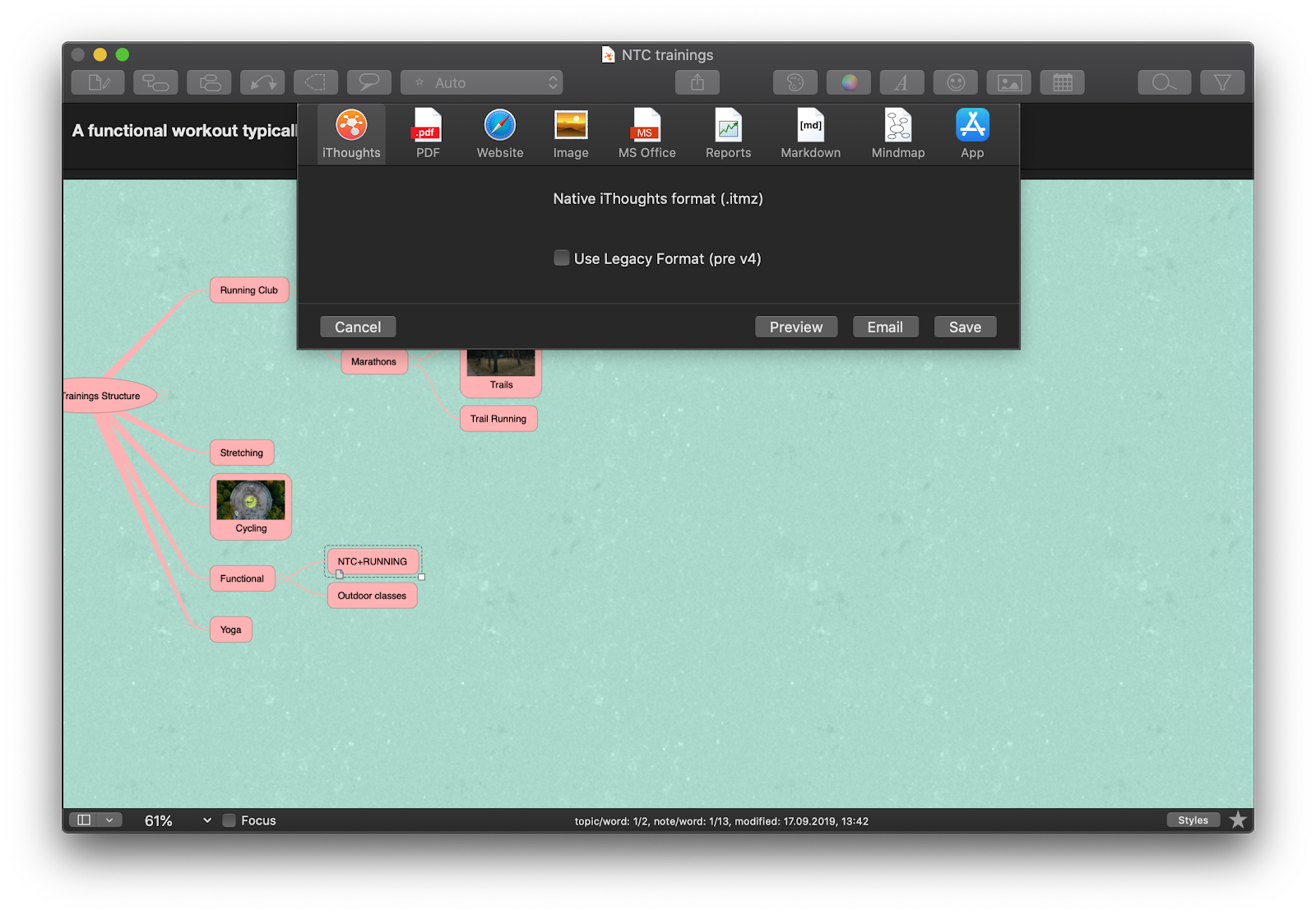 Backtrack for recording audio you forgot to record. This one is a genius. The app sits in your menu bar recording every 60 minutes of audio and overwriting it over and over again. This is not to capture you talking to yourself in an empty room (or not only for that). Backtrack can help you record remote meetings and get back to them at any time. Essentially, this might also be a great tool to continue using in the office during the team meetings.
Timing for streamlined time-tracking. In the office, you typically have 8 hours. This includes coffee breaks and small talk. At home, the schedule is likely to change. Timing will help you see how much time you spend on your daily tasks, automatically recording what you do on Mac and bringing it all into detailed reports. You don't have to start or stop the timer, Timing has it covered.
Adapting the way your team works
Most of the apps we've reviewed above are a part of Setapp subscription, a Mac app service that provides access to 170+ apps for a flat fee. Remote work can be a perfect time to embrace a few apps and let your team discover the tools they like. Apart from those we mentioned above, Setapp covers lots of superstars like CleanMyMac X, Ulysses, Disk Drill, and more.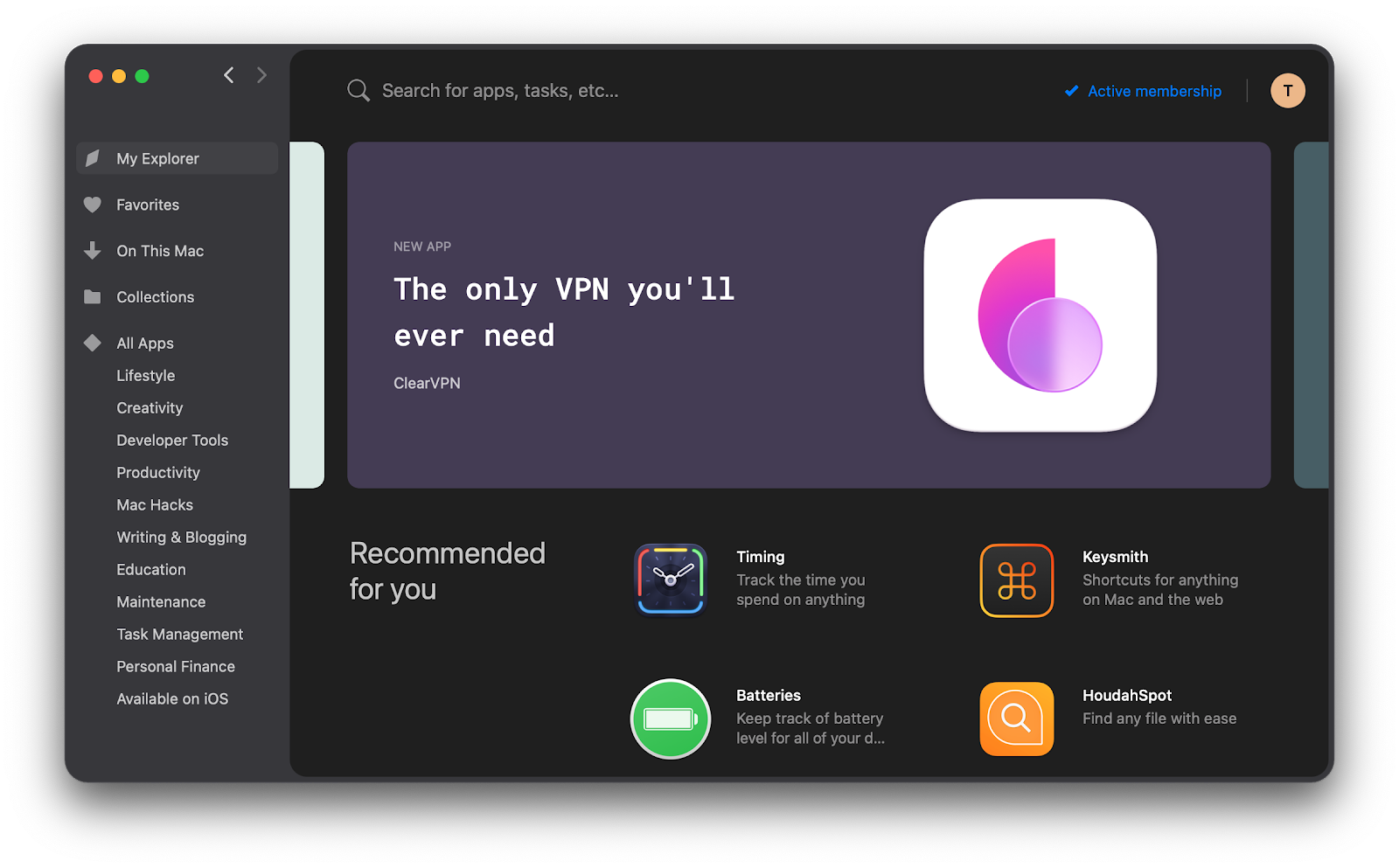 For teams, there's Setapp for Teams. It's easy to set up for an organization of any size, and it covers all the benefits. Plus, your team gets more time to explore the software — Setapp for Teams offers a 30-day free trial.
Once again, here's a strategic toolkit for Coronavirus work-from-home companies:
Setapp (a subscription service for Mac apps, which covers most of the reviewed tools: IM+, World Clock Pro, Jump Desktop, Screens, iThoughtsX, Backtrack, Timing + 170 more);

Setapp for Teams (access to the Setapp suite with benefits for teams);

Slack shared channels functionality;

Zoho's Remotely suite (free until June 1);

Hangout Meets Premium (free until June 1).
Coronavirus forces the largest work-from-home experiment. Now, let's look on the bright side — what if it proves effective? What if all those beautiful offices with smoothies and massage specialists are overrated, and we'll find out we're just as effective working from any part of the world as we're in the office? Well, this is going to be interesting.
And remember, health comes first — even if it comes at the expense of business growth. Before setting up a remote work environment, encourage your employees to take good care of their health. Run a remote session with a healthcare worker who would explain the symptoms of COVID-19 to your employees. Make sure everyone is aware what they should do if they've been exposed to Coronavirus. Otherwise, have a wonderful time with your pajamas! We all know you've dreamt of it.