How to enable Universal Control on macOS Monterey
As we're getting closer to the macOS Monterey official release, one major feature still hasn't been tested by a large audience. Universal Control has not been included in beta releases, so you probably can't access it on your Mac right now. But one developer found a workaround. In this article, we'll tell you how to enable Universal update on your Monterey beta.
What is Universal Control?
Universal Control allows you to control Mac and iPad — or even multiple Macs — with a single mouse and keyboard. Why would you do that? People tend to switch between devices and tasks more often than ever before. In fact, the study shows an average user switches tasks 6 timer per 26 minutes. To maintain your productvity in these conditions, you need a robust workspace — and Universal Control can help you achieve just that.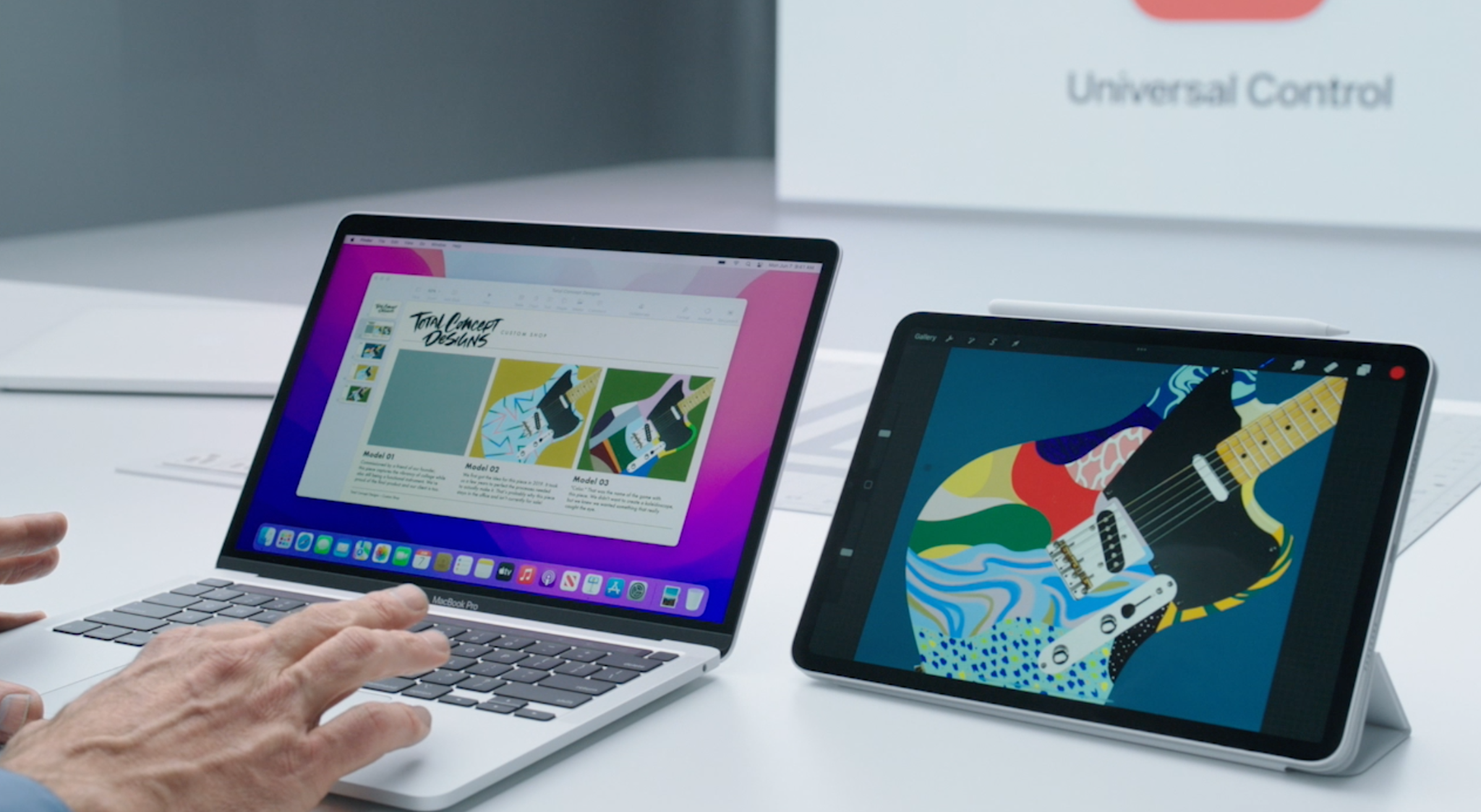 How to make Universal Control work on macOS Monterey beta
Apple didn't make Universal Control available to Monterey beta testers, which is a pity because many people installed the beta just to try this fascinating feature. Is Apple going to fix it? We're not sure. Attentive folks noticed Apple initially including the news about Universal Control working on beta 12.4 in the release notes, but then they removed it.
We don't know what happened there, but we're happy to say the solution has been found! You can now get Universal Control to work on Monterey.
Please note it's not the official method. A developer named Zhuowei Zhang came up with it and shared the file on Github. For this to work, you should tweak some internal files on macOS, but it's super easy to do and has already worked for many people, so we're happy to share the instructions on how to enable Universal Control:
Download the file from Github and move it to /Library/Preferences/FeatureFlags/Domain

If you can't move the file, you need to disable System Integrity Protection (SIP): Restart your Mac in Recovery Mode > Open Terminal > Run the command csrutil disable

Restart your Mac.
Universal Control should now work on your Mac — you can test it after a reboot. To connect your iPad or second monitor through Universal Control, go to System Preferences > Displays.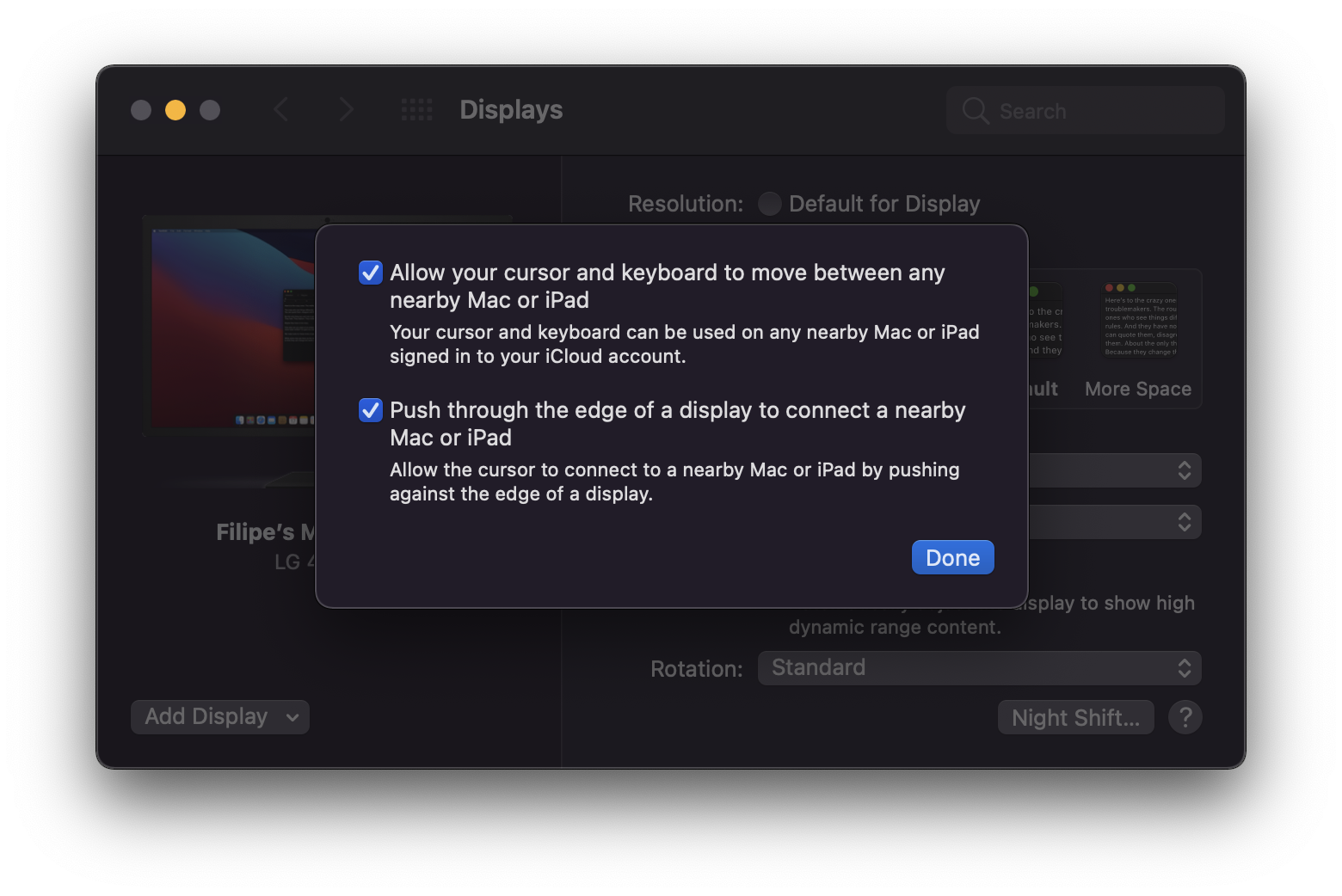 source: 9to5Mac
Note: Right now, it's only possible to connect a second Mac through Universal Control because iPadOS 15 can't be modified to work with macOS Monterey beta.
Best use cases for Universal Control
Universal update can completely change the way you work, helping you get more things done with less effort. Make sure you take the time to integrate it into your workflow, though — it might take a while. Here are a few good ideas how to use it:
Drag more files around. Now you don't have to sync your pictures through iCloud or AirDrop them, just move anything you need from iPad to Mac or vice versa using your cursor. Naturally, you'll be doing more dragging and dropping than before, so it makes sense to install an app like Yoink to automate the flow. Or, just enjoy the dragging.
Move screen recordings from Mac to iPad. With apps like CleanShot X, you probably have a very advanced screenshotting workflow — you can take scrolling captures, record screen, create GIFs, and more. Thanks to Universal Control, you can now naturally move those screen captures across devices.
Declutter your workspace. Universal update ensures you get more displays for keeping the essential stuff visible. For example, if you use some kind of desktop sticky notes or a desktop notespace such as SideNotes, keep them on the display you use for research-heavy tasks. Keep another screen tidy for screen sharing and screen capturing.
Tip: If you're curious to read more Monterey news, check this guide on how to fix macOS Monterey issues, we update it regularly with the fresh insights and troubleshooting tips.
Conclusion
Now when you know how to enable Universal Control, it's time to finally make the most out of macOS Monterey! Try new Shortcuts to automate your routine actions, set up personalised notifications, and get used to moving your cursor between devices. Make sure you have Setapp installed on Mac before switching to the new macOS — it will help with data recovery in case you run into a problem as well as give you tons of apps to improve your workflow even more. Give it a try, it's free for 7 days!