Connect a Mac computer to a TV
Making your Mac and TV best buddies is easy. In this article, we cover tutorials on how to connect Mac to TV — using a cable or wirelessly. You'll learn how to bypass AirPlay restrictions and connect MacBook to any TV (even without Apple TV), how and why to use TV as a second monitor, and more.
How to mirror Mac to TV
We know what you're thinking. Movies look better on a big screen. That's completely true, but that's not the only reason to connect Mac to television. With TV as a second screen, you can expand your worksation and seriously enhance your productivity. Here are the two methods.
Screen mirroring MacBook to TV — the easy ways
JustStream is by far the most robust tool for screen mirroring you can get on Mac. Unlike Apple's native AirPlay that only allows you to connect with Apple TV, JustStream has literally no restrictions on the type of TV you can mirror Mac content to. Smart TV, Apple TV, Chromecast, you name it.
Here's how to mirror MacBook to TV with JustStream:
Open JustStream menu bar app
Choose the display you want to mirror
Click the AirPlay-like button to choose a TV
Click 'Start Streaming.'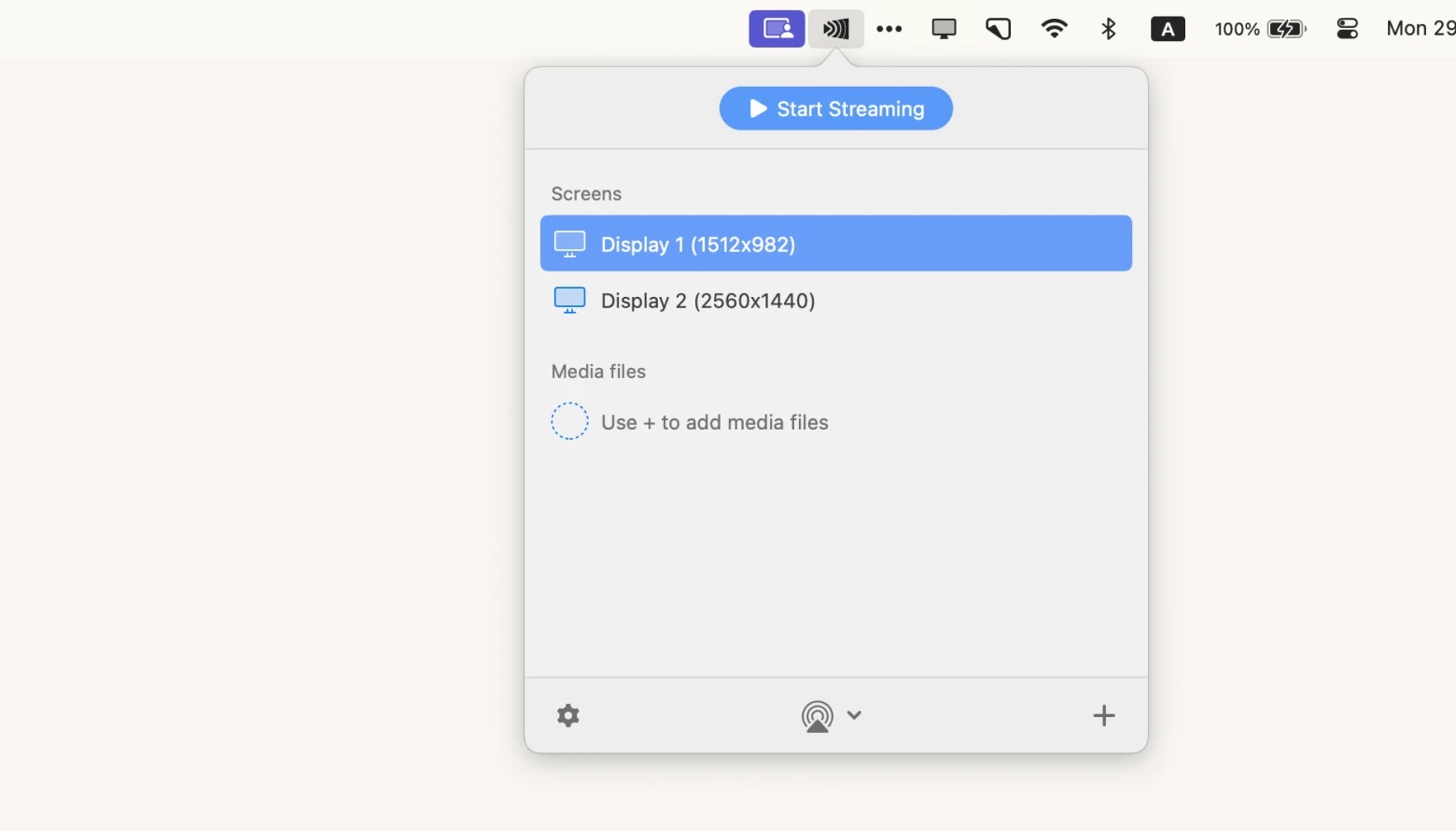 That's it. If you want to stream local video files, you can add them to JustStream and set up your custom playlist so that videos play automatically one by one.
If you have an Apple TV, you can use AirPlay. It's not as robust in terms of sound and display settings as JustStream, but it does the work. Here's how to enable AirPlay screen mirroring:
Connect Apple TV to your TV screen and set it up (it's pretty intuitive)
Check if both your Mac and Apple TV are connected to the same Wi-Fi network
With your TV using Apple TV's input, turn on AirPlay on Apple TV (Settings > AirPlay > select 'Everyone')
On your Mac, go to the Control Center and choose Screen Mirroring
Choose your Apple TV
Click Display Preferences at the bottom of the drop-down menu to tweak resolution, brightness, and other settings.
How to connect Mac to TV with a cable
If streaming doesn't work for you for some reason, you can connect Mac to TV using a cable. We won't go into all types of cables you can use — it largely depends on your MacBook model. You can connect directly — for example, using a Thunderbolt to HDMI cable — or use an adapter, depending on what type of port your Mac has:
Plug the HDMI/Thunderbolt 2/Thunderbolt 3 end of the cable into Mac
Plug the HDMI end of the cable into TV
Turn on your TV and enable HDMI input
Wait for your Mac screen to appear on TV.
In case the mirroring doesn't start or you only see a part of your Mac screen on TV, dig into Displays settings on your Mac and try manually adjusting the resolution (System Preferences > Displays > Resolution > Scaled).
If you have HDMI TV and a Mac with Thunderbolt, HDMI, or Mini Display Port, you'll be able to play audio from Mac to TV. To check and adjust Sound settings, go to the Apple menu > System Preferences > Sound > Output.
How to use TV as a second screen
Not because your eyesight is worsening, but because your workspace should suit your needs, consider putting an extra TV on your desk (well, you might need a second desk, too). Whether you do coding, design, or gaming, additional screen space is always an advantage. For example, you can always cast a piece of code onto a TV to take a closer look.
Using a TV as a second screen is therefore a great way to avoid eyestrain. But to achieve that effect, you have to ensure consistent color and brightness across your displays. DisplayBuddy is there to help. This simple menu bar utility lets you create presets for color, brightness, and volume, and apply them to all your displays. Particularly if your external screen always resets brightness when you turn it off, DisplayBuddy will offer immediate help.

Screen mirroring MacBook to TV wins the battle
Using a cable to project Mac to TV is a tried-and-tested yet hugely laborious process. While Apple got caught up in replacing ports in Macs from generation to generation, it's not so easy to just connect your computer to a TV — in most cases, you'll need to fiddle with some extra adapters, which could be not so cheap too. For example, Apple's native USB-C to HDMI adapter comes with a $69 price tag.
If you have Setapp subscription, you should undoubtedly try wireless connection — because you get all the tools for screen mirroring out of the box, without paying anything extra. The toolkit includes JustStream for mirroring and streaming, Boom 3D for optimizing sound, and DisplayBuddy for controlling your display settings. New members get to try Setapp with all its toolkits for 7 days free.
Now that you know how to connect Mac to TV, please remember that too much screen time is no good for you — even if that screen is huge and helps you get so much great work done. Take care!