Fix "Wi-Fi not configured" issue
Mac users report they can't connect to the internet because of the "Wi-Fi: not configured" error. They say an X appears on the Wi-Fi menu icon in the menu bar. The icon is grayed out. And when you click on it, a drop-down menu appears and shows "Wi-Fi: not configured."
If you're facing the same issue, keep reading. In this article, you'll learn how to get your internet connection back.
How to fix WiFi not configured error
When it comes to "Wi-Fi isn't configured," a low-level configuration or hardware issue can be the cause. It's best to start by fixing configuration problems first. If none of the below solutions work for you and you're still having problems, there may be a hardware problem. In such a situation, you should speak with Apple for more assistance. Anyway, let's hope for the best.
How to configure WiFi on Mac
Now, we'll show you how to configure WiFi on Mac and fix the annoying error. Let's start with these steps:
Reboot your Mac
It may be the oldest trick in the book, but it still can work. Choose the Apple menu > Restart.
Run Mac maintenance tasks
If restarting your Mac hasn't solved the problem, don't worry. Here's another easy method that might help. Running maintenance tasks on your Mac can enhance drive performance and fix a variety of errors or permission problems. My personal favorite tool to run these tasks is CleanMyMac X. Not only can it prevent many problems like the "Wi-Fi: not configured" from happening in the first place, but it will also keep your machine optimized and running at its best. Follow these steps to get started:
Open Setapp and type "CleanMyMacX" or "declutter Mac" in the search bar
Find CleanMyMac X in the search results and click Install
Once the app is installed, open it, click Maintenance in the sidebar
Select Run Maintenance Scripts from the list of tasks and click Run.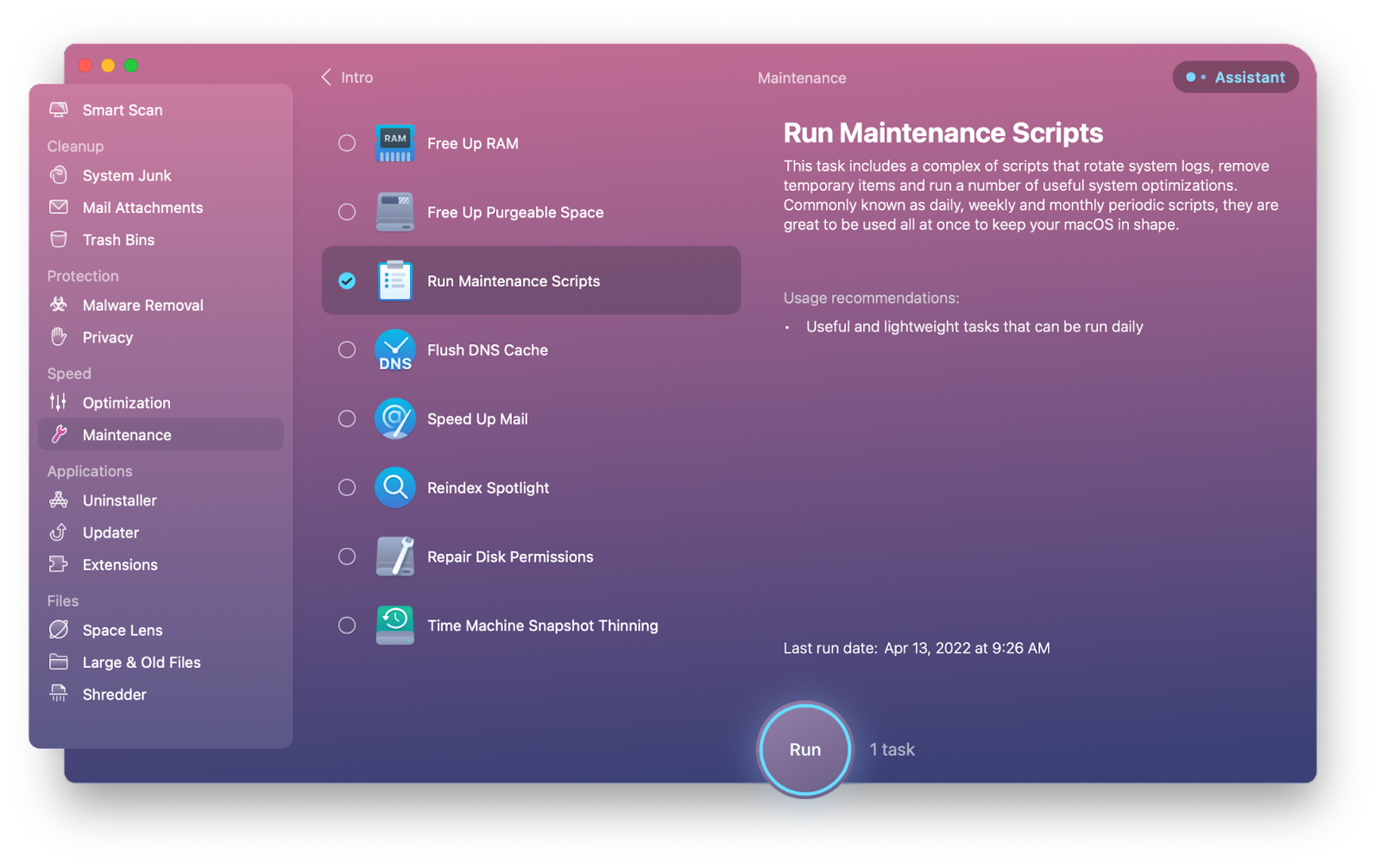 Proceed to the following tip if it hasn't resolved your Wi-Fi connection problem.
Start in Safe Mode
Safe Mode fires up a limited amount of services in macOS and could expose a conflict. Here's how you start in Safe Mode:
For Intel-based Macs:
Choose the Apple menu > Shut Down
Wait a couple of seconds, then turn your Mac on while pressing the Shift key. Continue pressing until you reach the login screen. You should see "Safe Boot" in the menu bar.
For M1 Macs:
Choose the Apple menu > Shut Down
Now, press and hold the power button until you see the startup options screen
Choose a volume
Then press and hold the Shift key. Click Continue in Safe Mode
Your Mac will restart automatically. When the login window shows up, you should see "Safe Boot" in the menu bar.
Check your Wi-Fi connection once Safe Mode has started on your MacBook. Restart the computer. The WiFi not configured Mac issue might be resolved. If not, keep reading to try other fixes.
Re-add the Wi-Fi connector
Wifi not configured MacBook notifications can sometimes appear if you've unintentionally removed the Wi-Fi service. Fortunately, this is easy to resolve by using the steps outlined below:
Choose the Apple Menu > System Preferences > Network
A list of network services will now appear on the left. From the bottom, click the "+" symbol
You'll then see a pop-up. Choose Wi-Fi from the list, give it a name, and then click Create
Then, from the list, choose the newly created Wi-Fi, and then click the Turn Wi-Fi On option
Check if the Wi-Fi is functional after performing the above steps.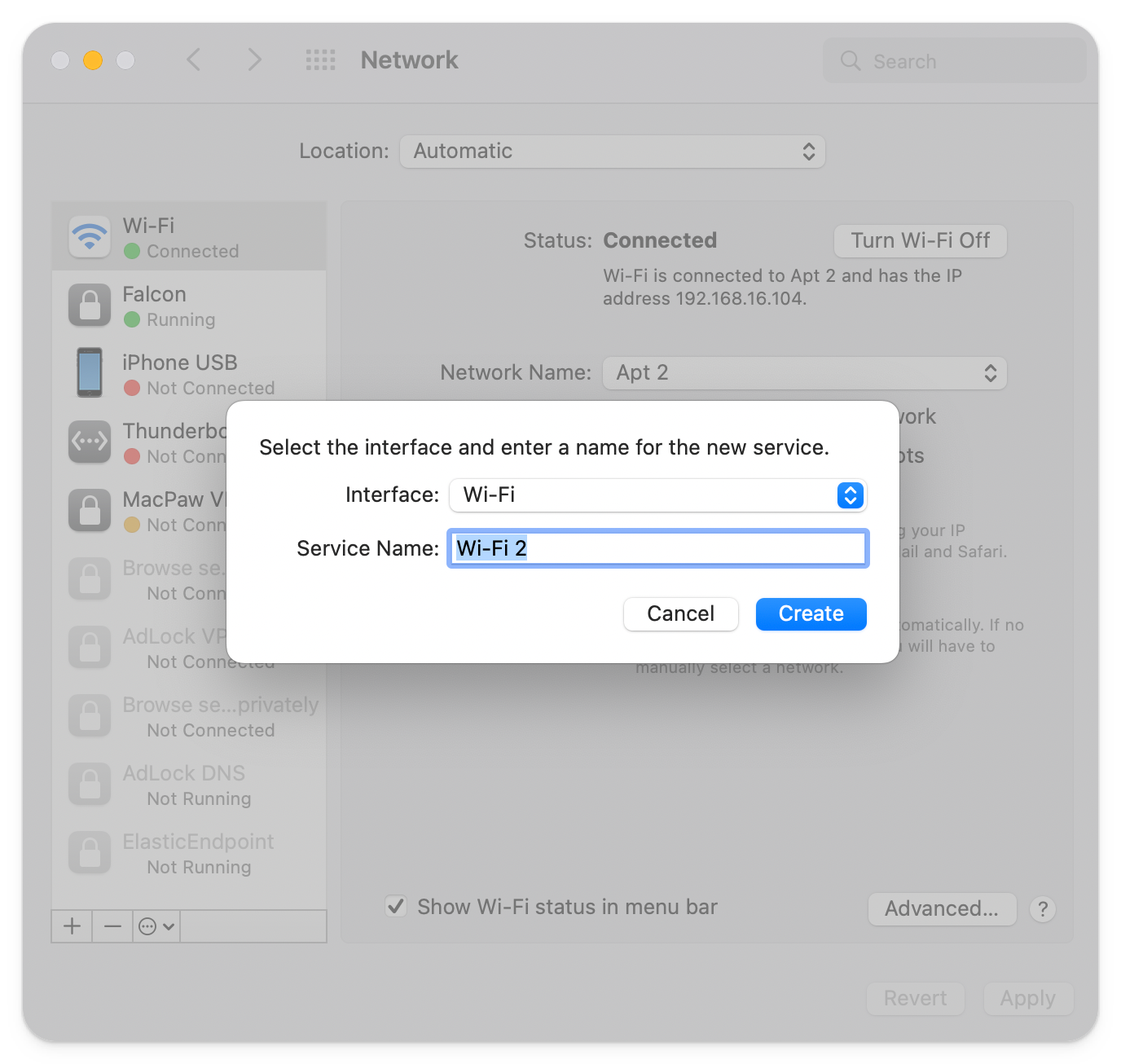 The CleanVPN app allows you to browse securely, especially if you're on public Wi-Fi. On top of that, depending on your location, the state of the network, and the app usage, ClearVPN provides shortcuts that address the reasons why you choose a VPN in the first place. Whether you want to access content, surf safely, or maintain your privacy, ClearVPN enables you to explore all the potential of each online adventure.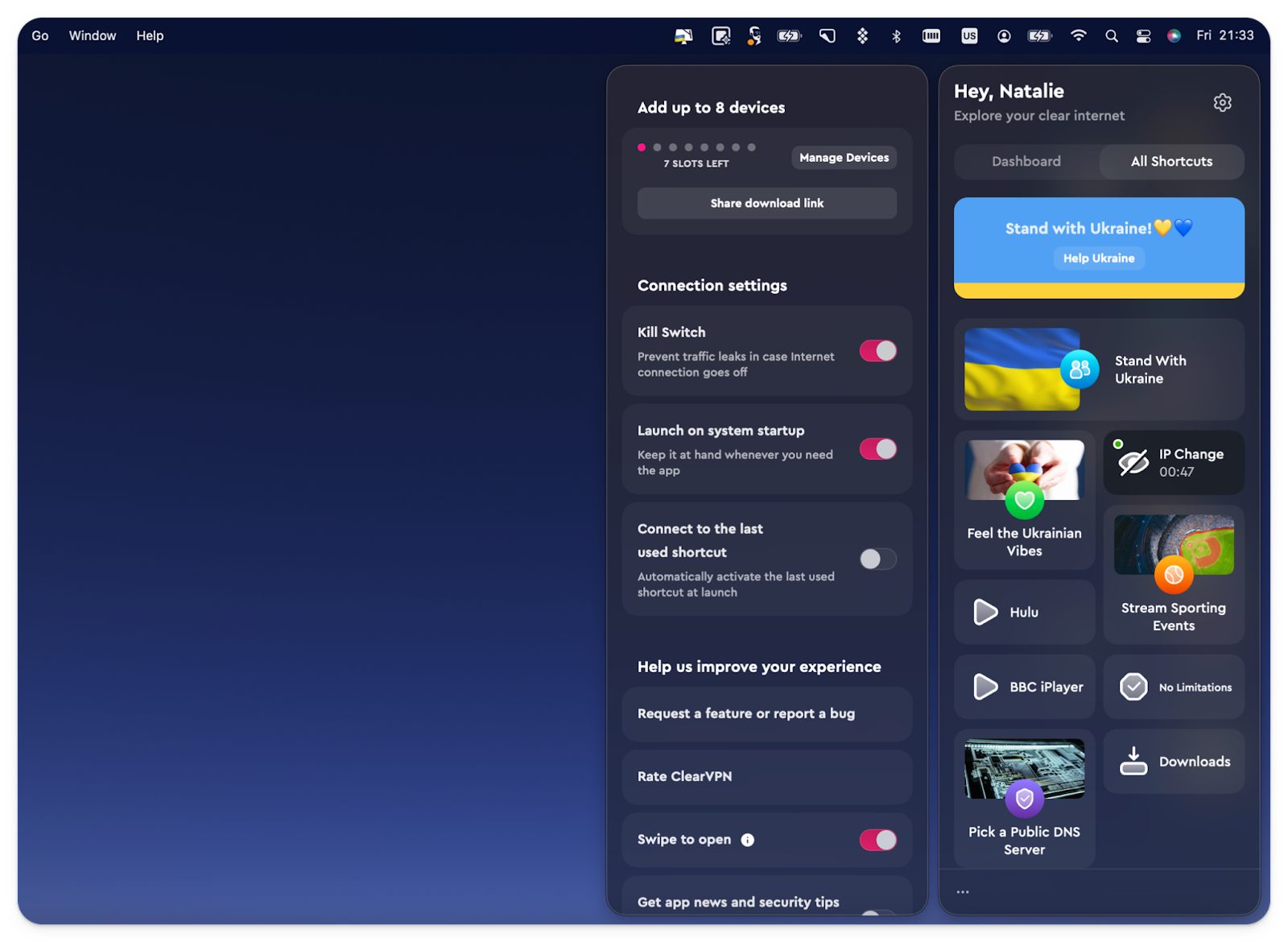 If you forget to use VPN, don't worry. Install Pareto Security for essential security checks on your Mac.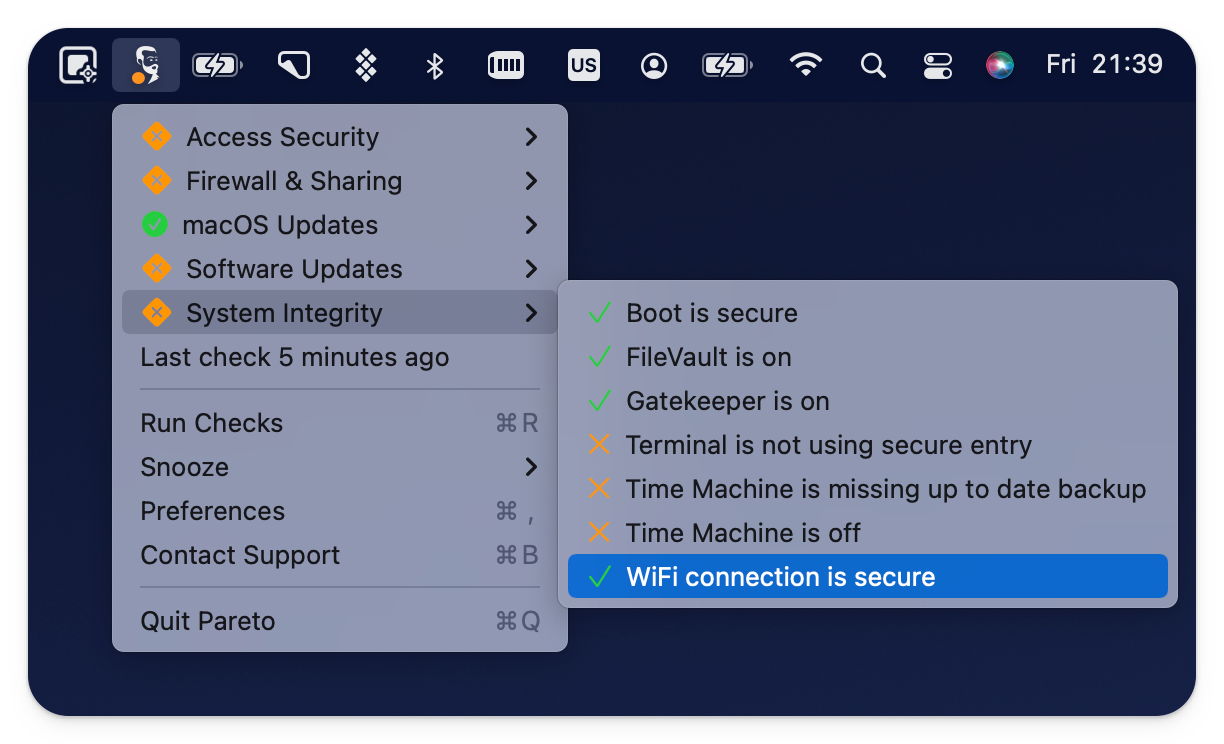 Get a new DHCP lease
Many connection problems, including the Wi-Fi not configured Mac error, can be fixed by updating your IP address. Fortunately, it's not difficult to do. Follow the steps below:
Choose the Apple Menu > System Preferences > Network
Choose your Wi-Fi network from the list and click Advanced
Then click the TCP/IP tab
Locate the Renew DHCP Lease button and click on it
And finally, click OK.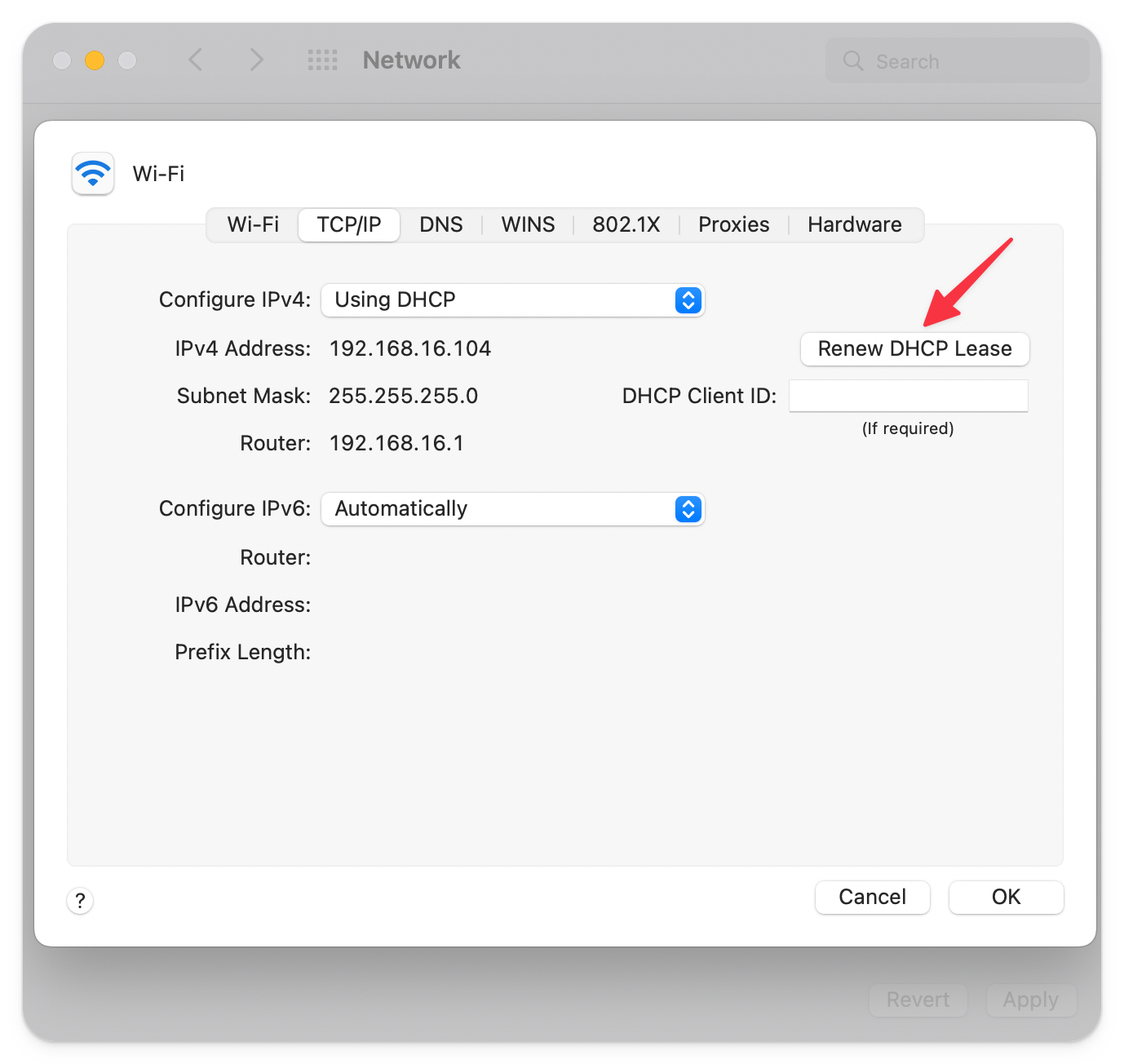 Hopefully, this fixes the issue.
Reset NVRAM
On Macs with Intel-based processors, resetting the nonvolatile random-access memory (NVRAM) can fix Wi-Fi connectivity problems. This is how you do the reset:
Choose the Apple > Shut Down
Then turn your Mac back on and press Option + Command + P + R keys at the same time
When you hear the startup sound/see the Apple logo, or after 20 seconds, release the keys.
Reset the SMC
You can also restart your SMC (System Management Controller) on Macs with the Intel processor. This is how you do it:
Remove the power cable and shut down your Mac
After waiting 15 seconds, re-plug the cable
Then power on your Mac after waiting at least 5 seconds.
Although it's not technically feasible to reset the SMC on M1 chips, Apple claims that restarting your Mac after a complete shutdown and waiting 30 seconds would have a similar effect.
If the issue persists, you might need to fix the malfunctioned Wi-Fi adaptor in an Apple-approved facility.
Get the right tools to fix "Wi-Fi: not configured"
You won't be able to connect to your Wi-Fi network if your MacBook's Wi-Fi isn't properly configured. To fix the issue, you don't need to follow any complicated steps. For example, running Maintenance Scripts in CleanMyMac X requires just a few clicks. If it doesn't help, you can then restart your computer in Recovery Mode, reset SMC & NVRAM, etc.
Once your internet connection is back, don't forget to try WiFi Explorer to identify the Wi-Fi network that works the best and fix future Wi-Fi problems with one scan.
Keep in mind that the apps mentioned in this guide (CleanMyMac X, WiFi Explorer, Pareto Security, and ClearVPN) are all available via Setapp, a platform that gives you access to more than 240 tools to find the quickest solutions to almost any problem on your Mac. With Setapp, you can access hundreds of tools for a low monthly charge ($9.99 per month), unlike the Apple App Store where you must purchase each app separately. The best thing: you can use the Setapp apps for 7 days free. Why not give it a try?