How to connect your MacBook to TV
A big shift of today is that we find and watch most of the video content online. At the same time it's often that we also own a big flat screen on the wall — ready to offer a much more rewarding viewing experience. So why not learn to share screen MacBook to TV?
Once you know how to connect MacBook to TV, you can stream movies from your laptop, show photos, or simply enjoy a larger display for work.
There are a couple of ways to connect your Mac and TV. Depending on which suits you better, you might require a cable, an Apple TV box, or a specialized app to establish a connection. Assuming you're also interested in better picture and sound quality when you play videos, we'll also discuss ways to enhance your experience as a movie fan.
How to mirror Mac screen to your TV with one click
Screen mirroring MacBook to TV lets you watch the content on your Mac on a big screen. The easiest way to do it doesn't require cables, remotes, or any other additional devices to work smoothly. If you're looking for one app that lets you cast to TV easily and in great quality, try JustStream.
JustStream gets the content you want to the big screen so easily, you'd never think about how to connect MacBook to TV again:
Launch JustStream on your Mac
Turn on your TV and make sure it's on the same WiFi network as your Mac
Choose the device to stream to from the list of available devices
Hit Start Streaming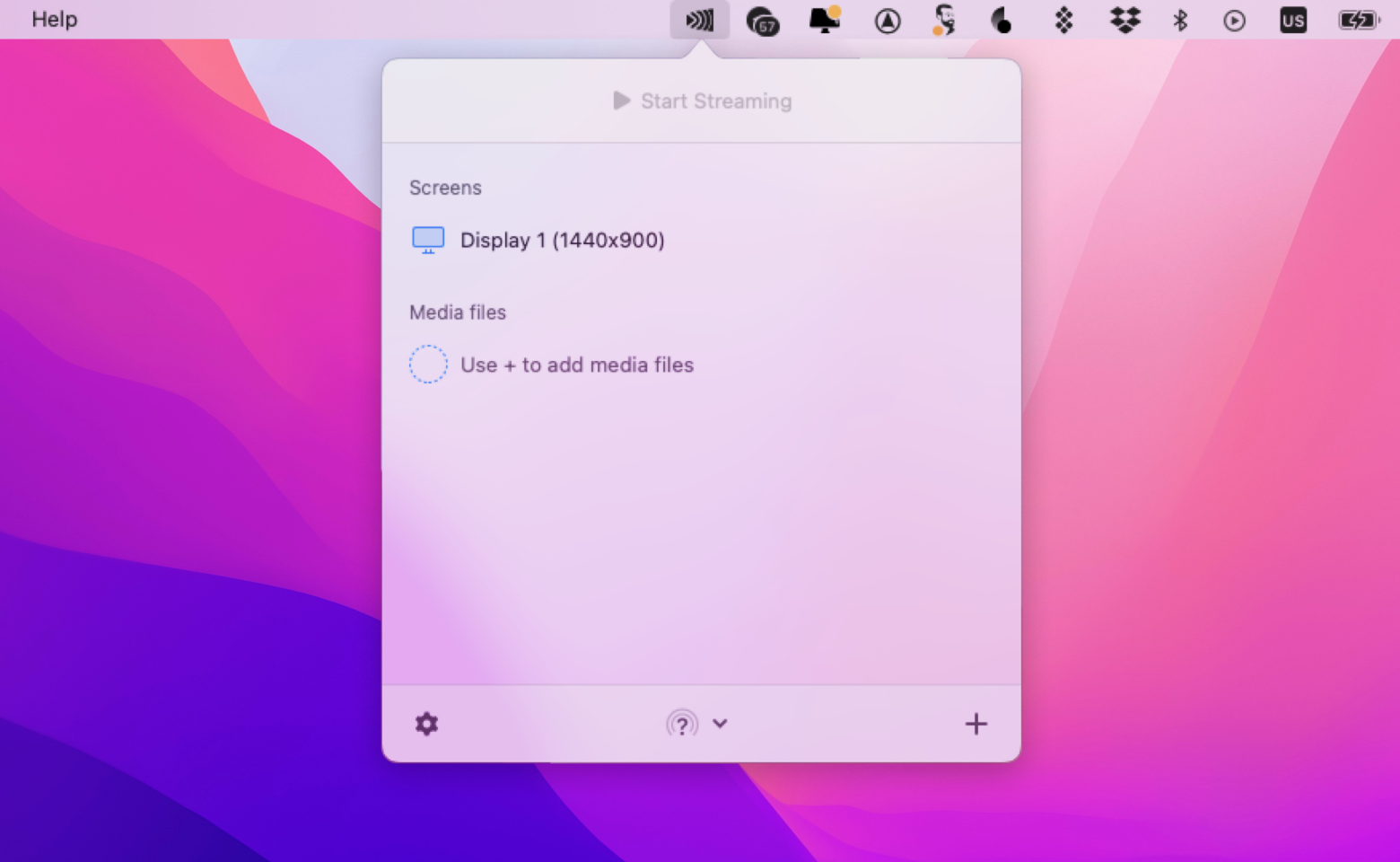 JustStream is also an excellent choice to make sure that files you play on your Mac will play on TV:
It works with every major TV brand and is one of the best apps in terms of compatibility
It casts video files in any format
It supports 4K and HD resolutions to ensure great video quality
It picks up external and embedded audio, delivering the best sound
It lets you add subtitles and scale your display to get the best quality
How to connect MacBook to TV with cables
To connect your Mac to a TV screen, you need a video cable that connects the video input port on your TV with a Thunderbolt port, HDMI port, or DVI port on your MacBook.
If you don't have a cable that works with a port on your Mac, you'll have to look for an adapter. For instance, if you're wondering how to connect Mac to TV HDMI, there are adapters that help you connect Mac's USB-C port and Mini DisplayPort to an HDMI cable.
Once you've connected one end of the video cable to the TV's video input port and the other one to your Mac's port (with an adapter, if necessary), you also need to make sure your Mac can send audio as well as video to your HDTV. To do this:
Go to System Settings in the Apple menu
Choose Sound ➙ Output
Choose your HDTV from the list of devices, or choose a different device from the list if you'd rather have audio played on your computer's speakers or on your sound system receiver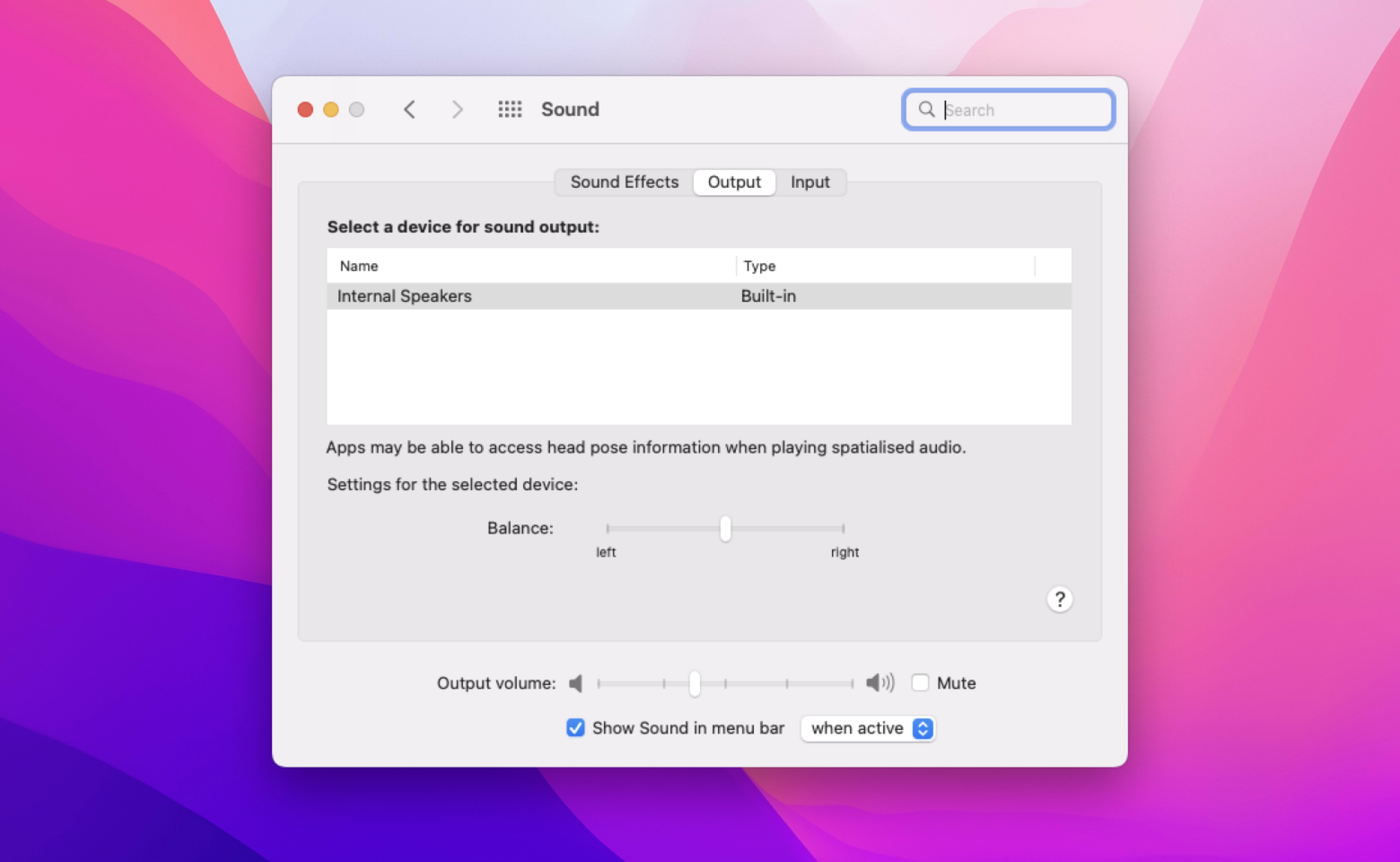 How to connect MacBook Pro to TV wirelessly
You can skip the cables when figuring out how to cast from MacBook to TV and connect wirelessly, if you own an Apple TV or an AirPlay 2 enabled TV.
Your Apple TV is already connected to your TV with an HDMI cable, so you can use AirPlay to stream your Mac to a big screen. Here's how to how to mirror MacBook to TV in this case:
Make sure your Mac and Apple TV are connected to the same WiFi
Go to Control Center in the menu bar on the upper right of your screen
Choose Screen Mirroring ➙ Apple TV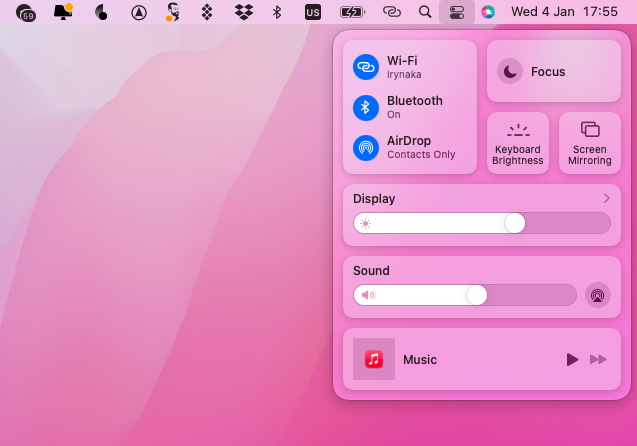 Now your screen will show up on the TV. To stop mirroring, all you need to do is go back to the Control Center on your Mac and click on Apple TV in Screen Mirroring.
It's also possible to stream wirelessly from Mac to certain smart TVs if they have built-in Apple TV support. Those include certain TVs from Sony, Samsung, LG, and Vizio, as well as devices from Chromecast and Amazon.
Bonus tip: enhance your video experience
If you like movies and watch a lot of videos, chances are that your primary interest in how to project MacBook to TV is enjoying your experience more. And there are great ways for you to achieve this.
For instance, try Movie Explorer Pro if your movie collection is something dear to you, or you simply like to have your video files properly cataloged and easy to navigate.
Movie Explorer Pro is a smart library app for Mac that brings all your favorite shows, movies, and videos together in a system, tailored exactly to your liking and interests:
Have all video files on your Mac (MP4, MKV, M4V, AVI, and other known video file formats) indexed, instantly checked against the TMDB data, and aligned with movie titles
Use barcode scanner to add old DVDs, HDs, or any other disks you'd like to be included in your collection
Customize the sidebar by adding your own filters, such as your personal ratings, festival awards, or release date
Come up with watchlists to prioritize what you want to watch or create thematic collections
Share personalized lists by exporting to PDF, HTML, and CSV or instantly share a specific movie via Mail, AirDrop, or Notes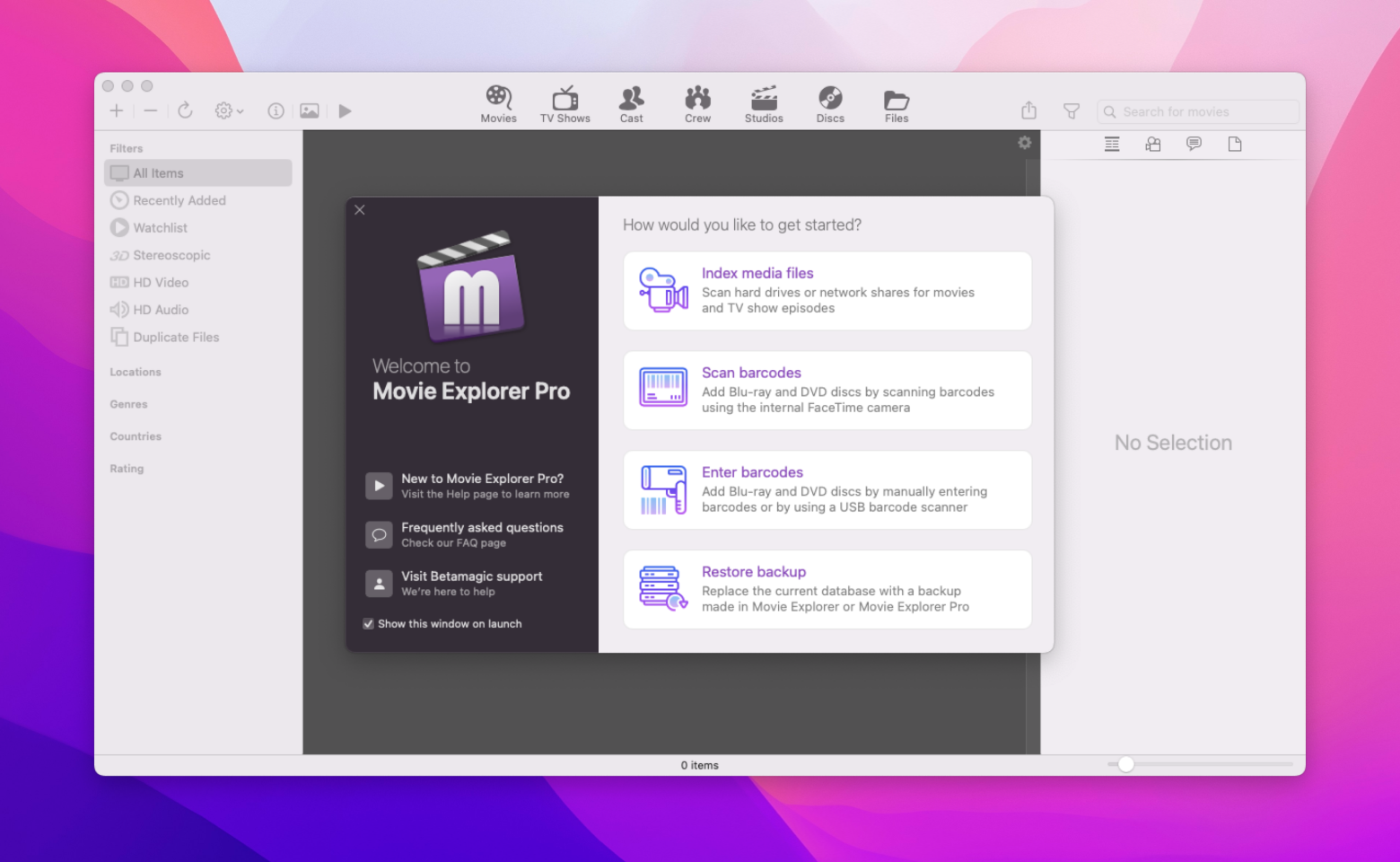 If you want to always rely on your video player to give access to all video formats, choose Movist Pro with built-in support for hardware accelerated decoding.
Movist Pro lets you create customizable keyboard shortcuts and gives you all the necessary controls to watch the way you personally like it:
Adjust the picture as you watch with the onscreen control panel (choose video quality and size, apply filters, decide on dark and light themes, etc.)
Improve your non-HDR screen performance with HDR tone mapping technology to adjust color
Personalize subtitles choosing from various formats and settings available, including multiple languages, letterboxes, or even have the app read then for you
Create playlists and let Movist autofill them with matching files
Watch videos right from your browser with Safari extension in the Pro version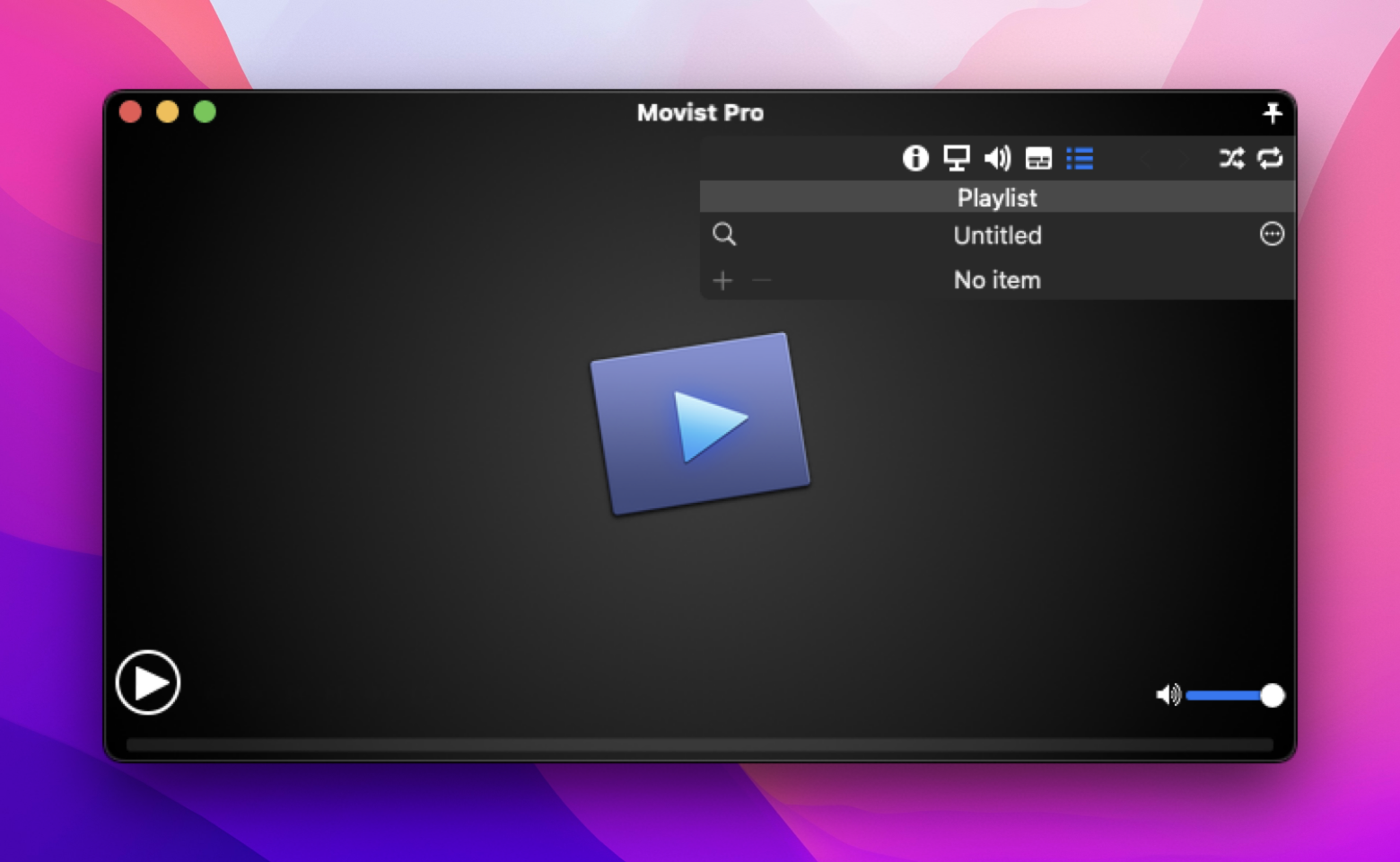 Another great option when you're deciding how to cast from MacBook to TV is Elmedia Player. It's a versatile media player that can help you immensely improve your viewing experience and stream from Mac to the big screen with a few clicks.
Elmedia Player lets you play local and online video in various formats, manually set up best sound and picture quality, and enjoy favorite movies to the fullest:
Adjust brightness contrast, saturation, hue, sharpness, and sound even during playback with the integrated video tuner and sound equalizer
Match audio to your picture perfectly
Bookmark places in your video you'd like to rewatch later or create a continuous loop to enjoy the favorite moment for as long as you wish
Watch full screen or pin your playback on top of other windows to multitask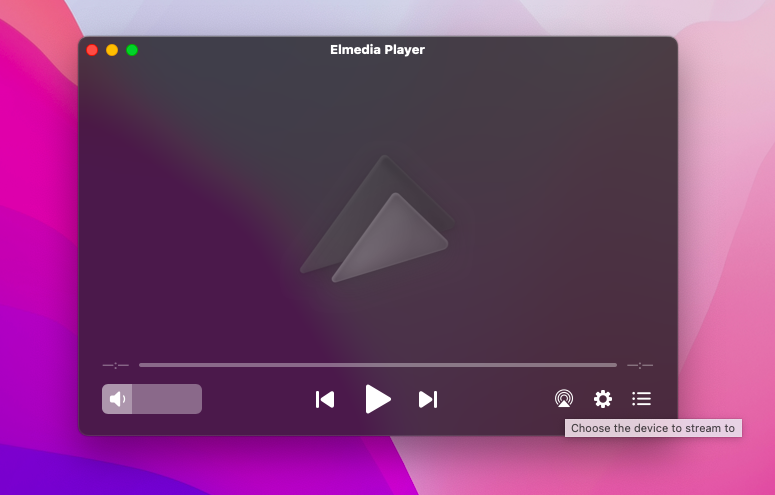 Share screen MacBook to TV: enjoy your videos on big screen
No matter how great a movie is, watching it on the big screen enhances our experience immensely, no question about it. The easiest way of screen mirroring MacBook to TV is through Apple TV AirPlay. Or you can try connecting your Mac to TV with cables — also a great method, as long you have the right cable and/or the right adapter to your cable. If, however, you don't own an Apple TV and aren't a big fan of cable connections, there are awesome apps you could try as an answer to "how to cast from MacBook to TV?"
Check out JustStream and Elnedia Player to stream from your Mac in a few easy clicks. Choose Movist Pro to play all video formats and Movie Explorer Pro to curate your very own video collection with playlists you can share.
To find out how to connect MacBook to TV the way that works best for you, don't miss out on a chance to try JustStream, Movie Explorer Pro, Movist Pro, and Elmedia Player for free with the seven-day trial of Setapp, a platform of high-performance, best-in-class iOS and macOS apps. Share screen MacBook to TV and check out more than 240 other options to boost your productivity.