Capto: Capture and Edit Screen Records Easily
Capto is a robust, unobtrusive screen capture app for the mac. Not only does it make screenshots and recordings effortless, it also offers a handy set of tools for organizing and editing what you capture.
How to capture screenshots and record screen video with Capto
Capto allows you capture fullscreen, areas, windows and floating panels, as well as record screencast with voice comments through microphone, add computer audio and record camera video. You can seamlessly add audio, trim and crop, and add text and arrows to video and screenshots. The app will automatically sort your recordings into folders so you'll always have your work at your fingertips. Plus, it makes sharing your videos on popular social platforms effortless.
Here's how to get the most from it.
Take a screenshot
Capturing a screenshot is simple. Just click one of the buttons at the top of the screen. You can choose to capture your whole screen, or click the "Area" button and drag to capture just a segment. Smart "menu" and "web" buttons will capture only those parts of your screen.
Once you capture an image, it will be sorted into "smart collections," but you can also manually add it to other collections as needed.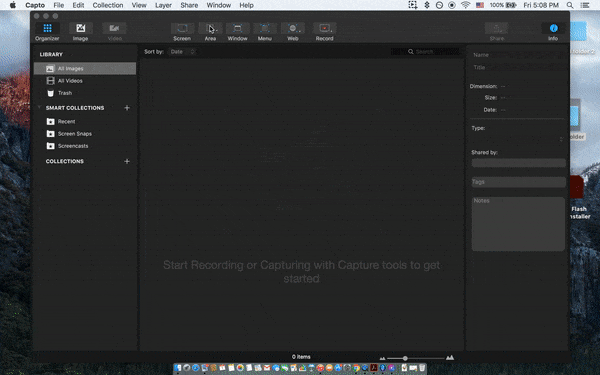 Record your screen or area
Screen recordings can be very useful for tutorials. Your audience sees exactly what you see. To start recording your screen, hit the "Record" button and select "screen". Once you've finished what you want to record, hold down command+shift+Esc.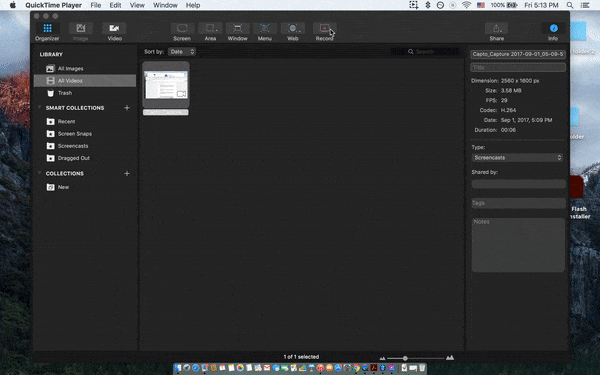 Some of us are cursed with a cluttered desktop, but the app offers an easy way to make sure your audience never suspects a thing. You can hide the contents of your desktop by going to the second "Record" window and checking the "Hide Desktop" box. This gives you a smooth backdrop for your recording, letting you save the cleanup for another day.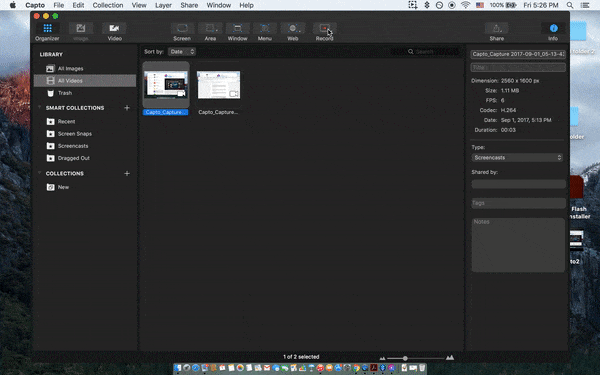 Edit video records
It can be hard to get everything right on the first take. You may want to add a crisp audio track that you record later, or make some annotations on an image.
That's where the app's editing suite comes in. It offers a wealth of options for finalizing your work, whether it's trimming and splicing screen recordings into a longer video or just adding text to a screenshot. You can even crop the dimensions of a video after you've finished it.
Take some time to explore the tooltips available in the photo and video editor and you'll see how many choices you have.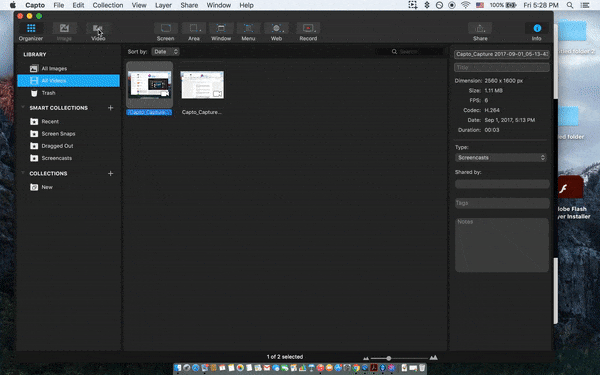 Organize screenshots and records, and share them easily
As mentioned above, the app will automatically sort your screenshots and recordings into smart collections. You can also create custom collections of your own. You also have the option to directly post your finished recordings and screenshots to Twitter, Facebook, and other popular social sites.
When it's time to post your work, simply click the "Share" button and select the platform you'd like to publish to. You can set authorize the app to post to your social media accounts with the "Configure" button.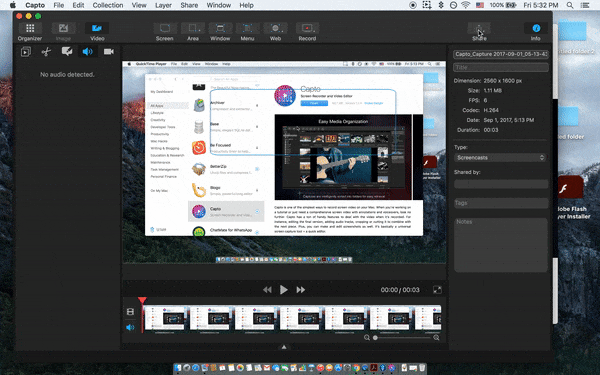 Capto app offers strong functionality and some slick workarounds, giving you the power to record your screen and edit your work in one convenient place. Screen recordings can stack up fast, though, so make sure you're taking advantage of the organizational tools the app provides.