How to screenshare on a Mac computer remotely and locally 2023
A picture says a thousand words and when you are trying to demo your product, explain your issue, or otherwise share with others what's going on on your Mac's screen, screen sharing is exactly what you need.
We've explored various ways to share your screen on Mac, and hope that after reading this post, you'll be fluent in desktop sharing on your Mac and feel confident in your skills to do it seamlessly.
What is screen sharing on a Mac?
Screen sharing is the process of broadcasting what's on your screen onto a different device. It's most commonly used to discuss a project, provide a walkthrough, show a demo or a presentation, display a design or layout you've been working on and the other person doesn't have the software to view. There are many more situations when screen sharing can be useful, so let's figure out how to share a screen on Mac with built-in as well as various handy third-party tools.
How to screenshare on a Mac computer
When you need to share a screen on your Mac, you have a few options. If you are sharing your screen with someone on the same network, you can go through the Sharing menu in System Preferences, to share a screen with your Messages contacts you can use the app's native tool.
Let's start with the basic built-in Mac screen sharing option that's available through a simple Spotlight search. To access Mac's built-in screen sharing functionality, follow these steps:
First, request a screen share from a Mac user — click on the search icon in the top right corner of the Menu bar to open Spotlight.
In the Spotlight search bar, start typing "screen sharing" until you see the Screen Sharing option in the drop-down suggestions. Click on it.
In the pop-up window, type in the hostname or Apple ID of the person/device you want to share your screen with and click Connect.

Next, a pop-up prompt on the device which screen you want to access will inform the user that you'd like to view their screen. After they click Accept to proceed with the connection, they get a window with sharing options — to allow the remote user to either control or just observe your screen. After picking one, they need to click Accept.
How to share your screen on the same network
If you want to share your screen with another device on your network, the Sharing menu in the System Preferences of your Mac should help. Here are the steps:
Click on the Apple menu icon in the top left corner of your screen and select System Preferences… in the drop-down menu.
In the preferences window, find the Sharing icon and click on it.
In the pop-up window, put a checkmark next to Screen Sharing: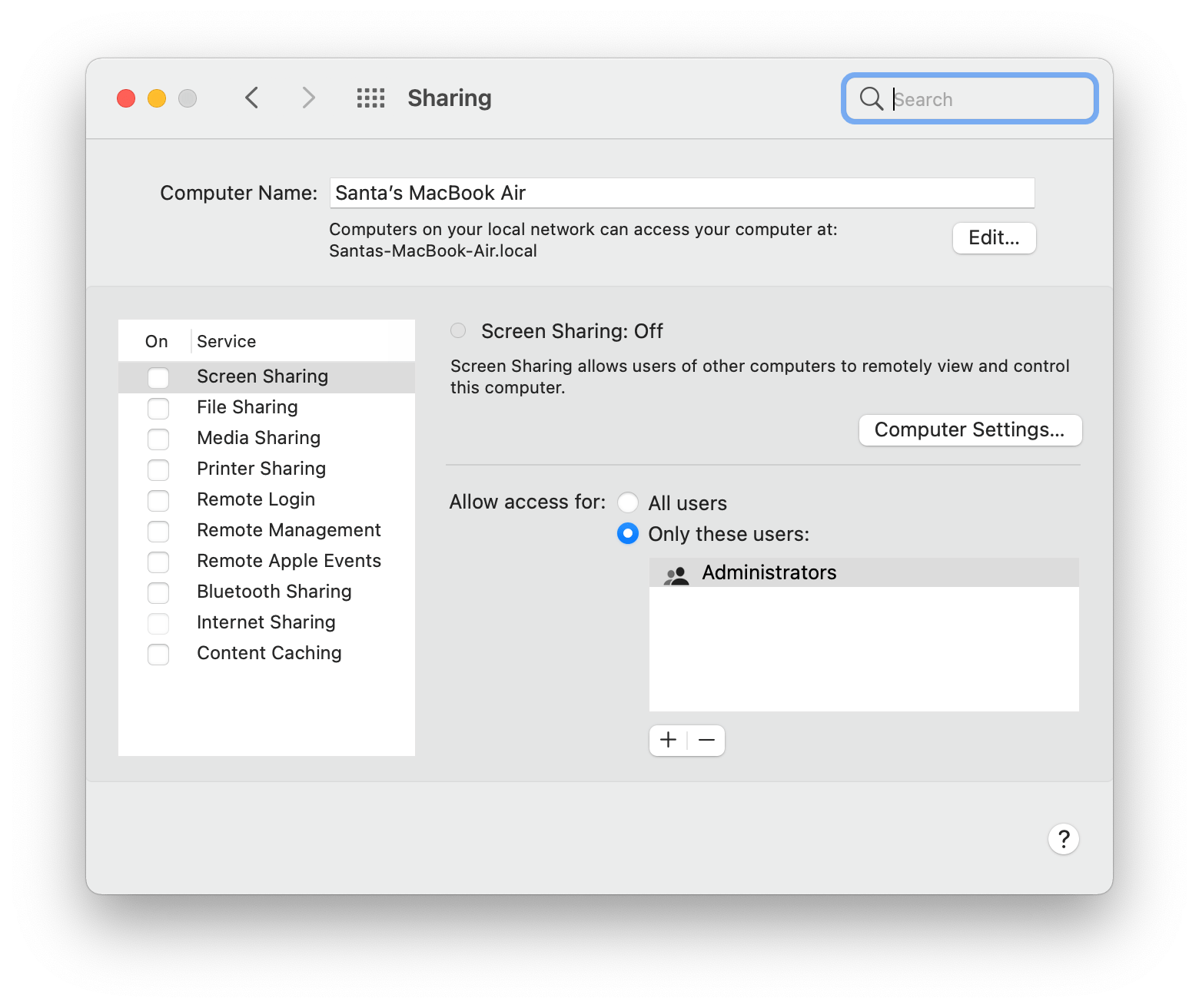 Copy the vnc address that will appear under Screen Sharing: On, which will later be needed to enter on the device where you (or another user) plan to view your screen.
In the Sharing window shown above, you can manage which users can view your screen — all users or only select users you add.
Note that if Remote Management is selected in the above list, deselect it as it competes with the Screen Sharing.
On the device where you plan to view the screen, open Finder > Go.
Click Connect to Server… and enter the vnc address of the Mac you want to view the screen of (as discussed in Step 4).
Press Connect.
How to screenshare on a Mac using iMessage
You can also screenshare on Mac using the built-in Messages app. To share your screen with one of the contacts or invite a contact to share their screen with you, open the app and click on Conversations in the top Menu bar.
Select Invite to Share My Screen. Alternatively, if you want to view your contact's screen, select Ask to Share Screen).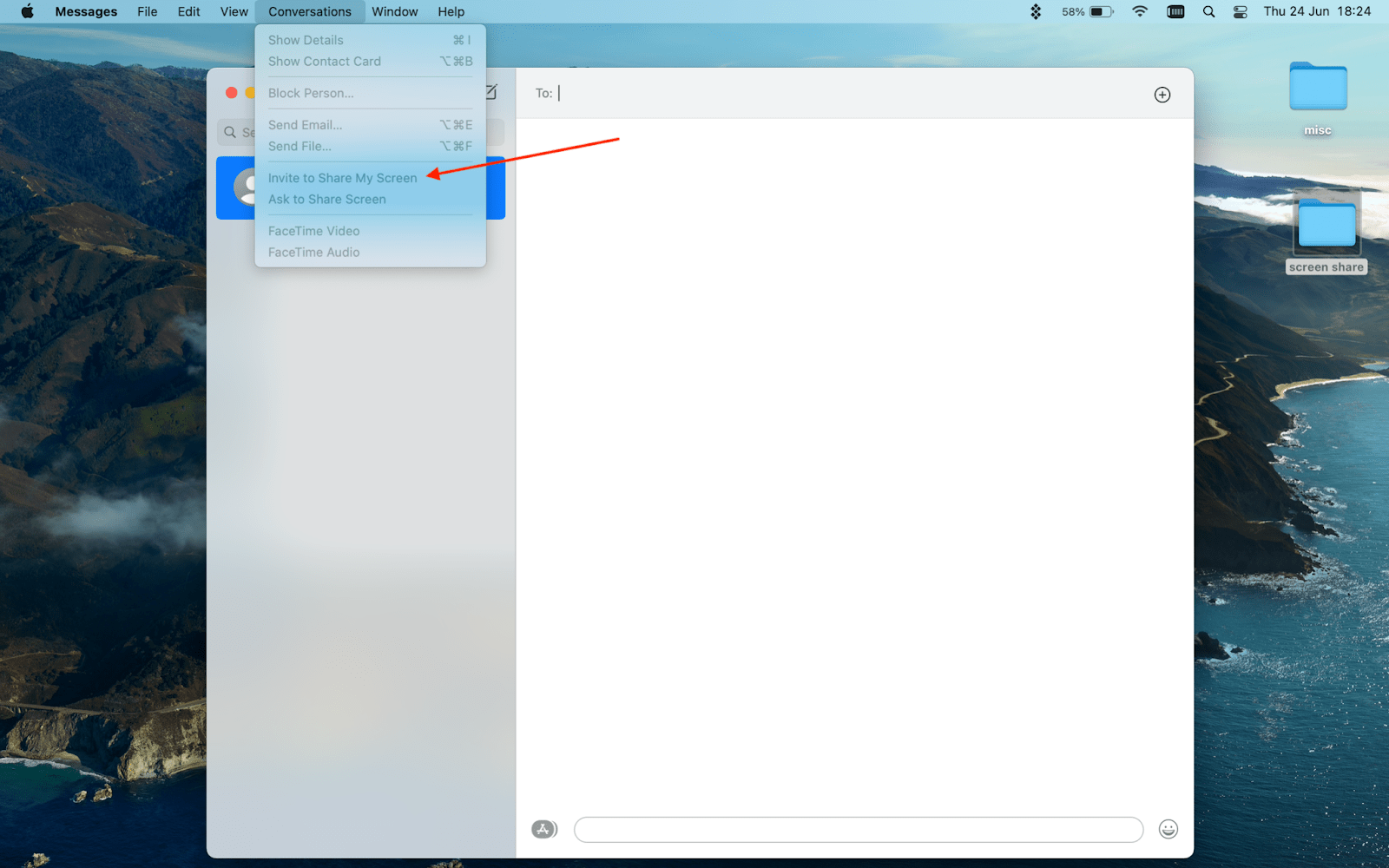 Once screen sharing is accepted by your contact, an audio call also starts to allow you to chat along as you share your screen.
Edit your display for screen sharing
If you are wondering how to screenshare on a Mac and be able to edit your display, you can use Screen Sharing Preferences menu to set your selection. These settings are available for the built-in screen sharing tool that you are opening through Spotlight.
To adjust preferences, go to Screen Sharing > Preferences in the top Menu bar while using Screen Sharing.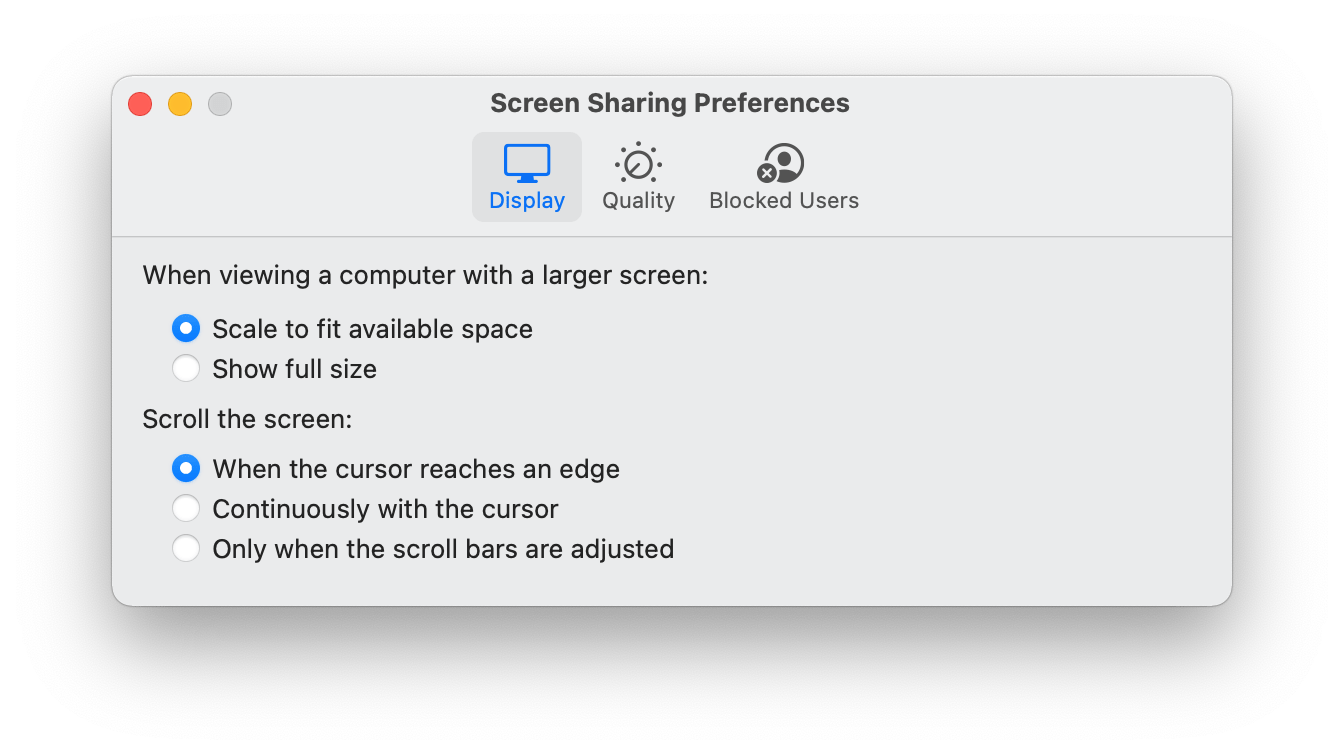 You can choose to scale your screen share or broadcast full size. You can also adjust scrolling options as seen in the screencapture above.
Set your display view options
After you enable screen sharing on your Mac through the Sharing menu in System Preferences, use the View menu to set your view options.
You can choose to show or hide the tab bar, turn scaling on or off, switch between observe and control modes, select adaptive quality if network connection is slow or uneven, or go for full quality for the fullest resolution.
Add more power to Mac screen sharing
While the built-in Mac VNC (virtual network computing) solutions do all the basics well and will work for those who just need to peek at their remote Macs once in a while, it doesn't really address the needs of those planning to screen share on Mac or PC on a regular basis. Luckily, there are some outstanding third-party apps that make this type of work easy.
Screens is the first app that comes to mind. Just like Mac's built-in tools, it lets you connect with your Macs from anywhere but has a few robust features on top.
First of all, it adds PCs to the roster, which dramatically expands your options. Lots of us work both on Macs and PCs, and Screens opens a way to connect to Windows-based computers very easily. Other useful features in the app include the ability to use multiple displays and the handy curtain mode to obscure your remote machine's display while you access it.
With Screens, even shortcuts can be rewritten — this can be particularly helpful when you switch from Mac to Windows and your muscle memory is dead set on the old shortcuts. Plus, just like in the built-in tools, with Screens you can share files between your remote computers (simply drag-and-drop) and even the stuff you've saved to your clipboard can be pasted on the connected device.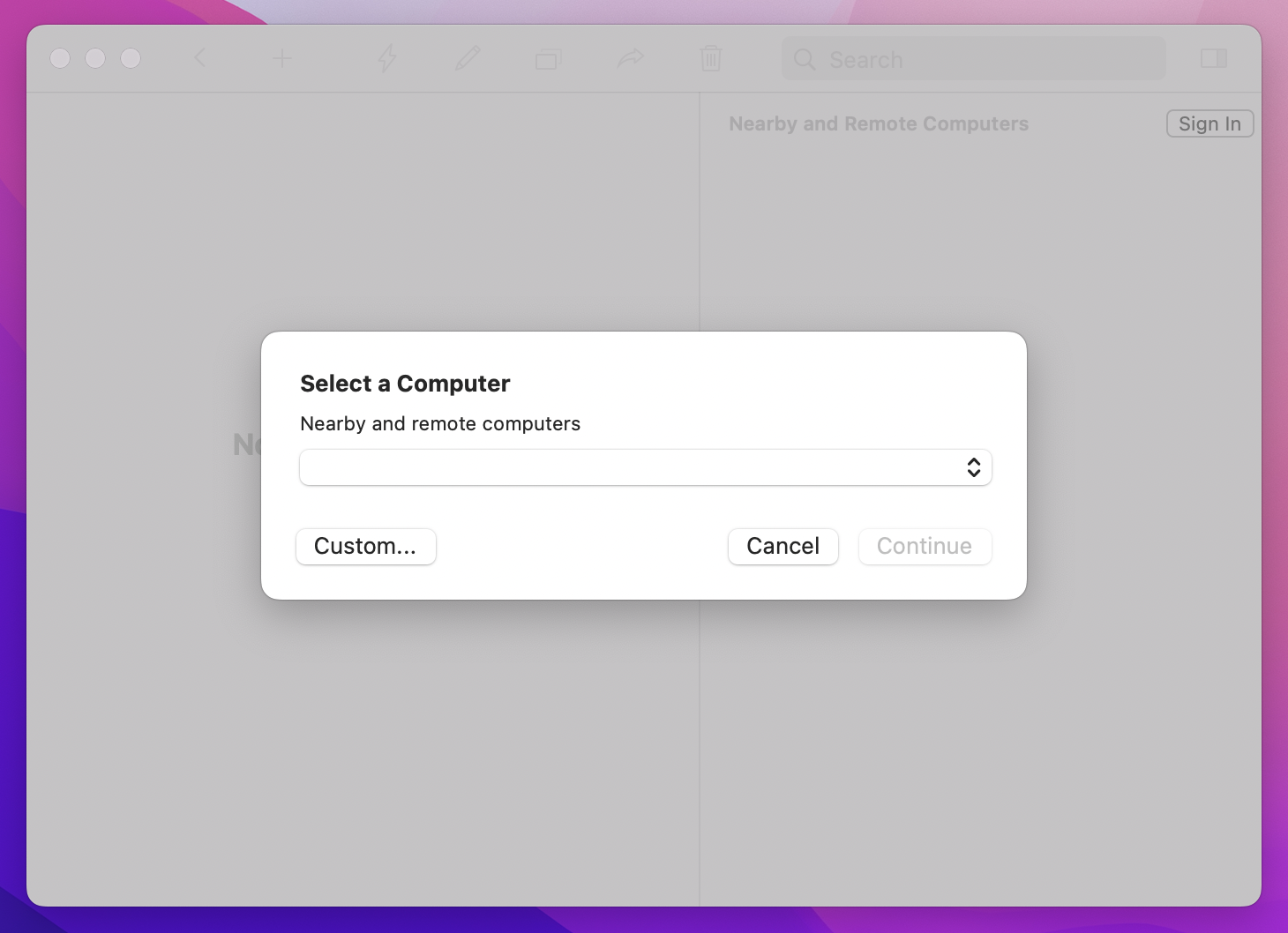 Another VNC solution you can try is Jump Desktop.
This remote desktop utility helps you access a home Mac or PC, work with the files stored on a remote machine, send and receive stuff, monitor remote desktops, all while having little impact on your battery.
Whether you need to monitor remote computers or help your dad set up Zoom or Netflix, this snappy VNC app helps you do any of this with ease, regardless of your technical expertise level.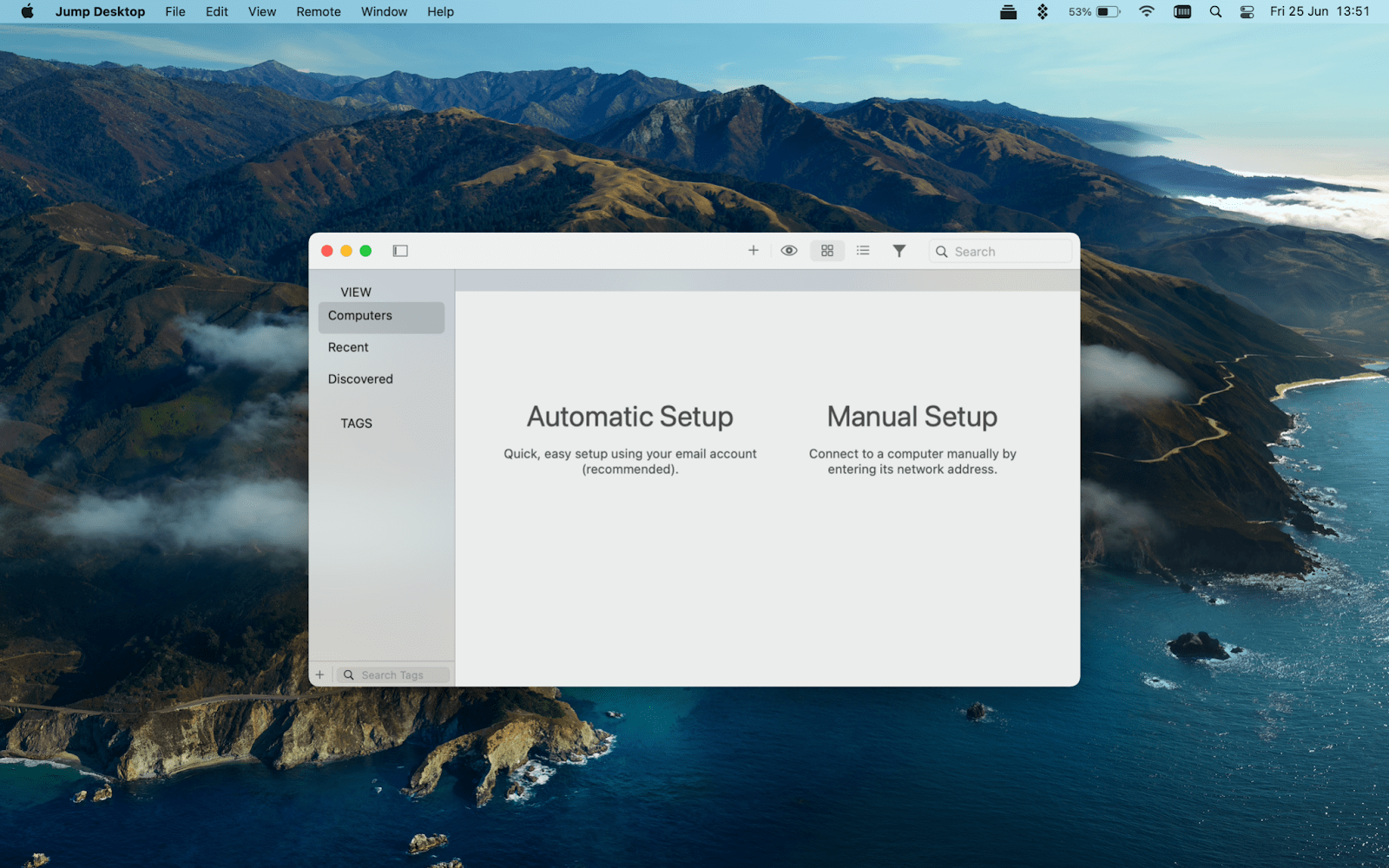 Other ways to share your Mac screen
If you've had to share your screen or view someone else's before, you might have encountered screen sharing features in popular apps like Zoom, TeamViewer, Skype, or Google Meet (this app calls it presenting, so instead of the familiar "share screen" look for "present now" option).
In Zoom, you can start sharing your screen either during a meeting or even right away from the app's interface: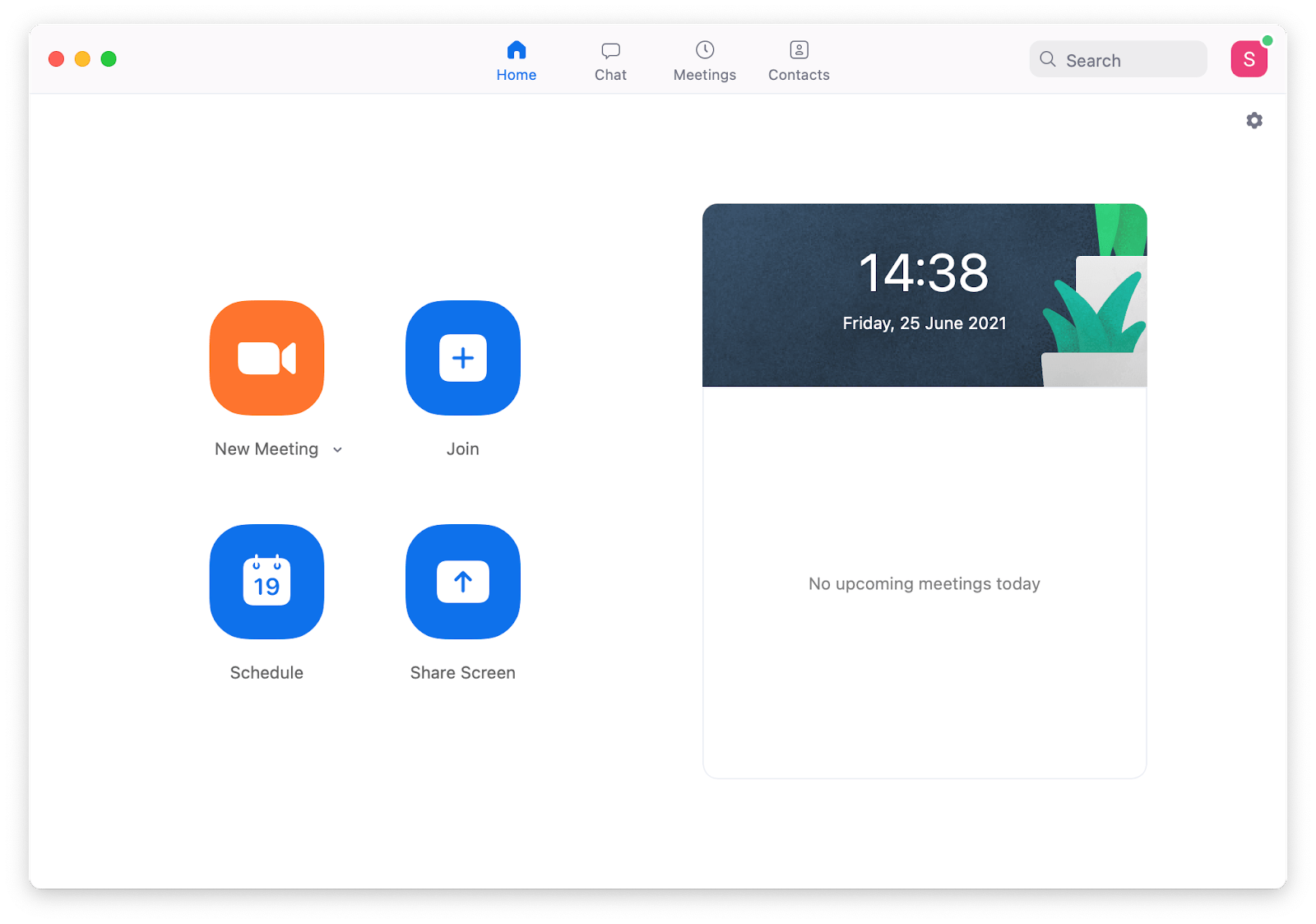 TeamViewer is a dedicated app just for screen sharing, it needs to be installed on both devices to work.
Zoom, Skype, and Google Meet are video conferencing tools first with the screen sharing feature built in for presentations, walkthroughs, brainstorms, etc. They will work wonderfully if you are already using them for a call.
Conclusion
We hope you've enjoyed our guide on how to allow and initiate screen sharing on Mac and are now empowered with multiple tools to share your screen in any situation and without a hitch.
As you can see, screen sharing functionality is at your fingertips in multiple places on your Mac, as well as in video conferencing apps, and dedicated screen sharing solutions that offer advanced features and dedicated functionality.
If you feel like expanding your screen sharing tool kit with some of the apps we've mentioned, namely Screens or Jump Desktop (or both), you can find them in Setapp. Yes, with Setapp, you don't have to choose — one subscription covers a plethora of tasks and you can browse more than 210 apps to get things done easy and fast with just the right tools. Build your own productivity collection using Setapp and next time, you won't have to wonder how to share my screen on Mac or do other tasks you need to make your daily flow more effective!
Get 240+ Mac apps for any job
Sign up to Setapp and try them for free.