The best scheduling apps for meeting and organizing
The days of having to use paper planners and calendars are far gone, and today we are not only relying on technology to store our meeting schedule, but ideally we'd like our calendar to work as our assistant too, maintaining and organizing our tasks, as well as reminding us of upcoming calls and due dates.
How to find the best scheduling software for Mac
Macs come with a native utility called Apple Calendar. Even though it's free, has a nice design, and integrates with macOS, it likely won't be able to cover all your scheduling needs because it lacks in-depth customization features and might feel barebone.
So if you want your calendar to be more than a computer version of a paper planner, you'll need to look beyond conventional tools. Let's take a look at the best scheduling apps you can use on your Mac to improve productivity and alleviate the stress of daily task management.
What makes a great meeting scheduler?
Some of the best scheduling software can help you instantly improve your workflow, increase efficiency, and provide more time to focus on completing the tasks at hand rather than spending it trying to organize them.
Here are a few essential features present in the most effective online scheduling apps:
Ease of use. A good schedule app for Mac needs to have a user-friendly interface so both you and your clients or colleagues could manage meetings in a convenient manner.
Integration capabilities. The meeting scheduler should be compatible with your existing calendar systems and be able to integrate with any other tools you use, like email and various video conferencing software.
Automation capabilities. Your appointment scheduling app needs to have the option to automate scheduling processes, such as suggesting availability, creating meetings, generating links, sending reminders and follow-ups.
Customization. You should be able to set your own preferred parameters like meeting types, platforms, durations, and other settings.
The best schedulers for Mac
There's no shortage of tools available out there, but choosing the right one for yourself or your business can be a challenge, since each app has its own unique features and benefits. Below is a list of meeting schedulers with the most integration and automation capabilities, as well as intuitive and smooth design:
Stay on top of your schedule with Dato
The devil is always in the details, that's why the smallest things can make schedule management smooth and perfectly organized. Dato is an appointment scheduling app that can do just that. With its simple interface and comprehensive schedule-management tools it lets you track and cruise your agenda making adjustments on the fly.
Dato is a convenient menu-bar utility that'll sync all your calendars into one, notify you of upcoming meetings, let you add events, join calls, and preview your schedule from one drop-down menu. Plus, Dato has the power to calculate time intervals in seconds and convert a specific time into different time zones with a quick slider. All so you can just relax, tune in, and be on time for the important things in your life!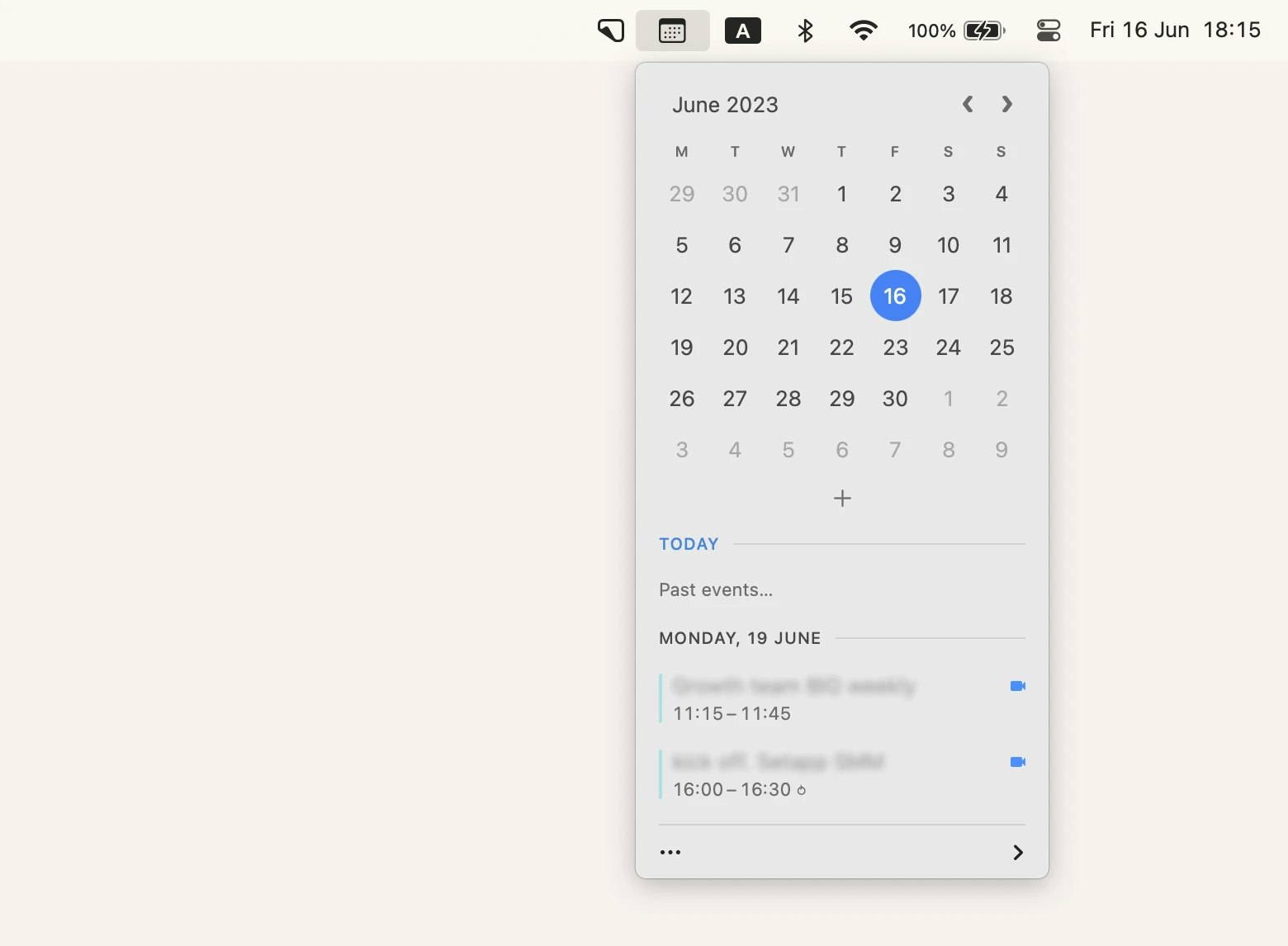 Create a visual timeline of your tasks with Structured
Even the most organized people could benefit from a little more order in their daily lives. Structured is the perfect scheduling app for business and personal use to boost productivity by creating tasks and adding systematic to-do lists. If you have no time to organize your tasks at the moment, use Structured Inbox to drop your tasks in and sort them later.
Think of Structured as your easy daily planner with all the right tools for mapping out and following your schedule. This app can also help reduce stress associated with big assignments, since it offers a way to create subtasks to split your large agenda items into smaller, more manageable steps.
Give yourself a rest by setting recurring tasks, picking icons to differentiate your projects at a glance, as well as using notifications during a busy day. Keep in mind that you can sync Structured across all your devices via iCloud too!
Never forget about meetings with In Your Face
Feeling nervous about a day full of meetings? Stay focused on your tasks without having to check the time left until your event – In Your Face alerts you with a full-screen reminder. The app blocks your screen just in time for the meeting. This makes it virtually impossible to miss the alert. Plus, you can check your schedule right from the menu bar!
Need exactly four minutes to get to the meeting room? Customize event alerts to suit your needs. In Your Face also has a collection of alarm sounds for you to choose from.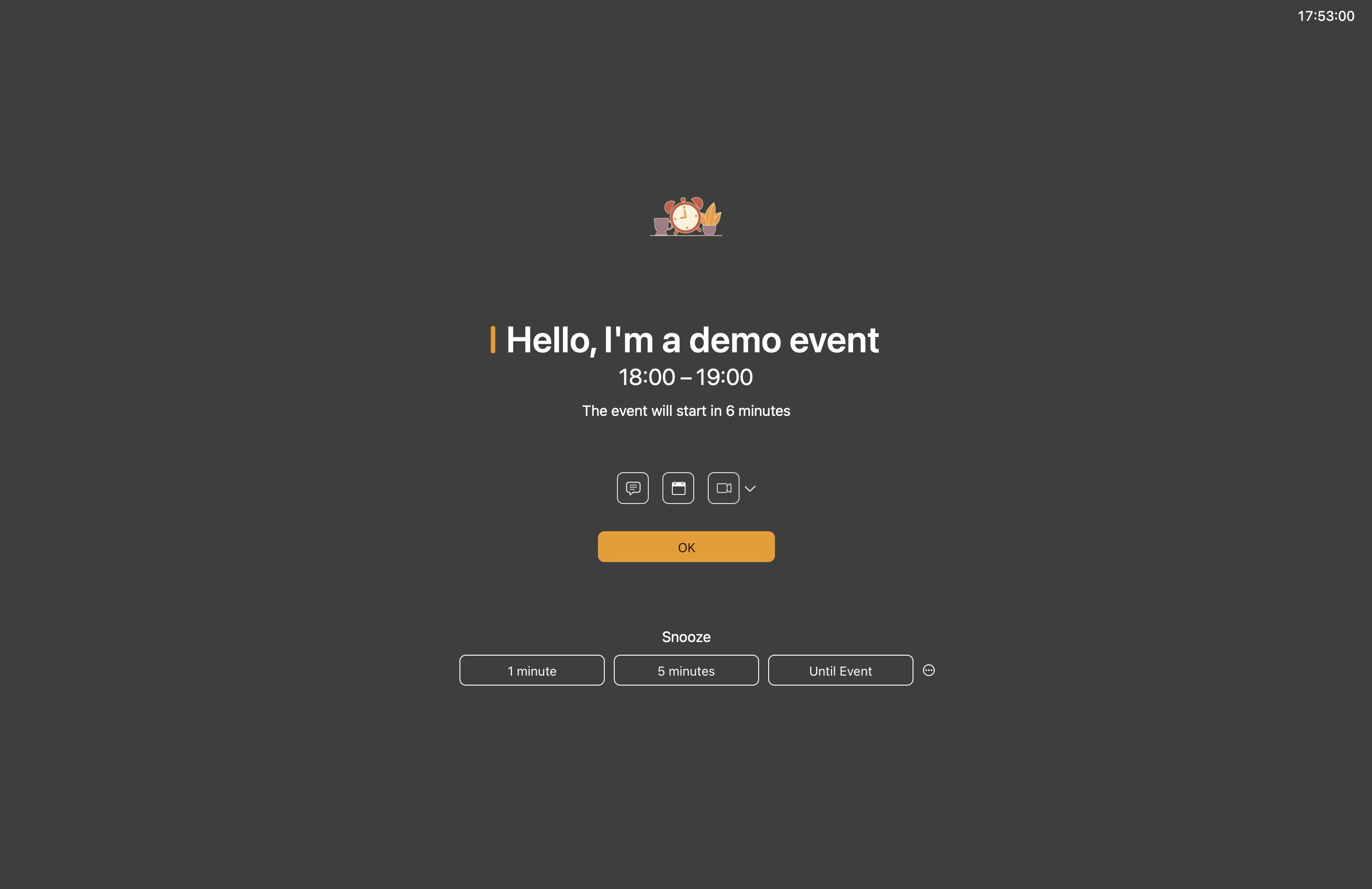 Tidy up your calendars with BusyCal
If you've ever felt like there aren't enough hours in the day, this macOS scheduling app is for you. BusyCal is a full-featured, information-rich calendar for Mac that lets you craft custom daily, weekly, and monthly views so you can manage your time the way you want.
While Apple's native Calendar app covers basic functionality like creating events, adding locations, and inviting others, that won't be enough for someone whose day is scheduled to the minute. Use BusyCal to integrate all your productivity into a single tool that works like a meeting scheduler and calendar, all in one.
BusyCal's features are tailored to letting you balance multiple appointments and multitask smoothly. Use its well-designed and flexible interface to track your travel time for face-to-face meetings, add to-dos, create and edit events with natural languages, and receive alerts in a custom format. Plus, you can easily divide your calendar between personal and work events and stay connected on the go with BusyCal for iOS!
Get clear and practical with WallCal
Aesthetics have become essential in everything from our social media profiles to work presentations. And calendars are no exception!
WallCal is a beautiful example of how one very functional schedule app for Mac can also add an elegant touch to your work station. This handy utility combines data from your existing calendars into a see-through calendar right on your desktop. From here you can personalize the view to see your day's agenda, the whole month, or even a set number of days. And if English isn't your preferred language, you can choose to use WallCal in Chinese, Japanese, or German too.
While WallCal offers a versatile toolkit for tweaking the appearance of your schedule and a way to always have it in front of you, it doesn't allow you to edit its contents. For this, you'll need to go back to the original calendar you've created the event in or use a whole different online scheduling app.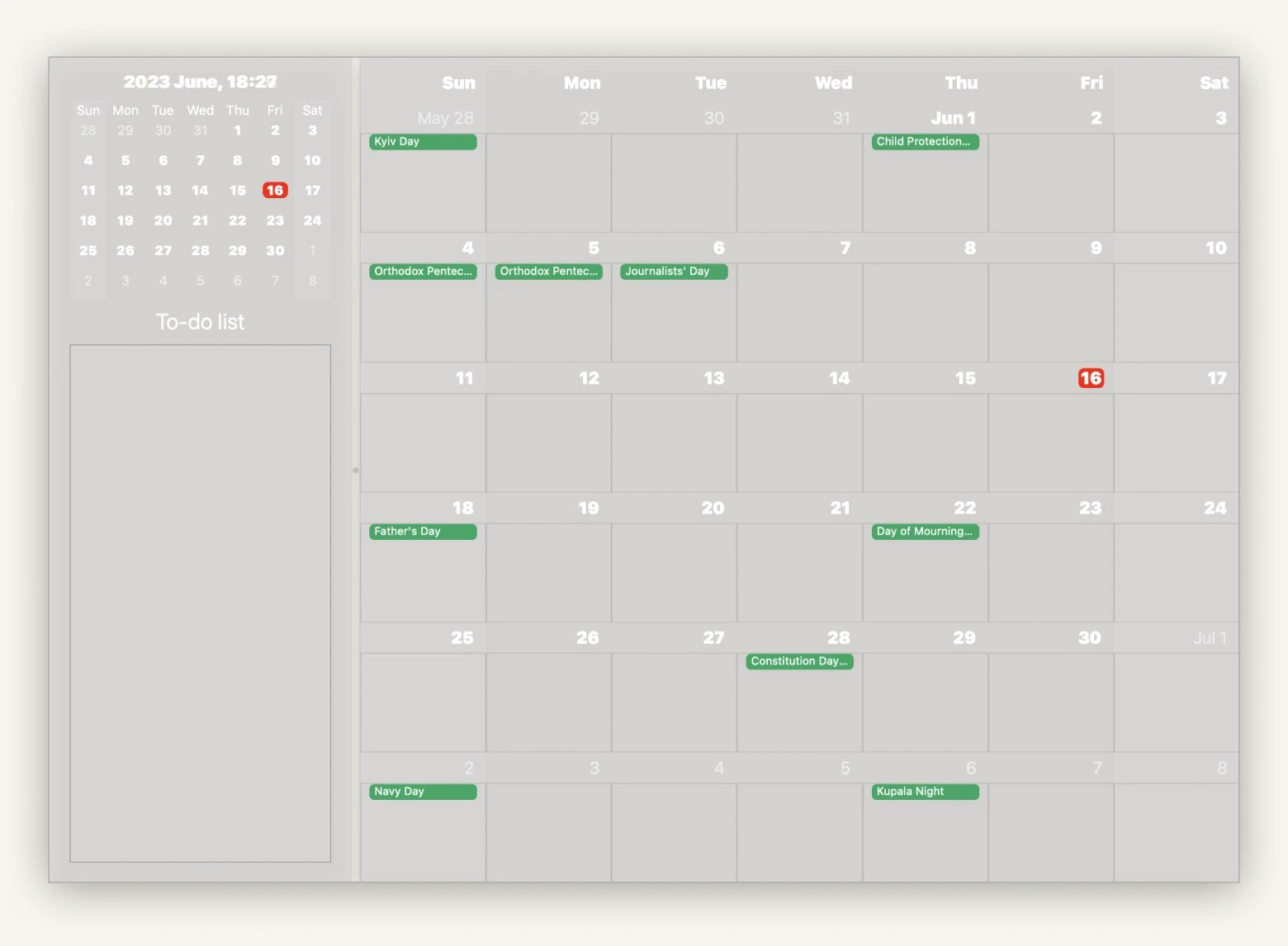 Keep track of everything important using NotePlan
One thing even the best scheduling apps can't help you with is making meetings productive by taking note of everything that's been discussed and agreed on. And you really need that to reduce the number of those meetings in the long run!
That's when NotePlan comes in especially handy. This smart utility is built around a responsive calendar that supports tasks with deadlines, plus integrates all your meetings and lets you annotate them using journaling, bullets, to-do lists, and more.
Remove the chaos from note-taking by using NotePlan's automatic organization and markdown features, color-coding, and hotkeys. On top, you'll never lose your notes since NotePlan can back them up to your iCloud, while you're at home, in the office, or on the go enjoying the app's iOS version.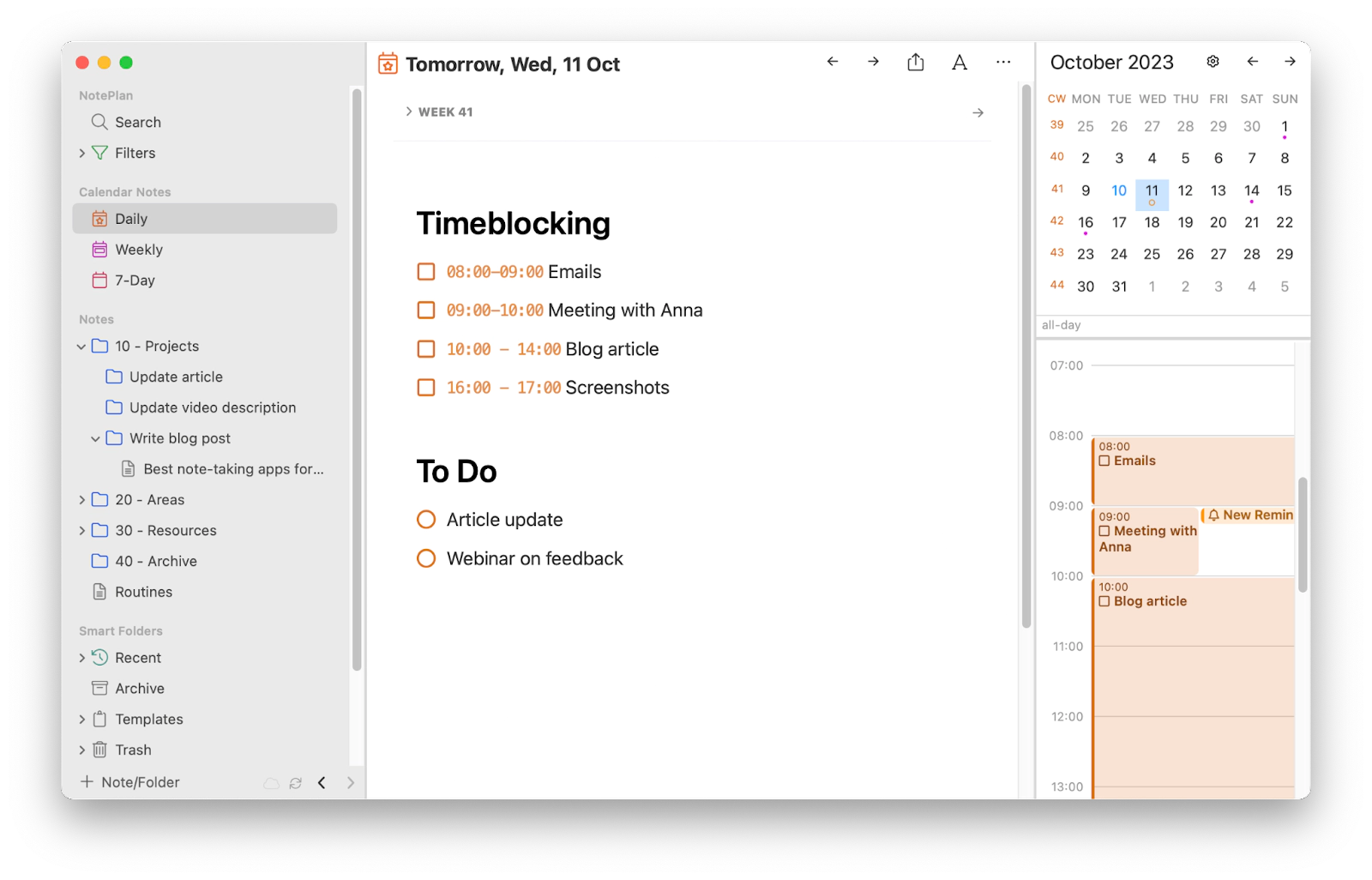 Organize your deadlines with Due
While there's a Reminders app on Mac, it can't help you prioritize, set timers to organize your day, and focus your attention on what's important at the moment. Meanwhile, those are the things that are often needed more than simple reminders.
Due is the app that'll ensure you never miss a scheduled meeting or derail from your agenda in any other way. You can use Due both for business and personal to-dos, being confident that you'll keep receiving reminders until you mark the task complete, reschedule it, or manually turn the notification off.
Since Due creates automated notifications, you can simply type in your task in your own words and the app will convert it into a timely reminder. You can even create personalized countdown timers for your yoga classes, laundry cycles, or whatever else you might not want to keep missing!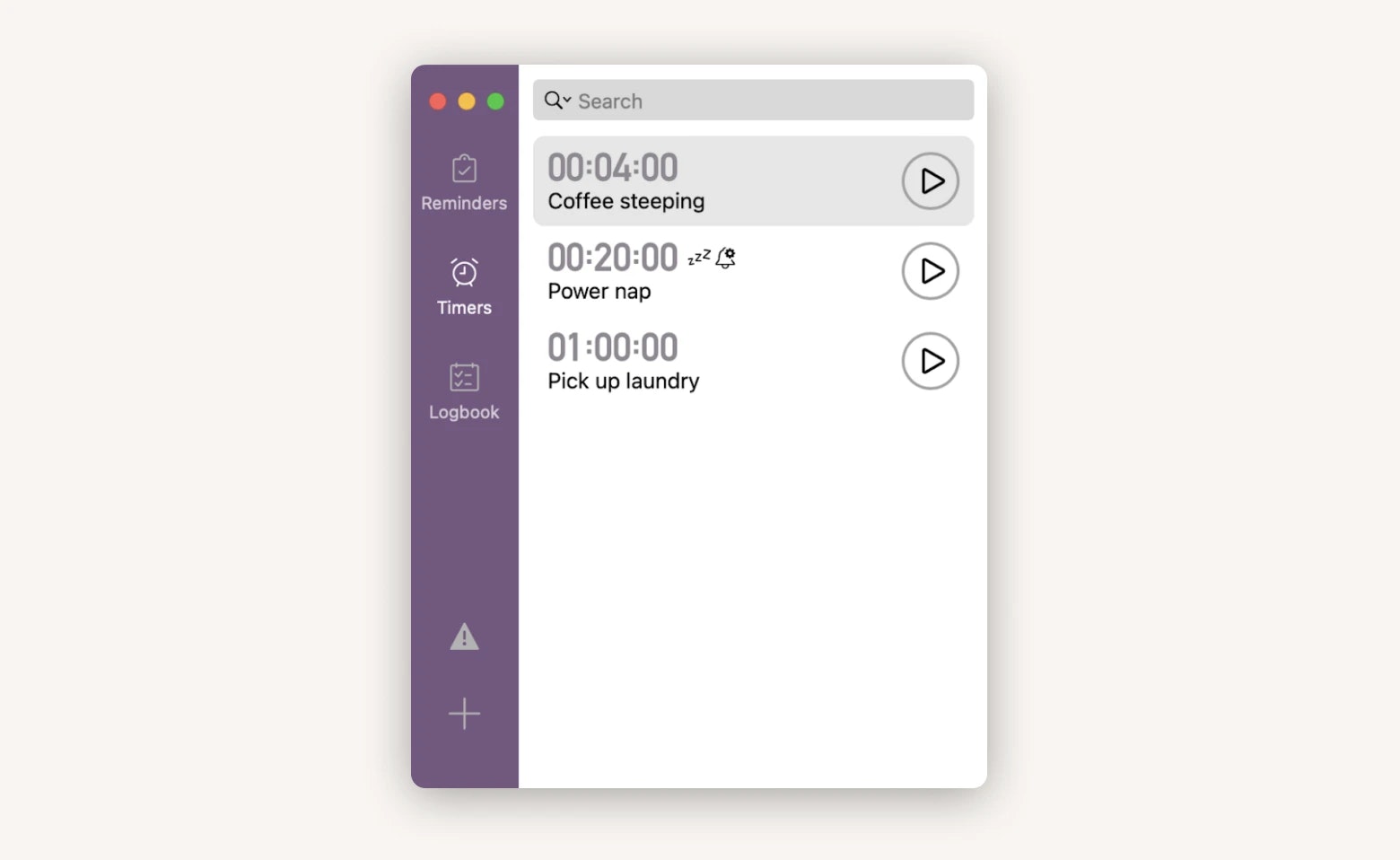 Become a meeting management pro with iMeetingX
Setting up a meeting implies many things from checking calendars and finding good appointment scheduling apps, to juggling different video-conferencing tools and taking notes. But what if there's one utility to cover most of those tasks?
iMeetingX is the perfect tool that brings planning, scheduling, and acting on decisions from business meetings into one clean and comprehensive space. Initiate projects with a click and send invites instantly from iMeetingX's robust interface that integrates with your Calendar, Contacts, and cloud services. With the app's endless memory, you can simply click on Archive whenever you need to restore a project from the past.
iMeetingX makes it easy to keep track of all participants, set meeting objectives, define agenda, take notes, create templates, add attachments, specify location, dates, time, and so much more!
Solve your daily tasks faster with Quarterplan
Since there can't be too many excellent scheduling apps for iOS, here's one more that deserves your attention — Quarterplan.
Created in a minimalistic look, Quarterplan will be convenient if you want to perform your core to-dos and get things done effortlessly, while focusing on the most important tasks at the moment. Plan your day with no stress or burnouts using Quarterplan's time periods feature that'll help you split your daily activity into intervals with rest in between.
Structured information is the most well-consumed, that's why Quarterplan offers checklists, notifications, and a calendar overview at hand. As a bonus, you can add repeating to-dos to your plan once and forget about writing them down over and over again!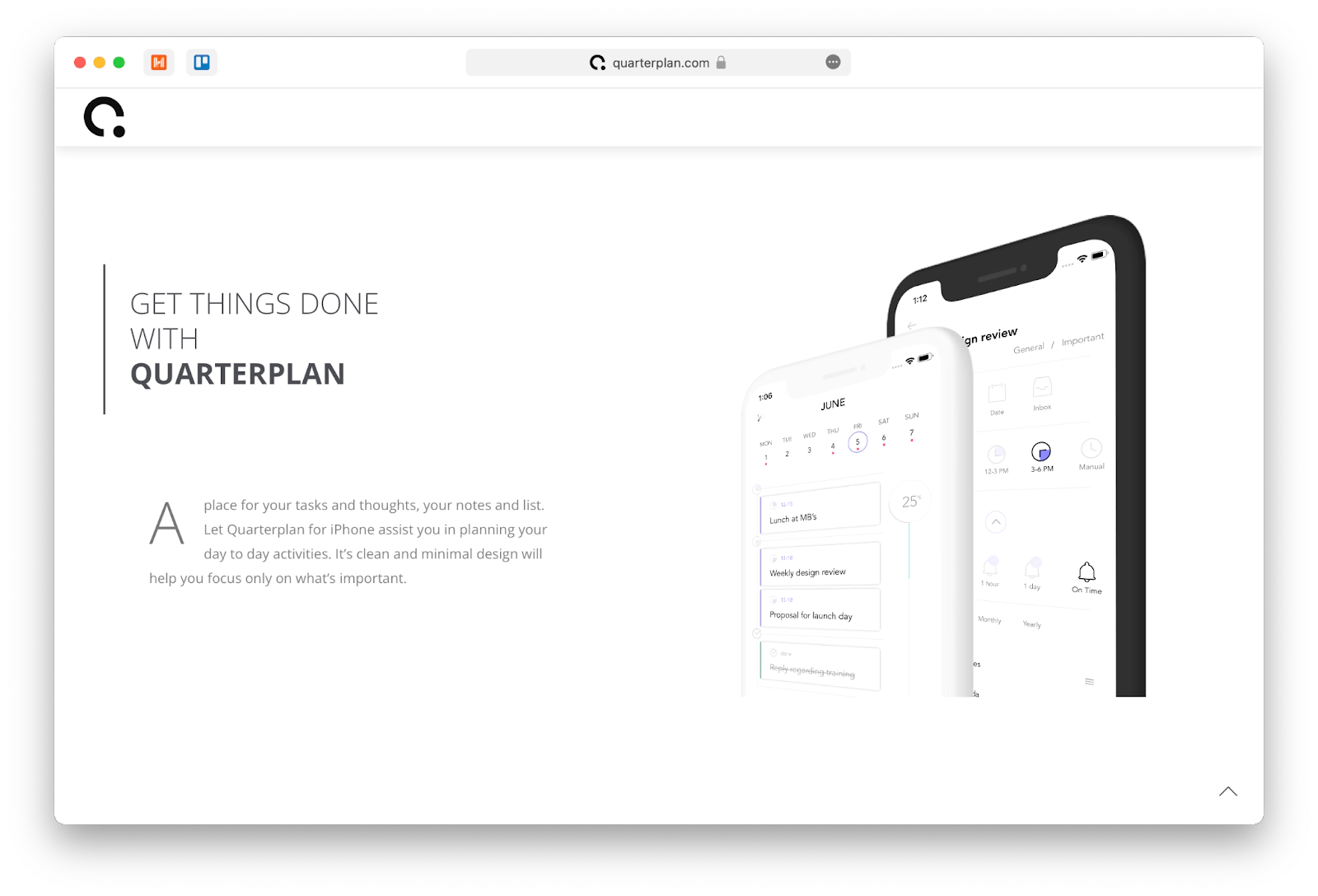 Plan your days with 2Do
There's a scheduling app for Mac that goes above and beyond with its functionality, and it's called 2Do. This utility will help you with everything from keeping all your tasks, events, meetings, and projects in order to tracking your upcoming to-dos in color-coded lists, with tags, notes, groupings, and even a search feature to better structure your plans.
Apart from all possible handy features for managing your personal and professional activities, 2Do has a way of protecting your information with a cool security upgrade: setting a password for the app. All you need to do is go into the app's Preferences, and click into the Protection tab under Security. Here you can choose to set a master password or only protect certain projects and lists.
Now you don't have to worry about someone peeking into your private to-dos and can start creating tasks and events by clicking the "+" icon at the top of 2Do's window.
Sync to-dos with reminders using GoodTask
Apple's native Reminders and Calendar are good basic utilities, but you need GoodTask to really make them shine!
GoodTask is a tool that integrates with Mac's built-in apps and expands the abilities they have to offer, turning each of them into a great scheduling app for business or your personal needs. In addition to its Reminders and Calendar sync, GoodTask simultaneously syncs with iCloud or Outlook/Exchange accounts' data.
The saying "work smarter, not harder" really proves its meaning when it comes to GoodTask. Smart lists, quick actions, text snippets, task reminders and automatic repeat, tagging, and customizable sort order are just some of this app's productivity features.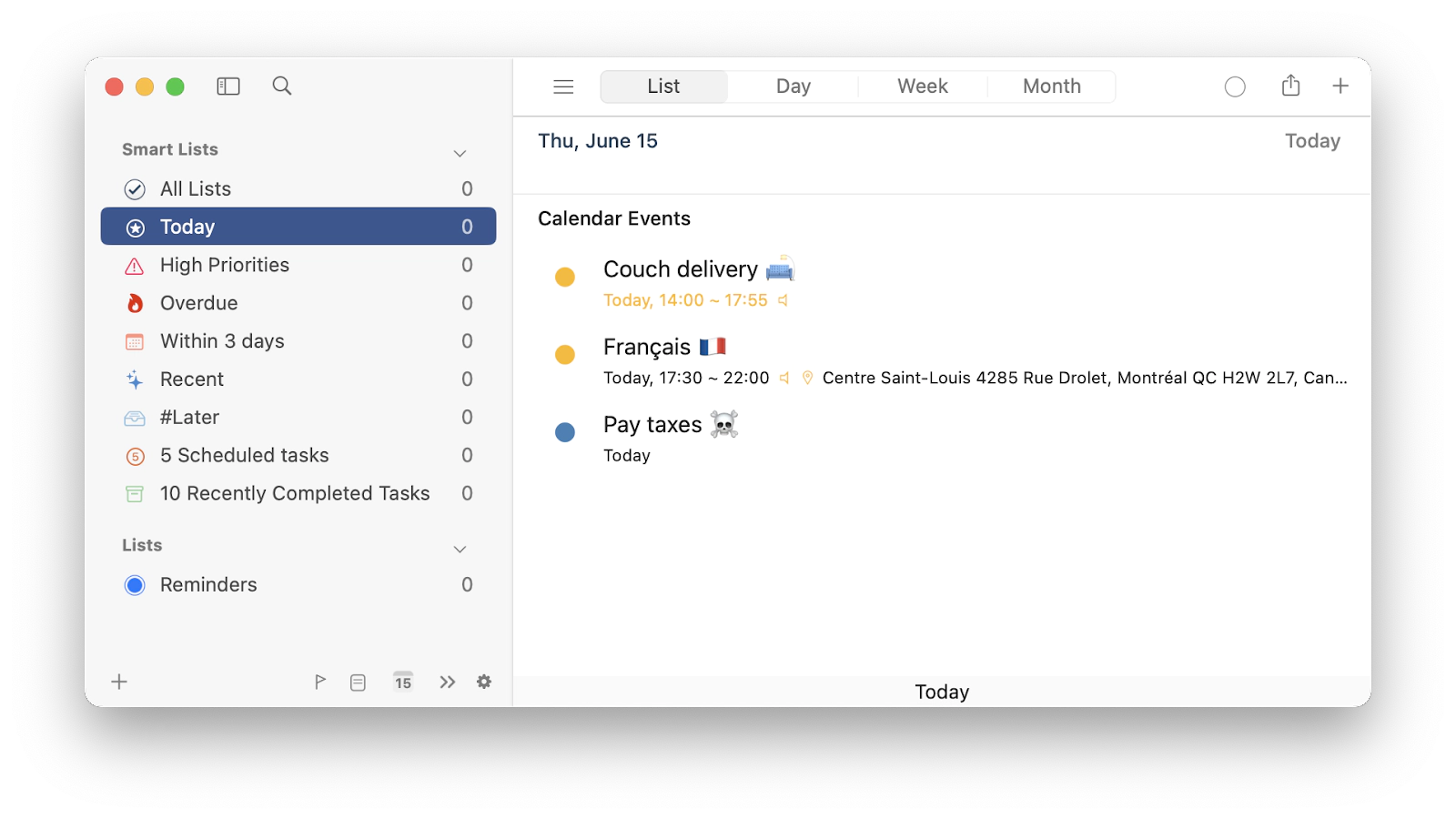 Track your progress with SheetPlanner
If you're looking for a great appointment scheduling app that combines task management, calendar, and a project tracker, you need to try SheetPlanner.
SheetPlanner is a handy organizer where you can set goals and reminders, check on your progress, and plan projects using intuitive tools with added complexity, wherever necessary.
Achieving a set goal that's bigger or finishing a project that spans over a longer period of time is more challenging often simply because you can't clearly imagine the result to motivate you. SheetPlanner offers a way to visualize by always having a clear view of your projects and the path to success.
Once a project gets complicated, you can rely on SheetPlanner's clever search, sort, and filter options, so you waste no time and stay focused on the key assignments.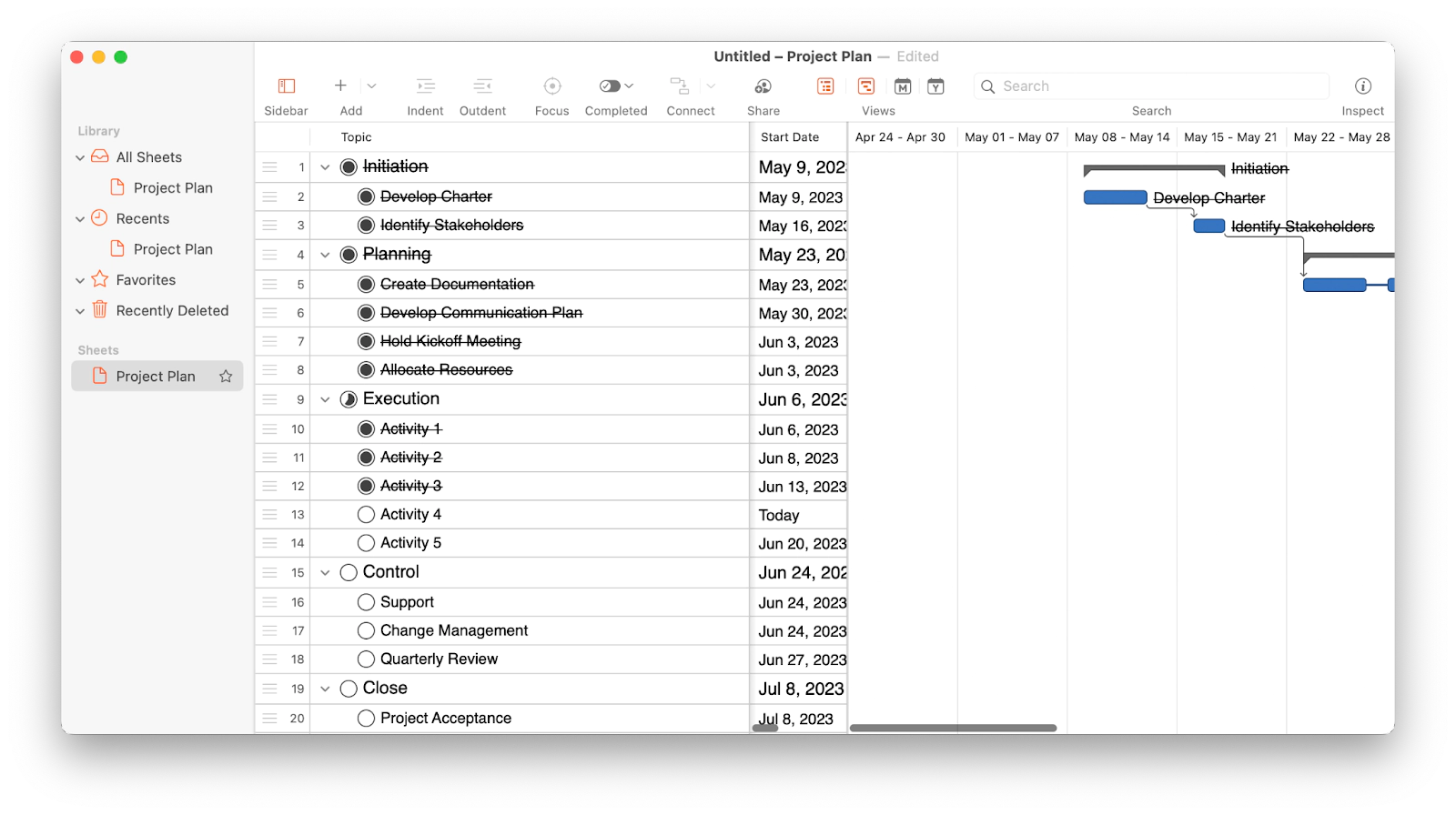 Scheduling apps for Mac to maximize productivity
There are a lot of macOS scheduling apps on the market and if you don't want to choose one for yourself through trial and error, you can resort to using any of the abovementioned reliable utilities created by experts and available for free through a seven-day trial of Setapp. This unique platform offers more than 240 Mac apps that will help increase your productivity in no time!