How to find the best scheduling app for Mac
If you're like most people, you've probably spent more than enough time in your email inbox today. Email overload is not a joke, and often takes hours out from what could've been productive work sessions. It's also not surprising that one of the biggest culprits of email exhaustion is the process of scheduling meetings.
When someone tries to schedule a meeting with you, they generally ask for your availability, you give them a few time slots, they counter with other time slots, you agree to one, they suggest a place or an app to meet in, you counter with your own preferences, and so on. A single meeting can take half a dozen emails to coordinate.
Luckily, with the rise of great appointment scheduling apps, you don't have to do that anymore. These apps can help you set a few preferred parameters that you don't have to repeat over and over again. For example, you can set your available time slots (or just integrate your calendar) as well as your go-to video conferencing software (e.g. Zoom or Google Meet) or a physical meetup space (e.g. a local cafe).
The meeting scheduler could then be added as a link to your website or email, suggest your availability, and automatically create meetings in everyone's calendars. This works especially well when you're meeting someone in a different timezone — the best scheduling software takes care of all the timing differences too!
In this post, we've selected the best scheduling apps you can use on your Mac for improved productivity and smoother task management. Browse through our selection and find just the right tool for your day-to-day planning.
What is an appointment scheduling app?
Appointment scheduling apps are great because they reduce all the unavoidable busywork and make connecting with people much easier.
You can keep track of all your plans, meetings, and events with a simple piece of scheduling software on your desktop. Just add and manage your events in your digital calendar and have it handy whenever you need it. Get timely reminders to be ready for your next meeting.
Some appointment apps aggregate your meetings from other calendars, while others require you to create events manually. Apps also differ in their functionality when it comes to meeting notes, attachments, customizability of various aspects of the calendar – for the layout to colors and fonts.
Just weigh the pros and cons of each app depending on your personal preferences and schedule demands, and you will be able to find the right scheduling and planning app for your needs! Also – if you try one and it doesn't quite fit, you can just switch to another.
Why you might need it
A scheduling app is not just for the super organized, it's a great tool to use even if you don't have a busy schedule – sometimes you just want to keep track of the appointments you have scheduled way ahead and might forget by the time they arrive. Scheduling app reminders will save you from the trouble.
Appointment scheduler is also an excellent tool for small business. You can manage projects and meetings, add colleagues to your events, and share links to online meetings to keep your project organized and on task. The good news is that appointment software in the form of digital calendars has so many variations that you are bound to find just the right tool for you and your team's daily use.
What is the best scheduling software?
Appointment scheduling apps are great because they reduce all the unavoidable busywork and make connecting with people much easier.
There are some features, which should be considered essential for any scheduling app for business:
Cutting down the amount of emails or messages sent back and forth
Notifying you of all the upcoming meetings with reminders
Syncing with your main work calendar
Both Mac-based and online scheduling apps can be either free or paid. Free apps usually provide the basic functionality to start and then have a premium plan with extra features.

Since your Mac doesn't have any appointment scheduling apps by default, we decided to list the best options out there today, which can finally bring you some peace of mind.
Aggregate online calls with Meeter
Very few of us have just a single calendar for everything. Usually our meetings are all over the place, scheduled in the Calendar on Mac, Google Calendar, Zoom, Google Meet, Slack, etc.
Meeter helps you bring order to chaos by keeping all the necessary meeting information in one space located in your menu bar. Here, you can see all the upcoming events for the next week and add more external calendars (e.g. Microsoft Outlook).
With Meeter, you can also import your contacts, so you always have the people you interact with the most on speed dial. Now, you can jump on calls right on time, without worrying about any browser redirects.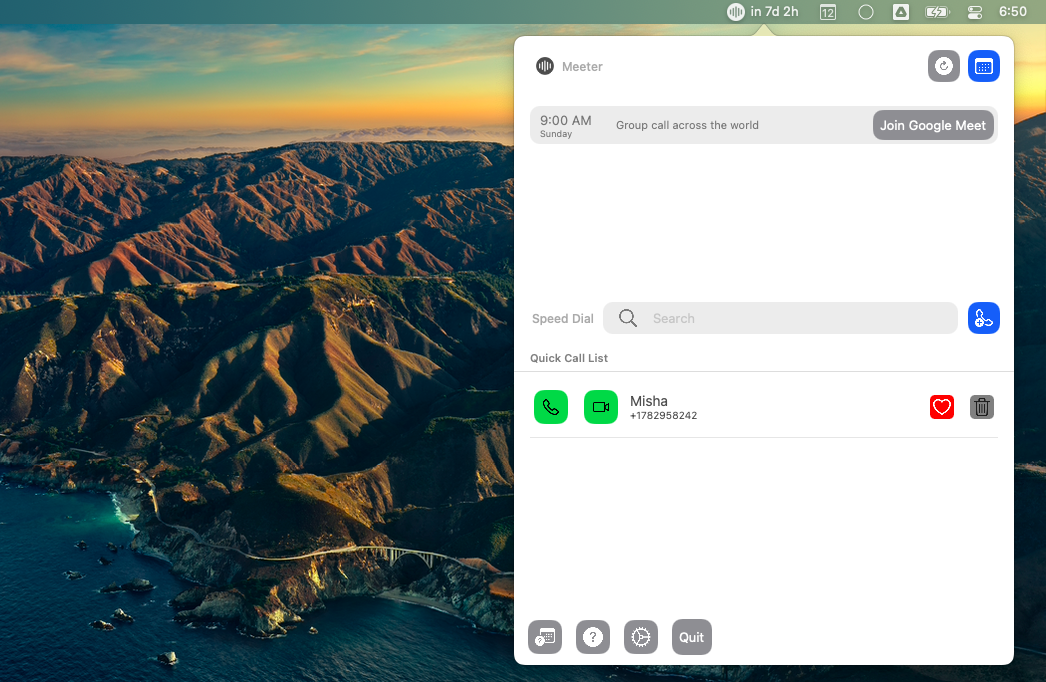 Tidy up your calendars with BusyCal
As you probably know, macOS already has a Calendar app that covers basic calendar functionality like creating events, adding locations, inviting others, etc. For busy people who want to integrate all their productivity into a single app, however, that won't be enough.
BusyCal is a completely reworked calendar app and meeting scheduler in one. It's well-designed and intuitive, and packed with a bunch of pro-level features. You can track your travel time for face-to-face meetings, add to-dos, and create events using natural languages (e.g. important meeting today at 5pm).
From the first time you open it, it's clear that BusyCal is big on saving you time and stress, even when your calendar is scheduled down to the minute. You can balance multiple calendars in one view and continue your day on the go with BusyCal for iOS.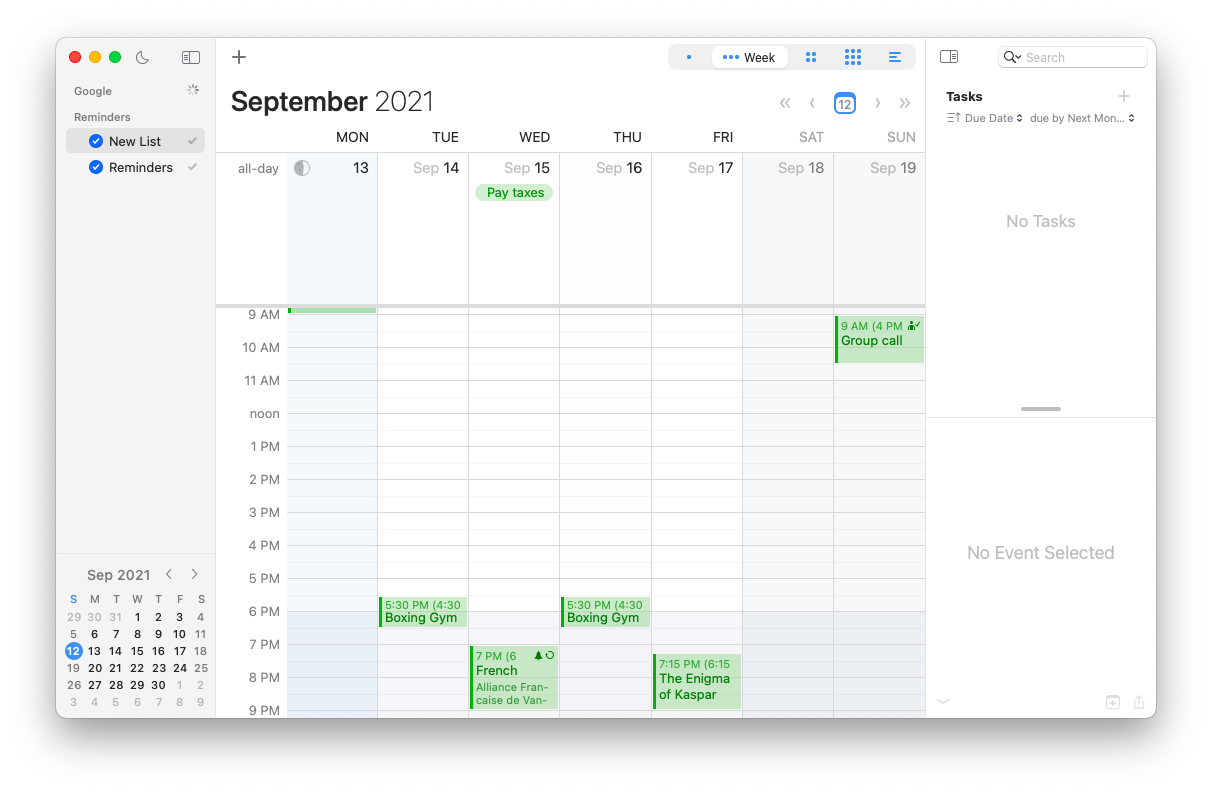 Organize your day with Due
While there is a Reminders app on Mac, there's nothing that helps you set timers to organize your day and get you to focus your attention.
Due is a nifty app for Mac that combines flexible reminders and countdown timers in one sleek package. Even though it's not a meeting scheduler per se, Due ensures you never miss a scheduled meeting or derail from your meeting agenda. You can also use it for personal or business to-dos and even schedule them at an appropriate time.
The best part of Due is that it simply won't let you miss any tasks or timers that you've created, reminding you about them until you mark them as complete, reschedule them, or manually turn the notification off.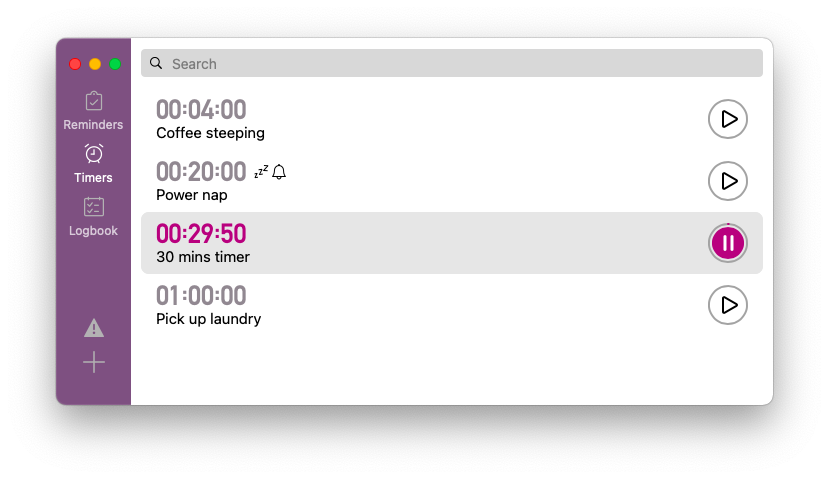 Go pro with your meeting management with iMeetingX
Everyone knows that meetings not only take up a lot of time, they also tend to spread out across multiple apps and quickly become difficult to manage: checking calendars, setting up online scheduling apps, juggling a few video conferencing tools, and taking notes. It would be much easier if most of those things could be done with one app.
iMeetingX is the perfect tool to manage all your meeting information in one place. You can keep track of all the participants, with all their contact information, set objectives, define meeting agenda, take notes, add attachments, specify location, dates, and time, and even create templates to reuse in any future meetings.
Welcome to the best get-things-done approach to any get-together!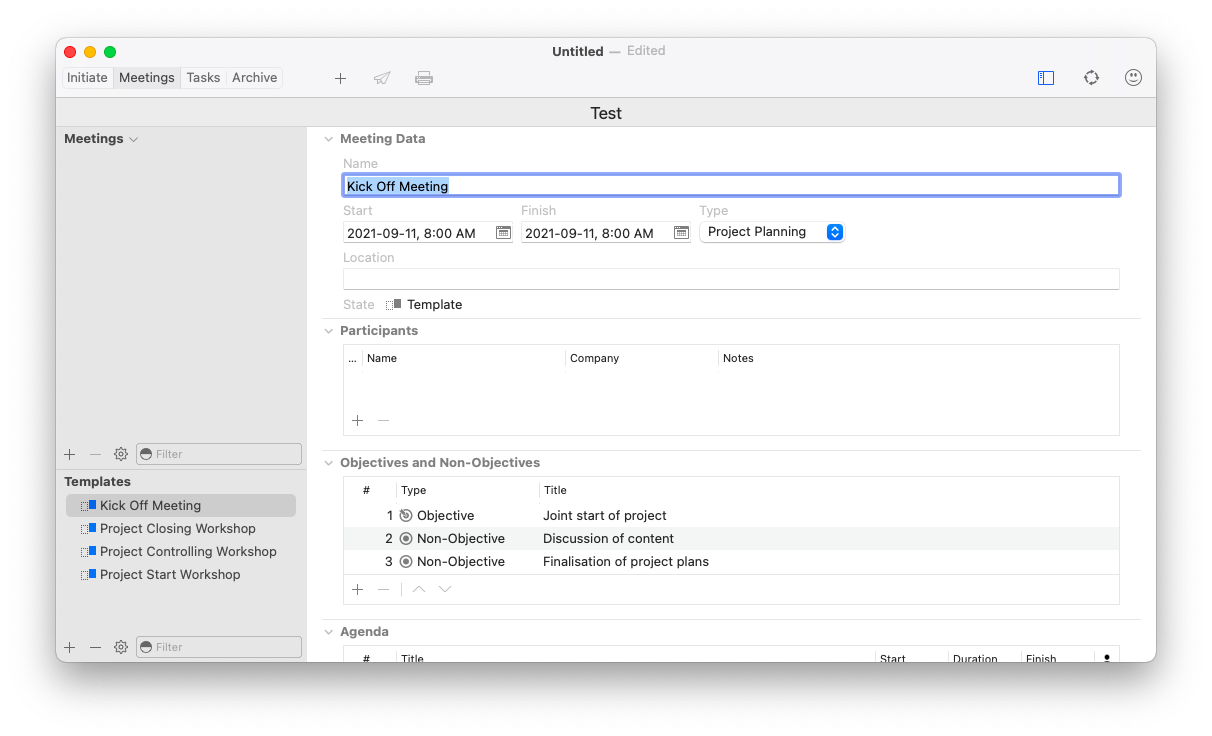 Keep track of all the things with NotePlan
One reason why meetings often feel so unproductive and repetitive is because rarely anyone keeps track of everything that's been discussed and agreed on. If only all meetings had a clear agenda, thorough notes, and well-defined expectations, we probably wouldn't need so many of them to begin with.
NotePlan finally takes the chaos out of note-taking once and for all. Unlike other apps, it's built specifically around your calendar and supports tasks with deadlines. The app integrates all your meetings and events, and lets you annotate them exactly the way you want, using journaling, bullets, to-do lists, etc.
All your notes with deadlines in NotePlan are automatically added to your calendar, so you'll never miss an important reminder. Besides, the app has a beautiful interface and supports color-coding your projects. And if you're on the go, you'll always have your information with you thanks to the handy iOS sync.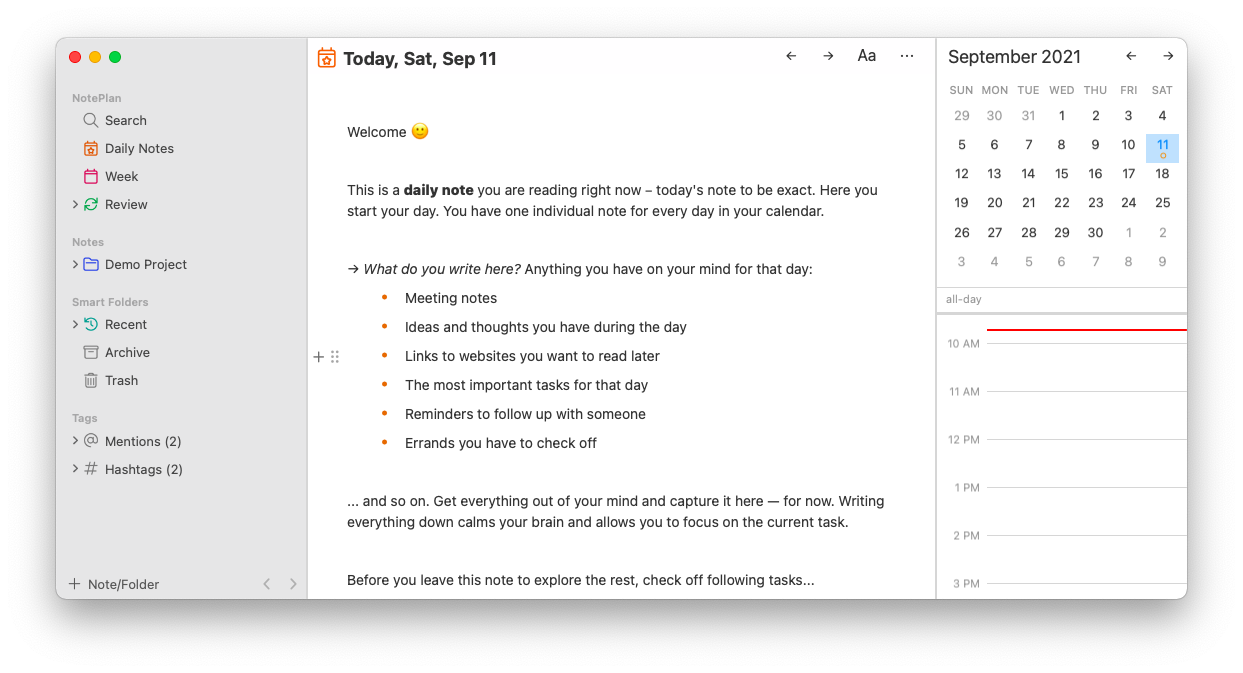 Take full control of your projects with Aeon Timeline
Aeon Timeline is the app you did not know you needed. It allows you to view, plan, and manage your projects in a coherent, visualized, uncluttered timeline. You can choose the app's templates for drawing up and running a timeline for your business projects, hobbies, function, and more.
You can use the app's customization options to track timelines for small-scale projects that span days and for historical research spanning years. There's also a numeric timeline with numbers instead of dates.
If you are writing a novel or a script, Aeon Timeline offers an invaluable set of tools to plan out your work's, well, timeline. Keep track of all your storylines and avoid plot holes masterfully! Don't let me tell you what an invaluable tool this can be if your story jumps back and forth in time. And in the app's screenplay format you can even track the timing of your script.
The app also has a dedicated timeline template suitable for legal practitioners.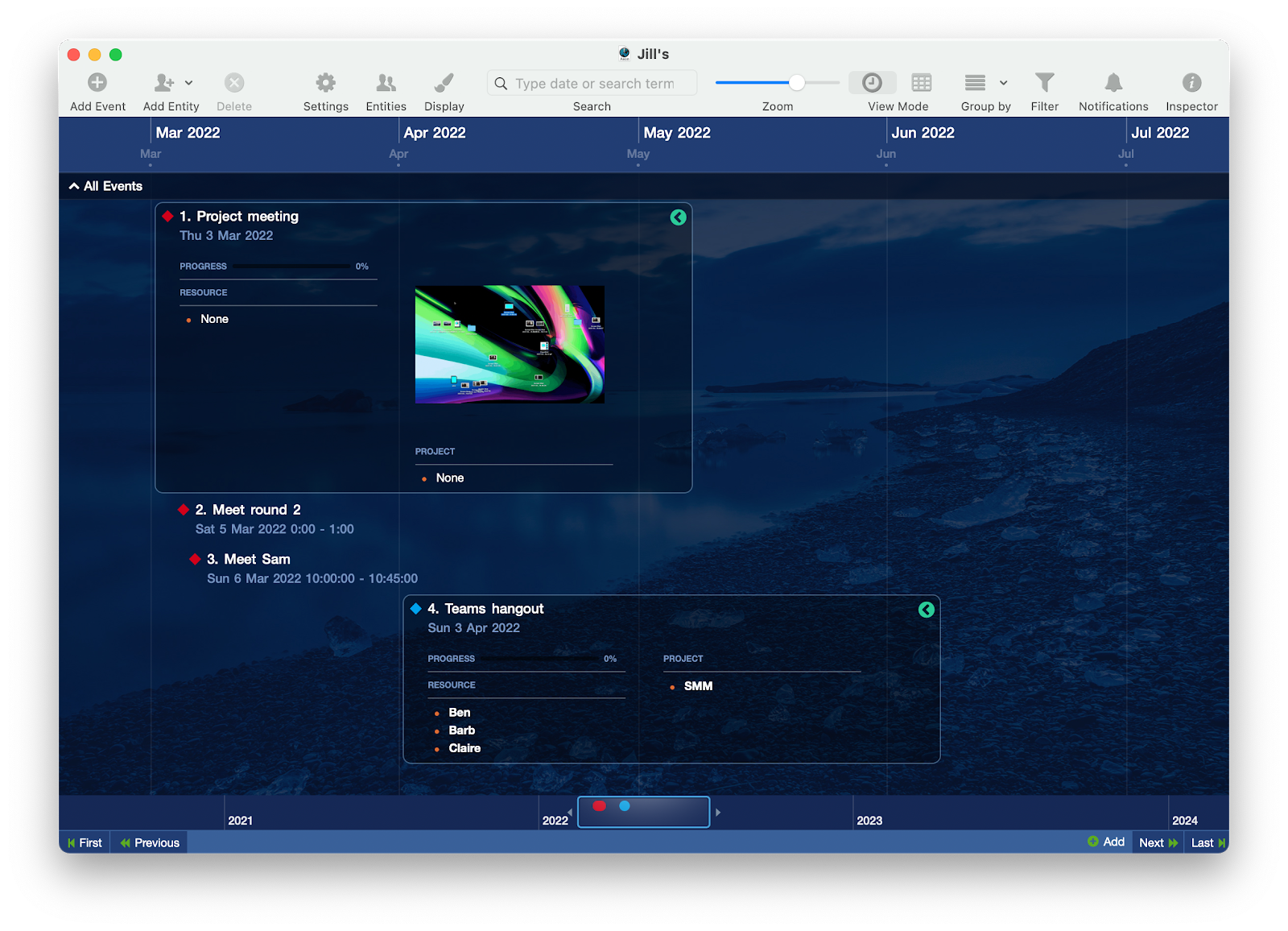 Plan your activities with 2Do
Task scheduler 2Do is an app for keeping all your tasks, events, meetings, and projects in order. Track your upcoming to-dos, tasks, events, meetings in color-coded lists, add tags and notes to better structure your plans: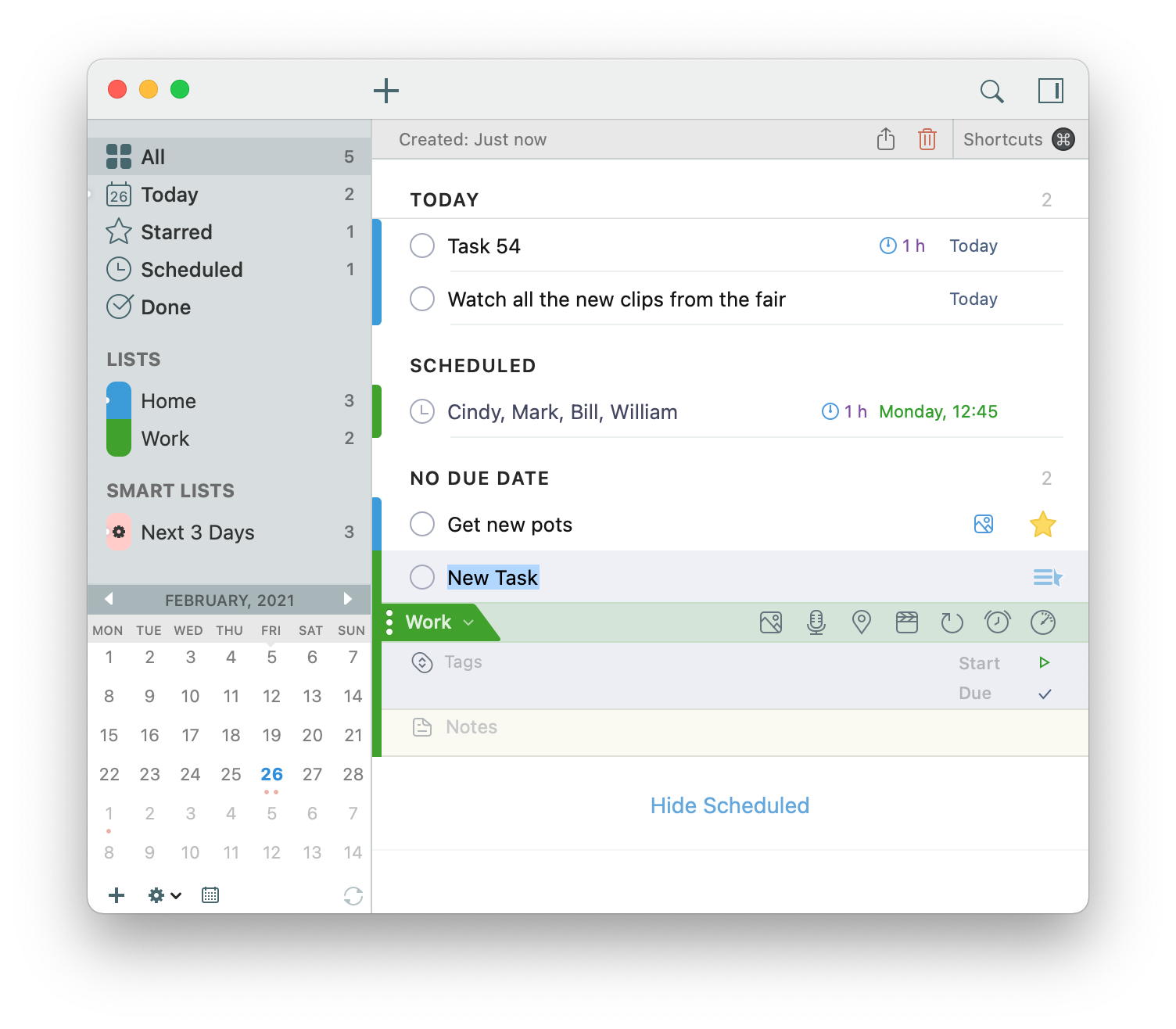 Create tasks and events in 2Do by simply clicking the + at the top and adding all the necessary information about your plan.
2Do offers a cool security feature of setting a master password for the app.
To do that, open the app, go to the 2Do menu at the top of the page and click on 2Do. Select Preferences > Security. In the Protection tab you can set a master password, customize autolock to fit your security needs with the app.
We chose the option to Lock everything, and the app now requires our 2Do master password to unlock the app's UI. And while we do need to remember our 2Do password for various menu settings, the app conveniently allows the password feature to work with TouchID. All we had to do was tick the respective box in the Protection menu and now are using TouchID to unlock the app:

An online scheduling app with a Calendar
While a Mac-based calendar gives you a lot of control over how you yourself structure your schedule, it doesn't make it easy to collaborate with others. Well, what would happen if you merged an online scheduling app with a calendar? Probably something close to Calendar.
Calendar (calendar.com) is a popular online app (with iOS and Android versions available) that makes time management a breeze. It syncs with all your existing calendars (e.g. Google Calendar) and displays available slots for other people, which you can share with a convenient link. Moreover, Calendar's AI algorithms analyze where you spend your time and suggest various ways you can become more productive.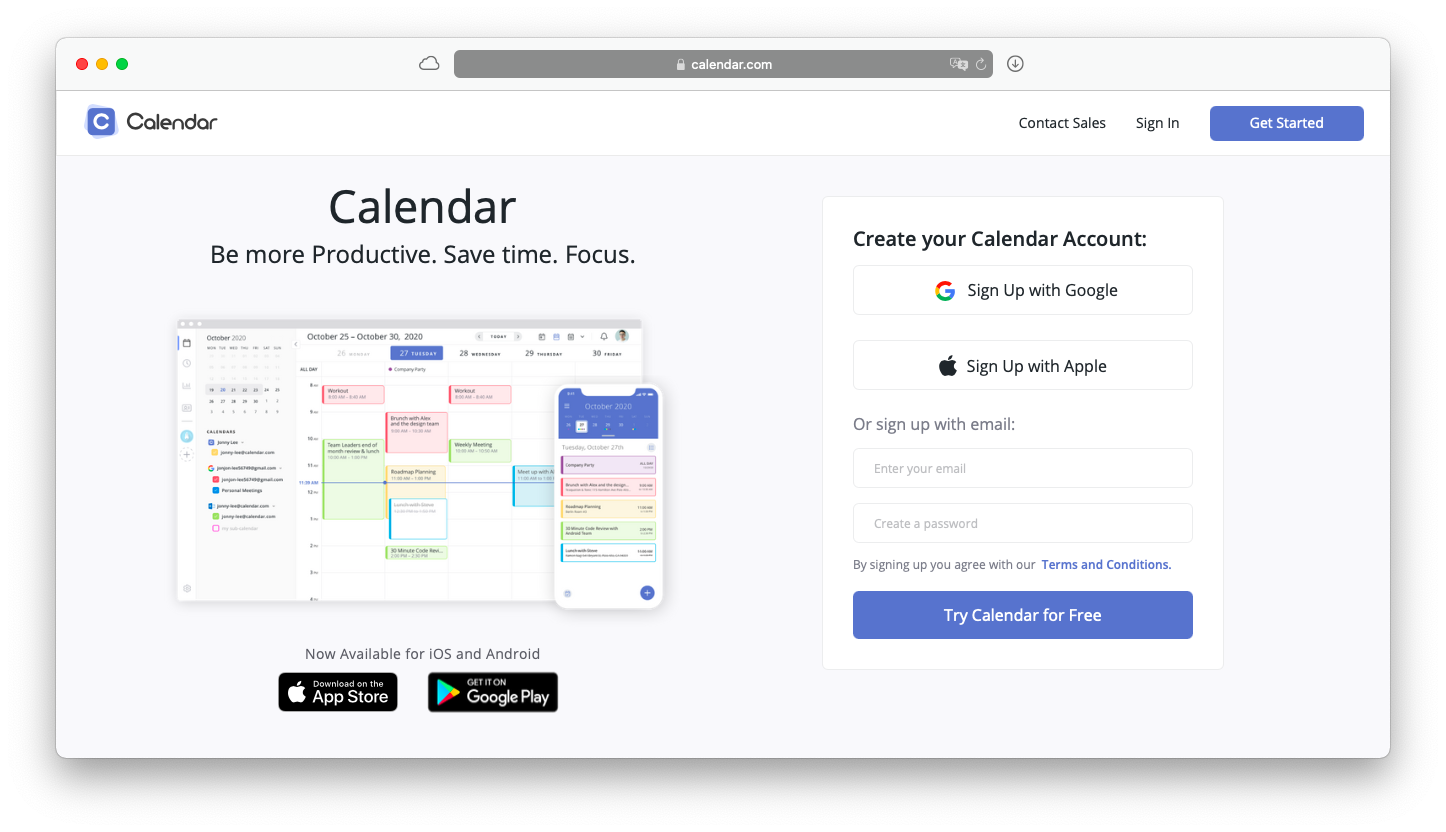 Doodle - a great appointment scheduling app
When you need a great appointment scheduling app to coordinate meetings between a few people in different timezones, you should consider using Doodle.
Doodle is an online meeting scheduler that lets you create possible meeting times and then collect feedback from everyone as to which ones work for them, thus quickly finding the right time to get together.
You can set deadlines for answers, automatically send invites, and visually manage all the meetings in one place. Doodle is not only great for work environments but can also be used for events with friends.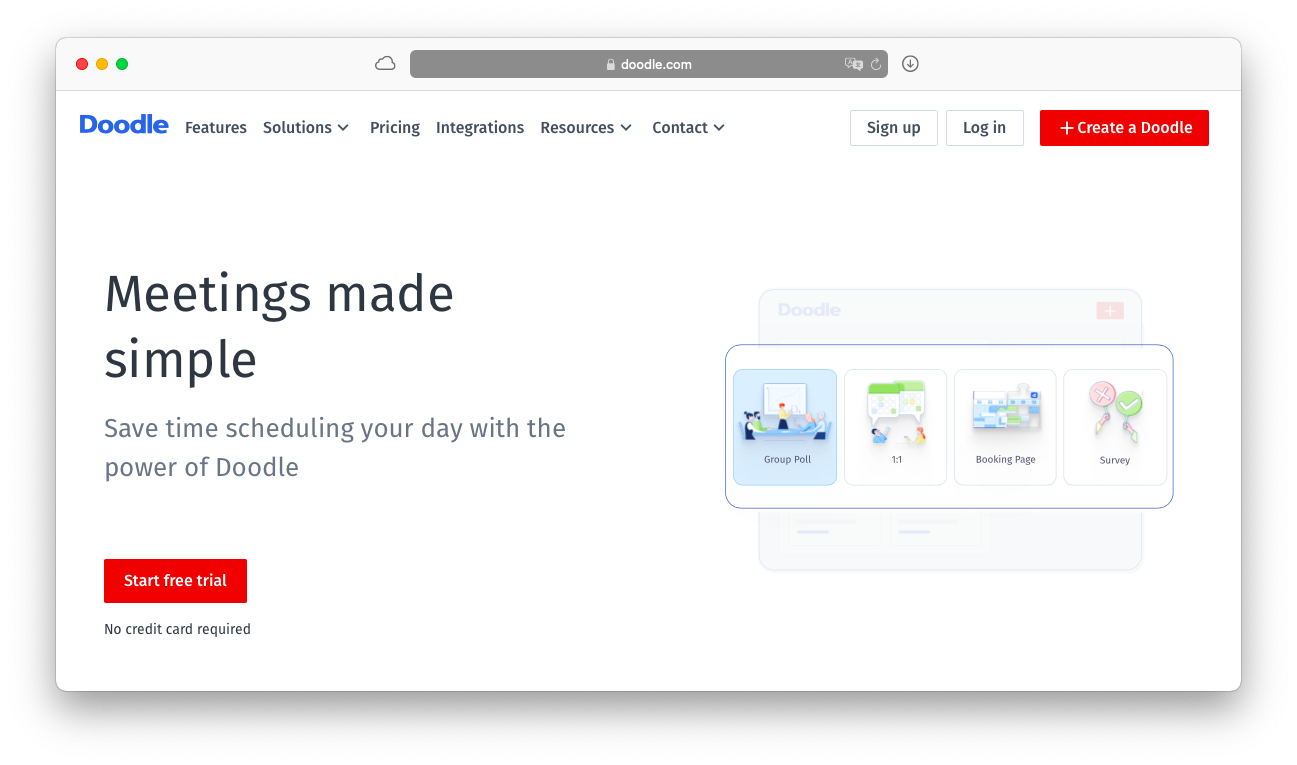 Google Calendar
It's very likely that you're already using Google Calendar. After all, it's one of the most popular free calendar apps in the world. But few people know that Google Calendar also has the ability to let others schedule meetings with you.
There are two ways to do that. If you're trying to schedule a meeting within your organization, you can simply create an event, add everyone who should attend, and then click "Find a time" for Google to do all the work for you by comparing and matching your calendars.
For paid Google accounts, you can enable an actual booking page and share it with others. Anyone with the link would then be able to create a meeting directly in your calendar.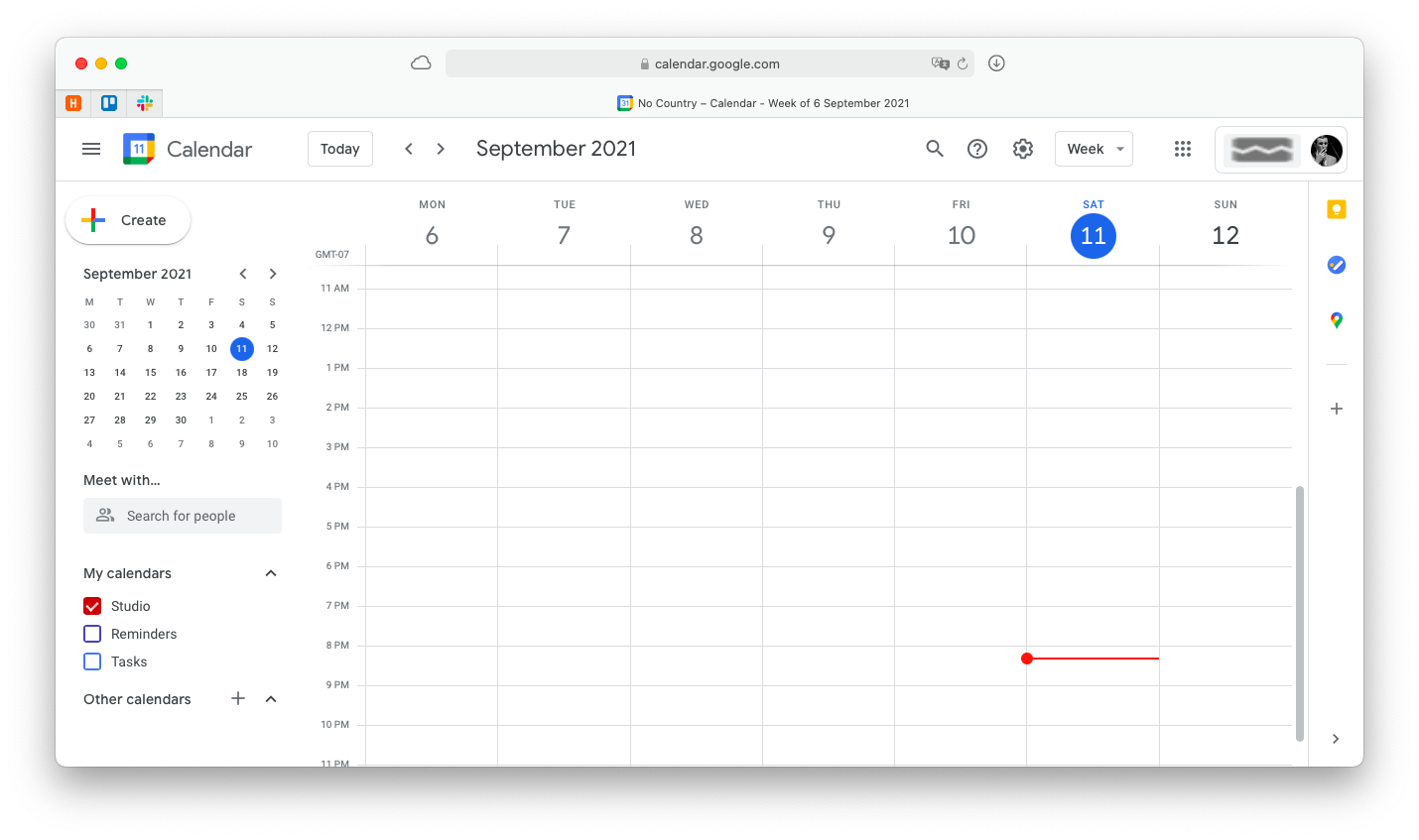 Fantastical, a Mac-based calendar and tasks app
Some calendar apps are so good that they even gather a cult following around them. Fantastical is one of those apps.
Fantastical is a Mac-based calendar app that is available both in the menu bar and on your Desktop (as well as iPhone, iPad, and Apple Watch). It has an intuitive and functional design; light and dark themes; daily, weekly, monthly, and yearly views; and even supports file attachments to any event, so you always have the necessary information with you.
More importantly, Fantastical can also be used as a scheduling app for business. You can check contact availability and propose multiple times as well as create templates for recurring meetings. Plus, add tasks (syncs with Todoist) and bring your all calendars together in one place.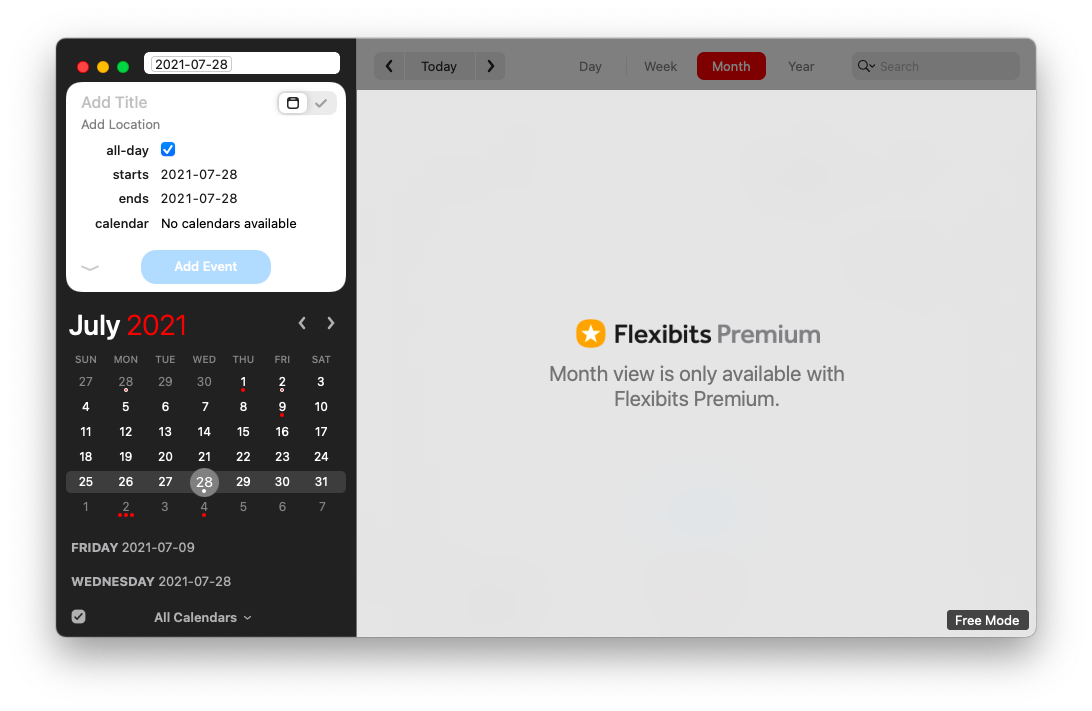 Create your personal availability link with Calendly
Perhaps one of the best scheduling apps that pioneered the idea of collaborative inputs for events was Calendly.
Calendly at its core lets you create your personal availability link, where you can specify the types of meetings you're willing to attend, the times and duration you can sign up for, your preferred location (physical or video conferencing), and more.
Once someone creates a Calendly meeting with you, all the participants will get an automatic calendar notification, with all the information already there.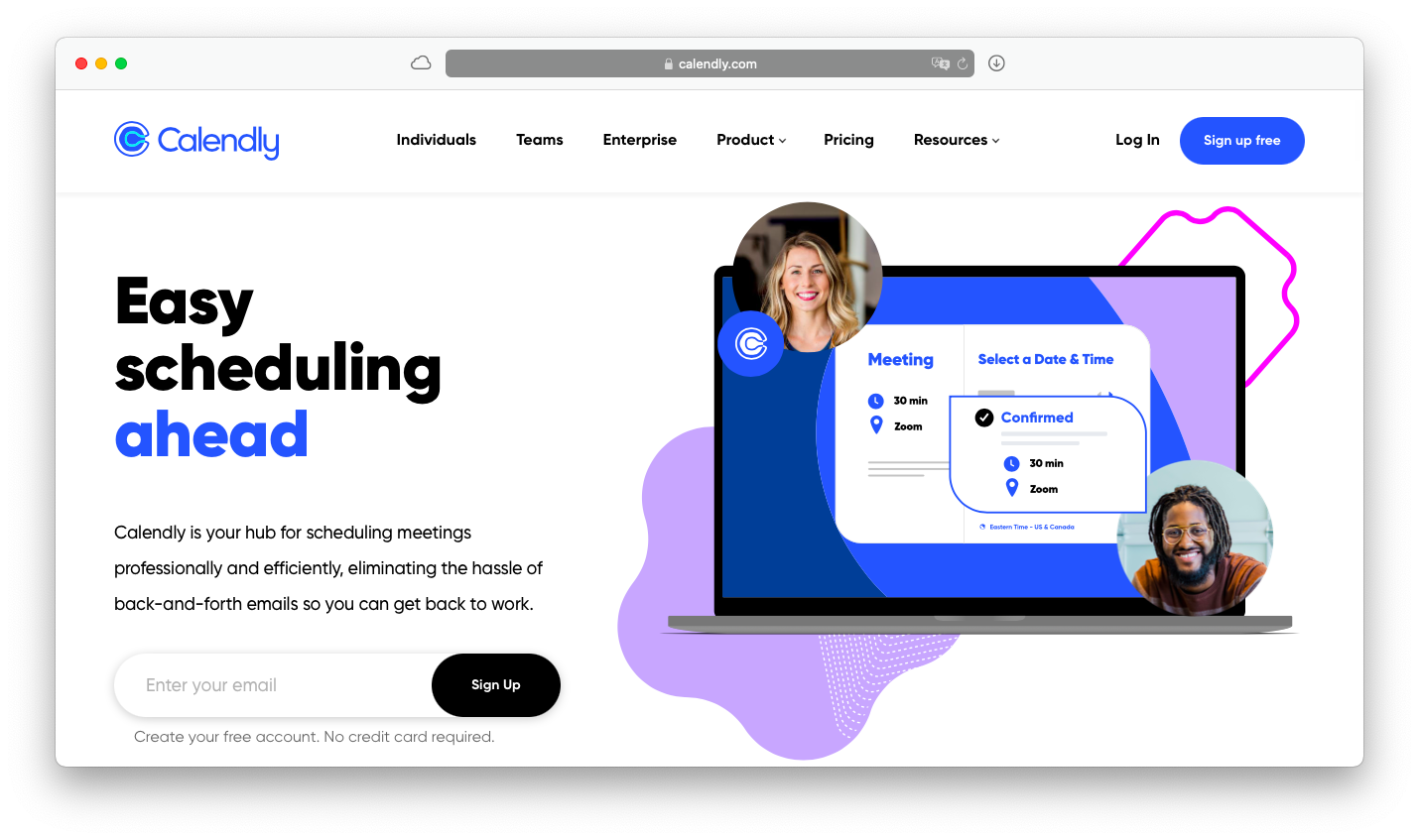 As you can see, there's no shortage of top-notch scheduling apps out there, from full-blown calendars to simple online single-feature products. Try keeping all your meetings in one place with Meeter, using BusyCal as your main calendar app, setting up reminders and times with Due, project managing your meetings with iMeetingX, and keeping all the notes in NotePlan.
Best of all, Meeter, BusyCal, Due, iMeetingX, and NotePlan are all available to you absolutely free for seven days through the trial of Setapp, a platform with more than 240 useful Mac apps for any task you can imagine. Try every Setapp app today at no cost and see how you can increase your productivity in no time.