Sounds good? Well it looks good too.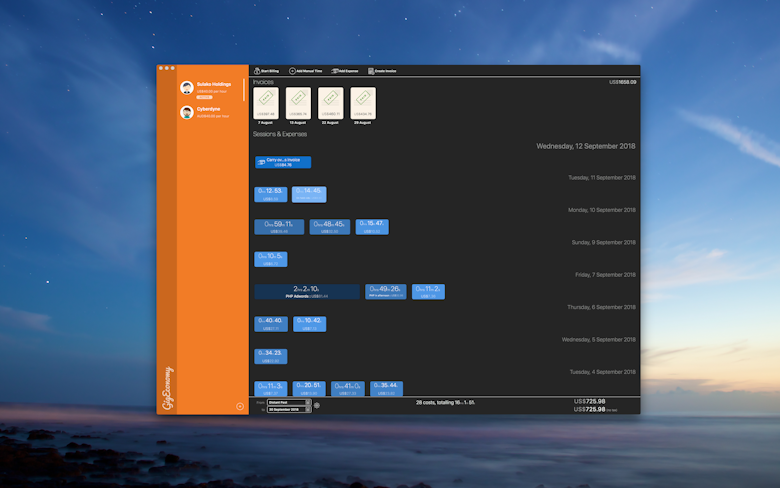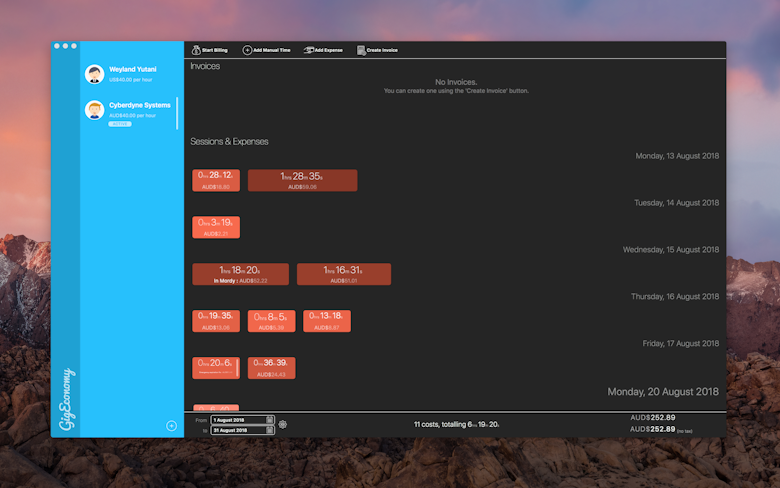 GigEconomy features
Integrates into your workflow
Don't waste valuable time dealing with finicky web browsers. GigEconomy integrates straight into your Mac's menu bar, so your time tracking is always only a click away. You won't need to worry about logging in all the time either — it's automatic — so you can rest assured that your hours are well spent.
Simple and beautiful experience
Make time tracking a delightful experience for once. GigEconomy was designed to be clean, intuitive, and slick, featuring both light and dark modes. The two-column layout keeps out of your way while giving you quick access to any of the functionality you need. Clients on the left. Time and invoices on the right. It's that easy.
See your workload at a glance
Now you can instantly see exactly where your time has gone. GigEconomy's time entries are rendered as visual blocks and then automatically sized according to how long the time entry is. Spot patterns in your time logs over the day or week in seconds, without having to dig through tedious data.
Smart colors for smarter tracking
Keep a close eye on your valuable clients and make sure mistakes are a thing of the past. GigEconomy lets you select a custom color for clients, time blocks, and invoices, so you can quickly distinguish between them all in a snap. The entire interface can change color depending on what client you're billing at the time, so you stay focused and confident that you're in the right place.
For the freelance globetrotters
Now you only need one tool to track time and invoice clients across the entire world. GigEconomy supports multiple currencies, so that your hours and invoices are all accurate and ready to send. You can set up new clients and their preferred currency in just a few steps, ready to begin your work wherever you are.
Invoicing in seconds
The best part about freelancing is sending invoices — and now it's better than ever. When you're ready to bill, GigEconomy will create a professional, customizable template. Once you've reviewed the final invoice, you can export it as PDF and send to your client. Pay day has never been this easy.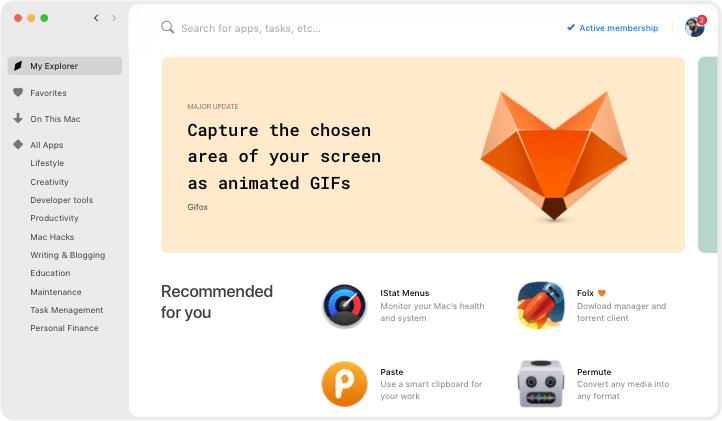 We love Setapp
---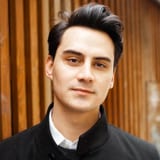 Very impressed with World Clock Pro @setapp @minimuminc. Making light work of time differences 🤘yew. How MacOS still doesn't have some kind of digital clock widget is mind boggling.
jessengatai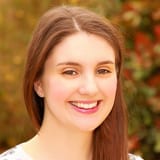 I have used Endurance (http://enduranceapp.com ) which is on @setapp to try and extend my battery life, 12 hour flight from Vienna to LAX and I spent about 8 hours working on an essay - not bad going!
Rosemary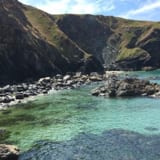 Wow just downloaded Setapp for my Mac - the value here is amazing. Some of the apps cost more than the monthly subscription alone and there are some amazing apps like Ulysses, RapidWeaver etc. @setapp
Mark Mitchell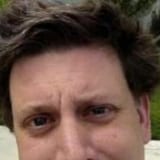 Discovered @PDFpen via @Setapp. Worth it just for the stellar OCR job it does on poorly-scanned assigned readings. Now to start playing with all those PDF editing features...
Nate Dickson